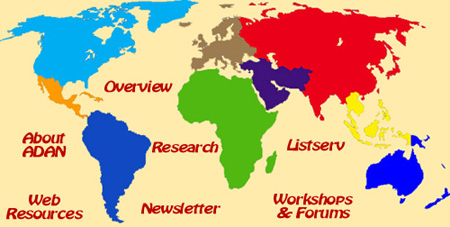 Welcome to the website for the African Diaspora Archaeology Network ("ADAN"). The ADAN provides a focal point for archaeological and interdisciplinary studies of African diasporas, with news, current research, information and links to other web resources related to the archaeology and history of descendants of African peoples. Through this engagement with African diasporas, the ADAN seeks to connect an intellectual community that considers the historical processes of culture, economics, gender, power, and racialization operating within and upon African descendant communities.
We publish a quarterly online Newsletter, with essays, analysis papers, project reports, announcements, book reviews, and news updates, that serve a rapidly expanding readership. You can navigate within this web site by clicking on the subjects on the world map displayed at the top of each menu page.
In addition to the many collaborating researchers who participate in this network, this internet resource and quarterly Newsletter are edited by Chris Fennell and hosted by the African American Studies and Research Program and the Department of Anthropology at the University of Illinois in Urbana-Champaign.

© 2007 African Diaspora Archaeology Network
Please send comments, suggestions, or questions
to editor Chris Fennell at cfennell@uiuc.edu
Last updated: June 11, 2007
Text only menu
Search