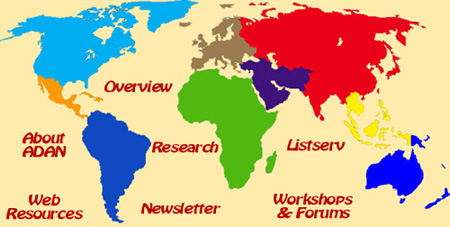 March 2008 Newsletter
ISSN: 1933-8651
In this issue we present the following articles, news, announcements, and reviews:
Articles, Essays, and ReportsNews and AnnouncementsConferences and Calls for PapersBook Reviews
---
Gullah-Geechee Archaeology:
The Living Space of Enslaved Geechee on Sapelo Island
By Ray Crook
African American archaeology has, for 40 years now, contributed an impressive amount of new information about undocumented conditions and the day-to-day lives of chattel slaves. That same archaeological record provides a better understanding of the processes involved in the creation and maintenance of creole cultures spawned by the African diaspora.

This essay is concerned with archaeological information about the creation and use of space at 19th century slave settlements on Sapelo Island, Georgia, with an emphasis on settlement layout and domestic architecture. From an anthropological perspective, it is more basically about an enslaved community who developed a creole culture known as Geechee. As a prelude to the following discussion, it is important to reiterate a fundamental point made in 1976 by Sidney Mintz and Richard Price (1992:14). "[T]he Africans in any New World colony in fact became a community and began to share a culture only insofar as, and as fast as, they themselves created them."

A distinctive linguistic group defined by speakers of "Sea Island Creole English," or simply "Gullah," live today along the Atlantic coast between southern North Carolina and northeastern Florida. North of the Savannah River these people are known as the Gullah. Those living south of the Savannah River are identified as the Geechee (see Works Projects Administration 1940, Pollitzer 1999, National Park Service 2005). As slaves on rice and cotton plantations, their ancestors created a life that successfully merged and blended the linguistic and behavioral patterns of their native African homelands with those of the dominant Euro Americans. The task system was a central feature of life on the tidewater plantations. It provided the organizational structure for slave labor required for the maintenance of viable tidewater plantations and also allowed for the development of an internal economy for the slaves themselves. The benefits of the task system to the enslaved accrued from the many activities they were able to pursue "on their own time," after work for the planter had been completed (see Morgan 1982 and Crook 2001). The result was a creole culture that satisfied not only the imposed demands of slavery, but also their own social, religious, and economic needs. Once thriving along the coast, their numbers have become thinned and widely spread, and survival of their cultural traditions now is endangered. African American Archaeology throughout this tidewater region is Gullah-Geechee Archaeology. [Read or download this full article here in Adobe .pdf format >>>].

[Return to table of contents]


---
The Archaeology of Imperialism:
A Contribution to African Education
By Merrick Posnansky
A positive achievement of archaeology in Africa has been its ability to discover historical truths not available from the written record. In eastern Africa these truths include the earliest evidence of Homo sapiens, early contacts across the Indian Ocean, the expansion of Bantu agriculturalists and the solid evidence of early interior complex societies linked by trade to the east African coast. Later archaeology has perhaps been overlooked since many states have excellent, intensively studied, oral histories stretching back for up to 20 generations or 400-500 years. Historical archaeology is facilitating a redressing of the balance both providing a more accurate history of Imperialism and revealing substantial monuments that can excite and educate the interest of visitors and schoolchildren alike. I have elsewhere attempted to define the archaeology of Imperialism. In this paper I shall deal solely with early Imperialism in northern Uganda and the teaching of Uganda history. [Read or download this full article here in Adobe .pdf format >>>].

[Return to table of contents]


---
Grassroots Politics and
Archaeological Engagement along the Color Line
By Paul R. Mullins and K. Chris Glidden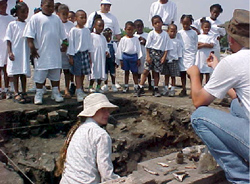 As his prime example of America's declining civic engagement, Robert Putnam (2000) points to the declining membership in bowling leagues. In prosaic spaces like the local alley, Putnam argues, Americans once gathered together, sharing their community concerns and regularly assembling with, in his words, "a diverse set of acquaintances" in a robust public life. Yet in the past 30 years or so, Putman concludes, we have abandoned such close-knit communities and are now "bowling alone," retreating to private pleasures and distancing ourselves from our neighbors and common civic concerns. This evocative picture of a community self-alienated at the bowling alley resonates with centuries of moral ideologues from Puritans to Progressives who took aim on the ways in which social collectives form and express community identity and civic concerns (Horowitz 1985; for recent examples, see Ewen 1988 and Schor 1998). These most recent critiques lament that in our quest for individual material satisfaction we are no longer "joiners," forsaking networks of social interaction that once fostered collective action and community.

Virtually every scholarly discipline and institutions from churches to universities have now waded into this discourse championing various definitions of "engagement." Given archaeologists' commonplace public visibility and our links to various communities, we can stake a reasonable claim to making a substantial contribution to this discussion. Yet at the same time, advocating community engagement risks imposing an equally ideological sense of how communities should be appropriately "engaged," ignoring alternative forms of politicization and collectivization in favor of a rather conventional and monolithic notion of community that will ostensibly accommodate every constituency.

A revolution may not be spearheaded by bowling leagues or archaeological constituencies, but each clearly is a potentially powerful example of community groups that shape consequential civic concerns. Nevertheless, the solidarity in voluntary collectives like bowling leagues has always been structured by concrete material and social factors that yield a wide range of politics at odds with Putnam's suggestion that such "organic" local collectives are our most powerful mechanisms for fostering "cooperation and public spiritedness" (Putnam 2000: 338). We should be just as reflective about the forms of solidarity, engagement, and politics championed by archaeologists and the wide range of constituencies that legitimize meaningful contemporary political claims through reference to the archaeological past. [Read or download this full article here in Adobe .pdf format >>>].

[Return to table of contents]


---
Ragtime Archaeology:
Excavations in Scott Joplin's Neighborhood
By Timothy E. Baumann
In 1984, Missouri State Parks acquired the last standing house or structure associated with Scott Joplin, known as the "King of Ragtime," in St. Louis and created the Scott Joplin House State Historic Site. Efforts by Jeff-Vander-Lou, Inc., a local African-American neighborhood organization, had previously saved this home from destruction and had it recognized as a National Historic Landmark site in 1976. At the turn of the century, Joplin moved from Sedalia, Missouri to St. Louis and rented the second-floor flat of this brick row house to be closer to his publisher and to the center of ragtime music. He only lived at this address for a short period between 1900 and 1903 with his first wife, Belle.

By this time, Joplin was already a well-known composer with his earlier publication of the Maple Leaf rag in 1899, which eventually sold over 500,000 copies (Berlin 1994; Curtis 1994). In St. Louis, Joplin focused on composing new rags and teaching, spending little time performing. One of his published works that was written in this house was The Entertainer, which was popularized again by the 1973 Paul Newman and Robert Redford movie, The Sting.

Since 1984, the Scott Joplin House State Historic Site has acquired adjacent buildings and vacant property as a buffer zone around the site and for potential future development and interpretation. For example, in the early 1990s the New Rosebud Cafe was opened in the adjacent property for receptions, ragtime performances, and parties. This venue was designed to mimic the Rosebud Bar, a historic rag joint in St. Louis operated by Tom Turpin. In 1897, Turpin was the composer of the first published rag, called the Harlem Rag (Jones 1995). In the early 1900s, the original Rosebud was located only eight blocks south of Joplin's home and was at the center of St. Louis' African American community and Rag music nationally.

The interpretation of Scott Joplin's house has focused on the celebratory history of Scott Joplin and ragtime music. This site serves an important role in the Missouri State Parks because it is the only site dedicated to African-American heritage and located within a large urban context. [Read or download this full article here in Adobe .pdf format >>>].

[Return to table of contents]


---
Social Memory and
Plantation Burial Grounds, a Virginian Example
By Lynn Rainville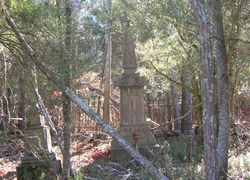 In 2001, I began a project to locate slave cemeteries in the Virginia Piedmont (Rainville 2003). At first, I thought a small sample size would be sufficient to understand the patterns and cultural significance of these mortuary landscapes. But each newly discovered cemetery brought surprises and now, seven years later, I am still learning new perspectives on African-American kinship patterns, mortuary ideologies, and cemetery landscapes. Meanwhile, my sample size has grown to over 100 cemeteries, dating between 1810 and the present. In 2002, I extended my study beyond slave cemeteries, to post-bellum and twentieth-century examples, to have a better context for determining what was unique about the antebellum traditions.

In addition to my study of African-American cemeteries, I began studying the burial grounds used by the slave owners so that I could compare and contrast the two mortuary patterns. In this article I discuss one of my theories, that both enslaved and European-American populations used burial grounds as a stage to display their beliefs about death, kinship, race, and status. To illustrate this thesis, I use five cemetery landscapes to trace two parallel and intertwined communities who lived in Amherst County on the Sweet Briar and Tusculum Plantations. In the post-bellum period, the white owners remained on the plantations, while the freed African Americans created new homes in nearby towns. Using mortuary landscapes, gravestone inscriptions, and archival documents, I trace the "material biographies" of the individuals buried in these cemeteries, demonstrating the intertwined relationships that paradoxically separated and joined these free and enslaved individuals in life and in death.

To contextualize these mortuary landscapes I turned to Pierre Nora's model of history and memory. Nora (1989: 8) pointed out that "history" and "memory" are opposites because the former is an incomplete reconstruction of something no longer present, while the latter "remains in permanent evolution" and is always open to reinterpretation or deliberate forgetting. As an archaeologist, I would add two additional levels of remembering: the rediscovery and interpretation of the archaeological record and the decision about how to commemorate or memorialize that record. In other words, the contribution of  "digging objects up" and "displaying those objects." For Nora (1996: xvii), physical sites of memory, or a lieu de mémoire, become an important symbolic element of the memorial heritage of a community. In the case of cemeteries, these displays of "mortuary memories" are constructed at different moments in time, for and by diverse audiences. In this article I explore how these memories, and alternative narratives are remembered and reified through mortuary landscapes and gravestones. The community's role in manipulating these mortuary landscapes to create their preferred versions of social memory will be explored through the study of ideographic, cartographic, historic and artifactual data. [Read or download this full article here in Adobe .pdf format >>>].

[Return to table of contents]


---
Remote Sensing Analysis at
Olivewood Cemetery, Houston, Texas
By Robert Marcom
One of the earliest African American cemeteries in Texas may be found near the intersection of Interstate Highway 10 and Studemont Street in Houston. Officially incorporated in 1875, the Olivewood Cemetery is thought to contain graves dating as early as 1828. The Olivewood Cemetery is bounded on the south and west by city streets, on the east by a grocer's supply warehouse and on the north by the White Oak Bayou. Burials were first noted to be eroding out of the ground near the bayou during a pedestrian survey conducted by the Yates Community Archaeology Program (YCAP) in 2004. Human remains were found and documented during the survey, and the Olivewood Descendants, Inc. preservation group was notified.

On August 1, 2007, during an interview with the Eyes of Texas television magazine, I was approached by Debra Sloan and Margott Williams regarding the erosion at the Olivewood Cemetery and the resulting exposure of human remains. I agreed to undertake a Remote Sensing study to arrange for a boundary and elevation study of the cemetery, and to provide a report free of charge.

This article provides the findings of my interim report for this project, including a brief summary of the research design, methods, and preliminary conclusions resulting from the Remote Sensing data. For this project, I obtained images from the satellite instrumentation aboard the National Aeronautics and Space Administration's Earth Observing Program vehicles, otherwise known as the Landsat Program. These images contain data consisting of visible and infrared light captured during individual passes over Houston, Texas during 1984 and 2003. [Read or download this full article here in Adobe .pdf format >>>].

[Return to table of contents]


---
Wilderness: A Contemporary
Archaeology of an Appalachian Landscape
By Jodi Barnes
Places, such as national parks and hiking trails, are often celebrated as wilderness and escapes from the problems of the modern world in the United States. Yet the wilderness we think of today -- the parks and forests -- is a product of the 20th century. For instance, Gifford Pinchot (1910) saw conservation as the "foresighted utilization, preservation and . . . renewal of forests, waters, lands and minerals, for the greatest good of the greatest number for the longest time" and Benton MacKaye (1921) envisioned the Appalachian Trail as part of a plan to offset what he saw as the harm of rapid mechanization and urbanization. Today, the Appalachian Trail (affectionately called the AT) extends from Maine to Georgia for more than 2,174 miles through eight national forests and it is estimated that three and a half to four million people use the Trail each year. These examples of 'wilderness' are assumed to be natural and without history, therefore, they are often taken for granted as if they have always and will always be there. They are not seen as under threat of destruction and are seen as not having an impact on the land and people surrounding them.

Forests and trails often occupy rural spaces and these spaces continue to be occupied, abandoned, and re-configured as policy makers, developers and consumers transform 'historic' buildings and landscapes. The wilderness landscape has a history that tends to be erased by the hegemonic view of the mountain landscape as scenic (Speer 1992). The wilderness also has a present and future. For example, in discussing the problems of urban sprawl Don Owen, the Environmental Protection Specialist for the Trail, describes the AT as "this little ribbon of wilderness, threatened pretty much along its entire length" (Don Owen in Ness 2003: 41). Pam Underhill, the Park Manager adds, "We're in everybody's way who wants to get across the Appalachians for a powerline, pipeline, road, telephone line, driveway" (Pam Underhill in Ness 2003: 43). Increasingly, "civilization" or suburbia moves closer eroding away the edges of a wilderness that is supposed to be an escape. . . .

The landscape is not an accumulated record of continuity and tradition, which gives us access to an authentic past. This is an ideological notion of landscape that conceals inequality and conflict (Daniels 1989; Bender 1998). Instead each new addition to the landscape -- in this case, slavery, tenancy, displacement, and conservation -- enters into a dialogue with the past (McGuire 1991). This Appalachian landscape has a 'social life' with a material history (Appadurai 1988). It has developed and evolved in response to forces of nature and economic, political and social conditions. It has been enculturated as people moved into the natural world and marked that intrusion physically and materially (Meskell 2005: 7). As individuals shape and modify the landscape to provide housing, accommodate the system of production, facilitate communication and transportation, mark social inequalities, and express aesthetics, people and the landscape gather time, movement and change. Both people and landscapes are constantly transformed, and these transformations of person and the landscape are tied up with each other (Gosden and Marshall 1999: 169). [Read or download this full article here in Adobe .pdf format >>>].

[Return to table of contents]


---
Representing the Diaspora:
Performances of 'Origin' and 'Becoming' in Museums
By Ross Wilson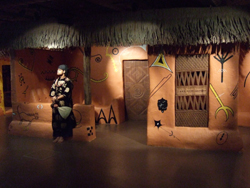 The museum exhibitions set in place for the bicentenary of the abolition of the slave trade of 1807 have provided a means to reassess identity in Britain. How individuals construct and reconstruct their sense of region, nationality, ethnicity and cultural heritage in the face of a traumatic history is a concern of enormous resonance. As issues of identity within Britain are negotiated in the context of multiculturalism, European expansion, immigration, and global environmental and security concerns, the stories we choose to tell ourselves and others about who we are become essential issues. The role of the museum in these processes is significant as they can provide the spaces, materials and resources for the education and negotiation in the formation of identities. As Britain as a nation confronts its own history of complicity in the Atlantic slave trade, issues of racism, prejudice, equality and social justice come to the fore. Considering the magnitude of these subjects an issue is expressed in this paper over the museum representation of an African Diasporic identity. In this paper the 'poetics of exhibition' will be examined in two museums in Britain which have responded to the bicentenary year with detailed and proficient displays on the history of enslavement. Based upon large-scale audience surveys carried out at these two museums the ways in which those who associate themselves with the African Diaspora and who also connect or disassociate themselves with the exhibitions will be studied. It will be argued through this analysis that these museum whilst providing an excellent and sensitive study of enslavement are being interpreted by its audience as representing a particular model of identity formation which excludes the consideration of some aspects of the African Diasporic identity. This paper will offer in place an affirmation of an alternative model of representation, one which can respond to the particularities and the multifaceted nature of the African Diaspora. [Read or download this full article here in Adobe .pdf format >>>].

[Return to table of contents]


---
"Scattered Africa" in Asia: Evolution in Research
By Maryam Sharron Muhammad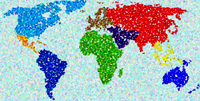 This paper will look at issues fundamental to research on the African Diaspora in Asia. African-American scholars have been interested in the presence of Africans in Asia since the eighteenth century, primarily in defense of the Black psyche in the face of the Hamitic myth and Darwinist justification of a white supremacist racial hierarchy. Research in the early twentieth century began with informal reports from soldiers who had fought in the Philippines, and essays by journalists such as the globetrotting J. A. Rogers and race-proud educators such as Drusilla Dunjee Houston. It was not until 1971 that a formal study appeared in the form of Joseph E. Harris' The African Presence in Asia. A decade later, William Leo Hansberry produced a study of Ethiopian societies. In 1985, an anthology of writings on Asia was published by historiographer Runoko Rashidi. In 1993, Martin Klein edited a volume on emancipation in Asia and Africa. Since 2004 a host of books on slavery, resistance and emancipation in Africa and Asia have been published. Gwynn Campbell, Edward Alpers, Richard Pankhurst and Shihan de Jayasuriya have all released texts in English. Research on Afro-Asians began with deconstructing Ham, and evolved into breaking the hold of Western supremacy in the minds of Africans and their scattered descendants. This paper will look at the psychosocial issues in the still-shallow waters of Afro-Asian research, the sources of funding, and efforts to de-romanticize the Arab and Indian slave trades. [Read or download this full article here in Adobe .pdf format >>>].

[Return to table of contents]


---
A Report from the SHA Meetings in Albuquerque:
Exploring a More Global Perspective on Plantation Archaeology
By Chana Kraus-Friedberg and Kristen R. Fellows
When we first began discussing organizing a conference session on plantation archaeology, we were both struck by the paucity of work addressing the global nature of plantation structures. Most historical archaeologists have focused their research on enslaved plantation workers and their masters, primarily in the mainland United States. While we acknowledge the importance of such work, we are also interested in the ways that plantations worldwide differed by workforce, crops and location, and how all plantations were united under a global economic structure. The historical legacy and implications of the plantation system in terms of the modern realities of racial ideologies, the world economy and globalization to name a few, are of great social significance. In the session we organized at the 2008 Meetings of the Society for Historical Archaeology, we sought to bring together archaeologists who work on diverse plantation sites. We hoped that the session would spark further discussions on the connections, actual and ideological, between the various plantation sites under study.
The papers presented at the session covered a broad geographical range, representing sites in Barbados (Smith), the Yucatan (Sweitz), Virginia (Heath and Lee, Gary) and Hawai'i (Kraus-Friedberg, Six). The crops grown on these sites ranged from tobacco and wheat at Poplar Forest in Virginia to sugar in Barbados and Hawai'i. As the opening paper in the session (Fellows) outlined, however, many of the owners of these plantations would have read common plantation periodicals and used common methods to control their workers and process their crops. In future sessions, we hope to broaden the range of plantation sites represented in the papers even further. For the present, we are providing the session and paper abstracts, in the hopes that other archaeologists interested in plantation sites will join in the dialogue which began at the session.
Symposium: Plantation Archaeology: Expanding Perspectives
Chairs: Chana Kraus-Friedberg and Kristen R. Fellows


Plantation archaeology is one of the oldest and most enduring research threads in historical archaeology. From early excavations which focused on Big Houses and Big Men, to more recent explorations of African-American heritage, racism, and power, the topic has changed with the times and continues to provide grounds for important research. Throughout its history, however, plantation archaeology has tended to focus on the stereotypical cotton plantation "down South." This tendency has resulted in a paucity of archaeological research addressing the worldwide nature of the plantation system, the diversity of plantation locales and how they were affected by this larger system, and the impact which the plantation system had and continues to have in globalism and the global economy. This session will bring together researchers interested in a range of plantation-related issues, in order to begin a dialogue on the global and local contexts for individual plantations and the plantation system.


Expanding Plantation Archaeology: An Introduction
Kristen R. Fellows (University of Pennsylvania), kfellows@sas.upenn.edu


While plantations have been the focus of archaeological study since as early as the 1930s, very little of the research has placed the particular plantation into a broader context. Recently this subfield has begun to shift away from the U.S. South and into regions such as the Caribbean, Mexico, and Hawai'i. This paper will serve as an introduction to the session. It will examine where plantation archaeology has traditionally been, more recent lines of research that have newly emerged, and it will raise questions for future research.


It's a Fine, Fine Line: Connections between Enslaved and Free Laborers in the Plantation System
Chana Kraus-Friedberg (University of Pennsylvania), chanakf@sas.upenn.edu


Since its inception, plantation archaeology has followed a trend in popular history which considers the slave plantation as an archetype which shifted radically with the end of slavery. The relationship between enslaved and free labor on plantations, however, was closer to a continuum than to a radical disjuncture. Legal codes and mores which regulated contract labor on plantations by reacting to its similarity or difference to slavery ensured that the two states continued to be conceptually intertwined even after slavery had ended. This paper discusses the legal and socio-economic status of contract laborers on Hawai'i's sugar plantations, as a case study for the ways in which the slave regime continued to influence free plantation workers' lives.


Hilea: When Public Archaeology Gets Personal
Janet Six (University of Pennsylvania)


In Hawai'i's Russian Adventure: A New Look at Old History, archaeologist Peter Mills breaks down historian Fernand Braudel's "short-term events" into moments. According to Mills, "Moments are actively created and perceived by people in the process of interpreting their world." Beginning in the summer of 2004, -- through first hand experience -- I came to understand Mill's concept of "critical periods of time" when I unwittingly found myself actively creating a "moment." By focusing on plantation archaeology in Hawai'i I planned to steer clear of much of the controversy and stigma native Hawaiians regularly associate with archaeology. Contrary to my intention, recent finds cast archaeology center stage in an ongoing legal battle -- presently on the Hawai'i State Supreme Court docket -- over the boyhood home of Pai'ea Kamehameha (Kamehameha I).


Altered State: How modified material culture illuminates the individual in plantation contexts
Jack Gary (Thomas Jefferson's Poplar Forest)


The material culture recovered from numerous context associated with labor at a 17th century northeastern provisioning plantation and Thomas Jefferson's 19th century Poplar Forest plantation points towards the study of post-manufacture modifications as one of archaeology's entrées into the personal lives of individuals associated with plantation groups. Modified objects such as coins, tobacco pipes, and buttons provide information concerning the individual's retention of cultural practices, appropriation of dominant cultural symbology and materials, and the sense of self in the often dehumanizing context of plantation labor systems. The individualized nature of many of these objects provides an effective bridge to connect public audiences with a past that can be uncomfortable.


Beads, Eggshells, and Kitten Teeth: Comparative Analyses of Three Subfloor Pit Assemblages
Barbara Heath (University of Tennessee) and Lori Lee


In this paper, the authors will compare artifact assemblages recovered from three 18th through mid-19th century subfloor pits from quarter sites excavated at Thomas Jefferson's Poplar Forest in Bedford County, Virginia. While our research will consider whole assemblages, the contents of flotation samples will form the focus of our discussion. We will summarize changing sampling strategies and recovery methods. We will also explore the intersection of formation processes and feature use, present analyses of unique artifact types, and summarize assemblage variation among small finds. These tiny artifacts are crucial evidence of household activities that are unrepresented or underrepresented in the larger samples. They further clarify the conditions under which site residents created, used, and abandoned these feature types over time.


Sweetening the British Atlantic World: Plantation Archaeology in Barbados in Global Perspective
Frederick H. Smith (College of William and Mary), fhsmit@wm.edu


In his seminal work Capitalism and Slavery, the renowned Caribbean historian Eric Williams attributed the rise of Britain's industrial revolution in large part to the economic success of sugarcane agriculture in the British Caribbean colonies. Archaeological investigations at seventeenth-century urban domestic and rural plantation sites in Barbados, Britain's first major sugar island in the Caribbean in the seventeenth century, highlight the need for an expansive global perspective in plantation archaeology. The evidence indicates that sugar plantations in Barbados, though efficient and in many ways self-contained operations, must be viewed within the larger framework of the island's economy. More importantly, slavery, capitalism, and colonialism provide prisms through which to view the sugar plantation complex in Barbados and its impact on the broader British Atlantic economy.


Plantation System as Capitalist System: An Archaeological Case Study from Yucatan
Sam R. Sweitz (Michigan Technological University), srsweitz@mtu.edu


Plantation systems are part of the larger global and historical market processes in which worldwide networks of people and products were formed. The economic and political networks created around international commodity markets served as conduits for broader cultural exchange. My archaeological investigations in Yucatan demonstrate how modes of production and social relations were inexorably altered with the introduction of the hacienda, a mode of production informed by and based on the expanding system of world capitalism. I contend that plantation systems should be viewed as capitalist systems. Only from a global perspective can we ultimately understand the significance of plantations.


We would like to thank everyone who attended the symposium; we were very fortunate to have an excellent and large audience. And finally, a very special thank you to the presenters and our discussant, Dr. Theresa Singleton. We both look forward to furthering the dialogue centered on the plantation complex in the future.

[Return to
table of contents]
---
2008 Archaeological Fieldschools
Addressing African Diaspora Subjects
Compiled By Christopher Fennell
The following fieldschool list includes announcements sent to me by the fieldschool directors and others listed on various directories. The fieldschool announcements that follow are presented below in alphabetic order by location, starting with those in North America, then two in the Caribbean, and two in Africa.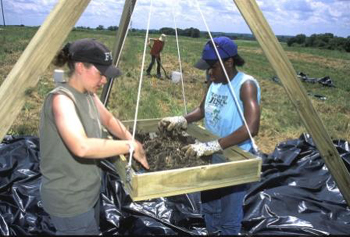 ---
North America
---
Fort Garland Colorado Field School. Adams State College is conducting its 5th season of work at this military post. The field school is conducted over a six week period in three, ten-day sessions with four-day breaks between. Optional field trips are offered during the breaks. Fort Garland is a state owned property and operated as a public museum. Thus, students get training and experience public archaeology. Five adobe structures, of the 21+ structures that made up the original fort, are still in use as museum buildings. Fort Garland was originally established to control Indian raids in the territory. During the Civil War, it was the home of the Colorado Volunteers who saw action in the Battle of Glorietta Pass. Later, during the Indian Wars, it was the home of a unit of Buffalo Soldiers (African-American troops). For a few years the fort was commanded by Kit Carson. Throughout its military occupation, there were women and children present at the post. After it was abandoned, the fort was used for a variety of civilian purposes including a trading post, a ranch, and a hotel. The preservation is excellent and the fort provides chances to pursue a variety of research avenues including life at a frontier outpost and military-civilian relationships on the Western frontier. For further information visit our website: fieldschool.adams.edu or contact Dr. Richard Goddard: dick_goddard@adams.edu.
---
University of Florida Historical Archaeological Field School. Kingsley Plantation (1792-Circa 1900) and the Spanish Mission San Juan Del Puerto (1587-1702), Ft. George Island. May 12, 2008 to June 20, 2008. Kingsley Plantation: Zephaniah Kingsley was a slave trader and ship's captain who took as a wife Anna Madgigine Jai Kingsley, an enslaved girl from Senegal. African-American archaeology began here in 1968, when Dr. Fairbanks (UF professor) conducted the first-ever excavation of a slave cabin. Building on our 2006-2007 work, we will continue excavating the interiors of slave Cabins W-12, W-13, and W-15, as well as begin searching for the "lost" structures, some of which were destroyed when the Seminole Indians burned the plantation during the Patriot's Rebellion of 1812. San Juan del Puerto: This Spanish mission and Timucuan Indian Village site was established in 1587 and saw continuous occupation until it was destroyed by the English in 1702. Our work will center in the mission core, including the church, cemetery, and associated aboriginal village, to gain a better understanding of the relationships between the Native Americans and Spanish. Application deadline: March 31, 2008. Contact: Dr. James M. Davidson, Department of Anthropology; phone 352-392-2253 ext. 256; email davidson@anthro.ufl.edu. Additional information available at: http://www.clas.ufl.edu/users/davidson/kingsley.htm.
---
New Philadelphia Archaeological Research Project: Fieldschool in Archaeology and Laboratory Techniques. May 27, 2008 to August 1, 2008. Sponsored by the National Science Foundation's Research Experiences for Undergraduates Program. Field school co-directors: Anna Agbe-Davies (DePaul University), Christopher Fennell (University of Illinois), and Terrance Martin (Illinois State Museum). The New Philadelphia story is both compelling and unique. Many studies in historical archaeology that concentrate on African-American issues have focused on plantation life and the pre-emancipation era. The history of New Philadelphia is very different. It is a chronicle of racial uplift and centering on the success of an African-American family and their ability to survive and prosper in a racist society. In 1836, Frank McWorter, an African American who was born into slavery and later purchased his own freedom, acquired 42 acres of land in the sparsely populated area of Pike County, Illinois, situated in the rolling hills bounded by the Illinois and Mississippi rivers. He founded and platted a town, subdivided the property, and sold lots. McWorter used the revenues from his entrepreneurial efforts to purchase the freedom of sixteen family members, with a total expenditure of $14,000 -- a remarkable achievement. Families of African American and European American heritage moved to the town and created a multi-racial community. New Philadelphia likely served as a stopping place for the "Underground railroad" as enslaved African Americans fled northward escaping the oppression of southern plantations. The history of New Philadelphia serves as a rare example of a multi-racial early farming community on the nation's Midwestern frontier (Walker 1983). Application deadline: March 21, 2008. Additional information available at: http://www.histarch.uiuc.edu/NSF/fieldschool.html.
---
University of Maryland Field School in Urban Archaeology. June 2, 2008-July 11, 2008. Project director: Dr. Mark P. Leone; associate director Matthew Cochran. The University of Maryland Department of Anthropology announces the 27th season of excavation with Archaeology in Annapolis, a summer program of onsite archaeological excavation and research. This intensive, six-week program devotes eight hours daily to supervised archaeological fieldwork, laboratory work, stratigraphic analysis, technical drawing, writing and interpretation. The summer 2008 excavations extend a long-term program of public archaeology in Maryland's state capital that is supported by the Mayor and City Council of Annapolis. This year excavations will be conducted in the Parole neighborhood of Annapolis, and outside the City of Annapolis at Wye House, the former plantation of Edward Lloyd on the Eastern Shore of the Chesapeake Bay, on Maryland's Wye River. Skill development will focus on: soil identification and description; accurate record keeping and photography; artifact identification and cataloguing; understanding of site formation processes and reconstruction of site stratigraphy; basic surveying and mapping; elements of site report production (e.g., background historical research, reconstruction of site stratigraphy, production of unit summaries and familiarity with professional standards and guidelines for conducting and reporting on fieldwork and laboratory analysis); and public speaking and interpretation. For further information, contact: Amelia Chisholm (achisholm@anth.umd.edu), Department of Anthropology, University of Maryland, 1111 Woods Hall, College Park, MD 20742-7415; 301-405-1429. For Application and Registration information, contact Student Services: email: summer@umd.edu; 301-314-8240; web site: www.summer.umd.edu. Additional information available at: http://www.bsos.umd.edu/anth/aia/school.htm.
---
2008 Archaeological Field School at the Scott Joplin House State Historic Site in St. Louis, Missouri. June 16, 2008 to July 4, 2008. Missouri Valley College; project director: Dr. Timothy Baumann. The 2008 Missouri Valley College archaeological field school will investigate the rear yard of Scott Joplin's home, uncovering portions of his privy, outbuildings, and general yard activities. Information gathered from this field study will be used to expand the interpretation of the Scott Joplin State Historic Site through new exhibits and educational programming. These excavations will be performed as a college course through Missouri Valley College for three (3) credit hours. Participants will be introduced to historic research methods and archaeological field techniques. Registration is open to any college student in good academic standing. For additional information see the below web site or contact Dr. Timothy Baumann at 660-831-4044, baumannt@moval.edu, or missouri.archaeology@gmail.com. Web Site: http://www.moval.edu/Faculty/baumannt/joplindig.html.
---
Syracuse University Archaeological Field School at the Harriet Tubman Home. May 15, 2008 to June 5, 2008. Project director: Douglas Armstrong Ph.D., darmstrong@maxwell.syr.edu. Syracuse University's 2008 summer archaeological field school will excavate sites at the Harriet Tubman Home in Auburn, New York. The field course is being offered as a 6 unit class (ANT443) through Syracuse University Summer Sessions/University College. Students will car pool to the site from the Syracuse campus. See information about registration and tuition (web sites below). Students participating this summer will learn archaeological field techniques while contributing to a significant examination of Harriet Tubman's residence (1859-1913) and her Home for the Aged. This summer's field season is particularly important as we will be conducting excavations in advance of restoration of Harriet Tubman's residence, barn, and structures associated with the home for aging African Americans that she established. This project is being carried out as a joint project of Syracuse University and the Harriet Tubman Home, Inc (AME Zion Church - as owned and cared for the property since 1903). Students will be contributing to our understanding of the life of Harriet Tubman, her family and associates. It is an excellent opportunity to learn archaeology while making a and contribution to a site of national significance!!! Students who participate on the Tubman program will have the opportunity to participate in a follow-up research opportunity in the Virgin Islands. Information about the project can be found at the following web sites: http://www.maxwell.syr.edu/anthro/archfield/tubman/index.asp http://www.suce.syr.edu/students/current/courses/courselists/currentseme ster/Tentative_summer/TSum08A-Bprefixes.html.
---
Captivity and Community in Early New York, June 2, 2008 to July 18, 2008. Hofstra University; project director Christopher Matthews. The 2008 Hofstra University Archaeological Field School will examine the diverse lives of captive Africans on Long Island through the excavation of the remains of a slave quarter associated with the Joseph Lloyd Manor site in Lloyd Neck, New York. Lloyd Manor was home to Jupiter Hammon, one of the earliest published African Americans, whose work addressed enslaved Africans and challenged the injustices of slavery. Archaeology provides an opportunity to compare the words of Jupiter Hammon with the evidence left behind by others laboring at the site during the time of slavery. This interdisciplinary study will offer unique insight on the diversity of experiences and perspectives within the enslaved community on Long Island. New York was home to the largest number of captive people of African descent in the northern United States. Captivity imposed strict boundaries on the enslaved that were supported by conceptions of private property and race. The boundaries of slavery forced most captive people in New York to live in relative isolation. Despite these conditions, African American communities formed. How did people cross boundaries and construct communities? What do these communities tell us about the meaning of freedom in early New York? Joseph Lloyd Manor is owned by the Society for the Preservation of Long Island Antiquities. The house was constructed in 1767 and is operated as a historic house museum. Contact information: Christopher Matthews,Department of Anthropology, Hofstra University, Hempstead, New York 11549 USA; 516-463-7625; anthlab@hofstra.edu. Application deadline: May 15, 2008; additional information available at http://www.hofstra.edu/Academics/Colleges/HCLAS/ANTHRO/anthro_anth33.html.
---
African American Dennis Farm Archaeological Field School, Pennsylvania, May 27, 2008 to July 03, 2008. Binghamton University (SUNY); project directors John Roby, Dr. Ann Stahl, and Dr. Nina Versaggi, Binghamton University. The Binghamton University Department of Anthropology will hold its 2008 summer field school on the property of the Dennis Farm Charitable Land Trust in Susquehanna County, Pennsylvania. Dennis Farm is a sprawling 153-acre farmstead settled by one African American family in the late eighteenth century. The property has remained with descendents of these early settlers since then. As part of a multi-year study, students will participate in an archaeological investigation of the property. This research will address research themes, such as the role of free African Americans in community formation on the frontier, the shaping of an agricultural landscape, the place of Dennis Farm in historical memory, and new perspectives on the African Diaspora. Students will learn basic archaeological techniques of surface and subsurface survey, unit excavation, mapping using a total station and GPS, field photography, and artifact identification and processing. Instruction will include an overview of the historical settlement of the area, as well as current issues in the archaeology of the African American experience, including the types of research questions being raised by archaeologists working in the historic period. Instructors and guest lecturers will introduce the historic preservation process and discuss career paths in archaeology. The curriculum is designed to give students the basic knowledge and skills necessary to participate in professional excavations and to secure employment in the field of Cultural Resource Management. Enrollment is open to all undergraduate and graduate students, and individuals holding a college degree. Contact information: John Roby, Anthropology, Binghamton University (SUNY), Binghamton, NY 13902-6000 USA; 404-394-5624 or 607-777-2738 607-777-2477; jroby2@gmail.com. Application Deadline: May 22, 2007; additional information avilable at http://anthro.binghamton.edu/fieldschool.
---
The Archaeology of Chesapeake Slavery and Landscape, Virginia. June 2, 2008 to July 11, 2008. Monticello and University of Virginia; project director Fraser D. Neiman. Our fieldwork addresses changing patterns of land use and settlement on Thomas Jefferson's Monticello Plantation from c. 1750 to 1860. Toward the end of the 18th century, spurred by shifts in the Atlantic economy, Thomas Jefferson and planters across the Chesapeake region replaced tobacco cultivation with a more diversified agricultural regime, based around wheat. Our research is revealing the implications of this shift for the landscape and for the lives of enslaved African Americans. Significant questions remain about the ecological processes that were unleashed, how they were experienced by slaves and slave owners, and the importance of changing slave work routines in explaining social dynamics among enslaved and free people. Field school students will focus on the exploration of how the domestic lives of slaves changed during the shift from tobacco to wheat cultivation. Students will learn archaeological excavation and recording techniques required by multi-disciplinary field research in landscape archaeology. Technical topics covered include survey and excavation strategies, the analytical possibilities for ceramics, faunal remains, plant phytoliths and pollen, deposits and the sediments they contain, soil chemistry, and spatial distributions of artifacts. The field school emphasizes multidisciplinary approach to archaeology. Guest lecturers are drawn from a variety of disciplines including geology, zooarchaeology, palynology, architectural history, and social history. On-site instruction, lectures, and discussion sessions at Monticello will be complemented by field trips to related sites. Students will attend classes forty hours per week, with the bulk of that time spent doing on-site field research. Reading assignments, lectures, and discussion will cover both technical and historical issues. Most weekends are free for individual travel. All students in the field school will receive a Monticello Archaeological Scholarship from the Thomas Jefferson Foundation. This tuition grant covers one-half of the normal University of Virginia tuition charge. Contact information: Fraser D. Neiman, Monticello Department of Archaeology, PO Box 316, Charlottesville, VA 22902 USA; 434-984-9812; fneiman@monticello.org. Application deadline: March 28, 2008; additional information available at http://www.monticello.org/archaeology/fieldschool/index.html.
---
Thomas Jefferson's Poplar Forest Retreat 2008 Field School. June 1, 2008 to July 4, 2008. Thomas Jefferson's Poplar Forest and the University of Virginia are pleased to offer the Twentieth Annual Summer Field School in Historical Archaeology. The field school provides a foundation in current methods and theories of historical archaeology, and offers a solid introduction to the practical skills of site survey, excavation, recording, and laboratory procedures. Students will actively participate in our ongoing interpretation of archaeology to the public. In the summer of 2008, field school participants will excavate an early nineteenth-century building complex, believed to be associated with plantation work spaces and possibly slave quarters, adjacent to Jefferson's ornamental grounds. Students will spend 40 hours a week at Poplar Forest, with most of the time split between the excavation site and the archaeology laboratory. Strenuous daily activity will require physical endurance and good health. Participants will have the opportunity to work with state-of-the-art equipment and software, including a total station for recording field information, a database system containing both the archaeological artifact and context records, and a complete inventory of over 1,000 historical documents relating to Poplar Forest. Application deadline: April 8, 2008; contact Jack Gary, Director of Archaeology and Landscapes, Poplar Forest, P.O. Box 419, Forest, VA 24551; additional information: http://www.poplarforest.org/ARCH/archfieldschool.html.
---
Montpelier Virginia Field School. In 2008 the Montpelier Archaeology Department will be excavating the unplowed slave quarters for house slave located in the yard by the Montpelier mansion. These quarters were built in 1808 for the Madisons' house slaves and were abandoned by the mid 1840s when the structures were demolished. The site is remarkably well preserved and we will be sampling areas of the structure, yards, and adjoining work areas. The Montpelier Archaeology Department will host two field schools at this site: 1) May 15-June 15, 2008 through James Madison University and 2) July 1-31, 2008 through SUNY Potsdam. Montpelier has housing available for field school students. For more information, please check our archaeology blog (www.montpelier.org/latest_dirt) and click on field schools or training programs. There is a link on the blog to the Montpelier website for more information on the South Yard (the site of the slave quarters). We also offer summer internships for students interested in advanced archaeological training and offer a stipend and free housing on site (see blog for description and photos of intern house). Montpelier is located in Piedmont Virginia and is the family home of James Madison.
---
Caribbean
---
Antigua Archaeological Field School. University of Calgary; project director Dr. Christy de Mille and Beau Cripps, University of Calgary, and Dr. Tamara Varney, Lakehead University. May 17, 2008 to June 14, 2008. Students will experience archaeological field work in a tropical setting while living in a small community in Antigua, West Indies. A wide variety of cultural, archaeological, historical and natural sites will be visited as field trips - as well as many beaches! The focus of the program is on training students in archaeological field methods and techniques. Students receive group and individual instruction while working side by side with professional archaeologists and members of the community. The program offers both basic and advanced field credit courses. Students that are new to field work can take our introductory course (Arky 306) on excavation and analytical techniques. Students that have taken Arky 306 or equivalent can take our advanced field methods course (Arky 506), which places emphasis on a research project. This coming season, the field school will work primarily at the historic sugar plantation of Green Castle Estate. The production of sugar, a key commodity through the 17th and 18th centuries, was entirely dependent on the use of enslaved Africans. Excavations will focus on two areas of the plantation associated with both enslaved and wage laborers at the estate. The goals of the research will be to identify the location of worker quarters on the plantation and study the types of domestic activities enslaved laborers engaged in. This information can give interesting insights into how enslaved laborers, through daily practice, negotiated their social positions within colonial slave society in Antigua. Lab work (cleaning, sorting and cataloging of artifacts) will take place at a field research station. Students may also have the chance to participate in work ranging from survey to small excavations of other sites if the opportunity presents itself. One of the goals of our program is to provide diverse experience and learning wherever possible. Accommodations and meals are provided by the Field School. Living accommodations will be first class houses that are rented on a seasonal basis and are fully furnished. These houses are located in a quiet residential area of the historic Nelson's Dockyard National Park, English Harbour. The houses are on a hillside, are cool and spacious with adequate workspaces and have a good scenic view of the Atlantic Ocean. Three delicious meals are provided seven days a week, by our own fabulous cook. Everyone will meet at the main house for meals. All meals are varied, well balanced and delicious. Breakfast is light -- fresh fruit, cereal and toast; lunch is a brown bag, sandwich affair to be eaten in the field during the week, with a warm lunch being served on weekends; dinner is a full hot meal. Meals can be supplemented at the students cost with snacks available for sale at local shops. Students are not permitted to cook in the houses as part of the rental agreement. All students will be expected to assist with kitchen duties on a rota basis. Contact information: Tamara Varney, Dept of Anthropology, Lakehead U. Thunder Bay, ON P7B 5E1 Canada; 807-343-8204; 807-766-7117; tvarney@lakeheadu.ca. Application deadline: March 1, 2008; additinal information available at http://www.antiguafieldschool.com.
---
DAACS-University of Virginia Field School in Historical Archaeology: The Archaeology of Sugar and Slavery in Colonial Jamaica (Anth 382). University of West Indies, Mona. Kingston, Jamaica. May 24, 2008 to June 21, 2008. The 2008 DAACS-University of Virginia Field School in Historical Archaeology, The Archaeology of Sugar and Slavery in Colonial Jamaica (Anth 382) offers a unique field school experience for advanced undergraduate and graduate students from universities throughout the United States and Caribbean. This field school provides students with a solid grounding in archaeological field and laboratory methods, with a specific focus on understanding slavery in the culturally diverse and economically complex context of the Caribbean through the archaeological record. The goals of this course are threefold. First, students will learn archaeological survey methods, basic excavation techniques and field recording methods through daily field work on 18th-century sugar plantations located on the campus of the University of West Indies, Mona, outside of Kingston, Jamaica. Second, regular participation in laboratory activities will expose students to 18th and 19th century material culture and provide the basis for analytical exercises that use the archaeological data to make concrete arguments about people living at the Papine and Mona villages. Finally, students will be exposed to collaborative interdisciplinary research through lectures, tours, and field recording projects with faculty from the University of the West Indies, the Jamaica National Heritage Trust, Colonial Williamsburg, and Monticello. Students will have the opportunity to travel throughout Jamaica through supervised weekly field trips and architectural field recording projects off campus. A detailed description of the field school, as well as a preliminary course syllabus, is available online through the University of Virginia's website. Contact Jillian Galle jgalle@monticello.org; 434-984-9873. Application deadline: March 15, 2008. Additional information available at http://www.daacs.org; apply online at http://www.studyabroad.virginia.edu/.
---
Africa
---
The Gambia Field Studies Program, St. Mary's College Maryland. May 24, 2008 to July 12, 2008. Prof. Bill Roberts SMCM, Kent Hall 303, wcroberts@smcm.edu, 240-895-4387, www.smcm.edu/gambia. This program is open to students from any major who wish to gain valuable research skills and insights about West African life and history through field experience with Gambian professionals guided by St. Mary's faculty. Students spend the final four weeks carrying out research projects in The Gambia with guidance from SMCM faculty and Gambian mentors including archaeological investigations at the villages of Juffure and Albreda under the direction of Liza Gijanto of Syracuse University. Students learn to apply appropriate research methods including observation, interview, or archaeological field methods and analysis to a topic they select in consultation with the faculty. All participants make a trip to the World Heritage Site at Goree Island near Dakar, Senegal before returning to the US. The archaeological component of the field program is entering its third field season and investigations are geared toward assessing the impact of the Atlantic Trade on The Gambia and the continuing ramifications of the regions involvement in the African Diaspora -- specifically the continual recreation of the past. Archaeological work will consist of two separate goals. First, an analysis of shifts in regional trade dynamics as a result of culture contact will shed light on the changes in commercial, political, and social interactions along The Gambia River. The Senegambia as a whole experienced dramatic changes in the second millennium AD ranging from the introduction and spread of Islam, incorporation into the Saharan and Atlantic trade networks, in addition to the continual interaction between diverse groups attempting to control the vast amount of trade flowing in and out of the region. Overtime, four distinct groups -- Islamic traders, Mande (julas), Europeans, and Luso-Africans -- established trading enclaves that enabled the flow and exchange of goods across The Gambia, continually altering the region's place and importance within the global economy. Prior to the arrival of the Portuguese, Mande traders traveled from the Inland Niger Delta to the coast trading gold and other commodities for salt. In the mid-15th century, Portuguese merchants initiated commerce along the river, ultimately reorienting trade patterns in the Senegambia from interior land-based exchange to Atlantic maritime commerce. By the close of 17th century, the British and French had established trading factories in the region that were closely associated with Luso-African and Mande settlements.
---



Senegal, West Africa Summer Program in African Historical Archaeology. June 22, 2008 to August 1, 2008. University of Chicago; project director Dr. Francois G. Richard (Dept. of Anthropology, University of Chicago) Dr. Ibrahima Thiaw (Director of the Archaeology Laboratory, IFAN, Senegal). Specialized skills you will have the opportunity to learn: excavation techniques; mapping and transit survey; archaeological recovery procedures; basic artifact curation; material culture analysis (African ceramics, 18th-19th century Euro-American artifacts); independent research skills; introduction to African Atlantic history and relevant archaeological literature. This year's archaeology program will take place in Senegal, one of West Africa's most fascinating countries. In addition to boasting a rich, complex history and dynamic cultural life, Senegal has been the theater of first-rate archaeological research in the past decade, making it an ideal setting for this summer field studies program. In the course of this summer program, you will have the opportunity to participate in two sets of ongoing research projects as you become familiar with theory, methodology, and analysis in African historical archaeology. This field school combines at once the new and the old. It will be the launching pad for a brand new project in the Siin region, and the stage of continuing work on archaeological collections excavated on the island of Goree.

[Return to table of contents]


---
Call for National Holiday Designation
for Harriet Tubman
By Debra M. Johnson
March 10th, a National Holiday for Harriet Tubman
"Her name deserves to be handed down to posterity, side by side with the names of Jeanne D'Arc, Grace Darling, and Florence Nightingale, for not one of these women, noble and brave as they were, has shown more courage and power of endurance in facing danger and death to relieve human suffering, than this black woman, Harriet Tubman" (Sarah H. Bradford, Harriet Tubman: The Moses Her People. Lockwood and Son, New York, NY, 1886: p. 4).
The month of March provides a time for celebration of the many contributions to our society by courageous women. Aminta "Minty" Ross, better known as Harriet Tubman, lived a life of extraordinary courage and perseverance. Since 1990, many cities across the United States and Canada have declared March 10 as a day to commemorate Harriet Tubman. I believe she should have a National Holiday designated in her name, because she was a humanitarian, practiced the traditions of her ancestors, and was a hero in American History.

Araminta Ross (1820-1913) was born enslaved in Dorchester County, Maryland. In 1844, she married a free African American named John Tubman. Taking her mother's name, she became Harriet Tubman. In 1849, certain that she was about to be sold, she fled with her two brothers, leaving her reluctant husband behind. In 1851, Harriet took members of her family, including her 70-year-old parents, to St. Catharines, in what is today Ontario, Canada, on perilous journeys out of bondage. Until 1857, when she moved to Auburn, New York, that Canadian town was her base of operations. Armed with a pistol, she made approximately 19 other trips into the South and led many people out of slavery; historians' estimates range from 70 to more than 300 individuals whom were freed with Tubman's help. Angry slaveholders in the South offered $40,000 for her capture. She was never caught, however, and served in the Union Army as a nurse, scout, and spy. Tubman was also a suffragist and founded the National Association of Colored Women. She died in Auburn, New York, and has been referred to as a "Moses of her people."

As a member of the Association for the Study of Classical African Civilizations, I participated with others in forming the Black Women's Leadership Caucus, with a main goal of encouraging government officials to commemorate March 10 as Harriet Tubman Day. Please contact me at debramj@gmail.com to join in this effort.

[Return to table of contents]


---
Exhibit Preserves Pursuit Of Liberty
Museum Unveils Artifacts From African Americans
By Raymond McCaffrey

March 2, 2008
Article posted online by the Washington Post at:
http://www.washingtonpost.com/wp-dyn/content/article/2008/03/01/AR2008030101672.html
Copyright 2008 Washington Post.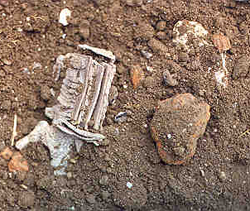 An exhibit of hundreds of rare artifacts unearthed in Annapolis over the past 27 years shows that the quest for freedom by African Americans is as much a part of the city's history as the fight for liberty by the wealthy property owners who rebelled against the British.

A central theme of the exhibit, which opens Tuesday, is "the quest of African Americans to create and preserve their integrity and to establish their freedom in a slave society," said Mark Leone, a University of Maryland anthropology professor who directs the Archaeology in Annapolis project, a partnership that, through the years, has involved the university, the city's Banneker-Douglass Museum, the City of Annapolis and the Historic Annapolis Foundation.

The items, which the project has discovered in about 40 digs since 1981 with more than 350 students, professors and others at the university, will be on public display together for the first time in "Seeking Liberty: Annapolis, an Imagined Community" at the museum. The exhibit will be the largest archaeological display ever at the museum, the state's official repository for African American material culture.

About a third of the artifacts in the collection are linked to African Americans.

"What I can tell from the artifacts is the coherence of African American culture, the survival of African practices, ways that African Americans defeated being marginalized," Leone said.

The exhibit, which will run until late November, is designed to mark the 300th anniversary of Annapolis's Royal Charter, which allowed it to hold elections and establish self-governance.

"The main theme of the exhibit is the quests of different groups in Annapolis for greater freedom and liberty," Leone said. "The effort that unifies Annapolis is the effort to make one's own people free."

Annapolis was a well-known port for slavery in Maryland, which freed slaves in 1864.

The centerpiece of the exhibit is a section of the printers' type that Jonas Green used to produce a "death's head" stamp, a skull-and-crossbones icon like one used in a 1765 newspaper editorial protesting British taxation. The piece, excavated from the site of Green's print shop, highlights the city's role as a major center of pre-Revolutionary War rebellion.

But Leone said that what sets the exhibit apart from more traditional treatments of Annapolis's history is the emphasis on African American artifacts, some taken from houses where the city's historic figures lived.

"This is the only one that represents the whole city," he said. "The only one that represents black and white Annapolis."

The exhibit focuses on excavations at five landmarks: the Governor Calvert House, the print shop, the Maynard-Burgess House, Reynolds Tavern and the Brice House.

On display will be a model of the basement of one of the houses where African spiritual relics were found, said Amelia Harris, the museum's exhibitions specialist. The model shows that the relics were buried in a pattern resembling the ovular shape of a cosmogram, a symbol of African spirit practices. [Read the full article at Washington Post online >>>].

[Return to
table of contents]
---
Congressional Hearing Held on Slavery Reparations Bill
By Askia Muhammed, Final Call

Jan. 10, 2008


Article posted online by New America Media at:
http://news.ncmonline.com/news/view_article.html?article_id=93eca3cb4dd3232321a7e19d14f81cdc
Copyright 2008 Final Call



Washington (FinalCall.com) -- For the first time ever, the U.S. Congress officially studied the institution of slavery, its legacy, as well as U.S. efforts to address it and its consequences, during hearings by the Subcommittee on the Constitution, Civil Rights and Civil Liberties on Dec. 18.

It was the first time H.R. 40, the proposal to establish a Commission to Study Reparation Proposals for African Americans Act has had any kind of a hearing, even though the legislation has been introduced every year for almost two decades by Rep. John Conyers (D-Mich.), the new chairman of the House Judiciary Committee.

"For over 19 years, I have introduced H.R. 40 -- not to spark controversy or promote division -- but to direct attention to a historical wrong that warrants substantial consideration," Mr. Conyers said when he gaveled the session to order. "With an H.R. 40 commission, this nation could come closer to racial equality and understanding. Slavery is a blemish on this nation's history, and until it is addressed, our country's story will remain marked," he continued.

The racial disparities, which exist throughout the society are ample evidence, Mr. Conyers insisted, that the vestiges of slavery remain: the Black high school drop-out rate is 50 percent compared to 23 percent for Whites; national average scores in math, science and reading for Black 17-year-olds are comparable to the scores for White 13-year-olds; the poverty rate of Blacks, at 24 percent, is twice the national average.

H.R. 40 is "necessary for this nation," Mr. Conyers insisted. "We are here today to help folks open their minds as they consider supporting H.R. 40. I truly believe that today's hearing will start the national dialogue," which can lead to the formal establishment of a slavery commission, he said.

"This hearing looks not just to the past, but to the legacy of our own history of slavery as it continues to affect race relations and inequality in present day America," agreed committee member Rep. Jerrold Nadler (D-N.Y.). "It is our duty to ask the difficult questions and to face up to our responsibilities to remedy the ongoing injustice of slavery that remains a part of our society."

The outright call for reparation payments, as well as for a commission to study reparations as a possible remedy for the victims of the trans-Atlantic slave trade, was supported by scholars, activists, church leaders, and even members of Congress.

"The horrors of the slave trade have yet to be addressed and the passage of time makes it even more difficult for us to respond to one of the most tragic, brutal, and for some, financially beneficial periods in American history," Harvard Law professor Charles Ogletree testified.

"I support the call for reparations for the descendants of the millions of slaves who toiled in this country for decades, and who never were compensated for their labor," said Prof. Ogletree.

"This was a momentous occasion here today, to provide an opportunity to address H.R. 40, which would establish a commission to look at the era of enslavement and whether it has impact on present day African Americans," Kibibi Tyehimba, co-chair of the National Coalition of Blacks for Reparations in America (N'COBRA), told The Final Call. "This is about getting the truth out. We were very happy to be here today, so we can begin that process. [Read the full article at New America Media online >>>].

[Return to
table of contents]
---
New Book
African American Foodways: Exploration of History and Culture.
Edited by Anne Bower
200 pages, hardcover, ISBN 13: 978-0252031854. University of Illinois Press, 2007.
Description from the publisher:


Moving beyond catfish and collard greens to the soul of African American cooking

Ranging over the progression from seventeenth-century West African fare to contemporary fusion dishes using "soul food" ingredients, this book provides an introduction to many aspects of African American foodways. Examining the combination of African, Caribbean, and South American traditions, the volume's contributors offer insights from history, literary studies, sociology, anthropology, and African American studies to demonstrate how food's material and symbolic values have contributed to African Americans' identity for centuries. Individual chapters examine how African foodways survived the passage into slavery, cultural meanings associated with African American foodways, and the contents of African American cookbooks, both early and recent.

Table of Contents: Introduction: Watching Soul Food, Anne L. Bower; The History of African American Food; Food Crops, Medicinal Plants, and the Atlantic Slave Trade, Robert L. Hall; Soul Food as Cultural Creation, William G. Whit; Excavating the South's African American Food History, Anne Yentsch; Representations of African American Food; From Fiction to Foodways: Working at the Intersections of African American Literary and Culinary Studies, Doris Witt; Chickens and Chains: Using African American Foodways to Understand Black Identities, Psyche Williams-Forson; Recipes for Respect: Black Hospitality Entrepreneurs before World War I, Rafia Zafar; Recipes for History: The National Council of Negro Women's Five Historical Cookbooks, Anne L. Bower.
[Return to table of contents]


---
New Book
Subfloor Pits and the Archaeology of Slavery in Colonial Virginia.
By Patricia Samford
248 pages, hardcover, ISBN 13: 978-0817354541. University of Alabama Press, 2007.
Description from the publisher:


"The manuscript is thorough and richly textured in use of ethnohistoric, art history, archaeological, and historical data. This will be a useful and concise source of data." -- Amy L. Young, Associate Professor of Anthropology, The University of Southern Mississippi

"This is a well-conducted piece of exciting synthetic research on a topic of interest to many archaeologists. This study features a thorough and sophisticated integration of ethnographic, documentary, and archaeological analyses. This work is an outstanding example of contextual archaeology." -- Laurie A. Wilkie, Associate Professor of Anthropology, University of California, Berkeley

Enslaved Africans and their descendants comprised a significant portion of colonial Virginia populations, with most living on rural slave quarters adjacent to the agricultural fields in which they labored. Archaeological excavations into these home sites have provided unique windows into the daily lifeways and culture of these early inhabitants.

A common characteristic of Virginia slave quarters is the presence of subfloor pits beneath the houses. The most common explanations of the functions of these pits are as storage places for personal belongings or root vegetables, and some contextual and ethnohistoric data suggest they may have served as West Africa-style shrines. Through excavations of 103 subfloor pits dating from the 17th through mid-19th centuries, Samford reveals a wealth of data including shape, location, surface area, and depth, as well as contents and patterns of related feature placement. Archaeology reveals the material circumstances of slaves' lives, which in turn opens the door to illuminating other aspects of life: spirituality, symbolic meanings assigned to material goods, social life, individual and group agency, and acts of resistance and accommodation. Analysis of the artifact assemblages allows the development of hypotheses about how West African, possibly Igbo, cultural traditions were maintained and transformed in the Virginia Chesapeake.
[Return to table of contents]


---
New Book
The Archaeology of Race and Racialization in Historic America.
By Charles E. Orser, Jr.
208 pages, hardcover, ISBN 13: 9780813031439. University of Florida Press, 2007.
Description from the publisher:


"Orser's analysis of race and racialization as ongoing historical processes liberates us from the commonly accepted idea that race is a fixed social reality. In examining the material lives of the Irish in New York and the Chinese in California, Orser demonstrates the vast impact that the process of racialization has had on immigrant communities in the United States. A must read for any historical archaeologist seriously interested in understanding the meanings of race and ethnicity." -- James A. Delle, Kutztown University

With the advent of this book, the ability of archaeologists to contribute to the study of race no longer can be doubted. By focusing on "racialization," the marginalizing process in which racial categories are imposed on groups of people based on some outward characteristic, Charles Orser shows how historical archaeology can contribute to the study of race through the conscious examination of material culture. He demonstrates this in two case studies, one from the Five Points excavation in New York City focusing on an immigrant Irish population, the second from a Chinese laundry in Stockton, California.

Orser argues that race has not always been defined by skin color; through time, its meaning has changed. The process of racialization has marked most groups who came to the United States in the nineteenth and early twentieth centuries; this book demonstrates ways that historical archaeology can contribute to understanding a fundamental element of the American immigrant experience.
[Return to table of contents]


---
2009 International Association for
Caribbean Archaeology Congress
Havana, Cuba, July 19-26, 2009
The International Association of Archaeologists of the Caribbean (IACA) and the City Historian's Office of Havana City announce for all the archaeologists and professionals doing research in Caribbean archaeology the 23rd International Congress on Caribbean Archaeology which will be held from the 19th to 26th July 2009 in Havana City, Cuba.

The following topics will be dealt with during the congress: New theoretical and methodological contributions to the study of Pre-Columbian cultures; Pre-agricultural and agricultural societies, new findings and interpretations; research on Pre-Columbian technologies; interpretation and reconstruction of every day's life in the Caribbean Pre-Columbian societies; migrations, contact, interaction, transculturation and adaptation models in the pre-colonial and colonial periods; Caribbean archaeology and ethnohistory; physical anthropology, genetic and hereditary studies of human groups; taphonomic studies in archaeology; pre-Columbian cave art and furnishings; historical archaeology, new theoretical-methodological contributions, findings and interpretations; archaeology in the study of slavery, resistance, abolition and emancipation; urban archaeology, studies, findings and interpretations; archaeology of architecture; research on historical technologies; mural painting: a resource for the archaeological research on historic buildings; preservation and restoration of archaeological evidence; subaquatic archaeology, new studies and findings; social archaeology in the Caribbean; research on archaeozoology and archaeobotany; archaeometry; industrial archaeology; research on sugar cane, coffee plantations and others; management of archaeological heritage in the Caribbean; public archaeology, museums and collections; theory in archaeology; historical research at the service of archaeology; archaeology in the digital era; archaeology of contemporary time; archaeological experiences in Caribbean places which are World Heritage Sites.

Participation sought through proposals for conferences, posters, documentaries or videos, workshops or round tables. Requirements for participation: Every speaker must present an original, unpublished work relevant to the topics included and to those related to the Caribbean archaeological region. The summary of the papers will be sent in digital format (Microsoft Word file), in Spanish, English or French before 31st October. The full text of the papers should not exceed 10 pages and will be sent completely before 31st March 2009 to facilitate the appropriate translation and ensure its participation. The authors are required to indicate the audiovisual media needed for the presentation. The authors are required to enclose a brief CV to the papers. The papers should be sent to: roura@arq.patrimonio.ohc.cu or eventos@viajessancristobal.cu.

In order to facilitate assistance for the event, we have prepared a tourist package which can be acquired through us and will have San Cristóbal as the incoming travel agency, email: eventos@viajessancristobal.cu. The Organising Committee will be thankful to any institution, agency, press media or people publishing this announcement and making it accessible to universities, schools, NGOs and others related to the topics announced herewith. Registration applications will be sent to the Organising Committee via email; email: eventos@viajessancristobal.cu

For additional information, contact: Lic. Roger Arrazcaeta, President of the Organising Committee, Department of Archaeology, OHC, Mercaderes 15 entre Empedrado y O'ReIlly. Habana Vieja, Cuba. Telephones: (537) 8 614469 / 8604298; web site http://museum-server.archanth.cam.ac.uk/IACA.WWW/Notice2_en.htm.

[Return to
table of contents]
---
93rd Annual ASALH Conference:
Carter G. Woodson and the Origins of Multiculturalism
The Association for the Study of African American Life and History is soliciting papers for its 93rd Annual Conference. The conference theme foregrounds early twentieth century efforts to promote the vision that true democracy requires tolerance of cultural differences. Through painstaking research chronicling the historical contributions of African Americans to the growth and development of the United States, Carter G. Woodson played a prominent role in laying the foundation for a rethinking of American identity and for contemporary multicultural discourses.

Submissions are encouraged that address the origins, evolution, and implications of various concepts of multiculturalism. The theme allows for broad and varied discussions of the implications of contemporary approaches to multiculturalism for people of African descent across the world.

ASALH invites scholars from all disciplines to make presentations in Birmingham on African and African American life, history, thought, and culture from the Atlantic coast of West Africa to the Caribbean Islands, Latin America, and the United States. Preference will be given to session proposals that address the specific conference theme; however, submissions addressing other important topics are invited and will be gladly received. ASALH supports and values all scholarship examining the history and lives of peoples of African descent.

The deadline for submissions is April 30, 2008.

All proposals must be submitted electronically to ASALH. For information on how to make electronic submissions, please visit www.asalh.org/93rdconvention.html, or contact the Academic Program Chair, James B. Stewart, at js8@psu.edu.

[Return to
table of contents]
---
Atlantic Emancipations
McNeil Center for Early American Studies
and the Library Company, Philadelphia
International Conference on Atlantic Emancipations, April 10-12, 2008, sponsored by the McNeil Center for Early American Studies and the Library Company, Philadelphia. The year 2008 marks the bicentennial of two important events in the history of slavery and freedom in the Atlantic world: the official end of the overseas slave trade in the United States (following the passage of statutes in the U.S. and Great Britain the previous year) and the maturation of Pennsylvania's gradual abolition law -- the world's first emancipation statute. These two events offer an exciting opportunity for reflection on the broader theme of black freedom struggles in the Atlantic world during the late-eighteenth and early-nineteenth centuries.

This major international conference will convene over forty scholars of slavery and abolition for extended discussion of a range of themes relating to black freedom movements throughout the Atlantic world. Steven Hahn, Pulitzer Prize winning author of "A Nation Under Our Feet," will serve as keynote speaker. Plenary sessions feature Richard Blackett, Laurent Dubois, Gary Nash, Cassandra Pybus, Sue Peabody, and Manisha Sinha.

Among many other issues, panel sessions will examine maroonage, emancipation and rebellion; the meaning of the Haitian Revolution in Atlantic world politics and society; war and emancipation in different national and imperial contexts; comparative emancipations in different imperial and local contexts; the prospect and peril of interracial activism in and beyond the United States; black emigration movements and the migrations of people of color to different locales in the Atlantic basin; legal cultures in pre- and post-emancipation societies; the gendered meanings of emancipation; the politics of emancipation through time and space; and the technologies of freedom (including printed discourse) throughout the Atlantic world.

A Library Company exhibition, "Black Founders and the Atlantic World," will accompany the conference. In addition, selected conference essays will be published in an edited volume appearing in the University of Georgia Press series entitled "Race in the Atlantic World, 1700-1900."

For more information on the conference, please go to the following website: www.librarycompany.org/emancipations/.

[Return to
table of contents]
---
Obeah and Other Powers:
The Politics of Caribbean Religion and Healing
This interdisciplinary conference will bring together scholars who are interested in the connections between religion and power in the Caribbean: the power of colonial and postcolonial states, of ruling elites, of subaltern communities, of nationalism, of ritual specialists, and of the spirits, lwas, orishas, and ancestors. We situate Caribbean religions within their broad historical and social contexts and are particularly interested in work relating to those communities, practices and belief systems that have been stigmatized or even outlawed, most of which have been symbolically connected to Africa. These include obeah, quimbois, santería / regla de ocha, vodou, Rastafari, kali mai puri, the Spiritual Baptist religion / the Converted, brujería, palo monte, Orisha, pocomania / pukkumina, winti, and Revival Zion.

Keynote speaker: Robert A. Hill. Other participants include: Ken Bilby, Erna Brodber, Alejandra Bronfman, Karen McCarthy Brown, Stephan Palmie, Kate Ramsay, Raquel Romberg, and David Scott.

A conference at Newcastle University, 16-18 July 2008. All conference sessions take place in room G5, Percy Building, Newcastle University. For additional information, see the conference web site, http://www.obeahconference.org/.

[Return to
table of contents]
---
Landscapes at Risk
Association for Preservation of Artifacts & Landscapes
The Pioneer America Society: Association for the Preservation of Artifacts & Landscapes (PAS: APAL) will hold its 40th annual conference at the recently restored Hilton Capitol Center in Baton Rouge, Louisiana, on October 16-18, 2008.

This event will be held in conjunction with the Eastern Historical Geographers Association (EHGA) meeting and will be hosted by the Department of Geography & Anthropology at Louisiana State University.

The 2008 Conference theme is: Landscapes at Risk. There will be a pre-Conference tour on Thursday led by cultural anthropologist, Jay Edwards through the extensive areas of devastation and renewal in New Orleans. Creole cottages, shotguns, and doubles will be staple fare for the day. Professor Edwards, an authority on Creole-Caribbean architecture, will highlight the preservation challenges facing the city and its home owners in a place of perpetual risk from hurricanes. On Saturday, cultural geographer, Craig Colten will lead the River Road field trip that will explore the landscapes that face a different sort of risk. It will include stops in Carville, Donaldsonville, and Plaquemine, LA. Risks from these sprawling chemical complexes and the emissions that rift from them present many challenges to communities and landscape preservation. Featured stops will include a hospital built to reduce the spread of Hansen's disease in the early 20th century, and communities that risk the loss of important structures due to population loss and economic decline.

The conference committee will be soliciting proposals for papers, special sessions, and panel discussions relating to the conference theme in the Spring. However, papers on all material culture topics of interest to the Society will be welcome. For further conference information, contact Craig E. Colten, Department of Geography and Anthropology, Louisiana State University, Baton Rouge, LA 70803; telephone: 225/578-6180; email: ccolten@lsu.edu; or visit the Society's website at: http://www.pioneeramerica.org.

[Return to
table of contents]
---
Conference on Religion & Religious Identities
in Africa and the African Diaspora
Call for Papers:
Conference on Religion & Religious Identities in Africa and the African Diaspora.
Kalamazoo, Michigan, May 22-25, 2008.



Religious beliefs and identities have among other things shaped the nature of human experience in Africa and the African Diaspora. It is also a known fact that religious beliefs and identities have influenced human behavior in both religious and non-religious ways in different societies. These influences have included positive and negative consequences in the ordering of society in Africa and the African Diaspora. Another critical aspect in trying to explore the concept of religion is what constitutes religion and religious beliefs? To date, scholars of religion have divergent views on this issue. To what extent is this applicable to Africans and peoples of African descent? What roles have religion and religious identities played in nation-building efforts in Africa and the African Diaspora? This conference will explore these and other related issues. In addition, participants are invited to explore other topics such as, but not limited to the following:

* Religion, gender and sexuality issues
* Religion and conflicts
* Religion, health and wellbeing
* Religion, State and political participation
* Religious denominations and community development
* Current scholarship on religion and religious Identities
* African religious identities in the Diaspora
* Religious identities in immigrant communities
* Pentecostalism in Africa and the African Diaspora
* Inter-religious encounters in Africa and the African Diaspora
* Islam, Christianity and African Traditional Religions
* Religion, Education and the making of the nation.

Conference participants are encouraged to submit abstracts (300 words at most) on any aspect of the broad themes identified above. The deadline for submitting paper proposals is April 15, 2008. All abstracts should include title, the author's name, institutional affiliation, address, telephone number, and email address. Please submit all abstracts by e-mail to: Onaiwu W. Ogbomo, Western Michigan University Kalamazoo, e-mail: .

[Return to
table of contents]
---
Conversations on Black Religion in the American Diaspora
Middle Passage: Conversations on Black Religion in the American Diaspora
An Interdisciplinary Conference on the Nature of the Black Religions in U.S. Life
April 3-5, 2008, Yale University Divinity School
www.yale.edu/divinity/middlepassage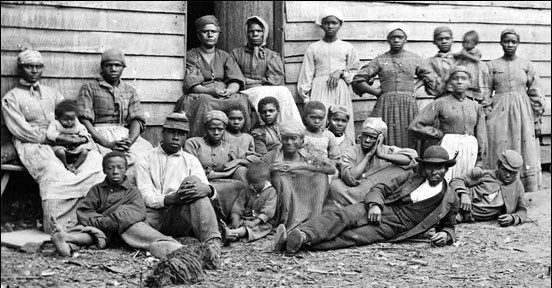 On April 3-5, 2008, the Yale University Divinity School will host a major interdisciplinary conference on Black religion in the American Diaspora with a focus on Black religious life in the United States. Rather than the traditional format of academic papers, the conference will focus on creating conversations among scholars, clergy, laity, and students. The focus is the Middle Passage as a historical event and a framework to think through the current ways in which Black religion is studied, taught, and lived in contemporary life.

One goal of these conversations is to be a resource for the ongoing study of Black religion in the United States as it relates to religious life in the U.S. in general and Black religion globally. A second goal is that the conference will be a foundation for future networking and strategizing among the participants. The underlying assumption of the conference is that it is increasingly imperative that the academy engages religion in the public realm -- both in the United States and in international contexts. In an increasingly polarized world and a larger academic environment that can often be hostile to things religious, scholars of religion cannot absent themselves from the public conversations we now have about religion. Many shudder at the simplistic and cartoonish characterizations we see and hear about Black religions that are complex and nuanced.

By engaging in an interdisciplinary conversation that includes anthropologists, biblical scholars, ethicists, historians, lawyers, musicians, poets, social scientists, and theologians, this historic conference will be one of the largest gatherings of scholars of Black religion ever held. It features 8 panels of nearly 30 senior and junior scholars. Among the scholars who will participate are Katie Geneva Cannon, M. Shawn Copeland, Kelly Brown Douglas, Robert Franklin, Eddie Glaude, Dwight Hopkins, William McClain, Peter Paris, Albert Raboteau, Linda Thomas, Renita Weems, and Cornel West. There will be two evening sessions that will feature drama and music.

The conference is sponsored by Yale Divinity School, the Institute of Sacred Music, the Fund for Theological Education, the Yale Religious Studies Department, the Yale African American Studies Department, the Yale Women, Gender, and Sexuality Program, and the New England-Maritime Region of the American Academy of Religion. The conference is free and open to the public.

[Return to
table of contents]
---
Tales of Slavery: Narratives of Slavery,
the Slave Trade and Enslavement in Africa
University of Toronto, May, 20-23, 2009
Call for Proposals



The export of men, women and children from Africa to the America lasted over four hundred years and touched most communities in Africa, directly or indirectly. We now know a great deal about this trade: its gender and age composition, the ways in which individuals and communities responded to the trade, the extent to which warfare, kidnapping, legal mechanisms, economic processes and religious institutions generated a pool of people to be bought and sold. We know about resistance, the formation of slave-trading states and the increased use of slaves within Africa. We have some autobiographical accounts by those who were literate or achieved literacy after their capture, but these are few. Most of the sources used to write the history of slavery in Africa are European, but the memories of the external and internal slave trade remain and are embedded in African ritual, song, and memory.

We are inviting proposals dealing with the exploration of new research methodologies and the re-examination of old ones. Our major objective is to make available to students and scholars African sources on slavery, enslavement, the slave trade and to improve our understanding of these documents. The conference will deal with all parts of Africa and is open to any methodology that taps African voices. Our goal is to seek out and explore newer methodologies, to find more African sources, and if possible, to look for the voices of the slaves themselves. We also want to make these sources more widely available. We can accept sources originating from other continents only if they involve memories of Africa and the trade from Africa.

This conference follows on one organized at Bellagio, Italy in September 2007 and entitled Finding the African Voice: Narratives of Slavery and Enslavement. It explored a wide range of different kinds of sources: oral traditions, life histories recorded by missionaries, court documents from both colonial and Islamic courts, petitions to colonial authorities, proverbs, folk-lore, music, and personal correspondence. Because of space limitations at Bellagio, we limited ourselves to West and Northwest Africa and to the historic past. We are now interested in opening up a wider range of questions, for example, the impact of the slave experience on witchcraft belief and on contemporary representation of political power, personal and social memories relating to trajectories of emancipation/resubordination in colonial and postcolonial times, and narratives of contemporary enslavement. We are also interested in a fuller exploration of music, dance, proverbs and folklore and would like to collect as many life histories as possible from the point of view of descendants of slaves and of former masters and slave-dealers.

Interested persons should submit a title and an abstract to slavery.tales@utoronto.ca. All participants will be expected to post on the conference web-site a month before the conference a copy of their papers and at least one document on which the paper is based. Our objective is to publish both a collection of sources and a volume of essays.

We hope to have funds available to bring scholars from Africa, including graduate students working on questions of slavery. Other participants will be expected to find their own funding.

[Return to
table of contents]
---
Interdisciplinary Conference on Race
Future of an Illusion, Future of the Past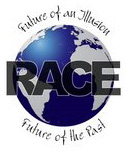 Call for papers, panels, and worshops on race in contemporary society and history from multiple disciplinary perspectives on the following topics: Race: History of an Idea; Race and Slavery in the Atlantic World; Race & Nation; Race, Ethnicity, Space, and Place in History; Race and African Americans; Race and the Asian American Experience; Race in Latin America; Race, Ethnicity, and the Problem of Language; Race, Ethnicity, and Identity in Contemporary African Society Race, Gender, Class; The Multiracial Movement in America; Multiracial Identity in Global Perspective; Teaching of Race and Ethnic Studies in the Academy; Genetic Ancestry Tracing; Racial Genetics and the Commercialization of Race; Representations of Race in Communication Media; Psychology of Racial Oppression; Future of Race; Whiteness and White Privilege; Race and Medical Disparities; Race and Sports; Race and the Military in U.S. society.

Keynote speakers will include Dr. Alan Goodman-President, American Anthropological Association (2005-2007), and Associate Director of the New York African Burial Ground Project.

The conference will take place November 13-15 2008 at Monmouth University, located in West Long Branch, New Jersey. Please forward a 250 word (1 page) abstract to futureofrace@gmail.com along with a brief cv. CFP deadline April 15, 2008. Hettie V. Williams, Lecturer-African American History, Monmouth University; email: futureofrace@gmail.com; additional details available at: Visit the website at http://FutureofRace.googlepages.com/home.

[Return to
table of contents]
---
Corpus of Older African American Letters
This three-year project, launched 1 July 2007, aims to identify, collect, and transcribe manuscript letters written by African Americans, free or slave, prior to 1900. The Corpus of Older African American Letters (COAAL) will compile them into an electronic corpus to be freely distributed in electronic form for research purposes. Funded by the Deutsche Forschungsgemeinschaft, the project is being directed by Prof. Edgar Schneider (University of Regensburg, Germany) and Prof. Michael Montgomery (University of South Carolina, USA). At the present more than 500 manuscript letters, many not heretofore published, are on file, including from emigrants to Sierra Leone and Liberia, as well as from Civil War soldiers, slaves, and others. Transcription is now actively in progress.

Over the next year the COAAL project will continue to seek appropriate documents for inclusion, and in this regard it seeks suggestions and advice from colleagues on locating such items, whether unpublished or previously published. The project team will be pleased to receive any relevant information on archives, collections, or scholars which may prove helpful in the construction of COAAL. The original and basic motivation for the project is study the language of older African American letters, and this on the basis of letters from less-educated individuals. Realizing, however, that the project represents an unparalleled opportunity to compile, either as transcribed texts or as bibliographical references and links, an unparalleled resource of first-person documents from those whose voices are often not heard, a resource of potentially great value to genealogists, historians, and other researchers, we are eager to learn of any that might be appropriate to include. The organizers anticipate that COAAL will become available online in late 2008 at the earliest.

Contacts: Edgar Schneider (edgar.schneider@sprachlit.uni-regensburg.de); Michael Montgomery (ullans@yahoo.com).

[Return to table of contents]


---
Book Review

Karolyn Smardz Frost. I've Got a Home in Glory Land: A Lost Tale of the Underground Railroad. New York: Farrar, Straus, and Giroux, 2007, xxv + 450 pp. Illustrations, maps, notes, bibliography, index. $30.00 (cloth), ISBN 978-0-374-16481-2.

Reviewed for the African Diaspora Archaeology Newsletter by Deb Rotman, Ph.D., RPA, University of Notre Dame.



Karolyn Smardz Frost combines historical and archaeological data to tell the story of Thornton and Lucie (Ruthie) Blackburn. Through the lives of these two individuals, she illuminates many dimensions of the African-American/Canadian experience in the nineteenth century -- from slavery to escape to emancipation to continuing struggles as free people.

The book is divided into three sections that are arranged geographically -- Kentucky, Detroit, and Canada -- each representing an important chapter in the Blackburns' lives. The first section, Kentucky, focuses on the early years of Thornton and Ruthie, who were born into slavery. Thornton's childhood in Maysville, Kentucky provides important historical background for the institution of slavery as well as the laws and customs that shaped the social relations of the enslaved condition. The emphasis is on the brutality of enslavement as well as the economic, urban, and familial milieus of southern plantations. This first section provides an incredibly detailed, nuanced, and multidimensional context not only for slavery, but for the nineteenth century more generally. The section also describes the way in which Thornton and Lucie escaped from slavery by disguising themselves as free blacks. Ruthie's master had died and, with his estate bankrupt, she had been sold "down the river." Using forged papers, the couple made their way from Louisville, up the Ohio River and eventually to Detroit.

Once in Detroit, the Blackburns settled into a new community of free blacks. Being "free," however, was not without its dangers. The Fugitive Slave Law mandated "that any white suspecting a black person of being a fugitive was required to report it" (p. 161). In 1830, Thornton was recognized by Thomas Rogers, a clerk who had supervised his work in a warehouse in Louisville. Rogers reported the encounter, which led to Thornton and Ruthie's arrest. While awaiting trial, a group of their supporters helped them to escape from jail -- first Ruthie, then Thornton. They were whisked to safety in Canada. This incident became known as the Blackburn Riots of 1833, believed to be the first racial uprising in the United States. While previously African-Americans had frequently been the victims of urban riots, in this instance the community arose to protect two of its members.

Upon arriving in Canada, Ruthie changed her name to Lucie -- a new identity for her new life. They again received refuge, but were not safe. Canadian law was poorly equipped to handle questions of extradition under the Fugitive Slave Law. The Blackburns were central to a landmark legal case in which it was ultimately determined that escaped slaves could not be extradited to the United States. This judicial finding made Canada a truly "free land," although it strained relations between the two countries for many years afterward. The balance of the book explicates the lives of Thornton and Lucie in Toronto specifically and more generally the activity of the Underground Railroad in the mid-nineteenth century, the Civil War, and the post-Emancipation era.

The details of Thornton and Lucie Blackburns' lives were well documented in historic records specifically because they were figures central to the riots in Detroit and legal proceedings in Canada. This incredible visibility in archival records provides a rare opportunity to extrapolate the lives of other individuals who endured slavery and sought freedom as the Blackburns did.

Frost's work humanizes the experiences of enslaved Africans -- experiences that are often depicted and understood in anonymous and general terms. In addition, she stresses the ways in which the Blackburns were active agents in their own seeking of freedom. While the Quakers and other groups were also involved with the Underground Railroad, Frost focuses on the ways in which the African-American community was empowered, skilled, and resourceful in assisting fugitive slaves to freedom in Canada.

By necessity, Frost uses creative license to fill some historical gaps. Her occasional speculation in the book is consistently plausible and rooted in her thorough knowledge of the time period and context which she explores. The result is a very rich telling of a powerful story.

The book will naturally be of interest to general readers seeking to learn more about African-American history, the Underground Railroad, and the nineteenth-century. Academics in History and American Studies might use this work as supplementary reading in a course that explores these areas. The detailed and holistic approach that Frost uses in the volume makes it ideally suited for such a classroom setting.

My only critique with the volume is that the archaeological research is not as integral to the story as it might be. The archaeology is often presented as an after-thought. In discussing dietary practices, for example, Frost states "They exploited the natural sources of food in the vicinity, for bones of wild fish and game were discovered in the ashes of the kitchen hearth" (p. 166). No addition discussion of the particular species of fish and game, indications of processing and cooking or how those bones in the kitchen ash were part of the Blackburns worldview or cultural context was provided. Similarly, later she recounts "Their simple dishes and glassware, silver-plated spoons, and bits of glass and corroded metal together paint a picture of day-to-day living from 1834 through the 1890s" (ibid). Yet without additional elaboration, the reader must imagine the details of that daily life for themselves, because no interpretation is provided.

Importantly, however, it was the archaeological investigation of the couple's small home that opened the window to this extraordinary tale. It is for that reason that the archaeology at the Blackburn residential site is significant. Nevertheless, without more detail of the archaeology, artifacts, and interpretation, this book does not contribute to a richer understanding of the material aspects of African-American or African-Canadian life. Perhaps such a purpose is beyond the author's vision for this work.

I've Got a Home in Glory Land is well researched, detailed, and thorough in its investigation of the experiences of Thornton and Lucie Blackburn as viewed through historical and documentary evidence. Their lives serve as a lens through which to view a critically important chapter of American and Canadian history and our collective pasts.

[Return to table of contents]


---
Book Review

H-NET BOOK REVIEW
Published by H-Atlantic, http://www.h-net.org/~atlantic/ (October 2007).

Stephanie E. Smallwood. Saltwater Slavery: A Middle Passage from Africa to American Diaspora. Cambridge: Harvard University Press, 2007. 261 pp. Illustrations, maps, notes, index. $29.95 (cloth), ISBN 0-674-02349-8.

Reviewed for H-Atlantic by Sharla Fett, Department of History, Occidental College.



In 1919, Carter G. Woodson critically reviewed U. B. Phillips's American Negro Slavery and found it severely lacking in its recognition of African American historical subjectivity. "In just the same way as a writer of the history of New England in describing the fisheries of that section would have little to say about the species figuring conspicuously in that industry," charged Woodson, "so has the author treated the negro in his work."[1] The historiography on slavery and the slave trade in 2007 is worlds away from Phillips's early twentieth-century study. Yet the heavily quantitative and European-centered nature of the evidence on the transatlantic slave trade still poses difficulties for historians who desire to write, as Joseph Miller phrased it, "in warmer tones," not only of aggregate numbers, but of the impact of the market on human lives.[2] Stephanie Smallwood's visionary Saltwater Slavery rethinks the route from Africa to the Americas from the perspective of forced African migrants. In terms of both argument and methodology, Smallwood has carved a groundbreaking intellectual pathway through the historiography of the Atlantic World and the transatlantic slave trade.

Focused on the British slave trade from the Gold Coast between 1675 and 1725, Saltwater Slavery offers a broadly relevant exploration of the processes of commodification and forced migration. Drawing on both the business records and the voluminous correspondence of the Royal African Company (RAC), the book's seven chapters follow the trajectory from West African captivity across the Atlantic to the expanding plantation complex of the Americas. Fully engaged with West African, British, Caribbean, and North American historical scholarship, Smallwood illuminates the market forces that bound the African coastal dungeons of El Mina to London shipyards and Jamaican slave markets. At the same time, she exposes the Atlantic World as a European construction of time and space, given definition by maps, financial networks, and sailing ships. At the heart of this book lies the argument that for most African captives, the Atlantic World was not a coherent geographic entity, but a space of saltwater terror. The Atlantic passage, then, was not a "Middle Passage" but an "experience of motion without discernible direction or destination" (p. 122).

Saltwater Slavery is first and foremost a profound meditation on the historical process of commodification in early modern Atlantic markets. Although this point is oddly downplayed in the book's introduction, Smallwood has elsewhere described herself as writing the "cultural history of economic systems."[3] As such, the book joins other notable studies, such as Walter Johnson's Soul by Soul (1999) that transcend conventional boundaries between economic, social, and cultural history. Compared to existing seventeenth-century systems of African servitude, Smallwood argues, the Atlantic slave trade institutionalized the distinctly alienating process of transforming persons into commodities. Chapters 1 through 4 detail the process of commodification. Building on Orlando Patterson's notion of "social death" (Slavery and Social Death, 1982), Smallwood reads between the lines of RAC ledgers to show how West African slave factories massed individual captives into the "full complements" that slave traders were required to accumulate before embarking on voyages to the Americas. Despite a steady history of escapes, uprisings, and other acts of resistance, the forces of the Atlantic market permeated the West African littoral, inexorably moving captive Africans into European hands. In coastal incarceration points as well as the holds of slave ships, Smallwood contends, slave merchants turned captives into commodities by determining the outer limits of suffering that captive Africans could endure without endangering the profits of their captors. Here, Smallwood's innovative readings search the familiar ground of death and suffering to find new insight into the embodied meanings of enslavement. For example, rather than count the total captives taken on board the Edgar in 1681, Smallwood imagines the voyage from the perspective of the growing number of men and women who languished in the ship's hold over the course of two months, as the Edgar sailed between West African ports attempting to fill its hold. Similarly, Smallwood reads Peter Blake's narrative of the 1675 voyage of the James not for aggregate mortality statistics but instead to illuminate the meanings Akan-speaking captives might have placed on the daily accretion of deaths at sea, unassisted by proper funerary ritual.

Having traced the rupture of West African identities and social relationships past the "point of no return," chapters 4 through 7 turn to the question of reconstituting African identity in the Americas, where the forces of the Atlantic market were no less overwhelming. Smallwood complicates the recent debates between "creolists" who posit a synthesis of African cultures in the Americas and "slave route" advocates who argue for specific African ethnic continuities.[4] Rather than discussing specific African survivals, Smallwood first explores in detail the "multivalent" identities of Akan-speaking people and then suggests that such a complex understanding of identity challenges "the erroneous assumption that shared culture traits automatically constitute community" (pp. 115, 119). Referencing Sidney Mintz and Richard Price's 1976 Birth of African American Culture, Smallwood insists that men, women, and children chained in the holds of ships constituted neither "groups" nor "crowds." Rather, she argues, they were "a mutilated assemblage" of alienated persons, a "novel and problematic social configuration," and "the antithesis of community" (pp. 121, 101). Smallwood's final chapter on "life and death in the Diaspora" disrupts historians' sometimes over-eager search for community among traumatized persons. At the same time, Smallwood calls attention to the enormous energy required by Africans who managed to reverse even partially the relentless current of commodification by reestablishing new social relations under American slavery. Compared to voluntary immigrants' social networks that served to connect past and present, Smallwood argues, enslaved African communities in the Americas faced the "serial repetition of one-way departures" in which the "voices of saltwater slaves, could not reverberate back to Africa" (p. 201).

Bringing "the people aboard slave ships to life as subjects in American social history" (p. 3) is no easy feat given the nature of Smallwood's evidence. At times, Smallwood provides original interpretations of familiar evidence, such as ex-slave Charles Ball's account of an African-born father who placed a canoe and paddle on the grave of his son to allow the son passage back across the sea to Africa. Instead of the familiar interpretation that this evidence shows the survival of African cosmology, Smallwood uses the anecdote to deepen her argument of the impact of the "saltwater" passage that required enslaved Africans to innovate ritual "to meet the particular needs of slave life in the Atlantic system" (p. 190). At other times, Smallwood relies heavily on secondary literature about Akan kinship, culture, and politics to piece together the way captive Africans may have strained to understand the long Atlantic voyage. The richness of Smallwood's discussions of Gold Coast cultures and societies contrasts starkly with the absence of direct evidence from captive Africans and emphasizes the void of meaning that transatlantic enslavement created. Occasional arguments call for further evidence and elaboration. Two such examples arise in chapter 7 in the brief discussion of the importance of women in reconstituting social relations and the many references to the disruptive potential of "new Africans" arriving in tentatively established slave communities. For the most part, however, gaps in the evidence derive from the nature of extant sources and Smallwood's bold readings illustrate both the risks and promise of reading traditional sources against their grain.

Situating issues of diasporic identity within the political economy of the slave trade, Smallwood provides a new look at the history of forced migration whose legacies have yet to be fully confronted. With its unflinching analysis of the violence of slave markets, Saltwater Slavery contributes to a larger shift in the interpretation of slavery towards an emphasis on trauma and loss. From Nell Painter's landmark essay, "Soul Murder," to Saidiya Hartman's recent travel memoir Lose Your Mother (2006), scholarship calling for a "fully loaded cost accounting" of slavery has countered the earlier weight placed on resistance, autonomy, and community strength.[5] Despite her recovery of numerous acts of African resistance and resilience, Smallwood nevertheless asks readers to confront the irreparable violence of early Atlantic capitalism. Furthermore, like Jennifer Morgan's Laboring Women (2004), Saltwater Slavery explores the question of African subjectivity in the early centuries of the slave trade despite a near total absence of first-person voices from enslaved Africans. Though some of the questions Smallwood raises may not ever be answered, the eloquent and sophisticated framing of her inquiry sets the terms of discussion for future studies of transatlantic slavery.

Notes

[1]. C.G. Woodson, "_American Negro Slavery_ by Ulrich Bonnell Phillips," Mississippi Valley Historical Review 5 (March 1919): 481.

[2]. Joseph C. Miller, Way of Death: Merchant Capitalism and the Angolan Slave Trade, 1730-1830 (Madison: University of Wisconsin Press, 1988), xv.

[3]. Stephanie Smallwood, "Commodified Freedom: Interrogating the Limits of Anti-Slavery Ideology in the Early Republic," Journal of the Early Republic 24, no. 2 (2004): 294.

[4]. Kristin Mann, "Shifting Paradigms in the Study of the African Diaspora and of Atlantic History and Culture," in Rethinking the African Diaspora: The Making of a Black Atlantic World in the Bight of Benin and Brazil, ed. Kristin Mann and Edna G. Bay (London: Frank Cass, 2001).

[5]. Nell Irvin Painter, "Soul Murder and Slavery: Toward a Fully Loaded Cost Accounting," in U.S. History as Women's History: New Feminist Essays, ed. Linda K. Kerber, Alice Kessler-Harris, and Kathryn Kish Sklar (Chapel Hill: University of North Carolina Press, 1995), 125-146.

Copyright (c) 2007 by H-Net, all rights reserved. H-Net permits the redistribution and reprinting of this work for nonprofit, educational purposes.

[Return to table of contents]


---
Book Review

H-NET BOOK REVIEW
Published by H-Atlantic, http://www.h-net.org/~atlantic/ (November 2007).

Marika Sherwood. After Abolition: Britain and the Slave Trade since 1807. London: I. B. Tauris, 2007. x + 246 pp. Illustrations, maps, appendix, notes, index. £20 (cloth), ISBN 978-1-84511-365-0.

Reviewed for H-Atlantic by Christian Hogsbjerg, Department of History, University of York.



Marika Sherwood's After Abolition is a timely and important work that should serve as a reminder of the dark side of British commercial and industrial development during the long nineteenth century. Instead of engaging in the ongoing controversy over the profitability of colonial slavery during the eighteenth century that has gone on ever since Eric Williams published his classic Capitalism and Slavery in 1944, Sherwood examines the "omnivorous attitude" of the "rising merchant class" in Britain after the official abolition of the slave trade within the British Empire in 1807. By drawing attention to the "huge profits" that British merchants and bankers still managed to make from slavery and the slave trade until at least the 1880s (p. 26), Sherwood breathes new life into Williams's general point that British civilization was built on the backs of the labor of enslaved Africans.

With a nod to Charles Dickens, Sherwood tells the "tale of two cities," Liverpool and Manchester, and how their growth during the Victorian "age of great cities" was dependent on trade with slave-owning states in the American South, and the wider Americas. It was not just merchants and bankers who profited from trade with countries like Cuba and Brazil. In the "cottonopolis" of Manchester, the whole city and indeed the economy of Lancashire, in general, was built on slave-produced cotton, and while many, but not all, cotton textile workers in Lancashire identified with the struggle to abolish slavery, the British government was not prepared to kill "King Cotton." As Horatio Bridges, an officer in the U.S. Navy, noted in 1845, "It is quite an interesting moral question . . . how far either Old or New England can be pronounced free of guilt and the odium of the Slave Trade, while, with so little indirectness, they both share the profits and contribute essential aid to its prosecutors" (p. 137).

Britain's continuing complicity in this barbaric and horrific trade was in part because of the influence in Parliament of many merchants who had effectively bought themselves parliamentary seats and tenaciously fought for their economic interests through politics. As one such member of Parliament, Matthew Forster, whose company Forster and Smith traded extensively with West Africa, admitted to a House of Lords committee in 1843, "it was painful to hear the twaddle that is talked on the subject of the sale of goods to slave dealers on the coast of Africa. People forget that there is scarcely a British merchant of any eminence who is not proud and eager to deal as largely as possible with slave importers in Cuba and Brazil, and slave buyers and sellers in the United States" (p. 72). One of the strengths of Sherwood's book is her investigative reporting of the activity of some of these British merchants of eminence, using the papers of antislavery organizations that campaigned against the likes of Forster to try and reconstruct the manner in which these merchants made their fortunes.

Sherwood is also particularly incisive on the devastating effects that such commercial trading with slave dealers in Africa had on the continent of Africa during the nineteenth century, as the drive to capture and enslave led to continuous wars. Instead of modern commerce somehow bringing "civilization" and slow liberation from slavery to Africa, the reverse seems to have taken place, as the power of local slavers was legitimated and strengthened. The continued existence of slavery in Africa in the 1880s was then, of course, invoked as a justification for European colonization in the later nineteenth century. When it was no longer possible for British business to profit from slavery in the Americas and the American South by the 1880s, the British government used its official abolitionist stance to declare itself on a "civilizing mission" in Africa.

After Abolition then stands as an indictment of what Sherwood calls "the realities behind the well-promoted image of an altruistic and anti-slavery Britain" (p. 59), though she does not pass over the few measures that the British government did take to enable it to build up such an image after 1807. For example, while the British West African Anti-Slave Trade Squadron was set up in 1808 to try and stop slaving vessels crossing the Atlantic, and did undoubtedly do some good work, it was never funded adequately or legally empowered to be effective as a deterrent. As Lord Palmerston noted in 1862, "if there was a particularly old, slow going tub in the navy, she was sure to be sent to the coast of Africa to try to catch the fast sailing American clippers" (pp. 116-117).

There are of course limitations to Sherwood's study, as she would undoubtedly be the first to admit. To fully investigate the extent to which the British government and people were complicit in slavery and the slave trade would take far more research than was possible for this work. In addition, some of the arguments in After Abolition are speculative, inadequately referenced, and of a slightly repetitive nature. Sherwood's polemical and relentlessly accusatory tone, while perhaps understandable and even justifiable, seems at times unfair to the work of historians who have investigated the extent to which Britain's economic growth rested on enslaved labor after 1807.

Yet, the number of historians engaged in such research remains miniscule, and Sherwood asks challenging new questions about the British past. While After Abolition is clearly written for a popular audience as much as for her fellow academics, it would be criminal if historians, particularly British historians, refused to attempt to build on Sherwood's often pioneering research to try and come up with some convincing answers. At a time when British politicians are increasingly championing the apparent virtues of "Britishness," advancing public understanding about the full significance of the barbarism of slavery and the slave trade in making Britain "Great" could not be more urgent.

Copyright (c) 2007 by H-Net, all rights reserved. H-Net permits the redistribution and reprinting of this work for nonprofit, educational purposes.

[Return to table of contents]



©2008 African Diaspora Archaeology Network
Copyright and all rights reserved by
individual authors for each article.
Please send comments, suggestions, or questions
to Chris Fennell at cfennell@uiuc.edu
Last updated: March 9, 2008
Text only menu
Search