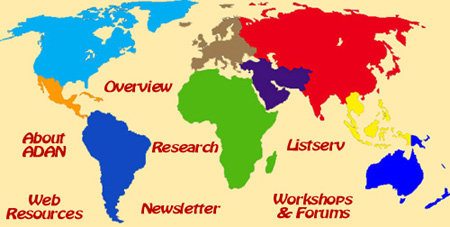 Spring 2012 Newsletter
ISSN: 1933-8651
In this issue we present the following articles, news, announcements, and reviews:
Articles, Essays, and Reports
News and Announcements
Book Review
---
Editors' Corner

This issue of the Newsletter continues to bridge the Black Atlantic with scholarship reflecting critical pedagogies and political consciousness within archaeology. We are busy planning the next African Diaspora Archaeology Network forum for the 2013 Society for Historical Archaeology conference in Leicester, England. The session is tentatively entitled "Building the Atlantic Mosaic: Piecing Together Archaeology, Memory and Memorials of the African Diaspora." We are taking advantage of the conferenceís international focus and collaborating with Richard Benjamin, Director of the International Slavery Museum in Liverpool, to ensure the forum is rich with critical discourse surrounding the politics of interpretation and the importance of interdisciplinary approaches.

With this Newsletter issue, we are also changing to seasonal labels for each issue, instead of the month in which each quarterly issue is published. So, instead of March, June, September, and December, we will now label the issues as Spring, Summer, Fall, and Winter. As the Summer approaches we wish you all a safe and productive field season!

[Return to table of contents]


---
Society of Black Archaeologists
By Ayanna Flewellen and Justin Dunnavant
In the Fall of 2011, a small group of students based at the University of Florida got together and formed the Society of Black Archaeologists (SBA). Born out of a need to address what we feel are major concerns with the discipline of archaeology, SBA hopes to serve as a venue that fosters constructive dialogue and promotes action-oriented solutions. While the idea for such an organization had been suggested in the past, the lack of a substantial number of trained black archaeologists thwarted previous attempts. Today the number of archaeologists from underrepresented backgrounds remains small, although it is steadily increasing.
SBA is truly the late-born child of the 1960s and 1970s Black Studies movement that resulted in alternative theoretical and methodological approaches as to how the African Diaspora should be studied. Emerging more than three decades after the formal creation of the Association of Black Anthropologists, SBA's late beginnings reflect the small, but growing, number of professionally trained archaeologists, from Africa and its Diaspora in the Americas. Currently, there are fewer than 70 professionally trained black archaeologists and graduate students working in the United States. Their research has predominantly focused on the experiences of slavery and emancipation, while examining new perspectives on power, resistance, and consumption.
For more than a century, Africans throughout the diaspora have been engaged in archaeological inquiry. John Wesley Gilbert is often cited as the first professionally trained African American archaeologist, having conducted excavations in Greece in 1891. Since then, scholars, although not professionally trained in archaeology, have continued to engage the literature. In 1897, Martin Delany referenced the major archaeological findings related to Ethiopia and Egypt, in his book Principia of Ethnology. Eighteen years later, African American scholar W.E.B. Dubois quoted the archaeological research of ancient Nubia in his book, The Negro. Philosopher Alain Locke went on sabbatical from 1924-25 as a researcher with the French Oriental Archaeological Society in Cairo, Egypt where he witnessed the reopening of King Tutankhamen's tomb. Finally, the acclaimed and often forgotten historian, anthropologist, and archaeologist, William Leo Hansberry taught some of the first courses on ancient African civilizations in the early 1920s. In his teachings, he used the archaeological literature of his time to counter racist notions of past and present Africa. Within Africa and the wider Diaspora there is a rich history of archaeologists that remains to be elucidated.
Keeping in the tradition of these scholars, SBA's mission is to promote academic excellence and social responsibility by creating a space for black archaeologist and other scholars who support SBA's missions and activities. We are not a racially or ethnically exclusive organization and welcome anyone who supports the goals and mission of the Society. The Society has five main goals that encompass its mission and vision:


To lobby on behalf and ensure the proper treatment of African and African Diaspora material culture. SBA is determined to analyze and critique theories and practices within the field of archaeology that exploit, misrepresent, and exclude the material culture of African-descended peoples.


To promote archaeological research and recruit more blacks to enter the field of archaeology. The Society is committed to encouraging and recruiting more blacks into the field of archaeology both within and outside of the academic sphere by placing emphasis on the recruitment of black undergraduates and graduate level students.


To raise and address contemporary concerns relating to African peoples worldwide. In the effort to promote social responsibly, one of SBA goals is to use archaeological research to highlight and address modern issues that affect African peoples.


To highlight the past and present achievements and contributions that blacks have made in the field of archaeology. We should celebrate the strides made by John Wesley Gilbert, the African American women who worked at Irene Mound and Swift Creek, and more resent scholars who have committed themselves to the theory and practice of archaeology.


To ensure that the communities affected by archaeological work are not simply viewed as objects of study or informants. Rather, they should be treated as active makers and/or participants in the unearthing and interpretation of their history. SBA wishes to stress the vital importance of community collaboration in all phases of research and in the dissemination of knowledge.

Several members of the organization met at the 2012 Society for Historical Archaeology annual conference in Baltimore, Maryland to discuss future plans for SBA. One of the ideas that came forth was a need to record the experiences of those who have assisted in excavations but have gained little more than a day's wage. While some of them may view archaeology as just a job, it is clear that others are deeply invested in the research that continues at these sites. Their perspectives have much to contribute towards the discussion of archaeological research.

Since that meeting, SBA members organized a panel presentation entitled "Our Things Remembered: Unearthing Relations between Archaeology and Black Studies" at the National Council for Black Studies 2012 annual conference in Atlanta, Georgia. We have been invited to organize an additional panel for the 2012 meeting of the Association for the Study of African American Life and History (ASAALH) convention to be held Philadelphia this September.

SBA currently operates as a listserv, rather than a formal organization, with members located throughout North America and the Caribbean. Efforts are currently being made to extend our reach to other African-descended communities in Africa, the Caribbean, Europe, Asia, as well as Central and South America. If you are interested in joining our listserv please contact us at sbarchaeologists@gmail.com or follow us on our website at www.societyofblackarchaeologists.com.

[Return to
table of contents]
---
The Effects of the Civil War on Land Ownership and Agricultural
Production for Freedmen in St. Helena Township, Beaufort County, South Carolina:
Using the Agricultural Census to Evaluate and Interpret Material Culture
By Christopher Baas
Following the 1861 Civil War Battle of Port Royal, Union forces occupied the Beaufort District coastline between the cities of Charleston, South Carolina, and Savannah, Georgia. The occupied land included thousands of freedmen, the former slaves who had worked the Sea Island cotton and rice plantations. Two nearly simultaneous events that dramatically affected the low-country landscape followed. First, in an undertaking named the Port Royal Experiment, northern missionaries came to the region to work toward integrating freedmen into the general society. Arguably, the most successful result of the experiment was the 1862 creation of the Penn School on St. Helena Island. The school taught fundamental literacy to island children until 1900 when it expanded its charge to include the teaching of industry and agriculture, a change that resulted in the current campus layout. Second, the U.S. Government used tax laws to take possession of private land within Beaufort Districtís St. Helena Parish, and sold the property to fund the war. One group of buyers in these public sales were freedmen, who purchased small 10 to 20 acre farms using income accumulated from working on the Union-operated plantations. In an instant, the landscape transformed from large, white-owned cotton plantations of several hundred acres to mostly small, black-owned family farms. As a result, St. Helena Parish is the only example where southern land was confiscated during the war, but never returned to the original owners. [Read or download this full article here in Adobe .pdf format >>>].

[Return to table of contents]


---
Teaching the Kongo Transatlantic
By John Janzen
The seminar "Kongo Transatlantic" which I have been teaching since 2000 explores the historical character of Western Equatorial Africa and the circumstances of the creation of several New World communities -- in Jamaica, Brazil, Haiti, Cuba, and the Georgia Islands in the U.S. The KiKongo-speaking region of Western Equatorial Africa became a crossroads of the Atlantic World in 1482 when Portuguese explorer Diogo Cao sailed up the Congo river to the first rapids and left his engraving in a stone on the bank (near today's Matadi), visited the Kongo court in Mbanza Kongo, and took several Kongo men back to Portugal, and later returned them to Kongo where they told their countrymen what they had seen in Mputu, the land of the Bamputulugezo. For five centuries the relationship of Africa to Europe and the Americas has affected millions of people and shaped the societies of the entire region. This Kongo-affected world has become the cultural ancestry of an important cross-section of New World peoples. This paper sketches some of the organization and thematic issues of a course on Kongo Transatlantic, and the challenges students face who wish to learn about this complex region and its history. [Read or download this full article here in Adobe .pdf format >>>].

[Return to table of contents]


---
The Ephemerality of African Diasporic Materiality
By David T. Palmer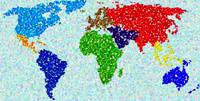 The material record of the African Diaspora in the Gulf Coast and Circum-Caribbean is all too often ephemeral, elided, or erased. Interactions in this region, increasingly structured through hierarchical relations, resulted in new (some might say hybridized) modes of living and relating among the various African, European, and Native peoples. Our efforts to identify and explore, much less understand, the resulting complexity and cosmopolitanism are hindered by a legacy of racist hegemony: less substantive archaeological sites and the reification of past bias through site evaluation processes that do not account for the impact of past racism on site formation. In both overt and less-obvious systemic ways, the subjectivity and materiality of African descended persons are considered, literally and figuratively, to be immaterial in a world still largely under racist hegemony. Late 20th and early 21st century events, from the mainstream media characterization of post-earthquake Haiti and post-Katrina New Orleans, to the initial treatment of the African Burial Ground (New York City) provide examples of the continuation of racist hegemony. An examination of current site evaluation processes in the United States informed by Critical Race Theory reveals the systemic bias of a superficially fair set of criteria and processes. [Read or download this full article here in Adobe .pdf format >>>].

[Return to table of contents]


---
2012 Archaeological Fieldschools
Addressing African Diaspora Subjects
Compiled By Christopher Barton
The following fieldschool list includes announcements sent to us by the fieldschool directors and others listed on various directories. The fieldschool announcements that follow are presented below in alphabetic order by location, starting with those in North America and then West Africa.
---
North America
---
Annapolis and Wye House, University of Maryland, College Park. The University of Maryland's Department of Anthropology and the Office of Extended Studies announce the continuation of the Archaeology in Annapolis project. This intensive, six-week field school devotes eight hours daily to supervised archaeological fieldwork, laboratory work, stratigraphic analysis, technical drawing, writing and interpretation. In 2012, excavations will be conducted in the city of Annapolis and at Wye House, the former plantation of the Edward Lloyd family on the Eastern Shore of the Chesapeake Bay.

The excavations in Annapolis will take place in the historic district in the heart of the city, focusing on the Cornhill and East Street neighborhoods . One of the houses in this neighborhood is the James Holliday House, which was purchased in 1850 by a freed slave who worked as courier to the first eight superintendents of the US Naval Academy. The site is still owned by Holliday's descendants, who invited Archaeology in Annapolis to conduct archaeological excavations on the property in 2009. Summer excavations will focus on exploring this familyís history, as well as expanding our understanding of the connections between the African American community and Filipinos in Annapolis. Immigrants from the Philippines arrived in Annapolis in the early 20th century, mostly through connections with the US Navy. Preliminary research suggests that there are important connections between these two understudied groups in Annapolis.

The excavations at Wye House this summer are devoted to studying the landscape of the plantation and lives of the slave population. Wye House is where Frederick Douglass was enslaved as a boy, and is described in his autobiography, My Bondage, My Freedom. Excavations in 2011 located two previously unidentified slave quarters, and we will continue to investigate these buildings in the coming summer.

Skill development will focus on: soil identification and description; accurate record keeping and photography; artifact identification and cataloguing. Students will learn site formation processes and reconstruction of site stratigraphy, basic surveying and mapping. Students will also learn elements of site report production, including background historical research, reconstruction of site stratigraphy, production of unit summaries, and familiarity with professional guidelines for reporting on fieldwork and laboratory analysis. Finally, students participate in public interpretation through writing for the AiA Blog (http://blog.umd.edu/aia).

Students will tour a selection of sites excavated to date by Archaeology in Annapolis throughout the quarter square-mile historic district of Annapolis within the context of the broader project and its goals, research design, and accomplishments. Arrangements will also be made to visit gardens and landscapes associated with former plantations on the Eastern Shore. Dates: May 29-July 6. Application Deadline: TBA. More information: contact Mark Leone: mleone(at)umd.edu; Kathryn Deeley: kdeeley(at)umd.edu; Benjamin Skolnik: bskolnik(at)umd.edu; Beth Pruitt: epruitt(at)umd.edu.
---
Indian Camp, Virginia, University of Tennessee-Knoxville. Indian Camp was part of a 2400-acre plantation established about 1730 by planter Francis Eppes. The property was divided between his daughters, Ann and Martha, with each receiving 1200 acres upon his death. Indian Camp was also home to a community of enslaved Africans and African Americans who lived and worked there from about 1730 until the 1770s. In1774, Thomas Jefferson inherited the property, and shortly thereafter, began moving enslaved individuals and families west to work at his Poplar Forest plantation in Bedford County, near the Blue Ridge mountains. During the first summer session of 2012, students will conduct test excavations in areas of the property where evidence suggests quarters may have been located. Our goals will be to locate the site(s), establish site boundaries, and begin defining its spatial organization. We will also return to two areas of the property where we found evidence of 18th-century occupation that may be related to quartering sites, and open up larger excavation units to explore these areas in more detail. Students will therefore learn survey skills (gridding and excavating shovel-test pits) and skills relating to stratigraphic excavation, record keeping, and artifact identification. Students will work in the field approximately 8 hours per day, Monday-Friday during this period. Dates: May 31-June 29, 2012. Application Deadline: April 13, 2012. More information: http://web.utk.edu/~bheath2/.
---
Monticello, Virginia, Monticello's Department of Archaeology and the University of Virginia. Monticello's Department of Archaeology and the University of Virginia are pleased to offer a six-week archaeological field school at Monticello from June 4 through July 13, 2012. The program offers six credits to undergraduate and graduate students through the University of Virginia School of Continuing and Professional Studies. Our fieldwork addresses changing patterns of land use and settlement on Thomas Jefferson's, Monticello Plantation from c. 1750 to 1860, along with their ecological and social causes and consequences. Toward the end of the 18th century, spurred by shifts in the Atlantic economy, Thomas Jefferson and planters across the Chesapeake region replaced tobacco cultivation with a more diversified agricultural regime, based around wheat. Our research is revealing the enormous implications of this shift for what the landscape looked like and how enslaved African-Americans worked and lived on it. Significant questions remain about the ecological processes that were unleashed, how they were experienced by slaves and slave owners, and the importance of changing slave work routines in explaining social dynamics among enslaved and free people. Field School students will focus on two major efforts during the summer of 2012. The first is the exploration of how the domestic lives of slaves changed during the shift from tobacco to wheat cultivation. The second is devoted to documenting the ecological effects of agricultural change. Dates: June 3-July 13. Application Deadline: contact supervisor. More information: http://www.monticello.org/site/research-and-collections/monticello-uva-archaeological-field-school.
---
Montpelier, Virginia, James Madison University, SUNY Plattsburgh. Montpelier in Orange, Virginia, is the lifelong home of James Madison, Jr., fourth present of the United States and acknowledged by his peers as the "Father of the Constitution." While Madison's service to his country would frequently take him from his beloved Montpelier, he would return following his retirement from the Continental Congress, and during his service as Secretary of State under Thomas Jefferson would frequently return to Montpelier during the "malarial months" of summer. Finally, after two terms of service as president, Madison, Jr. retired to a much-changed Montpelier where he would become known as the "Old Sage of Montpelier." For the next two decades, visitors would be drawn to Montpelier not only to visit Madison, but to enjoy the famous hospitality of Dolley Madison, the first First Lady. On Constitution Day, 2008, James Madison's Montpelier celebrated the exterior restoration of the house and announced the "Presidential Detective Story," a program of research that would aim to not only restore the furnishings of the interior of the mansion but look at Madison in the context of 19th-century planter society -- as man, planter, and slave owner. The surveys and excavations over the past three years have expanded our understanding of slavery and plantation life at Montpelier, identifying numerous slave quarters across the property (many of which were occupied by Confederate cavalry during the civil War). Most recently, excavations have focused on the domestic slave quarters of the South Yard, the principal stable of the 18th-19th century, and the "Stable Quarter," a home for slaves skilled in carpentry, brick-laying, horse-tending and other skills vital to the operation of a plantation. In 2010/2011, the Montpelier Archaeology Department secured a three-year NEH grant to study the enslaved population of the plantation by contrasting the lives of three different communities of slaves whose experience may shed light not only on slavery at Montpelier but also of slavery in Virginia as a whole. Dates: James Madison University Archaeology Field School: May 15 to June 15, 2012. SUNY Plattsburgh Archaeology Field School: July 1 to July 27, 2012. Application Deadline: contact supervisor More information: http://www.montpelier.org/explore/archaeology/fieldschools.php.
---
African Moravian Log Church, Old Salem, North Carolina, Department of Archaeology. What better place to study historical archaeology than at Salem College with its lengthy tradition of academic excellence and picturesque surroundings? The campus is located in the Moravian town of Salem, founded in 1766. The grounds include the 1786 Single Sistersí House, which holds the distinction of being the oldest building on a North Carolina college campus as well as the earliest extant edifice in the United States continuously associated with womenís education. Dr. Michael O. Hartley will teach archaeological field methods at the St. Philips Heritage Center in Salem. Old Salem, Inc. reconstructed the 1823 African Moravian Log Church in 1999 and restored the brick St. Philips sanctuary -- North Carolinaís oldest known African American religious building -- in 2003. The complex also includes two graveyards containing burials of Salemís African American residents and non-Moravians who passed away while visiting the community. Dr. Hartley has conducted field schools on Salemís residential lots, at the Blum Print Shop site, and at the St. Philips complex since 1993. Old Salem Museums & Gardens staff will provide lectures and tours regarding archival research methods, artifact collections, and Salemís built environment. The archaeological field school is offered as special topics course through Salem Collegeís Historic Preservation Certificate program.

Application procedure: Prospective students must complete the archaeological field school registration form and the summer school registration form found online at http://www.salem.edu/registrar/summer-school. The summer school registration form must be submitted with tuition payment. The archaeological field school registration form should be submitted electronically to Heather Fearnbach at heather.fearnbach@salem.edu. Students interested in registering between May 18th and May 29th should contact Heather Fearnbach before completing their paperwork. Dates: May 29-June 22. Application Deadline May 18, 2012. More information http://www.oldsalem.org/archaeology.
---
The University of Massachusetts Amherst will be conducting a five week summer field school program introducing the practice of heritage archaeology and the African American history of Western Massachusetts. Heritage archaeology involves new methods of collaborating with museums and community groups as well as standard archaeological survey and field procedures. Training in the theory and method of Heritage Archaeology includes: survey strategy; subsurface sampling procedures; artifact analysis archival research; and public interpretation. In addition students will engage in community outreach and collaboration across a number of regional sites and will develop an appreciation of the African American history of Western Massachusetts. Dates: July 11 to August 14, 2012. Application Deadline: April 17, 2012. More information: http://umassheritagearchaeology.wordpress.com/.
---
West Africa
---



Gambia, West Africa, St. Maryís College of Maryland. The St. Maryís College of Maryland Department of Anthropology announces its 2012 Field Program in The Gambia. Enrolled students will work together with Gambian students, citizens, and profession-als to pursue collaborative research active-ties of mutual scholarly and community interest. These include the second field season of archaeological investigations at Berefet on the Gambia Riverís south bank, over a seven week period from May 19 to July 9, 2012. The village of Berefet in the province of Foni, is located across the river from the World Heritage Sites of Fort James on James Island, and the villages of Albreda and Juffure on the "Ceded Mile" of Niumi district in the North Bank Region. Documentary sources from the early 17th century describe Berefet is an old trading village that played a role in the networks that supported the trans-Saharan trade prior to European contact with Africans south of the Sahara. Into the 18th century, The Royal African Company maintained an outpost at Berefet, managed by the British on James Island. During the colonial era, the village emerged as the primary port on the south bank and cap-ital of the Foni district. Residents of Berefet assert that the village was founded nearly 800 years ago. Over time the village has moved steadily away from the river to the present upland site off the main road which is Berefetís fourth location.

Archaeological investigations at Berefet began in 2010 in collaboration with the Gambia's National Centre for Arts and Culture (NCAC) Division of Museums and Monuments (DMM) and Berefet community, when field school students surveying the site identified a former British outpost and associated cemetery, a 17th and 18th century Mandinka village, and a 19th century port town. The 2012 archaeological investigations at Berefet will again be. The aim of this summerís research is to identify the extent of the former 17th and 18th century Mandinka village which hosted the British outpost. Students will be taught a range of field and laboratory methods including mapping and survey, intensive excavation, and artifact analysis. Dates: May 19-July 9. Application Deadline: April 10, 2012. More information: Dr. Liza Gijanto (lgijanto@smcm.edu).

[Return to table of contents]


---
Bristol Archaeologists Unearth
Slave Burial Ground on St. Helena
By Andrew Pearson, Ben Jeffs,
Annsofie Witkin, and Helen MacQuarrie
Posted online March 8, 2012 by University of Bristol
at http://bristol.ac.uk/news/2012/8294.html
Copyright 2012 University of Bristol.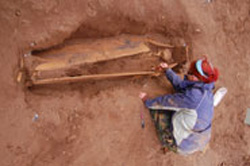 Archaeologists from the University of Bristol have unearthed a unique slave burial ground on the remote South Atlantic island of St Helena. The excavation, which took place in advance of construction of a new airport on the island, has revealed dramatic insights into the victims of the Atlantic slave trade during the notorious Middle Passage.

The tiny island of St Helena, 1,000 miles off the coast of south-west Africa, acted as the landing place for many of the slaves, captured by the Royal Navy during the suppression of the slave trade between 1840 and 1872. During this period a total of around 26,000 freed slaves were brought to the island, most of whom were landed at a depot in Rupert's Bay. The appalling conditions aboard the slave ships meant that many did not survive their journey, whilst Rupert's Valley -- arid, shadeless, and always windy Ė was poorly suited to act as a hospital and refugee camp for such large numbers. At least 5,000 people are likely to have been buried there.

Part of the cemetery was investigated between 2006 and 2008 in advance of a new road that had to pass through Rupert's Valley to provide access to the proposed airport project. Some 325 bodies in a combination of individual, multiple and mass graves were discovered. Only five individuals were buried in coffins: one adolescent and four still- or newborn babies. The remainder had been placed (or thrown) directly into shallow graves, before being hastily covered. In some cases mothers were buried with their presumed children, or sometimes the bodies were so close that there might have been a familial relationship.

Now archaeologists, led by Dr Andrew Pearson of the Department of Archaeology and Anthropology at the University of Bristol, are publishing for the first time the results of their discoveries and the subsequent scientific investigations of the human remains and associated grave goods buried with them.

Osteological analysis shows that 83 per cent of the bodies were those of children, teenagers or young adults -- prime material for the slave traders who sought victims with a long potential working life. In most cases the actual cause of death is not clear, but this is unsurprising because the main killers aboard a slave ship (such as dehydration, dysentery and smallpox) leave no pathological trace. Nevertheless, scurvy was widespread on the skeletons; several showed indications of violence and two older children appear to have been shot.

The monograph detailing the excavations is published by the Council for British Archaeology: Pearson, Jeffs, Witkin and MacQuarrie, 2011, Infernal Traffic. Excavation of a Liberated African Graveyard in Rupert's Valley, St Helena. CBA Research Report 169. An article on the project can also be found in the most recent edition of the magazine British Archaeology (No. 123, March/April 2012, pp 28-33). [Read this full press release by the University of Bristol online >>>].

[Return to
table of contents]
---
Call to Save 'Slave'
Cave Carvings at Guy's Cliffe House
By BBC News
Posted online March 8, 2012 by BBC News at
http://www.bbc.co.uk/news/
uk-england-coventry-warwickshire-17299912
Copyright 2012 BBC News.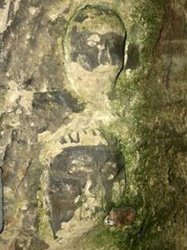 A series of cave carvings in Warwickshire could be one of Britain's most important black heritage finds, according to a West Midlands organisation.

The Sparkbrook Caribbean and African Women's Development Initiative (SCAWDI) claims three carvings in caves alongside Guy's Cliffe House, near Warwick, were made by slaves in the 17th Century and deserve to be preserved for the nation.

"I haven't seen anything like it outside Africa. It's the only one of its kind in Europe," Barbara Willis-Brown, director of SCAWDI, said.

Ms Willis-Brown added: "In 1751, Samuel Greatheed returned from his plantations in St Kitts and started to build the house.

"A noted slave trader, we believe, rather than pay wages, he brought slaves over to help in its construction."

Ms Willis-Brown said Samuel Greatheed was one of the most prominent slave traders in the Caribbean and later received the large sum of £25,000 in compensation from the government following the abolition of the slave trade.

'Incredibly important'



She added: "The caves would probably have been used as dormitories. . . . We think they carved their faces here, hoping they would be found one day."

If true, Ms Willis-Brown said that the carvings would be a "rare" and "incredibly important" reminder of Britain's black heritage.

Carved into the soft chalk-stone, Ms Willis-Brown said the carvings were in a poor condition.

Currently in private ownership there is no general public access to the caves. [Read this full article at BBC News online >>>].

[Return to
table of contents]
---
Archaeologist, Black Feminist Unearths
Contributions of African Diaspora, Everyday People
By Max Eternity
Posted online February 12, 2012 by Truthout.org
Copyright 2012 Truth-out.org.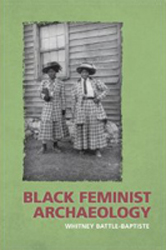 Every February is Black History Month, which presents many opportunities to explore and contextualize the broader, nuanced and less familiar aspects of what it means to be an American man, woman or child. This is all the more true when it comes from an African Diaspora perspective.

So, what happens when one comes to understand that race is more of a social construct and not a biological fact?From that perspective, how should one interpret and convey the black experience in America?

And what does it mean to live "an existence where the direct effects of racism are still a part of the everyday?" These are questions that stem from the larger question: what is the meaning of race? Questions that Whitney Battle-Baptiste says will be answered according to how each individual thinks about this country's historical past.

Battle-Baptiste is an assistant professor of anthropology at the University of Massachusetts (Amherst), and these are just a few of the issues posed in her new book Black Feminist Archaeology -- a book in which she holds in juxtapositions the often-dueling oppression that accompany both race and gender identity. [Read this full article at Truth-out.org online >>>].

[Return to table of contents]


---
Advanced Metal Detecting for the Archaeologist
By Christopher Espenshade
The Continuing Education Program of the Register of Professional Archaeologists (RPA), the board of AMDA, and New South Associates are proud to announce that the course, Advanced Metal Detecting for the Archaeologist (AMDA), has been certified as a two-day, 16-credit offering. The RPA created the Continuing Education Program in recognition that archaeologists, like other professionals, benefit from ongoing training after completion of their academic degrees. For more information on the program, please visit the RPA web site.

The AMDA course is designed to provide archaeologists with the knowledge and hands-on experience necessary to assure best practices when applying metal detecting in archaeological research. The AMDA board includes Chris Espenshade, Dr. Terry Powis, Dr. Sheldon Skaggs, Dr. Doug Scott, Patrick Severts, and Garrett Silliman. New South Associates is the institutional sponsor. The course will be offered several times per year in various venues. Agencies interested in sponsoring a local offering of the course should contact Chris Espenshade at cespenshade@newsouthassoc.com.

Mastering the method of metal detecting can be of major importance to those of us working on sites of African American activity. There are many sites that are difficult to impossible to find and evaluate through shovel test or unit excavation, including slave cabins, tenant houses, maroon camps, military camps, tar kilns, and charcoal kilns. By properly applying metal detecting, we can help assure the discovery and proper treatment of a broad range of African American sites.

Our first course offering will be August 22 and 23, 2012, in Charleston, South Carolina. The local sponsor will be the South Carolina Department of Parks, Recreation & Tourism. The tuition will be $225.00, we have room for 23 students, and students will receive 16 RPA continuing education credits. The August course will be on the two days prior to the Southeastern Conference on Historic Sites Archaeology (SECHSA). We encourage attendees of the course to stay for the SECHSA. For AMDA course details, please contact Chris Espenshade, and information on SECHSA please visit the conference web site.

[Return to
table of contents]
---
New Book
The Archaeology of Colonialism:
Intimate Encounters and Sexual Effects
Edited by Barbara L. Voss and Eleanor C. Casella
Cambridge University Press,
Cloth, 374 pp., ISBN-13: 9781107008632, 2011.

Description from the Publisher: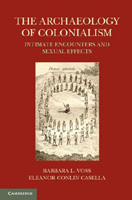 This volume examines human sexuality as an intrinsic element in the interpretation of complex colonial societies. While archaeological studies of the historic past have explored the dynamics of European colonialism, such work has largely ignored broader issues of sexuality, embodiment, commemoration, reproduction, and sensuality. Recently, however, scholars have begun to recognize these issues as essential components of colonization and imperialism. This book explores a variety of case studies, revealing the multifaceted intersections of colonialism and sexuality. Incorporating work that ranges from Phoenician diasporic communities of the eighth century to Britain's nineteenth-century Australian penal colonies to the contemporary maroon community of Brazil, this volume changes the way we understand the relationship between sexuality and colonial history.

[Return to table of contents]


---
New Book
Fatal Revolutions: Natural History, West Indian
Slavery, and the Routes of American Literature
By Christopher Iannini
University of North Carolina Press,
Paperback, 376 pp., ISBN-13: 978-0807835562, 2012.

Description from the Publisher: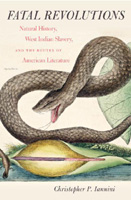 Drawing on letters, illustrations, engravings, and neglected manuscripts, Christopher Iannini connects two dramatic transformations in the eighteenth-century Atlantic world -- the emergence and growth of the Caribbean plantation system and the rise of natural science. Iannini argues that these transformations were not only deeply interconnected, but that together they established conditions fundamental to the development of a distinctive literary culture in the early Americas. In fact, eighteenth-century natural history as a literary genre largely took its shape from its practice in the Caribbean, an oft-studied region that was a prime source of wealth for all of Europe and the Americas.

The formal evolution of colonial prose narrative, Ianinni argues, was contingent upon the emergence of natural history writing, which itself emerged necessarily from within the context of Atlantic slavery and the production of tropical commodities. As he reestablishes the history of cultural exchange between the Caribbean and North America, Ianinni recovers the importance of the West Indies in the formation of American literary and intellectual culture as well as its place in assessing the moral implications of colonial slavery.

[Return to table of contents]


---
New Book
They Left Great Marks on Me:
African American Testimonies of Racial
Violence from Emancipation to World War I
By Kidada E. Williams
New York University Press,
Paperback, 293 pp., ISBN-13: 9780814795361, 2012.

Description from the Publisher: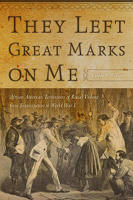 Well after slavery was abolished, its legacy of violence left deep wounds on African Americans' bodies, minds, and lives. For many victims and witnesses of the assaults, rapes, murders, nightrides, lynchings, and other bloody acts that followed, the suffering this violence engendered was at once too painful to put into words yet too horrible to suppress. In this evocative and deeply moving history, Kidada Williams examines African Americans' testimonies about racial violence. By using both oral and print culture to testify about violence, victims and witnesses hoped they would be able to graphically disseminate enough knowledge about its occurrence and inspire Americans to take action to end it. In the process of testifying, these people created a vernacular history of the violence they endured and witnessed, as well as the identities that grew from the experience of violence. This history fostered an oppositional consciousness to racial violence that inspired African Americans to form and support campaigns to end violence. The resulting crusades against racial violence became one of the political training grounds for the civil rights movement.

[Return to table of contents]


---
New Book
Cultivating Race: The Expansion
of Slavery in Georgia, 1750-1860
By Watson W. Jennison
University of Kentucky Press,
Paperback, 440 pp., ISBN-13: 9780813134260, 2012.

Description from the Publisher: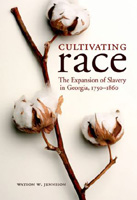 From the eighteenth century to the eve of the Civil War, Georgia's racial order shifted from the somewhat fluid conception of race prevalent in the colonial era to the harsher understanding of racial difference prevalent in the antebellum era. In Cultivating Race: The Expansion of Slavery in Georgia, 1750-1860, Watson W. Jennison explores the centrality of race in the development of Georgia, arguing that long-term structural and demographic changes account for this transformation. Jennison traces the rise of rice cultivation and the plantation complex in low country Georgia in the mid-eighteenth century and charts the spread of slavery into the up country in the decades that followed. Cultivating Race examines the "cultivation" of race on two levels: race as a concept and reality that was created, and race as a distinct social order that emerged because of the specifics of crop cultivation. Using a variety of primary documents including newspapers, diaries, correspondence, and plantation records, Jennison offers an in-depth examination of the evolution of racism and racial ideology in the lower South.

[Return to table of contents]


---
New Book
The Slave Trade and the Origins
of International Human Rights Law
By Jenny S. Martinez
Oxford University Press,
Paperback, 246 pp., ISBN-13: 9780195391626, 2012.

Description from the Publisher: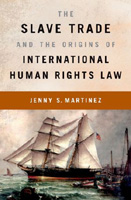 There is a broad consensus among scholars that the idea of human rights was a product of the Enlightenment but that a self-conscious and broad-based human rights movement focused on international law only began after World War II. In this narrative, the nineteenth century's absence is conspicuous -- few have considered that era seriously, much less written books on it. But as Jenny Martinez shows in this novel interpretation of the roots of human rights law, the foundation of the movement that we know today was a product of one of the nineteenth century's central moral causes: the movement to ban the international slave trade. Originating in England in the late eighteenth century, abolitionism achieved remarkable success over the course of the nineteenth century. Martinez focuses in particular on the international admiralty courts, which tried the crews of captured slave ships. The courts, which were based in the Caribbean, West Africa, Cape Town, and Brazil, helped free at least 80,000 Africans from captured slavers between 1807 and 1871. Here then, buried in the dusty archives of admiralty courts, ships' logs, and the British foreign office, are the foundations of contemporary human rights law: international courts targeting states and non-state transnational actors while working on behalf the world's most persecuted peoples -- captured West Africans bound for the slave plantations of the Americas. Fueled by a powerful thesis and novel evidence, Martinez's work will reshape the fields of human rights history and international human rights law.

[Return to table of contents]


---
New Book
Escape from Texas: A Novel of
Slavery and the Texas War of Independence
By James W. Russell
Sloan Publishing,
Paperback, 210 pp., ISBN-13: 9781597380355, 2012.

Description from the Publisher: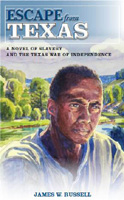 In 1828 James, a slave, arrives in Texas, brought by his owner, Samuel Bingham. Texas is then a part of the Mexican state of Coahuila y Tejas. James comes to Texas because he has no choice. But once there, he finds a postrevolutionary country where slavery is on the way out and his freedom is a real possibility. His owner, though, is determined to take advantage of the low cost of land in Texas to build up a farm into a cotton plantation with the use of slave labor. Over the next nine years James will experience and participate in a series of wrenching events that marked the origins of the Lone Star State. Set in the years surrounding the 1836 Texas War of Independence, Escape from Texas is a solidly researched examination of the clashing aspirations of slaves, slave owners, Indians, and Mexicans during a turning point of the westward expansion of the United States.

While there are a number of novels set in this period of Texas history, Escape from Texas is the only novel that has a slave as a key protagonist and incorporates prominently that point of view of the turbulent events. Its provocative underlying thesis is that the extension of slavery was the true underlying cause of the Texas War of Independence, not yearnings for freedom by the Texas frontiersmen, as American folklore has traditionally had it. Escape from Texas is to the understanding of the Texas War of Independence as Howard Fast's Freedom Road was to the understanding of the post-Civil War periof of Reconstruction.

[Return to table of contents]


---
Book Review

Judith A. Carney and Richard Nicholas Rosomoff. In the Shadow of Slavery: Africaís Botanical Legacy in the Atlantic World. University of California Press, 2010. Paperback, 280 pp., 10 color illus., 10 photographs, 48 line illus. ISBN-13: 9780520257504.

Reviewed for the African Diaspora Archaeology Newsletter by Megan E. Springate, University of Maryland, College Park



Increasingly, studies of free African and slave life in the Americas have emphasized individual and collective agency in preserving and adapting aspects of African cultures in the New World. More and more of these studies are taking a global, trans-Atlantic approach in their study of culture and custom that are embodied, preserved, and changed in materials (such as clothing, ceramics, and religious/ritual objects). In the Shadow of Slavery falls into this latter multiscalar category, stepping back from the more traditional plantation- or regional-level look at African diaspora foodways and exploring African contributions and influences on a trans-Atlantic (and occasionally global) scale in the context of slavery and colonization. Using an extensive array of primary documents (many of which are illustrated, some in color), Carney and Rosomoff provide a powerful and important counter-narrative to dominant meta-narratives of African and slave foodways. [Read or download this full review here in Adobe .pdf format >>>]

[Return to table of contents]



©2012 African Diaspora Archaeology Network
Copyright and all rights reserved by
individual authors for each article.
Please send comments, suggestions,
or questions to the editors
Last updated: April 21, 2012
Text only menu
Search