March 2023 Newsletter
ISSN: 1933-8651
In this issue we present the following articles, news, announcements, and reviews:
Articles, Essays, and ReportsNews and AnnouncementsNew BooksBook Reviews
---
Saving Angola: Community-Based Archaeology as Grassroots Activism
By Uzi Baram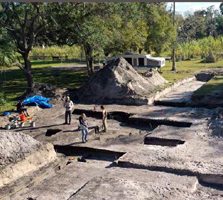 This article is Part I of a two-part feature about community activism and the archaeology of Manatee Mineral Spring in Florida, followed by Part II, below, in this Newsletter issue.

It was cause for celebration when, in February 2019, the City of Bradenton announced that a small park in northeast Bradenton would become the eastern terminus for Riverwalk, a successful recreational and entertainment district along the Manatee River. The park already was a historic site, with cultural landscapes that began in pre-Columbian times and moved forward to embrace an early nineteenth-century maroon community and an 1840s pioneer settlement that became the Village of Manatee and, eventually, the City of Bradenton. Plans included signage about the history of the site, which is located near Manatee Mineral Spring, a natural feature used by countless people over time before it was capped in the 1980s. The Riverwalk expansion meant that more residents and visitors would learn the history and heritage of the region while enjoying views of the Manatee River. In addition, Reflections of Manatee Inc., a small but determined, nonprofit historic preservation organization, likely would increase visitation to its three historic houses with exhibits.

For more than two decades, Reflections of Manatee volunteers have organized public heritage events on the property, and in 2013, the organization installed twelve interpretative signs about the varied histories by the spring. Nonetheless, while the new gazebo was pretty, the nearby sugar cane field was interesting, and the Black Bead-Cats Claw Tree was a National Champion Native Tree, few people had reason to come to the park. The proposed landscape plan showed Manatee Mineral Spring flowing into a pond and streaming into the Manatee River, with lagoons to address rising sea levels. It was a beautiful vision for a renewed park—an image of spring waters being released, decades after the spring had been capped.

However, as the archaeologist who announced that traces of the early nineteenth-century maroon community of Angola rested underground near the spring, I was concerned. Would the archaeological record be destroyed by the transformation of the park landscape?

[This article originally appeared in the 2021 issue of the magazine Adventures in Florida Archaeology published by the Florida Historical Society Archaeological Institute (link).]

[Read or download this full article here in Adobe .pdf format >>>].

[Return to table of contents]


---
Tango Mulatto: The Untold Afro-Argentine History of Tango, 1800s-1900s
By Laurel Teresa Parkhurst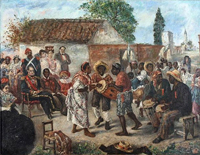 During the time of nation-building Argentina constructed a Europeanized identity that rejected nonwhite and particularly African cultures. Tango is likely a synthesis of candombe, a dance developed from the African nations in the River Plate region and from milonga which stemmed from the payada traditions of the gauchos. However, because of the insistence on erasing African elements in Argentine culture, the Afro-Argentine contribution to tango is often denied or unnoticed. To research this topic, I analyzed secondary sources such as texts from political leaders, scholars, and writers, as well as consulted primary resources including Afro-Argentine newspapers from the late 1800s. I found convincing evidence to suggest the rhythm and certain chorographical elements of tango were borrowed from candombe. The recognition of a hybrid Black and white tango would force Argentina to rethink its white nation identity and open itself to the possibility of confronting its racial past.

[Read or download this full article here in Adobe .pdf format >>>].

[Return to table of contents]


---
What We Found Out about Angola:
Laboratory Results for the Early 19th-century Maroon Community
By Uzi Baram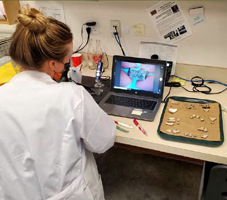 This article is Part II of a two-part feature about community activism and the archaeology of Manatee Mineral Spring in Florida, preceded by Part I, above, in this Newsletter issue.

Until recently, the history of the City of Bradenton— with a population now exceeding 60,000—started in the 1840s. The Indigenous history is ancient, but the Spanish entrada in Florida disrupted settlements and communities. Seminole history thus becomes incorporated through the Armed Occupation Act of 1842, when Anglo-American pioneers came to the Manatee River to take Native lands and start settlements that grew over the decades. Local history books relate tales of indigenous Native Americans on the Singing River, the exploits of Hernando de Soto, the battles of the 19th-century Seminole Wars, and of forts and a castle.

A nearly forgotten chapter in this history is archived in a 1973 presentation by Bradenton lawyer Dewey Dye Jr., who spoke on the maritime history of the region. A transcription of a speech to the Manatee County Historical Society includes mention of Angola, a name culled from the 1828 Spanish Law Claims Commission. In a 1990 publication, historian Canter Brown Jr. expanded on the history of Angola. Sarasota community scholar Vickie Oldham sought to find the exact location of that haven of liberty. I joined the interdisciplinary research team "Looking for Angola" as an archaeologist, dedicated to community-based research.

After several years of research and only a few weekends of volunteer excavations, I had assembled archival, geographic, and material evidence to declare success for "Looking for Angola."1 This community is an important chapter in the history of the freedomseekers. It is a complicated past, with broad strokes that paint Spanish La Florida as a haven from slavery, famously at Fort Mose, and then at a British fort on Prospect Bluff on the Apalachicola River. Although a US naval engagement in July 1816 destroyed the fort and killed hundreds of maroons and Native Americans, many escaped to Billy Bowlegs' town on the Suwannee River. In April 1818, Andrew Jackson led a raid into Spanish territory that caused refugees from the Battle of Suwannee to escape to Tampa Bay, where they joined others already at Angola on the Manatee River, swelling the number of residents to more than 700. They lived in liberty until summer 1821, when a slave raid destroyed the community. Hundreds of people were captured, but many escaped to the Florida interior or the British Bahamas, where their descendants continue to live.

[This article originally appeared in the 2022 issue of the magazine Adventures in Florida Archaeology published by the Florida Historical Society Archaeological Institute (link).]

[Read or download this full article here in Adobe .pdf format >>>].

[Return to table of contents]


---
Bronzeville's Black Metropolis Designated as National Heritage Area
By Jamie Nesbitt Golden, Block Club Chicago, December 2022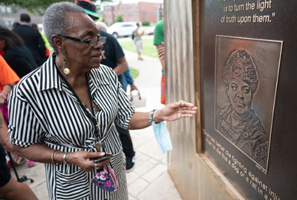 Community leaders hope the designation will solidify Bronzeville's reputation as a Black cultural hub and help preserve its history while helping the neighborhood improve and grow.

Grand Boulevard -- A large swath of Bronzeville is being recognized as a national heritage area, offering it federal funding so its history can be preserved even while it grows.

Rep. Bobby Rush, who did not seek reelection and will soon retire, vowed at the beginning of 2022 that he would see the Bronzeville National Heritage Area Act pass. Now, his bill to do so is expected to soon be signed into law by President Joe Biden.

The bill designates a large swath of Bronzeville -- 17th to 71st streets -- as a national heritage area. Other versions of the bill have been introduced over the past decade but never made it to the finish line.

In a statement, Rush said Bronzeville's "need for landmark recognition couldn't be overstated."

"This site would help preserve over 200 historical assets in Chicago's Bronzeville-Black Metropolis neighborhood," Rush said. "This neighborhood is the birthplace for much of the African American community's ingenuity, poetry, artistry and contributions to Chicago and the nation."

National heritage areas receive up to $10 million over 15 years in federal funds to create jobs and generate revenue while preserving the area's history.

[Read the full article online >>>].

[Return to table of contents]


---
Pullman National Historical Park Designated
National Park Service News
Legislation signed by the President Biden in December, 2022, included a provision that redesignates Pullman National Monument to National Historical Park.
Pullman National Historical Park (originally Pullman National Monument) was designated by President Barack Obama on February 19, 2015, making it the first National Park Service unit in Chicago. The park tells the story of one of the first planned industrial communities in the United States, the sleeping car magnate who helped create it, and the workers who lived there. The district is significant for its influence on urban planning and design, as well as its role in American labor history, including the 1894 Pullman Strike and Boycott.
Located in what is now the Pullman neighborhood of Chicago, the historic district includes the site of the former Pullman Palace Car Works shops and administration building, the Hotel Florence (named after George Pullman's eldest child), Arcade Park. and the Greenstone Church (currently the Greenstone United Methodist Church). Also within the district is the A. Philip Randolph Pullman Porter Museum, named for the prominent leader A. Philip Randolph, which recognizes and explores African American labor history.
The National Park Service works with many partners to administer the site, and most homes are private residences.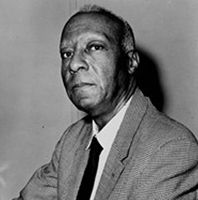 A. Philip Randolph was a labor organizer and one of the most influential political strategists of the twentieth century. His belief in organized labor's ability to counter workforce discrimination and his skill in planning non-violent protests helped gain employment advancements for African Americans. Asa Philip Randolph was a labor organizer and one of the most influential political strategists of the twentieth century. His belief in organized labor's ability to counter workforce discrimination and his skill in planning non-violent protests helped gain employment advancements for African Americans.
In 1925, Randolph founded the Brotherhood of Sleeping Car Porters (BSCP). Randolph secured membership in the American Federation of Labor for the BSCP, making it the first black labor union in the United States. Building upon his efforts with organized labor, Randolph collaborated with Bayard Rustin to develop non-violent strategies to protest discrimination in the defense industries and armed forces. In 1941, they planned a march on Washington, DC to protest discrimination in the defense industry. The proposed march pressured President Franklin D. Roosevelt to issue Executive Order 8806, abolishing discrimination in the defense industry and establishing the Fair Employment Practices Committee (FEPC) to investigate violations. In 1947, Randolph planned another march on Washington to protest segregation in the military. Once again, the proposed march placed political pressure on the government, and in 1948 President Harry S. Truman issued an Executive Order ending segregation in the military.
A prominent advocate for labor and civil rights, Rosina Corrothers Tucker played an integral role in the creation of the Brotherhood of Sleeping Car Porters and its International Ladies Auxiliary. She served as a leader in the Auxiliary for several decades and played a role in planning the March on Washington movement in the 1940s.

A civil rights and labor activist, Rosina Corrothers Tucker played a pivotal role in the creation of the Brotherhood of Sleeping Car Porters (BSCP) and its International Ladies' Auxiliary Order. Her influence within these organizations challenged the limits often imposed on African American women who sought to lead movements for racial and economic justice in the early to mid-twentieth century. Tucker's experience with the BSCP led her to organize other groups of workers, including women in the laundry trades and domestic service industries. She was also a leader in the fight to integrate public spaces in Washington, D.C., and advocated for the rights of children and the elderly.

[Read more on the NPS Pullman site online >>>].

[Return to table of contents]


---
New Philadelphia, Illinois Becomes America's 424th National Park
National Park Service News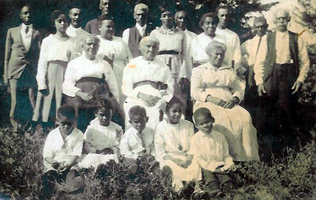 The patch of rural Illinois holds no visible clues to the pre-Civil War history of the landscape, but it is enveloped in stories of aspiration, self-determination, and independence. Here, in western Illinois, not far from the Mississippi River, was where Frank McWorter envisioned a new life for former slaves like himself.

After buying his freedom, McWorter founded the town of New Philadelphia in 1836 and bought the freedom of 15 family members. The site, which became the latest addition to the National Park System when President Biden signed the Consolidated Appropriations Act of 2023 on December 29, was the first known town planned and legally registered by an African American before the Civil War.

According to the National Park Service, the "rural community situated near the Mississippi and Illinois rivers flourished at first, but later declined when the railroad bypassed the community in 1869. The community dissolved in 1885. By the 1940s, nothing of the town remained above ground. New Philadelphia disappeared as plows turned over the soil and buried any material remains left behind. Today, historical documents, oral histories from town descendants and community members, and artifacts keep the town's story alive."

The protection of the original town's location as New Philadelphia National Historic Site is expected to permanently safeguard it for future generations and help preserve the important stories of Frank McWorter and others from the first African American town in the United States. The National Park Service will work to establish a presence at New Philadelphia National Historic Site so that visitors can journey to the park and learn from the legacy of Frank McWorter.

[Read the full National Parks Traveler article online, and visit the NPS website for New Philadelphia >>>].

[Return to table of contents]


---
Johnnetta B. Cole Awarded National Humanities Medal
National Endowment for the Humanities
The White House awarded a National Humanities Medal to Johnnetta Betsch Cole "for being a celebrated leader of sanctuaries of higher learning and culture. A scholar, anthropologist, and academic pace-setter, Johnnetta Betsch Cole's pioneering work about the on-going contributions of Afro-Latin, Caribbean, and African communities have advanced American understanding of Black culture and the necessity and power of racial inclusion in our Nation."

"Until you've been in another's place," Johnnetta B. Cole wrote in 1997, "you don't fully know your own." The inveterate anthropologist has been many places over her six-decade-long career. By turns a professor, college president, and museum director, Cole has a storyteller's conviction: No one is too remote, too foreign, to know.

Born in Jacksonville, Florida, in 1936, Cole remembers sitting on the living room floor as a child to leaf through her mother's art catalogs, books, she says, that were too heavy to lift. An English teacher and registrar, Cole's mother filled her home with dazzling African American art, including reproductions of the work of Charles W. White and Elizabeth Catlett (her mother had "the eye," Cole notes), and classic works of literature -- Homer's The Odyssey, Dante's The Divine Comedy, and Victor Hugo's The Toilers of the Sea -- titles on Cole's bookshelf today.

While hers was an upper-middle-class Black family, Cole "quickly discovered that money could never really protect me from racism," as she wrote years later. Her great grandfather, Abraham Lincoln Lewis, was Jacksonville's first Black millionaire; still, much of the segregated city was off limits to her. When she was five years old, Cole skipped into a whites-only neighborhood, where a boy called her the N-word. The experience "tore at me," Cole recalls, "as if the boy, no bigger than I was, was attacking me with daggers."

One of Cole's escapes was the library, a brick building where Olga Bradham, the head librarian, would have a stack of books waiting for her, titles, Cole remembers, "that would take me around the world."

Those books took her to Fisk University in Nashville, where she enrolled at fifteen. At Fisk, she came face-to-face with the works of art she'd seen as reproductions growing up: "Now I saw the real thing." Cole later transferred to Oberlin College, in Ohio, where she signed up for a cultural anthropology class. Her life, ever after, was changed.

[Read the NEH's full article online >>>].

[Return to table of contents]


---
2023 Archaeological Field Schools
Addressing African Diaspora Subjects
The following field school list includes announcements sent to us by the field school directors and others listed on various directories. The field school announcements that follow are presented below in alphabetic order by location, starting with those in North America and then the Caribbean and South America.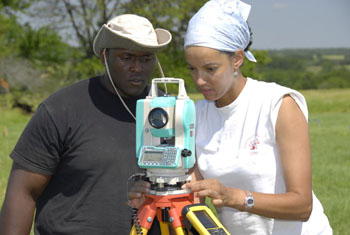 ---
North America
---
Fort Mose Archaeological Collaborative. Summer Field School, St. Augustine, Florida, July 3 to August 11, 2023. "Paid Fieldwork Opportunity for Students; Explore historic St. Augustine; Discover the first legally sanctioned free Black settlement in North America; Build your skills as a field archaeologist and public historian; No previous archaeological experience necessary; No field school fees (room and board costs covered by grant); Field assistants paid $15 hour up to 20 hours a week; College credit registration optional with various enrollment options; Funded by a National Park Service, American Battlefield Preservation Planning Grant." Application period closes April 17, 2023; Learn about Fort Mose at www.floridastateparks.org/parks-and-trails/fortmose-historic-state-park; Begin your Application online at tinyurl.com/ynv9xfm5. For more information, contact Dr. Liz lbarrola, ibarrola@utexas.edu.
---
Archaeological Field School at IIT and Bronzeville-Black Metropolis National Heritage Area, Chicago, Illinois. May 22 to June 9, 2023; and May 30 to June 16, 2023; parallel field schools running jointly by Lake Forest College and Morton College. "Students will experience a real archaeological exacavation as participants in Chicago! The Archaeological Field School Introduces students to the discipline of archaeology, with an emphasis on fieldwork and excavation. Students are the field crew on an archaeological dig on the Illinois Institute of Technology (IIT) campus, with lectures, readings, workshops, and field trips providing the theoretical and historical context for the archaeological methods." Instructors: Drs. Rebecca Graff (graff@lakeforest.edu), and Shannon Martino (shannon.martino@morton.edu), https://www.lakeforest.edu/academics/summer-classes.
---
Evergreen Plantation Archaeological Field School, Wallace, Louisiana. May 14 to June 17, 2023. "Evergreen Plantation Archaeological Field School (EPAFS) is a unique and interdisciplinary field school located on the most intact plantation in the Southeast United States. Situated in Edgard, Louisiana, EPAFS gives students the opportunity to learn how to interpret the material culture found at the 'trowel's edge' through supporting coursework in archaeological field methods, African American history, and the Literatures of the Afro-Gulf South. Historical records provide a limited retelling of plantation lifeways during the 18th and 19th centuries. Archaeology, on the other hand, employs the study of material culture to describe life for the enslaved Africans, free people of color, Creoles, and enslavers whose identities and histories interacted on Evergreen. Students will interpret ground penetrating radar (GPR) data and will work with faculty and graduate students in the excavation of anomalies located in the spaces surrounding the 22, original slave cabins on Evergreen. Subsurface testing and excavation will add to our rudimentary understanding of the kinds of activities that took place on Evergreen Plantation. While archaeology strives to uncover a detailed history of plantation life, students will also be introduced to music, foodways, literature, oral histories, local community organizers, field trips, and expert guests to fully understand how residents lived and worked along Louisiana's German Coast from 1800 to 1950. This multi-disciplinary approach to teaching the history and culture of this sugar-producing region will provide students with the tools necessary to interpret excavations and material culture while in the field and while excavating." Instructors: Drs. Jayur Madhusudan Mehta, Natalie King-Pedroso, and Alisha Gaines. https://ifrglobal.org/program/us-la-evergreen-plantation/.
---
Laurel Hill Plantation, Murrels Inlet, South Carolina, May 8 to June 2, 2023. "This May will be our second season at site 38GE201, a captive African housing area , late 1700s to 1800s. May 2022 marked the first investigations at the site since Lesley Drucker's survey in 1980. The site has been well-protected from disturbance, and so far, contexts are looking early-to-mid-19th century. In 1860 the plantation changed ownership, but the seller, Plowden Weston, did not include the Captive Africans in the sale so the new owner, Daniel Jordan, brought in different enslaved people he purchased from other plantations in the region; making the context dating critical. The field school will include guest experts who will present on ground penetrating radar and drone use, public interpretation of African American history, portable X-ray Fluorescence applications, and Gullah culture of the late 1700s through 1800s." Contact David Palmer (dpalmer1@coastal.edu). 4 credits; cost, $1,948.00 (in-state and out-of-state residents).
---
Archaeology of Chesapeake Landscape and Slavery, Charlottesville, Virginia. June 5 to July 15, 2023. "The Monticello-University of Virginia Field School offers a hands-on introduction to basic excavation, recording, and laboratory techniques in archaeology. The course emphasizes a scientific, multidisciplinary approach to doing landscape archaeology. It also provides the opportunity to contribute to cutting-edge research into the ecological and social dynamics that unfolded on Thomas Jefferson's Monticello Plantation in the eighteenth and early nineteenth centuries. Technical topics covered include survey and excavation strategies as well as recovery techniques and analytical possibilities for deposits and the sediments they contain, soils, faunal remains, plant phytoliths and pollen, macrobotanicals, tree rings, and spatial distributions of artifacts across sites and landscapes. The course offers students an opportunity to learn from and interact with scholars specializing in digital archaeology, archaeological data analysis, geoarchaeology, zooarchaeology, paleoethnobotany, and dendrochronology. Our fieldwork addresses changing patterns of land use and settlement on Thomas Jefferson's Monticello Plantation from c. 1750 to 1860, along with their ecological and social causes and consequences. Toward the end of the 18th century, spurred by shifts in the Atlantic economy, Thomas Jefferson and planters across the Chesapeake region replaced tobacco cultivation with a more diversified agricultural regime, based around wheat. Our research is revealing the enormous implications of this shift for what the landscape looked like and how enslaved African-Americans worked and lived on it. Significant questions remain about the ecological processes that were unleashed, how they were experienced by slaves and slave owners, and the importance of changing slave work routines in explaining social dynamics among enslaved and free people." Fraser D. Neiman, Department of Archaeology, Monticello and Departments of Anthropology and Architectural History, University of Virginia. http://www.monticello.org/fieldschool.
---
Montpelier Field School and Paid Internships, James Madison's Montpelier, Orange, Virginia. "The Montpelier Archaeology Department is thrilled to offer its annual field school with opportunities for students to apply for a full-time paid internship with housing and benefits. African American students will be offered a full scholarship for the field school that will cover the field school fees and housing ($700). This year we will be excavating a set of domestic sites related to the 1810s Home Farm complex occupied by enslaved Americans and an overseer. The field school runs May 22-June 30 with selections made from field school students in late June for full-time employment. Please see our website for more details on our field school, the dig season, and our internship program. We will be working with the Montpelier Descendant Committee on research design for this summer's work and will be excavating intact structural features. Excavations at the Home Farm will continue into the Fall of 2023 followed by laboratory analysis. Following the field school, we hire five students as full time staff members at Montpelier in a year-long internship that includes housing. Internships will provide successful applicants with a wide array of experience from excavation, artifact analysis, GIS experience, and the chance to present at professional conferences. Interns are provided with the skills to apply for graduate school or obtain a job in the field of archaeology following the internship." https://www.montpelier.org/archaeology/field-schools.
---
Caribbean and South America
---
Smith's Island Archaeology Project Field School, Bermuda, May 21 to July 2, 2023. "Now entering its twelfth season, the Smith's Island Archaeology Field School has trained dozens of students in excavation and research methods and prepared them for graduate study and professional work. This unique program studies the early Modern Atlantic World from Bermuda -– an island at its center -– as we investigate two early 17th-century sites dating to the dawn of settlement. Students are involved in all aspects of fieldwork during our six-week season: excavation, artifact identification, documentary research, mapping, and photography. Through readings, archival research, and exploration of local sites and museums you will learn about Bermuda's rich history and processes of cultural hybridity and creolization embedded in American and African Diasporic history. Prior archaeological experience or knowledge of early American history is not required." Volunteers welcome. Dr. Michael Jarvis, University of Rochester, http://smithsislandarchaeology.blogspot.com/p/historical-archaeology-field-school-2023.html.
---
Providence Island, Columbia. Historical Archaeology, Ethnography & Community Oriented Outreach, June 24 to July 19, 2023. "This project seeks to understand Old Providence and Santa Catalina as a unique cultural-historical and material biome -- a community with ties to and reliance on variable international and sociopolitical market economies from the Colony's inception in 1629 to today. The Islands' social, economic, and material connections to the global world and between groups and individuals present in this discrete place forged a unique context and thus, associated behaviors, which can be observed in the documentary, oral, material, and spatial records. Therefore, by conferring with Native voices and applying archaeological and anthropological foundations, methods, and solutions, the project seeks to clarify the historical timeline of Old Providence and Santa Catalina and to elucidate localized strategies utilized by Raizal peoples to negotiate the complex relationships between and among variable stakeholders embedded within the colonial- and modern-industrial complexes." The project is also exploring possible evidence of past settlements by individuals who escaped enslavement in the region. Instructor: Dr. Tracie Mayfield. https://ifrglobal.org/program/colombia-providence-island/.
---
---
New Book
Clotilda: The History and Archaeology of the Last Slave Ship
By James P. Delgado, Deborah E. Marx, Kyle Lent, Joseph Grinnan, Alexander DeCaro, D. Lisa D. Jones, and Stacye Hathorn
University of Alabama Press, Paperback
232 pp., ISBN-13: 978-0817321512, 2023.

Description from the Publisher: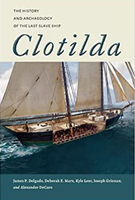 This is the first definitive work to examine the maritime historical and archaeological record of one of the most infamous ships in American history. Clotilda was owned by Alabama businessman Timothy Meaher, who, on a dare, equipped it to carry captured Africans from what is now Benin and bring them to Alabama in 1860—some fifty years after the import of captives to be enslaved was banned. To hide the evidence, Clotilda was set afire and sunk.

What remained was a substantially intact, submerged, and partially buried shipwreck located in a backwater of the Mobile River. The site of the wreck was an open secret to some people who knew Meaher, but its identity remained unknown for more than a century as various surveys through the years failed to locate the ship.

This volume, authored by the archaeological team who conducted a comprehensive, systematic survey of a forgotten "ship graveyard," details the exhaustive forensic work that conclusively identified the wreck, as well as the stories and secrets that have emerged from the partly burned hulk. James P. Delgado and his coauthors discuss the various searches for Clotilda, sharing the forensic data and other analyses showing how those involved concluded that this wreck was indeed Clotilda. Additionally, they offer physical evidence not previously shared that situates the schooner and its voyage in a larger context of the slave trade.

Clotilda: The History and Archaeology of the Last Slave Ship serves as a nautical biography of the ship as well. After reviewing the maritime trade in and out of Mobile Bay, this account places Clotilda within the larger landscape of American and Gulf of Mexico schooners and chronicles its career before being used as a slave ship. All of its voyages had a link to slavery, and one may have been another smuggling voyage in violation of federal law. The authors have also painstakingly reconstructed Clotilda's likely appearance and characteristics.

[Return to table of contents]


---
New Book
Segregation Made Them Neighbors: An Archaeology of Racialization in Boise, Idaho
By William A. White III
University of Nebraska Press
242 pp., ISBN-13: 978-1496217134, 2023.

Description from the Publisher: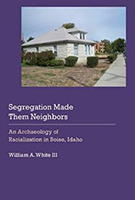 Segregation Made Them Neighbors investigates the relationship between whiteness and nonwhiteness through the lenses of landscapes and material culture. William A. White III uses data collected from a public archaeology and digital humanities project conducted in the River Street neighborhood in Boise, Idaho, to investigate the mechanisms used to divide local populations into racial categories. The River Street Neighborhood was a multiracial, multiethnic enclave in Boise that was inhabited by African American, European American, and Basque residents. Building on theoretical concepts from whiteness studies and critical race theory, this volume also explores the ways Boise's residents crafted segregated landscapes between the 1890s and 1960s to establish white and nonwhite geographies.

White describes how housing, urban infrastructure, ethnicity, race, and employment served to delineate the River Street neighborhood into a nonwhite space, an activity that resulted in larger repercussions for other Boiseans. Using material culture excavated from the neighborhood, White describes how residents used mass produced products to assert their humanity and subvert racial memes.

By describing the effects of racial discrimination, real-estate redlining, and urban renewal on the preservation of historic properties in the River Street neighborhood, Segregation Made Them Neighbors illustrates the symbiotic mechanisms that also prevent equity and representation through historic preservation in other cities in the American West.

[Return to table of contents]


---
New Book
African Refugees
By Toyin Falola and Olajumoke Yacob-Haliso
Indiana University Press, Cloth
634 pp., ISBN-13: 978-0253064417, 2023.

Description from the Publisher: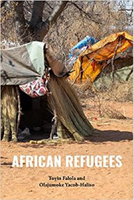 African Refugees is a comprehensive overview of the context, causes, and consequences of refugee's lives, discussing issues, policies, and solutions for African refugees around the world. It covers overarching topics such as human rights, policy frameworks, refugee protection, and durable solutions, as well as less-studied topics such as refugee youths, refugee camps, LGBTQ refugees, urban refugees, and refugee women. It also takes on rare but emergent topics such as citizenship and the creativity of African refugees.

Toyin Falola and Olajumoke Yacob-Haliso showcase the voices and experiences of individual refugees through the sweep of history to tell the African refugee story from the long ago past through current developments, covering the full range of experience from the causes of flight to living in exile, all while maintaining a persistent focus on the complicated search for solutions.

African Refugees recognizes African agency and contributions in pursuit of solutions for African refugees over time but avoids the pitfalls of the colonial gaze—where refugees are perpetually pathologized and Africa is always the sole cause of its own problems—seeking to complicate these narratives by recognizing African refugee issues within exploitative global, colonial, and neo-colonial systems of power.

[Return to table of contents]


---
New Book
The Vital Dead: Making Meaning, Identity, and Community through Cemeteries
By Alison Bell
University of Tennesee Press, Cloth
288 pp., ISBN-13: 978-1621906964, 2023.

Description from the Publisher:


What can a cemetery tell us about the social and cultural dynamics of a place and time? Anthropologist Alison Bell suggests that cemeteries participate in the grassroots cultural work of crafting social connections, even as they test the transcendental durability of the deceased person and provide a measure of a culture's values. In The Vital Dead, Bell applies this framework to the communities of Virginia's Shenandoah Valley and the cemeteries that have both claimed them and, paradoxically, sustained them.

Bell surveys objects left on graves, images and epitaphs on grave markers, and other artifacts of material culture to suggest a landscape of symbols maintaining relationships across the threshold of death. She explores cemetery practice and its transformation over time and largely presents her interpretations as a struggle against alienation. Rich in evocative examples both contemporary and historical, Bell's analysis stems from fieldwork interviews, archival sources, and recent anthropological theory. The book's chapters range across cemetery types, focusing on African American burials, the grave sites of institutionalized individuals, and modern community memorials. Ultimately, The Vital Dead is an account of how lives, both famous and forgotten, become transformed and energized through the communities and things they leave behind to produce profound and unexpected narratives of mortality. Bell's deft storytelling coupled with skill for scholarly analysis make for a fascinating and emotionally moving read.

Groundbreaking in its approach, The Vital Dead makes important contributions to cemetery and material culture studies, as well as the fields of anthropology, archaeology, history, geography, and folklore.

[Return to table of contents]


---
Book Review

Tessa Murphy. The Creole Archipelago: Race and Borders in the Colonial Caribbean. Early American Studies Series. Philadelphia: University of Pennsylvania Press, 2021. 320 pp. (Cloth). ISBN 978-0-8122-5338-2.

H-Net Book Review, published by H-Lat-Am, https://networks.h-net.org/h-latam (August, 2022).

Reviewed for H-Lat-Am by Lauren MacDonald (Idaho State University).



The history of the colonial Caribbean is often studied as a theater of imperial competition where far-off European powers clashed over sugar islands. In contrast, in The Creole Archipelago: Race and Borders in the Colonial Caribbean, Tessa Murphy argues that the southeastern corner of the Caribbean contained communities that defiantly cut across political boundaries. The book focuses on the smaller southern islands of the Lesser Antilles -- particularly Dominica, St. Lucia, St. Vincent, and Grenada -- and the British and French efforts to claim those islands in the eighteenth century. Rather than a chain of terrestrial units cleanly separated by water and politics, these Caribbean islands formed a maritime borderland that stretched across land and sea. The book traces how Indigenous, African, and European inhabitants moved through this borderland and built societies partially outside the control of abutting empires. Their world was made possible by the physical landscape: navigable water routes facilitated human mobility, interisland connections, and the evasion of imperial surveillance.

In Caribbean contexts, the term "Creole" has various overlapping meanings that can refer to language, birthplace, ancestry, dislocation, mixture, and/or creation. The Creole Archipelago chooses a capacious definition: "a hybrid community that emerged as people who were born and spent their lives in this space engaged in exchange, interaction, accommodation, and contestation" (p. 6). The book places its Creole peoples in dialectical opposition to the European colonial officials who scrabbled to exploit them. Borrowing from James C. Scott's conception of state spaces and zones of refuge, The Creole Archipelago seeks to use the archives of European empires to understand people who lived just outside those empires. The book surveys an admirable range of sources: treaties, maps, census counts, ecclesiastical records, missionary reports, land sales, traveler accounts, legal codes, meeting minutes, and administrative correspondence from archives located across Europe, North America, and the Caribbean. This sweep of sources, ranging from highly stylized imperial fantasies to quotidian commercial transactions, allows the book to offer both breadth and depth in its depiction of Caribbean society. In particular, records of island baptisms and marriages reveal the surprising physical mobility and racial fluidity of this borderland society. Throughout, the book remains sensitive to the distortions wrought by the archive itself. The author notes how census data varied in its level of detail as it removed messy complexity to create simple columns of anonymized numbers. To counteract the tendency of social history to drift toward bloodless accounts of faceless masses, each chapter opens with a humanizing anecdote focused on an individual's life story within their wider Caribbean world.

The most striking chapters of The Creole Archipelago deal directly with the Indigenous history of the seventeenth- and eighteenth-century Caribbean. The Kalinago peoples, who were usually called "Caribs" by colonial observers, have been minimized in histories of the Caribbean. The Creole Archipelago argues that the Indigenous history of the Lesser Antilles has been underestimated by historians because Kalinago leaders so often removed themselves from European control. In the first chapter, the book examines the language used in treaties, maps, and missionary reports to argue that seventeenth-century Kalinago leaders successfully negotiated enduring influence in ways that European officials were either unable or unwilling to perceive. In this methodological approach, the slight archival presence of the Kalinago signals their power.

In its fifth chapter, the book returns to Kalinago communities in the eighteenth century as they defended their sovereignty on St. Vincent, an island claimed by the British after 1763. In previous decades, Kalinago communities had sometimes accepted African or African-descended people fleeing enslavement into their communities. As a result, several European observers proposed that eighteenth-century Kalinago communities no longer were Indigenous but instead were defined by African ancestry. Following the scholarship of Melanie J. Newton, The Creole Archipelago argues that British colonists questioned Kalinago indigeneity as a means of questioning past treaties that guaranteed Kalinago land rights. It also allowed the British to understand Kalinago autonomy in a more comprehensible framework: maroonage. After a period of violent conflict, a 1773 treaty between the Kalinago and the British on St. Vincent echoed the terms of earlier treaties signed between British officials and Jamaican Maroon leaders. Kalinago leaders swore their support to King George III, retained a remnant of their previous territories, and promised not to harbor any future people fleeing enslavement.

In the middle chapters of the book, which cover the early and middle decades of the eighteenth century, the Kalinago recede from the narrative. Instead, the book turns to the European settlers who moved to the islands, the enslaved African people they forcibly brought with them, and the subsequent generations who built a multiethnic society in the eighteenth-century Lesser Antilles. These people often resided in places that imperial officials wished they would not. Despite frequent British and French attempts to control or evacuate illicit island settlement, residents on the smaller islands remained. While racial boundaries were more fluid in this Antillean borderland, the book does not sugarcoat the inequalities of the society that developed therein. Slavery was ubiquitous, and enslaved people labored across fields of cotton, coffee, and manioc. Ultimately, sugar is the hinge on which The Creole Archipelago turns: its relative unimportance on the smaller islands of the Lesser Antilles during the first half of the eighteenth century permitted some people to live beyond imperial oversight, while its promotion by colonial officials in the second half of the eighteenth century went hand in hand with greater surveillance, oppression, and suffering.

The Creole Archipelago argues for understanding Antillean political upheaval and rebellion during the Age of Revolutions as motivated by long-simmering but hyperlocal causes rather than dictated by revolutionary movements imported from France or Saint-Domingue. On islands ceded to the British in 1763, French Catholic planters played significant roles in local politics. Fearing exodus, depopulation, and economic ruin, British officials initially offered resident planters numerous privileges to remain. As was also the case in British Quebec, Catholics on Grenada, Dominica, and St. Vincent were not required to disavow the Catholic doctrine of transubstantiation. However, after local communities proved alarmingly receptive to French occupation during the American Revolutionary War, British planters became increasingly paranoid of long-resident French-speaking neighbors as a traitorous fifth column. On Grenada, Catholic property holders were abruptly prevented from holding elected office. Simultaneously, free people of color faced growing racial and religious restrictions, enslaved people sought freedom, and Kalinago leaders struggled against British trespasses. The Creole Archipelago examines the Second Carib War and Fedon's Rebellion in the 1790s as responses to intensifying local pressures and argues that such movements "seem less like revolutions and more like attempts to preserve longstanding realities increasingly at risk of being erased by encroaching colonial regimes" (p. 232). The Creole Archipelago portrays its island societies as enduring and persistent as they were tossed between nominal French and British control over many decades. However, in the aftermath of island resistance at the end of the eighteenth century, British officials violently suppressed potential sources of rebellion, physically expelled the Kalinago people, and finally eradicated the cultural conditions that had enabled a Creole archipelago to exist.

The Creole Archipelago argues for continuities rather than ruptures, lumping rather than splitting. While it claims the expanse of the Lesser Antilles "from Guadeloupe in the north to Grenada in the south," its focus remains on the smaller islands of that chain, which were either politically neutral or controlled by the Kalinago for several decades longer than the larger islands (p. 6). Grenada appears in the index sixty times; Guadeloupe appears twenty-seven times. This emphasis dovetails with the book's focus on extra-imperial spaces. Martinique and Guadeloupe were more tightly claimed and managed by imperial administrators, and so they were the oppressive islands from which people fled into watery borderlands. This view of the Caribbean, in which Martinique and Guadeloupe feature infrequently, renders the book's spatial claims about the extent of the Creole Archipelago somewhat geographically selective.

By studying the peripheries of empires in the eighteenth-century Caribbean, The Creole Archipelago joins recent scholarship by Linda M. Rupert, Elena A. Schneider, Jesse Cromwell, and Ernesto Bassi. The book's use of British and French archives will prove invigorating to scholars searching for complementary Atlantic histories captured in the margins of Spanish, Portuguese, or Dutch archives. For scholars working on other imperial regions, the book itself calls for more work to link the histories of British empires across the Caribbean and India. Finally, the book's account of eighteenth-century debates over Kalinago indigeneity and authenticity will resonate with anyone studying or participating in current Indigenous Caribbean movements.

[Citation: Lauren MacDonald. Review of Murphy, Tessa. The Creole Archipelago: Race and Borders in the Colonial Caribbean. H-LatAm, H-Net Reviews. August, 2022. This work is licensed under a Creative Commons Attribution-Noncommercial-No Derivative Works 3.0 United States License. H-Net permits the redistribution and reprinting of this work for nonprofit, educational purposes.]

[Return to table of contents]



---
Book Review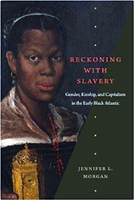 Jennifer L. Morgan. Reckoning with Slavery: Gender, Kinship, and Capitalism in the Early Black Atlantic. Durham: Duke University Press, 2021. 312 pp. (Paperback). ISBN 978-1-4780-1414-0.

H-Net Book Review, published by H-Early-America, https://networks.h-net.org/h-early-america (July, 2022).

Reviewed for H-Early-America by Allison Madar (The Webb Schools).



In Reckoning with Slavery: Gender, Kinship, and Capitalism in the Early Black Atlantic, Jennifer L. Morgan examines the relationship between "economy, ideology, and kinship" and seeks to uncover "the explicit link between human commodification and the rise of market economies" (pp. 10, 11). Her study centers enslaved women, historical actors whose lived experiences, due to both the violence of the archive and the reliance of historians on quantifiable data, are often difficult to uncover. Moreover, Morgan seeks to elucidate "the role of kinship in authorizing hereditary racial slavery and in shaping the development of slavery as a financial and commercial instrument" during the sixteenth and seventeenth centuries (p. 26).

Morgan takes an interdisciplinary approach in her study, using the scholarly approaches of both social history and Black feminist theory. In so doing, she puts Reckoning with Slavery in conversation with the work of such scholars as Stephanie Smallwood, Herman Bennett, Alys Weinbaum, and Saidiya Hartman. Most notably, though, Morgan "write[s] in the tradition of Hortense Spillers and Cedric Robinson" (p. 10). Throughout, she engages with Spillers's concept of the reproduction of kinlessness forced upon enslaved women and builds on the insights of Robinson in Black Marxism (1983) and the relationship between racism and capitalism. More specifically, she "engage[s] Robinson in tandem with the concept of reproduction" to assert the centrality of the reproductive labor of enslaved women in the simultaneous emergence of slavery and capitalism in the early modern Atlantic world (p. 16).

Dividing her work into two parts, Morgan seeks to answer a number of questions. Key among them -- and central to the first half of the book -- is: "In the face of the commodification of human beings, what did New World kinship come to mean?" (p. 24). To answer this question, she first considers the sex ratios of slave ships and the relatively small number of ships that actually logged this information before moving on to an indepth discussion of numeracy in chapters 2 and 3. The sixteenth and seventeenth centuries, Morgan argues, saw the emergence of "a relatively new set of ideas concerning trade, value, population, and commodification." All of these ideas, she continues, "might qualify as forms of numeracy" (p. 6). In chapter 2, Morgan traces the connection between Europeans' justification for slavery (and the retention of "their moral core") and numeracy, and in chapter 3 she turns to the western coast of Africa to explore numeracy in concert with the experience of commodification by African men and women (p. 24).

In the second part of the book, Morgan delves into the experiences of women, from their capture, to transport, to sale. Chapter 6 delves into acts of resistance employed by enslaved women "to disrupt their commodification" (p. 26). It is in these chapters that Morgan emphasizes the violence and inhumanity of the institution of slavery and the ways enslaved women came "to understand the role of kinship at the heart of early modern slavery and ... racial capitalism" (p. 25). Morgan's task here -- or in the first half of the book -- was not an easy one, but she interrogates extant sources for both what is there and what is absent.

At times, she introduces sources familiar to scholars of slavery and the early modern Atlantic world and reads them through a new lens. For example, in a section titled "Recording Middle Passages" in chapter 4, she takes the well-known image of the Brookes and, despite the image's original purpose as a piece of antislavery literature, uses the image to reinforce her assertions regarding the process of commodification and enslavers' attempts to ensure that enslaved laborers were without kin.

Reckoning with Slavery is a valuable addition to the studies of enslaved women, slavery, slavery and capitalism, and the violence of the archive. It is a wonderful example of the importance of centering the lives and experiences of enslaved women and their own understanding of the connections between kinship, slavery, and capitalism. Morgan clearly illustrates that "kinship is antithetically tethered to the processes of commodification and capitalism set in motion in the early modern period" (p. 248). In addition, Morgan demonstrates the value of interdisciplinary work and the necessity to think of slavery and capitalism not as opposing forces but as parts of the same whole.

[Citation: Allison Madar. Review of Morgan, Jennifer L. Reckoning with Slavery: Gender, Kinship, and Capitalism in the Early Black Atlantic. H-Early-America, H-Net Reviews. July, 2022. This work is licensed under a Creative Commons Attribution-Noncommercial-No Derivative Works 3.0 United States License. H-Net permits the redistribution and reprinting of this work for nonprofit, educational purposes.]

[Return to table of contents]




©2023 African Diaspora Archaeology Network
Copyright and all rights reserved by
individual authors for each article.
Please send comments, suggestions,
or questions to the editors
Last updated: March 31, 2023
Text only menu
Search