Book Review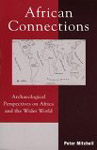 H-NET BOOK REVIEW
Published by H-SAfrica@h-net.msu.edu (April 2005)

Peter Mitchell. African Connections: Archaeological Perspectives on Africa and the Wider World. African Archaeology Series. Walnut Creek: AltaMira Press, 2005. xiv + 309 pp. Illustrations, maps, notes, bibliography, index. $80.00 (cloth), ISBN 0-7591-0258-9; $34.95 (paper), ISBN 0-7591-0259-7.

Reviewed for H-SAfrica by Andrew B. Smith, Department of Archaeology, University of Cape Town

Out of Africa Always Something New ("Ex Africa Semper Aliquid Novi")


We can easily see this book, the seventh volume in AltaMira's African Archaeology Series, as an extension of Mitchell's chapter 13 on the archaeology of colonialism.[1] In preparing the material on the colonial period at the tip of Africa, Mitchell must have come face to face with the wider continental realities.
Let me say at the outset that this is a well-researched and superbly referenced work that will be good background for any student looking for essay material on Africa and connections with the rest of the world. But more than that, it is a good read of the later history of Africa from an archaeological perspective. Being based in Oxford and having access to the Bodleian Library collection must have made life considerably easier than having to struggle with local provincial African libraries. With fifty three pages of bibliography there is little of importance that has slipped by Mitchell's gaze.
Mitchell leads us through an introduction to Africa's geography to set the stage for how connections were built up. He deals first with farming systems, indigenous and exotic, then looks toward the east, first with the Red Sea Corridor, and wider to the Indian Ocean. North Africa and its connections to sub-Saharan Africa are then tackled, before focusing on the Atlantic. The archaeology of the diaspora of what he calls "Out-of-Africa 3" is then discussed, and the book finishes with a review of Africa's later archaeological problems and prospects.
One area that might have been included in the section on the archaeology of slavery (chapter 6), or as part of the summing up discussion in chapter 8, is what social repercussions there have been in the present. For example, Bruner has shown that the past of Elmina Castle is contested space, where African-Americans have wanted to keep the castle as a shrine to the many people shipped and lost to the Americas, while local Ghanaians who have virtually no memory of slavery only want jobs.[2] Ironically, the locals see the black Americans as rich people, whom they give the epithet obruni ("whiteman"), and see them as lucky to have become Americans.
Another example of contestation is in the recent excavations at Prestwich Place in Cape Town. Unmarked graves of hundreds of skeletons, exposed during development for new buildings, have been championed by local activists as those of "slaves" who never had a voice in their life, so they want the grave sites left alone. The irony is that in death these skeletons finally have a chance to speak by offering themselves to scientific analyses for forensic work on isotopes, pathologies, and reconstructed life histories of Cape Town's underclass of the late-seventeenth and early-eighteenth-centuries.
While most of the book is concerned with the last 2000 years of Africa's history, earlier connections are raised; not the least is the "Out-of-Africa 2" hypothesis. Connections of Africa with the Near East are mentioned, but nothing on the possibility of the Indian subcontinent's native peoples, such as the Andaman Islanders, being descended from an early African diaspora, even when recognizing that Australia had to have been colonized by sea-going people (p. 30).[3]
Mitchell also subscribes to the indigenous domestication of African cattle model (p. 39). This does not take into account that nowhere else have cattle or small stock been domesticated outside an agricultural environment, and that hunters taking up stock husbandry always have role models to follow. On page 140, Mitchell is reluctant to accept that iron was independently discovered in Africa. If he accepts that sheep and goats had to come from the Near East (p. 230), what makes cattle so different?[4]
Considerable attention is focused on the historical archaeology of South Africa, as this is where the greatest amount of research has taken place. The Portuguese, however, were longer in Africa than the Dutch. Mitchell (p. 129) recognizes that the "Portuguese period remains little explored archaeologically" and offers only one paragraph on Luanda, whose settlement was established in 1575 (p. 186).
Mitchell hypothesizes that "it seems by no means impossible that late Roman North Africa had access to West African gold" (p. 143). I believe this to be unlikely, as the introduction of the camel was instrumental in the Saharan gold trade, and this only occurred after the Roman period. Probably most of Roman gold came from Nubia (the land of the Blemmyes). A question that might be asked is did the Garamantes learn the use of the camel from the Romans? The answers to these questions might be provided by doing chemical analyses on Roman gold, and awaiting the results of the excavations at the ancient Garamantes capital, Garama.
Having compressed an amazing amount of information into 241 pages of text, this tour-de-force will be a welcome addition to any Africanist's library, and is highly recommended for graduate student use. I hope that African historians get to know about it, as archaeology is too often seen by them as a Cinderella discipline.
Notes

[1]. Peter Mitchell, The Archaeology of Southern Africa (Cambridge: Cambridge University Press, 2002).

[2]. E. M. Bruner, "Tourism in Ghana: The Representations of Slavery and the Return of the Black Diaspora," American Anthropologist 98 no. 2 (1996): pp. 290-304.

[3]. L. L. Cavalli-Sforza, Genes, Peoples and Languages (Harmondsworth: Penguin Books, 2000): p. 171; S. Oppenheimer, Out of Africa's Eden: The Peopling of the World (Cape Town: Jonathan Ball, 2003): p. 157.

[4]. A. B. Smith, African Herders: Emergence of Pastoral Traditions (Walnut Creek: AltaMira Press, 2005).

Copyright (c) 2005 by H-Net, all rights reserved. H-Net permits the redistribution and reprinting of this work for nonprofit, educational purposes.


Return to table of contents
---
Book Review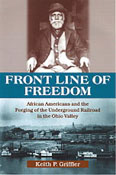 H-NET BOOK REVIEW
Published by H-CivWar, H-Net Reviews (January, 2005).

Keith P. Griffler. Front Line of Freedom: African Americans and the Forging of the Underground Railroad in the Ohio Valley. Lexington: University of Kentucky Press, 2004. xvii + 169 pp. Illustrations, maps, notes, bibliography, index. $35.00 (cloth), ISBN 0-8131-2298-8.

Reviewed for H-CivWar by Thomas C. Buchanan, University of Nebraska at Omaha

Antislavery from the Bottom-Up


Bold, imaginative, and important, Griffler's short masterpiece will join the front line of classics on the antislavery movement. Focusing on the north bank of the Ohio River, Griffler is the first person to do an exhaustive regional study of African-American participation in the Underground Railroad. Until I read Griffler, I thought that James and Lois Horton had done all that was possible in this area, but I was very wrong.[1] Griffler uncovers new evidence, makes innovative interpretations, and is wonderful at weaving shards of evidence into a compelling story.
Griffler's argument is simple and elegant. He argues that African Americans were disproportionately involved in the most difficult, dangerous, and violent elements of the antislavery movement. Free black communities took root along the Ohio River with historic ties to the slave community downriver. These small communities, with Cincinnati at the center, participated in the "frontline operations" of the antislavery movement. Away from the river, whites became more involved in what Griffler calls "support operations" (p. xii). Within this broad interpretative framework, Griffler enriches his story by being sensitive to the changing dynamics of race relations, both within the antislavery movement and in the wider northern society. While he reveals interracial abolitionist activities, Griffler demonstrates that white racism prevented such collaboration from being widespread, leaving the highly motivated African-American community at the center of the fight against slavery. Racist attitudes by white abolitionists, however, were far less dangerous to the community than the more violent racism of ordinary northern whites. Griffler shows that northern African Americans' radical political consciousness was forged in part through a struggle with the majority of northern whites over their right to reside on the front lines. The great drama of this book is the remarkable success that this poor, disenfranchised group of fledgling Americans had in keeping the underground movement going despite intense pressure from pro-slavery whites on both banks of the river. The themes of the book are nicely integrated with events at the national level, suggesting the broader significance of Front Line of Freedom. By enraging slaveholders and helping the cause of the Fugitive Slave Act of 1850, the movement ensured that slavery would remain in the public consciousness during the years leading up to secession. Furthermore, Griffler suggests that African Americans in the Ohio Valley remained politically active during the era of the Civil War. By joining the Union army, African American men from the Ohio Valley helped transform the clandestine secrecy of the antebellum movement into a public fight for mass liberation.
Griffler deftly weaves themes and analysis into a loosely chronological framework that reveals changes over time in race relations and the abolitionist movement. In an early chapter, aptly titled "No Promised Land," the author shows how early settlement of African Americans in Cincinnati coincided with the passing of the state's black laws. Many whites wanted African Americans out, but in the race riots of 1829, the author argues that Cincinnati's African Americans won an important battle over hundreds of lower class whites and established their right to have a "beachhead of freedom" on the edge of slavery (p. 32). In the 1820s and early 1830s they also began helping runaways before white abolitionists got involved to any great degree. By the 1840s, white antislavery societies were organizing all over the West, but Griffler stresses the reluctant commitment of these activists to African-American civil rights in the North and he argues that they were reluctant to join with African Americans. The examples of men like Calvin Fairbanks and John Fairfield suggest that interracial efforts to help fugitives did happen on the frontline, but Griffler finds these to be unusual cases.
Griffler's primary research is very impressive. He uses the papers of some two dozen abolitionists, twenty newspapers and periodicals, scores of slave narratives, and a variety of other publications from the era. These sources reveal many previously unknown people and events that pertain to his subject and who have often been reduced to demographic statistics in earlier books on the region. The core of his research involves Cincinnati's African-American community, but his work extends to Pittsburgh's Monongahela House and down river to Indiana's small free black enclaves. The regional design of his research is appropriate since so many of the region's African Americans knew each other. His methodology also allows for both the rural and urban dimensions of the movement to be revealed. Study of a single community would not have allowed for such textured analysis.
Despite the strengths of this book, it should be noted that Griffler does not try to provide overall coverage of the African-American experience along the north bank of the Ohio. Topics such as work, culture, class relations, housing, and gender relations are not fleshed out, despite the fact that such matters may be readily addressed through his sources. The author perhaps thought they would distract from his main thesis -- and they very well might. There is an underlying theme in this book that fighting slavery and racism were the only elements of African Americans' consciousness and that being on the frontline of freedom was the only reason African Americans would want to live in Cincinnati or other front line communities. Griffler sets out to study antislavery activism in conjunction with the growth of African-American communities but the only thing he shows that they experienced in these communities was racism. This is a minor plea for additional historical context. Where are the grog shops of Little Africa? Were there economic opportunities in cities like Cincinnati that encouraged African Americans to stay? What was the gender division of labor in the African American community? How did that inform activism? I believe that showing the diversity of African-American experiences in the Ohio Valley would only serve to underscore the remarkable political unity that he so richly documents.
If Griffler has not fully captured the experience of African Americans in western communities, he surely is correct to highlight their role in escape networks. This is the best study of the Underground Railroad (a term Griffler persists in using) since Larry Gara's The Liberty Line.[2] Gara overturned Siebert's classic thesis that white operatives shuttled passive blacks to freedom and called for the story to be told from the perspective of the runaways. Now Keith P. Griffler has resuscitated the role of northern communities, without making the slaves passive by any means, and placed proper emphasis on African Americans who lived on the north bank of the Ohio River. I think this remarkable story should be printed in paperback, with a larger font, and sold to the masses at the National Underground Railroad Freedom Center. I would prefer a more useful index too, but that is a minor quibble with an outstanding book.
Notes:

[1]. James Oliver Horton and Lois E. Horton, In Hope of Liberty: Culture, Community, and Protest among Northern Free Blacks, 1700-1860 (New York: Oxford University Press, 1997).

[2]. Larry Gary, The Liberty Line: The Legend of the Underground Railroad (Lexington: University of Kentucky Press, 1961).

Copyright (c) 2005 by H-Net, all rights reserved. H-Net permits the redistribution and reprinting of this work for nonprofit, educational purposes.
Return to table of contents
---
CFP for Conference on
"Movements, Migrations and Displacements in Africa"
Movements, Migrations and Displacements in Africa
March 24-26, 2006
University of Texas at Austin
www.utexas.edu/conferences/africa
We are pleased to announce a three-day conference (March 24-26, 2006) centered on the theme of Movements, Migrations and Displacements in Africa with the objective of examining population shifts within Africa, and the movement of people from Africa to the rest of the world. We welcome papers that pose new, cultural, historical, sociological, methodological, and theoretical questions, whether addressing relevant, recurring and urgent issues or raising neglected topics. Papers are invited on virtually all themes, inclusive of time, period and space parameters as well as interdisciplinary perspectives.
Among the themes of interest are the following:

Migration and shifting identity
Hybridity, transculturation
The impacts of wars and military systems, ancient and modern
Trans-Atlantic migrations, forced and voluntary
Cultural and ethnic accommodation of newcomers
Case studies within Africa (e.g., Rwanda, South Africa)
Case studies of Africans in other continents (e.g., Nigerians in Dallas; African churches in London)
Impact of Western and Asian settlers
Trans-national struggles and ideas
The African diaspora in other continents
Refugees Representations in literature, films, and media
Exile and homecoming narratives
Sociological issues as crime, juvenile delinquency, unemployment, family structures
Gender and generational disparities
Intellectual movements such as Pan-Africanism, Negritude, etc.
memoirs of migrancy
displacement: plot, characters, setting
The deadline for submitting paper proposals is October 1, 2005. Proposals should include a 250-word abstract along with author's name, address, telephone, email, and institutional affiliation.
Please submit all abstracts to: Toyin.Falola@mail.utexas.edu
It is expected that participants will raise the funding to attend the conference. The University of Texas at Austin does not provide participants with any form of funding support, travel or boarding expenses. If a small fund comes our way, we will use it to cover the administrative expenses of running the conference and to pay for the hotel rooms (food not included) for those coming from Africa and graduate students.
Selected papers from the conference will be published in book form.

Posted on H-Africa discussion group by:
Toyin Falola
Department of History
The University of Texas at Austin
1 University Station
Austin, TX 78712-0220 USA
512-475-7224
512-475-7222 (fax)
www.utexas.edu/conferences/africa
CFP for "The Portuguese Atlantic:
Africa, Cape Verde and Brazil"
Call for papers:
Conference: The Portuguese Atlantic: Africa, Cape Verde and Brazil
Date and place: 6 July - 10 July 2005
Mindelo, Sao Vicente, Cape Verde Islands


The conference held at King's College in London in September 2004, entitled Creole societies in the Portuguese and Dutch colonial empires, focussed on the emergence of Creole societies in Africa and the Indian Ocean. The Conference proposed for Cape Verde will now shift the focus to the Atlantic.
The historiography of the last forty years has shown clearly that Africa, far from being an isolated backwater, cut off from human development, has been a crossroads, mediating contact with a wide range of peoples and cultures. One result of this has been the emergence of contact societies where Africans met, absorbed and engaged with others from outside the continent. Most -- but not all -- of these societies were involved in trade and most developed distinctive characteristics as a result of this encounter. Many were highly mixed brokerage societies like those of the West and East African islands and coastal regions; others, such as those of the Zambesi prazos were more territorially based, while the Coloureds of South Africa were pastoralists or developed as artisans and wage earners within a white dominated colonial society. What links these disparate groups is that they and their contemporaries often stressed the mixed nature of their cultural heritage and maintained ties, however tenuous, across the seas. The Conference will therefore also look at the connections these societies maintained with the African diaspora(s) in the Atlantic and the Americas.
Could this be called creolisation? The debate is a lively one with many Africanists hostile to the use of such a term. Yet 'hybridity' and 'creole identities' are widely accepted terms and receive much attention in the context of the Caribbean and America (North and South); they form a significant strand of the 'new' British imperial history and in the development of the concept of a 'shadow empire' in Portuguese historiography. In a wider context the Conference will also make a significant contribution to the urgent discussions -- academic and practical -- on identity, culture, nationalism, ethnicity and political power which are of critical importance in the twenty-first century. With some particular exceptions, this debate has largely taken place without much input from Africanists, as if the continent had little to contribute to the discussion of such issues.
This Conference aims to fill this gap by exploring African 'creole' societies and the communities with which they maintained contacts in the Americas. Questions such as how these societies developed, how issues of identity were negotiated and re-negotiated, what roles they played in economic, political, cultural and social histories of Africa, the US and Brazil and what lasting impact they have had, will be central to the Conference. The concept of a 'Black Atlantic' will be extended from its original focus on the Anglophone world to the Lusophone Atlantic and will look at the economic, cultural and social contacts maintained between Africa, the United States and Brazil, often using the 'creole' islands of the Atlantic as the conduits of migration and cultural exchange.
The Conference will result in a volume which will contribute to the debate on development and cultural exchange in the Atlantic community and on the historic links between Africa, the creole societies, the United States and Brazil.
Logistics:
There will be no Conference fee.
Those attending the Conference must find their own travel and accommodation costs. (The Conference organisers can make a hotel booking at a cost of 50Euros per night and can arrange air tickets if this is required).
Visits to Sao Vicente and the other islands can be arranged.

Paper Titles and Abstracts:
Those wishing to attend the conference should send the title of their proposed paper and a 300 word abstract by 22 April 2005.

Contact details:
Those interested should contact Professor M. Newitt, Department of Portuguese and Brazilian Studies, King's college, Strand, London WC2R 2LS: tel 020 7848 1827: E- mail: malyn.newitt@kcl.ac.uk.

Posted on H-Africa discussion group by: Charles Becker.
---
International Association of Caribbean Archaeology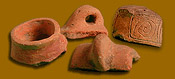 The International Association of Caribbean Archaeology (IACA) would like to invite colleagues and friends to participate in what promises to be an exciting exchange of innovative research from the Caribbean region. The 21st Congress will be hosted by the Department of History at the University of the West Indies, St. Augustine in Trinidad and Tobago July 24-30 in the Uiversity's Learning Resource Center (LRC) Auditorium.
A wide range of topics concerning Caribbean and Latin American antiquity from an international consortium of researchers will be covered. Themes to be addressed:

New approaches in Caribbean Archaeology
Archaeology and the Digital Age
Cultural Resource Management
The Preceramic Age
The Ceramic Age
Art and Symbolism
Historical Archaeology
Physical Anthropology
Underwater Archaeology
Interaction Spheres, Migration, and Adaptation
Conference presentations will be translated into English, French, and Spanish.
For further details visit the IACA 21st Congress website: http://www.dmcs.uwi.tt/conferences/iaca/index.html.