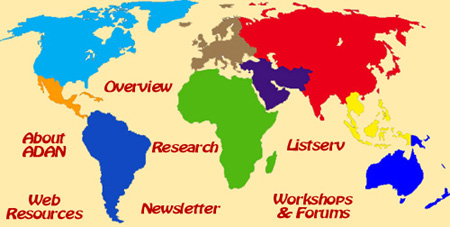 June 2011 Newsletter
ISSN: 1933-8651
In this issue we present the following articles, news, announcements, and reviews:
Articles, Essays, and ReportsNews and AnnouncementsConferences and Calls for PapersBook Reviews
---
In Remembrance of Slavery: Tchamba Vodun
By Dana Rush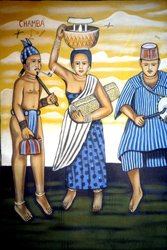 The Vodun complex known as Tchamba is a particularly strong spirit grouping along coastal Bénin, Togo, and into eastern coastal Ghana. Its name derives from an ethnic group and region in northern Togo, where people in the south actively sought domestic slaves centuries ago. This spirit grouping has been critical in the maintenance and proliferation of histories and memories of domestic slavery along the coast, and is sustained to the present in shrines, temple paintings, performance, songs, proverbs, and oral histories by the progeny of both domestic slaves and their owners. Tchamba Vodun has also been influential in bringing to the fore contemporary debates regarding the owning and selling of slaves and slave ancestry. Such discussions help Beninese and Togolese people address the multiple roles their ancestors played in both domestic and transatlantic slavery, as either the sellers or the enslaved.

Based on preliminary research conducted in Bénin and Togo in the late 1990s, this article gives life to slaves of generations past by exploring how the local significance of domestic slavery and, to some extent, the deep-seated cognizance of the transatlantic slave trade, are embodied in the slave spirits of Tchamba Vodun. [Read or download this full article here in Adobe .pdf format >>>].

[Return to table of contents]


---
Coffin Handles from the African Burial Ground
New York City: Notes on Their Source and Context
By Megan E. Springate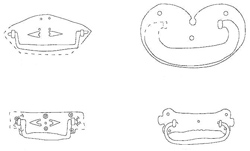 Coffin hardware refers to both functional and decorative elements, generally metallic, used on coffins and caskets in historic mortuary contexts. Examples of coffin hardware include handles, hinges, caplifters, thumbscrews, name plates, and decorative elements. Although the British industry was well-established in the eighteenth century, the mass-produced coffin hardware industry did not take hold in North America until the middle of the nineteenth century. Coffin hardware use in North America pre-dating the establishment of a domestic industry is not unknown; it is, however, uncommon, and generally has been associated with the burials of high social status or wealthy individuals. That said, exceptions to this include iron handles recovered from two burials at the African Burial Ground in New York City, which date to the middle decades of the eighteenth century. Research into the British antecedents of the nineteenth-century American coffin hardware industry led to the identification of a likely British source for the African Burial Ground handles. Imported British coffin hardware also has been found in African-American burials pre-dating the domestic industry in Philadelphia. Both the Lower Manhattan and Philadelphia examples suggest a series of questions requiring further research and data to address. [Read or download this full article here in Adobe .pdf format >>>].

[Return to table of contents]


---
Marsh House Slave Quarters
at Avery Island, Louisiana
By David T. Palmer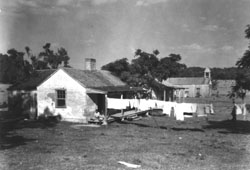 This article presents a report of preliminary results from archaeological survey and investigations of the Marsh House Slave Quarters site (16IB34) for the 2010-2011 winter field school conducted by the University of Louisiana at Lafayette. For the winter 2010-2011 "inter-semester," the University of Louisiana at Lafayette (UL Lafayette) conducted an archaeological field school at the Marsh House Slave Quarters site (16IB34) at Avery Island, Louisiana. A salt dome near the coast of southwestern Louisiana, Avery Island is best known as the birthplace of Tabasco brand pepper sauce, made on the island since 1868. During the approximately month-long project, 11 students from UL Lafayette and Millsaps College learned archaeological fieldwork skills by participating in site mapping, shovel test pit survey and limited excavations under the direction of Regional Archaeologist, David Palmer. The project results include the documentation of four features and the recovery of numerous artifacts dating to both the antebellum and postbellum eras. [Read or download this full article here in Adobe .pdf format >>>].

[Return to table of contents]


---
Structural Racism and
the Destruction of Santos, Florida
By Blue Nelson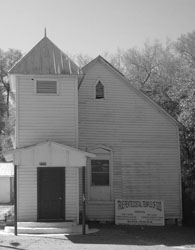 About six miles south of Ocala, on highway U.S. 441 in Marion County, there is a brown sign that reads Santos, Florida. To the casual observer this densely vegetated area may appear to be an unmolested patch of virgin forest. However, to a steadily decreasing number of local residents, this was the center of an agrarian and predominately African-American, community. By all standards, Santos was a common town, not unlike many other small towns that seemed to develop along rail lines and dot Florida's landscape around the turn of the 20th century. However, in the early 1930s, Santos was razed and its residents scattered when the proposed Cross Florida Ship Canal was designated to run right through the center of town. Residents were given little or no money for their homes and property and even less time to get out of the way of the waiting bulldozers.

In evaluating the events and circumstances surrounding the destruction of Santos, it is highly likely that structural racism played a key role in the displacement of this community. Such aversive forms of racism often have the effect of choking off economic opportunities from communities. In the extreme form suffered by Santos, large-scale development projects in transportation infrastructure lead to displacement of communities that could otherwise have been ongoing, economic participants in the region. The impacts of distortive ideologies lead instead to the value of those communities being disregarded and to their destruction and displacement. [Read or download this full article here in Adobe .pdf format >>>].

[Return to table of contents]


---
Whitney Battle-Baptiste and Kelley Deetz
Contribute as New ADAN Newsletter Editors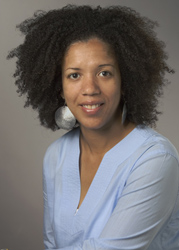 The African Diaspora Archaeology Network (ADAN) welcomes Profs. Whitney Battle-Baptiste and Kelley Deetz as new editors of the quarterly Newsletter. They will work with co-editor Christopher Barton and our book review editor John McCarthy. It is delightful to see this talented team of scholars bring fresh perspectives and energy as the new editors. Chris Fennell of the University of Illinois will continue to host and publish (but not edit) the Newsletter and ADAN web site.
Dr. Whitney Battle-Baptiste is an Assistant Professor of Anthropology at the University of Massachusetts Amherst, and she earned her Ph.D. at the University of Texas. Whitney is a historical archaeologist interested in race, gender, and cultural landscapes. Her theoretical interests include Black Feminist theory, critical race theory and the African Diaspora. Her publications include commentaries and papers in edited volumes on historical archaeology and slavery in the Southern United States, and her forthcoming book entitled Black Feminist Archaeology (Left Coast Press). Whitney has conducted field work at many sites, including the home of Andrew Jackson in Nashville, Tennessee; Rich Neck Plantation in Williamsburg, Virginia; and The Abiel Smith School in Boston, Massachusetts. Her latest research is at the W. E. B. DuBois boyhood homesite in Great Barrington, Massachusetts.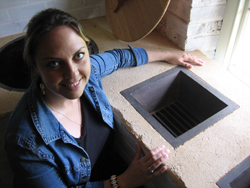 Dr. Kelley Deetz recently finished her Ph.D. in African Diaspora Studies at the University of California at Berkeley. She also earned her MA in African American Studies from U.C. Berkeley and her BA in Black Studies from the College of William and Mary. Her dissertation addressed an interdisciplinary study of Virginia's enslaved cooks and their legacy in American Culture. Kelley's research focuses on intersections of power, domestic labor, race, gender, foodways, material culture, cultural landscapes and tourism. She has worked as an archaeologist at numerous sites throughout Virginia and California, including Jamestown and the Presidio of San Francisco. She is currently the Ainsworth Visiting Professor of American Culture at Randolph College (founded as Randolph-Macon Woman's College in 1891).

[Return to table of contents]


---
Graduate Programs in African Diaspora Archaeology
By Chris Barton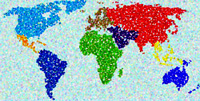 Below is a compiled list of graduate school programs that can provide concentration in African diaspora archaeology. There are currently very few programs that formally offer a graduate degree specializing in this subject area, but there exist many programs that offer graduate degrees in archaeology which have faculty who specialize in African diaspora archaeology. The list set out below was compiled based on published directories, information provided by the departments, and details sent to Chris Barton and Chris Fennell by graduate students and faculty members. This list of programs and of related faculty within each program is not exhaustive nor a full complication of all departments. If you are aware of other graduate programs in African diaspora archaeology not listed below, or of additional details concerning those that are listed, please contact Barton so he can include such information in future compilations.
---
Ball State University
Department of Anthropology
Degrees offered: MA

Information from the school: The Master of Arts program with a major in anthropology is designed to provide students with a broad understanding of general anthropology as well as experience in a specialized area so they may pursue doctoral studies if desired. Core courses in three major subdisciplines are required, as well as a theory course. Related faculty: Mark Groover. Address: Department of Anthropology, Ball State University, Muncie, Indiana 47306-0435, USA. / Ph: (765) 285-1575 / Email: mdgroover@bsu.edu / URL: www.bsu.edu/anthropology/.


---

College of William and Mary
Department of Anthropology
Degrees offered: MA, PhD

Information from the school: William & Mary offers graduate an MA in historical archaeology and an MA/PHD in anthropology. The MA is a terminal degree preparing students for careers in historical archaeology and related professions. The MA/PhD program with specializations in historical archaeology and historical anthropology prepares students for research and teaching in anthropology. The anthropology of the past, meeting place of ethnography, historical documentation and material culture, informs the program in historical anthropology. Faculty research emphasizes the archaeology and historical anthropology of colonialism in the Atlantic world as rooted in the Chesapeake, the Caribbean, West Africa, the American Northeast, and the American Southeast. The MA and MA/PhD programs offer faculty expertise and research opportunities for the study of African Diasporic communities in North America as well as pluralistic colonial encounters involving Natives, enslaved Africans, and European colonists. The Department's Institute for Historical Biology maintains databases on the bioarchaeology of the Diaspora. Related faculty: Michael Blakey, Joanne Bowen, Kathleen Bragdon, Marley Brown, Martin Gallivan, Grey Gundaker, Neil Norman, Frederick Smith. Address: PO Box 8795 Washington Hall, Room 103 Williamsburg, VA 23187-8795, USA. / Ph: (757) 221 1056/1055 / Fx: (757) 221-1066 / E-mail: kamurp@wm.edu / URL: www.wm.edu/anthropology.


---

George Washington University
Department of Anthropology
Degrees offered: MA

Information from the school: Our master's program in Anthropology is designed to provide students with a comprehensive grounding in the four fields of the discipline: biological anthropology, sociocultural anthropology, archaeology, and linguistics. In addition, students may choose a formal concentration in folklife, international development, or museum training. Related faculty: John Michael Vlach, Stephen C. Lubkemann, and Pamela Cressey (head of Alexandria Public Archaeology). Address: Hortense Amsterdam House, 2110 G Street, NW, Washington, DC 20052 USA / URL: www.gwu.edu/~anth/ (G.W.U.) and oha.alexandriava.gov/archaeology/ (Alexandria Archaeology).


---

Illinois State University
Department of Sociology and Anthropology
Degrees offered: MA/MS

Information from school's website: The Master's Degree in Archaeology has three concentrations: Historical Archaeology, Prehistoric Archaeology, and Bioarchaeology. We emphasize fieldwork, analytical methods, theory, and writing for all of our students regardless of their concentration. The Historical Archaeology concentration focuses on the archaeology of the modern world, with ongoing faculty projects in the archaeology of Spanish colonization, post-colonial French communities, and the 19th-century U.S. and El Salvador. While not the sole focus of these projects, the African Diaspora community is nonetheless an important aspect of each and forms part of the overall research design. The multidisciplinary approach of the master's program allows students to take courses from an array of departments, including Sociology & Anthropology, History, and Geology-Geography. Related faculty: Elizabeth M. Scott, Kathryn E. Sampeck. Departmental address: 332 Schroeder Hall, Campus Box 4660, Illinois State University, Normal, IL 61790-4660, USA. URL: sociologyanthropology.illinoisstate.edu/.


---

Indiana University-Purdue University, Indianapolis (IUPUI)
Department of Anthropology
Degrees offered: Masters Degree in Applied Anthropology

Information from the school: The IUPUI Master's degree is a two-year program focused on archaeologies of social and political engagement both within and outside the academy. The program emphasizes community collaboration, the relationship between anthropological theory and "real world" problems, and a broadly based four-field anthropological perspective. Departmental projects include research on 19th and 20th century urban African America, the materiality of contemporary homelessness, landscape archaeology, and cultural heritage. Faculty members in these areas include Susan Hyatt (urban anthropology, grassroots movements); Elizabeth Kryder-Reid (archaeological public programs, landscape archaeology, cultural heritage; Director Museum Studies); Paul Mullins (historical archaeology of race and racism, modern material culture; Department Chair); Jeremy Wilson (bioarchaeology, archaeological demography); and Larry Zimmerman (indigenous and community archaeology, Native American issues; Public Scholar of Native American Representation). Address: 425 University Boulevard, Indianapolis, IN 46202/ Ph: 317-274-8207/ URL: liberalarts.iupui.edu/anthropology/.


---

Oxford University
School of Archaeology
Degrees offered: MSt/MSc/MPhil, PhD

Information from school's website: Graduate students are admitted by the Committee for the School of Archaeology. They may opt to study for a Master's degree of one or two year's duration (MSt, MSc, MPhil), or choose to embark on a degree by research (MLitt, DPhil). Prior completion of a Master's degree or equivalent, either at Oxford or elsewhere, is normally required for research students, but it is possible to begin graduate work at Oxford as a Master's student (for instance the MSt in World Archaeology or MSt Landscape Archaeology) and subsequently decide to proceed onward to the doctoral level. Graduate students in archaeology and their supervisors are grouped around the Institute of Archaeology and the Research Laboratory for Archaeology and the History of Art (archaeological science), which together form the School of Archaeology. In addition to the library resources of the Bodleian Library, the Sackler Library and the Balfour Library include dedicated archaeological collections. Archaeological research and teaching also makes use of the university's extensive Museum collections, especially the world archaeology collections of the Pitt Rivers Museum, and the collections of the Ashmolean Museum. Related faculty for African diaspora archaeology include: Chris Gosden (archaeology and colonialism), Dan Hicks (historical archaeology), Gary Lock (landscape archaeology), and Peter Mitchell (African archaeology). Address: School of Archaeology, 36 Beaumont Street, Oxford, OX1 2PG; Ph: +44 (0) 1865 278240, 613011 / Email: administrator@arch.ox.ac.uk; URL: www.arch.ox.ac.uk/.


---

San Diego State University
Department of Anthropology
Degrees offered: MA

Information from the school: When the graduate student enrolls in the Department and achieves conditional or classified graduate standing, he/she is advised by the Graduate Coordinator to develop a program of study designed to provide the breadth, depth, and specialized training necessary for a professional career in Anthropology. Related faculty: Seth Mallios. Address: 5500 Campanile Dr., San Diego, CA 92182-6040, USA. / Ph: (619) 594-5527 / Fx: (619) 594-1150 / E-mail: anthro@mail.sdsu.edu / URL: www-rohan.sdsu.edu/~anthro.


---

Sonoma State University
Department of Anthropology
Degrees offered: MA (in Cultural Resource Management)

Information from school's website: The Master of Arts in Cultural Resources Management (CRM) involves the identification, evaluation and preservation of cultural resources, as mandated by cultural resources legislation and guided by scientific standards within the planning process. The primary objective of the Master's Program in Cultural Resources Management is to produce professionals who are competent in the methods and techniques appropriate for filling cultural resources management and related positions, and who have the theoretical background necessary for research design and data collection and analysis. Related faculty: Adrian Praetzellis, Margaret Purser. Address: 1801 East Cotati Ave., Rohnert Park, CA 94928 USA / URL: www.sonoma.edu/anthropology/.


---

Syracuse University
Department of Anthropology
Degrees offered: MA, PhD

Information from the school: Graduate study in historical archaeology combines the theory and techniques of anthropological archaeology with the use of documentary source material and oral historical information. The department offers a strong program in historical archaeology, with particular focus on Africa and the African diaspora. However, graduate students receive holistic, four field training in anthropology. In addition, the placement of the Department within the Maxwell School of Citizenship and Public Affairs and the College of Arts and Sciences affords access to related programs such as museum studies, historic preservation, policy planning, and environmental studies. The program is unique in having several faculty with research foci on Africa and the African diaspora. Related archaeology faculty: Theresa Singleton, Christopher DeCorse, and Douglas Armstrong. Other Department faculty include bioarchaeologist Shannon Novak and cultural anthropology faculty: John Burdick (Brazil, Latin America), Peter Castro (Africa); Deborah Pellow (West Africa). Address: 209 Maxwell Hall Syracuse, NY 13244-1090, USA / Ph: (315) 443-2200 / Fx: (315) 443-4860 / URL: www.maxwell.syr.edu/anthro/.


---

Temple University
Department of Anthropology
Degrees offered: MA, PhD

Active field programs focus on three broad areas: the prehistory of tropical America (emphasis on Central and South America), the prehistory of Eastern Woodlands (emphasis on the Middle Atlantic), and the historic period in the Middle Atlantic. The department maintains extensive laboratory facilities for the processing, analysis and storage of paleoecological and artifactual collections. Existing collections from Central America, the Eastern Woodlands and the historic Philadelphia region provide students with the opportunity to become involved in research projects of their own design. Recent African diaspora archaeology at Temple has focused on Philadelphia's Alms House (3rd and Pine) and Timbuctoo, NJ. Related faculty include, David G. Orr (historical archaeology). For more information visit: www.temple.edu/anthro/graduate/index.html.


---

University College London
Institute of Archaeology
Degrees offered: MA, PhD

A major centre of African archaeological research in the UK, the UCL Institute of Archaeology has been offering taught courses and research supervision in African Diaspora Archaeology since 2002. MA students wishing to concentrate on the African Diaspora should take the MA Archaeology, with course options to include 'The Archaeology of Ethnicity' (normally includes Diaspora lectures) and 'Archaeologies of African Political Traditions' (which considers, in part, the archaeology of slavery in Africa). MA students may also sit in on the upper-level undergraduate course 'The Archaeology of the African Diaspora' (offered in alternate years, including the 2010/2011 academic year). Research dissertation supervision at MA and PhD level is offered in West African and East African historical archaeology, African Diaspora archaeology and African cultural heritage management. In addition to UCL's own excellent library facilities, students can access the collections of SOAS and the British Library, both being within 1km of the Institute. UCL has a substantial Africanist graduate community and a history of outreach and involvement, including the hosting of public British Academy and AHRC funded symposia on slavery and the diaspora commemorating Abolition 2007. Related faculty for African and African Diaspora archaeology include: Kevin MacDonald (Historical Archaeology of West Africa and the Diaspora), Andrew Reid (Historical Archaeology of Eastern Africa), and Paul Basu (West African Cultural Heritage/ Museum Studies). Address: 31-34 Gordon Square, London WC1H OPY, United Kingdom; Ph +44 (0) 7679 7495. Graduate inquiries should be routed to graduate programs administrator Lisa Daniel (l.daniel@ucl.ac.uk). URL: www.ucl.ac.uk/archaeology/.


---

University of Arkansas
Department of Anthropology
Degrees offered: MA, PhD

Information from the school: The University of Arkansas offers many approaches to the various subfields and topics within anthropology. The program draws upon the strengths of 17 department-based faculty members as well as 15 Ph.D.-holding archeologists within the Arkansas Archeological Survey who have graduate faculty status with the university. As well as offering B.A., M.A., and Ph.D. degrees, the department cooperates in an interdisciplinary Ph.D. program in Environmental Dynamics. Related faculty: Drs. George Sabo (archeology and ethnohistory), Robert Mainfort (archeology and cemetery studies) and JoAnn D'Alisera (cultural anthropology, African Diaspora) and Drs. Jamie Brandon and Leslie "Skip" Stewart-Abernathy (both historical archeologists with interests in the African Diaspora, Off-Campus, Arkansas Archeological Survey). Old Main 330, University of Arkansas, Fayetteville, AR 72701 / Ph: (479) 575-2508; Fx: (479) 575-6595 / URL: www.uark.edu/depts/anthinfo/.


---

University of California, Berkeley
Department of Anthropology
Degrees offered: MA, PhD
Information from the school: Graduate study at Berkeley is characterized by its extraordinary breadth. The department's award-winning faculty, both social cultural and archeaological, engage diverse analytic and substantive problems and work across the United States and around the world. Related faculty: Laurie Wilkie, Paul Farnsworth. Address: 232 Kroeber Hall Berkeley, CA 94720-3710, USA / Ph: (510) 642-3391 / Fx: (510) 643-8557 / URL: anthropology.berkeley.edu.


---

University of California, Santa Cruz
Department of Anthropology
Degrees offered: MA, PhD

Information from the school: The doctoral program in anthropological archaeology focuses on the archaeology of late precolonial societies in Africa (East and West) and the Americas (North America and Mesoamerica), and the archaeology of colonial encounters in both regions. The program's focus on the archaeology of colonialism is augmented by departmental strengths in the cultural anthropology of colonial encounters and is further enriched by interdisciplinary relationships with faculty in History, Latino and Latin American Studies, and History of Art and Visual Culture. Doctoral students choose methodological concentrations in any of the following: ceramic materials analysis, household archaeology, landscape archaeology, spatial analysis, zooarchaeology, and chemical and isotopic characterization studies, singly or in combination. Related faculty: Chelsea Blackmore, Diane Gifford-Gonzalez, Judith Habicht-Mauche, and J. Cameron Monroe. Other Related faculty/staff: William Hildebrandt. Address: Department of Anthropology, University of California, Santa Cruz, CA 95060 USA; phone: (831) 459-9920; fax: (831) 459-5900; URL: anthro.ucsc.edu.


---

University of Chicago
Department of Anthropology
Degrees offered: MA, PhD

Information from the school: The Department of Anthropology at the University of Chicago offers a doctoral program with a concentration in archaeology, sociocultural, or linguistic anthropology. Although an M.A. degree is earned during progress towards the Ph.D., no one is admitted to the Department solely to seek the M.A. Related faculty: Shannon Lee Dawdy (U.S., Cuba, Mexico; historical archaeology), Michael Dietler (Kenya, ethnoarchaeology), Stephan Palmie (Cuba), François Richard (West Africa, Senegal), Jean Comaroff and John Comaroff (South Africa). Address: 1126 East 59th Street, Chicago, IL 60637 USA / URL: anthropology.uchicago.edu/.


---

University of Florida
Department of Anthropology
Degrees offered: MA, PhD

Information from the school: Anthropologists at the University of Florida carry out research in Africa, Latin America and the Carribbean, North America, Asia, and Europe. Our teaching program, at both the graduate and undergraduate levels and in all fields of the discipline, reflects a strong commitment to a cross-cultural, comparative perspective. We have continuing relationships with universities, research centers and institutes, government bureaus, non-governmental institutions, and development agencies in Latin America, the Caribbean, sub-Saharan Africa, and Asia. Related faculty: James Davidson and Peter Schmidt. Address: PO 117305, Gainesville, FL 32611, USA / Ph: (352) 392-2253 / Fx: (352) 392-6929 / URL: www.anthro.ufl.edu.


---

University of Houston
Department of Anthropology
Degrees offered: MA

Information from the school: The programs of the Department of Anthropology focus on archaeology and ethnology as specialized areas of study. A diverse curriculum provides courses in the major subfields of ethnology, archaeology, linguistics, and physical anthropology as well as in the study of important world regions, such as the United States, North America, Latin America, and Africa. Related faculty: Kenneth Brown. Address: 233 McElhinney, Houston, TX 77204-5020, USA / Ph: (713) 743-3780 / Fx: (713) 743-4287 / E-mail: edmiller@mail.uh.edu / URL: www.uh.edu.


---

University of Idaho
Department of Sociology and Anthropology
Degrees offered: MA

Information from the school: The University of Idaho's Department of Sociology and Anthropology offers a Master of Arts degree in Anthropology. This program includes class work, seminars, directed studies, independent research, a thesis, and a combined final oral exam and thesis defense. The curriculum provides sound training in general anthropology, archaeology, physical anthropology, and ethnology. Department research specialities include historical archaeology; prehistoric Northwest archaeology; Plateau Indian ethnography; human evolution; and indigenous peoples of South America. Related faculty: Mark Warner, Stacey Camp. Mailing Address: P.O. Box 441110, University of Idaho Moscow, Idaho 83844-1110 USA / URL: www.class.uidaho.edu/soc_anthro/.


---

University of Illinois, Urbana-Champaign
Department of Anthropology
Degrees offered: MA, PhD

Information from the school: Our program offers M.A. and Ph.D. degrees, including a new M.A. track concentrating on Cultural Heritage and Landscape studies, offered in conjunction with the Department of Landscape Architecture. Our graduate program provides students with in-depth training and education in a range of theoretical and methodological approaches to archaeological investigations. Graduate research and coursework opportunities are also available through the University's African American Studies and Research Program and the Center for African Studies. Related faculty: Christopher Fennell, Helaine Silverman, Rebecca Ginsburg, and Norman Whitten (emeritus). Address: 109 Davenport Hall, 607 S Mathews Ave, Urbana, IL 61801, USA / Ph: (217) 333-3616 / Fx: (217) 244-3490 / E-mail: anthro@illinois.edu / URL: www.anthro.illinois.edu/.


---

University of Maryland
Department of Anthropology
Degrees offered: MAA, PhD

Information from the school: The University of Maryland's Master of Applied Anthropology (MAA) is a two-year professional degree designed for those students interested in the practice and application of anthropology. Program emphasis is on the utilization of anthropological knowledge in practical settings. Among the courses offered are studies in archaeology, biology, and cultural anthropology. Skills are developed through a summer internship and enhanced by working with professionals in related fields. The Department of Anthropology offers a Ph.D. Training is offered to historical archaeologists who wish to combine anthropological orientations with the application of archaeology in many settings, including government agencies, cultural resource management firms, and universities. Opportunities for research exist with Archaeology in Annapolis, Baltimore, the National Park Service, and in the three archaeological laboratories within the department. The University of Maryland, College Park has a wide-range of scholars from many disciplines and offers opportunities throughout the fields concentrating in the African diaspora. The University provides an environment for broad-based scholarship in diasporic studies in general. Related faculty: Stephen A. Brighton, Mark P. Leone, Paul A. Shackel, and Tony L. Whitehead. Address: 1111 Woods Hall, College Park, MD 20742-7415, USA / Ph: (301) 405-1423 / Fx: (301) 314-8305 / E-mail:anthgrad@deans.umd.edu / URL: www.bsos.umd.edu/anth.


---

University of Massachusetts, Amherst
Department of Anthropology
Degrees offered: MA, PhD

Information from the school: The graduate program in anthropology enables students to become fully competent anthropologists. Robert Paynter and Whitney Battle-Baptiste conduct research at the W.E.B. Du Bois Boyhood Homesite. This work is greatly facilitated by access to and staff support for Du Bois's Papers that are in the Special Collections and Archives of the W.E.B. Du Bois Library at UMass Amherst. Whitney Battle-Baptiste also conducts research on plantations in the U.S. Southeast, the materiality of contemporary African American popular culture, and Black Feminist theory and its implications for archaeology. Enoch Page and Amanda Walker Johnson, colleagues in the Anthropology Department, share research interests in related aspects of the African Diaspora. Faculty and students in the W.E.B. Du Bois Department of Afro American Studies, in the Du Bois Center of the University Library, in the Center for Heritage and Society, and in the Public History Program of the History Department also share interests in African Diasporic research and presenting it to this country's many publics. Related faculty: Whitney Battle-Baptiste, Robert Paynter, Enoch Page, and Amanda Walker Johnson. Address: 215 Machmer Hall, Amherst, MA 01003 USA / URL: www.umass.edu/anthro/.


---

University of Massachusetts, Boston
Department of Anthropology
Degrees offered: MA

Information from the school's website: Unlike many other programs in the U.S. that offer M.A. degrees in archaeology, the UMass Boston program is currently devoted solely to historical archaeology and its integration with anthropology and history. The sharpness of focus yet depth of coverage is made possible by the significant number of historical archaeologists and associated colleagues in the program's primary academic departments and affiliated research center, and their joint commitment to a significant set of critical themes in historical archaeology. Related faculty: Stephen Mrozowski. Address: Department of Anthropology, University of Massachusetts-Boston, Boston, MA 02125-3393 USA / Ph: 617-287-6854 / Fx: 617-287-6857/ URL: www.umb.edu/cla/anthropology/welcome/518/.


---

University of Montana
Department of Anthropology
Degrees offered: MA, PhD

Information from the school: The Cultural Heritage Program is a way to earn either the M.A. or Ph.D. degree in Anthropology while focusing on methods and theories related to preserving the culture, heritage, and diversity of all peoples. It is designed to produce professionals in the many areas of culture heritage preservation who are firmly grounded in the fundamentals of anthropology. Related faculty: Kelly J. Dixon and Gregory Campbell. Address: Social Science Bldg 235, 32 Campus Drive Missoula, MT 59812, USA / Ph: (406) 243-2693 / Fx: (406) 243-4918 / E-mail: rehanna.olson@mso.umt.edu. / URL: www.cas.umt.edu/casweb/departments/anthropology.cfm.


---

University of North Carolina, Chapel Hill
Department of Anthropology
Degrees offered: MA, PhD

Information from the school: The department offers advanced work leading to the master of arts and doctor of philosophy degrees. Students admitted into the graduate program are admitted for the Ph.D. degree. A master's degree may be taken as part of the program leading to the Ph.D. degree; however, a master's degree is not an essential part of the doctoral program. The Ph.D. degree requires specialization in a defined area of study and the completion of an acceptable dissertation treating some problem within this area. The Ph.D. program is quite flexible; any area or problem can be selected for study, provided it meets the approval of the student's adviser, Ph.D. committee, and the faculty. Part of the training of a professional anthropologist is based on a minimum of one year's fieldwork. Each student in archaeology is given the opportunity to work with the Department faculty and the professional staff of the Research Laboratories of Archaeology (RLA) in close and direct interaction to develop technical, observational, and decision-making skills in rigorous research situations. For all archaeology students, and especially those with a Southeastern focus, important resources and opportunities are available through the RLA. Although the RLA, a research center for Southeastern archaeology and ethnohistory, is administered separately from the Department of Anthropology, it interacts closely with the Department by providing fieldwork and laboratory opportunities, including assistantships, and by making available its facilities and collections. Related faculty: Anna Agbe-Davies, R. P. Stephen Davis, Glenn Hinson, Fatimah Jackson, Brett Riggs, C. Margaret Scarry, Karla Slocum, Vincas P Steponaitis. Address: CB No. 3115, 301 Alumni Building, Chapel Hill, NC 27599-3115 / Ph: (919) 962-1243 / Fx: (919) 962-1613 / E-mail:anthropology@unc.edu / URL: anthropology.unc.edu/ or rla.unc.edu/.


---

University of Pennsylvania
Department of Anthropology
Degrees offered: MA, PhD

Information from the school: Our department is unique in that it offers a four-field approach, providing breadth of training. The core courses for the Masters (MA) and PhD programs provide an in-depth introduction to Anthropology as a whole. Because of the broad education offered, graduates and advanced students of the program would be qualified to teach in areas beyond their own specialty, resulting in multiple teaching opportunities. Historical Archaeology has been taught at Penn since 1960/1961 and there has been a graduate concentration in the discipline for over forty years. A number of Penn graduate students have worked on aspects of African Diaspora Archaeology carrying out projects in Africa (South Africa) itself and in both Latin American (West Indies) and in North America. Currently a number of students are very interested in the subject of plantations and in expanding the scope of such studies beyond North America. Related faculty: Robert Schuyler. Address: University Museum Rm. 323, 3260 South Street, Philadelphia, PA 19104-6398 USA / URL: www.sas.upenn.edu/anthro/.


---

University of South Carolina
Department of Anthropology
Degrees offered: MA, PhD

Information from the school: The Department offers the M.A. and, as of 2005, the Ph.D. in Anthropology. Our program offers instruction in the four traditional sub-fields of anthropology: archaeology, cultural anthropology, linguistic anthropology, and physical/biological anthropology. In this we are unusual. As of 1993, the American Anthropological Association had noted that only 28% of all departments had faculty in all of the four traditional sub-fields. While students are asked to specialize in one of these fields, we particularly seek students who wish to cross the boundaries between fields and combine them in their graduate work. Particular areas are African American historical archaeology (Kelly and Weik), African prehistoric archaeology and ethnoarchaeology (Casey), African historical archaeology (Kelly), Maroon studies (Weik), ethnobotany (Wagner), and Eastern North America (Wagner, King, and Cobb). The South Carolina Institute of Archaeology and Anthropology also has several archaeologists working on prehistoric and historic archaeology of the Southeast and a very large collection of materials from the state. Related faculty: Kenneth Kelly, Terrance Weik, Joanna Casey, Gail Wagner, Charles Cobb (Director, SCIAA), Adam King (SCIAA), and Leland Ferguson (emeritus). Address: 1512 Pendleton Street, Hamilton College Room 317, Columbia, SC 29208, USA / Ph: (803) 777-6500 / Fx: (803) 777-0259 / E-mail: anthroinfo@mailbox.sc.edu / URL: www.cas.sc.edu/ANTH/.


---

University of Southern Mississippi
Department of Anthropology and Sociology
Degrees offered: MA

Information from the school: The graduate program emphasizes exposure to the four fields of anthropology as a means of preparing for further graduate study, applying anthropological principles in the public service or government sectors, or teaching at the undergraduate level. At the same time we expect students to develop an in-depth grounding in their subfield of interest, from theoretical, methodological, and practice standpoints. We also encourage development of a personal research interest as quickly as possible, ultimately expressed as thesis research. We encourage students to explore topics about which the faculty can provide useful input either through coursework, directed reading, or personal expertise. Related faculty: Amy L. Young. Address: 118 College Dr., #5074, Hattiesburg, MS 39406-0001, USA / Ph: (601) 266-4306 / Fx: (601) 266-6373 / E-mail:antsoc@usm.edu / URL: www.usm.edu/antsoc.


---

University of Texas, Austin
Department of Anthropology
Degrees offered: MA, PhD

Information from the school: Archaeology at the University of Texas reflects the breadth of specialization of its faculty, and its strong links with other disciplines. The program enjoys strong ties with Geography, Classics, Latin American Studies, Asian Studies, Social, Cultural, Folklore and Public Culture, Linguistics, and Physical Anthropology. A strong and active group of graduate students, the presence of the Texas Archeological Research Lab, major CRM firms, and offices in State Government make Austin's community of archaeologists and related scholars exceptionally large and diverse. Graduate programs and tracks within Anthropology include the African diaspora graduate program, Borderlands, and Activist Anthropology. Related faculty in Archaeology and African Diaspora studies: Maria Franklin (historical archaeology, North America), Samuel Wilson (prehistory and ethnohistory, Caribbean), James Denbow (prehistory, Africa), Edmund Gordon (social anthropology, Latin America), Christen Smith (social anthropology, Latin America, race and gender), Joao Vargas (social anthropology, Brazil and North America), Jemima Pierre (social anthropology, West Africa and North America). Address: Department of Anthropology, 1 University Station C3200, Austin, TX 78712-0303, USA / Ph: (512) 471-4206 / Fx: (512) 471-6535 / for information on the anthropology graduate program and admissions contact Heather Nathanson-Flowers at H.Flowers@mail.utexas.edu / URL: www.utexas.edu/cola/depts/anthropology/.


---

University of Virginia
Department of Anthropology
Degrees offered: MA, PhD

Information from the school: The archaeology section of the Anthropology department includes five full-time and two part-time faculty. Faculty in closely related disciplines such as History, Architectural History, Art History and the Carter Woodson Institute add strong interdisciplinary strength to shared research interests in African and African American history, diaspora studies, African historical archaeologies, and material culture studies in the Eastern U.S., the Caribbean and West and East Africa. Shared interests in colonialism and slavery can be found across these areas of faculty and graduate student research. We emphasize the integration of anthropological theory with archaeological field methods and analytical approaches. Related Anthropology faculty: Jeffrey Hantman, Adria LaViolette, and Fraser Neiman. Address: PO Box 400120, Charlottesville, VA 22904-4120, USA / Ph: (434) 924-7044 / Fx: (434) 924-1350 / URL: www.virginia.edu/~anthro/.
[Return to table of contents]


---
New Book
Paths of the Atlantic Slave Trade:
Interactions, Identities, and Images
Edited by Ana Lucia Araujo
Cambria Press, Paperback
476 pp., ISBN-13: 9781604977479, 2011.

Description from the Publisher: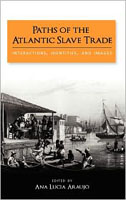 Based on innovative and extensive research, this edited volume examines the complex and unique human, cultural, and religious exchanges that resulted from the enslavement and the trade of Africans in the North and the South Atlantic regions during the era of the transatlantic slave trade. The book shows the connections between multiple Atlantic worlds that contain unique and diverse characteristics. The Atlantic slave trade disrupted African societies, families, and kin groups. Along the paths of the slave trade, men, women and children were imprisoned, separated, raped, and killed by war, famine and disease. The authors investigate some of the different pathways, whether physical and geographical or intellectual and metaphorical, that arose over the centuries in different parts of the Atlantic world in response to the slave trade and slavery. Highlighting unique and similar aspects, this groundbreaking book follows the trajectories of individuals, groups, and images, rethinking their relations with the local, and the Atlantic contexts.

Although not neglecting statistic data, the volume focuses on the movement of groups and individuals as well as the cultural, artistic and religious transfers deriving from the Atlantic slave trade. Privileging multidirectional and transnational approaches, the authors investigate regions and groups usually underrepresented in Atlantic scholarship. The various chapters reassess the results of the transatlantic slave trade interactions that gave birth to mixed groups, cultures, and artistic forms on both sides of the Atlantic Ocean. Some chapters examine the trajectories of North Americans who fought against slavery, as well as those historical actors who benefited from the trade by selling and buying enslaved people. Other chapters study the lives of enslaved Africans and people of African descent, in order to understand how these experiences are brought to the present and reinterpreted by the later generations through visual arts and film. As a number of contributors included in this volume argue, the exchanges that resulted from the movement of peoples, goods, ideas, mentalities, tastes, and images and their legacies did not stop with the end of the Atlantic slave trade and slavery, but remain the object of continuous transformation, adaptation, and reinvention.

Challenging the prevailing Atlantic world scholarship that usually privileges economic exchanges and demographic data, the book illuminates the multiple experiences of African and African-descended male and female historical actors in the North and the South Atlantic spaces. The various paths of the slave trade explored in the different chapters of this book shed light on the trajectories and representations of African individuals and their descendants in the Atlantic basin and beyond. Although the victims are no longer alive to narrate their experiences, the various authors attempt, even when the sources are scarce, to retrace the slaving paths of the male and female victims, allowing us to figure out the development of multiple Atlantic individual and collective encounters and interactions. Eventually, some contributors show that these individuals and groups who were forced into different pathways, sometimes were able to negotiate, to make choices, and seal various sorts of alliances, facing the challenges imposed by the Atlantic slave trade brutal dynamics. This is an important book for collections in slavery studies, Atlantic history, history of the United States, Latin American and Caribbean history, African studies and African Diaspora.

[Return to table of contents]


---
New Book
Reparations to Africa
By Rhoda E. Howard-Hassmann
University of Pennsylvania Press, Paperback
278 pp., ISBN-13: 9780812221640, 2011.

Description from the Publisher: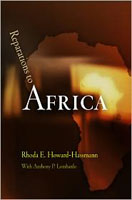 Analyzes the reparations movement from the perspectives of law, philosophy, political science, and sociology. While acknowledging the brutal background of the slave trade and colonialism, and the mistreatment of the peoples of Africa, Howard-Hassmann finds that the complexity of this history, along with facts of the contemporary situation, weakens the case for financial compensation, although she does recommend acknowledgment of, and apologies for, some actions. The book not only provides a bold reckoning of the root causes, both internal and external, of African underdevelopment and unrest but also suggests alternative means for restorative justice and examines the role that institutions such as the International Criminal Court can play.

[Return to table of contents]


---
New Book
The Demise of Slavery in Southwestern Morocco, 1860-2000:
Economic Modernization and Transformation of Social Hierarchy
By Madia Thomson
Edwin Mellen Press, Cloth
349 pp., ISBN-13: 9780773414600, 2011.

Description from the Publisher: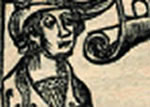 This book examines the changes that occurred in the Moroccan social hierarchy from the pre-Protectorate to the post-Independence period (1860-2000). It argues that the actions of slaves encouraged changes in the institution of slavery. These changes combined with the forces of economic modernization to reshape social configurations in nineteenth century Morocco. The study draws heavily on Arabic, Berber and French archival and oral data collected in France and Morocco. The study first examines life in Berber-speaking Tazerwalt (southwestern Morocco) where the saint Sidi Ahmed ou Moussa established a zawiya, religious center, in the sixteenth century. Exiled by the mid-seventeenth century, his descendants, the Abudamias regained their economic and political importance to run Tazerwalt as a principality in the nineteenth century. As elsewhere during this period, the region consisted of social groups with varying social power: shorfa, descendants of the Prophet Muhammed; igourramen, descendants of a saint; imazighen, white Berbers; issouqin, Black Berbers; isemgan, slaves; and, udain, jews. The religious heritage attributed to the shorfa and igourramen assured high social standing. Lacking similar standing, imazighen, isemgan and issouqin defined themselves in terms of economic function, family origins and physiognomy; differences of religion distinguish then from udain. Using this social configuration as a baseline, the manuscript shows how a combination of government policies and human agency under the Protectorate promoted both domestic and international migration amongst non-elites to eliminate slavery and give Morocco its current fluid, increasingly urban social configuration.

[Return to table of contents]


---
New Book
Sorcery in the Black Atlantic
Edited by Luis Nicolau Pares and Roger Sansi
University Of Chicago Press, Paperback
304 pp., ISBN-13: 9780226645780, 2011.

Description from the Publisher: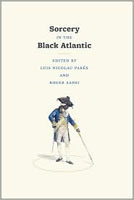 Most scholarship on sorcery and witchcraft has narrowly focused on specific times and places, particularly early modern Europe and twentieth-century Africa. And much of that research interprets sorcery as merely a remnant of premodern traditions. Boldly challenging these views, Sorcery in the Black Atlantic takes a longer historical and broader geographical perspective, contending that sorcery is best understood as an Atlantic phenomenon that has significant connections to modernity and globalization.

A distinguished group of contributors here examine sorcery in Brazil, Cuba, South Africa, Cameroon, and Angola. Their insightful essays reveal the way practices and accusations of witchcraft spread throughout the Atlantic world from the age of discovery up to the present, creating an indelible link between sorcery and the rise of global capitalism. Shedding new light on a topic of perennial interest, Sorcery in the Black Atlantic will be provocative, compelling reading for historians and anthropologists working in this growing field.

[Return to table of contents]


---
New Journal
Journal of African Diaspora Archaeology and Heritage
Edited by Christopher C. Fennell
Left Coast Press, two issues yearly, Spring & Fall, 256 pp., ISSN: 2161-9441.

Description from the Publisher: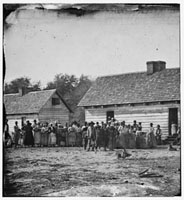 The Journal of African Diaspora Archaeology and Heritage provides a focal point for peer-reviewed publications in interdisciplinary studies in archaeology, history, material culture, and heritage dynamics concerning African descendant populations and cultures across the globe. The Journal invites articles on broad topics, including the historical processes of culture, economics, gender, power, and racialization operating within and upon African descendant communities. We seek to engage scholarly, professional, and community perspectives on the social dynamics and historical legacies of African descendant cultures and communities worldwide. The Journal publishes research articles and essays that review developments in these interdisciplinary fields. Journal web site: http://lcoastpress.com/journal.php?id=15.

Submitting a manuscript to the Journal of African Diaspora Archaeology and Heritage -- manuscripts should typically be no longer than 35 double-spaced pages, or approximately 8,750 words, in length. Submissions should include a cover letter, an original manuscript, and any illustrations. All manuscripts should be submitted electronically in MS Word format for the manuscript text and accompanying illustrations should be embedded in the manuscript in low-resolution format. Illustrations should also be provided in separate .tiff format digital files in higher resolution of at least 300 dpi. On the cover page of the manuscript, please include the title, your name, your affiliation, postal address, telephone number, and email address, and a one-paragraph abstract of no more than 200 words, followed by 4 keyword terms for potential use by indexing services. At the end of the manuscript, provide a biographical note of not more than 50 words about each author. Submissions should be sent to Editor Christopher Fennell at cfennell@illinois.edu. An author should contact the editor if unable to submit an electronic version of the manuscript.

Current members of the Journal's Editorial Board include: E. Kofi Agorsah, Professor and Chair, Black Studies Department, Portland State University; Abdul Alkalimat, Professor of African American Studies, University of Illinois; Scott Allen, Professor, Departamento de Arqueologia, Universidade Federal de Pernambuco, Brazil; Ana Lucia Araujo, Associate Professor of History, Howard University, Washington, DC; Douglas Armstrong, Professor of Anthropology, Syracuse University, New York; Alice Bellagamba, Associate Professor of Cultural Anthropology and African Studies, University of Milano-Biccoca, Italy; Shihan de Silva Jayasuriya, Senior Fellow, Institute of Commonwealth Studies, University of London; Richard Paul Benjamin, Director, International Slavery Museum, Liverpool, UK; Maria Franklin, Associate Professor of Anthropology, University of Texas; Grey Gundaker, Professor of Anthropology, College of William and Mary, Virginia; John Janzen, Professor of History, Kentucky University; Kenneth Kelly, Professor of Anthropology, University of South Carolina; Mark Leone, Professor of Anthropology, University of Maryland; Kevin MacDonald, Professor, Institute of Archaeology, University College London; Philip Morgan, Professor of History, Johns Hopkins University, Baltimore, Maryland; Paul Mullins, Professor and Chair, Department of Anthropology, Indiana University-Purdue University at Indianapolis; Akin Ogundiran, Professor and Chair, Department of Africana Studies, University of North Carolina, Charlotte; Charles Orser, Jr., Curator of Historical Archaeology, New York State Museum; João José Reis, Professor of History, Universidade Federal da Bahia, Brazil; Daniel Schavelzon, Professor and Director, Center for Urban Archaeology, Universidad de Buenos Aires, Argentina; Carmel Schrire, Professor of Anthropology, Rutgers University, New Jersey; Paul Shackel, Professor and Chair, Department of Anthropology, University of Maryland; Theresa Singleton, Associate Professor of Anthropology, Syracuse University, New York; Luis Claudio Pereira Symanski, Assistant Professor, Departamento de Antropologia, Universidade Federal do Parana, Brazil; Ibrahima Thiaw, Associate Professor of Archaeology at the Institut Fondamental d'Afrique Noire, University Cheikh Anta Diop of Dakar, Senegal; John Thornton, Professor of History, Boston University; and Laurie Wilkie, Professor of Anthropology, University of California, Berkeley.

[Return to table of contents]


---
Society for Historical Archaeology
Conference on Historical and Underwater Archaeology
Baltimore, Maryland, January 4-8, 2012

Conference Theme: "By the Dawn's Early Light: Forging Identity, Securing Freedom, and Overcoming Conflict." The year 2012 marks the bicentennial of the War of 1812, which makes Baltimore the ideal location for this year's conference. The Battle of Baltimore was one of the most significant turning points in the war. American forces successfully repulsed a sea invasion of Baltimore, and defeated the invading British army forces on land. The bombardment and defence of Baltimore's Fort McHenry during the battle inspired Francis Scott Key to compose the poem "The Star-Spangled Banner," which, once set to the tune of a popular English drinking song, became the national anthem of the United States of America.

The Battle of Baltimore was a seminal and symbolic moment in American history, when our new government was tested along with our identity as a nation. But other battles were being fought and lost, identities were being defined and redefined, and other conflicts persisted within the state of Maryland. In its early colonial period, Maryland offered religious tolerance to Catholics and Puritans who were driven out of other colonies, to become one of the few places within the English Empire where Catholics held positions of power. The Mason-Dixon Line, drawn during a land dispute between Maryland and Pennsylvania, took on new significance following the first emancipations of slaves in northern states. Maryland remained with the Union in the Civil War, but many Marylanders sympathized with the South during that conflict and actively worked for the Confederacy. Other Marylanders, including Frederick Douglass and Harriet Tubman, worked against slavery. These kinds of tensions are part and parcel of Maryland history; the state has always been remarkable for its decidedly contentious and contradictory nature.

The regular abstract submission period is from May 1, 2011 to July 10, 2011. Individual contributors, symposium organizers and presenters, and forum organizers are asked to respond to the 2012 Call for Papers online through the SHA website, http://www.sha.org/about/conferences/2012.cfm.

[Return to
table of contents]
---
Africa and People of African Descent:
Issues and Actions to Re-envision the Future
Howard University, Washington, DC, September 14-16, 2011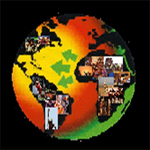 The organization of the interdisciplinary International Conference: "Africa and People of African Descent: Issues and Actions to Re-envision the Future" aims to invite academic, scholars, journalists, writers, youth and community leaders, NGOs, artists, play writers, etc. to promote a greater knowledge and respect for the diverse African heritage and culture of People of African Descent; to expose the struggling for the recognition of their African memories (history, literature, art, music, dance, culinary, religion, etc.) and their participation in political, economic, social and cultural aspects of their respective nations. The interdisciplinary International Conference will attempt to address also the national resistance or national silence opposed to the struggle of marginalized People of Africa and African Descent for their rights of land and for their civil/human, political, social, economical rights, etc. Moreover, one of the critical objectives of the Conference is to make possible both, the connection between Africa and the African Diaspora in Europe and the Americas (Latin America and, eventually, Canada and USA) and identify (shared) actions to re-envision their futures. Ultimately, all the presentations at the International Conference will be assembled, edited and published. Visit the conference web site at https://sites.google.com/site/africandpeopleafricandescent.

[Return to
table of contents]
---
Fifth Annual Michigan State University
Africanist Graduate Student Conference
East Lansing, Michigan, October 7-8, 2011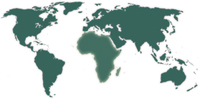 The 5th annual Africanist Graduate Student Research conference at Michigan State University is seeking graduate student presenters to report on new and innovative ways of addressing the study of Africa and the African Diaspora. The conference provides an opportunity for graduate students to discuss their research, receive constructive feedback, network with other students and scholars, and sharpen their presentation skills within a constructive and supportive colloquium.

The organizing committee invites papers from all academic disciplines and from all approaches to the study of Africa, Africans, and the crisscrossing intersections of the continent and the global diaspora. However, in conjunction with the 2011 African Studies Association (ASA) Annual Meeting, "50 Years of African Liberation," we are especially seeking papers on African perspectives of liberation, independence, and self-determination, whether ethnic, feminist, literary, economic, national or otherwise. This includes studies of diaspora, globalization, and development that challenge conventional definitions of Africa as a marginal place and Africans and their descendants as marginalized peoples. It encourages us to question how forms of cultural expression such as visual art, film, and fiction have envisioned and challenged avenues of self-determination. Whose independence was provided for, under what conditions, and at what costs? The committee calls for innovative research proposals, research designs, dissertation or thesis chapters, methodological models, works in progress, outlines of dissertations, preliminary research findings or poster presentations from any academic discipline within African Studies. Abstracts Due: August 1, 2011; email submissions and questions to: msuafricasubmissions@gmail.com. More information can be found at the Conference website, http://africa.msu.edu/gradconference, or you can join our Facebook group, "MSU Africanist Graduate Student Conference."

[Return to
table of contents]
---
Black Resistance in an Age of Revolution:
Symposium Commemorating the Bicentennial of the
1811 Slave Uprising in Territorial Louisiana
Tulane University, New Orleans, October 13-15, 2011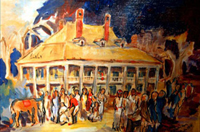 In January of 1811 at least two hundred and possibly as many as five hundred enslaved Africans and African-Americans living west of New Orleans (in present day St. John the Baptist and St. Charles Parishes) launched the largest slave rebellion in the history of North America and the United States. Like all slave rebellions in the Americas -- with the singular exception of the Haitian Revolution -- this revolutionary struggle failed and dozens of people were summarily tried and executed in the aftermath. Although other slave rebellions have received far greater attention both in popular history venues and in academic arenas, the 1811 Rebellion was both a singular and an emblematic event which occurred in the midst of an age of revolutionary change for enslaved African-descended peoples through the Americas. This era, beginning in the late 1700s, was marked most significantly by the success of the Haitian revolution (1791-1804) but also included the liberation of enslaved black populations amidst independence struggles from New England to South America, and dozens of major slave uprisings which occurred from the 1760s up until the final emancipations of enslaved African-descendants which occurred in the United States, Cuba, Puerto Rico and Brazil between 1861 and 1888.

Beginning in 2009 Tulane University entered into a collaborative effort with Destrehan Plantation (a significant site in the 1811 rebellion) and the New Orleans African American Museum planning a series of events designed to raise the awareness of this major historical event among both popular and academic audiences. Papers are invited on any subject related to the conference theme. However, preference will be given to submissions which focus on armed slave rebellion, rather than other forms of slave resistance. Possible paper themes may include: The 1811 Louisiana slave uprising (sometimes called the German Coast Rebellion); Regional impacts of the Haitian Revolution; Public history, memory and commemoration of slave rebellions and slave rebels; Slave uprisings in Latin America & the Caribbean in the Age of Revolution; Women, gender and slave rebellion in the revolutionary Americas.

Please email abstracts of 200-250 words to 1811uprising@tulane.edu by Friday, August 12, 2011. Abstracts should be accompanied by a one-page curriculum vita and relevant contact details. Support for airfare and accommodations may be available for symposium participants. Further details will be provided later. Inquiries about the conference may also be sent to the conference email address. The conference will be jointly hosted by Tulane University, the New Orleans African-American Museum, the River Road Historical Society and Destrehan Plantation.

[Return to table of contents]


---
International Conference on Health
in the African Diaspora of the Americas
Baltimore, Maryland, July 4-8, 2012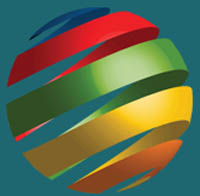 The International Conference on Health in the African Diaspora of the Americas -- ICHAD2012 -- will be held July 4-8, 2012 at the Renaissance Baltimore Harborplace Hotel, in Baltimore, Maryland, USA. The conference will include the creation of an edited book of the proceedings for the conference. We seek to bring together a dynamic, interdisciplinary group of scholars and health and social science leaders from across the world. Scholars from diverse disciplines, including political science, sociology, anthropology, economics, public health, and medicine are invited to submit papers for presentation at the conference. Authors of selected papers will be invited to present their work at the ICHAD plenary sessions.

The theme of ICHAD2012 is "The Great Scattering: Solving the Puzzle of Slavery, Race, and Contemporary Health in the African Diaspora of the Americas." The conference will explore how the legacy of slavery and the concept of race inform our understanding of contemporary health patterns and major health challenges in the African Diaspora of the Western Hemisphere. As the conference is focused specifically on the African descent populations of the Western Hemisphere, papers focused on Africa that do not make a clear connection to the experiences of African descent populations in the Americas will not be accepted. Topics presently under consideration include: (1) History of the African Diaspora in the Americas and the Caribbean -- An historical comparison of slavery and the lived experience of "race" in the region and the implications for contemporary black health and racial inequities in the social determinants of health. Conceptualizing Race in the Western Hemisphere -- A cross-country comparison of the meaning and utility of "race." (2) Health Status of Slave Descendants in the Western Hemisphere -- A composite profile of the health of 60 million descendants of the trans-Atlantic slave trade. (3) Nature versus Nurture -- The implications of race-based genomics for the growing movement to address the social determinants of health and eliminate racial disparities in health in the African Diaspora of the Western Hemisphere. (4) The Social Determinants of Health -- An exploration of health and the "black experience" throughout the region, including commonalities and variance in living conditions, education, health care access, psychosocial stressors, and racism and discrimination. (5) Pathways to Partnership -- Moving to solutions through vision, unity, and transformation.

Please note that the conference sessions are not limited to these topics. Scholars are encouraged to think broadly and creatively within their respective discipline when choosing a topic for presentation. Submission of your manuscript proposal does not automatically register you for the conference. If your paper is accepted for presentation at ICHAD2012, you will be notified and offered a $5,000 (USD) honorarium plus travel and hotel expenses to support your attendance and presentation at the conference. Submission of abstracts and proposals due July 1, 2011. Format for submission: Please submit an abstract and outline for your paper. In the abstract please be sure to clearly indicate what country or countries will be the focus of your paper. Please also indicate your academic discipline and affiliation; provide your contact information; and briefly describe the manuscript's relevance to the conference theme. Multiple submissions are permissible. Spanish, Portuguese, and French submissions are permissible, but English is preferred. Manuscript proposals should be emailed to "submissions@ICHAD.org." Please include "Attention ICHAD2012 Presentation" in the subject line of the email. If you have any questions about the submission or the conference in general, please contact John Sankofa, ICHAD Project Director at 410-955-6243 or via email at jsankofa@jhsph.edu.

[Return to table of contents]


---
CLAW Conference:
Race, Gender, and Sexualities in the Atlantic World
College of Charleston, South Carolina, 2012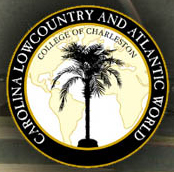 The Carolina Lowcountry in the Atlantic World Program (CLAW) at the College of Charleston, South Carolina, invites paper proposals addressing women, gender, and sexuality in the Atlantic World 1500-Present. The featured keynote speaker is Jennifer L. Morgan (New York University). We invite scholars to submit proposals for individual papers and panels that might address such questions as: Performances of Gender; Gender and Discovery; Colonialism; Constructions of Sexualities; Native American Contact; Race and Gender; African Diaspora and Slavery. As with previous successful CLAW program events the conference will be run in a seminar style: accepted participants will be expected to send completed papers to the organizers in advance of the conference itself (by March 1st, 2012) for circulation via password-protected site. At the conference itself presenters will talk for no more than ten minutes about their paper, working on the assumption that everyone has read the paper itself. This arrangement means that papers may be considerably lengthier and more carefully argued than the typical 20-minute presentation; and it leads to more substantive, better informed discussion. It also generally allows us to move quite smoothly toward publication of a selection of essays with the University of South Carolina Press.

Proposals for individual papers should be 200 words, and should be accompanied by a brief one-page biographical statement indicating institutional affiliation, research interests, and relevant publishing record for each participant, including chairs and commentators. Please place the panel proposal, and its accompanying paper proposals and vitas in one file. Please submit your proposal electronically with CLAW conference in the subject line to the conference chair, Dr. Sandra Slater at slaters@cofc.edu by December 2, 2011. If you wish to send a proposal for a 3- or 4-person panel, please send a 300 to 500-word proposal describing the panel as a whole as well as proposals for each of the individual papers, along with biographical statements for each of the presenters. The organizers reserve the right to accept individual papers from panel proposals, to break up panels, and to add papers to panels. Notification of acceptance will be sent by January 31st, 2012. Organizing Committee: Sandra Slater (History), Lisa Randle (CLAW & Avery Research Center), John White (CLAW), Simon Lewis (CLAW) [all College of Charleston]. Visit the website at http://spinner.cofc.edu/atlanticworld/?referrer=webcluster&.

[Return to
table of contents]
---
Uniting the Histories of Slavery in North America
Southern Methodist University, Dallas, Texas,
and School for Advanced Research, Santa Fe, New Mexico, 2012-2013

A Joint Symposium in 2012-2013, sponsored by the William P. Clements Center for Southwest Studies at Southern Methodist University (Dallas, Texas) and the School for Advanced Research (Santa Fe, New Mexico). Until the last decade, the story of slavery in North America resided largely east of the Mississippi river. Since 2000 an array of local and regional studies have alerted us to new forms of bondage in the trans-Mississippi West and the borderlands of the U.S. and Mexico. Still needed is an overarching view that allows scholars to appreciate similarities and differences across all of North America and among their many peoples. With this symposium, we hope to unite the stories of slavery by bringing together historians who focus on slavery east and west of the Mississippi and in the northern and southern U.S. borderlands. We also want to show how studies on past slavery and contemporary human trafficking inform our understanding of each.

We have special interest in the following topics: (1) Striking parallels as well as fascinating differences in the dynamics of slavery among Indians and Euro-Americans. European and indigenous peoples competed for exclusive military alliances and trading partners, spurring the demand for slaves and, therefore, both the international and intra-continental slave trades. Indigenous cultural economies in vastly different climates and ecologies reacted to these opportunities and stresses similarly. These peoples increased the hunting of pelt animals and began kidnapping and selling their neighbors to Europeans. It happened in New Mexico, and Texas, but also in Alabama, Tennessee, Florida, South Carolina, and Virginia—and even farther north. (2) Shared dynamics between North American slavery, transnational migration, and contemporary human trafficking. Migration, slavery, and human trafficking in North America share a host of psychological and cultural issues. Indians and their captives moved or were forced to migrate in order to maximize economic and strategic possibilities. For the same reasons, people cross or are forced to cross modern North American borders. Highlighting the parallels and contrasts between these migrations will produce a volume that deepens insights into each and one that is more relevant to students of each kind of phenomenon. (3) Peoples of mixed descent as cultural, economic, and military intermediaries, brokering the exchange of resources. These middlemen and women also were active liaisons when plantation slavery was established. We might describe them as acting in the shadows of large-scale chattel slavery, modern migrations, and human trafficking. (4) Music, dance, and other forms of cultural/artistic expression (art, dance, poetry, etc.) play powerful parts in cultural contests generally, and in slavery particularly. Music gives us particularly powerful illustrations of continuing mutual creolization and where few visual images have come down to us from early times, it is especially important to investigate and compare these kinds of sources. There are also 20th-century examples of the crucial role that music and art can play in migration.

A workshop for paper contributors will be held in the Fall of 2012 at The School of Advanced Research in Santa Fe, New Mexico, to be followed in Spring 2013 by a symposium at Southern Methodist University in Dallas, Texas. Expectations are that SAR will publish the papers as a volume. Co-organizers of the conference and co-editors of the volume are James F. Brooks, President & CEO of the School for Advanced Research and recipient of the 2003 Frederick Douglass Prize, and Bonnie Martin, Cassius Marcellus Clay Fellow at the Gilder Lehrman Center for the Study of Slavery, Resistance, and Abolition, at Yale University, 2007-2009. Please send a CV and an original proposal by July 15, 2011, to Bonnie Martin at swcenter@smu.edu. In 1200 words or less, explain how an essay based on your research would serve the goals of the conference. Eight to ten papers will be chosen for the symposium and resulting volume. Bonnie Martin, Clements Center for Southwest Studies, Southern Methodist University, PO Box 750176, Dallas, TX 75275-0176, email: swcenter@smu.edu, visit the website at http://smu.edu/swcenter/UnitingSlavery.htm.

[Return to
table of contents]
---
Book Review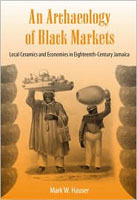 Mark W. Hauser. An Archaeology of Black Markets: Local Ceramics and Economics in Eighteenth Century Jamaica. Florida Museum of Natural History: Ripley P. Bullen Series. Gainesville: University Press of Florida, 2008. xxiii and 269 pp., 48 illustrations, bibliography, index. $65.00, Hardcover. ISBN 978-0813032610.

Reviewed for the African Diaspora Archeology Newsletter by Kevin Farmer, Barbados Museum & Historical Society and University of the West Indies, St. Augustine Campus.



An Archaeology of Black Markets explores the complexity of trade networks and consumption patterns in eighteenth century Jamaica through the multiple lenses of ethnography, documentary sources, and ceramic analysis. These varied sources are used to reconstruct and examine Jamaica's pottery tradition, not as an ethnographic exploration of creolization, but as a lens through which one can understand the internal market system of a society within the wider trans-Atlantic economy.

Although not stated explicitly, the author seeks to unravel production and consumption patterns of the enslaved and their role in pottery production. This discussion is then used to comment on the wider internal market system of Jamaican slave society. Hauser approaches this task by utilizing that most ubiquitous item of material culture, the pottery sherd, to discuss a variety of topics, including vessel form morphology, while engaging in a nuanced definition of provenance (p. 162) in discussing the Jamaican internal market system. He also provides a comprehensive review of the current literature on ceramic analysis in the Caribbean and concludes by discussing a methodology that has not been previously used for analyzing regional ceramics. [Read or download this full review here in Adobe .pdf format >>>]

[Return to table of contents]


---
Book Review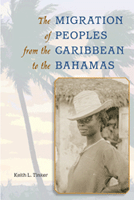 Keith L. Tinker. The Migration of People from the Caribbean to the Bahamas. Gainesville: University Press of Florida, 2011. x and 199 pp., maps, bibliography, index. $69.95. Hardcover, ISBN-13: 978-0813035314.

Reviewed for the African Diaspora Archeology Newsletter by Jane Eva Baxter and John Mazzeo, DePaul University.



Dr. Keith Tinker has produced a largely descriptive study on the nature of migration of peoples to and from the Bahamas. In doing so, he attempts to explore the very real but often ignored relationship between the Bahamas and the West Indies as a socially and historically constituted region, and to examine how migration has shaped and in some respects defined Bahamian identity. [Read or download this full review here in Adobe .pdf format >>>]

[Return to table of contents]


---
Book Review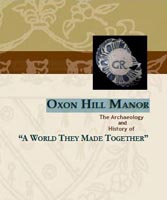 John P. McCarthy. Oxon Hill Manor: The Archaeology and History of "A World They Made Together." St. Leonard, Maryland: Jefferson Patterson Park & Museum and the Maryland Historical Trust, 2010. 32 pp., illustrations, maps, bibliography, open access pdf format, http://www.jefpat.org/Documents/AddisonReport-Final.pdf, ISBN 1-878399-88-8.

Reviewed for the African Diaspora Archeology Newsletter by Carol McDavid, PhD.



This review is a bit unusual, because it is about a booklet – a 24-page booklet written to report publicly on the archaeological work that took place at Oxon Hill Manor, a 17th century plantation in Virginia, from 1980-1988. The primary author, John P. McCarthy, was one of the many archaeologists who worked at the site, where a variety of CRM projects took place over the period. Even though the final phase of archaeology "was halted due to financial difficulties of the company funding the work," another corporation (Peterson Companies) funded the booklet as part of a subsequent development project on the same land where the plantation once existed. Therefore, the resulting booklet is a collaboration between McCarthy, John Milner Associates, Peterson Companies, and the Maryland Archaeological Conservation Laboratory at Jefferson National Park and Museum. [Read or download this full review here in Adobe .pdf format >>>]

[Return to table of contents]


---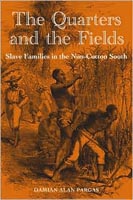 H-NET BOOK REVIEW
Published by H-CivWar, http://www.h-net.org/~civwar/ (May 2011).

Damian Alan Pargas. The Quarters and the Fields: Slave Families in the Non-Cotton South. Gainesville: University Press of Florida, 2010. 320 pp. $69.95 (cloth), ISBN 978-0-8130-3514-7.

Reviewed for H-CivWar by John Cimprich, Thomas More College

Slave Families in Three Special Regions of the Old South


Damian Alan Pargas's The Quarters and the Fields: Slave Families in the Non-Cotton South impressively depicts the variety within slave family life in the United States. The book compares the chattels' domestic situation in three counties, illustrating diversified farming in northern Virginia (Fairfax County), rice-growing in South Carolina (Georgetown County), and sugar-raising in Louisiana (St. James Parish). The book reviews slavery in each locale from its beginnings but, like most studies of the institution, emphasizes the nineteenth century. It focuses on quantitative analysis of a number of aspects of slave family life. Other aspects, presumably matters that vary less and have been studied well by other authors, especially qualitative and noneconomic ones, are left out. All the same, Pargas, an assistant professor of history and American studies at the University of Utrecht in the Netherlands, has written a very successful first book.
Pargas's thesis is that, while slaves generally sought more family time and economic opportunity, masters usually pushed for more profits. Regional agriculture primarily shaped the laborers' family life. It even set the boundaries and opportunities for slave agency. The author recognizes cultural factors but does not stress them. His findings arise from extensive use of slave census schedules, probate records, deed books, plantation records, runaway ads, diaries, letters, memoirs, and travel books.
In the case of northern Virginia, the key factor affecting families was economic decline from soil exhaustion by tobacco cultivation. The alternatives did not pay as well but required more labor under closer supervision. Owners sold or hired out many slaves to raise cash. Genders remained balanced but smaller slaveholdings and farms meant more cross-plantation marriages. Parents could not work together, visit often, spend much time with children, or earn extra cash (in this locality masters considered the last practice harmful). Pregnancy breaks were short, and children began working early. White men had more biracial children, and destitute slaves allegedly stole more.
In the case of coastal South Carolina, great economic prosperity and stability played a preponderant role in shaping black families. Rice farming required little supervision and could be handled by men and women working cooperatively. The gender ratio stayed fairly equal, few families were broken by sales, and few biracial children appeared (here Pargas should also note the role of the high black-to-white ratio). The limited number of slave sales sometimes included families sold as a group. Pregnant women had a break from work that was average for slaves. The unhealthy lowland fields delayed the age of entering the labor force. The slaveholders' ancestors brought the task work system with them from Caribbean islands in an effort to motivate good work. Having a limited workload each day enabled families to spend more time together and to find significant opportunities to earn extra money. Despite larger slaveholdings, close landholdings led to many cross-plantation marriages.
In Louisiana's sugar-producing area, families benefited from the booming economy's expanding numbers of slaves but faced unusually long work hours. The constantly increasing production levels meant that owners rarely sold anyone out of the region. Men and women sometimes labored together, though planters bought mostly males for the intense gang work that required close supervision. The scarcity of marriage opportunities increased male conflict and pressure on teenage girls for extramarital sex. Large slaveholdings enabled most spouses to live together. Masters allowed pregnant women a break from work that was average for the institution but provided little health care, which resulted in a high death rate for infants. On the other hand, they delayed a child's entry into the unhealthy lowland fields. Families had little time together but earned substantial incentive payments for overtime hours, usually their only economic opportunity.
Such a highly structured comparative study makes for slow reading. Each chapter examines the three regions in order through a set of questions and finishes with a comparative summary. The focus is on the big picture; individuals appear only briefly as examples. Pargas enhances readability as much as possible with word variation and a smoothly flowing style. He weaves together persuasive interpretations even when little evidence exists. He describes the northern Virginia slaves' dawn-to-dusk hours as "especially long workdays" (p. 456), which seems something of a mischaracterization when one considers that nineteenth-century farmers typically labored that long; nevertheless, he does note that masters often required those slaves to work late.
The book draws upon extensive research in secondary sources. This work is much influenced by Wilma Dunaway's views (African American Families in Slavery and Emancipation, 2003) on the limited nature of slave agency and Brenda Stevenson's statistical techniques (Life in Black and White: Family and Community in the Slave South, 1996). If anything, the comparative approach conveys the author's points more forcefully. He challenges overall generalizations by previous historians and especially Eugene Genovese's contentions (Roll, Jordan, Roll: The World the Slaves Made, 1974) regarding the ubiquity of customary rights and small gardens for slaves. Pargas's work firmly demonstrates the need to rethink slavery on a region-by-region basis. Copyright (c) 2011 by H-Net, all rights reserved. H-Net permits the redistribution and reprinting of this work for nonprofit, educational purposes. This work is licensed under a Creative Commons Attribution-Noncommercial-No Derivative Works 3.0 United States License.

[Return to table of contents]



©2011 African Diaspora Archaeology Network
Copyright and all rights reserved by
individual authors for each article.
Please send comments, suggestions, or questions
to Chris Fennell at cfennell@illinois.edu
or Christopher Barton at tua94766@temple.edu
Last updated: June 27, 2011
Text only menu
Search