Report on the Mann-Simons African American Archaeology Project
By Jakob Crockett, University of South Carolina
The Mann-Simons African American Archaeology Project seeks to understand the strategies employed by the diverse African American community to negotiate the complex and challenging world of urban antebellum life, as well as their adaptation to the changing world of the Jim Crow South. Primary data is drawn from documents, oral histories, and archaeological excavations at the Mann-Simons site (38RD1083), a collection of nineteenth and twentieth century intact and extinct urban, middle-class African American households in downtown Columbia, South Carolina. As the first free African American household archaeologically investigated in South Carolina, this project offers a unique opportunity to contribute to our understanding of African American culture and identity on local and regional scales.
From circa 1825 until 1970, the Mann-Simons site was part a larger collection of properties owned by various members of the Mann-Simons family (Figure 1). Property owners, entrepreneurs, and committed participants in Columbia's African American community, the Mann-Simons family established a tradition of achieving a diverse range of business and social aspirations and gaining access to the material privileges of citizenship. In 1998, Christopher Clement, SC Institute of Archaeology and Anthropology, conducted a preliminary archaeological investigation of the site (Clement et al. 1999). Today, the Historic Columbia Foundation manages the property, which functions as a historic house museum interpreting African American life circa 1890-1910.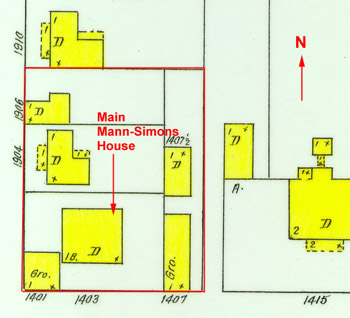 Detail of the 1904 Columbia, South Carolina, Sanborn Insurance map, indicating the site boundaries and location of the main Mann-Simons house (pictured in Figure 2) (Sanborn 1904).
While most historical and archaeological research at the Mann-Simons site has concentrated on the lives of the antebellum occupants of the main household (Figure 2), subsequent interpretation of the archaeological materials has focused on the late nineteenth and early twentieth century occupation (Crockett 2005). Using a theoretical lens of material consumption that views consumption as an active component of personal and social identity, this research suggested that the Mann-Simons family and other African Americans in Columbia during this time employed three prominent and distinctive strategies to achieve personal and social aspirations: 1) the ownership and use of property, 2) a cooperative family structure, and 3) the consumption of material goods. Each of these strategies speaks to self-sufficiency and successful negotiation of an oppressive environment.
Circa 1969 photograph of the Mann-Simons house and surrounding property. Today, only the main house, in the center of the picture, still stands (courtesy of Historic Columbia Foundation).
Fieldwork is scheduled to begin in late July 2005. As this will be the first systematic testing of the site, this initial phase of the project is broad in scope and designed to address basic questions about the occupation and integrity of the site. This will provide a solid archaeological basis for understanding the nature of the site, future research design, and community involvement. Following this investigation, more detailed and specific goals can be defined.
Although this project focuses on a limited number of households, I suspect that the ideas, observations and interpretations can serve as a vehicle to better understand how African Americans and other marginalized social groups used material goods during the late nineteenth and early twentieth century to realize social objectives.
For further information, please contact: Jakob Crockett at the University of South Carolina, Department of Anthropology, Hamilton College Room 317, Columbia, South Carolina, 29208. Email: jakob.crockett@gmail.com
REFERENCES
Clement, Christopher O., Ramona M. Grunden and John K. Peterson

1999 History and Archaeology at the Mann-Simons Cottage: A Free Black Site in Columbia, South Carolina. Cultural Resources Consulting Division, South Carolina Institute of Archaeology and Anthropology, University of South Carolina, Columbia.

Crockett, Jakob D.

2005 Consumption and Identity: The Archaeology of a Nineteenth – Twentieth Century Urban African American Neighborhood (38RD1083) in Columbia, South Carolina. Volumes in Historical Archaeology, volume 48, Stanley South, series editor, SC Institute of Archaeology and Anthropology, University of South Carolina, Columbia (in press).

Sanborn Map Company

1904 Insurance Maps of Columbia, South Carolina. Sanborn Map Company, New York, NY.

Return to table of contents
---
Pioneer's Life is Dug Up at Independence Hall:
New Archaeological Approach Focuses on a Freed Slave.
By Stephan Salisbury, Philadelphia Inquirer Staff Writer

June 12, 2005
Copyright Philadelphia Inquirer.
Article posted online at:
http://www.philly.com/mld/inquirer/2005/06/12/news/local/11872811.htm.
For additional information, contact staff writer Stephan Salisbury at 215-854-5594 or ssalisbury@phillynews.com.

| | |
| --- | --- |
| | Recovered 18th century artifacts include sherds of plain and slip trailed red earthenware, Chinese porcelain, moulded white salt-glazed stoneware, "delft" ware, and fragments of bone, window and wine bottle glass (Source: NPS). |
Less than three years ago, the name of James Oronoko Dexter was virtually unknown, lost in the recesses of late-18th-century Philadelphia.
A slave who bought his own freedom, a coachman, and a confidant of some of the city's wealthiest families, a husband who bought his enslaved wife's freedom, a father and church-goer who took upon himself the task of helping to build a life for Africans in the New World -- Dexter was surely someone to be reckoned with.
Yet his name had vanished from memory.
Now this man -- a founder of the city's first black church, the African Episcopal Church of St. Thomas, and a founding member of the nation's first black self-help organization, the Free African Society -- is the premier focus of a unique public program mounted by the National Park Service, the National Constitution Center and Once Upon a Nation, the new nonprofit organization.
The program, which constitutes a seismic shift in the approach to -- and presentation of -- recent archaeology at Independence National Historical Park, marks the opening of the Independence Living History Center, carved from what was once the park's cavernous Visitor Center at Third and Chestnut Streets.
At the heart of the retooled facility, which opened this month, is a working archaeology laboratory open to the public.
Visitors can observe ongoing research and the reclamation of ancient tools, everyday housewares, clothing remnants, weapons -- a dizzying array of artifacts pulled from beneath the surface of Independence Park.
And the first project being tackled by the professional archaeologists from the Philadelphia firm of Kise Straw & Kolodner is a detailed analysis of more than 30,000 artifacts excavated in February 2003 from what was once the Dexter homesite on Fifth Street between Race and Arch Streets.
The park service was at one time determined to leave those artifacts untouched in the ground, beneath a planned park bus depot.
But public controversy caused officials to rethink that approach. Now the artifacts are the centerpiece of an innovative public project reminiscent of the popular public paleontology lab at the Los Angeles Museum of Natural History near the La Brea tar pits.
"It's really a Cinderella story," said park service archaeologist Jed Levin, who is overseeing the work.
"We're open for business and relatively cool," Levin said. "Actually way cool, as a group of kids just told me."
As he spoke, Levin stood in the lobby of the new history center, facing a bank of windows that looked into a vast room flooded with light from a glass ceiling.
Two enormous tables covered with ceramic fragments stood within, a team of archaeologists bent over them, painstakingly fitting shards together. Here a brown tankard grew from a welter of pieces; there, a delicate child's teacup was coming together from bits and slivers. Bowls, storage vessels, plates were emerging from the carefully laid out chaos of broken redware pottery, an inexpensive local ceramic.
Much of the material currently being pieced together, photographed and dated is consistent with the things a family of modest means might possess, the archaeologists said. That makes Levin and his colleagues hopeful that artifacts can be tied to Dexter.
Throughout a recent morning a trickle of visitors stopped by the lab.
Mellissa Smythe, 26, visiting from West Virginia, just wandered into the lab. She had no idea what it was, but within a minute she was hooked.
Levin explained some of the ways archaeologists can distinguish African American sites from, say, adjacent European sites by using bones discarded in garbage piles or privies.
Early black families tended to follow West African culinary practices, which emphasized stews and highly seasoned one-dish meals, Levin told Smythe. Europeans, on the other hand, tended to go for roasts and chops.
Large whole bones, then, tend to be found in European garbage; but chopped up bones are a feature of early African American refuse.
Similarly, ceramic bowls that are well-marked with streaks and scuffs probably were used for heavily stirred dishes -- a feature of African cooking.
"I find it very interesting," she said. "Dexter, yeah, but also the process of archaeology itself. It amazes me how all the clues fit together."
Visitors to the lab, Levin emphasized repeatedly, are not seeing a show. They are watching "real work."
The Dexter project will continue into the fall, officials said. It will then be followed in the lab by work on more than one million artifacts pulled from the ground in 2000 before construction of the National Constitution Center on the northernmost block of Independence Mall.
The National Park Service, steward of the ground, is overseeing the project and is responsible for the artifacts.
When work on that is completed in several years, Independence Park will be able to paint a portrait of one of the most interesting neighborhoods in the early city, a place where free blacks lived next door to wealthy Quaker merchants, Irish laborers, German shopkeepers and Welsh clerks.
Early African leaders such as Richard Allen and Absalom Jones visited there. The block shows how deeply rooted the nation's cultural diversity actually is. And the remaining artifacts will convey a detailed portrait of ordinary life as vivid as any such portrait anywhere, archaeologists hope.
Arthur Sudler, a historian and leader of St. Thomas' Church, said the Dexter story in particular "speaks to people" directly.
"He was a coachman," Sudler said. "He had a house. He had a job. He had a family. People can relate to that. It's the common man's story. For so many people that's what keeps them interested, and they can see that there are always people who rise to the occasion, like Dexter. People see that and they think, 'If he can do it, I can do it.'"
If You Go: The Independence Living History Center is at Third and Chestnut Streets. The archaeology laboratory is open seven days a week, 9 a.m. to 5 p.m. Admission is free. For information, call Independence National Historical Park at 215-965-2305.
---
Related news: Last fall, the William Penn Foundation awarded a grant to David Orr and Anthony Ranere of Temple University's Department of Anthropology to produce a documentary on the excavation at the site of the James Dexter House in Philadelphia's Old City district.
Annapolis House Yields Clues to Hoodoo Mysteries.
By Ray Rivera, Washington Post Staff Writer

July 6, 2005, p. B01
Copyright Washington Post.
Article posted online at:
http://www.washingtonpost.com/wp-dyn/content/article/2005/07/05/AR2005070501564.html.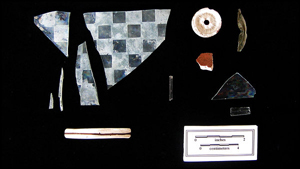 The hoodoo cache found in the Adams-Kilty House includes a pierced white disk, glass etched with a checkerboard pattern, a clear glass spindle, a red-glazed pottery fragment and an earthenware handle. (By Matthew M. Palus).
Sifting through the debris of an 18th-century townhouse being renovated in Annapolis last month, the archaeologist and his students found what they were looking for under the brick floor near the kitchen hearth.
There, in a shallow five-inch pit, lay eight bent nails, a clear glass spindle, a plate of glass etched with a checkerboard design and a white pierced disk the size of a 50-cent piece.
What University of Maryland archaeologist Mark Leone and his team of students had discovered was evidence of hoodoo, a New World variant of ancient West African mystical traditions carried across the Atlantic by black slaves.
The practice, meant to influence healing and ward off misfortune, was continued well into the 20th century by freed descendants who lived and worked in the homes of wealthy white families as cooks, launderers and gardeners.
But Leone's research in Annapolis has raised an intriguing question: Scholars have yet to find hoodoo artifacts in homes owned and rented by the city's emerging black middle class in the 19th and early 20th centuries. In other words, while poorer blacks were keeping hoodoo alive, upwardly mobile African Americans were abandoning it.
"That's not to say that middle-class African Americans were giving up their African traditions, but they were finding different ways to express it," said Leone, who has led much of the research in Annapolis for the past 25 years.
The findings released last week add to the complex picture of black life in Annapolis and throughout the region in the decades before and after emancipation.
Hoodoo, which is practiced today, was widespread throughout the antebellum South.
Like other African-derived folk practices such as Santeria in Cuba and voodoo in Haiti, it mixed elements of Christianity with conjuring rituals involving herbs, dolls, pins and other everyday items bundled together as mojos worn on the body or buried in and around homes.
Frowned upon by Christian slave owners and later by white employers, the rituals were often conducted in secret -- what many scholars now see as a form of cultural resistance.
"In part you're talking about a sense of power and control," said Charles L. Perdue, who teaches folklore at the University of Virginia. "When you have no control over your destiny at all, anything you can do to increase the notion that you can exercise some power over your environment is a benefit to your psychic health."
Leone found the first inklings of hoodoo in Annapolis during an excavation in the early 1990s of the Charles Carroll House, home to a signer of the Declaration of Independence who had vast slave holdings.
Buried in a shallow pit in the northeast corner of the house were crystals, shards of glass, beads and a polished black stone. Researchers then didn't understand their meaning or why it appeared that the objects had been placed deliberately in the northeast corner.
The find drew the attention of Frederick Lamp, then curator of African art at the Baltimore Museum of Art. He suggested the materials might be a kind of nkisi, a grouping of religious artifacts used in religious rituals by the BaKongo people of West Africa.
Subsequent finds in Annapolis were unearthed in the Brice and Slayton mansions and, just last month, the Adams-Kilty House on Charles Street. The earliest materials date to 1790 and the latest to 1920.
Based on the oral narratives of former slaves, African American folklore and studies of West African rituals, researchers theorize that the ritual bundles -- variously called mojos, tobys or "hands" -- contain three key elements:
The first is something to catch and hold the spirit in place. In the Adams-Kilty cache, it was a piece of glass with a checkerboard design. The glass is transparent and looks like ash or water, mimicking the environment spirits travel in, Leone said.
Another element is something that belongs to the person to be affected by the spirit. This latest cache didn't appear to have such an object. Leone theorizes that it might have been the cloth, which disintegrated, used to wrap the cache. In the Brice house, the cache included a button engraved with the letter M, possibly belonging to a member of the Martin family, which owned the home in the late 19th or early 20th century, Leone said.
The third element is something that relates to the problem to be solved. In the Adams-Kilty case, it was probably the bent nails, which might signify arthritis.
Researchers have also learned exactly where to look: Under thresholds, hearths and stairwells -- places spirits were believed to congregate and use as entry points, Leone said. Another common location is beneath the northeast corners of houses, but the reason for that placement remains a mystery, scholars say.
During the same period they were excavating the homes of wealthy white families, researchers conducted digs at a half-dozen homes owned or rented in the 19th and 20th centuries by middle-class African Americans. They included the historic Maynard-Burgess House, home to John Maynard, a free black man born in 1810 who later bought his wife and stepdaughter out of slavery.
Maynard was part of a black middle class that began emerging around the 1830s, buying property and working as carpenters and waiters and running their own businesses.
Leone said the lack of evidence of hoodoo may reflect "the difficult choices facing African Americans who strived for acceptance and advancement, but wanted to remain connected to their traditions."
Swarthmore College religion professor Yvonne P. Chireau, author of "Black Magic: Religion and the African American Conjuring Tradition," said she isn't surprised by Leone's findings.
"There was a real split among black folks after the Civil War," she said, "in terms of whether they should abandon these traditions . . . and [move toward] what's called an ideology of racial uplift -- an emerging middle class joining American society."
Still, she predicted that further study would reveal pockets where even middle class blacks clung to elements of the practice, particularly when it came to health.
The move away from folk traditions is not unusual as groups move from one economic class to another, said Perdue of U-Va.
"Obviously when you have some money, you have some control," Perdue said. "Of course, you still had racism to deal with, but you would inevitably developed some ability to control your future."
Book Review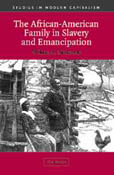 H-NET BOOK REVIEW
Published by H-Tennessee, http://www.h-net.org/~tenn (February, 2005) and H-Slavery, http://www.h-net.org/~slavery (June 2005).

Wilma A. Dunaway. Slavery in the American Mountain South. New York: Cambridge University Press, 2003. xi + 352 pp. Illustrations, maps, notes, bibliography, index. $70.00 (cloth), ISBN 0-521-81275-5.

Reviewed for H-Tennessee by Scott Hancock, Departments of History and African American Studies, Gettysburg College.

Beyond Filling in the Gaps


Amid an unceasing flood of scholarship that one might think had inundated nearly every inch of ground, Wilma Dunaway finds mountains of dry land. This work does more than fill in a few overlooked gaps. Dunaway combines the personal and the economic by examining the lives of blacks and whites alongside the labor mechanisms of the Mountain South's plantations and businesses, and concludes that slavery's grip on the Mountain South was pervasive and intense. Dunaway defines the Mountain South as stretching from western Maryland to northern Alabama, and from the Appalachian foothills of western Virginia to their counterparts in eastern Kentucky and Tennessee. Small plantations--characterized by Dunaway as small slaveholding farms -- were easily outnumbered by this area's non-slaveholding farms; nonetheless, by the antebellum era, slaveholders had established a firm hegemony over Appalachia's economic, social, and political resources. Comfortably ensconced within the southern capitalist market, slaveholders in many respects mirrored their contemporaries in other regions that were defined as slave societies.
But the Mountain South differed significantly from the rest of the South in more than just its variable terrain of extensive plateaus, long valleys, and rugged, worn mountains. African-American laborers, the vast majority enslaved, performed diverse tasks -- a pattern ostensibly not unique. In most of the American South, slaves were found to have different vocations. But in the Mountain South, because of the relatively high proportion of small plantations--another distinctive characteristic -- each individual slave often did far more than one job. Slaves were required to work in the field, frequently under the watchful eye of their master--as opposed to the more ubiquitous overseer typical in much of the South--before moving on, sometimes in the same day, to other skilled or unskilled tasks. Also atypical was the proportion of black workers allocated to nonagricultural labor, such as mining and tourism; despite being only about 15 percent of the adult population, black workers made up 30 percent or more of the nonagricultural workforce in many areas of the Mountain South. In all types of labor, slaves typically worked in the task system as opposed to the gang system. Dunaway's impressive geographical range and depth of research, which are brought out chiefly through statistics (which would have at times been more digestible in table form), are overwhelming evidence both for the distinctiveness and for the connectedness of the Mountain South relative to the whole of the American South.
The portion of the book examining the economic and labor aspects of slavery in the region builds a solid base for Dunaway's challenge to historians to rethink the list of attributes that has been constructed to delineate slave societies from societies with slaves. The Mountain South, according to Ira Berlin's definitions, does not exhibit the typical characteristics of a slave society, and in many respects does not fit with the rest of the American South. And yet, Dunaway convincingly demonstrates that the region was dominated by slavery. Her argument hinges in part on accepting that geology should be the critical variable deciding how historians define a region, as opposed to political, social, or other organizing constructs. For instance, many of the counties that are integral to her argument for slaveholding hegemony are on the periphery, such as in western Virginia. I find her argument reasonable. Geological differentiation did affect the world of antebellum farmers and laborers, and it is at least as justifiable, if not more so, as any other organizing features employed by historians seeking to uncover patterns and linkages within a region.
Throughout the region, Dunaway finds a persistent and interconnected slave culture similar in most respects to the rest of the American South. Primarily through the use of WPA slave narratives, which contained a disproportionate number of narratives from ex-slaves who were not freed until young adulthood, as opposed to the bulk of narratives which were typified by ex-slaves freed as children, Dunaway demonstrates slave culture's heavy reliance on oral traditions. There is a high degree of consistency with other public records, and, perhaps more importantly, with other black oral traditions in the South. The oral traditions helped maintain relationships between kin, and memory of kinfolk. Slaves found multiple ways to sustain family networks in the face of slaveholders' threats to sell troublesome family members, which were sometimes carried out. Family also provided a kind of base of operations for resistance in light of the disproportionate rate of punishment in the Mountain South. Slaves were punished most frequently for "non-economic" resistance, such as verbal disrespect, and at a higher rate than their southern counterparts in other regions, due to the preponderance of small plantations and slaveholders' heightened sensitivity about challenges to their authority. Dunaway argues that instead of interpreting nonviolent resistance within James Scott's paradigm of the weapons of the weak, wherein overt acts of resistance are detrimental in the long run, historians should also consider Ghandi's -- and Martin Luther King, Jr.'s -- view that offensive nonviolence empowers and humanizes the dominated.
This portion of the book dealing with slave culture and resistance adds an important, though less revelatory, dimension. Dunaway has a bit of a tendency to set up straw men here; invoking the shortfalls of Elizabeth Fox-Genovese's one statement from a twenty-year-old article about the inability of slave families to provide a base of resistance seems unnecessary. A wider reading in the wealth of secondary material on slave culture may have deepened the analysis; this weakness is highlighted by the bibliography's heavily weighted tilt toward readings in economics and labor. This may have helped flesh out a provocative point made in the conclusion that more historians are exploring (but, despite raising the issue, Dunaway does not): slave culture was not simply resistance and was not always successful in shielding slaves from the complex and harmful effects of an often harsh labor regime. Nonetheless, her examination of slave culture, families, and resistance in the Mountain South is not flawed, and perhaps does not reveal new insights about slave culture so much as make a useful and important contribution by bringing a neglected region into an existing historiography. And Dunaway certainly does not commit the error of the old culture and community school that privileged the former and the latter so far above the work regime that labor and economics nearly disappeared from the consideration of slaves' lives. Wilma Dunaway's work should push historians to complicate and broaden what is considered a slave society.
Finally, Dunaway notes that "to publish all the information from sources, methods, and quantitative evidence would require publication of a third volume." Therefore, she has helpfully included the Website address (http://scholar.lib.vt.edu/vtpubs/mountain_slavery/index.htm), which contains tables, a list of slave narratives, drawings and photographs, and "a detailed discussion of methodological issues" (p. 14). The tables are helpful, though some could have been easily incorporated and better utilized in the text, as many of the drawings were. The maps in the book are actually better utilized than the geographical information on the website, which consists of a list of all of the counties by state, and one simply drawn map. Even though there is not yet enough to require an additional volume, it would have made for a lengthy but not unprecedented appendix, especially given the wealth of illustrations the website provides. Dunaway also includes links to the complete WPA narratives, and direct links to the full text of three of the narratives referenced in the book. The discussion of methodological issues is currently not posted on the website (or at least was inaccessible at the time of this writing). In sum, the website is of some utility and is in keeping with the positive direction of scholarship that makes so much information available for other researchers.
Copyright (c) 2005 by H-Net, all rights reserved. H-Net permits the redistribution and reprinting of this work for nonprofit, educational purposes.
Return to table of contents
---
Book Review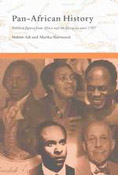 H-NET BOOK REVIEW
Published by H-SAfrica, http://www.h-net.org/~safrica/ (April, 2005) and H-Atlantic, http://www.h-net.org/~atlantic (June 2005).

Hakim Adi and Marika Sherwood. Pan-African History: Political Figures from Africa and the Diaspora since 1787. New York: Routledge, 2003. xi + 194 pp. Index. $114.95 (cloth), ISBN 0-4151-7352-3; $34.95 (paper), ISBN 0-4151-7353-1.

Reviewed for H-SAfrica, by Robert Trent Vinson, Department of History and Program of African and Afro-American Studies, Washington University.

Pan-Africanism Unbound


The increased intensity of African anti-colonial movements in the immediate post World War Two period and subsequent constitutional independence for many African countries in the 1950s and 1960s sparked a growing interest among activists and scholars in Pan-Africanism. Pan-Africanism is a malleable ideology that defies easy definition, but it can generally be described as seeking political, socio-economic, religious, educational, and cultural self-determination for Africans and for blacks in the African Diaspora, informed by fierce pride in African history and culture. Pan-Africanists have generally considered Africans and diasporic blacks to have broad historical similarities and common interests in combating the global color line, which manifests itself in various forms of white supremacy, including colonialism, racial capitalism, and racial segregation. C.L.R. James's The Black Jacobins (1938) and George Padmore's Pan Africanism or Communism? (1956) are important early histories of black radicalism framed within a Pan-African context. A slew of scholarly monographs and journalistic accounts; biographies of Pan-African figures like Henry Sylvester Williams, autobiographical works and memoirs by Pan-Africanists like Kwame Nkrumah, Amy Jacques Garvey and Ras Makonnen followed in their wake well into the 1970s. The renewed interest in African Diaspora studies and transnational history that has steadily built in the last three decades has also included groundbreaking work on Pan-African individuals, ideologies and organizations by Robert A. Hill, Gerald Horne, Cedric Robinson, Robin D.G. Kelley and many others.
Yet, the very fact that there is still no comprehensive biography of the eminent Padmore, considered by some to be the father of Pan-Africanism, reminds us that much groundwork is still in order. For these reasons, we owe a deep debt to Hakim Adi and Marika Sherwood, both leading scholars of Pan-Africanism, for providing a vitally important resource that can be used to good effect by scholars, educators, students, and interested laypersons. Pan African History is both a necessary reminder of the great significance of Pan-African activity to the development of the modern world and a clarion call to researchers to fill the many gaps that still exist in this reinvigorated field. In a sense, the authors are following in the footsteps of Hill's edited Pan-African Biography (1987), which cast prominent figures like Ralph Bunche and W.E.B. Du Bois in a Pan-African context but also introduced many readers to lesser known Pan-African personalities like Chief Alfred Sam and Constance Cummings-John. Adi and Sherwood continue in this vein with forty concise, yet remarkably informative, biographical summaries of well known personalities like Kwame Nkrumah and lesser known figures like Nathaniel Fadipe whose political activities fall under the Pan-African rubric.
The authors aim to spotlight "women and men of African descent whose lives and work have been concerned in some way with the social and political emancipation of African peoples and those of the African Diaspora" (p. vii). They thus include both people who organized in unambiguous Pan-African activity as well as a few personalities that were, by choice or by circumstance, largely engaged in politicking within national borders, yet were inspirational symbols of black liberation among blacks worldwide. The authors begin with an economical historical overview that charts the development and varied nature of Pan-African thought, action, and organizational activity from the eighteenth century to the present before presenting the biographies. The entries, all written by either Adi or Sherwood, explain in clear, concise language the significance, activities, and larger political context of each biographical subject. Many entries feature original research by the authors, a particularly important feature given the paucity of surviving documents for many of those profiled. Geographically, there is a good balance between continental Africans and those born in the English-speaking and French-speaking parts of the Diaspora, although, as the authors acknowledge freely, there are no profiles for Latin American blacks. This omission reflects the fact that English and French were the primary languages of communication for Pan-Africanists, but also points to Latin America as a potentially new field of inquiry regarding Pan-African movements.
At first glance, the book would seem to have somewhat less importance to H-SAfrica readers. Nelson Mandela is the only South African profiled and his entry, while a potentially useful mini-introduction to newer generations of students who often know appallingly little of our beloved Madiba, will be common knowledge to a southern Africanist. Yet, the authors demonstrate clearly that many of the personalities within these pages, like Du Bois, Amy Ashwood Garvey, Ahmed Ben Bella, Claudia Jones, Martin Luther King, C.L.R. James, Harold Moody, Julius Nyerere, Nathaniel Fadipe, and Ras Makonnen, as they moved throughout the black world, engaged in the struggle against racial segregation and apartheid in South Africa. Alpheus Hunton may be unknown to some South Africanists, yet he was a prominent organizer in a variety of progressive organizations and was, along with Paul Robeson, the prime mover within the anti-colonialist, anti-imperialist Council on African Affairs (CAA). The CAA initiated the anti-apartheid movement in the United States and provided material support to an increasingly militant ANC in the late 1940s and early 1950s and to black South Africans suffering from emergencies like famine in the late 1940s. Hunton also led pickets outside the South African consulate (thereby anticipating a rather successful tactic by anti-apartheid activists in the US and elsewhere in the 1970s and 1980s) and wrote prolifically on southern African affairs in his editorship of the CAA's New Africa (later Spotlight on Africa), and in several trenchant pamphlets detailing the horrors of South African apartheid, as well as American political and economic complicity in it. These writings were only part of his longstanding activism on behalf of black South Africans to the United Nations and to American elected representatives. Anti-communist witch hunts by the American government in the post World War II period prompted Hunton to leave the country, whereby he eventually arrived in Zambia, where he wrote a column in Mayibuye, the ANC bulletin. There are also some fascinating tidbits that add to familiar stories, such as the fact that Mazisi Kunene, working with Oliver Tambo as part of the ANC office in London, seemed to have substantial interactions with Claudia Jones, whom he proclaimed to be "one of the most dynamic and most militant fighters" in the Pan-African liberationist struggles.
As the authors note, Pan-Africanism is such a broad topic that there are bound to be some undeserving exclusions, such as Amy Jacques Garvey -- and the inclusion of only three women speaks to a gender imbalance that reflects both the marginalization of women in Pan-African activity (gender discrimination, of course, is certainly not limited to Pan- Africanism), but also points to areas where new research is urgently needed. Pan African History, with its detailed biographies, many of which incorporate new research, will be an important reference source for scholars of Pan-Africanism as well as African history and African Diaspora studies and for South Africanists who may find opportunities to place their work in larger global frameworks. As I have discovered recently in my current undergraduate seminar on Pan-Africanism, the book works particularly well for students. The biographical entries tend to whet the appetites of students who know little of these personalities beforehand, and the suggestions for further reading that conclude each entry are reliable guides to the leading works on the particular subject. One can only hope that successive volumes are forthcoming.
Copyright (c) 2005 by H-Net, all rights reserved. H-Net permits the redistribution and reprinting of this work for nonprofit, educational purposes.