Digging City's History: Finds Show a Black Middle Class
Had Once Thrived on Beacon Hill.
By Jenna Russell, Boston Globe Staff

June 30, 2005
Article posted online by the Boston Globe at:
http://www.boston.com/news/local/articles/2005/06/30/digging_citys_history/.
Copyright 2005 The New York Times Company.
For additional information, Jenna Russell can be reached at jrussell@globe.com.
University of Massachusetts faculty researcher David Landon (right) and his team are the latest to sweep for artifacts on the Beacon Hill site. Since the 1970s, archaeologists have collected 70,000 artifacts around the historic African Meeting House. (Globe Staff Photo / John Tlumacki).
In a small dirt yard on Beacon Hill, tucked into the maze of narrow streets behind the State House, Joe Bonni stepped into a three-foot hole and traveled back in time 200 years.
''It's taken three weeks just getting to 1800," he said.
Nearby, Teresa Dujnic marveled at a dusty, dark shard of pottery, a fresh find from another hole.
''Black basalt," she said. ''That's pretty cool. I've seen it in the lab, but I've never found it."
From where they dug in recent weeks, behind the historic African Meeting House off Joy Street, the archeology students from the University of Massachusetts at Boston could hear the hum of life on the hill. On streets close by, tourists checked their maps and snapped digital photographs; state workers chatted on cellphones; legislators finalized details of the state budget.
But immersed in their excavation -- a six-week effort to sweep artifacts from the land behind the meeting house before it is disturbed by an upcoming renovation -- the students felt closer to another era, when hundreds of African-Americans, including many freed slaves, lived on the hill's north slope and the meeting house was the lively center of their thriving neighborhood.
''What people find most stunning is that there was a middle-class, African-American society in Boston in the 19th century," said Bonni, 35, a former journalist who began studying at UMass a year and a half ago. ''This was a rare place, where people owned businesses and fought segregation. . . . They were finding their own way, and the question is, how did they do it?"
Archeologists bent on finding answers first excavated the site in the 1970s and again in the mid-1980s and collected 70,000 artifacts, said David Landon, associate director of the Fiske Center for Archaeological Research at UMass. The latest dig, which wraps up this week, is looking even more closely at the compact back lot, using newer water-based screening techniques to salvage the tiniest remnants of history: seeds and bone fragments discarded from long-ago meals; pollen and insect parts that reveal past environmental conditions.
Other findings this month include hundreds of pottery fragments, from blue-painted porcelain to plain red earthenware; animal bones; buttons; a silver clothespin; an intact leather shoe, preserved because of wet conditions in the former privy; and a preserved glass bottle from the 1870s. The artifacts, now piled in plastic bags inside the meeting house, will be analyzed by UMass students and faculty over the next 18 months, Landon said. A preliminary report of their findings will be presented to the public July 26 at the meeting house.
The students hope their work will help flesh out the proud history of the brick structure, which opened in 1806 as the First African Baptist Church and became known as the ''black Faneuil Hall." A center of political and religious life, the meeting house was the first home of the New England Anti-Slavery Society, founded in 1832 by white abolitionist William Lloyd Garrison. The meeting house and the Abiel Smith School next door, now home to the Museum of Afro-American History, were central in the fight to end school segregation, as well as slavery.
''This was the cradle, the heartbeat, for the emancipation of all blacks," said Tracy Gibbs, a museum spokeswoman.
The $4.5 million renovation of the African Meeting House, scheduled for completion by the end of 2006, its bicentennial year, will restore the structure to its 1850s appearance. A capital campaign is under way. Museum leaders said an elevator will also be installed for handicapped access, allowing the hall to again be used for lectures and social events, in keeping with its history as a community gathering place.
The elevator shaft will be built at the back of the structure, over one of the spots now being excavated.
In the sunlit back lot, surrounded on all sides by the brick walls of neighboring buildings, UMass students said the labor has been painstaking. Each hole, some as deep as 5 feet, is dug by hand, using a trowel, over days and weeks. Larger artifacts are removed by hand before each pail of earth is sifted through a screen, where smaller pieces are recovered. Paperwork must be done for every batch of items.
Some of the students are being paid for their work through a National Science Foundation program that seeks to boost interest in science by exposing undergraduates to field research.
Tim Hollis, 25, a UMass senior whose previous archeology experience was on rural digs in Belize and Connecticut, said he sometimes dreams he's digging and not getting any deeper.
The ever-present dirt doesn't bother him a bit. But, he said, ''it's not a career path for fastidious people."
Blacks Pin Hope on DNA
to Fill Slavery's Gaps in Family Trees.
By Amy Harmon

July 25, 2005
Article posted online by the New York Times at:
http://www.nytimes.com/2005/07/25/science/25genes.html.
Copyright 2005 The New York Times Company.
All her life, Rachel Fair has been teased by other black Americans about her light skin. "High yellow," they call her, a needling reference to the legacy of a slave owner who, she says, "went down to that cabin and had what he wanted."
So it was especially satisfying for Ms. Fair, 64, when a recent DNA test suggested that her mother's African ancestry traced nearly to the root of the human family tree, which originated there 150,000 years ago.
"More white is showing in the color, but underneath, I'm deepest Africa," said Ms. Fair, a retired parks supervisor in Cincinnati. "I tell my friends they're kind of Johnny-come-latelies on the DNA scale, so back up, back up."
Ms. Fair is one of thousands of African-Americans who have scraped cells from their inner cheeks and paid a growing group of laboratories to learn more about a family history once thought permanently obscured by slavery. They are seeking answers to questions about their family lineages in the antebellum South -- whether black, white or Native American -- and about distant forebears in Africa.
The DNA tests are fueling the biggest surge in African-American genealogy since Alex Haley's 1976 novel, "Roots," inspired a generation to try to trace their ancestors back to Africa. For those who have spent decades poring over plantation records that did not list slaves by surname and ship manifests that did not list where they came from, the idea that the key lies in their own bodies is a powerful one.
But the joy that often accompanies the answers from the tests is frequently tempered by the unexpected questions they raise. African-Americans say the tests can make the ugliness of slavery more palpable and leave the hunger for heritage unsatisfied. Some are unsure what to make of the new information about far-away kin, or how to account for genes that undermine a racial identity they have long internalized.
The interest in using genetics to construct a family tree comes despite warnings from scientists that the necessary tools to tell African-Americans what many want to know the most -- precisely where in Africa their ancestors lived and what tribal group they belonged to -- are still unreliable.
The most that blacks who use DNA tests can hope to learn now is that their genetic signature matches that of contemporary Africans from a given tribe or region from a DNA database that is far from complete. To assign an ancestral identity based on that match is highly suspect, scientists say; a group whose DNA has not been sampled may be a more precise match, or the person might match with several groups because of migration or tribal mixing.
Each test can also trace only one line of a person's many thousands of ancestors, making the results far more murky than the promise held out by some testing companies.
Still, the popularity of the DNA tests seems a testament to the unremitting craving for a story of origin. However flawed or scientifically questionable, the results provide the only clue many African-Americans have to the history and traditions that members of other American ethnic groups whose immigration was voluntary tend to take for granted.
"There's just something about knowing something after years of thinking it was impossible to know anything," said Melvin Collier, 32, a black student at Clark Atlanta University who recently learned that his DNA matches that of the Fulani people of Cameroon. "It's still pretty overwhelming."
Some African-Americans, more interested in searching out recent relatives who in many cases can be dependably identified with a DNA match, are asking whites whom they have long suspected are cousins to take a DNA test. And in a genetic bingo game that is delivering increasing returns as people of all ethnicities engage in DNA genealogy, some are typing their results into public databases on the Internet and finding a match that no paper trail would have revealed.
"I've been sitting here for years with nothing left to try and then, boom, this brand new thing," said B. J. Smothers, a retired urban planner in Stone Mountain, Ga., who says the results of a DNA test have brought her closer than she had ever been to discovering the identity of her father's grandfather. "DNA is our last hope."
Ms. Smothers's father, 88, knew that his father was born a slave in Wilcox County, Ala., but the DNA test showed that he has a European paternal ancestry, a result shared by nearly a third of African-Americans who take the test. The news was not exactly a surprise. But as eager as she is to discover the identity of her great-grandfather, Ms. Smothers is also bracing for a wave of new anger.
"I am kind of preparing myself for what I am going to feel when I find the family, when it's real," she said. She regularly looks for matches to her father's DNA in the online databases where amateur genealogists publish their genetic identities along with more prosaic contact information. Some day, she is certain, she will find a match that will lead to her white relatives.
Family reunions via DNA are not always warm affairs. When Trevis Hawkins, 37, a black oncology nurse from Montgomery, Ala., e-mailed a white man with the same surname whose DNA matched his this year, the man seemed excited. But after Mr. Hawkins gave him the address to his family Web site, which includes pictures, he never heard from him again.
One African-American, upon confirming a match with a white man whose ancestors had owned his, told him he owed reparations and could start by paying for the test, said Bennett Greenspan, chief executive of Family Tree DNA, which offers tests for $129 and up.
But Charles Larkins, whose great-grandmother was a slave, says proving or disproving his suspicion that her owner was his great-grandfather would be cathartic.
Mr. Larkins recently e-mailed Hayes Larkins, the slave owner's white great-grandson, to ask whether he would take the DNA test. Because the Y chromosome, which determines maleness, is passed virtually unchanged from father to son, scientists can use it to determine whether two men share a common ancestor.
"I'm not going to be like the Jefferson descendants, denying anything happened," Hayes Larkins said, referring to a 1998 DNA test that indicated that Thomas Jefferson had fathered at least one child with his slave Sally Hemings, which his white family had denied.
The two Mr. Larkins are waiting for the results to arrive.
For Nickesha Sanders, who already knew her great-great-grandfather was a white slave owner in Tennessee, the appeal of the DNA test was the promise of a link to Africa. "I wanted to be able to connect to my history before slavery," said Ms. Sanders, 26, a student at Texas Southern University. "I wanted it to be more than, the boat stopped at the shores, then slavery, emancipation, civil rights, all that struggle."
To find out about her maternal ancestors, Ms. Sanders paid $349 for a test that analyzes mitochondrial DNA, which is passed on largely intact from mothers to their children and serves a similar purpose as the Y chromosome for scientists tracing ancestry.
The results, from a Washington company, African Ancestry, indicated that Ms. Sanders shared a genetic profile with members of the Kru people of Liberia, who, she was pleased to learn, were known for inciting slave rebellions. But the news did not mean as much to her grandmother, who had hoped to find proof of the American Indian blood she had always been told ran in the family, a frequent quest for African-Americans taking the tests.
The results have propelled some test-takers to plan visits to their newly adopted homelands and to find others here who have been told they share the same ancestry. In online discussion forums, African-Americans with the same DNA test results call each other "cousin." After a lifetime of knowing only that their family came from Africa, some liken the new association to adopted children finding their birth mother.
"Africa is not a country; it's a continent," said LaVerne Nichols Hunter, a retired mathematics teacher in Pittsburgh, whose DNA test results placed her ancestors in Cameroon, Sierra Leone and Liberia.
But if DNA test-takers are making too much family history out of too little genetic information, social scientists say, it is not a phenomenon unique to the new technology.
"Identity is a process," said Alondra Nelson, a sociologist at Yale who studies the intersection of race and genetics. "Narratives and stories about family and kinship are always to some extent people making meaning out of their experiences with whatever tools they have."
When a radio host in Chicago revealed at a Kwanzaa festival last year that he was of Mende descent, several attendees who had received the same DNA result gathered to trade notes, a moment some said they found especially meaningful because slave owners made a point of separating Africans from the same tribes to prevent them from communicating.
But Kwame Bandele has learned enough about the civil war in Liberia, which the tribe his paternal DNA test identified is involved in, to feel deeply troubled by the kinship. A manager at General Electric, Mr. Bandele has tried to persuade the company to provide ultrasound machines for pregnant women in refugee camps.
He sends out e-mail with news about the war to friends, but feels he should be doing more.
"There was a massacre with machetes the other night," he said. "My people are in bad shape."
Ray Winbush, a psychology professor at Morgan State University, said being told that his ancestors hailed from the Takar people of Cameroon served to underscore his disconnectedness, both from an ancestral tribe he knows little about and from an American society that can still be a hostile place for African-Americans.
"It's like being lost and found at the same time," Mr. Winbush said.
African-American History Museum Opens Doors.
By Margaret Horton Edsall, for The Capital

June 26, 2005
Article posted online by the The Capital at:
http://www.hometownannapolis.com/cgi-bin/read/2005/06_26-13/LIF.
Copyright 2005 The Capital, Annapolis, Maryland
This weekend, the Reginald F. Lewis Museum of Maryland African American History and Culture is hosting its grand opening celebration. Baltimore's newest attraction and the East Coast's largest facility dedicated to African-American history and culture invites visitors to see its spectacular new structure -- located just a few blocks from the Inner Harbor -- its inspiring exhibitions and interactive galleries representing 400 years of history. And today, as the party goes on inside the museum, the merriment will overflow outside onto Pratt Street with continuous musical and dance entertainment from 10 a.m. to 5 p.m.
The museum's atrium-enhanced interior encompasses 82,000 square-feet of space. The major features include: the fourth-floor resource center, complete with an oral history recording studio and distance-learning classroom; an 11,500 square-foot permanent exhibit space, covering the majority of the third floor; the second floor's 3,500 square-foot area for special exhibits, two-story theater, and an orientation gallery; and the main floor lobby highlighted by a cafe and museum shop.
In the innovative permanent exhibition galleries, visitors will explore the diversity of the African-American experience in Maryland as told through individual stories - centuries old to contemporary times. As visitors take this fascinating journey through "Building Maryland, Building America," then "Things Hold, Lines Connect," and finally "Strength of the Mind," they will come upon ordinary people and extraordinary visionaries while hearing about personal triumphs and public victories.
To celebrate the museum's opening, the special exhibit "A Slave Ship Speaks: The Wreck of the Henrietta Marie" will offer visitors the unique opportunity to view what is believed to be the world's largest source of tangible objects from the formative years of the trans-Atlantic slave trade. The Henrietta Marie was the earliest slave ship wreck to be identified by name, a task completed when the ship's bell was discovered during excavation efforts off the coast of Key West, Fla., in 1972. She was a London-based vessel registered as a 120-ton burden, built to carry goods, supplies, a crew of 18 and approximately 200 slaves.
The Henrietta Marie was one of the many merchant ships that participated in the harsh voyages through the Middle Passage which resulted in the largest forced movement of people ever recorded from the continent of Africa. The discovery of the Henrietta Marie allowed researchers to uncover a wealth of information and facts about the ship's captain, the crew, cargo, the investors and the benefactors of this brutal enterprise.
This special exhibition will be open to view through January 2006.
In 1994, the Maryland Commission on African-American History and Culture completed a study to identify and evaluate the most important African-American historical and cultural sites, collections and resources in Maryland. While this initiative was taking place, the Department of Business and Economic Development was also finalizing a statewide analysis of existing and potential state resources related to African-American heritage tourism. After combining the historical inventory data and tourism findings, it was concluded that there was a substantial need for a statewide museum to protect and interpret Maryland's African-American history and culture.
By executive order, former Gov. William Donald Schaefer established the Maryland Museum of African American History and Culture Commission, which was charged with determining the feasibility of creating a new museum in Baltimore. In 1998, the commission was formalized into the Maryland African American Museum Corp., comprised of a 32-member board of directors and functioning as an independent unit of the executive branch of the State of Maryland.
Once this entity was in place, the state directed its focus be on education, preservation and interpretation, and tourism. Recognizing the powerful impact the museum could have on the education of Maryland's youth, the Maryland State Department of Education created a partnership with the museum to develop a curriculum and teacher training to help close the African-American achievement gap and increase understanding among all students.
"This is the first time a museum of African-American history and culture and a state department of education have worked together to develop educational materials and museum content simultaneously," said Nancy Grasmick, superintendent of the state Department of Education. "The establishment of this museum provides the opportunity to develop curriculum that informs students of all ages about the contributions and experiences of African-American Marylanders -- past to present.
As plans progressed for the museum, the Reginald F. Lewis Foundation awarded the museum a $5 million endowment. In gratitude, museum officials and the state Board of Public Works agreed to name the site the Reginald F. Lewis Museum of Maryland African-American History and Culture.
Mr. Lewis -- attorney, entrepreneur and philanthropist -- was born in 1942 into a Baltimore neighborhood he once described as "semi-tough." His determination to "keep going, no matter what" helped him earn degrees from Virginia State University and Harvard Law School. In 1987, he purchased, for $985 million, the international division of Beatrice Foods. This deal was the largest leveraged buyout ever of overseas assets by an American company, and Mr. Lewis became the first African American to own a Fortune 500 corporation.
The landmark, now dominating the intersection of Pratt and President streets, visually speaks to the fiber of the Maryland state flag. The museum's award-winning architectural team -- The Freelon Group/RTKL -- believed it was critical for the structure to accurately represent the spirit, struggle and pride of a people who were among the builders of a nation. The beautiful black granite facade represents the strength and resilience of the African-American community. The dramatic 96-foot high Red Wall of Freedom -- a vibrant metal panel system that originates on the outside of the building and slices its way through the Pratt Street elevation and into the core of the structure -- stands for the tension, volatility and intervention Maryland's African Americans have experienced over 400 years. The yellow accent walls symbolize an enduring truth, faith and hope.
How to get there: To reach the Reginald F. Lewis Museum, trek north to I-695 north (Baltimore Beltway); exit onto Route 295 north (Baltimore-Washington Expressway) and proceed into Baltimore; turn right onto Pratt Street and proceed past the Inner Harbor. The museum is located at Pratt and President streets.
Book Review
H-NET BOOK REVIEW
Published by H-South, http://www.h-net.org/~south (May 2005) and H-Slavery, http://www.h-net.org/~slavery (June 2005).

Anthony S. Parent Jr. Foul Means: The Formation of a Slave Society in Virginia, 1660-1740. Chapel Hill: North Carolina University Press, 2003. vii + 320 pp. Illustrations, notes, index. $49.95 (cloth), ISBN 0-8078-2813-0; $19.95 (paper), ISBN 0-8078-5486-7.

Reviewed for H-South by Michelle LeMaster, Department of History, Eastern Illinois University.

Foul Means: A Conspiracy Theory for the Seventeenth Century?


In Foul Means: The Formation of a Slave Society in Virginia, 1660-1740, Anthony Parent undertakes to reassess the rise of slavery in the Old Dominion. As one of the most powerful and populous states of early America, Virginia's decision to adopt a system of racialized slavery demands close investigation. A monograph exploring this understudied era in Virginia's history is a welcome addition to the historiography of the colonial period, and it is to be hoped that this will be but the first of many to delve into this neglected era. Parent also offers a striking new analysis of the critical transformation from indentured servitude to chattel slavery. He rejects Winthrop Jordan's assertion that the introduction of African slavery to Virginia came about as an "unthinking decision." Instead, Parent maintains, the shift to slavery involved a calculated plan under which "a small emerging class of great planters with large landholdings and political connections brought racial slavery to Virginia." In short, he maintains, "during a brief period in the late seventeenth and early eighteenth century, a small but powerful planter class, acting in their short-term interest, gave America its racial dilemma" (p. 2).
In order to make this radical new argument, Parent utilizes Marxist class analysis. "Class analysis," Parent states in his introduction, "is a heuristic method that not only unearths the relationship between the slaveholders and the enslaved but also illuminates the totality of the colonized society" (p. 2). A study that introduced the "totality" of late seventeenth and early eighteenth-century Virginia society indeed would be a welcome addition to the historiography of colonial America. However, Parent does not completely succeed in providing this "totality," focusing most of his attention on "the origins, behavior, and ideology of Virginia's great-planter class" (p. 3). One might ask how well Marxist categories of analysis pertain to a society that did not itself employ an ideology of class. Much more crucially, the various classes in Parent's early Virginia remain unclear and under-defined. The group designated as the "great planters" remains somewhat vague, in spite of the great degree of control Parent assigns to them. They are defined simply as those planters who had
"[d]iversified their wealth beyond land and labor to include business activities and plural officeholding" and "had accumulated two thousand or more acres" or "had personal estates worth more than two thousand pounds" (p. 30). Parent focuses his attention on the prolific William Byrd I and William Fitzhugh as exemplars of this great planter class. One might ask how well Byrd and Fitzhugh typified "great planters." In addition, it seems doubtful that the "great planters" possessed the unquestioned dominance of Virginia politics and society that Parent attributes to them. His great planters appear as a monolithic group exercising a hegemony in the colony that seems anachronistic. Parent fails to delineate the divisions between members of the wealthiest class in Virginia, as well as the contests between the older, pre-Bacon's Rebellion elites and later emergent Revolutionary Era leading families. Parent does not explain at what point Virginia's "great planters" established the dominance he attributes to them, nor how they did so. In addition, Parent fails to demonstrate that the "great planters" possessed any distinct class consciousness that would cause them to define a distinct set of interests. His definition of other classes is even less satisfying, and the groups he terms middling and small planters remain undefined, although the "great planters," he claims, often developed policies to protect their standing against challenges from these groups. He further fails to demonstrate the difference in interests between the various class groups he identifies. One is led to ask, if the policies of the great planters were the cause of class tensions, why did the voters (presumably most of them middling and small planters, who would have made up the numerical majority of the electorate) return them to office again and again?
Parent's treatment of the other key group in his story, African and African-American slaves, is much more compelling. Parent devotes a significant amount of attention to slave rebellion, arguing that slave resistance to the evolving system of bondage helped shape the ways that the legal framework of the institution developed. Parent's account of slave resistance provides for gripping reading, in particular his attention to the 1730 Chesapeake Rebellion, which he terms the largest uprising in colonial America. Such rebellions, Parent argues, demonstrated "that blacks were not only conscious of their racial and class degradation but collectively attempted to change their condition" (p. 135). Yet while Parent's portrayals of black agency are moving and dramatic, he fails to demonstrate conclusively that any sense of class consciousness existed among Virginia's enslaved Africans, or how such class consciousness came about. In his defense, the records may not allow for such an analysis. In addition, however, one also wonders if slave resistance was as wide-spread and effective and Parent implies. He further does not address other less dramatic ways in which Virginia's enslaved population worked to make their way in this strange new world of chattel slavery.
Parent lays out his argument in a series of eight thematic chapters, divided into three parts. In part 1, "Origins: Land, Labor, and Trade," he establishes a number of preconditions for slavery. In order to have a slave society, he states, a society must have "private, concentrated land ownership," commodities and markets, and it must lack an "internal labor supply" (p. 9). The great planter class "gained power by organizing land, labor, and trade to serve their interests" (p. 3). In order to ensure the first condition, the great planters violently seized Indian land, using servant and slave headrights to engross substantial amounts of territory in what Parent aptly names a "Landgrab." Students of white-Indian relations will find little here that is surprising, however. In addition, greater attention to the differences in English policies regarding Indians and Africans might have complicated the definition of race Parent employs (although unstated) throughout his work. He then moves on to lay out the shift from servant to slave labor in chapter 2, laying out many of the economic and logistical reasons for the shift to an enslaved African work force, citing the shortage of English labor after 1660 and the rise of more favorable market conditions for the purchase of African slaves. While the material is neatly laid out and engagingly written, there seems little that is new in this chapter, and little that counters Jordan's argument of an "unthinking decision" based on economic factors. In the third chapter, Parent demonstrates the downside of the shift to slavery, arguing that the new labor system did not solve the planters' problems, and instead "proved the rub causing friction between the great planters and English merchants" and also "changed the configuration of the tobacco and slave traders, organizing them along class lines" (p. 80). While the argument is intriguing, Parent again focuses more on the behavior of a few great planters and merchants, and less on the behavior or interests of lesser planters.
In part 2, Parent investigates the development in the slave system itself, in a section he names "Conflicts: Race and Class." Chapter 4 investigates the development of the legal system necessary to support a system of chattel slavery, noting the irony that these laws established a coercive state at a time when English law in general was moving toward great freedoms for Englishmen. However, there is little here that is new, either. Chapter 5 is perhaps the most compelling of the sections, investigating the impact of slave resistance on the Virginia slave code itself, and demonstrating the "black struggle for freedom and white determination to maintain slavery despite its costs" (p. 135). Parent maintains that the "great planters" used the fear of insurrection to "consolidate their power, strengthening regulations and disabilities against blacks, free and enslaved, and dragooning lower-class whites into supporting a racially ordered society" (p. 157). In the last chapter of this part, Parent then argues that the dependence of the great planters on the labor of enslaved Africans would lead to conflicts between planters, merchants and the crown, as well as between the great planters and middling and small planters. While this last section is suggestive, Parent again does not define the groups he is discussing, nor outline divisions within the planter class regarding policies of taxation and output reductions.
In the final section, Parent discusses "great planter" efforts to manage slave and lower class discontent through the development of an ideology he terms "patriarchism." He defines this new ideology as "an organizational belief system in which society is structured around the supremacy of the patriarch" (p. 199). Parent maintains that the great planters adopted the ideology of patriarchism to try to counter the decline in their own power beginning in the 1720s with crown and ministerial efforts to subordinate colonial elites. Planters asserted that they were taking on the job of providing for the needs of the dependent members of society, and had the job of regulating the behavior of those dependents. In return, they deserved deference and obedience. In the final chapter, Parent demonstrates how planters carried this attitude of patriarchism into the religious realm, and began to favor teaching Christianity to their slaves in the interest of buttressing patriarchy and ensuring social order. The development of patriarchism offers some intriguing possibilities for understanding planter ideology in the decades leading up to the American Revolution. It also raises questions, however. What was the relationship between patriarchism and its nineteenth century successor, paternalism? To what extent was patriarchism a reaction to social unrest and an unstable labor system, and to what extent was it an adaptation of European ideas to a maturing colonial society? In addition, if planters became more open to slave proselytism, how do we explain the large numbers of slaves who remained unreached by Christianity until the second (not the first) Great Awakening?
Parent has asked important questions in Foul Means, and offered a unique, if not always convincing, portrait of an understudied era in Virginia's history. It is to be hoped that his work will inspire others to continue to pursue the study of this era, and the question of how slavery developed in the Old Dominion.
Copyright (c) 2005 by H-Net, all rights reserved. H-Net permits the redistribution and reprinting of this work for nonprofit, educational purposes.
Book Review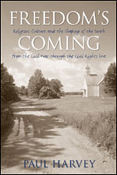 H-NET BOOK REVIEW
Published by H-South, http://www.h-net.org/~south (May 2005) and H-Slavery, http://www.h-net.org~slavery (June 2005).

Paul Harvey. Freedom's Coming: Religious Culture and the Shaping of the South from the Civil War through the Civil Rights Era. Chapel Hill: University of North Carolina Press, 2005. xvi + 338 pp. Illustrations, notes, bibliography, index. $34.95 (cloth), ISBN 0-8078-2901-3.

Reviewed for H-South by Edward J. Blum, Freelance Editor.

The Strange Fellowship of Jim Crow and Jesus Christ


It is impossible to discuss the South without discussing religion. It animates and haunts southern culture. From prayers uttered on fall Friday nights under the football stadium lights to pick-up trucks displaying Confederate flags alongside "What Would Jesus Do?" bumper stickers, expressions of faith saturate the South. And when liberals and conservatives, blacks and whites, feminists and "family first" advocates employ Christian rhetoric and styles, they tap into a long history of dynamic interactions between religion and society in the South -- a history that Paul Harvey discusses brilliantly in his latest work. In this amazingly successful book, Harvey provides a grand and sweeping examination of religion and southern culture from the Civil War to the present. With terrific dexterity and succinct prose, he mixes and matches hundreds of individual biographies and stories to show religion's power in southern politics, reform crusades, and cultural expression.
Spanning more than one hundred years of historical time and more than ten states of geographical space, Harvey anchors his analysis to three central themes: theological racism (the use of religious ideas and behaviors to nurture social hierarchies); racial interchange (the exchanges of religious cultures between whites and blacks); and Christian interracialism (the cooperation of white and black Christians in an assortment of enterprises). Harvey suggests that although theological racism dominated the South at the beginning of the twentieth century, the combination of interracial exchanges and Christian interracial encounters turned southern religion away from racism and helped generate the civil rights movement. By the end of the twentieth century, southern religion was no longer defined by its racist heritage.
In the first section, which comprises chapters 1 and 2, Harvey investigates the complex connections among religion and politics from the Civil War to the 1950s. Largely following Daniel Stowell's superb book on religion and Reconstruction, Harvey suggests that southern whites, northern whites, and African Americans held different visions for what "Reconstruction" meant politically and religiously.[1] While northern white missionaries viewed themselves as the harbingers of civilization to the war-ravaged and presumably backward South, African Americans hoped that their era of bondage would be followed by one of social, political, and religious freedom. For their part, southern whites believed that God chastised them for their sinful ways with the war, but that the Lord still smiled upon white supremacy. By the 1890s, southern white Protestants re-ascended and took control of the region, and their evangelicalism served as a crucial ideological support for segregation as it had for slavery.
While Jim Crow and theological racism dominated the South from the late nineteenth century to the mid-twentieth, a number of reform movements maintained an undercurrent of dissent and their short-lived interracial coalitions paved the way for the full-scale Civil Rights movement. Southern Populists, Harvey demonstrates, combined evangelical pietism with rural protest to call the nation to a form of primitive Christianity and agrarian virtue. Middle-class Progressives employed the language of Protestant missions to denounce liquor, child labor, and an assortment of other "evils." And radical groups, such as the Commission on Interracial Cooperation and the Fellowship of Christian Churchmen, denounced lynching and Jim Crow. At the end of the day, these movements were unable to overturn the white supremacist theological basis of southern white society, but their crusades and attempts at interracial cooperation demonstrated that Jim Crow never reigned uncontested in the South.
In the middle chapter and second section, Harvey interrupts his discussion of religious and political organizing to dive head first into the realm of culture and racial interchange. What he finds is impressive, if not staggering. Black and white southerners traded, transformed, and embraced one another's religious cultures, including impassioned sermons, inspirational revival services, folk melodies, gospel songs, spiritual visions, and baptismal ceremonies, At his best when unearthing the interracial roots of the Blues, Harvey shows how gospel music, spirituals, and hymns mixed to create a generation of folk theologians in the form of blues singers. These entertainers harmonized about good and evil, ethics, and morality often in ways more complicated than their ministerial colleagues. In short, legal segregation could not stop Elvis Presley, Ray Charles, or Hank Williams from sampling a variety of black and white religious traditions; nor could it stop radio revivalists from appealing to all souls -- whether they were cloaked with light or dark skin.
Racial interchanges and Christian interracialism reached their peak when they mixed with political organizing during the Civil Rights era -- the subject of chapter 4. With excellent nuance, Harvey shows that although white and black church institutions tended either to avoid or to undermine the battle for legal rights, religious beliefs were profoundly important for individual activists. Faith bound civil rights workers together and steeled them with courage to withstand verbal assaults, fire hoses, and beatings. "We Shall Overcome," the unofficial hymn of the movement, was at the same time a song of fellowship, prophecy, and inspiration. It articulated the cooperative, communal, nonviolent, and sacred elements of the movement. And in the wake of the civil rights crusade, the theological racism of the previous hundred years tumbled. Southern white ministers and theologians slowly backed away, and at times repudiated, their arguments on behalf of segregation, and many white church leaders actually supported the federal government's assault on Jim Crow.
Harvey's final chapter suggests that in the years following the civil rights movement, gender supplanted race as the "bedrock defining principle of God-ordained hierarchy" (pp. 219-220). Focusing primarily on the Southern Baptist Convention, Harvey shows that while southern conservatives dispensed with biblical arguments for racial segregation, they turned with renewed vigor to keeping women "in their place." Ending his superb study, Harvey makes a statistical argument for the continued importance, but not dominance, of evangelicalism in the South, and he provides readers with an extensive bibliography.
Harvey has written a marvelous book. But there are several ways in which it can be criticized, including his failure to explain why evangelical women tended to be more willing to cooperate interracially than men and his neglect of such paramount southern cultural moments as the Scopes trial. The most problematic aspect of the book, however, is Harvey's approach to theological racism. To put it bluntly, Harvey's definition is too limited. White supremacist theology, a longer but more accurate title for the phenomena he discusses, went much deeper than the use of religious teachings to maintain social hierarchies; it connected whiteness with godliness and blackness with ungodliness in ways that sanctified whites' activities and damned people of color as subhuman. It was a system that endeavored to define the people of God not as an imagined faith community, but as a racial one.
If Harvey were to have expanded his approach to theological racism to include the racialization of sacred images, he would have found a treasure trove. He would have found, in fact, that many African Americans in the South were asking theological questions and developing religious answers that prefigured the arguments of black liberation theologians of the late 1960s and 1970s. Well before the urban riots of the North and the theological writings of black liberationists such as James Cone and J. Deotis Roberts, a host of African Americans in the South wanted to know whose side God was on -- and many refused to believe that Jesus was the blonde-haired, blue-eyed man that American artwork presented him to be. W. E. B. Du Bois, for instance, denounced whites for assuming that "of all the hues of God whiteness alone is inherently and obviously better than the brownness and tan," and he repeatedly longed for a "black Christ" -- or at least a non-white Jesus to be recognized.[2] Or, similarly, Langston Hughes denounced racism in the United States by considering how white Americans would treat a black Christ in his poem, "Bible Belt," first published in 1966:

"It would be too bad if Jesus / Were to come back black. / There are so many churches / Where he could not pray / In the U.S.A., / Where entrances to Negroes, / No matter how sanctified, / Is denied, / Where race, not religion, / Is glorified. / But say it -- / You may be / Crucified."[3]
Mississippi civil rights worker Anne Moody also struggled with the race and role of God in ways that black theologians grappled with later. After the church bombing in Birmingham, she announced to God that she was done with nonviolence. "If you don't believe me," she wrote, "then I know you must be white, too. And if I ever find out you are white, then I'm through with you. And if I find out you are black, I'll try my best to kill you when I get to heaven."[4] By neglecting the responses of African Americans to the linking of whiteness and godliness, Harvey overlooked the roots of black liberation theology that were in the soil that he so meticulously plowed.
But even without a discussion of the battle over the racialization of the divine, Harvey has written an impressive book. Its depth, range, complexity, and readability will not surprise anyone familiar with his other work. Graduate courses on southern history and southern religion will be incomplete without it, and undergraduate classes on the South following the Civil War should use this text. Casual readers may find the seemingly endless array of biographical examples tiring, but they will undoubtedly complete this book feeling that they had learned much. They will have witnessed with new eyes the sinful saints and the sanctimonious sinners of the southern religious past.
Notes

[1]. Daniel W. Stowell, Rebuilding Zion: The Religious Reconstruction of the South, 1863-1877 (New York: Oxford University Press, 1998).

[2]. W. E. B. Du Bois, Darkwater: Voices from within the Veil (1920; reprint, Mineola: Dover Publications, Inc., 1999), pp. 18, 31.

[3]. Langston Hughes, "Bible Belt," In The Panther and The Lash: Poems of Our Times (New York: Alfred A. Knopf, 1977), p. 38.

[4]. Anne Moody, Coming of Age in Mississippi (New York: Dell Publishing, 1968), p. 318.


Copyright (c) 2005 by H-Net, all rights reserved. H-Net permits the redistribution and reprinting of this work for nonprofit, educational purposes.