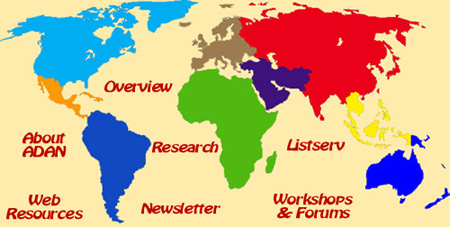 September 2005 Newsletter
ISSN: 1933-8651
Starting with this issue, the newsletter will now be published on a quarterly basis, with issues in September, December, March, and June. In this issue we present the following articles, news, announcements, and reviews:
---
The Madi, Displacement and Resurrection of an African Population:
The Dufile Research Project, Uganda 2005-2006
By Merrick Posnansky
Director, Dufile Project, UCLA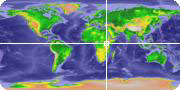 The Dufile project in the West Nile of Uganda was initiated in 2004 to find out more about the Madi, one of the African societies most heavily impacted by the 19th century slave trade. The African slave trade, contrary to some beliefs, did not end in the early 19th century with the restrictions on trade in the Atlantic, but has continued until the present day. The abuses of power in the Darfur region of the Sudan are currently leading to women and children being transported hundreds of miles to the northern Sudan for domestic slavery in Khartoum and parts of Middle East. Reminiscent of the Darfur terror was the 19th century slavery in the Upper Nile.
In the 1830's Egypt moved south into the Sudan. The attraction was ivory then in high demand for piano keys, billiard balls and cutlery handles. The other commodity eagerly sought were slaves who were used in Egypt but also shipped to Arabia and the Arab Gulf. The acephalous societies of the Upper Nile, amongst the most materially impoverished communities in Africa, were particularly vulnerable. The abuses of the traders were noted by such Nile explorers as Samuel Baker in the early 1860's and ultimately led to an attempt by the Egyptian Government to establish an administration to control the trade and extinguish slavery. Baker and later Colonel Gordon were appointed as Governors of the area and began establishing military stations to enforce Egyptian control. The Sudanese troops, Egyptian officers and European commanders represented the first Imperial contact with an area that had had virtually no contact with the outer world. The rise of the fundamentalist Islamic leader, the self proclaimed Mahdi, in the early 1880's, ultimately led to the collapse of Egyptian power in the Sudan. Khartoum fell and Gordon was killed in 1885. The Ugandan portion of the Upper Nile, part of the Sudanese province of Equatoria, remained under the control of Emin Pasha who in turn left the area in 1889.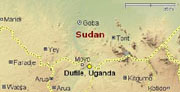 The Egyptian Military stations were substantial. Dufile, surrounded by banks, up to 15 feet high from the bottom of the surrounding ditches, and with a man made harbor for 4 steamships, covered nearly 12 acres and at its height may have housed up to 4000 troops, their families, workers and camp followers. The fieldwork in 2005-06 seeks to accurately survey the fort, locate the battleground where the forces of the Mahdi were repelled, and find out where the Madi who did the grunge work at the fort lived. Some of the settlements have already been located. It is hoped to discover much more about the process of acculturation using linguistic research as well as ethnographic and historical accounts and studies of present material culture. It is hoped that the work will provide information on the impact of an Imperial force on an African population already severely afflicted by the Arab slave trade. In 1891 the rump of Emin Pasha's troops were taken over 300 hundred miles south to the Kampala area of Uganda to form the nucleus of the Uganda Rifles, Uganda's first army. More than 9000 family members, most of them Madi wives and children and servants acquired by the Sudanese troops, were brought down. Over the last century these people have developed into a significant Muslim minority population of over 100,000, locally known as Nubians, dispersed over a significant area of Uganda and Kenya. The project aims to look at both their language and material culture to gain insights into cultural transformations over the past century that should help in understanding some earlier population displacements of the African Diaspora. Previous work on the Equatoria forts, like Patiko and Wadelai, had concentrated on the forts themselves paying little attention to the contacts between the Imperial forces and the local population.
The lead archaeologist of the 2005-06 fieldwork is Professor Christopher DeCorse of Syracuse University who will be joined by up to 20 participants from UCLA, the British Institute in Eastern Africa in Nairobi, Ugandan students from Makerere and Kyambogo universities in Kampala and the University of Ghana.
Return to table of contents
---
African-American Archaeology and Colonowares
from the Charleston Judicial Center Site (38CH1708)
By J. W. Joseph, PhD, RPA
New South Associates
New South Associates has completed the results of a multi-year investigation of the Charleston Judicial Center Site, 38CH1708, in South Carolina. Located on Broad Street between King and Meeting Streets, this site was in the heart of the old city, lying just outside the walls of the fortified town in an area that was settled in the 1720s.
Archaeological work made use of machine stripping to expose large blocks with an emphasis on recovering information about the site's colonial landscape and material culture. This work revealed that the colonial yards devoted considerable space to the raising of crops and livestock and that the immediate rear yards of colonial homes were both workspaces and residential space for African-American workers. Numerous pit features were found that contained large quantities of colonial artifacts. These pit features represent storage pits for vegetable crops as well as other functions and are themselves associated with African-American landscapes in the lowcountry and have been found in large numbers during excavations of African-American villages sites on lowcountry plantations. Excavation of these pit features resulted in the recovery of a quantity of African-American/Native American Colonowares, with a total of 1,228 Colonoware sherds recovered, including a number of partially reconstructed vessels (click on the images to see larger illustrations).
Approximately 85% of the site's colonial deposits contained Colonowares. Most of the features that contained Colonowares also contained datable European ceramics and Stan South's Mean Ceramic Date formula (South 1977) was used to determine dates for each feature and to also chart the distribution of Colonoware by decade. This analysis revealed that of the total Colonoware assemblage, 1.07% came from features dating to the 1720s, 3.83% from features dating to the 1730s, 37.52% from features dating to the 1740s, and 38.25% from features dating to the 1750s. Features dating from the 1760s produced 10.29% of the Colonoware. The percentage contribution of Colonowares decreased dramatically after this date, with 1770s features producing only 0.55% of the Colonoware, 1780s features only 0.09%, 1790s features 2.91% and features postdating 1800 6.56%. Colonoware itself was very much a critical element of colonial deposits in Charleston. Looking at its distribution from another perspective, Colonoware accounted for 34.29% of all of the ceramics from 1720s contexts, 15.97% of the ceramics from 1730s contexts, 25.96% of the ceramics from the 1740s, 12.06% of the ceramics from the 1750s, and 8.39% of all of the ceramics from the 1760s. By the 1790s Colonoware would represent only 6.58% of the total ceramics and by the 1800s it would drop to 2.46% representation.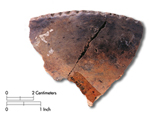 The Colonowares found at the Judicial Center site were obviously made for sale or trade as there is no evidence that Colonoware was made on the Judicial Center site. The majority of the Colonowares found by the project were most likely purchased from Charleston's markets, one of which was located nearby at Broad and Meeting Street. The colonial Colonowares are polished and burnished and fall closest to type descriptions developed for Catawba Indian wares of the late 1700s, however, the Colonowares from the Judicial Center Site were not made by the Catawba's, who, as a confederation of displaced Native American tribes, did not come into existence until the 1770s. There was very little interaction between free Native Americans and the Charleston markets during this period (ca. 1720-1760), but there is abundant evidence of the participation of enslaved African-Americans in the market economy, and the Colonowares found at the Judicial Center site are thus believed to have been made by both enslaved African-Americans and Native Americans for sale at market. The interpretation that much of the Colonoware found in Colonial Charleston was produced by African Americans and distributed through the markets has previously been made by Brian Crane as part of his doctoral research utilizing Colonoware collections from Charleston's Heyward Washington House. Work at the Judicial Center Site suggests that in essence there were three "types" of Colonoware: 1) a thicker, less refined ware made by enslaved African-Americans for their own use on plantation villages; 2) a thinner, polished and/or burnished ware made by enslaved African-American and Native Americans for trade or sale to the Charleston markets and colonial planters; and 3) a thin walled burnished ware made by the Catawba Indians for sale during their trading visits to the lowcountry in the late 1700s and early 1800s. Further discussion of this analysis and suggested revisions of the Colonoware typology are presented by Joseph (2004a and 2004b).
REFERENCES
Hamby, Theresa M. and J. W. Joseph, editors
2004 A New Look at the Old City: Archaeological Excavations of the Charleston County Judicial Center Site (38CH1708), Charleston, South Carolina. New South Associates, Stone Mountain.

Joseph, J. W.
2004a Colonoware for the Village – Colonoware for the Market: Observations from the Charleston Judicial Center Site (38CH1708) on Colonoware Production and Typology. South Carolina Antiquities 36:1&2: 72-86.

Joseph, J. W.
2004b The Judicial Center Site and Colonial Charleston: Interpretations and Conclusions, in A New Look at the Old City: Archaeological Excavations of the Charleston County Judicial Center Site (38CH1708), Charleston, South Carolina, edited by Theresa Hamby and J. W. Joseph, pp 229-278. New South Associates, Stone Mountain.

Joseph, J. W.
2002 From Colonist to Charlestonian: The Crafting of Identity in a Colonial Southern City, in Another's Country: Archaeological and Historical Perspectives on Cultural Interactions in the South Colonies, edited by J. W. Joseph and Martha Zierden, pp. 215-234. University of Alabama Press, Tuscaloosa.

South, Stanley A.
1977 Method and Theory in Historical Archaeology. Academic Press, New York.


Return to table of contents
---
Van Winkle's Mill Update:
2005 Excavations at the Blacksmith Shop
By Alicia B. Valentino (University of Arkansas)
and Jamie C. Brandon (Arkansas Archeological Survey)
When average Americans think of the Arkansas Ozarks, they do not think of industrial enterprises, captains of industry, racial diversity or African-American heritage. Rather, they probably think of the Ozark stereotype -- a region of the upland South that was historically inhabited by predominately poor, backward and white subsistence farmers. In a word, they think of "hillbillies."
On the other hand, researchers who have become involved with the history of the Arkansas Ozarks commonly encounter a much wider variety of historical characters. The nineteenth-century Ozarks were, in fact, home to not only southern white immigrants (the so-called "Scotch-Irish"), but also Midwestern immigrants, Germans, Poles, Italians, indigenous Native groups (such as the Osage), recently immigrated Native Americans (such as the Cherokee), free blacks and the enslaved African Americans brought in bondage by their masters to the mountains of the Ozarks. There were large disparities in wealth and occupation resulting in a wide variety of social positions and opinions not always visible in our collective historical memories.
Van Winkle's Mill, which has been the focus of historical and archeological research for the past nine years, is but one example of a place which points to a more nuanced understanding of Ozark history. It is also a site that is in a unique position to help scholars and managers interpret this hidden diversity to the larger public.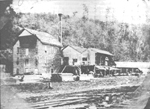 Founded in the 1850s, Van Winkle's Mill (Figure 1) was a booming sawmill community centered around an enterprise owned and operated by Peter Van Winkle, a New York-born Arkansan of Dutch descent who rose from making a living breaking prairie and building wagons to the highest levels of Northwest Arkansas society. Upon his death in 1882, he owned and operated the dominant lumber concern in the region (including Van Winkle's Mill, several satellite mills and lumber yards) and an elegant three-story hotel in downtown Fayetteville, Arkansas. His obituaries proclaimed him the "Lumber King of Northwest Arkansas" (Easley and McAnelly 1996:156-7) and later newspaper articles would frequently refer to him as "the greatest genius and captain of industry that the hills of Northwest Arkansas ever nurtured" (Elliot 1959; Funk 1962:7). Moreover, Peter was widely considered a principle force in the modernization of the region through his advocation of railroads, telephone lines and other progressive technologies.
Van Winkle's Mill also points toward a doubly silenced racial diversity in the nineteenth-century Arkansas Ozarks. The labor force at Van Winkle's Mill included enslaved African Americans before the war, and several wage-earning African-American families following emancipation (Figure 2). Taken together with the skilled white labor (i.e., sawyers, bookkeepers, etc.) and unskilled labor pulled seasonally from the surrounding farmsteads, Van Winkle's Mill provides researchers with a more representative cross section of a nineteenth-century Ozark community than is provided by the predominate hillbilly stereotype.
Van Winkle's Mill -- and the community associated with it -- died in the early years of the twentieth century, but the site is now a part of Hobbs State Park and Conservation Area (HSPCA). HSPCA was created as a wildlife management area in the 1980s and is only now being developed as a state park that emphasizes interpreting its historical and natural diversity to the public. Fortunately, the managers and personnel of HSPCA have been proactive in regards to the park's historical interpretation and archeological resources. Park personnel initiated archeological investigations by contacting the Arkansas State Archeologist in 1997, and they have been supportive of archeological work and special interpretive programs since that initial contact (e.g., Bowers 2003; Brandon 2005; Brandon and Davidson 2003, 2005; Brandon and Hilliard 1998; Brandon et al. 1999, 2000).
Fieldwork in 1997 began with a site survey, identifying 24 features, and limited testing at the Van Winkle house site (Figure 3). Work extending into 1999 focused on a single-family residence, perhaps that of one of the freedmen and their family. Continued work into 2003 included a cultural resource inventory of Van Hollow and survey of the mill complex. This included the identification of an additional 6 features, including a probable dump dating to the late 1800s-1920s, a second dump dating to the 1940s-1960s, a gasoline-powered portable mill location, unidentified structure, blacksmith shop, and mule paddock.
During the summer of 2005, field school students from the University of Arkansas excavated the remains of a nineteenth-century blacksmith shop at Van Winkle's Mill. While previous archeological work on the site has focused on excavations of the slave and freedmen quarters (with some limited work with the industrial components), this year's excavations mark the beginning of an extended effort to concentrate on the industrial complex with a particular eye toward understanding the mill complex as a social articulation point across racial and class boundaries. Excavations at the blacksmith shop dealt with the forge and soil analyses for a cursory hypothesis of the locations of various work areas, while mill excavations concentrated on the flywheel trench and boiler platform.
Excavations in 2005 uncovered most of the blacksmith shop in an attempt to 1) define the layout of the structure; 2) collect objects made by the blacksmith; 3) uncover the entirety of the forge box; and 4) test the magnetic fractioning percentage study which had been conducted in order to identify work areas within the shop (Brandon and Davidson 2003:48-50). Fieldwork met each of these objectives.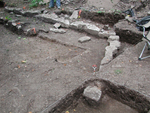 Continued excavation of the back foundation wall of the shop revealed a 45-degree turn in the northwest corner, and no turn in the southwest corner (Figure 4). However, due to the arrangement of larger rocks, it is possible that posts set on rocks supported the side and front walls. Also, it is hypothesized that the need for a substantial back wall was due to the constant erosion of the slope behind the shop -- the substantial stone foundation prevented the erosion from running into the shop.
Through examination of the recovered metal artifacts, it may be possible to establish the types of work performed on site. Particularly, it may be possible to follow technological evolutions in the blacksmith trade.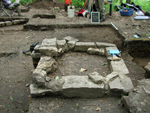 The forge box was situated near the center of the shop -- roughly square with a stone footprint and brick walls (as indicated by the brick rubble lying all around the forge; Figure 5). The forge's stone chimney has since fallen in a linear pattern to the west of the box.
Use of magnetic fractioning in 2001 (see Brandon and Davidson 2003:48-50) helped locate work areas in the shop using hammer scale and iron shavings present in the soil. Soil samples were collected and the percentages of hammer scale and/or iron shavings were determined for that sample. This is charted throughout the shop, differentiating heavy iron working areas from non-iron working areas. The magnetic fractioning done in 2001 indicated that the anvil was situated southwest of the forge box, and the 2005 excavations found what is probably the feature associated with the anvil (Figure 6, Feature D). This corresponds well with the magnetic fractioning data.
Perhaps one of the most interesting elements of the excavation was the discovery of distinct antebellum and postbellum occupation levels (Figure 7). As excavations proceeded, what was thought to be subsoil was actually a layer of sterile deposits intentionally placed on top of the burned pre-Civil War occupation. Upon Peter's return to the hollow, workers covered the antebellum layer with subsoil and reconstructed the building. The discovery of those two discreet strata leads to an observation about the different types of fuel used in the shop. Prior to the Civil War charcoal was the fuel of choice, while following the War the smithy switched to coal. The switch from charcoal to coal typically occurred during the last quarter of the nineteenth-century (Light 1987). This switch also explains the rebuilding of the forge since a coal forge is built differently than a charcoal forge. These two occupation levels have much potential for our analysis of pre- and post-War use of the shop and the rate at which new technologies reached the Ozarks.
For more information about the Van Winkle Archeological Project -- including updates and news -- visit our website: http://www.projectpast.org/vanwinkle/index.html
REFERENCES

Bowers, Robin F.
2003 Ozark Industry: The Van Winkle Saw Mill, 1857-1890. Unpublished Master's thesis, Department of Anthropology, University of Arkansas, Fayetteville, Arkansas.

Brandon, Jamie C. and James M. Davidson
2003 Archeological Inventory and Testing of Cultural Resources at Van Winkle's Mill (3BE413) and Little Clifty Creek Shelter (3BE412), Beaver Lake, Benton County, Arkansas. Report to the US Army Corps of Engineers, Little Rock District, Little Rock, from the Arkansas Archeological Survey, Fayetteville, Arkansas.

Brandon, Jamie C. and James M. Davidson
2005 The Landscape of Van Winkle's Mill: Identity, Myth and Modernity in the Ozark Upland South. Historical Archeology 39(3):113-131.

Brandon, Jamie C. and Jerry Hilliard
1998 The Van Winkle Mill and the Anderson Slave Cemetery: African-American Related Sites in Northwest Arkansas. African-American Archeology 22:1.

Brandon, Jamie C., Jerry E. Hilliard and James M. Davidson
1999 Return to Van Hollow: 1999 Excavations at a 19th Century Mill-Worker's Residence. Field Notes 282:10-12.

Brandon, Jamie C., James M. Davidson and Jerry E. Hilliard
2000 Preliminary Archeological Investigations at Van Winkle's Mill (3BE413), Beaver Lake State Park, Benton County, Arkansas, 1997-1999. Report to Arkansas Department of Parks and Tourism, Little Rock, from the Arkansas Archeological Survey, Fayetteville, Arkansas.

Light, John D.
1987 Blacksmithing Technology and Forge Construction. Technology and Culture 28(3):658-665.


Return to table of contents
---
Unraveling the Narrative
By Jennifer Howard

September 9, 2005
The following is an excerpt of Ms. Howard's article, the complete version of which is available online from the Chronicle of Higher Education: http://chronicle.com/free/v52/i03/03a01101.htm
Copyright 2005 Chronicle of Higher Education


A scholar raises questions, and hackles, with evidence that the ex-slave who wrote the definitive first-person account of the Middle Passage may not have made that infamous journey
What if you were told that Meriwether Lewis and William Clark never made it past St. Louis in 1803? And that Lewis's famous diary of the Louisiana Purchase expedition was an embroidery of reports from trappers and American Indians?
Imagine that, and you begin to understand why some people are upset with Vincent Carretta, a professor of English at the University of Maryland at College Park.
Mr. Carretta has uncovered evidence that an equally important text in American and British Atlantic history -- a description of the Middle Passage written by an ex-slave, Olaudah Equiano -- might not be a firsthand account of the harrowing journey endured by slaves transported across the ocean.
Equiano's account of the Middle Passage in his 1789 autobiography, The Interesting Narrative of the Life of Olaudah Equiano, or Gustavus Vassa, the African, Written by Himself, is considered definitive. "The closeness of the place and the heat of the climate," he wrote, "added to the number in the ship, which was so crowded that each had scarcely room to turn himself, almost suffocated us. . . . The wretched situation was again aggravated by the galling of the chains, now become insupportable. . . . The shrieks of the women, and the groans of the dying, rendered the whole a scene of horror almost inconceivable."
Equiano says he was born in 1745 in "a charming fruitful vale, named Essaka," in an Igbo-speaking region on the west coast of Africa in what is now southeastern Nigeria. But in a forthcoming biography of Equiano, Mr. Carretta presents evidence he found in public records that Equiano was born in South Carolina.
Mr. Carretta's conclusions threaten a pillar of scholarship on slave narratives and the African diaspora. Questioning Equiano's origins calls into doubt some fundamental assumptions made in departments of African-American studies and among historians and literary critics who study the British Atlantic world. Scholars have also relied on Equiano for his account of 18th-century life in West Africa. . . . [view full article]
Return to table of contents
---
Conference Session:
Historic Low Fired Earthenwares in the Carolinas,
Southeastern Archaeological Conference, November 2-6, 2005
A session on "Colonowares" in the Carolina's will be held at the Southeastern Archaeological Conference, November 2-6, in Columbia, South Carolina. The exact date and time of the session has yet to be determined. For many years, historical archaeologists have struggled with questions and answers regarding the origins, production and meaning of low fired earthenwares referred to as Colonoware, Colono-Indian ware, and River Burnished or Catawba pottery. The papers in this session will explore old questions and recent research into these potteries. The session is being organized by Natalie Adams of New South Associates and Carl Steen of Diachronic Research Foundation. Presenters include Carl Steen, Chris Espenshade, Nicole Isenbarger, Ron Anthony, Matthew Tankersley, Linda Carnes-McNaughton, Tom Beaman, Brett Riggs, Steve Davis, and Mark Plane. At the end of the session there will be a show and tell discussion moderated by Natalie Adams. Tables will be provided where participants and audience members can lay out some of their best and most unusual examples.
Return to table of contents
---
Conference
The African Diaspora in Asia
Posted on H-Slavery, H-Net Discussion Group (July 2005).


A jamboree promoted by: TADIA, The Society for Research, Culture, Education and Development of the African Diaspora in Asia , associated with UNESCO "Slave Route Project," India Goa University (UNIGOA), India Universidade Federal De Rondonia (UNIR), Brazil Universidad De Alcala, Madrid, Spain, Catedra UNESCO de Estudios Afroiberoamericanos ATTERMUND - Institute for Technical Support to Third World Countries - Brazil.

Where: The International Centre, Goa, India, from January 9th to January 16th, 2006. see: http://www.internationalcentregoa.com

Coordinators: Jean-Pierre Angenot (Federal University of Rondonia, Brazil & Goa University, India) and Shihan de Silva Jayasuriya (University of London, United Kingdom).

(A) International Conference on The African Diaspora in Asia: Its Past, Its Present, and Its Differences and Similarities with the Transatlantic Diaspora from 9th (Tuesday) to 14th (Saturday).

(B) Workshop on Organizational Technology of Jobs and Income Generation for the Afro-Indian Communities, January 15th (Sunday) and 16th (Monday: morning).

(C) Pan-African Festival of Music, Dance and Song, African and Afro-descendant musicians, dancers and singers teams: a) 13th (Friday): Brazil, Cape Verde, Mozambique, b) 14th (Saturday): Tanzania, Reunion Island, Sri Lanka c) 15th (Sunday): Pakistan and India (Karnataka, Gujarat and Andhra Pradesh).

(D) Festival of African Cinema, January 16th (Monday).

(E) Optional Tour to Visit the Historical Siddi Sites.

Contact: Jean-Pierre Angenot, jpangenot@hotmail.com


Return to table of contents
---
Conference
Society for Historical Archaeology, January 2006

The SHA annual meeting, entitled "Life on the Edge: 2006 Conference on Historical and Underwater Archaeology," will be held in Sacramento, California, January 11-15, 2006. This Conference will include three scheduled forum and panel sessions that address subjects of African diaspora archaeology and African-American archaeology:


Forum: "The African Diaspora: Beyond the Plantation and beyond North America." Organizer: Sarah Croucher. Panelists: Ruth Mathis, Elizabeth Jordan, Tara Tetrault, Hannes Schroeder, John McCarthy, Sarah Croucher. Friday Morning, January 13.


Panel: "African Resistance and Collaboration on the Edges of Slave Societies." Organizer: Terrance M. Weik. Presenters: Ruth Mathis, Sarah Croucher, Kofi Agorsah, Terrance Weik, Daniel Sayers, Cheryl LaRoche. Discussant: Robert Paynter. Friday Afternoon, January 13.


Panel: "The Archaeology of the African-American Experience." Chair: Beatrice Cox. Presenters: Amy Kowal, Jon Boroughs, Douglas Sanford, Jakob Crockett, Sarah Stroud, John Roby, Mary Ringhoff, Beatrice Cox. Discussant: David J. Organ. Saturday Morning, January 14.


The program and schedule for the Conference are available online at: http://www.archaeocommons.org/sha2006/.


Return to table of contents
---
Call for Papers
Gendering Transformations:
Gender, Globalization, and State Transformation
in Africa and the African Diaspora
Posted on H-Africa, H-Net Discussion Group (August 2005).


Second International Conference of the Trans-Atlantic Research Group, in association with the Echeruo Centre for Public Policy, 17 Otamiri Street, Owerri, Imo State, Nigeria

Venue: Alvan Ikoku College of Education, Owerri, Nigeria
Date: July 28-30, 2006

The Second TARG conference aims to bring together scholars and policy makers interested in exploring historical, policy, and development phenomena and their intersection with gender using the methods of the social sciences. Individual papers or panels are invited from academics, independent scholars, and postgraduate students. We encourage submissions on a wide range of themes relating gender to globalization, democratization, and state transformation in Africa and the African diaspora. Papers should have some historical context and content. Proposals are welcome but not limited to the following areas:


Gender and Social Transformation

Transformation of Gender Roles

Gender and Language in Africa

Gender & Economic Transformation

Gender, Crime, Law, and Justice

Gender, War and Peace-making

Trans-Atlantic Encounters & Transformation

Migration\Displacement Experience

Children and Migration Experience

Globalization of Poverty

Trans-Atlantic Relations

Policy Implications of Gender and Globalization

All interested persons and groups are welcome. Those who wish to make presentations at the conference should submit 300-word long abstracts of their presentations. Please send abstracts by November 10, 2005 by email to the conference coordinators:

Dr. Chima J. Korieh, Department of History, Rowan University, Glassboro, NJ 08028, USA. Korieh@rowan.edu Fax: 856 2564791

Dr. Femi Kolapo, History Department, University of Guelph, Guelph, On. Canada, N1G 2W1. kolapof@uoguelph.ca

Conference Committee:
Dr. Femi Kolapo, Department of History, University of Guelph, Canada
Dr. Chima J. Korieh, Department of History, Rowan University, New Jersey, USA
Dr. Raphael Njoku, Department of History/Pan African Studies, University of Louisville, Kentucky, USA
Dr. Ifeanyi Ezeonu, Department of Sociology, Brock University, Canada
Dr. Obijiofor Aginam, Carleton University, Canada
Dr. Jude Aguwa, Mercy College, New York, USA
Dr. JAK Njoku, Western Kentucky University, USA
Dr. G. Ugo Nwokeji, Department of African American Studies, University of California at Berkeley
Mr. U. Aguwa, (Chair Local Organizing Committee) Department of History/International Studies, Alvan Ikoku College of Education, Owerri, Nigeria
Dr. Rose Acholonu, Dean, College of Humanities, Imo State University


Return to table of contents
---
New Book
Dialogues in Cuban Archaeology
By by L. Antonio Curet, Shannon Lee Dawdy, and Gabino La Rosa Corzo, editors.
University Alabama Press, 264 pp., illustrations. August, 2005.
Description from the Publisher:

"[P]rovides a forum for principal Cuban and American archaeologists to update the current state of Cuban archaeological research -- from rock art and potsherds to mortuary practices and historical renovation -- thereby filling in the information gap created by political separation. Each group of researchers brings significant new resources to the effort, including strong conservation regulations, innovative studies of lithic and shell assemblages, and transculturation theories. Cuban research on the hacienda system, slavery, and urban processes has in many ways anticipated developments in North American archaeology by a decade or more. Of special interest are the recent renovation projects in Old Havana that fully integrate the work of historians, architects; and archaeologists -- a model project conducted by agreement between the Cuban government and UNESCO."

Advance praise -- "An invaluable source for revealing the range and diversity of Cuban archaeology to North American readers. This book also serves more broadly as a model for the integration of collaborative research across distinct cultures of archaeological and political practice." -- Kathleen Deagan, Florida Museum of Natural History.

Contributors: César A. Rodríguez Arce, Mary Jane Berman, Ramón Dacal Moure, Lourdes S. Domínguez, Jorge Febles, Perry L. Gnivecki, Pedro Godo, Marlene S. Linville, Theresa A. Singleton, Jorge Ulloa Hung, Roberto Valcárcel Rojas, David R. Watters, Samuel M. Wilson, Gabino La Rosa Corzo.


Return to table of contents
---
New Book
The Yoruba Diaspora in the Atlantic World
By Toyin Falola and Matt D. Childs, editors.
University Alabama Press, 464 pages, 11 b&w illus., map, bibl., index. April, 2005.
Description from the Publisher:

"This innovative anthology focuses on the enslavement, middle passage, American experience, and return to Africa of a single cultural group, the Yoruba. Moving beyond descriptions of generic African experiences, this anthology will allow students to trace the experiences of one cultural group throughout the cycle of the slave experience in the Americas. The 19 essays, employing a variety of disciplinary perspectives, provide a detailed study of how the Yoruba were integrated into the Atlantic world through the slave trade and slavery, the transformations of Yoruba identities and culture, and the strategies for resistance employed by the Yoruba in the New World."

Contributors: Augustine H. Agwuele, Christine Ayorinde, Matt D. Childs, Gibril R. Cole, David Eltis, Toyin Falola, C. Magbaily Fyle, Rosalyn Howard, Robin Law, Babatunde Lawal, Russell Lohse, Paul E. Lovejoy, Beatriz G. Mamigonian, Robin Moore, Ann O'Hear, Luis Nicolau Parés, Michele Reid, João José Reis, Kevin Roberts, and Mariza de Carvalho Soares.


Return to table of contents
---
New Exhibit:
Slavery in New York
New York Historical Society
Press Release by New York Historical Society, 170 Central Park West, New York, NY 10024; www.nyhistory.org.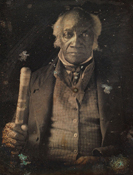 In October 2005, the New York Historical Society (N-YHS) will open a landmark exhibition on slavery and its impact on the people, landscape, institutions and economy of New York, and the nation. The extraordinary multi-media exhibit, Slavery in New York, will reveal history most New Yorkers are unaware of.
"It's time for a broader understanding of slavery's meaning to this city's past and present," says Dr. Louise Mirrer, N-YHS President and CEO. "The exhibit will promote public awareness of an issue whose legacy is still felt in this country."
Slavery was a key institution in the development of New York, from its formative years as a Dutch and British colony to the early days of the United States. New Yorkers traded in slaves, distributed slaves, insured slave ships and owned slaves. At one time, 40 percent of New York City's households owned slaves. At the time of the Revolution there were more slaves in New York than in any other city except Charleston, South Carolina.
The exhibit will show that while the slave trade provided great wealth for the city, New York was, from the start, also a center for efforts to abolish slavery. Slavery in New York will also tell the story of how the black population began to plant its cultural roots, producing a rich legacy of poetry, art, music and literature in the face of adversity while at the same time, actively resisting injustice.
N-YHS will cover this important topic with an 18-month initiative comprised of two major exhibitions as well as scheduled lectures, walking tours and concerts. Slavery in New York will draw upon N-YHS's robust collection of paintings, newspapers, ledger books of slave voyages, ads for runaways, silver, furniture and other objects made by enslaved people, manuscripts of the first abolition society, and the earliest paintings of black New Yorkers as well as treasures from other institutions, to present a multi-media, immersive exhibition experience. This exhibit will offer a window into the lives of enslaved New Yorkers and spark new dialogue among scholars here and abroad. N-YHS has recruited an advisory team of eminent scholars, including Sven Beckert (Harvard), David Blight (Yale), Eric Foner (Columbia), Henry Louis Gates (Harvard), Leslie Harris (Emory), James Horton (George Washington University), Steve Mintz (University of Houston) and Ira Berlin (University of Maryland).
"This history is important not only to the local community but to the world as well," says James Horton, the chief historian of Slavery in New York. "By having the exhibit at the N-YHS, it will draw a wide international audience."
"No cultural organization in the United States, or anywhere else, for that matter, has turned its attention to the subject of slavery as intensively as the N-YHS will over the course of these eighteen months," says Slavery in New York curator Richard Rabinowitz, founder of American History Workshop.
Exhibition planning and design firm Krent/Parrett/Carney is creating a highly interactive exhibition -- with an emphasis on education -- that makes accessible the recently uncovered scholarly historic research and arduous detective work that has given us a new look at an amazing journey of 200 years of Slavery in New York.
To augment the exhibit, the N-YHS is collaborating the Schomburg Center for Research in Black Culture on public programs and education initiatives. Interactive instructional materials for K-12 students have been developed, teacher workshops have been planned and educator-led tours will be available for students of all ages, thus ensuring an impact lasting long after the exhibit is closed and objects returned to their cases.
The companion book to Slavery in New York, edited by Ira Berlin, Distinguished University Professor at the University of Maryland, and Leslie Harris, Associate Professor of History and African American Studies at Emory University, will be published to coincide with the exhibit.
About the New York Historical Society: Since 1804, the New York Historical Society has served as a collective memory of New York, accumulating vast collections in American painting, sculpture, books, manuscripts, decorative arts, architectural drawings, photographs, prints and ephemera. The mission of the newly revitalized Historical Society is to use these collections to help New Yorkers understand the complex and diverse past behind the world we know today.
Return to table of contents
---
Recent Dissertations

The following, non-exhaustive lists of dissertations on African diaspora archaeology, historic-period African archaeology, and related history studies, were compiled by Chris Fennell. Archaeology dissertations are listed for the period of 2000 onward, covering the time since the last issue of the former African-American Archaeology Newsletter. History dissertations are listed for the period of 2004 onward, with a focus on studies addressing aspects of past social structures, social networks, the built environment, and material culture. If you are aware of other recent dissertations, please email me, and I'll include the information in a future newsletter edition. The dissertations listed below are doctoral theses, unless otherwise indicated, and are listed in alphabetic order by the author name. Abstracts are available online from the UMI/Proquest service.
Archaeology
Up in Smoke: Pipe-making, Smoking, and Bacon's Rebellion, by Anna S. Agbe-Davies. Available from the Department of Anthropology, University of Pennsylvania, and UMI/Proquest, Ann Arbor, Michigan. 2004.
"Zumbi Nunca Vai Morrer": History, the Practice of Archaeology, and Race Politics in Brazil, by Scott J. Allen. Available from Brown University, and UMI/Proquest, Ann Arbor, Michigan. 2001.
Comparing Alternative Landscapes: Power Negotiations in Enslaved Communities in Louisiana and the Bahamas, An Archaeological and Historical Perspective, by Nesta J. Anderson. Available from the Department of Anthropology, University of Texas at Austin, and UMI/Proquest, Ann Arbor, Michigan. 2004.
A Yard to Sweep: Race, Gender and the Enslaved Landscape, by Whitney L. Battle. Available from the Department of Anthropology, University of Texas at Austin. 2004.
"Because That's Where My Roots Are": Searching for Patterns of African-American Ethnicity in Arrow Rock, Missouri, by Timothy E. Baumann. Available from the Department of Anthropology, University of Tennessee. 2001.
Van Winkle's Mill: Mountain Modernity, Cultural Memory and Historical Archaeology in the Arkansas Ozarks, by Jamie C. Brandon. Available from the Department of Anthropology, University of Texas at Austin, and UMI/Proquest, Ann Arbor, Michigan. 2004.
Trade and Interaction on the Eastern Cape Frontier: An Historical Archaeological Study of the Xhosa and the British during the Early 19th century, by Flordeliz T. Bugarin. Available from the University of Florida, and UMI/Proquest, Ann Arbor, Michigan. 2002.
The Slaves of Colonial New England: Discourses of Colonialism and Identity at the Isaac Royall House, Medford, Massachusetts, 1732-1775, by Alexandra A. Chan. Available from the Boston University, and UMI/Proquest, Ann Arbor, Michigan. 2003.
Shaping Quotidian Worlds: Ceramic Production and Consumption in Banda, Ghana, circa 1780-1994, by Maria D. Cruz. Available from the Department of Anthropology, State University of New York at Binghamton, and UMI/Proquest, Ann Arbor, Michigan. 2003.
Mediating Race and Class through the Death Experience: Power Relations and Resistance Strategies of an African-American Community, Dallas, Texas (1869-1907), by James M. Davidson. Available from the Department of Anthropology, University of Texas at Austin, and UMI/Proquest, Ann Arbor, Michigan. 2004.
La Ville Sauvage: "Enlightened" Colonialism and Creole Improvisation in New Orleans, 1699-1769, by Shannon L. Dawdy. Available from the Department of Anthropology, University of Michigan, and UMI/Proquest, Ann Arbor, Michigan. 2003.
"A Place of Recreation of Our Own": The Archaeology of the Boston Saloon. Diversity and Leisure in an African-American-owned Saloon, Virginia City, Nevada, by Kelly J. Dixon. Available from the Department of Anthropology, University of Nevada at Reno, and UMI/Proquest, Ann Arbor, Michigan. 2002.
Consuming Mosaics: Mass-produced Goods and Contours of Choice in the Upper Potomac Region, by Christopher C. Fennell. Available from the Department of Anthropology, University of Virginia, and UMI/Proquest, Ann Arbor, Michigan. 2003.
From Houses to Homes: An Archaeological Case Study of Household Formation at the Utopia Slave Quarter, circa 1675 to 1775, by Garrett R. Fesler. Available from the Department of Anthropology, University of Virginia, and UMI/Proquest, Ann Arbor, Michigan. 2004.
The Roots of Healing: Archaeological and Historical Investigations of African-American Herbal Medicine, by Erin B. Hamby. Available from the Department of Anthropology, University of Tennessee, and UMI/Proquest, Ann Arbor, Michigan. 2004.
Peddling Pots: Determining the Extent of Market Exchange in Eighteenth Century Jamaica through the Analysis of Local Coarse Earthenware, by Mark Hauser. Available from the Department of Anthropology, Syracuse University, New York. 2001.
The Construction and Expression of Identity: An Archaeological Investigation of the Laborer Villages at Adrian Estate, St. John, USVI, by Elizabeth J. Kellar. Available from the Department of Anthropology, Syracuse University, and UMI/Proquest, Ann Arbor, Michigan. 2004.
On the Edge of Freedom: Free Black Communities, Archaeology, and the Underground Railroad, by Cheryl J. LaRoche. Available from the Department of American Studies, University of Maryland at College Park. 2004.
Situating Identity: An Archaeology and Representation of Race and Community in Annapolis, Maryland, by Eric L. Larsen. Available from the Department of Anthropology, State University of New York at Buffalo, and UMI/Proquest, Ann Arbor, Michigan. 2005.
Understanding the Use of Space in an Eighteenth Century Black Loyalist Community: Birchtown, Nova Scotia, by Heather A. MacLeod-Leslie. Available from the Carleton University, and UMI/Proquest, Ann Arbor, Michigan. 2002.
The Black Crop: Slavery and Slave Trading in Nineteenth Century Texas, by Fred L. McGhee. Available from the Department of Anthropology, University of Texas at Austin, and UMI/Proquest, Ann Arbor, Michigan. 2000.
The Historical Archaeology of Nevis, West Indies: Capitalism, Environment, and the Evolution of the Caribbean Colonial Landscape, 1625-1833, by Marco G. Meniketti. Available from the Department of Anthropology, Michigan State University, and UMI/Proquest, Ann Arbor, Michigan. 2004.
Slavery and Its Aftermath: The Archeological and Historical Record at Magnolia Plantation, by Christina E. Miller. Available from the Department of Anthropology, Florida State University, and UMI/Proquest, Ann Arbor, Michigan. 2004.
Power Runs in Many Channels: Subfloor Pits and West African-based Spiritual Traditions in Colonial Virginia, by Patricia M. Samford. Available from the Department of Anthropology, University of North Carolina at Chapel Hill, and UMI/Proquest, Ann Arbor, Michigan. 2000.
Historic Period Foodways in the Danish West Indies (1718-1917): The Zooarchaeological Evidence from Cinnamon Bay and the East End, St. John, Virgin Islands, by Judith A. Sichler. Available from the Department of Anthropology, University of Tennessee, and UMI/Proquest, Ann Arbor, Michigan. 2003.
Volatile Spirits: The Historical Archeology of Alcohol and Drinking in the Caribbean, by Frederick H. Smith. Available from the Department of Anthropology, University of Florida, and UMI/Proquest, Ann Arbor, Michigan. 2001.
A Historical Archaeology of Black Seminole Maroons in Florida: Ethnogenesis and Culture Contact at Pilaklikaha, by Terrance M. Weik. Available from the Department of Anthropology, University of Florida, and UMI/Proquest, Ann Arbor, Michigan. 2002.
History
Ndoki Bueno Ndoki Malo: Historic and Contemporary Kongo Religion in the African Diaspora, by Eoghan Ballard. Available from the University of Pennsylvania, and UMI/Proquest, Ann Arbor, Michigan. 2005.
Ebb and Flow: Free Blacks and Urban Slavery in Eighteenth-century New York, by Richard E. Bond. Available from Johns Hopkins University, and UMI/Proquest, Ann Arbor, Michigan. 2005.
Slavery and the Context of Ethnogenesis: Africans, Afro-Creoles, and the Realities of Bondage in the Kingdom of Quito, 1600-1800, by Sherwin K. Bryant. Available from the Ohio State University, and UMI/Proquest, Ann Arbor, Michigan. 2005.
Building "The Machine": The Development of Slavery and Slave Society in Early Colonial Virginia, by John C. Coombs. Available from the College of William and Mary, and UMI/Proquest, Ann Arbor, Michigan. 2004.
Black Townsmen: A Comparative Study of Persons of African Origin and Descent in Slavery and Freedom in Baltimore, Maryland, and Sabara, Minas Gerais (Brazil), 1750-1810, by Mariana L. Dantas. Available from Johns Hopkins University, and UMI/Proquest, Ann Arbor, Michigan. 2004.
Lifting the Veil of Ignorance: The Visual Culture of African American Racial Uplift, by Ellen K. Daugherty. Available from the University of Virginia, and UMI/Proquest, Ann Arbor, Michigan. 2004.
"Black, White, or Indifferent": Race, Identity, and Americanization in Creole Louisiana, by Susan E. Dollar. Available from the University of Arkansas, and UMI/Proquest, Ann Arbor, Michigan. 2004.
Forging an American St. Louis: Labor, Race, and Citizenship from the Louisiana Purchase to Dred Scott, by Daniel A. Graff. Available from the University of Wisconsin at Madison, and UMI/Proquest, Ann Arbor, Michigan. 2004.
Not Killing Me Softly: African American Women, Slave Revolts, and Historical Constructions of Racialized Gender, by Rebecca Hall. Available from the University of California at Santa Cruz, and UMI/Proquest, Ann Arbor, Michigan. 2004.
African American Schoolhouses: Community, History, and Reclamation, by Elgin L. Klugh. Available from the University of South Florida, and UMI/Proquest, Ann Arbor, Michigan. 2004.
Southern Life, Northern City: The History of Albany's Rapp Road Community, by Jennifer A. Lemak. Available from the State University of New York at Albany, and UMI/Proquest, Ann Arbor, Michigan. 2004.
The Edge of the South: Slavery and Regional Identity in Frederick County, Maryland, 1848-1865, by Jennifer R. Loux. Available from Johns Hopkins University, and UMI/Proquest, Ann Arbor, Michigan. 2005.
The Tide of Africa: A Study of the Role of African Religious Influences in Slave Christian Conversion Experience in the South, 1865-1890, by France N. Ntloedibe. Available from the University of California at Riverside, and UMI/Proquest, Ann Arbor, Michigan. 2004.
"I Knew What I Did and I Did It with Deliberate Calculation": Anxiety and Tricksterism in African American Autobiography, by Uraina N. Pack. Available from the University of Kentucky, and UMI/Proquest, Ann Arbor, Michigan. 2004.
Imagining Communities in Black and White: Social Stratification in Colonial Virginia and Cuba and Its Impact on Nineteenth Century Conceptions of Race and Nation, by Christina Proenza-Coles. Available from the New School University, and UMI/Proquest, Ann Arbor, Michigan. 2004.
Race and the Formation of Identity in the Dominican Republic, by Edward J. Robarge. Available from the University of Kansas, and UMI/Proquest, Ann Arbor, Michigan. 2004.
A Study of Current Manifestations of Afro-Brazilian Culture and Their Historical Roots in Salvador, Bahia, by Adam Rugnetta. Available from the California State University at Dominguez Hills, and UMI/Proquest, Ann Arbor, Michigan. 2004 (Masters thesis).
Manipulating Manumissions: The Free Black Community of Harford County, Maryland and Its Ability to Facilitate Independence, by Christopher Schall. Available from Morgan State University, and UMI/Proquest, Ann Arbor, Michigan. 2004 (Masters thesis).
Cultural Reconstruction: Nation, Race, and the Invention of the American Magazine, 1830-1915, by Reynolds J. Scott-Childress. Available from the University of Maryland at College Park, and UMI/Proquest, Ann Arbor, Michigan. 2004.
West African Food Traditions in Virginia Foodways: A Historical Analysis of Origins and Survivals, by Lisa R. Shiflett. Available from the East Tennessee State University, and UMI/Proquest, Ann Arbor, Michigan. 2004 (Masters thesis).
Freedom Has a Face: Racial Identity and Community in Jefferson's Albemarle, 1780-1865, by Kirt von Daacke. Available from Johns Hopkins University, and UMI/Proquest, Ann Arbor, Michigan. 2005.
Return to table of contents
---
Book Review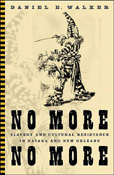 H-NET BOOK REVIEW
Published by H-South, http://www.h-net.org/~south (June 2005).

Daniel E. Walker. No More, No More: Slavery and Cultural Resistance in Havana and New Orleans. Minneapolis: University of Minnesota Press, 2004. xiv + 188 pp. Figures, notes, index. $19.95 (paper), ISBN 0-8166-4327-X.

Reviewed for H-South by Justin Nystrom, Department of History, Georgia Southern University.

Celebrations of Resistance

In the thirty years that have passed since the appearance of Eugene Genovese's Roll, Jordan, Roll, historians of North American slavery have contributed enormously to our understanding of the "world that the slaves made."[1] This has happened, in part, because the profession has embraced the methodological tools of other disciplines in its quest to resolve questions left unanswered by traditional textual sources. Anthropology, linguistics, art, musicology, and sociology are but a few of the fields that have helped to recreate the lives of a people who otherwise left behind a limited paper trail.
Daniel Walker's No More, No More is an example of the innovative techniques recent historians have used to find the authentic voice of the enslaved. Indeed, the greatest strength of this book lies in the author's multidisciplinary approach. By his own estimation, Walker had set out to ask "fresh questions of traditional sources while simultaneously engaging a new corpus of primary data" (p. x). Yet, with a few notable exceptions, research for this book might have been conducted through the good graces of a helpful interlibrary loan department. To say that this book is derivative, however, would be grossly unfair. Instead, through his skillful synthesis of published primary and secondary works from a profoundly diverse set of disciplines, Walker yields a fresh argument about the importance of cultural expression to those oppressed by the slave power.
Walker compares Havana's annual El Dí­a de Reyes festival with the weekly slave celebrations of New Orleans's Congo Square to demonstrate how urban slaves used cultural expression as a means of resistance. Celebrated on January 6, the Catholic holy day of epiphany, El Dí­a de Reyes, or "Day of the Kings," nominally honored the traditional festival of the twelfth day after Christmas. On this occasion, free people of color joined with the enslaved in a raucous theatrical procession through the streets of Havana. On Sundays in antebellum New Orleans, Congo Square (today the site of Armstrong Park) served as a gathering place for enslaved Orleanians. Here they spent their customary day of leisure engaged in traditional drumming, song, and dance.
At first glance, Havana and New Orleans make a natural pairing for a comparative study of urban slavery in the Caribbean world. Both served as the locus for vast slave-based plantation economies and both had international reputations as slave trading centers. At the start of the nineteenth century, Toussaint L'Ouverture's revolution had further linked the two cities -- not only in fear, but because they were the two major destinations for the slaveholding refugees of St. Domingue.
In several important aspects, however, the relationship between Havana and New Orleans during the timeframe of Walker's study is one of departure. While Cuba remained within the decrepit Spanish empire, Louisiana moved by degrees into the orbit of Anglo America. This drift away from the Latin world not only brought important legal and cultural changes, but as the nineteenth century elapsed, it also dramatically altered the demographic composition of Louisiana's slave population. As a major center for slave trading in the Mississippi Valley, New Orleans became the chief gateway through which slaves from worn-out eastern plantations moved to the profitable lands of the antebellum southwest. Although some African slaves reached America's shores after the international trade became illegal in 1808, the increase in New Orleans's slave population came primarily through birthrate. The slave population in Cuba, by contrast, suffered a shockingly high mortality rate. Furthermore, African slaves continued to reach Cuban shores in large numbers throughout the first half of the nineteenth century.
A tale of two cities growing apart would not ordinarily hamper a comparative study such as this. Unfortunately, Walker makes many assumptions based upon the uniformity of the cultural identity and folk traditions among the two cities' slave populations. As a result, the strong conclusions that Walker yields about the persistence of African culture in Havana seem far less applicable to New Orleans, particularly as the nineteenth century reaches its midpoint. The fact that there is only a comparatively small amount of primary data on Congo Square also gives Walker's comparative framework a lopsided appearance. As a result, while this is a strong study of slave culture in Havana, this book is far less so of New Orleans.
Walker establishes five main themes for evaluating the scope, and more importantly, the meaning of the cultural resistance on display during El Dí­a de Reyes and in Congo Square. First, he takes the reader on a tour of the multitudinous forms of slave cultural expression, tracing both meaning and cultural context to their African roots. Second, Walker explores how the enslaved utilized these sites of celebration as a "counterstatement" to the oppressive use of public space by the slave power. Third, the author examines how El Dí­a de Reyes and Congo Square defied slavery's unremitting attack upon the fabric of black family life. Fourth, he shows how the slaves of Havana and New Orleans used the language of African cultural expression to counteract the deleterious effects of slavery upon both black masculinity and sexual agency. Last, Walker sets out to demonstrate the various ways in which cultural expression helped forge unity among the enslaved and free blacks, in spite of the strong cultural, social, and legal barriers to such an outcome.
The author has devoted a substantial amount of ink in this work to the meaning of festivals in African culture as well as the specialized visual language associated with such celebration. He then describes the persistence and transformation of various dances, songs, and rituals as they appear in the slave societies of the New World. Walker argues that the masking, songs, and dance found among the slaves of Havana and New Orleans reflected a syncretism of African traditions. Early nineteenth-century slave populations of these two cities, then, were not dominated by the cultural traditions of the most dominant African ethnicity. Rather, a nascent pan-African identity developed that recognized the commonality of all slaves, both in terms of shared spiritual values and how those values related to their new reality in North America. According to Walker, these shared values formed the core around which slaves might forge solidarity and express resistance.
The second chapter is perhaps the most problematic portion of Walker's work. In it, he engages in a broadly theoretical dialogue about public space and its use in slave society. The majority of this section consists of a lengthy discussion of the many ways in which the slave power used public space as a means of social control. Havana's notorious Depi³sito Central jail and the slave market under the rotunda of New Orleans's St. Louis Hotel serve as two of the many examples he includes as institutions used by the master class to establish limitations, both physical and metaphorical, upon the aspirations of the enslaved. Walker then asserts that slaves used El Dí­a de Reyes and Congo Square to carve out their own public space as a "counterstatement" to the slaveholding class. Although the master class may not have realized it, these festivals defiantly represented open protest in the minds of the enslaved participants. While this is a convincing argument, Walker has not included a dialogue, either in the text or footnotes, on the main authorities on the theory of public space. Furthermore, the sources he has used are at times of an uneven quality. While he presents an excellent body of primary data on Havana's penal system, discussions of antebellum New Orleans rely largely on picturesque tomes such as Henry Castellanos's New Orleans as It Was.[2] Walker's inclusion of WPA slave narratives from rural Louisiana also seem oddly out of place in his discussion of public space in an urban setting.
Walker explores how African-descended people used El Dí­a de Reyes and Congo Square to counter the slaveholding class's assault on family unity in a chapter titled "Regulating Domesticity: The Fight for the Family." Male-to-female sex ratio imbalances, the break-up of families through sale, a systematic demonizing of the black male, and white male sexual predation all undermined the ability of the enslaved to maintain regular family cohesion. Particularly through his discussion of El Dí­a de Reyes, Walker argues that participants used the festival to put forth a positive alternative image to the prevailing negative stereotypes of the black family. People of African descent combined Catholic imagery of the Holy Family with traditional West African icons such as the maternal figures of Yemaya and Oshun as well as dolls representing the infant Anaquille. Certainly this thesis has a convincing quality about it, but it does seem to dismiss the possibility that some people of African descent took their Catholicism seriously, and sought to honor the Holy Family within the context of African tradition. Indeed, a brief discussion of syncretism, particularly between Catholicism and non-European modes of worship might have strengthened rather than undermined Walker's argument.
The role that these two festivals played in a greater conceptualization of "blackness" is the subject of No More, No More's fourth chapter. Again, Walker begins the chapter with a thorough discussion of the secondary works regarding the creation of black identity and racial stereotypes. Then the author contends that although African-descended people knew that the celebrations of El Dí­a de Reyes and Congo Square reinforced white racist images of supposed black primitiveness, they nevertheless participated because of the cultural affirmation and spiritual strength found in the festivals.
Lastly, Walker makes the claim that El Dí­a de Reyes and Congo Square served as a crucible for pan-African identity. Once again, the author seems far better equipped to substantiate this claim for Havana than New Orleans. Much of this has to do with the fact that comparisons between the two cities break down in dramatic fashion when one looks at the effects of pigmentation and class upon self-identification. Havana, possessing something approaching the "one drop" rule long before the dawn of the Jim Crow South, had far greater potential for unity among nonwhites. Thus, in the celebration of El Dí­a de Reyes, one found a spectrum of color among its participants. In contrast, among the handful of written accounts that describe Congo Square, few free, light-skinned Afro-Creoles appear. Indeed, as Walker freely admits, this class often consciously distanced itself from all things African. In the absence of true black unity, then, he suggests that Congo Square forged unity of a different kind -- one of diverse African ethnicities among the enslaved. At such a point, he seems to stretch his theoretical framework past its useful elasticity. Seemingly, by making the sample small enough, one might find unity in any situation.
Despite some shortcomings, No More, No More should appeal to a wide audience. Those interested in urban slavery, the African Diaspora, antebellum New Orleans and Havana, slave culture, racial identity, black Catholicism, and the expression of cultural resistance in a general sense will find this book worthwhile. Unfortunately, the comparative nature of this work has served to detract rather than add to its substance. Had Walker focused his energy solely on El Dí­a de Reyes, his conclusions would be of a uniformly high quality. In particular, the author's multidisciplinary approach provides new and interesting glimpses of slave life in the nineteenth century. For this reason alone, scholars contemplating such methodology in their own work will find this book worth their time.
Notes

[1]. Eugene D. Genovese, Roll, Jordan, Roll: The World that the Slaves Made (New York: Pantheon Books, 1974).

[2]. Henry C. Castellanos, New Orleans as it Was (New Orleans: The L. Graham Co. Ltd., 1905).


Copyright (c) 2005 by H-Net, all rights reserved. H-Net permits the redistribution and reprinting of this work for nonprofit, educational purposes.
Return to table of contents
---
Book Review
H-NET BOOK REVIEW
Published by H-LatAm, http://www.h-net.org/~latam (August 2005).

Rosalyn Howard. Black Seminoles in the Bahamas. Gainesville: University Press of Florida, 2002. xvii + 150 pp. Maps, figures, notes, bibliography, index. $55.00 (cloth), ISBN 0-8130-2559-1; $24.95 (paper), ISBN 0-8130-2743-8.

Reviewed for H-LatAm by by Steven C. Hahn, Department of History, St. Olaf College.

I Never Knew . . .

"I never knew that there were Black Seminoles in the Bahamas!" (p. xiii) Such has been the near unanimous response to Rosalyn Howard's revealing book, which (I must confess) elicited the same response from the present reviewer. While at one level a curiosity, Howard's historical and cultural analysis of the residents of Andros Island in the Bahamas raises issues concerning identity, ethnogenesis, and race that transcend the boundaries of the tiny island community and widens our present view of the Black Seminole diaspora. Though her work is wanting in some respects, Howard nevertheless succeeds in her stated task of contributing to "a more inclusive perspective of 'American' ethnohistory" (p. xiii) that connects the experiences of Africans and Native Americans in a variety of New World landscapes.
As with many works that venture into new territory, Howard's "mission" is one of giving voice, for the first time, to a people that have yet to be acknowledged as subjects worthy of historical inquiry. As Howard puts it, her aim is "to address the historical, structural amnesia that obscures African and indigenous peoples' interactions and negates their integral roles in the historiography of the Americas and the Caribbean." (pp. xvi-xvii). Also inherent to the project is Howard's quest to "present for the first time an in-depth rendering of the essence of social memory that sustains Black Seminole heritage in Red Bays."
Toward this end, Howard begins with a brief historical account of the "holocaust of European colonialism" (p. 2), including overviews of the rise of New World African slavery and the devastation that epidemic disease wrought upon the indigenous peoples of the Americas. Her analysis then turns to the southern frontier of the British southern colonies, which developed plantation economies centered upon rice production and slave labor. While she notes that African slaves in North America tended less often than their counterparts elsewhere in the New World to employ marronage as a resistance strategy due to climate and geography (one might add demography), Howard rightfully identifies conditions on the southern frontier of North America that made marronage -- and thus the formation of Black Seminole communities -- possible. For one, while the majority of maroon communities consisted of Africans and Creoles, they could also take the form of alliances between African and indigenous peoples, who were numerous in the American south at that time. Moreover, the Spanish regime in Florida, beginning in 1693 with a Royal Decree promising protection and freedom to all enslaved who reached St. Augustine, drew escapees southward throughout much of the eighteenth century, leading to the formation of the first "legally sanctioned" free African community at Gracia Real de Santa Teresa de Mose.
The focus then shifts to the formation of the Seminoles and their later alliance with African runaways. The Seminoles, composed of "dissidents" from the Creek nation, began migrating from their traditional homes in Alabama and Georgia as early as the 1730s to form new communities in northern Florida. African-American slaves, seeking solace in Florida to escape plantation slavery, later began fleeing to Seminole territory. Though former slaves acted in concert with the Seminoles, assumed some of their manners, and became "an integral part of the Seminole people" (p. 18), Howard is careful not to overestimate the degree to which the Black Seminoles became culturally "Indian." Black Seminoles tended to live in separate communities, maintained the tradition of patrilineal descent, and retained African naming practices. Moreover, the integration of African and Indian peoples was forged in a climate of mutual hostility to the U.S., which saw Spanish-held Florida and its free Black Seminole communities as a threat to the institution of slavery. This fear among white Americans was in part responsible for the outbreak of the Patriots War of 1812, and three successive Seminole wars that ended only in 1855, after which the vast majority of the tribe were removed to Indian Territory (Oklahoma).
While the majority of Seminoles -- Black and Indian -- were busy rebuilding their lives in Indian Territory, or fleeing from the U.S. military in the swamps of Florida, groups of Black Seminoles embarked upon what can only be described as a heroic migration to the Bahamas, which began as early as 1819, with the majority of immigrants arriving between 1821 and 1837. Initially classified in official British documents as "slaves" and detained in Nassau for one year, the Black Seminoles were eventually allowed to return to their landing place at Red Bays, Andros Island, to live as free people. That they were allowed to do so suggests that their destination was well chosen. As Howard explains, the experiences of African peoples in the Bahamas "deviated from the norm of West Indian plantation life" (p. 63) in a variety of ways that made the Bahamas -- and Andros Island in particular -- fertile ground for the establishment of free Black (and Black Seminole) communities. Thinly populated, Andros Island received an influx of Loyalist refugees who fled the American Revolution in 1783 and arrived at Andros in 1787. Many were slaveholders and initially the Loyalists sought to reestablish the plantation system they had enjoyed in North America. They failed to do so, however, due to Andros's "rocky land, unyielding soil, and devastation caused by the chenille bug" (p. 62). After 1807, the island began receiving an influx of liberated Africans, the beneficiaries of British captures of Spanish slaving ships on the high seas. Though liberated African and white Loyalist communities remained strictly segregated, and many of the "liberated" Africans continued to work under open-ended indenture contracts akin to slavery, the presence of liberated African peoples set a precedent for African freedom, which was sanctioned legally in 1834 by the passage of the Abolition Act prohibiting slavery in all of the British colonies.
Among Howard's more interesting contributions are the oral histories that document the Black Seminoles' collective memory of this migration and their Seminole roots. Many of her informants adeptly recall the harshness of the slavery from which they fled. One elderly informant, for example, recalled hearing her elders describe the work regimen under slavery: "in slavery time, they have a white boss, like the master. So they would go out and they work and they do all they master's work and sometime they be beaten" (p. 40). The lucidity of Black Seminole memories also applies to family genealogies. Many of Howard's informants recall specific ancestors who made the voyage to Andros Island, and while memories are sometimes vague, virtually all members of the Black Seminole community can relate family oral traditions that affirm some degree of biological ("blood") relationship to the Indian Seminoles. A feeling of kinship persists, as one of Howard's informants, Alma Miller, relates "when I be young and be traveling [in Florida] and the Indian they begin owning me, as a part of them. Sometime I see them right here in Nassau. They come over on trips and I go in the States the same thing" (p. 40).
Upon establishing themselves on Andros Island, for the next century or more the Black Seminoles tended to live as they preferred: in isolation. Accessible only by boat or footpath until 1968, the Black Seminoles subsisted primarily by harvesting sponges, fishing, making grass baskets, and raising small crops such as corn, sesame seed, peas, and beans. They remained shadowy elements of the Bahamian population, earning the distinction "wild Indians" of Andros Island. Integration into the greater Bahamian community appears to have begun, however, in the 1950s and 1960s; first in 1953 with the formation of the first black majority Bahamian political party, the PLP (Progressive Liberal Party), which began drawing Andros islanders into the political process, and later in 1968, when a logging company cut a road to the principle Black Seminole community at Red Bays.
These developments foreshadowed the soon-to-be-felt effects of national independence (gained in 1973) and globalization. Black Seminole communities today boast a thriving school system, the proliferation of small shops that sell dry and canned goods, and an enhanced subsistence economy generated by the sale of produce to members of the logging companies, which also employ members of the Black Seminole communities. Phone lines, of which there had been only one in 1998, have now been installed in many homes, and the Black Seminoles' traditional wood-frame, thatch roof houses have been replaced by cement block or frame houses, complete with ceramic tile floors, and satellite dishes. These developments have certainly transformed the lives of many people, but not all members of the community have benefited equally. Politically, this division can be seen in the rise of a new political party, the FNM (Free National Movement), which pursues economic uplift through integration into the global economy and draws much of its support from the black middle class. Interestingly, the Black Seminole communities that had formerly backed the PLP are now divided politically, and the FNM gained a majority of the votes in the 2002 election. This development, Howard suggests, signifies the beginnings of what is likely to be a continuing debate on the scope and nature of Bahamian integration into the global economy.
Howard's historical narrative then shifts into a more ethnographic mode in chapter 5, where she discusses demography, kinship and social structure, gender norms, subsistence, and recreation. Especially valuable here is Howard's discussion of marriage and kinship, which provides a basis for comparison with Black communities throughout the Western Hemisphere. Howard finds that the Black Seminoles' kinship system is a rather flexible one. The islanders tend to confer kinship status -- as brothers, sisters, uncles, aunts -- to many men and women who are unrelated by blood or marriage, and the "adoption" of outsiders as members of family casts a wider net of kinship. Extramarital relations are also common; Howard finds that a majority of women in Red Bays have borne children from multiple unions and that the majority of men have extra-residential relations with women whom they dub "sweethearts." Howard attributes this pattern in part to African traditions of polygamy and to slavery, whereby masters promoted the conception of children to increase the labor force. As a result, though a double-standard of sexual activity persists in this patriarchal society, women who bear children out of wedlock are generally not ostracized, nor do the men disown the children from extramarital unions, called "outside children" by the locals.
Howard's final chapters (6-8) take up the important question of Black Seminole identity, which she rightly regards as a contextual problem. Bahamians in general tend to reject the label of "West Indian," and many Afro-West Indians persistently deny the "African Presence" (p. 106) as being central to the region's ethos. The Bahamas are therefore a "world between worlds" and its residents tend to identify themselves simply as "Bahamian." The Black Seminoles, Howard finds, are no different, arguing that the fact of their Seminole heritage is "essentially a nonissue" and that they "unfailingly consider themselves to be 'Bahamian'" (p. 109). Moreover, the Black Seminoles, while assertive of their Seminole heritage, currently have expressed little interest in becoming recognized members of the Seminole communities of the United States, suggesting the importance of place in the formation of their identity.
Howard's book is most certainly eye-opening and a worthwhile read, but it is not without its shortcomings. While Howard rightly points out that this tendency on the part of Black Seminole Bahamians to emphasize the "Bahamian" aspect of their identity is evidence for the fluidity of identity formation, this same fact tends to call into question the extent to which these communities can justly be called "Seminole." The Black Seminole Bahamians retain cultural traditions such as patrilineal descent and African naming patterns that are contrary to Seminole Indian practices, nor does any syncretism in religion or language appear to have occurred. What has been preserved, Howard argues, "is not necessarily tangibly evident, but is, rather, epistemological -- a complex of knowledge, beliefs, and ways of knowing that derive from the synthesis of heritage and adaptation" (p. 119). Howard's account, somewhat ironically, put me in mind of many white southerners who claim some form of "Indian" ancestry, but who do so in a nostalgic way that betrays the fact that they do not generally share in the wider culture and history of the Southern Indians. Therefore, it might have been equally, if not more fruitful for Howard to investigate the more tangible "African" elements of the Andros Islanders' culture rather than their nostalgic recollection of their "Indian" past.
Moreover, scholars with expertise in Seminole and southeastern Indian history are likely to find her historical research into the formation of the Seminoles and Black Seminoles of the eighteenth to nineteenth centuries to be wanting, as her evidence is based on somewhat dated secondary materials and could have been buttressed by recent works by Claudio Saunt, Brent Weisman, and others. Howard also could have done a better job of pinning her historical narrative to a stricter chronology. She has a tendency to slip into the ethnographic present when discussing Black Seminole culture, leaving her discussion of it somewhat detached from the changes wrought by a century of life in the Bahamas and recent integration into the wider Bahamian and global communities. At times, important topics that might have allowed for her to delve deeply into that culture are overlooked, such as religion, to which she devotes less than one page. A fuller analysis of religious practices might have enabled her to find connections (or not) to Seminole belief systems, and, given the apparent importance of Christianity in the lives of her subjects (her most important informant, in fact, is a Baptist minister) would have allowed for fuller investigation of the Black Seminoles' world view and identity.
These shortcomings aside, Howard's book is valuable in that the story is compelling, presented succinctly, and it succeeds in its stated goal of giving voice to a people "without history." Furthermore, her case study will certainly prove valuable to anyone doing comparative work in Caribbean ethnic history, and the histories of the African, Black Seminole, and Seminole diasporas, of which we can only expect more in the future. Howard sums it up best, stating that her book, "hopefully, provides a point of departure for future research into the unwritten stories of African and Native American encounters in the New World" (p. xvii). Indeed! Black Seminoles in the Bahamas is sure to leave readers eager to learn more and generate further studies about these intriguing peoples. We can only hope that Professor Howard will be among the first to take the challenge and delve more deeply into this interesting subject.
Copyright (c) 2005 by H-Net, all rights reserved. H-Net permits the redistribution and reprinting of this work for nonprofit, educational purposes.
Return to table of contents
©2005 African Diaspora Archaeology Network
Copyright and all rights reserved by
individual authors for each article.
Please send comments, suggestions, or questions
to Chris Fennell at cfennell@uiuc.edu
Last updated: February 4, 2008
Text only menu
Search