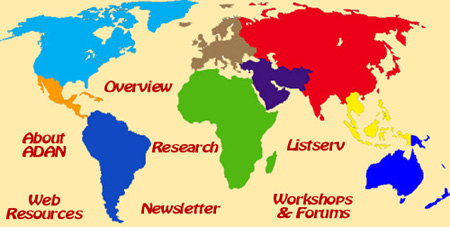 September 2006 Newsletter
ISSN: 1933-8651
In this issue we present the following articles, news, announcements, and reviews:
Articles, Essays, and ReportsNews and AnnouncementsConferences and Calls for PapersBook Reviews
---
Isotopic Investigations at Newton Plantation, Barbados: A Progress Report
By Hannes Schroeder and Kristrina A. Shuler
Introduction
The article by Jerome Handler and Frederick Lange in the June 2006 issue of the African Diaspora Archaeology Newsletter prompts us to write a short progress report on isotopic investigations that are currently being undertaken on a series of burials from the Newton Plantation cemetery, Barbados. Some 25 years after Handler and Lange began archaeological research at Newton Plantation cemetery, researchers from Southern Illinois University and Syracuse University revisited the site and continued excavations (Shuler 2005, Pasquariello n.d.). The skeletal material from 1997-1998 yields valuable information regarding the life histories and origins of Newton's slave population. Using a combination of carbon and nitrogen isotope measurements on a number of different skeletal elements (Sealy et al. 1995) we are able to reconstruct the dietary histories of the individuals buried at Newton and to trace their life trajectories, in some cases back to their African origins. The use of strontium isotope measurements on tooth enamel (Price et al. 2006) provides further information regarding the origins and subsequent movements of the people buried at Newton. However, the limitations of the isotopic data require that we use conjunctive lines of evidence in our reconstructions of past life histories. We agree with Handler and Lange (1978 and 2006) that in particular the ethnohistorical record provides information without which the archaeological and isotopic data would be difficult to interpret and we are grateful for their pioneering work without which this study would be meaningless. The following presents a brief introduction to the use of isotope analyses in archaeology and a report of the first isotopic results for the burials from the Newton Plantation cemetery and their interpretation.
[Read this full article here in Adobe .pdf format >>>].
---
Preliminary Results of the 2006 University of Florida
Archaeological Field School Excavations at
Kingsley Plantation, Fort George Island, Florida
By James M. Davidson, Erika Roberts, and Clete Rooney
The earliest attempt at an African-American archaeology in the United States that specifically addressed issues pertaining to slave life was conducted at Kingsley Plantation in 1968 by Dr. Charles Fairbanks, of the University of Florida (Fairbanks 1974) (click on the images below to see larger illustrations by the authors). However, after a brief 2-week summer field season excavating within Cabin W-1 (and to a minor extent, E-1), Fairbanks never returned to Kingsley and instead continued his exploration of plantation archaeology in the Sea Islands off the coast of Georgia, most notably on St. Simons Island (Ascher and Fairbanks 1971; Fairbanks 1984). His graduate students John Solomon Otto (1984), Theresa Singleton (1985), Sue Mullins Moore (1981, 1985), among others, went on to define plantation archaeology in the 1970s and early 1980s. What began as plantation archaeology has expanded well beyond the confines of antebellum plantation contexts, and is now more appropriately termed the Archaeology of the African Diaspora.
When Charles Fairbanks began his work at the slave cabins of Kingsley Plantation in the summer of 1968, his goal was in part to aid in architectural reconstruction, but primarily he sought evidence of "Africanisms." In his own words (1984:2):

"Kingsley had been a slave importer, with perhaps an unusually permissive attitude towards his charges. I had done what appeared to be an adequate amount of research to establish a number of things that I hoped to demonstrate. Among these were the search for Africanisms among the material artifacts of those newly arrived slaves, evidence of adaptation in housing, dress, behavior to the new situation, and data on lifestyle. At Kingsley we studied much of two slave houses, both probably of slave drivers or foremen, identified a well, and found that most of our assumptions were false. No evidence of Africanisms was found, even though we were digging in the structures of an unusually permissive slave owner, dealing with newly imported slaves. Belatedly realizing that the slaves came naked and in chains, I still could not understand why they did not recreate some African artifacts."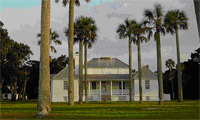 Although Dr. Fairbanks' work at Kingsley Plantation in 1968 was largely unprecedented, it was not performed within a theoretical vacuum. Rather, it was grounded in the work of social anthropologists, most notably Melville J. Herskovits. Herskovits was a pioneer in Black studies who with his 1941 work, The Myth of the Negro Past (1990), almost single-handedly dismantled the long-standing belief that people of African descent did not retain any remnants of African culture or beliefs. These cultural retentions were termed by Herskovits to be "Africanisms." At the very beginning of African Diaspora Archaeology, researchers began with the premise that given a shared set of cultural traditions and belief systems, a material culture assemblage distinctive to Africans and their descendants would be revealed. These early efforts instead revealed only subtle distinctions between Euro-American and African-American material assemblages in most instances (Fairbanks 1974; Baker 1980; Orser 1990:122-124).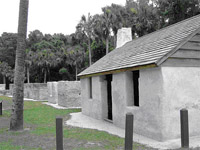 Because Dr. Fairbanks did not find what he recognized to be any elements of African culture, or so-called "Africanisms," at Kingsley Plantation, the later research he pursued in the Sea Islands of Georgia followed a model formulated by his Ph.D. student, John Solomon Otto, which emphasized socioeconomic patterns and status differentiation, based largely on table ceramics (Otto 1984). It would be up to other archaeologists (e.g., Brown and Cooper 1990; Ferguson 1980, 1992, 1999; Fennell 2003; Galke 2000; Russell 1997; Young 1996; Wheaton and Garrow 1985; Wilkie 1995, 1997) in the 1980s and 1990s to make the case for the recognition of evolving African cultural traditions in the New World.
Cabin W-1, where most of Fairbanks' efforts in 1968 were focused, had been occupied more or less continually since its construction in circa 1814 to its abandonment by circa 1900 (Fairbanks 1974). By the late 19th century, the cabin had even been converted to a mule stable (Stowell 1996:74). Further, as one of the four larger cabins believed to have been used by an enslaved foreman or "driver," the occupation was arguably the most public and atypical of the slave quarters generally (Wilson n.d.; Wilson 1952). The unusual status of the resident in Cabin W-1, as well as the continual occupation and accumulation of both artifacts and later disturbances of earlier features likely rendered any "pure" antebellum signature difficult to see archaeologically.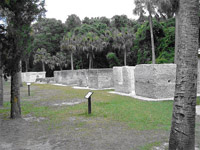 As part of a long-term, multi-year reassessment of this early work by Fairbanks and his students, the Department of Anthropology at the University of Florida held an archaeological field school at Kingsley Plantation in the summer of 2006, with the senior author of this work serving as director, assisted by Erika Roberts and Clete Rooney, doctoral students. Just as Dr. Fairbanks articulated in 1968, one of the goals of the 2006 field school was to examine the complex social relations that occurred in the first decades of the 19th century within this decidedly unique context, where numerous African born men and women labored under a white planter who respected their heritage and culture to the extent that he apparently gave them the autonomy to express it in their own manner (Kingsley 1828, see also Stowell 2000; Child 1970 [1845]). While the search for "Africanisms" -- material evidence of African cultural retentions -- is an outdated term and goal, implying a static and timeless quality to a rapidly evolving and dynamic process, a major part of our research was to establish the root metaphors and symbols at play within several different West and Central African cultures from the 19th century onwards, to establish a baseline or comparative to better recognize similar elements or mutable metaphors that might be encountered within similar contexts.
Between May 15 and June 23, 2006, the University of Florida Department of Anthropology conducted an archaeological field school at Kingsley Plantation located on Fort George Island, Duval County, Florida. Three areas received archaeological investigation in one form or another: the west arc of slave cabins, the open yard space south of the Fort George Club, and the shoreline along the Fort George River adjacent to the main plantation house. Archaeological techniques included surface collection, extensive horizontal excavations, limited shovel testing, and geophysical prospecting.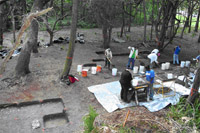 During this 2006 field season, 11 students and several volunteers opened up a total of 47 1x1 meter units in the slave cabin area, each dug between 10 and 40 cm below ground surface, within Cabins W-12 and W-13, with an additional 1x1 meter unit placed within Cabin W-15. Additionally, one 1x2 meter unit was excavated to the depth of 30cm below surface on the beach/shoreline along the Fort George River.
Preliminary results of this investigation have been revealing. First, archaeological data and a re-appraisal of archival evidence establish that Cabins W-12 and W-13 were occupied very early in Kingsley's tenure on the island, arguably circa 1814 -- when Kingsley and his slaves first arrived. This contradicts previous interpretations, which have argued that the cabins were not built and occupied until the early 1820s or later (Davidson 2006).
Second, all of the manufacturing ranges of the recovered artifacts from cabin interior and floor contexts have end of production or popularity dates in the 1820s and 1830s (e.g., French gunflints, 1750-1820; pearlware ceramics, 1780s-1820s; tombac buttons, 1700s-1820s; specific clay pipe motifs, 1800-1830). To bolster this, several forms of utilitarian artifacts that would suggest an occupation into the 1840s and later are entirely absent, such as Prosser porcelain buttons (introduced in 1840), short stemmed clay pipes (introduced in 1840s and later), whiteware ceramics (introduced in the 1820s and gained popularity in the 1840s) and ironstone ceramics (introduced in the late 1840s). The full suite of artifactual evidence suggests that cabins W-12 and W-13 were no longer occupied after circa 1840. Additionally, a reappraisal of archival evidence all but proves that of the west arc of slave cabins, cabins W-6 through W-15 were abandoned and uninhabitable by 1853, if not earlier. The archaeological dating corresponds with Kingsley's selling of the plantation to his nephew Kingsley Beatty Gibbs in 1839, and the reduction of the number of slaves on the island by half (Davidson 2006).
A third revelation uncovered during the 2006 field school was the discovery of strong evidence for a porch on the back of Cabin W-13. This evidence is in the form of two dressed tabby blocks, in the proper placement to one another and in alignment with the west wall of the structure, to serve as piers for the placement of a wooden deck or porch addition. Importantly, the porch is on the back of the structure, or on the exterior of the arc, and is not facing the main house. This means that Kingsley could not directly observe activities on the porch from his main house and second story/roof observation deck.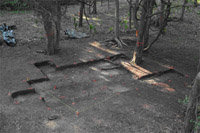 A fourth result was overwhelming evidence of the presence of firearms within each of the cabins investigated archaeologically to date. Cabin W-12 held two intact French gunflints, lead sprue (from lead casting), a fragment of raw pig lead, and finally, several pieces of small caliber cast lead shot. Cabin W-13, which did not have as extensive excavation as Cabin W-12, still revealed an intact French gunflint. All of these artifacts were found within interior units, and in floor contexts. Charles Fairbanks' initial investigations of Cabin W-1 and an associated well in 1968 also revealed lead sprue, cast lead ball (approx. .44 caliber), and a gunflint. Thus, every cabin subjected to intensive archaeological investigation to date has revealed the presence of firearms. Importantly, two of the gunflints are of diminutive size and were primarily designed for use with pistols (Cabins W-12 and W-13), while the third gunflint was very large and would have been used with a large musket or trade gun (Cabin W-12) (Davidson 2006).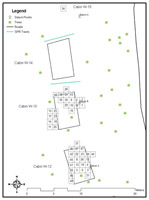 A fifth find of major import is the apparent chicken sacrifice and intentional burial of the chicken and associated objects under the floor of Cabin W-15. Designated as Feature 4, it is arguably the most unique single find of the field school. Feature 4 was derived from a 1x1 meter test unit excavated within Cabin W-15, and consists of an intact and completely articulated chicken (sexed as a female) placed atop a broken but still in situ egg, along with other associated artifacts. This hen and related artifacts were buried within a simple pit dug into the sterile sand/sub-floor of the cabin, just inside the front door of the structure.
Feature 4 is a very deliberate inclusion, and strongly suggests a belief and practice derived from specific African traditions. The bird was either a hen killed with an egg still in her body, or what appeared more likely, a hen buried atop an intact egg. A complete faunal analysis will be completed in the Fall of 2006, and the results will aid in the interpretation of this feature. Beyond the egg, the artifacts associated with the hen are also very interesting; a glass amber-colored seed bead (perhaps one of several; since the associated float samples have not yet been processed), and a very odd object that is probably a natural concretion with irregular surfaces, approximately 5 to 6 cm in length and 2 to 3 cm in thickness. It is a mottled brown in color and likely a piece of ferruginous sandstone, a type of concretion or precipitate often formed in latteritic soils subjected to rapid episodes of wetting and drying. This concretion was placed beneath and in alignment with the chicken and the adjacent wall.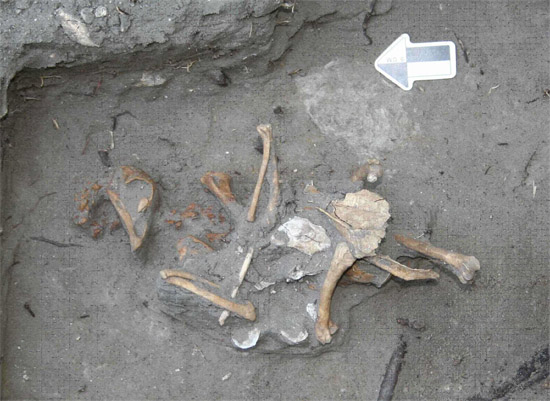 Feature 4, consisting of an articulated chicken (hen) with egg and associated objects, buried under the floor of Cabin W-15 at Kingsley Plantation




The enslaved Africans that Zephaniah Kingsley had with him between 1803 and 1839, which encompasses his tenure at Fort George Island (1814 -1839), were virtually all African born, or were the children of Africans (Walker 1988:60; Kingsley 1828, in Stowell 2000). While we do not have a list of those enslaved on Fort George Island and their origins or cultural/language groups, we do have as a proxy, an extremely valuable list of all Africans lost by Kingsley to Seminole raiders from his Laurel Grove Plantation in 1812, just one year prior to his arrival on Fort George Island. This list does miraculously give nationalities or language groups, including: Eabo, Calaban, Rio Pongo, Soofsoo, and Zinguibar (or Zinguibari). Additionally, two possible nation or cultural designations are given: "Mguinda" and "Mouse."

With the caveat that these period slave inventories often assign the point of embarkation as an identifier, which is not always reflective of the individual's true cultural group, Eabo and Calaban are clear references to the Ibo and Calabari peoples of the Niger River Basin and Calibar and Cross River Basin on the Nigerian coast. The Rio Pongo is in Guinea, the mouth of which drains into the Atlantic Ocean near the port city of Boffa. There is also a reference to the Soofsoo, a distinctive people (also known as Susu) also located in Guinea and portions of Sierra Leone and Liberia (Gomez 1998:88-89). Finally, "Zinguibar" is a likely reference to Zanzibar, an island off the coast of Tanzania. The name for the island is derived from the Persian word, "Zangibar," which means "coast of the blacks." It is almost a certainty that the three slaves referred to as being from "Zinguibar" in the Kingsley 1812 list, were from the island of Zanzibar or at least the east coast of Africa, which was heavily dominated by Arab speaking groups since the early Middle Ages (Alexander 2001). This is all but confirmed in Kingsley's own writing (1828, in Stowell 2000; Walker 1988:61-62).

In summary, the vast majority of identified cultures or language groups come from a somewhat restricted space within West Africa (for specific regional definitions and geographic boundaries, see Singleton and Bograd 1995:6). Specifically, of the 18 adults with known identities, 61% were from the Bight of Biafra (Calaban, N=8; Ibo, N=3), while a minority were from Upper Guinea (11%) (Rio Pongo, N=1; Susu, N=1) or from the East African coast, identified as Zanzibar (16.7%; N=3). The Zanzibar slaves were almost certainly not native to that region, but were brought in from the interior of Africa by the slave trade. For example, we know that "Gullah Jack," one of the Zanzibar identified individuals, was an Angolan speaker from a culture described by Kingsley as "M'Choolay Morcema" (Kingsley 1828; reprinted in Stowell 2000:68). Overall the relative rates of geography and cultural group essentially match those established by David Richardson (1989:13) in his exhaustive study of slave exports from Africa between 1700 and 1810, with the greatest numbers coming from the Bight of Biafra (43.8% of total exports), especially in the 1800-1807 period, when Zephaniah Kingsley would have been acquiring slaves for his Florida holdings.

Although this discussion of the ethnicity and cultural origin of Kingsley's slaves involves only those who were stolen by Seminole raiders from his Laurel Grove Plantation in 1812, as originally argued by Walker (1988:65), it is highly likely that when Kingsley arrived on Fort George Island in early 1814, the remaining 66 slaves that he brought with him were of a similar ethnic composition, in roughly the same numbers. This would be keeping with the trend of slave importation generally, with most enslaved peoples in the 18th and early 19th century coming from West Africa and particularly the Bight of Biafra, Gold Coast and Guinea Coast regions (Walker 1988:61; Richardson 1989:13). Thus, we have a rare insight into the probable cultural origins of the initial slave population at Kingsley Plantation on Fort George Island in the 1814 to circa 1820s period.

Animal sacrifice was and is currently very commonly practiced in numerous cultures throughout the continent of Africa, and fowl, including chickens and guinea fowl, are some of the most common sacrificial animals. This is perhaps especially true of the Ibo and related cultures in present day Nigeria. Chickens are routinely sacrificed to mark births, deaths, dedication of houses or other structures, purification rites, and as general sacrifice to specific deities, among other acts (Thomas 1917; Parrinder 1961; Awolalu 1973; Ikenga-Metuh 1985; Njoku 1991; Christoph et al. 2000).

These forms of sacrifice also occurred in the Americas, as Africans (and later their descendants) were abducted into the Slave Trade and transported to the Caribbean or the east coast of the Americas. For example, one early illustrated reference to chicken sacrifice as part of a greater ceremony of an "oathing and divination ritual," was published in 1836 as a part of Richard Bridgen's book, West Indian Scenery with illustrations of Negro Character . . . the island of Trinidad (cited in Chireau 2003:59). One early 20th century reference to chicken sacrifice was collected under the auspices of the WPA Federal Writer's Project. In the late 1930s, federal workers interviewed elderly black informants in Georgia, most of them former slaves, and their stories and descriptions of folk beliefs were collected in the 1940 book, Drums and Shadows: Survival Studies among the Georgia Coastal Negroes. In this volume, a woman named Sarah Washington described to the interviewer the events that occurred with the death of an individual in the community; ". . . in the old days, after the mourners had arrived, a chicken was killed. Neither Aunt Sarah nor Uncle Ben, however, knew the reason for this" (Johnson 1940:136); and also "…They kill a white chicken when they have set-ups to keep the spirits away" (Johnson 1940:167; cited in Thompson 1984:135).

Similar rituals continue into the present day, primarily through such creolized religions or collection of beliefs and practices as Santeria or Regla de Ocha, Haitian Vodou, Obeah, among others (Olmos and Paravisini-Gebert 2003). In particular, Santeria is a well documented example of a creolized or syncretic religion, formed in Cuba and other islands of the Caribbean, and combining elements of West African traditional religion and cosmology with Catholicism and belief in the saints (Lefever 1996). This modern practice can be directly traced to the 1700s and early 1800s, when African slaves from different cultures began to be imported into the region and exposed to Catholicism. Santeria commonly uses chicken sacrifice, but to describe the chicken burial in Cabin W-15 as an example of Santeria would be incorrect, since the myriad West African practices and beliefs that combined with elements of Catholicism to form what would become known as Santeria were just beginning to coalesce in the late 1700s and early 1800s, exactly when the ritual act invoked in Cabin W-15 occurred (Olmos and Paravisini-Gebert 2003).

As a material correlate of African religiosity and social practice, this discovery is exactly what Dr. Fairbanks was searching for in 1968, and serves, in part, as a vindication of his original hypothesis regarding Zephaniah Kingsley and his relationship with the enslaved population on the island. After the artifact and faunal analyses have been completed, even more information will be revealed regarding consumer choice, dress and attire, and subsistence and foodways, among other insights.

References Cited

Alexander, J.
2001 Islam, Archaeology and Slavery in Africa. World Archaeology 33(1): 44-60.

Anonymous
2003 Fort George Island Cultural State Park: Unit Management Plan. Unpublished report. State of Florida Department of Environmental Protection, Division of Recreation and Parks, n.p.

Anonymous
2004 Timucuan Ecological and Historic Preserve, Kingsley Plantation Cultural Landscape Report. Prepared by Hartrampe. Submitted to Historical Architecture, Cultural Resources Division, Southeast Regional Office, National Park Service. n.p.

Ascher, Robert and Charles Fairbanks
1971 Excavation of a Slave Cabin: Georgia, U.S.A. Historical Archaeology 5: 3-17.

Awolalu, J. Omosade
1973 Yoruba Sacrificial Practice. Journal of Religion in Africa 5(2): 81-93.

Baker, Vernon G.
1980 Archaeological visibility of Afro-American Culture: An Example from Black Lucy's Garden, Andover, Massachusetts. In Archaeological Perspectives on Ethnicity in America, ed. Robert Schuyler, pp. 29-37. Baywood Press, Farmingdale, New York.

Brown, Kenneth L.
2004 Ethnographic Analogy, Archaeology and the African Diaspora: Perspectives from a Tenant Community. Historical Archaeology 38(1): 79-89.

Brown, Kenneth L. and Doreen C. Cooper
1990 Structural Continuity in an African-American Slave and Tenant Community. Historical Archaeology 24(4): 7-19.

Child, L. Maria
1970 Letters from New York. Third Edition. Originally published in 1845 by C. S. Francis and Co, Boston. Books for Libraries Press, Freeport, New York.

Chireau, Yvonne P.
2003 Black Magic: Religion and the African American Conjuring Tradition. University of California Press, Berkeley.

Christoph, Henning, Kluas E. Muller and Ute Ritz-Muller
2000 Soul of Africa: Magical Rites and Traditions. Konemann, Cologne, Germany.

Davidson, James M.
2006 Preliminary Report of Investigations of the 2006 University of Florida Archaeological Field School at Kingsley Plantation, Timucuan Ecological and Historic Preserve National Park, Duval County, Florida. Submitted to United States Department of the Interior, National Parks Service, Southeast Archaeological Center, Tallahassee, Florida.

Fairbanks, Charles
1974 The Kingsley Slave Cabins in Duval County, Florida, 1968. Conference on Historic Sites Archaeology Papers 7: 62-93.

Fairbanks, Charles
1984 The plantation archaeology of the southeastern coast. Historical Archaeology 18(1): 1-14.

Fennell, Christopher C.
2003 Group Identity, Individual Creativity, and Symbolic Generation in a Bakongo Diaspora. International Journal of Historical Archaeology 7(1): 1-31.

Ferguson, Leland
1980 Looking for the "Afro" in Colono-Indian Pottery. In Archaeological Perspectives on Ethnicity in America: Afro-American and Asian American Culture History, edited by Robert L. Schuyler, pp. 14-28. Baywood Publishing Co, Farmingdale, NY.

Ferguson, Leland
1992 Uncommon Ground: Archaeology and Early African America, 1650-1800. Smithsonian Institution Press, Washington.

Ferguson, Leland
1999 "The Cross is a Magic Sign": Marks on Eighteenth Century Bowls in South Carolina. In "I, Too, Am America": Archaeological Studies of African-American Life , edited by Theresa Singleton, pp. 116-131. University Press of Virginia, Charlottesville.

Galke, Laura J.
2000 Did the Gods of Africa Die? A Re-Examination of a Carroll House Crystal Assemblage. North American Archaeologist 21(1): 19-33.

Gomez, Michael A.
1998 Exchanging Our Country Marks: The Transformation of African Identities in the Colonial and Antebellum South. The University of North Carolina Press, Chapel Hill.

Herskovits, Melville J.
1990 The Myth of the Negro Past (Originally published 1941). Beacon Press, Boston.

Ikenga-Metuh, Emefie
1985 Ritual Dirt and Purification Rites among the Igbo. Journal of Religion in Africa 15(1): 3-24.

Johnson, Guy (editor)
1940 Drums and Shadows: Survival Studies among the Georgia Coastal Negroes. Savannah Unit, Georgia Writers Project, Works Project Administration. University of Georgia Press, Athens.

Kingsley, Zephaniah
1828 A Treatise on the Patriarchal, or Cooperative System of Society as it Exists in Some Governments, and Colonies in America, and in the United States, Under the Name of Slavery, with its Necessity and Advantages. Second edition, Books for Libraries Press, Freeport, NY.

Lefever, Harry G.
1996 When the Saints Go Riding In: Santeria in Cuba and the United States. Journal for the Scientific Study of Religion 35(3): 318-330.

Moore, Sue Mullins
1981 The Antebellum Barrier Island Plantation: In Search of an Archaeological Pattern. Ph.D. Dissertation. Department of Anthropology, University of Florida, Gainesville.

Moore, Sue Mullins
1985 Social and Economic Status on the Coastal Plantation: An Archaeological Perspective In The Archaeology of Slavery and Plantation Life, ed. by Theresa A. Singleton, pp. 141-160. Academic Press, New York.

Njoku, Onwuka N.
1991 Magic, Religion and Iron Technology in Precolonial North-Western Igboland. Journal of Religion in Africa 21(3): 194-215.

Olmos, Margarite Fernandez and Lizabeth Paravisini-Gebert
2003 Creole Religions of the Caribbean: An Introduction from Vodou and Santeria to Obeah and Espiritismo. New York University Press, New York.

Orser, Charles E. Jr.
1990 Archaeological Approaches to New World Plantation Slavery. In Archaeological Method and Theory, Vol. 2, ed. Michael B. Schiffer, pp. 111-154. University of Arizona Press, Tucson.

Otto, John Solomon
1984 Cannon's Point Plantation, 1794-1850: Living Conditions and Status Patterns in The Old South. Academic Press, New York.

Parrinder, Geoffrey
1961 West African Religion: A Study of the Beliefs and Practices of Akan, Ewe, Yoruba, Ibo, and Kindred Peoples. (Second edition; originally published 1949). The Epworth Press, London.

Richardson, David
1989 Slave Exports from West and West-Central Africa, 1700-1810: New Estimates of Volume and Distribution. Journal of African History 30(1): 1-22.

Russell, Aaron E.
1997 Material Culture and African-American Spirituality at the Hermitage. Historical Archaeology 31(2): 63-80.

Singleton, Theresa A. (editor)
1985 The Archaeology of Slavery and Plantation Life. Academic Press, Orlando, Florida.

Singleton, Theresa A. and Mark D. Bograd
1995 The Archaeology of the African Diaspora in the Americas. Guides to the Archaeological Literature of the Immigrant Experience in America, Number 2. Society for Historical Archaeology, Ann Arbor, Michigan.

Stowell, Daniel W.
1996 Timucuan Ecological and Historical Resource Study. U.S. Department of the Interior, National Park Service, Southeast Field Area, Atlanta, GA.

Stowell, Daniel W. (editor)
2000 Balancing Evils Judiciously: The Proslavery Writings of Zephaniah Kingsley. University Press of Florida, Gainesville.

Thomas, N. W.
1917 Some Ibo Burial Customs. Journal of the Royal Anthropological Institute of Great Britain and Ireland 47: 160-213.

Walker, Karen Jo
1988 Kingsley and His Slaves: Anthropological Interpretation and Evaluation. MA Thesis. Anthropology, University of Florida, Gainesville.

Wheaton, Thomas R. and Patrick H. Garrow
1985 Acculturation and the Archaeological Record in the Carolina Lowcountry. In The Archaeology of Slavery and Plantation Life, edited by Theresa Singleton, pp. 239-269. Academic Press, Orlando, FL.

Wilkie, Laurie A.
1995 Magic and Empowerment on the Plantation: An Archaeological Consideration of African-American World View. Southeastern Archaeology 14(2): 136-157.

Wilkie, Laurie A.
1997 Secret and Sacred: Contextualizing the Artifacts of African-American Magic and Religion. Historical Archaeology 31(4): 81-106.

Wilson, Gertrude Rollins
n.d. Notes Concerning the Old Plantation on Fort George Island, 1868-1869. Unpublished, typewritten manuscript. On file Timucuan Ecological and Historic Preserve, National Park Service.

Wilson, Gertrude Rollins
1952 Memoirs of Mrs. Millar Wilson. Unpublished, typewritten manuscript. On file Timucuan Ecological and Historic Preserve, National Park Service.

Young, Amy
1996 Archaeological Evidence of African-Style Ritual and Healing Practices in the Upland South. Tennessee Anthropologist 21(2): 139-155.

[Return to table of contents]


---
Archaeology of Tenant Farming in the
Upper Coastal Plain of Georgia: The Free Cabin Site
By Pamela A. Johnson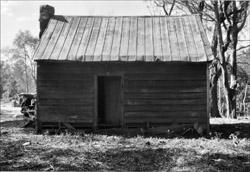 Prior to work being done to widen Highway 25 (called Peach Orchard Road) in Hephzibah, Georgia, an archaeological excavation took place to investigate a site with a series of cabins associated with tenant farming by African Americans. The Free Cabin was part of a tenant farming community on the Rhodes family plantation. Examination of the structure, yard, and artifacts revealed a unique way of life and a landscape of organized work. After the excavation and analysis of the site's materials, a public education initiative began and an informative brochure and Powerpoint-style video presentation were developed discussing the site and its potential to educate the public about this important time in history. The completion of these informative materials was made possible by funding from the Federal Highway Administration, Georgia Division, with assistance from the Georgia Department of Transportation and New South Associates. The video presentation is 25 minutes long and addresses subjects such as tenant farming and sharecropping in the late 19th century, agricultural production strategies, dietary patterns, market impacts, and the interpretation of landscape features and vernacular architecture styles. If you are interested in obtaining a CD copy of this presentation, entitled The Archaeology of Tenant Farming in the Upper Coastal Plain of Georgia: The Free Cabin Site, you may obtain a copy of the brochure and/or CD video by contacting Pamela A. Johnson at the Georgia Department of Transportation, 3993 Aviation Circle, Atlanta, Georgia 30336, email Pamela.Johnson@dot.state.ga.us.

[Return to table of contents]


---
Dissertation Abstract:
"Counterpunch the Devil with the Word":
African American Daily Life at
Alma and Riverlake Plantations, Louisiana, 1870-1940
By David T. Palmer


Ph.D. Dissertation, Department of Anthropology, University of California, Berkeley. Committee chair: Laurie A. Wilkie. December 2005.

Abstract:



This dissertation is a study of the lives of African American sugar plantation workers at Alma and Riverlake plantations of Pointe Coupée Parish, Louisiana during the late 19th through early 20th century. Guided by practice theory and the contextual approach in historical archaeology, the author used evidence from archaeology, oral history and documentary history to investigate the assertion and maintenance of dignity by Alma and Riverlakes' African American employee-residents in their daily lives. These strategies have roots in the era of enslavement, and were also influenced by contemporary racial uplift programs, such as that of Booker T. Washington.

Evidence of strategies used were found by the author. These strategies included working odd jobs to bring in extra cash, mutual assistance of friends and relatives in need, and efforts to save money through limiting store purchases. The changes found were a decrease in the consumption of purchased canned foods and an increase in home preservation of food in canning jars. Changes in the ceramic assemblages after 1910 are also evidence of this ideology and strategy, and are a material correlate of reduced acceptance of white planter paternalism by African Americans. Another part of the daily strategy for increasing independence and making the most of constraining circumstances was producing or procuring food through gardening, animal husbandry, hunting and fishing. As evidenced in the archaeological record, and through oral history interviews, African American employee-residents of Alma and Riverlake plantations consumed a wide variety of wild and domestic plants and animals. Home production also included clothes making and mending and manufacturing toys.

Dignity was also asserted and maintained through other means. These included attention to personal appearance, pursuing any available educational opportunities, practicing religion, and defending life and property from assaults by whites or others.

The dissertation is also a study in applied methodology, in this case the need for complementary methods and data sources to research historically under- (and mis-) documented populations. The author's research design took into account the biases and silences of each of the data sources used, and the tensions between the sources.

Additional information is available from the author at dpalmer@berkeley.edu.

[Return to
table of contents]
---
Frederick Douglass Prize Awarded

Yale University's Gilder Lehrman Center
for the Study of Slavery, Resistance and Abolition
Press Release by Gilder Lehrman Center; http://www.yale.edu/glc/events/2006.htm.


New York, NY (September 13, 2006) -- Rebecca J. Scott, Charles Gibson Distinguished University Professor of History and Professor of Law at the University of Michigan has been selected as the winner of the Frederick Douglass Book Prize, awarded for the best book on slavery or abolition. Scott won for her book, Degrees of Freedom: Louisiana and Cuba after Slavery (Harvard University Press). The book examines the path to freedom taken by two slave societies and their construction of post-emancipation communities. The prize is awarded by Yale University's Gilder Lehrman Center for the Study of Slavery, Resistance, and Abolition, sponsored by the Gilder Lehrman Institute of American History.

In addition to Scott, the other two finalists for the prize were Steven Deyle for Carry Me Back: The Domestic Slave Trade in American Life (Oxford University Press); Richard Follett for The Sugar Masters: Planters and Slaves in Louisiana's Cane World, 1820-1860 (Louisiana State University Press).

The $25,000 annual award is the most generous history prize in the field. The prize will be presented to Scott at a dinner in New York City in February 2007.

This year's three finalists were selected from a field of nearly 80 entries by a jury of scholars that included Mia Bay (Rutgers University), Larry E. Hudson, Jr. (University of Rochester), and Jane Landers (Vanderbilt University). The winner was selected by a review committee of representatives from the Gilder Lehrman Center for the Study of Slavery, Resistance and Abolition, the Gilder Lehrman Institute of American History, and Yale University.

"Rebecca Scott's Degrees of Freedom: Louisiana and Cuba after Slavery is a worthy recipient of the Frederick Douglass Prize," said Hudson, Associate Professor of History at the University of Rochester. "Its examination of the political obstacles to black freedom in post-emancipation Cuba and Louisiana provides an innovative and exciting approach to comparative history that will influence the study of the black experience for decades to come."

The Frederick Douglass Book Prize was established in 1999 to stimulate scholarship in the field of slavery and abolition by honoring outstanding books. Previous winners were Ira Berlin and Philip D. Morgan in 1999; David Eltis, 2000; David Blight, 2001; Robert Harms and John Stauffer, 2002; James F. Brooks and Seymour Drescher, 2003; Jean Fagan Yellin, 2004; and Laurent Dubois, 2005.

The award is named for Frederick Douglass (1818–1895), the slave who escaped bondage to emerge as one of the great American abolitionists, reformers, writers, and orators of the 19th century.

The Gilder Lehrman Center for the Study of Slavery, Resistance and Abolition, a part of the Yale Center for International and Area Studies, was launched at Yale in November 1998 through a generous donation by philanthropists Richard Gilder and Lewis Lehrman and the Gilder Lehrman Institute of American History. Its mission is to promote the study of all aspects of slavery, in particular the chattel slave system, including African and African-American resistance to enslavement, abolitionist movements and the ways in which chattel slavery finally became outlawed.

In addition to encouraging the highest standards of new scholarship, the GLC is dedicated to the dissemination of knowledge through publications, conferences, educational outreach and other activities. For further information on events and programming, contact the center by phone (203) 432-3339, fax (203) 432-6943, or e-mail gilder.lehrman.center@yale.edu.

[Return to table of contents]


---
Forthcoming Publications by Paul Lovejoy
Paul Lovejoy is a member of the African Diaspora Archaeology Network, a Distinguished Research Professor at York University in Toronto, Canada, and Director of the Harriet Tubman Resource Centre on the African Diaspora (web site at www.yorku.ca/nhp).

He has a number of forthcoming publications which should be of interest to other African diaspora researchers, including: Repercussions of the Atlantic Slave Trade: The Interior of the Bight of Biafra and the African Diaspora (Trenton NJ: Africa World Press), co-edited with Carolyn Brown and Renée Soulodre-La France; Mahommah Gardo Baquaqua. As Desventuras de um Escravo Africano no Brasil, Caribe, Estados Unidos e Canada (Rio de Janeiro: Editora Pallas/Afirma), with Robin Law; Muslim Encounters with Slavery in Brazil (Princeton: Markus Wiener), co-edited with Mariza de Carvalho Soares; Slavery, Islam and Diaspora (Trenton NJ: Africa World Press), co-edited with Behnaz Asl Mirzai and Ismael Musah Montana; Ethnicity and Slavery in the Americas: A Reader (Trenton NJ: Africa World Press), co-edited with David Trotman and Toyin Falola; Literary Manifestations of the African Diaspora (Trenton NJ: Africa World Press), co-edited with Naana Opoku-Agyemang, Kwadwo Opoku-Agyemang, and David Trotman; Crossing Memories: Slavery and African Diaspora (Trenton NJ: Africa World Press), co-edited with Ana Lucia Araujo and Mariana Pinho Cândido; Yorubaland in the Nineteenth Century: Documents and Readings (Princeton: Markus Wiener), co-edited with Olatunji Ojo.

He has also authored a number of chapters in forthcoming, edited volumes which should also be of particular interest, including: "Civilian Casualties in the Context of the Trans-Atlantic Slave Trade," in John Laband, ed., Daily Lives of Civilians in Wartime Africa (Westport, CT: Greenwood Press); "British Imperial Ambitions on the Mosquito Shore and the Abolition of 'Indian' Slavery, 1773-1781," in Rina Cáceres Gómez and Paul E. Lovejoy, eds. Revolución, Independencia y emancipación: La lucha contra la esclavitud (San José: Universidad de Costa Rica Press); "Internal Markets or an Atlantic-Sahara Divide? How Women Fit into the Slave Trade of West Africa," in Gwyn Campbell, Suzanne Miers, and Joseph C. Miller, eds., Women and Slavery (Athens: Ohio University Press); "Narratives of Trans-Atlantic Slavery: The Lives of Two Muslims, Muhammad Kaba Saghanaghu and Mahommah Gardo Baquaqua," in Naana Opoku-Agyemang, Kwadwo Opoku-Agyemang, Paul E. Lovejoy, and David Trotman, eds., Literary Manifestations of the African Diaspora (Trenton NJ: Africa World Press); "The Autobiography of Oluadah Equiano, the African, and the Life of Gustavus Vassa, Reconsidered," in Ana Lucia Araujo, Mariana Pinho Cândido and Paul E. Lovejoy, eds., Crossing Memories in the African Diaspora (Trenton, NJ: Africa World Press); "O Fator Iorubá no Tráfico Transatlântico de Escravos," in Mariza de Carvalho Soares, organizadora, Rotas Atlânticas da Diáspora Africana: os 'Pretos Minas' no Rio de Janeiro, séculos XVIII-XX (Rio de Janeiro, 2005); "Spanish and British Rivalry for the Mosquito Shore in the 1770s, and the Radicalization of Gustavus Vassa, alias Olaudah Equiano," in Jaime Arocha, ed., Homenaje a Nina S. de Friedemann (Bogota); "The Voice of an Enslaved African Muslim in Brazil: Introduction to the Brazilian Edition of Mahommah Gardo Baquaqua's Biography," in Robin Law and Paul E. Lovejoy, eds., Mahommah Gardo Baquaqua. As Desventuras de um Escravo Africano no Brasil, Caribe, Estados Unidos e Canada (Rio de Janeiro: Editora Pallas/Afirma, 2005).

[Return to
table of contents]
---
New Books and Films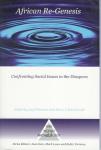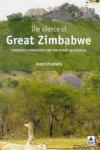 Left Coast Press, Inc. is the new publisher of the archaeology list formerly of the University College of London Press in London. This includes books emanating from the well-respected Institute of Archaeology at the University College London (home of Flinders Petrie, a founder of modern archaeology) and the One World Archaeology series, sponsored by the World Archaeology Congress and formerly published by Routledge. Sixteen books already in print will be available from Left Coast in September, 2006. New volumes, as many as 20 over the next 12 months, will be announced as they are prepared for press. More information on the Left Coast website at www.LCoastPress.com.

Of particular interest to African diaspora archaeologists will be two volumes: African Re-Genesis: Confronting Social Issues in the Diaspora, Jay B. Haviser and Kevin C. MacDonald (editors), 294 pp., May 2006, Hardback (1-59874-217-5), Paperback (1-59874-283-3); and The Silence of Great Zimbabwe: Contested Landscapes and the Power of Heritage, by Joost Fontein, 264 pp., July 2006, Hardback (1-59874-220-5), Paperback (1-59874-221-3).

Left Coast Press also offers the following new films on DVD, which may be of interest to African diaspora archaeologists and historians --

The Potters of Buur Heybe, Somalia, produced by Tara Belkin, in collaboration with Steven Brandt (University of Florida), consultant and contributing writer, the people of Bardale, Somalia, and the Somali Academy of Arts and Sciences; published August 2006, ISBN 1-59874-118-7, 25 minutes in length. Now available on DVD at a considerably reduced price, this award-winning ethnoarchaeological film documents the complete sequence of pottery production and use at Buur Heybe, "The Hill of the Potter's Sand," in southern Somalia. The Potters of Buur Heybe portrays the complete life cycle of earthenware pottery manufacture and use, places the pottery in its social and economic context, and considers the roles of gender, symbolism, agency and religion in the process.

Although oral tradition credits women for first discovering the natural qualities of the highly valued local clay, it is only the men who create the wide range of beautifully decorated drinking, cooking and storage vessels.

Women quarry and transport the clay to the village where men make and decorate the vessels using the coil method on a foot-turned wooden plate. The pots are fired in open air pyres, and distributed both locally and regionally where they are used, recycled and discarded by farmers, pastoralists, and townspeople.

Short, technologically fascinating, and ethnographically rich, Potters of Buur Heybe is an excellent film for both undergraduate and graduate courses in anthropology and archaeology, including methods, technology, material culture, ethnography, and arts.

Woman the Toolmaker: Hideworking and Stone Tool Use in Konso, Ethiopia, written, produced, and edited by Tara Belkin, in collaboration with Justin Shipley, director of photography and field producer, Steven Brandt, University of Florida, and Kathryn Weedman, University of South Florida, St. Petersburg, consultants and contributing writers, and the Konso People of Southern Ethiopia. In association with the Ethiopian Authority for Research and Conservation of the Cultural Heritage, the Southern Nations, Nationalities and Peoples Bureau of Culture, and the Konso Cultural, Information and Tourism Office; published in August 2006, ISBN 1-59874-119-5, 27 minutes in length.

Woman the Toolmaker portrays the remarkable lives of a group of Konso hide workers from southern Ethiopia who may be the last people in the world to make and use flaked stone tools on a regular basis. Unlike the "Man the Toolmaker" stereotype, virtually all of the Konso hide workers are women who as young girls learn flintknapping skills from their mothers or other female relatives.

The complete life cycle of making and using flaked stone artifacts is documented in this ethnoarchaeological portrait of Konso women scraping hides to produce soft leather products for bedding, bags, drums, and even ritual clothing. The hide workers use quartz, quartz crystal, chalcedony, and chert collected from dry river beds, eroding hillsides, and abandoned hideworker households to manufacture scrapers from cores by the direct percussion and bipolar techniques. Using a gum-like resin obtained from local trees, the scrapers are secured in the open haft of a wooden handle. The handles are then used to scrape cow, goat, sheep and occasionally wild animal hides until the inner fat is removed and the hides become soft and pliable. Heat-treating, resharpening, recycling, and discarding are also clearly depicted in the film.

Woman the Toolmaker places stone tool making and hide working in their social and economic contexts, and speaks particularly to the importance of women's roles in past and present societies. This unique video is an excellent addition to both undergraduate and graduate courses in anthropology, archaeology, and women's studies, including material culture, technology, methods, and ethnography.

[Return to table of contents]


---
Recent Dissertations




The following, non-exhaustive lists of dissertations on African diaspora archaeology and related history studies were compiled by Chris Fennell. Archaeology dissertations are listed for the period of 2005 onward, covering the time period from the September 2005 issue of the African Diaspora Archaeology Newsletter, which provided a similar compilation of dissertations for the period of 2000-2005. History dissertations are listed below for the same period, with a focus on studies addressing aspects of past social structures, social networks, the built environment, material culture, and impacts of racism. If you are aware of other recent dissertations, please email me, and I'll include the information in a future newsletter edition. The dissertations listed below are doctoral theses, unless otherwise indicated, and are listed in alphabetic order by the author name. Abstracts are available online from the UMI/Proquest service.

Archaeology


Medicating Slavery: Motherhood, Health Care, and Cultural Practices in the African Diaspora, by Ywone Edwards-Ingram. Available from the Department of Anthropology, College of William and Mary, and UMI/Proquest, Ann Arbor, Michigan. 2005.

Material and Mythical Perspectives on Ethnicity: An Historical Archaeology Study of Cultural Identity, National Historiography, and the Eastern Cape Frontier of South Africa, 1820-1860, by Patrice L. Jeppson. Available from the Department of Anthropology, University of Pennsylvania, and UMI/Proquest, Ann Arbor, Michigan. 2005.

"From Time Immemorial": Washerwomen, Culture, and Community in Cape Town, South Africa, by Elizabeth G. Jordan. Available from the Department of Anthropology, Rutgers University, and UMI/Proquest, Ann Arbor, Michigan. 2006.

The Jeffersons at Shadwell: The Social and Material World of a Virginia Family, by Susan A. Kern. Available from the Department of Anthropology, College of William and Mary, and UMI/Proquest, Ann Arbor, Michigan. 2005.

"Counterpunch the Devil with the Word": African American Daily Life at Alma and Riverlake Plantations, Louisiana, 1870-1940, by David T. Palmer. Available from the Department of Anthropology, University of California at Berkeley, and UMI/Proquest Ann Arbor, Michigan. 2005.

An Analysis of Archaeobotanical Evidence from the House for Families Slave Quarter, Mount Vernon Plantation, Virginia, by Laura A. Shick. Available from the Department of Anthropology, American University, and UMI/Proquest, Ann Arbor, Michigan. 2005 (Masters thesis).



History


Memory's Warp: The Cultural Politics of History and Race in South Louisiana, by Marc David. Available from the University of North Carolina, and UMI/Proquest, Ann Arbor, Michigan. 2005.

Ethnogenesis, Identity, and the Dominican Republic, 1844-Present, by Cynthia M. Douglas. Available from the University of Arizona, and UMI/Proquest, Ann Arbor, Michigan. 2005.

Reinventing the Plantation: Gated Communities as Spatial Segregation in the Gullah Sea Islands (South Carolina, Georgia, Florida), by Melissa D. Hargrove. Available from the University of Tennessee, and UMI/Proquest, Ann Arbor, Michigan. 2005.

Conversing in Colony: The Brasilica and the Vulgar in Portuguese America, 1500-1759 (Brazil), by M. Kittiya Lee. Available from the Johns Hopkins University, and UMI/Proquest, Ann Arbor, Michigan. 2006.

[Return to
table of contents]
---
South Carolina African American Heritage
Commission Launches Newsletter
The South Carolina African American Heritage Commission has published the first issue of its e-mail newsletter, Call & Response. This issue includes information about the Commission, recent South Carolina Historical Markers recognizing the contributions of African Americans, Rosenwald Schools in South Carolina, and more. The first issue of the newsletter is available online at http://www.state.sc.us/scdah/afamer/callresponse01.pdf. Call & Response will be published 3 times each year. If you would like to be added to the mailing list to receive the newsletter, please contact Leah Brown at brownl@scdah.state.sc.us. The Commission's web site is available at http://www.state.sc.us/scdah/afamer/hpaahcommission.htm.

[Return to
table of contents]
---
Mystery of Virginia's First Slaves
Is Unlocked 400 Years Later
By Lisa Rein
Washington Post Staff Writer

September 3, 2006


Article posted online by the Washington Post at: http://www.washingtonpost.com/wp-dyn/content/article/2006/09/02/AR2006090201097.html
Copyright 2006 Washington Post.



JAMESTOWN -- They were known as the "20 and odd," the first African slaves to set foot in North America at the English colony settled in 1607.

For nearly 400 years, historians believed they were transported to Virginia from the West Indies on a Dutch warship. Little else was known of the Africans, who left no trace.

Now, new scholarship and transatlantic detective work have solved the puzzle of who they were and where their forced journey across the Atlantic Ocean began.

The slaves were herded onto a Portuguese slave ship in Angola, in Southwest Africa. The ship was seized by British pirates on the high seas -- not brought to Virginia after a period of time in the Caribbean. The slaves represented one ethnic group, not many, as historians first believed.

The discovery has tapped a rich vein of history that will go on public view next month at the Jamestown Settlement. The museum and living history program will commemorate the 400th anniversary of Jamestown's founding by revamping the exhibits and artifacts -- as well as the story of the settlement itself.

Although historians have thoroughly documented the direct slave trade from Africa starting in the 1700s, far less was known of the first blacks who arrived in Virginia and other colonies a century earlier. A story of memory and cultural connections between Africa and the early New World is being unearthed in a state whose plantation economy set the course for the Civil War.

"We went entirely back to the drawing board," said Tom Davidson, senior curator of the Jamestown-Yorktown Foundation. "The problem has always been that all of the things that make for a human story [of the Africans] were missing. . . . Now we can talk about the Africans with the same richness we talk about the English and the Powhatans."

Behind him, an Angolan man was depicted stripping bark from a baobab tree in a re-created village featured in the museum's new 30,000-square-foot gallery, which will open Oct. 16. It's double the space of the previous one, to cover a long span of the 17th century and the African story, which was barely featured before.

How the story of the charter generation of Africans in Virginia has come to life in a new $25 million museum wing is a tale of two scholars who helped connect two coasts of the Atlantic Ocean.

The early 1600s was a time of war and empire-building in Southwest Africa; Portuguese traders under the rule of the king of Spain had established the colony of Angola. The exporting of slaves to the Spanish New World was a profitable enterprise. The Portuguese waged war against the kingdoms of Ndongo and Kongo to the north, capturing and deporting thousands of men and women. They passed through a slave fortress at the port city of Luanda, still Angola's capital.

At Jamestown, tobacco was on the verge of a boom after the British had failed at several industries. Indentured servants from England were common in the settlement, now close to 1,000 people strong.

John Rolfe, Virginia's first tobacco planter and husband of the Indian princess Pocahontas, wrote the widely held account of the African landing in a letter to the Virginia Company of London. The captain of a Dutch warship that arrived in Jamestown in August 1619 "brought not any thing but 20 and odd Negroes, wch the Governor and Cape Marchant bought for victuale . . . at the best and easyest rate they could." Rolfe explained that the ship and another called the Treasurer had embarked from the West Indies.

A retired University of California at Berkeley historian, Engel Sluiter, made a startling discovery in the Spanish national archives in the late 1990s as he did research for a book on Spanish America. A colonial shipping document he uncovered in an account book identified a Portuguese slave ship called the San Juan Bautista. About 350 slaves were bound for Veracruz, on the east coast of modern-day Mexico, when the ship was robbed of its human cargo off the coast of Mexico in 1619 by two unidentified pirate ships, the record said.

Sluiter, who died in 2001, published his discovery in the William and Mary Quarterly. It caught the eye of John Thornton, an expert on the Portuguese colonies in Africa in the 16th and 17th centuries.

The outlines of the other half of the story took shape.

"I said, 'I can figure out how these people were enslaved,' " said Thornton, a Boston University professor who, with his wife, historian Linda Heywood, is publishing a book on the slave trade between Angola and the North American colonies. Previous scholarship has documented the slave trade from Ghana, Senegal and other parts of West Africa. "We know Angola was a big exporter of slaves to Brazil and the Spanish colonies, but now we know that they showed up here," Thornton said.

Through records of a legal dispute between the pirate ships, Thornton identified the British vessels as the Treasurer and the White Lion, which was flying a Dutch flag. Each took 20 to 30 slaves before the San Juan Bautista continued to Veracruz. They landed at Jamestown within four days of each other and traded the Africans for provisions. The Treasurer then sailed to Bermuda, dropping off more slaves, and returned to Virginia a few months later, trading the final nine or 10 more.

Many Angolans followed -- not just to Virginia, but to New York and New England, say Thornton and Heywood, who are consultants to the Jamestown Settlement. Their research draws a portrait of the first Africans as urban people connected by common languages, who had had contact with Europeans for many years.

Virginia's first Africans spoke Bantu languages called Kimbundu and Kikongo. Their homelands were the kingdoms of Ndongo and Kongo, regions of modern-day Angola and coastal regions of Congo. Both were conquered by the Portuguese in the 1500s. The Africans mined tar and rock salt, used shells as money and highly valued their children, holding initiation ceremonies to prepare them for adulthood.

And they most likely had been baptized as Christians, because the kingdom of Ndongo converted to Christianity in 1490. Many were literate. This background may be one reason some of Virginia's first Africans won their freedom after years as indentured servants, the historians said.

The Portuguese and Catholic roots figure prominently on a glass wall in the new gallery at the Jamestown Settlement. Mareo, Christian, Nando, Acquera, Palmena, Cuba, Salvo -- they are among 400 African names engraved on the wall, one for each anniversary year.

One is Angelo, whose name appears on a 1624 census of the colony discovered in the past decade. She is listed as a "Negro woman" who came on the Treasurer and worked as a servant in the home of Capt. William Pierce and his wife, June. Historians assume the slave's name was Angela.

It is Angela, played by a young Angolan actress, who stars in the introductory film visitors will see as they watch the new story of Jamestown unfold. The 23-minute movie was filmed on a beach in Luanda in 2004.

The film will replace a 15-year-old version that gives the first Africans only a passing mention. Now visitors will be transported to a Portuguese cathedral in Luanda, where a Jesuit priest breaks bread with the captains of the San Juan Bautista. They discuss the souls to be saved and riches to be made from the continued shipment of slaves from Massangano, an inland city. The film cuts to a hut on the shore of the Kwanza River, where Angela, a young woman in her twenties, pounds grain and smiles. Then she and thousands of others are captured and taken to a beach at Luanda. A Jesuit priest asks her if she has been baptized, and she answers yes.

"Then she is a child of God. When she dies, she will go to heaven," the priest says. And the slave ship sets sail against the evening sun.

[Return to
table of contents]
---
An Abolitionist Leads the Way
In Unearthing Of Slaves' Past
By John Noble Wilford

September 5, 2006


Article posted online by the New York Times at: http://www.nytimes.com/
Copyright 2006 New York Times.



Except for the archaeologists digging in a grove of trees, the old plantation on the Eastern Shore of Maryland appears to be much the same as it was when the abolitionist Frederick Douglass lived here as a slave child, some 180 years ago.

The main house has lost none of its "air of dignity and grandeur" that Douglass remembered. The long drive from the gate runs through a broad lawn and is still paved with white pebbles that sparkle in the summer sun. The mind's eye pictures carriages arriving at the steps of the two-story Georgian house, with its fresh coat of pale yellow paint.

In the back, there are neat out-buildings that served as wash houses and henhouses, kitchens and stables. Beyond, there are formal gardens, an old greenhouse for growing exotic fruit and, not far away, the family cemetery. A single family, the Lloyds, has owned this land since the 1660's. While the cemetery is filling up, their property has diminished to 1,300 acres, still a substantial spread but down from the 42,000 acres they had owned in three states.

The Wye House plantation is a kind of time capsule of the economy and society that dominated much of the antebellum South. All that is missing is the reminder of the human cost that Douglass knew, rose up against and never forgot.

The slave quarters have vanished, on the whole a matter of no regret. But for the archaeologists digging on the grounds, the absence is lost history. They are among a steady number of scholars in the South engaged at ground level in reconstructing the culture of slavery in America.

The search for buried remnants of the dwellings of the African-American slaves has brought archaeologists and their students to the plantation the last two summers, at the invitation of the Lloyd descendants. The project is directed by Mark P. Leone, an archaeology professor at the University of Maryland who has spent much of his career investigating material remains of the gentry and their slaves in Annapolis, Md.

This was a rare opportunity, Dr. Leone said, to excavate a large Southern plantation that has been in the hands of the same family for more than 340 years. That may have helped preserve the buried history.

"We're unearthing historic and scientific treasure," Dr. Leone said, citing the discovery of three and possibly four sites of building foundations and a variety of humble household goods, including thimbles and buttons, spoons and eating knives, ceramics and leftover bones from meals the people ate.

Standing under a tulip poplar at one of the excavation pits, Lisa Kraus said she was also digging into the largely unexamined Lloyd family journals, letters and ledgers at the Maryland Historical Society in Baltimore. She is a graduate student at the University of Texas, Austin, preparing a doctoral dissertation on the plantation's slave society.

"Very few Southern farms have this kind of knowledge at hand -- a Frederick Douglass or these archives," Ms. Kraus said. Nodding toward the estate house, she added, "Or a Mrs. Tilghman."

Mary S. Tilghman, an 87-year-old widow, is the 11th-generation owner of the property. Her stories, passed down from early times, are "a source of primary information" for the project, Ms. Kraus said.

Seated in the south parlor amid portraits of departed kin, Mrs. Tilghman said she and her older son and heir, Richard, fully approved of the excavations.

"I am really fascinated by anything I can find out about the place," she said.

Asked if it made her uncomfortable to think the project would call attention to the family's slaveholding past, Mrs. Tilghman replied, "Slavery wasn't invented by colonial Americans, and we don't think it was good, but it was there."

The archaeologists started their research with a hand-drawn map from 1784 and the autobiographical writings of Douglass, the eloquent champion of freedom for slaves who was a presidential adviser to Abraham Lincoln during the Civil War.

Douglass lived on the plantation as a boy of 7 and 8 in the 1820's, and the experience made a lasting impression. He wrote of the grinding poverty and hopelessness, the "whippings and savage mutilation of slaves" and the cruel overseer who was "judge, jury, advocate and executioner." It was here, he said, that he first understood that he was a slave and what that meant.

His vivid descriptions set the slave quarters on what was called the "long green," which ran from near the main house down to the river. A two-story brick dwelling was surrounded by a community of huts, work sheds and a crowded, rough-hewn dormitory known as the "long quarter."

The entire quarters disappeared more than a century ago, leaving all traces of the building ruins buried and overgrown with brush and trees. Ms. Kraus, whose previous experience included excavations of George Washington's distillery at Mount Vernon, in Virginia, said the archaeologists relied on the map and the Douglass writings to orient their excavations.

One of their first test trenches uncovered foundation bricks, possibly remains of the two-story brick dwelling Douglass described. A huge poplar grows out of the building site, forcing student excavators to dig gingerly around and under the tree roots. They found household goods from the 18th and early 19th centuries.

"In slavery, the line between work and home life was very blurry," Ms. Kraus said. "Some lived in their workshops, but this is just a dwelling. We can tell by the artifacts."

Steps away, archaeologists have exposed a line of bricks, probably the foundation for a wooden building from the 18th century. Buried in the sediment were pipe stems, broken window glass, some pieces of carriage equipment.

"We're not sure what to make of this site," Ms. Kraus said. "Some sort of shop, perhaps."

Closer to the river, a crew of students supervised by Michael Gubisch, a recent Maryland anthropology graduate, was digging around a brick wall that had been recently exposed. This was presumably the carpentry shop marked on the map at about this spot. Some iron tools were found, and charcoal in the soil suggested that the shop met its end by fire.

"We are finding evidence of intensive occupation through this entire area," Ms. Kraus said.

Archaeologists plan to return next summer for the project's final season, and Ms. Kraus is continuing her examination of the family records, which has its emotional moments.

"You read Douglass about someone being sick, about aunts and grandmothers and families," Ms. Kraus said. "Then in the archives you read their names, and they are listed in the inventory along with hogs, cattle, horses, plows and other property."

Ms. Kraus said she had found Douglass to be a reliable witness. The one building still standing on a knoll at the edge of the slave quarters appears almost exactly as Douglass remembered it. This is the red cottage believed to be where the feared overseer lived and kept watch on the slave population of close to 1,000 in flush times.

Douglass wrote of the overseer and the mornings when the horn called workers to the fields. "Woe betides them who hear not this morning summons," he said, for the overseer used to stand by the door of the long quarter, armed with a hickory stick and ready to whip anyone lagging behind.

While excavators worked the shallow pits, the still of the hot afternoon was broken by a noisy mowing machine driven by a caretaker. Machines have mostly replaced manual laborers, white or black.

Mrs. Tilghman said African-Americans in nearby communities, some of them descendants of the plantation slaves, used to work the fields at planting and harvest. "But that is a thing of the past," she said. "Two men with machines, the big stuff, can do all the work."

Dr. Leone called attention to another change: the trees growing where the slaves had lived.

During slavery, Dr. Leone said, the quarter was cleared of all trees so that everything and everyone were always in clear view from the estate house, the overseer's cottage and the wharves.

"Lines of sight and the fear of being watched, coupled with violence, were the techniques of slave governance," he said.

After Emancipation in 1863, many of the former slaves settled outside the plantation in the new villages of Unionville and Coppertown. The archaeologists said they had consulted their descendants in planning the project, asking what they would like to know about the place where their forebears lived in bondage. Ms. Kraus has described results of the excavations at periodic meetings at St. Stephens A.M.E. Church in Unionville.

"What have archaeology and history done for African-Americans? Not much," Ms. Kraus said. "We are working in places like Unionville to get the people identifying with our research as a part of retrieving their lost history."

It was a history that motivated Douglass to fight for the end of slavery. After two years here, he was sent to work in Baltimore and eventually escaped to New York and freedom. He returned later to Wye House under more favorable circumstances.

"My grandfather remembered, as a young man, when Douglass came here after the war," Mrs. Tilghman said. "They had drinks and food out on the porch, a fine time."

Even though the visit could not wipe the slate clean, it left Douglass with warmer thoughts of the old plantation.

"To say that our reception was every way gratifying," he wrote, "is but a feeble expression of the feeling."

[Return to
table of contents]
---
Georgia Excavations Yield Look at Slave Life
By Mike Toner
Atlanta Journal-Constitution

July 2, 2006


Article posted online by the Atlanta Journal-Constitution at: http://www.ajc.com
Copyright 2006 Atlanta Journal-Constitution.



Slavery left its scars -- physical and psychological -- on generations of Americans. Now, Georgia archaeologists are discovering that it left indelible marks in the landscape as well.

In scattered excavations, from the Sea Islands to downtown Columbus, new glimpses of African-American culture before the Civil War are emerging. They are fragmented but tangible hints of a lifestyle that, until now, has been only thinly documented.

"Not a lot is known about what it was like to be an African-American before the Civil War because historians either didn't record it or they did it with prejudice," says Joe Joseph, vice president of New South Associates, one of several Atlanta-based firms that do contract archaeology for developers and government agencies.

"By looking at the landscapes, the architecture and the material culture that remains, we are getting a more complete picture of what it was really like," he says. "The emerging picture is one of a culture that had much more depth to it than we used to believe."

At its annual meeting this year, the Society for Georgia Archaeology attempted to take stock of the cultural details -- from the African-style home the first slaves built in America to the ceramic traditions they introduced -- that have come to light since the civil rights movement kindled interest in African-American archaeology more than a quarter of a century ago.

There's a lot of catching up to do. America's slave era began in 1619 when a Dutch ship landed in Virginia with 20 slaves. By the time of the Civil War, there were 4 million slaves in the Southern states -- about one-third of the region's population.

Some of the new evidence has reinforced accounts from that time that many people simply refused to believe, such as Frances Anne Kemble's "Journal of a Residence on a Georgia Plantation," a controversial account of antebellum slave life on St. Simon's Island.

Kemble, a British actress who married a wealthy planter, chronicled rapes, whippings and squalid living conditions in the slave community of St. Anne's on St. Simon's in the journal she kept while living at the Hampton Point Plantation in the 1840s. When her journal was published in 1863, it was derided in the South as the distortions of a meddling foreigner. But, in Europe, it was second only to "Uncle Tom's Cabin" in stirring abolitionist fervor.

"We actually dug at the site she talked about in her journal, and everything we found was just the way she described it," says Scott Butler, an archaeologist with Brockington and Associates, who excavated the old slave quarters to clear the way for a real estate development.

"We found the foundations of 16-by-16-foot frame houses that held 10 slaves each, the remains of mud and stick chimneys, the trash pits beside the house, and scissors, thimbles, bone buttons and the other things these people used in everyday life," he says. "There are no photographs of St. Anne's, so the artifacts we found are as close to personal histories as we will ever get."

Some bits of emerging historical mosaics are small and personal, such as the children's toys, jewelry and simple musical instruments excavated in Columbus from the cramped servants' quarters behind the 1830s home of states' rights advocate and attorney Henry Benning.

Others artifacts are more poignant. Slates and writing materials from the Benning compound, for instance, attest that -- despite laws forbidding it -- some slaves were reading and writing.

"In spite of the lack of freedom, these were small signs that these people were nurturing their cultural independence," says archaeologist Rita Elliott, who excavated the site before construction of a new office building in downtown Columbus.

On Ossabaw Island, on land owned by the state of Georgia, archaeologists have been studying slave dwellings built on the island's North End Plantation in the 1840s -- some of which are still standing.

Archaeologist Dan Elliott, working under a grant from the Georgia Department of Natural Resources and the nonprofit Ossabaw Island Foundation, was astonished when he dug beneath the floors and found remnants of an even older, pre-Revolution slave population -- buttons, ceramics and harmonica parts that date to the 1760s, when the island had a thriving trade in indigo and sea island cotton.

The cabins themselves were made of tabby, a poured mixture of lime, water, sand and oyster shell. Although tabby was introduced to the Americas by the Spanish, it may have African origins. Some historians believe tabby may have originated on the northwest coast of Africa, been taken to Spain, then finally introduced to the Americas, where it was embraced again by African-American cultures.

New discoveries also are challenging popular notions of how slaves lived on early American plantations, which today are usually envisioned as "the big house," with a cluster of outbuildings and rows of dingy slave quarters.

"In the past, archaeologists studying plantations were interested in the homes of the wealthy and influential -- and they paid little attention to the people who made the plantations run," says Joseph.

In recent years, excavations have suggested that, at least during the 1700s, slave quarters were often built by the slaves themselves and closely resembled traditional West African dwellings -- round houses of clay and sticks built around a central chimney with thatched roofs and dirt floors. "All the evidence suggests that this forgotten architecture was the most common kind of dwelling for African-Americans early in our history, and yet it is hardly mentioned by historians at all," says University of South Carolina anthropologist Leland Ferguson.

Ferguson says African-Americans also put a lasting stamp on the ceramic traditions of colonial America.

Until recently, historians assumed that a brownish low-fired clay earthenware called colonoware that was found in abundance at some plantation sites had been crafted by Indians. Then, archaeologists began discovering it in the remains of slave quarters -- and in homes in downtown Charleston -- sometimes decorated with traditional African symbols.

"We're talking about what, at some sites, was the single most common artifact found -- something that was as familiar to people of the time as the early morning coffee mugs was to us, and until recently we didn't realize it was made by African-Americans," says Ferguson.

Some of the roots of colonial agriculture also have their roots in Africa. Archaeologist Brad Botwick, of New South Associates, says the hollowed out cypress trunks used for floodgates in Georgia and Carolina rice fields were derived from traditional practices in West African rice fields.

So, too, was the practice of harvesting rice in hollowed out logs. "Rice was Georgia's first staple crop," he says. "Rice was introduced to American in the 1690s and traces of the landscape that was created for growing are still visible in some areas."

Not all of the archaeology of pre Civil War African-American heritage, however, is synonymous with slavery. When the city of Augusta decided to build a conference center and hotel along its Savannah River frontage, archaeologists were called in to salvage a largely forgotten chapter of city history -- a community of free African-Americans that took root there after the American Revolution. In 1787 the community founded the Springfield Baptist Church, the oldest independent -- and still active -- black congregation in the country.

At its peak, Springfield was home to at least 112 free blacks who worked at trades, including carpenters, saddlers, blacksmiths and barbers. Beneath the streets and sidewalks, archaeologists turned up bits and pieces of their lives and some new insights.

Joseph, whose firm conducted the excavations, was intrigued by an elaborate white clay pipe bowl -- carved in the form of a human face and detailed in black and gold paint. He noted the irony of such a find in a city where fines of up to $3 or 30 lashes were possible for any black person caught smoking in public.

He also discovered the intact outline of one Springfield dwelling -- a two-room, 10-by-20-foot house built of clay and wood posts between 1820 and 1850 and surrounded by small earthen pits -- that closely resembled the size and layout of Yoruba dwellings in West Africa.

In Africa, the floor plan allowed the dwellings to be linked or expanded. But Joseph says the architectural style of two or three rooms with no hallway found a place in 19th century America in what would come to be called the "shotgun house."

As more evidence of African-American material culture comes to light, archaeologists say more insights into what remains a sparsely documented culture are inevitable.

"We have only been into all of this for a quarter of a century," says Ferguson. "The archaeology of African-American culture in this country has barely begun."

[Return to
table of contents]
---
Call for Papers:

Slavery: Unfinished Business
An Interdisciplinary Conference.
University of Hull, May 16-19, 2007
The University of Hull, through its newly established Wilberforce Institute for the study of Slavery and Emancipation (WISE), intends to mark the bicentenary of the abolition of the British slave trade in 1807 by hosting a conference entitled Slavery. Unfinished Business in Hull 16-19 May 2007.

Hull is the birthplace of William Wilberforce, the Parliamentary leader of the British antislavery movement, who in alliance with Thomas Clarkson, Olaudah Equiano and those who fought slavery from within, led the campaign that succeeded in convincing Parliament to outlaw the British slave trade. This marked the beginning of an international crusade against slavery that ultimately resulted in the formal outlawing of slavery worldwide. But two hundred years on from the abolition of the British slave trade, slavery and other forms of coerced labour continue to blight millions of lives. Slave trafficking, child labour, forced prostitution and other abuses of human rights, according to some authorities, have increased in the late twentieth and early twenty-first centuries in the context of globalisation and widening differentials in wealth. The emancipation movement still has unfinished business.

The WISE conference will bring together scholars, educators, heritage practitioners, policy influencers and policy makers to consider both historical and contemporary aspects of slavery, emancipation and human rights. Three sub-themes for the conference have been identified. These are: the past and the present; movement and identity; and the boundaries of freedom and coercion. The agenda for each theme is open, but we expect a healthy mix of disciplinary approaches and of basic and applied research as well as a wide coverage of historical and contemporary forms of slavery and emancipation issues. We would welcome suggestions for panels of up to four papers as well as proposals for individual papers that address one or more of the sub-themes. We also welcome proposals for panels that bring together academics and non-academics. We anticipate holding up to three sets of parallel sessions per day, each set comprising up to five or six panels. Some sessions or panels may be primarily historical, others more contemporary or policy-related in focus and yet others a mix of various disciplines in the humanities, sciences and social sciences. We intend to introduce each day of the conference with a keynote address.

The conference will be the occasion for the premiere of a number of new pieces of work, including poetry reading and a short piece by the composer Alastair Borthwick on a Wilberforce theme.

The closing date for proposals, whether for papers or for panels (the latter preferably with a chair person) is 30 November 2006. We anticipate finalising the conference programme by 31 December 2006.

Please send proposals in the first instance to Jane Ellison, WISE conference organiser at j.ellison@hull.ac.uk. Anyone wishing to discuss a proposal prior to submission should contact David Richardson (Director of WISE), or Michael Turner or Gary Craig (Associate Directors) at p.d.richardson@hull.ac.uk; m.e.turner@hull.ac.uk; and g.craig@hull.ac.uk respectively.

WISE was formally opened on 6 July 2006 by HE The President of Ghana, John Agyekum Kufuor. The patron of WISE is Archbishop Emeritus Desmond Tutu. The May 2007 conference will be the third in a sequence of four conferences with which WISE is associated between its opening and August 2007. For details of the other conferences and for information on WISE see www.hull.ac.uk/wise.

[Return to
table of contents]
---
Call for Papers:

WAC Inter-Congress in Jamaica
May 20-27, 2007
Past announcement from Claire Smith, President of the World Archaeological Congress (WAC), http://www.worldarchaeologicalcongress.org: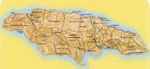 The WAC Executive wishes to advise that plans to hold WAC-6 Congress in Jamaica have changed. At the time of writing, there is insufficient financial support to adequately support participants from Indigenous groups and economically disadvantaged countries. Since the full participation of these groups is essential to the decision-making processes that are integral to WAC Congresses, we have decided to postpone WAC-6. The necessary support is within reach and we have several suitable venues under consideration.

The WAC meeting at Jamaica will now be held as an Inter-Congress. It will take place at the scheduled time, in May, 2007. The Executive would like to offer sincere gratitude to the Archaeological Society of Jamaica, and especially Dorrick Gray, Ainsley Henriques, Leslie-Gail Atkinson, Audene Brooks and Evelyn Thompson. Their efforts on behalf of WAC and on behalf of the archaeologists of Jamaica have been tremendous.

The Executive will announce the new date and venue of WAC-6 within the next two months. We anticipate a WAC-6 date of mid-2008 at the latest. In the meantime, we all look forward to a very successful Inter-Congress in Jamaica, in May, 2007.



---



WAC Inter-Congress in Jamaica, May 20-27, 2007


The WAC was founded in 1985 as the only representative, fully international organization of practicing archaeologists. It encourages open dialogue between archaeologists and others concerned about the past, including First Nationals people whose pasts are told by archaeologists. One of WAC's primary functions is to hold an international congress every four years and several inter-congresses each year to offer discussion on new archaeological research, as well as archaeological policy, practice and politics. Previous congresses have been held in England, Venezuela, India, South Africa and Washington, D.C. It will be the first time that a WAC Inter-Congress will be held in Jamaica. In May 2007, the Caribbean will celebrate 200 years since the abolition of the Atlantic Slave Trade. This will be an important backdrop for the staging of WAC's Inter-Congress under the theme of "Threats to Archaeology, its Importance, Values & Development."

The Inter-Congress in Jamaica promises to be a unique experience. The island has a long and interesting role in the Americas. It was once one of the island homes of the Classic Taino, the people who greeted Columbus on his second voyage. The island's fabled sugar industry and its history of enslavement will be recognized in 2007, the 200th anniversary of the end of the British slave trade. The Inter-Congress is being held on the Mona Campus of the University of the West Indies (UWI), itself the site of two 17th century sugar estates. This campus today offers vistas of Caribbean academia not to be found elsewhere in the region.

The Archaeological Society of Jamaica (ASJ), Inter-Congress hosting organization, now in its third decade, has mobilized to make the Inter-Congress memorable. Our website, www.asjam.com, has links to all aspects of Jamaica including places to stay, the UWI campus, and arrival information. More detailed information concermimg our Call for Papers is available at http://www.asjam.com/call.php. Proposals for themes, such as African Diaspora, Maroon Societies, Plantation Archaeology, and Post-Emancipation Free Villages, will be accepted for consideration through November 15, 2006. Proposals for sessions will be accepted through November 30, 2006. The deadline for abstracts for individual papers is December 29, 2006. Individual papers may be submitted prior to February 28, 2007, and will be assigned to appropriate sessions and themes. Abstracts of 150-250 words should be submitted via email or mailed the following addresses: email: wacicjamaica@gmail.com, or WAC Inter-Congress, c/o Mr. Dorrick Gray, Archaeological Society of Jamaica, Archaeology Lab, Department of History and Archaeology, University of the West Indies, Mona, Jamaica, W.I.

[Return to table of contents]


---
Call for Papers:

Rethinking Boundaries: Transforming Methods
and Approaches in Atlantic History.
February 9-10, 2007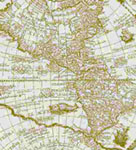 The "Rethinking Boundaries: Transforming Methods and Approaches in Atlantic History" conference, sponsored by the Atlantic History Program at New York University, will be held in New York City on Febrary 9th and 10th 2007. All fields of history are invited to submit proposals related to the theme by October 1st 2006.

Over the last decade, scholarship in Atlantic history has opened new perspectives on older imperial histories but at the same time often replicates some of the boundaries and limitations of more traditional interpretations of the histories of Africa, the Americas and Europe. This conference seeks to open up questions of method and approaches to Atlantic history and interrogate categories of analysis imported into the field.

For example, much attention is given to the diversity and interactions of the "European" Atlantics -- French, Dutch, Spanish, Portuguese and British. Yet the terms "Brazilian Atlantic," "Canadian Atlantic," "Kongolese Atlantic," or "Iroquois Atlantic" seldom appear in scholarship. Scholars are encouraged to suggest papers that interrogate this privileging of European empires and that broaden our understanding and conceptualization of the field of Atlantic history. Recently scholars have begun to question the very nature of the archives as history producing institutions. Special attention will be given to papers that acknowledge the choice of sources made by scholars and that question the privileging of certain voices in the historical record.

Scholars at all stages of their careers are invited to submit proposals of no more than 500 words, related, but not limited, to the broad themes listed below:

Gender and Sexuality in the Atlantic;
Religious retention, syncretism and conversion to or through multiple religions;
Slavery and the market;
Colonial Violence;
History and memory;
The Arts and Colonial Projects;
Colonial Influence on Law;
Transnational approaches to Atlantic history in the nineteenth century;
Atlantic connections to the Pacific;
Indigenous experiences in Africa and the Americas.

Graduate students presenting papers at the conference will receive some assistance in covering travel and accommodation costs.

Proposals of 500 words or less should be emailed to Jenny Shaw, jenny.shaw@nyu.edu by October 1st 2006. Updated information about the conference will be available on the conference website www.nyu.edu/pages/atlantic/.

[Return to table of contents]


---
Call for Papers:

Beyond Visibility: Rethinking the African Diaspora in Latin America.
March 1-2, 2007
University of California-Berkeley.
Abstract Submission Deadline: November 3, 2006.

In recent years there has been an explosion in scholarship that goes beyond recognizing the presence of Afro-Latin Americans and towards interrogating this topic more deeply. Through this inaugural conference, we intend to build on this momentum -- advancing inter-disciplinary scholarship on the African Diaspora in Latin America by moving towards research that critically engages the theoretical and methodological challenges of this research. Organized by the Afro-Latino Working Group at UC Berkeley's Center for Latin American Studies, we aim to create a forum for graduate students to dialogue with established scholars whose work explores the African Diaspora in Latin America. This conference will foster new dialogues about race, ethnicity, culture, society, economy, politics and nation in the academic world.

The conference will feature a series of graduate student panels as well as a faculty keynote and roundtable discussion from preeminent scholars working on the African Diaspora in Latin America. We invite abstract submissions from current graduate students on a diverse array of topics and disciplinary orientations that are both theoretical and empirical in content. The conference is oriented towards graduate students pursuing projects about the African Diaspora in the Americas (including Mexico, Central and South America, and the Spanish-speaking Caribbean). Specifically, we strongly encourage papers that address under-theorized regions in the Americas as well as comparative and regional works. We offer the following themes as submission suggestions:

Theory and Pedagogy: New Directions in the Field;
Social Movements and the Politics of Race;
Media and Cultural Representations;
Identity, Race and Ethnicity;
Migration and Transnationalism;
Folklore and National Identity;
Comparative Historical and Literary Analysis.

500 word abstracts should be submitted to the organizing committee via email as word documents or PDF files. Please submit abstracts by November 3, 2006. Submissions should include the abstract, current contact information, presentation title and current C.V. Accepted authors will be notified by December 15, along with full submission guidelines for papers and/or presentations. Full papers are due on January 5. All papers and presentations must be available in English. Papers will be made available through the Center for Latin American Studies.

Submissions and inquiries should be sent to: afrolatinogroup@berkeley.edu or via USPS to Vielka C. Hoy, Afro-Latino Working Group, 660 Barrows Hall, #2572, Berkeley, CA 94720.

Please check our website regularly for updated conference and registration information:
http://www.clas.berkeley.edu:7001/Research/workinggroups/groups/afrolatino.html.

[Return to
table of contents]
---
Conference Symposium:

The New York African Burial Ground "Final" Analysis:
Intersections of Time, Space, and Perspective.
American Anthropological Association Conference.
San Jose, California, November 18, 2006.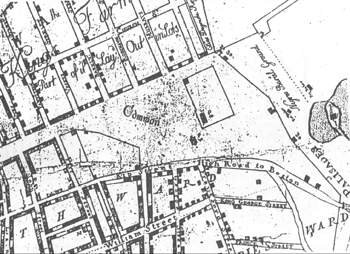 Eighteenth century map
Symposium organizers, Autumn Barrett and Shannon Mahoney; chair, Michael Blakey; presenters, Alan Goodman, Jean Howson, Warren Perry, Lesley Rankin-Hill, Joseph Jones, Arion Mayes, Christopher Null, Susan Goode-Null, Autumn Barrett, Michael Blakey, Barbara Bianco, Sherrill Wilson, and David Thomas. Date and time: November 18, 2006, 8am to 11:45am.

Abstract: New York City's 18th century African Burial Ground was excavated during 1991-1992 to make way for a federal building. The cooperation of today's descendants availed the opportunity to conduct studies of the cemetery and archaeological site, containing the largest colonial bioarchaeological population studied in the Americas. More than 400 human skeletal remains and their archaeological and historical contexts were analyzed by Howard University research teams from 1993 through 2003 when the remains were reburied in Manhattan following ceremonies in 5 east coast cities. The final multidisciplinary reports were completed between 2004 and 2006. Critical, publicly-engaged, biocultural, and Diasporic approaches have framed the construction of the history of these early enslaved Africans undertaken by more than 200 researchers at 9 laboratories and universities. The final analysis, being reported here for the first time, attempts a synthesis of science and humanism in order to comprehend an African colonial experience in which a nascent African-American identity would emerge. This study has also considered the broad transatlantic and Caribbean context of New York commerce and examines events in English colonial and U.S. history that impacted the Africans buried at the site. Their origins and arrivals, and conditions of their lives and deaths are exhibited in studies of art, genetics, histology, material culture, demography, pathology, spatial analysis, chemistry, historiography, ethnology, nutrition, work, development, trauma, human rights and public dialogue. Symposium participants are challenged to integrate these methods to tell a story about times in history and in the human life cycle.

Additional conference information is available on the AAA web site at www.aaanet.org.

[Return to table of contents]


---
Conference:

Contemporary and Historical Archaeology in Theory.
November 10-12, 2006

The 2006 meeting of the Contemporary and Historical Archaeology in Theory (CHAT) conference will be held November 10-12, 2006, at the University of Bristol, England. The conference theme is "Doing Contemporary and Historical Archaeology: Method and Practice in Archaeologies of the Recent and Contemporary Past," and includes several papers on historical archaeology in African and African diaspora subjects. Additional details and information, including a full program with abstracts of papers, are available on the conference web site at http://www.bris.ac.uk/archanth/events/chatpapers.html.

[Return to
table of contents]
---
Conference:

Old World/New World: Culture in Transformation
Society for Historical Archaeology.
January 10-14, 2007

Central to the theme of the 2007 SHA conference in Williamsburg/Jamestown, Virginia, is the historical archaeology of Jamestown in the context of the emerging 16th and 17th century Atlantic World. The program will feature a plenary session focusing on the archaeology of the early decades of European expansion along the Atlantic rim, and what it reveals of the process of cultural change among Europeans, Africans and native peoples. Concurrent sessions are open to presentations on regional or temporal variations on the plenary theme and other individual research projects that incorporate comparative and interdisciplinary research. Innovative use of advanced technology will be a subtheme throughout. Additional information is available from the Society's web site at www.sha.org.

[Return to table of contents]


---
Book Review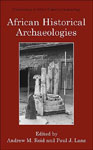 H-NET BOOK REVIEW
Published by H-SAfrica, http://www.h-net.org/~safrica/ (August 2006).

Andrew M. Reid and Paul J. Lane, eds. African Historical Archaeologies. Contributions to Global Historical Archaeology Series. New York: Kluwer Academic/Plenum, 2004. 408 pp. Illustrations, maps, notes, bibliography, index. $165.00 (cloth), ISBN 0-306-47995-8; $77.00 (paper), ISBN 0-306-47996-6.

Reviewed for H-SAfrica by Peter Mitchell, School of Archaeology, University of Oxford.

All Archaeology Is Historical, Isn't It?


For those unfamiliar with the last forty years or so of archaeological theory this might seem a peculiar question since surely the answer to it is affirmative: both archaeology and history, though they employ somewhat different kinds of evidence, are concerned with reconstructing and understanding what happened in "the past." However, as this book makes plain, things can be more complex than that and the creative tension between different concepts of "history" and "archaeology" is a leitmotif of African Historical Archaeologies. The principal sources of the book are twofold. First, and developing from the rapid growth of archaeological research on Africa's recent past since the early 1960s, is the fact that Africanist archaeologists are used to drawing together multiple lines of evidence: alongside those that are extracted from the ground through excavation or obtained by archaeological surveys, that evidence includes data obtained from linguistics, comparative ethnography and, latterly, molecular genetics. Above all, however, these sources include a variety of textual sources -- some written by Africans, others not -- and historical traditions that have been transmitted and remembered not in writing, but in speech and song. The use of oral and documentary history is, therefore, a commonplace in African archaeology, one that has helped negate many of the falsehoods that surrounded older views of the African past.

The archaeology of European colonial settlement in North America had a different beginning, colored by the search for material evidence that could be matched against and illuminate already known historical events. Many examples of the same approach could, of course, be adduced from Africa, and the fixation in some quarters on uncritically using written sources to direct archaeological attention toward a few royal centers or major monuments at the expense of gaining a deeper understanding of the lives of the majority has been suitably critiqued.[1] However, the fact (it is, of course, not a coincidence) that the advent of European settlement in the Americas was intimately bound up with the wave of globalization springing from the Portuguese and Spanish voyages of discovery gives a special quality to its archaeological study. As Charles Orser, editor of the series to which African Historical Archaeologies belongs, has forcefully argued, the origins of the world we currently inhabit took shape at this time and were marked by a series of interlinked processes: colonialism; Eurocentrism; capitalism; and modernity.[2] For him these themes mark off the archaeological study of the last 400-500 years as an intellectually coherent topic in its own right. Whether written or other historical sources are employed is almost an irrelevance, just as conducting archaeological research in a period or region (Pharaonic Egypt, the Classic Maya, or the medieval Sahel) for which written documents exist does not per se make that research historical archaeology of the kind that he has in mind.

African Historical Archaeologies reflects both these concepts of "historical archaeology," and perhaps this is no bad thing, for in so doing Andrew Reid and Paul Lane successfully represent the diversity that characterizes contemporary Africanist research. Most chapters emphasize the first of the two versions that I have sketched, illustrating for a wide range of areas the interplay between oral, written and material evidence: David Edwards in Nubia (chapter 2), Richard Helm, Jeff Fleisher and Adria LaViolette along the Swahili coast (chapters 3, 4 and 5), Timothy Insoll in the Sahel (chapter 6), Keith Ray in Nigeria's Cross River region (chapter 7), Innocent Pikirayi in Zimbabwe (chapter 9) and the editors themselves in their work on Tswana towns (chapters 10 and 11) all fall here. In contrast, the chapters by Kenneth Kelly on the African origins of the transatlantic slave trade (chapter 8) and Joanna Behrens on industrial archaeology in South Africa (chapter 13) emphasize Orser's definition, though they come at it from opposite ends of the chronological spectrum. These differences are brought out in greater detail by the editors in their introduction and by Peter Robertshaw in his concluding overview. A key point that emerges from both is the importance of examining critically competition and dissonance between different viewpoints about the past, something best exemplified here by J. A. van Schalkwyk and B. W. Smith's chapter (12) on the 1894 Maleboho War between the South African Republic and the Hananwa Sotho in what is now Limpopo Province, South Africa. Such comparative study of oral history, documents, and material evidence can help to subvert the very cultural dominance that Euroamerican-led globalization sought to achieve and has so long imposed.

This, then, as its editors promise (p. 11), is a book of mixed contents and many voices. It offers new analyses of specific issues, whether the Maleboho war just mentioned, the centralization of population that marked eighteenth-/early-nineteenth-century Tswana society, or Helm's use of oral traditions and archaeology to revise views on the history of Mijikenda settlement in northern Kenya. Many chapters, such as Reid's emphasis on developing a cultural taphonomy that can complement etically grounded nutritional analyses of faunal assemblages (chapter 11) or the critiques of regional archaeological traditions by Insoll and Edwards, are relevant well beyond the examples to which they are applied here. But does the book constitute a coherent whole? Valuable as the individual contributions are, the answer is, I suggest, probably not. All employ and evaluate a mix of oral, textual and material sources, but is this enough? A clearer focus on theoretical, rather than methodological, issues would raise the level of the game. Orser's definition of historical archaeology carries greater punch, simply because it carves out a clearly defined set of themes that we can expect to have been processually interlocked, and Africa -- through the transatlantic trade, the implantation of African populations beyond the continent and the widespread adoption of powerful new American cultigens -- was at the heart of them all. Robertshaw (pp. 388-389) is right to suggest that the African context demands some temporal and spatial expansion of Orser's definition to take account of the multiplicity of ways in which the continent's peoples have interacted with the rest of the world.[3] However, an emphasis on colonialism, globalization and capitalism -- and on resistance to these processes--might identify an agenda that would make archaeology more relevant to understanding the origins of contemporary Africa. At the same time, it might allow African archaeology and African archaeologists (only four of whom are represented in the present volume) to contribute more vocally to the wider discipline.

Notes

[1]. T. Insoll, "The External Creation of the Western Sahel's Past: Use and Abuse of the Arabic sources," "Archaeological Review from Cambridge" vol. 13, no. 1 (1994): pp. 39-50; A. B. Stahl, "Perceiving Variability in Time and Space: The Evolutionary Mapping of African Societies," in "Beyond Chiefdoms: Pathways to Complexity in Africa", ed. S. K. McIntosh (Cambridge: Cambridge University Press, 1999), pp. 39-55.

[2]. C. E. Orser, "A Historical Archaeology of the Modern World" (New York: Plenum Press, 1996).

[3]. P. J. Mitchell, "African Connections: Archaeological Perspectives on Africa and the Wider World" (Walnut Creek: AltaMira Press, 2005).

Copyright (c) 2006 by H-Net, all rights reserved. H-Net permits the redistribution and reprinting of this work for nonprofit, educational purposes.

[Return to
table of contents]
---
Book Review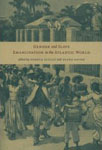 H-NET BOOK REVIEW
Published by H-Caribbean, http://www.h-net.org/~carib/ (September 2006).

Pamela Scully and Diana Paton, eds. Gender and Slave Emancipation in the Atlantic World. Durham and London: Duke University Press, 2005. vi + 376 pp. Maps, notes, bibliography, index. $84.95 (cloth), ISBN 0-8223-3581-6; $23.95 (paper), ISBN 0-8223-3594-8.

Reviewed for H-Caribbean by Bruce M. Taylor, Department of History, University of Dayton.

The Ties that Bind


Diana Paton and Pamela Scully begin their edited collection, of predominantly historical essays on postemancipation societies in the "Atlantic World," with an introduction that wastes no time in letting us know why they write. "The essays . . . draw on feminist theory which shows that gender involves 'doing' rather than 'being.' Scholars . . . have argued that there are no presocial gendered essences. There are just women and men who have different experiences, only people whose bodily differences are, through social and discursive processes, fixed and categorized into two opposed groups: male and female" (p. 2). While we are, therefore, warned to expect normative bias or at least some rooting for women who are struggling to find agency and space, the authors for the most part, neither lead witnesses nor spin evidence.

Offering a work on "Gender and Slave Emancipation in Comparative Perspective," which is the title of their introduction, presents, however, more substantive difficulties. Darlene Clark Hine, in her message to members as the President of the American Association of Historians, invited academics to "cross boundaries" and "engage in more collaborative and comparative work."[1] This volume certainly crosses boundaries as it examines the role of gender in a wide variety of settings including the United States South, Caribbean, Brazil, and Africa. But the authors of the articles do not engage one another in a collective enterprise of comparative analysis. Such an analysis demands some conceptual work in arriving at a coherent approach to comparison and contrast. Northwestern University's African American Studies program offers a graduate course in conceptual methodologies that includes in its description the lament that there is a "neglect of focused discussion on the application of critical concepts in interdisciplinary analysis." Several of the authors in this collection individually use concepts that might serve as components of a comparative research design, but there is no extended application. The authors do, however, provide some organization by dividing the chapters into three sections: "Men, Women, Citizens"; "Families, Land, and Labor"; and "The Public Sphere in the Age of Emancipation." The divisions, however, do not constitute an algorithm for comparative analysis. Further, each case offers only a glimpse of asingle geographic area and for only a short time. As Martha Nussbaum warns in the introduction to her Women and Human Development, "Some writings . . . pull in thinly described examples from many different cultures, without setting any of them in a deep or rich context."[2]

This essay collection is an extension of comparative research on slavery in North and South America dating from, at least, the publication in 1946 of Frank Tannenbaum's Slave and Citizen: The Negro in the Americas. Since then, researchers have vigorously debated issues of method and concept with respect to largely contemporary slave regimes. The comparative study of gender in post-emancipation societies is more difficult since many of the places discussed shifted from slave-based economies to wage/peasant ones at different times and at different speeds. Moreover, the scope has widened to include African colonies.

There is one conceptual theme that might be used for comparative purposes that is embedded throughout the collection, but is not explicitly advertised in the introduction and rarely called to the reader's attention in the essays: a gendered and hierarchical culture weaves a "socionet" that clutches all bodies in its strictures. When any one of them tries to break free, the network is reminded of its own existence and draws the sinews tighter. At times, some of the constrained find bargaining leverage when there is conflict among elites or when the ideology justifying the net provides an opening to exploit. The result may be some gain, but the legitimacy of the larger structure remains in place. The Tunisian Albert Memmi, in his 1957 classic work translated from the French as The Colonizers and the Colonized, described oppressed Algerians who accepted the role assigned to them by the French colonizer and acted in accordance with characterizations held in those minds.[3] The oppressor could remain justified in maintaining the system that treated others as inferior. Those individuals wishing to improve their lot did so by trying to emulate elites, which only strengthened the network. Even though such a hierarchical system is inherently unstable, it is remarkably long lived until it is attacked from outside or undergoes an inevitable decay as the absurdities on which it is based erode. Such an approach, sometimes billed as the "Memmi-Fanon-Sartre Thesis," or otherwise simplified into a structure/agency pairing, might be one way to approach the daunting task of comparing disparate cultures that are positioned by the editors into the rather large frame of Atlantic Studies.

Pamela Scully, in the first essay, discusses masculinity and emancipation in the Cape Colony 1834-44. Cobus, a newly minted "apprentice" in 1834, when British slavery ended, said he wanted to marry the white daughter of his impoverished female owner (now employer), claiming that he was equal to whites and so could marry anyone. Scully sees a case of a former slave now emerging from bondage to claim both his manhood and his place as a citizen in a new era. Scully recognizes this was an a typical case, yet, even here, we see that Cobus reaffirmed the dominant racial structure by his challenge. Also, Scully reports that both Africans and Europeans continually placed women in an inferior position. Even after the British shook the socionet by its forceful and disruptive action, the strands of culture remained strong. Scully states, moreover, that racial consciousness increased after emancipation, as elites maintained social control in a potentially dangerous time.

Sue Peabody examines the experience of Saint-Domingue, Guadeloupe and Martinique 1650-1848 and concludes that emancipation brought more benefits to men than to women. As she sets out her intra-cultural comparative analysis, she also reveals the strength of the existing socionet. The Code Noir of 1685 was quite liberal in its provisions allowing freed people to assume all the rights of French subjects. But as free people of color began to accumulate wealth, the planter class in the colonies began to petition the crown for restrictions. The advance of the gens de couleur reminded the elite of the net that was in place and they took steps to mend it. Also, the account of two female slaves who were able to accumulate wealth, but did not at first try to leave servitude because their master assured them of protection, shows again the net in operation. And even when they decided to purchase freedom, conservative nobles who sought to presrve the system blocked their way.

Mimi Sheller uses the South Asian Studies concept of "subaltern" to examine relationships among working class males in post-slavery Jamaica. Here the gender analysis is focused on "how working-class black masculinity came to be enacted as Christian and British, through the exclusion of the indentured foreigner, the "Coolie" (p. 80). In an effort to assert their manhood after slavery, former slaves found it necessary to contrast themselves with newly arrived "others," who were imported to work plantations from which freedmen had withdrawn their labor. They identified with the British elite by looking down on those that were less "civilized." Of course, those elites still regarded the blacks as uncivilized and not worthy of full citizenship, and the women were even more oppressed as black males asserted their masculinity as a mark of freedom. One sentence underscores the power of the cultural net that was strengthened because of a challenge to it. Sheller mentions almost in passing, "even as (blacks) struggled against the dominant racial and gendered order, they were inescapably positioned by it" (p.94).

Roger Kittleson describes the efforts of Brazilian elite women to move into the public sphere as they joined the movement to abolish slavery in Brazil in the last quarter of the nineteenth century. While they had the effect of feminizing the abolitionist cause and thus rendering it less threatening, they failed to make any change in their assigned gender roles. "Abolition moved women's activities toward the center of public politics. While doing so, however, it embraced dominant notions about women's roles in society" (p. 106). And the patriarchal net grew stronger as men, threatened by talk of equality both in Brazil and elsewhere, reacted with open hostility. While it is true that Brazil did yield to pressure for social change, Kittleson mentions quite correctly that economic power had shifted by the end of the century and most of the elites of Brazil could accommodate the gradual shift to a wage/peasant system because their interests were not directly involved.

Carol Faulkner's piece on white women and U.S. policy toward freedpeople is a nice juxtaposition to Kittleson's work, but there is no effort to compare and contrast. Julia A. Wilbur and Josephine S. Griffing were two abolitionists who, in their work in the Freedmen Bureau, tried to ensure adequate help for vulnerable, newly freed slaves. They were also well aware that they were moving into new territory as they used the assigned feminine attributes of caring and nurturing to establish a more public role as administrators. Again we see the difficulty of gaining space within the socionet as their efforts to aid former slaves ran counter to an ideology calling for independent free labor. Whites assumed that blacks would not work unless forced to do so, and to support them would not contribute to acquiring good work habits. And the women who would advocate such a policy were obviously not fit to administer a public program. Faulkner reveals the strength and complexity of the existing cultural net when, at the end of the essay, she notes Wilbur and Griffing's "construction of Freedpeople as needy and dependent may have fed the racist arguments of feminists who believed that white women deserved the vote before African American men" (p. 133).

Bridget Brereton's essay closely analyzes the withdrawal of women from estate labor in the British Caribbean following emancipation and finds that women were consciously using a "family strategy" to secure some private space in the new wage labor environment. Brereton suggests that the pressure of Europeans to establish male dominated families with women staying at hme to care for both the husband and the children did not sink deeply into Caribbean culture. Women rationally decided to establish households more in response to the hard work of the plantations, the threat of sexual abuse, the need to care for children, and the desire to pursue other work than to the influence of European gender norms. Brereton claims that there is a self-conscious effort to escape the socionet, but the evidence for this is not supplied.

Martin Klein and Richard Roberts provide a French West African case study of enslaved women and their brief effort to assert some independence after 1905, when the French finally got serious about enforcing their emancipation legislation of 1848. The authors describe a situation that differed markedly from the experience in the Americas and also from that of the Cape. France was not in a position to enforce abolition since they did not effectively control the territory until late in the nineteenth century. Throughout the period, male owners and husbands dominated African women as slaves and as free persons. For a brief period, from 1905 until 1910, they could seek divorce, but then the window closed and they again were under male control. In this area of the Atlantic World, we see the gendered socionet at its strongest. Except for those lucky enough to carry on limited trade in a few urban areas, there was hardly any room for women to acquire an independent life.

Michael Zeuske takes advantage of digitized Cuban notorial records to engage in a "microhistorical" study to determine the extent to which recently freed women were able to gain access to property. Was the socionet strong? He finds that women did have the opportunity to acquire land and, in some locations, more so than men, despite the fact that the latter enjoyed political advantage from their right to vote and by their participation in the Cuban fight for independence against Spain. But it would seem that the women needed, in most cases, a male representative to sign for them.

Ileana Rodríguez-Silva presents her research on post-emancipation Puerto Rico during the "apprenticeship" adjustment years of 1873-76. She concludes that women were largely unsuccessful in breaking free of the dominant cultural norm established by Spanish and Puerto Rican elites who uniformly referred to the freed worker as male. The goal of emancipation legislation was to insure the continuity of a reliable workforce by establishing a moral social order under-girded by stable, male-dominated families. The socionet was refashioned with vagrancy laws and contract requirements during the apprenticeship period.

Women were able to exploit the conflict between the need for agricultural labor, which called for contracts, and their assigned role as child bearers and nurturers. This strategy, however, did not gain them any independent space. "While women subverted the contract system, they often did so by legitimizing dominant mores of domesticity and consequently eroded their political legitimacy as workers" (p. 207). Women in urban areas fared no better in escaping the twin bonds of work under contract and assigned domestic role. To the degree that women could bargain in negotiating contracts, one could say that they were subverting the gendered cultural socionet restrictions, but there is little evidence that they were doing so in a self-conscious way. Their use of the language of female responsibilities or vulnerabilities only served to reinforce the prevailing gender assumptions.

Melanie Newton looks at the role of women of color in Barbados in the period of emancipation (1790-1850) as they sought to exert influence through philanthropic organizations. As a result of the moral pressure exerted by abolitionists, Barbadian planters were forced to abandon some of their basic assumptions about the merits of slavery and to justify their elite standing on self-evident grounds of moral superiority over people of color, freed or soon to be freed slaves, and poor whites. Philanthropic work could demonstrate to abolitionists that Barbadian planters were concerned for those less fortunate and at the same time could insure social control over the society.

Women of color who engaged in charity and educational work also had an agenda. They wanted to show that they too had the capacity to offer help to others, just like "respectable" whites. In terms of gender, moreover, they were not willing or able to break free of male dominated leadership of these enterprises. As a result, they reinforced both the overall social order as well as the gender norms.

Sheena Boa takes us to Kingstown, St. Vincent, where she describes patterns of public entertainment enjoyed by the various social classes following emancipation (1838-88). How successful were women in escaping the racial and gender network once slavery ended? Oddly enough, according to Boa, it seems that elite white women and poor black women were able to enjoy some gains during this period, although I would suggest that the gains were meager. One could argue also that some women of color advanced.

White women were pleased that their husbands could no longer have open sexual relations with their slaves or with free people of color after emancipation. Victorian standards played their part as did the loss of control over dependent females. White men were also kept more at home as men of color acquired property and political participation thus making it less desirable for whites to organize public functions. Elite women of color were now able to give parties and organize public entertainment and chose, according to Boa, to emphasize their piety as abadge of sexual independence from whites. Their choices of dress and behavior, however, were in imitation of the white elite and underscored the class relationships that still existed.

Similarly, domestic workers in Kingstown would stage dances in which they would dress in the style of the upper classes and would steal china, cutlery, wine, and even the dresses from their employers. Boa suggests that the women were actually "rehumanizing" themselves (p. 253) by behaving in ways that were impossible during slavery. Moreover by stealing, they were defying authority. But, again, their activities served to reinforce the existing ranking system by using its symbols.

The poor were perhaps the most free to gain some space for themselves since they used the streets for their entertainment and behaved in ways thought indecent and disrespectful by the rest of society. For example, masquerading was a popular entertainment that was allowed under slavery as a means of letting the slaves release tension by mocking their owners. After slavery ended, however, and the society was perceived to be less stable, such behavior threatened to delegitimize elite authority. Yet, again, the exercise merely reminded everyone of the power of the socionet and expressed no clear vision of how it might be transformed.

Martha Abreu extends the inquiry into post-emancipation Southeastern Brazil, from 1888 to 1920. She offers lyrics of popular folk songs as evidence that, in spite of the pressures of a racially stratified society, possibilities existed for a more equitable social structure to emerge. "They presented an ironic view of the social and cultural conflicts of a society that was reorganizing the mechanisms of domination and social control after the abolition of slavery" (p. 270). Abreu, more than any other contributor to this volume, explicitly discusses the question of whether the socionet is being weakened or strengthened by challenges to it. Songs of the period revealed tensions, ironies and challenges within and among the various social divisions. At the center was the image of the mixed race female, the mulata, who emerged as a dominant subject in the conflicts over Brazilian cultural identity.

The mulata was a symbol of darker skinned female independence and a sign of growing acceptance of racial mixture yet it was also a symbol of elite male sexual opportunity. Now hear Abreu echo Memmi: "the dominant ideology among the slave-owning classes, and later among jurists and doctors, was passed to the dominated classes, forming yet another level of domination. Such arguments require us to conclude that the black and poor population . . . reproduced, without questioning, these judgments about themselves." She goes on to raise the possibility, although not the probability, "that these songs' images of mulatas, morenas, and crioulos might signify more than the reiteration and reproduction of inequalities. Indeed, by resorting to jokes and irony, these lyrics conveyed irreverence and challenged the measures of social control" (p. 281). She acknowledges, however, that more research needs to be done before conclusions can be drawn.

Hannah Rosen looks at Arkansas after the Civil War as the Reconstruction Acts forced a revision of the state's constitution in 1868. She contends that the rhetoric of miscegenation was really about political power and political power was all about race. The scene opens in the early days of Reconstruction with a debate in the constitutional convention, in which the central topic was how to deal with the black male's right to vote as called for by the Fourteenth Amendment. But John Bradley, a moderate white, rose and said that the big question was whether to allow interracial marriage. He received a response from Henry Grey, a black delegate, who suggested that they should ban all forms of cross-racial sexual relations. But that was not what Bradley was talking about. He saw blacks as challenging white rule and thus saw interracial marriage as a mark of black equality and a danger to white males' patriarchic sphere of authority. Grey recognized that white men would want to continue to sexually exploit dependent black women. Further on in the debate, Gayle Kyle, a white delegate, wanted to make sure that blacks who had gained wealth would not be allowed to seduce poor white women into marriage, implying that black men were predatory and less than honorable. It followed that only white males were worthy of full citizenship in the new era. A compromise was agreed upon which called for the ban on all "amalgamation" of whites and blacks whether legitimate or illegitimate. When the constitution was finally approved, however, black men received the vote and the ban on intermarriage was dropped. Arkansas whites, then, used gender as a way to express opposition to any attempt by blacks to tear apart that comfortable net of power and privilege. Did the net unravel? Rosen maintains that the debate, despite the outcome, established an agenda for white control through Jim Crow laws.

Marek Steedman turns to the Louisiana household following emancipation to investigate how gender, race, and politics combined to produce the sad story of Eliza Pinkston. Pinkston, a former slave, was sexually exploited by the son of her former master and was denied marriage. She married a former slave, Henry Pinkston, and was pleased that she now had a name that was not tied o the plantation. But when her former owner tried to force both of them to attend a Democratic Party meeting, Henry Pinkston agreed only after being threatened. Henry Pinkston did make his claim to manhood by attending the Republican Party meeting and this time he had to force Eliza to go! Reprisal came quickly from the whites as the family was brutally attacked: Henry and their baby were killed and Eliza left for dead. In this case, the socionet appeared to be clearly frayed. It was only through force that whites were able to assert control. Eliza, moreover, was allowed to testify against the men who attacked her. But at the trial, Eliza's testimony was undermined by assaults on her character. Steedman concludes that "hierarchies of race, class, and gender made any freedwoman's standing suspect" (p. 322).

This collection of essays, while not adequately conceptualizing a comparative framework, nevertheless is a valuable addition to the literature on the significance of gender in understanding postemancipation societies. Most of the essays introduce new source material and, more significantly, interpret and analyze existing sources in imaginative ways. They also suggest possibilities for future comparative research.

The work can also be of value for upper division undergraduates and graduate history students as demonstrations of research skills, and as asource of new insights into the dynamics of social relationships as slavery ended. The authors also assemble an excellent bibliographical essay showing recent research in the several areas under study.

Notes

[1]. Darlene Clark Hine, "An Invitation to Cross Boundaries," OAH Newsletter 29 (May 2001).

[2]. Martha C. Nussbaum, Women and Human Development: The Capabilities Approach (Cambridge: Cambridge University Press, 2000), p. 9.

[3]. Albert Memmi, Portrait du Colonisé, Précédé du Portrait du Colonisateur (Paris: Editions Bucher/Chassel/Corréa, 1957).

Copyright (c) 2006 by H-Net, all rights reserved. H-Net permits the redistribution and reprinting of this work for nonprofit, educational purposes.

[Return to
table of contents]

©2006 African Diaspora Archaeology Network
Copyright and all rights reserved by
individual authors for each article.
Please send comments, suggestions, or questions
to Chris Fennell at cfennell@uiuc.edu
Last updated: July 30, 2007
Text only menu
Search