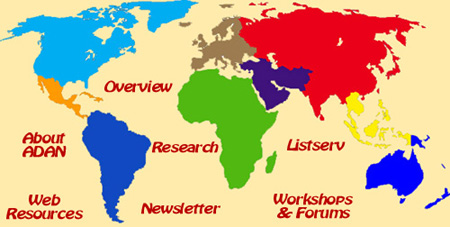 September 2008 Newsletter
ISSN: 1933-8651
In this issue we present the following articles, news, announcements, and reviews:
Articles, Essays, and ReportsNews and AnnouncementsConferences and Calls for PapersBook Reviews
---
Archaeological Investigation of Historic
Kormantse, Ghana: Cultural Identities
By E. Kofi Agorsah and Thomas Butler
Abstract: An archaeological project launched as part of Kofi Agorsah's Fulbright Scholar program at the University of Cape Coast, Ghana in 2007, aimed at investigating the cultural formation and transformation of the historic Kormantse settlement on the Gold Coast, in response to changes occurring through colonial times. It sought to explain, by use of ethnographic and archaeological material, the processes and cultural manifestations by which the settlement's population, including those who passed through Kormantse during the trans-Atlantic slave trade between the 16th and 20th centuries, negotiated their survival and identities. Preliminary studies in 1999 and 2007 indicate that Kormantse embraced the colonial slave trade and had access to abundant mass-produced local and foreign trade material and culture, while serving as a rallying point and an outlet for both the trans-Saharan and Atlantic trades. Bringing together archaeological assemblage, ethnographic and historical data to depict, explain and represent the numerous African populations identified under varying "Africa-named groups" in the colonial encounter in West Africa and their implications for the New World African cultures was the main challenge of this project.

Specific issues addressed included identifying recognized material traces indicative of internal and external trade contacts and exchanges, migration routes and patterns of market traffic and, ultimately, the different groups represented in the colonial encounter with Kormantse and surrounding areas as the connecting links. It was expected that evidence of changing burial and other social practices as indices of the community's shifting identity, would help determine how the communities in and around Kormantse adjusted to changing conditions of the colonial encounter. Artifact differentiation and sources of goods and "people," travel routes, makers and makers' marks on artifacts and scientific dates were main means of identifying and establishing how they related to emerging and continuing social distinctions within communities in and around Kormantse. [Read or download this full article here in Adobe .pdf format >>>].

[Return to table of contents]


---
Constructing Class and Community:
Shifting Meanings in the
Built Environment at Polly Hill Plantation, Bahamas
By Jane Eva Baxter and John D. Burton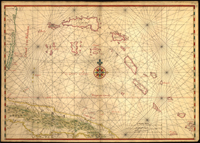 Historical archaeology is an inherently interdisciplinary endeavor, which combines excavated materials with documents and often extant landscapes to interpret the more recent past (Yamin and Metheny 1996). Archaeological studies of the built environment are plentiful, and have been used to understand complex dimensions of social life in the past including class (e.g., McGuire 1991, Rotman and Nassaney 1997, Delle 1999), gender (e.g., Rotman and Nassaney 1997) and cultural interactions and influences (e.g., Groover 1994). Archaeological studies of enslaved and emancipated Africans and their descendants also have relied heavily on evidence from architectural design and landscape construction to understand the internal and external dynamics of plantation and post-plantation life ways (Orser 1988, Ferguson 1992, Delle 1999, Epperson 1999, Barka 2001, Farnsworth 2001, Armstrong 2003).

Archaeologists working in the Bahamas during the historic period are fortunate to have access to standing or partially-extant structural remains that date to different periods of the Bahamian past (Otterbein 1975, Farnsworth 2001, Baxter and Burton 2006b). These remains help us to reconstruct the landscapes that shaped people's everyday lives. These landscapes were in one sense a reflection of function, or how a space was developed to facilitate certain types of daily tasks and behaviors (Rapoport 1990). These landscapes also were symbolic, designed to shape and reflect certain elements of the social order (McGuire 1991).

The site of Polly Hill Plantation on the island of San Salvador has several extant structures that date to the original Loyalist settlement of the island in the late eighteenth century. There is also evidence that these buildings were augmented and reused by the enslaved populations once the planter family relocated to Nassau, and by their descendants throughout the 19th and 20th centuries. Evaluating these changing landscapes gives insights to the original intentions of the planter family who oversaw the construction of Polly Hill, and to the needs and sensibilities of those who later used and occupied these structures. [Read or download this full article here in Adobe .pdf format >>>].

[Return to table of contents]


---
Kongo Iron:
Symbolic Power, Superior Technology and Slave Wisdom
By John Ringquist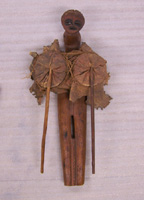 The role of blacksmiths in Kongo society was very different from that of their counterparts in European society. Observations from early geographers and explorers however are sparse and only mention Kongo ironworking in passing. While there is no implicit statement that ironworking in the Kongo was unremarkable, the lack of emphasis by authors such as Sanson and Dapper on ironworking may lead a casual observer to assume that Kongo ironworking was so primitive to be beneath comment. This observation would be incorrect however, as the roles played by Kongo ironworkers, their ancillary trade networks and ritual significance far outstripped that of European blacksmiths.

Bluntly expressed, Kongo blacksmiths were artisans and religiously significant figures favored, and monitored by Kongo royalty. After the collapse of the Kongo kingdom, Kongo blacksmiths continued to play important roles in society, even utilizing their skills in the New World. The skills of Kongo blacksmiths transcended cultures and technologies and their products embraced the sacred and profane equally in Kongo society. Unlike Europe where the sacred demanded gold, silver or other opulent substances for significant objects, in Kongo tradition iron was acceptable and the smith's hammer an appropriate symbol of royal power. It is prudent therefore to start with some of the earliest European observations of Kongo before exploring the ritual and economic significance of ironworking in Kongo society. What made Kongo ironworking so unique and how did it continue to influence Kongo and New World society after 1700, in the face of European iron imports? [Read or download this full article here in Adobe .pdf format >>>].

[Return to table of contents]


---
Pragmatic Decisions in Equal Rights:
History of an African-American Community in Jo Daviess County, Illinois
By Marty Wild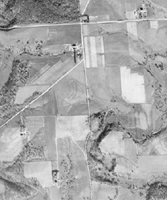 Many historians, avocational and professional, have written articles and books concerning the mining town of Galena, Illinois, and the surrounding county of Jo Daviess. Some studies offer simple narratives glorifying the prominent citizens of the past, while other works ask bigger questions and answer them with more detailed analysis. With the exception of Scott Wolfe, few historians have discussed the small African-American population that once lived and worked throughout this area during the nineteenth century. Nevertheless, even the most obscure histories have a way of manifesting themselves in the present. For example, about thirty miles east of Galena lies the rural township of Rush. Throughout this vicinity, one finds several landmarks that carry the memory of those who once lived there. With these markers comes a dying history of the African-American experience in Jo Daviess. Just ask some of the local farmers in Rush and many will tell old stories using the racial epithet of "N----r Creek" and describe the small community of African Americans who once lived in the area farming and smelting lime. They may also add a few words about the old "Equal Rights" schoolhouse, where fighting broke out between local white and black populations over who had the right to the education it offered. This, however, is where the local oral history ends, leaving many unanswered questions as to who these people were and why they chose to reside and work there.

Aside from the remnants of a few old lime kilns and an abandoned schoolhouse, these local tales are all that remains of this forgotten community. There are no records or letters written by its inhabitants. It might seem that Equal Rights was nothing more than an insignificant moment in the past of Jo Daviess. However, these stories are much more than just tatters of oral history passed around by local farmers. The heritage of this past community is embedded in the dynamic repercussions of local and national histories coupled with the practical decisions of these people trying to live their lives. What some locals call Equal Rights is the manifestation of something far more complex that reveals part of the whole experience encountered by the African Americans who once lived in this economically promising county. [Read or download this full article here in Adobe .pdf format >>>].

[Return to table of contents]


---
Archaeology in the Nigerian University:
International Lessons and Emerging Curriculum Issues
By Zacharys Anger Gundu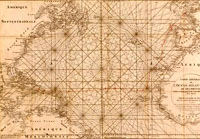 Scholars of archaeological research within regions of Africa and the African diaspora have increasingly emphasized the promise of comparative studies that includes research conducted by archaeologists trained within the nations of Africa. This promise will be best realized when the training and research designs of archaeologists in those nations become commensurate with that of researchers working at other sites world-wide. The education and training of archaeologists in Nigerian universities are still regrettably based on a curriculum that does not yet align with current technical or with emerging perspectives that require archaeologists to appreciate the public arena and the need to partner with the different publics in the study of the past and the production of archaeological knowledge. This lapse has adverse implications for the quality of archaeological approaches coming out of the Nigerian university system and has created an urgent need to rethink archaeological curricula, methods, and practice in Nigeria. This article presents an attempt to articulate this need and the salient issues for such an archaeological curriculum review process. Drawing on lessons in the training and education of archaeologists in other parts of the world, I propose that Nigerian archaeological practice will be significantly strengthened if training and education are predicated on a more robust curriculum that underscores archaeology as a field-based research discipline. [Read or download this full article here in Adobe .pdf format >>>].

[Return to table of contents]


---
Recent Dissertations




The following, non-exhaustive lists of dissertations on African diaspora archaeology and related history studies were compiled by Chris Fennell. Archaeology dissertations are listed for the period since September 2007. The September 2005, 2006, and 2007 issues of the African Diaspora Archaeology Newsletter provided similar compilations of dissertations for the period of 2000-2007. History dissertations are also listed below for the period since September 2007, with a focus on studies addressing aspects of past social structures, social networks, the built environment, material culture, and impacts of racism. If you are aware of other recent dissertations, please email me, and I will include the information in a future newsletter edition. The dissertations listed below are doctoral theses, unless otherwise indicated, and are listed in alphabetic order by the author name. Abstracts are available online from the UMI/Proquest service.

Archaeology


The Free African American Cultural Landscape: Newport, RI, 1774-1826, by Akeia A. F. Benard, Ph.D., University of Connecticut and UMI/Proquest, Ann Arbor, Michigan. 2008.

An Analysis of Historic Creek and Seminole Settlement Patterns, Town Design, and Architecture: The Paynes Town Seminole Site (8Al366), A Case Study, by Jane Anne Blakney-Bailey, Ph.D., University of Florida and UMI/Proquest, Ann Arbor, Michigan. 2007.

Symbols for the Living: Synthesis, Invention, and Resistance in 19th to 20th Century Mortuary Practices from Montgomery and Harris County, Texas, by David E. Bruner, Ph.D., State University of New York at Binghamton and UMI/Proquest, Ann Arbor, Michigan. 2007.

Daily Practice and Domestic Economies in Guadeloupe: An Archaeological and Historical Study, by Heather Renee Gibson, Ph.D., Syracuse University, 2007.

The Affinities and Disparities Within: Community and Status of the African American Slave Population at Charles Pinckney National Historic Site, Mount Pleasant, South Carolina, by Amy C. Kowal, Ph.D., Florida State University and UMI/Proquest, Ann Arbor, Michigan. 2007.

Material Beginnings of the Saramaka Maroons: An Archaeological Investigation, by Cheryl N. Ngwenyama, Ph.D., University of Florida and UMI/Proquest, Ann Arbor, Michigan. 2007.

An Osteobiography of an African Diasporic Skeletal Sample: Integrating Skeletal and Historical Information, by Emily S. Renschler, Ph.D., University of Pennsylvania and UMI/Proquest, Ann Arbor, Michigan. 2007.

From Cosaan to Colony: Exploring Archaeological Landscape Formations and Socio-political Complexity in the Siin (Senegal), AD 500-1900, by Francois Gilles Richard, Ph.D., Syracuse University and UMI/Proquest, Ann Arbor, Michigan. 2007.

Captives of the Dark and Bloody Ground: Identity, Race, and Power in the Contested American South, by Christina N. Snyder, Ph.D., The University of North Carolina at Chapel Hill, 2007.

African Antiquity and the African-American Literary Design of Civilization: Frances Ellen Watkins Harper, William Edward Burghardt Du Bois and the Case for Multiplicity, by Jorge Luis Serrano, Ph.D., Temple University and UMI/Proquest, Ann Arbor, Michigan. 2008.



History


Beating the Pen on the Drum: A Socio-cultural History of Carriacou, Grenada, 1750-1920, by Edwina Ashie-Nikoi, Ph.D., New York University and UMI/Proquest, Ann Arbor, Michigan. 2007.

"Breathing the Freedom's Air": The African American Struggle for Equal Citizenship in Iowa, 1830-1900, by David Junius Brodnax, Sr., Ph.D., Northwestern University and UMI/Proquest, Ann Arbor, Michigan. 2007.

The African-British Long Eighteenth Century and Sierra Leone: A Reading of Diplomatic Treaties, Economic and Anthropological Discourse, and Syl Cheney-Coker's "The Last Harmattan of Alusine Dunbar," by Tcho Mbaimba Caulker, Ph.D., Michigan State University and UMI/Proquest, Ann Arbor, Michigan. 2008.

Race and Mass Consumption in Consumer Culture: National Trademark Advertising Campaigns in the United States and Germany, 1890-1930, by Isabell Cserno, Ph.D., University of Maryland, College Park and UMI/Proquest, Ann Arbor, Michigan. 2008.

Unionville: Race, Time, Place and Memory in Talbot County, Maryland, 1634-1892, by Bernard Demczuk, Ph.D., George Washington University and UMI/Proquest, Ann Arbor, Michigan. 2008.

Insurgency at the Crossroads: Cuban Slaves and the Conspiracy of La Escalera, 1841-1844, by Aisha K. Finch, Ph.D., New York University and UMI/Proquest, Ann Arbor, Michigan. 2007.

Buried Landscapes: Enslaved Black Women, Sex, Confinement and Death in Colonial Bridgetown, Barbados and Charleston, South Carolina, by Marisa Joanna Fuentes, Ph.D., University of California, Berkeley and UMI/Proquest, Ann Arbor, Michigan. 2007.

African American Quilts: An Examination of Feminism, Identity, and Empowerment in the Fabric Arts of Kansas City Quilters, by Pearlie Mae Johnson, Ph.D., University of Missouri-Kansas City and UMI/Proquest, Ann Arbor, Michigan. 2008.

Race, Class and Resistance: Emancipation and its Aftermath in Antigua, 1831-1858, by Natasha Lightfoot, Ph.D., New York University and UMI/Proquest, Ann Arbor, Michigan. 2007.

"Ah tulk to de dead all de time:" Religion among Gullah/Geechee Women of the Carolina Lowcountry, by LeRhonda S. Manigault, Ph.D., Emory University and UMI/Proquest, Ann Arbor, Michigan. 2007.

Enslaved Women Runaways in South Carolina, 1820-1865, by Amani N. Marshall, Ph.D., Indiana University and UMI/Proquest, Ann Arbor, Michigan. 2007.

Tobacco Culture and Environmental Consciousness: Ecological Change, Race, and Gender, Prince Edward County, Virginia, 1850-1870, by Mary Richie McGuire, M.A., Virginia Commonwealth University and UMI/Proquest, Ann Arbor, Michigan. 2007.

Corroboration and Contention in 'Congo' Consecrations: An Anthropological Analysis of Cuban Reglas Congas, by Lonn S. Monroe, Ph.D., University of Florida and UMI/Proquest, Ann Arbor, Michigan. 2007.

The Trans-Saharan Slave Trade, Abolition of Slavery and Transformations in the North African Regency of Tunis, 1759-1846, by Ismael Musah Montana, Ph.D., York University (Canada) and UMI/Proquest, Ann Arbor, Michigan. 2007.

Gullah/Geechee Cultural Survival: Negotiating Family, Land, and Culture on St. Helena Island, South Carolina, by Lisa Lynelle Moore, Ph.D., California Institute of Integral Studies and UMI/Proquest, Ann Arbor, Michigan. 2008.

"Make haste & let me see you with a good cargo of Negroes:" Gender, Health, and Violence in the Eighteenth Century Middle Passage, by Sowande Mustakeem, Ph.D., Michigan State University and UMI/Proquest, Ann Arbor, Michigan. 2008.

The Cuban Sugar Complex in the Age of Revolution, 1789-1844, by Jose Guadalupe Ortega, Ph.D., University of California, Los Angeles and UMI/Proquest, Ann Arbor, Michigan. 2007.

Lengua Ritual y Sincretismo: Dinamicas de Hibridez en el Discurso Magico-religioso Palo Monte-Mayombe, by Constanza Rojas-Primus, Ph.D., University of Alberta (Canada) and UMI/Proquest, Ann Arbor, Michigan. 2007.

Ancient Egyptian Origin of Yoruba of West Africa: A Comprehensive Scientific Approach, by Abdulrazaq Danbaba Salau, Ph.D., Temple University and UMI/Proquest, Ann Arbor, Michigan. 2007.

Mirroring Others/Fashioning Selves: A History of the Looking Glass in America, by Rebecca Kathleen Shrum, Ph.D., University of South Carolina and UMI/Proquest, Ann Arbor, Michigan. 2007.

Captives of the Dark and Bloody Ground: Identity, Race, and Power in the Contested American South, by Christina Nicole Snyder, Ph.D., University of North Carolina at Chapel Hill and UMI/Proquest, Ann Arbor, Michigan. 2007.

African/Native American Identified in Culture, by Carole M. Ware, Ph.D., Union Institute and University and UMI/Proquest, Ann Arbor, Michigan. 2008.

Diaspora River: Charting Continuity and Change in African Diasporic Slave Quarter Communities of the United States through Song, Story and Dance, by Karen Marguerite Wilson, Ph.D., University of California, Riverside and UMI/Proquest, Ann Arbor, Michigan. 2007.

Making History Visible: World's Fairs, Expositions, and Museums in the Black Metropolis, 1895-1995, by Mabel O. Wilson, Ph.D., New York University and UMI/Proquest, Ann Arbor, Michigan. 2007.

[Return to
table of contents]
---
Neglected: Some Say the U.S. is Ignoring
the Commemoration of the Slave Trade's End
By Vanessa E. Jones
Boston Globe Staff Writer

June 24, 2008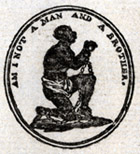 Article posted online by the Boston.com at:
http://www.boston.com/lifestyle/articles/2008/06/24/neglected/?page=2.
Copyright 2008 Boston.com.



Last year England lavishly celebrated the 200th anniversary of the abolishment of the slave trade. Although the system of purchasing human beings for money ended, slavery continued in British colonies. The country marked the bicentennial with a service at Westminster Abbey attended by the queen. The city of Liverpool, a former slave trading capital, opened the International Slavery Museum. Another British city, Bristol, spent almost $800,000 to commemorate the end of this lucrative business.

Thomas Jefferson's bill abolishing the slave trade in this country took effect Jan. 1, 1808. The institution of slavery itself didn't end for several decades.

Celebrations surrounding the end of the slave trade in this country are muted compared to England's. President Bush signed a bill in February creating a national commission on the abolition of the slave trade, but it included no funding for festivities. The 17-day Spoleto Festival in Charleston, S.C., commemorated the bicentennial in May by focusing on the black experience.

Northampton's Massachusetts Foundation for the Humanities is planning events around "Traces of the Trade: A Story From the Deep North," a documentary premiering Sunday on Channel 44. The film focuses on the DeWolfs, a prominent slave trading family in Rhode Island, and the struggles the descendents have coming to terms with that history. The Rhode Island Council for the Humanities -- inspired by "Traces of the Trade" and Brown University's research into the college's involvement in slavery -- developed an initiative on African-American heritage in the state, which includes a Freedom Festival Oct. 9-20 that will draw attention to the bicentennial and plans to develop a curriculum for 8th- to 12th-graders about the end of the slave trade.

But Rhode Island, which launched 60 percent of the United States' slave trading voyages, is the only state scheduling a myriad of events around this subject.

Linda Heywood, a history professor at Boston University who spoke last year at the University of London about slavery as part of the British festivities, organized three talks at BU to acknowledge the end of the business in this country. She is among a group of people who are disappointed that this country has failed to recognize the occasion in a major way.

"I was very saddened," Heywood said. "This was an opportunity for us to again deal with the legacy of slavery. Public commemorations have a cathartic element to them. It brings people to some common emotional level where tensions are released."

As plans are being made for the 100th anniversary of Abraham Lincoln's birth in 1809, there has been little discussion about the end of the slave trade. Critics say this is the result of a lack of knowledge about the history of slavery, and a fear among whites about discussing race. A bill pending in Congress encourages states and local governments to celebrate the impact the Declaration of Independence had on Lincoln's achievements.

The meager attention to the historical impact of the end of the slave trade also reflects the ambivalence this country had about ending slavery and the slave trade. After 1808 slaves continued to be an important part of the US economy, and businesses found ways to trade slaves illegally. While the British can summon moral pride in ending the slave trade, slavery didn't cease in the United States until 1865, and it took a Civil War for it to happen.

"People are terrified of being associated with slavery, in part because most Americans have no idea of just how thorough-going and pervasive the institution was in our society," says James Campbell, a professor of Africana Studies at Brown University, who chaired the group that explored Brown's history in slavery. "It's not the case of a few families, a few bad men, a few institutions. This is a trade. This is an institution which shaped every aspect of American society, culture, and economy for hundreds of years."

Katrina Browne, a DeWolf descendent who is director of "Traces of the Trade," said she believes New England's image as an abolitionist region blinds people to the 200 years when New Englanders participated in, and economically benefited from, slavery. Browne and nine relatives delved into this little-discussed part of their family history when they embarked on a journey from Bristol, R.I., where the DeWolfs operated slave ships and rum distilleries, to Africa, where the DeWolfs bought slaves, to Cuba, where the DeWolfs sold slaves and ran sugarcane plantations.

Massachusetts first entered the slave trade in 1638. Rhode Island soon moved to the forefront, with the DeWolfs becoming the largest slave trading family in US history. The activities not only enriched the DeWolfs; they benefited entire communities. Massachusetts shipbuilders constructed the ships. Insurance companies were developed to protect the trips, and banks were created where the middle class could buy shares in slave ships to make a profit.

England abolished the slave trade for moral reasons, at the behest of abolitionists, Campbell says. Although slavery persisted in the UK's Caribbean colonies - it was outlawed in the British Empire in 1833, but some slaves in the colonies didn't achieve freedom until 1838 - the British were proud of their efforts to end the slave trade, and that pride was reflected in celebrations last year.

The United States, however, has fewer reasons to be proud of ending the trade, since slavery continued to be an integral part of people's lives. Food grown in Connecticut, such as the Wethersfield onion, were sent to the Caribbean to feed enslaved Africans, says Browne. Rum and textile manufacturing thrived in New England because of the sugar, molasses, and cotton grown by slaves in the Caribbean and the American South. Rhode Island and Lowell textile mills manufactured a coarse, cheap cloth for slaves.

"People can often compartmentalize that you have the slaves in the South and you had the free North," said Marty Blatt, a historian at Boston National Historic Park. "You don't have to examine it too deeply to see that's a false separation. It was a national economy, and it's really fair to say and can be demonstrated that slavery was integral to the US economy."

Yet many whites resist discussing this aspect of history, which also can explain the lack of attention to the bicentennial. In 2001 Browne asked for permission to film inside Linden Place, the DeWolf family's ancestral Bristol home. Linden Place's former director refused, but its current leader launched an African-American heritage tour in May inspired by "Traces of the Trade" and Brown University's slavery and slave trade research.

Browne's relatives were equally hesitant to embrace this aspect of their history. She initially asked 200 family members if they'd be interested in following the trade route from Bristol to Africa to Cuba. One relative worried that his black colleagues would treat him differently if they knew about his background; he was also afraid he'd have to pay reparations.

Browne's grandmother, who had just entered a retirement home, was concerned that the black attendants would treat her differently if they discovered her history.

"It was a very human fear," Browne says, "and one that came from a lot of experience of not talking about these things."

[Return to table of contents]


---
Finalists for the 2008 Frederick Douglass Book Prize
Press Release, July 22, 2008
Gilder Lehrman Center for the
Study of Slavery, Resistance, and Abolition





New Haven, Conn. -- Yale University's Gilder Lehrman Center for the Study of Slavery, Resistance, and Abolition, sponsored by the Gilder Lehrman Institute of American History, has announced the finalists for the Tenth Annual Frederick Douglass Book Prize, one of the most coveted awards for the study of the African-American experience.

The finalists are: Anthony E. Kaye for Joining Places: Slave Neighborhoods in the Old South (University of North Carolina Press); Kristin Mann for Slavery and the Birth of an African City: Lagos, 1760-1900 (Indiana University Press); Chandra Manning for What this Cruel War was Over: Soldiers, Slavery, and the Civil War (Alfred A. Knopf Publishers); and Stephanie E. Smallwood for Saltwater Slavery: A Middle Passage from Africa to American Diaspora (Harvard University Press).

The $25,000 annual award for the year's best non-fiction book on slavery, resistance, and/or abolition is the most generous history prize in its field. The prize winner will be announced following the Douglass Prize Review Committee meeting in September, and the award will be presented at a dinner at the Yale Club of New York on February 19, 2009.

This year's finalists were selected from a field of seventy five entries by a jury of scholars that included Anthony Bogues (Brown University), Christopher Clark (University of Connecticut), and Rebecca J. Scott (University of Michigan).

The Frederick Douglass Prize was established in 1999 to stimulate scholarship in the field by honoring outstanding accomplishments. Previous winners are Ira Berlin and Philip D. Morgan in 1999; David Eltis, 2000; David Blight, 2001; Robert Harms and John Stauffer, 2002; James F. Brooks and Seymour Drescher, 2003; Jean Fagan Yellin, 2004; Laurent Dubois, 2005; Rebecca J. Scott, 2006, and Christopher Leslie Brown, 2007.

The award is named for Frederick Douglass (1818-1895), the one-time slave who escaped bondage to emerge as one of the great American abolitionists, reformers, writers, and orators of the nineteenth century.

Anthony E. Kaye's book Joining Places: Slave Neighborhoods in the Old South offers a new approach to familiar questions about the character of slave society and community. Adopting from slaves' and ex-slaves' own accounts the concept of the "neighborhood" as a key to the organization of their lives, Kaye traces the influences of geographical propinquity and distance on the North American slave experience. Drawing particularly on evidence contained in federal pension records as yet little used by historians, Joining Places demonstrates how "neighborhood" shaped slaves' work and socialization, their creation of marriage and family ties, and the resistance they offered to slaveholders and the slave regime.

The fruit of deep immersion in archival and oral sources, Kristin Mann's Slavery and the Birth of an African City is an impressive study of the ways slavery was entwined with the early growth of one of Africa's most important cities. Lagos, though a relative latecomer to the Atlantic slave trade, was sufficiently involved in it that its merchants continued an illegal international traffic in slaves after 1807, so courting British attention and determination to suppress this. This book makes West African history relevant and accessible to scholars in other fields, and will be read by all interested in the history of slavery and the Atlantic world.

In case we imagined that there was nothing more to say about that old question, "what had slavery to do with the American Civil War?" Chandra Manning shows that we were wrong. Her lively, readable book What this Cruel War was Over makes a striking argument that slavery was very much to do with the war, and that this was so throughout the conflict. Her subjects are the ordinary soldiers who fought; her sources include their letters and diaries, and their writings in regimental newspapers, many of which Manning discovered and uses for the first time. By tracing attitudes towards slavery among those who actually fought, What this Cruel War was Over provides a model study of "history from below," and ought finally to lay the ghost of the view that the Civil War was not about slavery.

Saltwater Slavery is a remarkable account of the transatlantic slave trade that will lead scholars to rethink their understanding of the "middle passage," Africa's diaspora, and the relationships between Africa and the New World. Stephanie Smallwood uses records of the English Royal African Company's trade with the Gold Coast to provide insights into the lives of the men and women the company bought, transported, and offered for sale in the Americas. Tracing the steps that led from captivity in Africa to final sale in the New World, Smallwood gets behind the generalities that often characterize studies of the slave trade. Deploying slaves' own metaphor of "saltwater slavery" to illuminate the meanings of the Atlantic slave system, Stephanie Smallwood opens up new avenues for historians and anthropologists to explore. This is a subtle, powerful study of the deep horrors of slavery and the slave trade.

The Gilder Lehrman Center for the Study of Slavery, Resistance and Abolition, a part of The Whitney and Betty MacMillan Center for International and Area Studies at Yale University, maintains two websites, www.gilderlehrman.org and the quarterly online journal www.historynow.org.

[Return to
table of contents]
---
eBlack Studies Workshop
Proceedings Available



With funding from the Ford Foundation and the National Council for Black Studies, the first national workshop to launch eBlack Studies was organized and chaired by Professor Abdul Alkalimat and held at the University of Illinois at Urbana-Champaign on July 24-27, 2008. More than twenty scholars gathered to share research and discuss the many issues related to the new dynamics of research, teaching, community service, Black Stuides, and community informatics. The workshop is reported on in a website that includes text, photos, video, and power point presentations. http://eblackstudies.org/workshop/.

An earlier meeting of Black Studies professional leadership was held at the Ford Foundation on April 21-22, 2006, for which coordinators are assembling the meeting's results in a website of online proceedings and a special issue of The International Journal of Africana Studies, the journal of the National Council of Black Studies (NCBS).

[Return to
table of contents]
---
Exhibition

Grass Roots: African Origins of an American Art
August-November, 2008, Charleston, South Carolina



Grass Roots: African Origins of an American Art, a highly anticipated exhibition created by the Museum for African Art in New York, opens on August 29, 2008 at the Gibbes Museum of Art in Charleston, South Carolina, and runs through November 30, 2008. Through the story of the beautiful coiled basket, Grass Roots revisits the history of the southeastern United States and demonstrates the enduring contribution of African people and culture to American life. Featuring over two hundred objects, including baskets made in Africa and the American South, African sculptures, paintings from the Charleston Renaissance, historic photography, and new video, the exhibition follows the history of the coiled basket on two continents and shows how a simple farm tool once used for processing rice has become a work of art and an important symbol of African-American identity.

Grass Roots traces the parallel histories of coiled basketry in Africa and the United States, starting from the domestication of rice in West Africa, through the transatlantic slave trade, to the migration of African rice culture to America. The exhibition addresses the history of the Carolina rice plantation and highlights the technological innovations brought to American agriculture by people from Africa. It tells the compelling story of the survival of African-American basketry over three hundred years. While the need for agricultural forms has declined, coiled baskets continue to be made as objects of beauty. Grass Roots focuses on the coastal town of Mt. Pleasant, South Carolina, across the Cooper River from Charleston, where basket makers have taken control of their craft as independent entrepreneurs.

On both sides of the Atlantic, the art of basketry continues to be passed down from generation to generation. In South Carolina and Georgia, as in many parts of Africa, virtuoso basket makers invent forms, experiment with new materials, and perfect the techniques they have learned from their parents and grandparents. The exhibition features baskets made by contemporary American and African basket makers as well as historic examples, some dating to the early 19th century, from Lowcountry rice plantations and African villages.

"It is thrilling to be able to tell this story through the coiled basketry traditions that forever link the two continents," said Elsie McCabe, President of the Museum for African Art. "This exhibition is about baskets in both places, but because of new scholarship brought to bear on the subject, it is really about much more. It explores many rich cultural patterns both lost and maintained; it shows how people have built and rebuilt their heritage over centuries of oppression and opportunity; it reveals how a simple but always beautifully crafted tool has come to be appreciated as an object of art."

Grass Roots: African Origins of an American Art includes five short films that feature basket makers demonstrating their techniques and telling their stories. The exhibition is accompanied by a beautifully illustrated full-color catalogue with essays by acclaimed scholars of African and American history and art. Grass Roots is curated by Enid Schildkrout, Chief Curator and Director of Exhibitions and Publications at the Museum for African Art, New York, and Dale Rosengarten, Curator and Historian, Special Collections, College of Charleston Library, with input from an advisory board of eminent social historians, art historians, anthropologists, and contemporary basket makers. The exhibit was organized by the Museum for African Art in cooperation with the Avery Research Center for African American History and Culture at the College of Charleston and the McKissick Museum at the University of South Carolina. It begins a national tour at the Gibbes Museum of Art and will be an inaugural exhibition at the Museum for African Art's new building in New York City opening in 2010.

[Return to
table of contents]
---
Monticello Plantation Databases Updated
The Monticello Plantation Database (http://plantationdb.monticello.org/) contains information on over six hundred people who lived in slavery on Thomas Jefferson's Virginia plantations between 1774 and 1826. It provides details of life span, family structure, occupation, and the transactions of bondage (sale, purchase, gift, and hiring). There are also short biographies of individuals and accounts of various aspects of slavery at Monticello.

The Getting Word website (http://www.monticello.org/gettingword/) contains information on a project begun in 1993 to interview the descendants of Monticello's African-American families. The seventy-odd pages of the website include biographical information on dozens of enslaved men and women (and their descendants) as well as plentiful photographs and the results of research in historical records and interviews with over 170 people.

The Monticello Classroom (http://classroom.monticello.org/) is a teacher-student website for elementary and secondary classroom use, a compilation of resources about Thomas Jefferson and life at Monticello. For additional information, please contact Lucia Stanton, Shannon Senior Historian, Monticello, Charlottesville, Virginia.


[Return to
table of contents]
---
New Book
Uncovering the History of Africans in Asia
Edited by Shihan de Silva Jayasuriya and Jean-Pierre Angenot.
Brill Academic Publishers, Paperback, xii, 196pp., ISBN-13: 9789004162914, July, 2008.

Description from the Publisher:


Study of the African diaspora is now a dynamic field in the development of new methods and approaches to African history. Unlike the transAtlantic diaspora, eastwards African migrants have received little attention. Studies on communities of African origin in Asia have increased, and some have restored the gallantry and glory that once belonged to some African migrants in Asia. This book brings together the latest research on African diaspora in Asia with case studies about India and the Indian Ocean islands.

For those interested in African and Asian history, the history of the slave trade and slavery, migration, diaspora studies, demography, development studies, subaltern, military history, colonisation and imperial studies, and cross-continental commerce.

Shihan de Silva Jayasuriya, PhD Linguistics (University of Westminster), is a Senior Fellow at the Institute of Commonwealth Studies (University of London). Jean-Pierre Angenot, PhD in African Linguistics (University of London) and PhD in Romance Philology (University of Brussels), is a Professor of Ethnolinguistics at the Federal University of Rondonia (Brazil).

[Return to table of contents]


---
New Book
Asen, Ancestors, and Vodun: Tracing Change in African Art
By Edna Bay.
University of Illinois Press, Hardcover, 208pp., ISBN-13: 978-0252032554, February, 2008.

Description from the Publisher:


Asen, metal sculptures of southern Benin, West Africa, are created to honor the dead and are meant to encourage interaction between visible and spiritual worlds in ancestral rites associated with the belief system known as vodun. Drawing on extensive fieldwork in the former Kingdom of Dahomey, Bay traces more than 150 years of transformations in the manufacture and symbolic meanings of asen against the backdrop of a slave-raiding monarchy, domination by French colonialism, and postcolonial political and social change.

Bay expertly reads evidence of the area's turbulent history through analysis of asen motifs as she describes the diverse influences affecting the process of asen production from the point of their probable invention to their current decline in use. Paradoxically, asen represent a sacred African art form, yet are created using European materials and technologies and are embellished with figures drawn from tourist production. Bay's meticulously researched artistic and historical study is a fascinating exploration of creativity and change within Benin's culture.

[Return to table of contents]


---
New Book
Black Inventors, Crafting Over Two Hundred Years of Success
By Keith C. Holmes.
Global Black Inventor Research Projects. Inc., Brooklyn, New York; Paperback, ISBN-13: 978-0-9799573-0-7, August 2008.

Description from the Author and Publisher: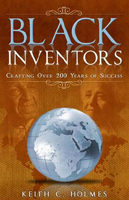 Black Inventors clearly outlines Black inventors from over seventy countries. The author Keith C. Holmes has spent some twenty years researching information on inventions by Black people from such places as Belize, Canada, France, Germany, Ghana, Haiti, Jamaica, Kenya, Nigeria, South Africa, Trinidad and Tobago to name a few.

This book points out a number of the inventions, patents and labor saving devices developed by Black inventors. Africans before the period of enslavement developed a number of inventions: agricultural tools, building materials, medicinal herbs, cloths, and weapons are just a few examples. Though many Black people were brought to Canada, Caribbean, Central and South America and the United States in chains under the yoke of slavery, it is relatively unknown that many of them developed labor saving devices and inventions that created companies, generated money and jobs. This is one of the first books to address diversity of the Black inventors and their inventions from a global perspective.

The focus of this book is to introduce the readers to the facts that inventions by black people both past and present were developed and patented on a global scale. This also means that there are inventors in every culture people whose ideas have been turned into inventions. In the past the focus has been on American and European inventors. The new giants in the patenting process are Brazil, China, India, Japan, Nigeria, South Africa and South Korea.

Black inventors have from the very beginning of their involvement in the invention and patent process in Western Civilization have made important and earth shattering impact on the world. This book outlines the early Black inventors from the United States including almost all fifty-one states. It documents one of the first Black inventors to obtain a patent in the Caribbean and the United States. In the United States there are now sixteen African American men inducted in to the National Inventors Hall of Fame. Two of the inventors, Jan E. Matziliger, Suriname and Elijah McCoy, Colchester, Canada were born outside the United States. Recently, Dr. Patrica Bath was nominated to the National Inventors Hall of Fame. Yet, there are still no African American women who have been inducted into this prestigious organization. Mr. Holmes documents inventions by Black women inventors from Africa, Canada, Caribbean, United Kingdom and the United States. For more information call 646-610-1485, or visit our website: http://www.globalblackinventor.com/ or email info@globalblackinventor.com or kcholmes50@gmail.com.

[Return to table of contents]


---
New Book
Liverpool and Transatlantic Slavery
Edited by David Richardson, Anthony Tibbles, and Suzanne Schwarz.
Liverpool University Press, Hardcover, 320pp., ISBN-13: 978-1846310669, March, 2008.

Description from the Publisher: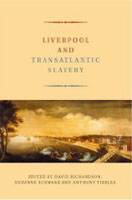 As Britain's dominant port for the slave trade in the eighteenth century, Liverpool is crucial to the study of slavery. And as the engine behind Liverpool's rapid growth and prosperity, slavery left an indelible mark on the history of the city. This collection of essays, boasting an international roster of leading scholars in the field, sets Liverpool in the wider context of transatlantic slavery. The contributors tackle a range of issues, including African agency, slave merchants and their society, and the abolitionist movement, always with an emphasis on the human impact of slavery. Chapter authors include David Richardson, Anthony Tibbles, Suzanne Schwarz, Kenneth Morgan, Paul E. Lovejoy, Stephen D. Behrendt, Lorena S. Walsh, Melinda Elder, Trevor Burnard, David Pope, Jane Longmore, and Brian Howman .

[Return to table of contents]


---
New Book
Reparations to Africa
By Rhoda E. Howard-Hassmann.
University of Pennsylvania Press, Hardcover, 264pp., ISBN-13: 978-0812241013, July, 2008.

Description from the Publisher: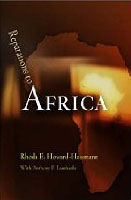 What is the just measure of Western obligations to Africa? As Africans and their supporters mark the 200th anniversary of the abolition of the slave trade in the United States and Great Britain, the question becomes increasingly salient. Calls for reparations for the evils of slavery, as well as for past colonial and current economic and political abuses, can be heard across Africa and the African diaspora.

Human rights scholar Rhoda E. Howard-Hassmann examines these calls for redress in Reparations to Africa. Her study analyzes the reparations movement from the perspectives of law, philosophy, political science, and sociology. While acknowledging the brutal background of the slave trade and colonialism, and the mistreatment of the peoples of Africa, Howard-Hassmann finds that the complexity of this history, along with facts of the contemporary situation, weakens the case for financial compensation, although she does recommend acknowledgment of, and apologies for, some actions. The book not only provides a bold reckoning of the root causes, both internal and external, of African underdevelopment and unrest but also suggests alternative means for restorative justice and examines the role that institutions such as the International Criminal Court can play.

By including the voices of 74 African academics, diplomats, and activists interviewed by Howard-Hassmann and Anthony P. Lombardo, Reparations to Africa makes a valuable contribution to the reparations debate. In an emotionally and politically charged postcolonial environment, this book serves as a judicious guide to the search for economic justice for Africans today and into the future. Author Rhoda E. Howard-Hassmann is Canada Research Chair in International Human Rights at Wilfrid Laurier University and a Fellow of the Royal Society of Canada.

[Return to table of contents]


---
Slavery and the Slave Trades in the Indian Ocean and Arab Worlds:
Global Connections and Disconnections
November 7-8, 2008, New Haven, Connecticut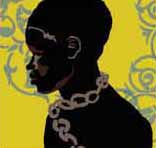 November 7-8, 2008, Luce Hall Auditorium, Yale University, New Haven. This conference explores the complexity and importance of the Indian Ocean and Arab slavery and slave trades in terms of their connections to the meaning of slavery and abolition in a world-wide context. In addition, it will examine the relation between these trades and the development of the 19th, 20th, and 21st-century global economies. Of particular importance are the legal history of abolition in the Indian Ocean World, and the legacy of slavery and the slave trade in the region today, in terms of cultural memories, patterns of human trafficking and subjugation, stigmatization, and family relationships.

Speakers include Richard B. Allen, Edward A. Alpers, David W. Blight, Sugata Bose, Gwyn Campbell, Indrani Chatterjee, William Gervase Clarence-Smith, Janet Ewald, Bernard K. Freamon, Robert Harms, Matthew Hopper, Pier M. Larson, Mandana Limbert, Mohamed Mattar, Thomas McDow, Abdul Sheriff. Check the conference website at http://www.yale.edu/glc/indian-ocean/index.htm for conference papers, logistical information, and conference registration.

[Return to
table of contents]
---
Slave Routes:
Resistance, Abolition & Creative Progress
October 9-11, 2008, New York




An International Symposium in New York City, October 9-11, 2008. To commemorate the 200th anniversary of the abolition of the Transatlantic Slave Trade by the United States of America, New York University's Institute of African American Affairs and Africana Studies Program is hosting an international symposium entitled "Slave Routes: Resistance, Abolition and Creative Progress." This symposium, supported by UNESCO's Slave Routes Project, will be co-sponsored by NYU's Institute for Public Knowledge, the Organization of Women Writers of Africa, Inc. and the Schomburg Center for Research in Black Culture, with additional support provided by the African Diaspora Slave Routes Organizing Committee and the Department of African American Studies at Syracuse University. The symposium will be held at New York University and other sites in the New York metropolitan area October 9-11, 2008.

Distinguished scholars, writers, musicians, visual artists, and organizers from the international community will convene at NYU to discuss slavery, the slave trade and its consequences, in plenary, panels, conversations, performances and film/video screenings. For additional information, contact the Institute of African American Affairs, 212-998-IAAA (4222), 41 East 11th Street, 7th Floor, New York, NY, 10003; this conference is free and open to the public, except for the concert. Register at http://africanastudies.as.nyu.edu/object/slaveroutes08 or http://www.slaveroutes.org.

[Return to
table of contents]
---
The Archaeology of the Recent African American Past
February 27-28, 2009, Columbia, South Carolina




The South Carolina Institute of Archaeology and Anthropology and the Department of Anthropology at the University of South Carolina will hold their first annual Post-Doctoral Archaeology Conference on February 27-28, 2009. The conference will focus on the archaeology of African American lives in the recent past. For this conference, the recent past signifies an emphasis on post-emancipation life -- or how African peoples experienced freedom -- in the United States.

Archaeological research on the African Diaspora has focused on the material identification of African identity, the archaeology of freedom at Maroon sites, and the archaeology of race and racism (e.g., Fennell 2007; Orser 1998; Orser and Skibo 2001). Studies of the Diaspora have become more global in scope (Ogundiran and Falola 2007; Haviser et al. 2006). Most of these studies have focused on enslavement (e.g., Ferguson 1992; Singleton 1995, 1999) whereas post-enslavement studies have tended to focus on tenancy (e.g., Brown 1994; Orser 1988; Wilkie 2000). Although the African Diaspora is a historic process that traces Africans through the slave trade to homes outside of Africa, many archaeologists have neglected the idea of the Diaspora as a modern identity with a historical and material context.

Archaeologists, with their focus on time and materiality, contribute to the study of places, sites and objects, whose creation we remember and commemorate, and whose form and character we continue to influence in our everyday lives. Because of these concerns archaeologists are increasingly interested in the recent or contemporary past (e.g., Bradley et al. 2004; Buchli and Lucas 2001; Schofield et al. 2002). The archaeology of the contemporary past found a place in the New Archaeology as a parallel effort to historical archaeology (e.g., Gould and Schiffer 1981). Building on this work, Buchli and Lucas (2001) argue that the archaeology of the contemporary past connects temporal proximity and materiality. Contemporary archaeology bridges the gap between past and present and between archaeologists and the societies we study. It also recasts the familiar as unfamiliar and helps individuals and communities cope with painful contradictions that otherwise would remain unarticulated. For these reasons, archaeologies of the recent past in the United States are a way to address the painful histories of Reconstruction and Jim Crow and the more hopeful histories of the Civil Rights Movement and the building of Black neighborhoods and universities.

This conference, with its focus on the recent past, encourages collaboration and dialogue between archaeologists, historians, folklorists, and other scholars who are interested in the materiality of the post-enslavement African diaspora. We invite papers that consider, but are not limited to, what archaeology can tell us about the Civil Rights movement, Black intellectualism, African American towns, Jim Crow, and more recently, gentrification. How are the experiences of emancipation seen materially? What role do memory and oral history play in the archaeology of the recent past? How does the archaeology of the recent past combine archaeological research and public responsibility? What does the materiality of the recent past tell us about contemporary concerns?

The University of South Carolina Press will publish the conference proceedings as an edited volume. For more information, contact Jodi Barnes. The deadline for abstracts is October 15, 2008. Please email a 250 word abstract to JBarnes@mailbox.sc.edu.

[Return to
table of contents]
---
Fifth Biennial Conference of the
Association for the Study of the Worldwide African Diaspora,
Africa, Diaspora & Pan-African Agendas
August 2-5, 2009, Accra, Ghana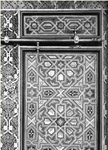 You are invited to participate in the fifth biennial conference of the Association for the Study of the Worldwide African Diaspora (ASWAD), to be held August 2-5, 2009, in Accra, Ghana. The conference is co-sponsored by Rutgers University and the W.E.B. Du Bois Center in Accra, with the support of Ghana's Ministry of Tourism and Diasporan Relations. CFP deadline: December 15, 2008.

In commemoration of the 90th anniversary of the first Pan African Congress (1919) and in celebration of Ghana's central role in nurturing Pan-African struggles for freedom and justice since 1957, the theme of the conference is "Africa, Diaspora, and Pan-African Agendas."

The conference will be research driven, featuring panels organized in ways that effectively stimulate discourse across geographic, disciplinary, cultural, and theoretical boundaries. Emphasis will also be given to the practice and performance of culture, identity, and politics. Participants are encouraged to propose roundtable discussions and participatory workshops that look at diasporic encounters in all activities from educational policies to cooking practices. All geographic areas will be represented, including Africa, the Americas, the Middle East, Europe, and Asia. Paper and panel proposals that incorporate women, gender, and sexuality as categories of analysis are encouraged.

Please send a two-page abstract (for either a single presentation or a panel/roundtable/workshop) and a one-page cv (or a set of one-page cv's). Roundtable and workshop presentations should be designed to be no more than ten minutes in length, with the balance of the time given to collective in-depth discussion of the issues, or participatory activity. The deadline for receiving the abstracts is December 15, 2008. Abstracts can be sent prior to submitting the registration fee, and should be directed electronically via email attachment to: ghana-09@rutgers.edu. Other queries can be addressed to: Abena Busia, Director, Professor of Literature, Rutgers University, c/o W.E.B. Dubois Center, P.O. Box CT 975, Cantonments, Accra, Ghana; email: aswad@webdubois-gh.org. The ASWAD web site is available at http://www.aswadiaspora.org.

Conference delegates are encouraged to attend the Reverential Night festivities at Cape Coast Castle on Friday July 31, 2009 marking the final night of PANAFEST, a cultural event dedicated to enhancement of the ideals of Pan-Africanism and the development of the African continent. Details on PANAFEST and various tour options and add-ons will be circulated in early October by Heritage Development Consultants.

[Return to
table of contents]
---
The 19th Century and the
New Frontiers of Slavery and Freedom
August 10-14, 2009, Rio de Janeiro




We are pleased to invite specialists in to the field of Atlantic slavery to participate in the International Seminar "The 19th Century and the new frontiers of slavery and freedom" to take place from August 10-14, 2009 in the Universidade Federal do Estado do Rio de Janeiro (Rio de Janeiro) and in the Universidade Severino Sombra (Vassouras).

Slavery has been at the center of the liberal and industrial modernity, as part of the global processes of capital accumulation. In response to the increasing demand for tropical commodities, new geographies of production based on the intensive exploitation of enslaved workers were negotiated during the XIX century in different parts of the Atlantic world. The processes of independence and the formation of national states in the Americas, the constant advancement of the international anti-slavery movement and new patterns of slavery resistance, however, redefined the social, political, legal and symbolic frontiers of slavery and freedom. In this sense, those borders constituted a permanent field of tensions.

Our goal is to congregate those who undertake research in different parts of the Atlantic world in order to discuss the multiple meanings of the new frontiers of slavery and freedom in the 19th century, in which the Brazilian Empire, specially the region of the Paraiba do Sul basin, played a central role. In order to stimulate the debate among researchers, papers in Portuguese, English, Spanish and French will be accepted. Proposals should be sent to seminariofronteiras@gmail.com, from May 10 to September 12, 2008, with an abstract of the work and a brief resume of the researcher. Results will be announced on November 14, 2008. Organizing committee: Keila Grinberg, Rafael Marquese, Ricardo Salles, Claudia Regina Andrade dos Santos, Sue Peabody, and Dale Tomich.

[Return to table of contents]


---
Brokers of Change:
Atlantic Commerce and Cultures
in Pre-Colonial "Guinea of Cape Verde"
June 11-13, 2009, Birmingham, United Kingdom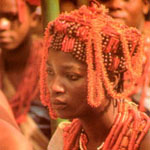 The region known in the early modern period as the "Guinea of Cape Verde" stretches between the river Gambia and Sierra Leone. This was one of the first locales in which strategies of brokerage and exchange were employed by both Africans and Europeans in the construction of Atlantic trading systems. It was in this region that Europeans settled for the first time in Africa, adopting African customs and also sharing their own customs with African peoples. This was, moreover, the centre of the trans-Atlantic slave trade during the first century of that trade's operation.

Yet in spite of the historical significance of the region, the historiography of the region is notably sparse. In spite of notable works by Brooks, Havik, Hawthorne, Lopes, Mark, Nafafé and Rodney, an overarching synthesis of the place of the region in the wider Atlantic world and of its significance in the construction of that world remains lacking. This is particularly unfortunate given the rising importance of Atlantic studies in the wider historiography, which makes a proper delineation of the trajectory of the pre-colonial history of the region of the "Guinea of Cape Verde" all the more important and timely. This conference seeks to redress this balance, bringing into focus the region's connection to the wider Atlantic world and also in its inter-regional connections to the Cape Verde Islands.

The conference will take place between June 11-13, 2009 at the Centre of West African Studies at the University of Birmingham -- the only university department in Europe to concentrate on West Africa, and home to the Danford Museum of African artefacts. The conference is organised by two scholars specialising in the field, both based at the University of Birmingham. Suggested accommodation lists will be provided.

The conference is part-sponsored by the British Academy and will be placed on the Academy's Schedule of Events; the British Academy has also expressed firm interest in publishing a volume of essays arising from the conference in its Proceedings Series. Confirmed participants include George Brooks, Zelinda Cohen, Antonio Correia e Silva, Philip Havik, Walter Hawthorne, Jose da Silva Horta, Richard Lobban, Peter Mark, Gerhard Seibert, Francisco Bethencourt, and P. F. de Moraes Farias.

The conference organisers, Dr. Jose Lingna Nafafe (Sociology, University of Birmingham) and Dr. Toby Green (Centre of West African Studies, University of Birmingham) welcome proposals for papers from scholars and graduate students. Abstracts, of no more than 200 words, should be sent by email to both Drs Nafafe and Green before the deadline of November 20th 2008: emails: j.lingnanafafe@bham.ac.uk and T.O.Green@bham.ac.uk.

We are particularly interested in addressing the following themes:

(1) Creolization or Africanization? The early settlement of Portuguese traders in the rivers of Guinea gave rise to some of the first emergent Creole communities in the Luso-Hispanic empires. But how "Creole" were they? Was the pre-existence of cultural fusion in the Rivers region decisive, or rather was it the adaptiveness of the lancados that counted for more? Can studying these communities assist in the wider study of the interactions of peoples in the early modern Atlantic world, and with the construction of theoretical paradigms of brokerage?

(2) Slavery in the Rivers of Guinea. Historians of slavery have traditionally downplayed the numbers of slaves extracted from the rivers' region in the first century of the trans-Atlantic trade. But new research by Mendes and Green might suggest that these views need to be revised. What was the effect of the trans-Atlantic slave trade on the cultures of the region? Did it materially affect them, or are Fage and Thornton correct in stating that this trade merely tapped a pre-existing market? And how might the new slave trade have affected existing concepts of slavery in the region?

(3) Gender and Power. The rivers region is notable for its history of female leadership and involvement in commerce from the early modern period right through to the 20th century war of independence. But what was it about the cultures of the rivers' region which gave rise to these tropes? Are their theoretical implications for wider feminist theory which can be derived from studying the agency of women in the rivers' region?

(4) The Rivers of Guinea, Cape Verde, and the Atlantic World. Historians of the Atlantic have often downplayed the role of the rivers of Guinea in the Atlantic world. We want to interrogate this question and ask whether a new view of the rivers' region is required. In particular, can the study of the Rivers of Guinea help to redress the Americanist bias of Atlantic studies? How would studying the role of the Rivers in the Atlantic help in the construction of a picture of an African Atlantic? How does such a picture fit with the role of the Cape Verde Islands? Is such a picture useful?

(5) Hegemony and Brokerage. Study of the rivers region confirms the thesis of Thornton as to the power and agency of Africans in the development of the Atlantic world. How should we use this study to reshape the wider picture of the interactions of Africans and Europeans in the African Atlantic? How important were the factors of economic demand in effecting change in the cultures of the region as opposed to internal factors? Particularly, we are interested in observing how the hegemonic picture of the region may have changed throughout the pre-colonial era, paving the way for colonial subjugation.

(6) Culture and Religion. The rivers region was notable for its religious and cultural pluralism. This was true not only of African peoples but also of European incomers, who included Christians and crypto-Jews in their numbers. But what was the impact of this fusion of religion and culture on the subsequent culture and history of the region? Can the legacy of this hybridity be seen in any contemporary residues in the culture of the "Guinea of Cape Verde."

[Return to
table of contents]
---
Book Review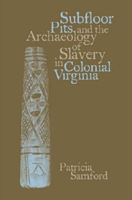 Patricia M. Samford, Subfloor Pits and the Archaeology of Slavery in Colonial Virginia. Tuscaloosa: The University of Alabama Press, 2007, 224 pp., 35 figs., 21 tabs., index, $29.95 paperback, ISBN 0817354549.

Reviewed for the African Diaspora Archaeology Newsletter by James G. Gibb, Ph.D., Annapolis, Maryland.



Patricia Samford offers her readers a typological approach to the problem of intramural pits on African and African-American sites in the Virginia Tidewater region. She uses data on pit size, shape, and location, in combination with West African (especially Igbo) historical and ethnographic data, and American oral histories, first person accounts, and archaeological data to identify three possible pit types: food storage (particularly for sweet potatoes), individual storage of personal possessions, and shrines. Finds from Colonial and Antebellum Utopia, Carter's Grove, and Kingsmill quarters provide the principal database, supplemented by similarly dated pits from known and likely African and African-American houses from eight other sites in the region. She examines artifact size and completeness, as well as excavators' observations documented in field notes, to distinguish between de facto, primary, and secondary refuse, excluding the material from the latter two types of deposit from the typological analyses.

Samford's results, based on simple quantitative analyses are compelling. Patterns in feature placement and geometry clearly distinguish hearth-fronting food storage pits from other types of pits, and limited macrobotanical analysis (Utopia II, III, and IV) and ethnological and historical information suggest that sweet potatoes -- a substitute for West African yams -- likely filled those pits. Samford makes an equally strong case for some of the features representing shrines based on location, morphology, single-episode filling, and non-refuse contents that are paralleled in traditional Igbo and other West African belief systems. The classification of some pits as representing personal "safety deposit boxes" (p. 141) is based to an extent on the lack of patterning in terms of location and morphology. I'm not crazy about the metaphor…the nuanced meanings for the users and their fellow householders probably were more varied than those held by modern renters of standardized box sizes in a modern bank vault. The apparent correlation, however, between the frequency of personal storage pits and households of unrelated individuals is intriguing. Samford seems to suggest that with the formation of single-family households, in the context of slavery, personal ownership within the family was either non-existent or uncontested. If valid, that pattern warrants further study both in its own right and in comparison to the contemporary rise of European consumerism and notions of private property that included the ownership of personal slaves.

Defining only three possible types (recognizing that the excavated spoil might have been used as daub) may unnecessarily narrow the field. Features 715 and 716 in House 3 at Carter's Grove, for example, might represent privies (pp. 146-147), particularly given the lenses of lime in Feature 716 and the centered placement of postholes at each end of the long axis of each feature (pp. 80-81). The apparent wooden boxes in each of those features may indicate privy holes that were designed for periodic cleaning. Stratigraphic data that might have enhanced the analyses of pit fills were not available for all of the pits from the three principal sites and in no instance do the data appear to have included detailed information on soil textures and topography. Mounding of poorly mixed sediments, for example, suggests different formation processes than slumping thin lenses of well-sorted, fine-grained sediments. In part because many of the features were excavated before the importance of recovering pollen and macrobotanical data was widely acknowledged, those important data were available only for the three Utopia Quarter components. Those data aid in distinguishing food storage from shrine functions, and also have value in the analysis and interpretation of pit fills.

In the well-established tradition of anthropology, with its long association with evolutionary theory, Samford writes much about enslaved Africans coping with or adapting to the conditions of slavery and of a new environment. There is a small breach in this perspective when she notes that "Through hard work, an individual [Igbo in West Africa] can rise from a low status within the community to a position of great honor and esteem" (p. 178). Personal storage pits, as assertions of private possessions in households of unrelated persons, and subterranean shrines propitiating ancestors and appealing to deities are culturally bound but varied individual expressions. The idea that individuals and even entire communities can try to excel in one or more aspects of their lives is something often overlooked in the archaeological literature, and the archaeological correlates of ambition remain largely unrecognized and unsought. Similarly, Samford's discussion of shrines addresses the realm of the individual, the archaeology of which necessarily encompasses both adaptation and ambition. Her suggestion that the pits of the three plantations were created and used by several generations of related persons who learned and modified designs also leads to questions about leadership and individuality in the past as expressed through material remains.

Brief vignettes leading off Chapters 6 through 8 link various data through narrative, each giving voice to the imagined thoughts of individuals known to have occupied the sites in question. Although imagined, each vignette draws on archaeological data and is informed by historical and ethnohistorical research. These stories effectively and usefully link data and remind analyst and reader alike that features and artifacts were used by individuals. They are less effective in getting to the ethos of the people they portray, the thoughts of the protagonists seeming too Western to ring true. Insofar as the vignettes precede the analyses in each case, that is not a weakness; more nuanced narratives based on the results of the analyses might make for interesting epilogues to each of those three chapters.

Samford writes clear expository prose, unencumbered by jargon and metaphysics, although she repeatedly reminds the reader of material already well covered. The current convention of avoiding the first person contributes such wordy constructs as "It is hypothesized . . .," and "The decision was made . . ." (pp. 119-120), and the grammatically suspect "This study hypothesizes . . . ." As a whole, Subfloor Pits is a quick read with usable data and illustrations. None who read this book will ever look at subfloor pits in the same way, and Samford's work will inspire her readers to conduct more careful excavations, macrobotanical and pollen sampling, and detailed documentation of these features. I also look forward to the more regular use of interpretive vignettes as an analytic tool.

[Return to table of contents]


---
Review
The Potters of Buur Heybe, Somalia, 2006 DVD. Produced by Tara Belkin, in collaboration with Steven Brandt, the people of Bardale, Somalia, and the Somali Academy of Arts and Science. Part of the DVD Series, Archaeological Methods & Practice: An Educational Film Series, from the Left Coast Press. Available through the University of Arizona Press, Tucson. 25-minute video on DVD, plus four-page insert. $49.95. (Images courtesy of Left Coast Press).

Reviewed for the African Diaspora Archaeology Newsletter by Chris Espenshade, New South Associates.


I am an unabashed potter groupie; I could sit and watch a skilled potter work all day long. As I have traveled about the Southeast and Caribbean, I have been lucky on occasion to be rained out of archaeological fieldwork when a traditional pottery shop was nearby. You know my perspective, so let's talk about the excellent DVD, The Potters of Buur Heybe, Somalia.
In 25 minutes, this DVD takes us from clay pits through finished vessels in use. Women gather the clay from a communal clay bed, a half mile from the village. The potters, 20 of the 400 people in the village, are all male. They mix dry clay powder, water, and leftover clay slip, and then knead the clay. There is no aging of clay; it is mixed and then used immediately.
The production process varies with the type of vessel. Round bottomed, cooking pots are built inverted, starting with the rim. Flat-bottomed pots begin with a flat, basal disk. Coil construction is the rule, and a small turntable is used to help even the pot on all sides (but this is not wheel-thrown pottery). The local clays are exceptionally forgiving, allowing significant thinning and shaping as the vessels reach different points in their drying. A wooden scraper, a seashell, and a wooden paddle (but no anvil) are the major potting tools. The DVD is a little jumpy through the construction process; I would have preferred to see one form taken through the entire process, rather jumping form to form.



Decoration is applied to leather-hard vessels. Incising is the only mode of decoration depicted, and a combination of longitudinal lines and sets of parallel obliques are the dominant motifs. Specific designs are named, but have no particular meaning. When asked what the decoration of a pot denotes, the potters and users say, "they mean Buur Heybe."

The pots undergo firing in expedient stacks of dead wood and grassy weeds. After pre-heating of the large pots, a stack of 40-50 pots is created. Dead wood is stacked around the outside, and gaps are filled with weeds. The typical firing takes one hour, and the potter knows the desired temperature has been reached when the pots turn red. A firing temperature is not specified, but temperatures of 500-600 degrees centigrade might be expected from such firings.

Once the pots enter the use realm, males rarely ever touch them again. Eighty percent of their production is sold outside the community, including vessels traded to seasonally mobile herders. Within the village, women do all the cooking and water collection. The clay pot continues to be used because it is less expensive than metal pots, and because clay vessels make the food taste better.

The book Smashing Pots: Works of Clay from Africa (Barley 1994) warned us not to treat African pottery-making as a single tradition, and the potters of Buur Heybe underline that point. Although the vast majority of non-wheel potters in Africa are female, all the potters of Buur Heybe are male. Throughout Africa, clay is typically dug and processed by males, but the women do such work in Buur Heybe. Although we typically think of a coil-built pot progressing from the base to the rim, the potters of Buur Heybe reverse the process. While we generally think of vessel decoration as a post-production process, in Buur Heybe the potters decorate the round-bottomed pots before completing and closing the bottom.

There are very few complex activities that can be addressed in detail in a half-hour. It was not Belkin's intent to offer a comprehensive video documentation. Instead, she and her team sought to touch on the major processes of ceramic production, distribution, and use. The DVD nicely piques interest in a number of anthropological issues, and underlines the complexity of the ceramic culture of Buur Heybe. It is a natural stepping-stone for a range of potential class topics and discussions, including: household and community specialization; decorative style and information content; teaching/learning paths; the relationship of vessel form and function; and ceramic exchange between the sedentary Buur Heybe potters and the nomadic herders. The Potters of Buur Heybe, Somalia will serve as a suitable teaching tool for undergraduates and graduates alike, and would be at home in courses on cultural anthropology, ethnography, African culture, economic anthropology, ceramic technology/ecology, and art history. The four-page insert includes citations for theses that promise to flesh out the ceramic information provided in this DVD.

This is not a flashy DVD. There is only a limited music track, maybe a minute at either end of the DVD. The narrator is competent, but not overly expressive. However, this is okay, because the potters speak for themselves. The film crew has done an excellent job of capturing all the key elements of the manufacture, firing, distribution, and use of the pots. Pottery-making is an intricate and dynamic process, and video is well suited to its documentation. Similar potting processes were well documented in still photographs, drawings, and text by Richard Krause in Africa (1985, The Clay Sleeps) and by Owen Rye and Clifford Evans in Pakistan (1976, Traditional Pottery Techniques of Pakistan). However, as a medium, the video is much more engaging.

For those of us unlikely to stop by Buur Heybe on our next rain day or when our next project is finished early, this DVD is as close as we will get to a visit with these potters. I enjoyed my visit, and I recommend this DVD to readers of this Newsletter.

[Return to table of contents]


---
Book Review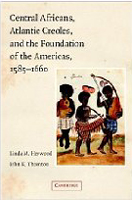 Linda M. Heywood and John K. Thornton. Central Africans, Atlantic Creoles, and the Foundation of the Americas, 1585-1660. Cambridge: Cambridge University Press, 2007. vii + 370 pp. $22.99 (paper), ISBN 0521779227.

Reviewed for the African Diaspora Archaeology Newsletter by John Roby, Binghamton University (SUNY).



In Central Africans, Atlantic Creoles, and the Foundation of the Americas, 1585-1660 (2007), authors Linda M. Heywood and John K. Thornton offer a valuable contribution to our knowledge of the early years of Atlantic African slavery. Their argument is twofold: first, that the bulk of the "founding generation" of Africans in English and Dutch America came to the New World from specific and identifiable parts of West Central Africa; and second, that many of those West Central Africans, due to more than a century of interaction with Europeans, were bearers of a more or less unified "Atlantic Creole culture" that then shaped the cultural development of later generations of African slaves. This has profound implications for archaeology. The origins and changes in African/African-American cultural practices is a pressing question, and one that archaeology is well-suited to investigating. Yet conventional wisdom holds that African slaves were heirs to a variety of cultural backgrounds, so sorting out where particular groups and their practices originated at particular times is at best difficult, and at worst futile. Debates thus far have usually operated at fairly high levels of abstraction. Not so in this case: Heywood and Thornton, by pulling together a vast corpus of literature from Dutch, Spanish, Portuguese, French and English sources, construct the first leg of their argument coherently and in a way that archaeologists working on African-American origins will find compelling and useful. As for the second part, that Central Africans bore a fairly unified Atlantic Creole culture, questions remain, not through lack of scholarship but because the way the authors envision and argue for "culture" that operates on a level that is difficult to "see" archaeologically. Nevertheless, the idea is a compelling one, and this book should inspire a useful and much-needed program of archaeological investigation.

In Chapter 1, "Privateering, Colonial Expansion, and the African Presence in Early Anglo-Dutch Settlements," the authors outline the origins of the West Central African slave trade. They demonstrate that the initial influx of African slaves into the English and Dutch colonies in North America came about largely through the actions of privateers, and that after 1580, the slave ships that were preyed upon carried mostly Angolans. From there, they argue, English and Dutch companies and merchants slowly began purchasing slaves from markets in West Central Africa, in addition to capturing them on the seas.

Chapter 2, "The Portuguese, Kongo, and Ndongo and the Origins of Atlantic Creole Culture to 1607," develops the concept of an Atlantic Creole culture by situating its origins in the century of interaction between Portuguese, Dutch and West Central African polities that predated intensive slave trading. They argue that in addition to extensive dealings with Europeans, significant similarities in language, political organization, and social forms linked most groups in West Central Africa from which slaves were later taken. The authors spend a great deal of time examining the extension of Catholicism into West Central Africa, and present European accounts of worship and attitudes toward the faith. In addition, they show how African rulers adopted Christian names and practices, and how European religion was both adapted into local beliefs and used in political power struggles. In this, the authors do a great service: the image is not one of European values being foisted upon a local population, but of adaptation, syncretism, and agency.

Chapter 3, "Wars, Civil Unrest, and the Dynamics of Enslavement in West Central Africa, 1607-1660," is primarily concerned with demonstrating that the West Central African slaves who came into European hands in this period were captives of the protracted wars being waged between different African polities, with the Portuguese more or less involved as well. They demonstrate that the wars were about conquest and dynastic succession, not ethnic conflict, and resulted in thousands of Christianized Africans becoming enslaved.

Chapter 4, "Atlantic Creole Culture: Patterns of Transformation and Adaptations, 1607-1660," develops the idea of Atlantic Creole Culture more fully by introducing the criteria by which the authors judge Africans to have been bearers of that culture, as well as the notion that different groups might have participated to greater or lesser degrees. This is a key chapter, and the one that some archaeologists are likely to find most problematic. The root of the problem lies in how "culture" is conceptualized. The authors -- both historians -- place great emphasis on documentary sources and, following from that, what people are likely to have "believed." They conceptualize Atlantic Creole culture as a continuum, with greatest development in the "core" areas of Kongo and Angola, where European influence was most prominent. Out from the core, they write, adherence to Atlantic Creole culture would have been weaker. They view the hallmark of this culture to have been adoption of Christianity (pp. 170-96), but also discuss changes in music, foodways, dress and naming practices that followed European arrival in West Central Africa.

The problem arises in that "culture" can be abstracted in so many different ways, and the meaning of and evidence for "culture" that interest an historian is likely to be quite different from those an archaeologist would find evidence for. Many of the lines of evidence Heywood and Thornton cite are invisible archaeologically, such as adherence to Catholic doctrine, or the adoption of Portuguese surnames (pp. 208-21). There is little discussion of material culture, or concrete examples of changes in behaviors practiced by Atlantic Creoles. A record of the baptism of an African couple's child is not an unbiased document, and the "meaning" of the ritual is unlikely to have been as clear-cut as we might like to think.

This is not meant as a blanket criticism of the work. The volume's scholarship is impressive, as is the presentation. However, from an archaeological standpoint, the notion of an Atlantic Creole culture remains something to be demonstrated, not accepted.

In Chapter 5, "Shifting Status and the Foundation of African American Communities: Atlantic Creoles in the Early Anglo-Dutch Colonies," the authors argue that the similar worldviews of West Central Africans meant that the "founding generation" was positioned to exert a strong influence on succeeding waves of slaves brought to the Americas, and thus African-American culture. This again raises the question of what one means by "culture;" something that is by no means shared by all archaeologists. Yet again, "worldview" is also a tricky proposition, much more so than behavioral practices, which are largely outside the authors' scope.

Finally, Chapter 6, "Becoming Slaves: Atlantic Creoles and the Defining of Status," traces the authors' views that a shift occurred in how the English and Dutch came to see slavery as lifelong and hereditary, rather than a temporary condition.

In sum, Central Africans, Atlantic Creoles, and the Foundation of the Americas, 1585-1660 is a compelling and well-researched account of the earliest days of Atlantic slavery that will reward students and academics, especially those who reject the notion that we cannot untangle the ultimate origins and cultural antecedents of the first African slaves.

[Return to table of contents]


---
Book Review

Douglas R. Egerton, Alison Games, Jane G. Landers, Kris Lane, and Donald R. Wright. The Atlantic World: A History, 1400-1888. Wheeling: Harlan Davidson, 2007, 530 pp., paperback, $48.95, ISBN-13: 978-0882952451.

Reviewed for the African Diaspora Archaeology Newsletter by B. R. Fortenberry, Boston University.



The Atlantic World: A History 1400–1888 is an ambitious offering from some of the leading Atlantic historians currently working in the field. Beginning in the years prior to European expansion, and ending with the abolition of the slave trade, the authors seek to present the wide diversity of the "Atlantic World" while demonstrating some of the broader trends and patterns that shaped, and were a result of, the medieval and post-medieval periods. Their volume, like many historical introductory textbooks, presents both larger interpretive ways of knowing, illustrated by carefully placed case studies.

When reading this volume the variability of approaches to Atlantic History is striking. As such, one must be cognizant of the purpose of this text as an introductory offering to the broad idea of Atlantic History. Throughout the volume the authors shift between chapters that focus on moments of history related to particular states or regions and historical events (Iberians in America [77-113], Wars and Ruptures [323-89], and Empires [115-48; 391-416] and broader interpretive paradigms (slavery and its abolition [185-214; 461-93], migration and labor [149-83], and racial and cultural mixture [255-71]). This is, after all, the way that historians, and in most cases archaeologists, understand the past. What is frustrating about this approach is the emptiness one feels when interesting stories of real people and things in real places are watered down or reduced to larger interpretive categories. This is where the real challenge of Atlantic History (and eventually archaeology) comes to the fore: how does one understand something as infinitely large as the Atlantic? More pressing, however, is the challenge of balancing one's individual case studies with the larger processes that provide overarching understanding of the oceanic basin. It is academia itself that falsely makes researchers want "something more." We want our case studies from disparate parts of the world to make a difference and feed into some larger, holistic picture that the research itself can provide -- in essence, we want them to be more than themselves. To achieve these ends, the authors in this volume maintain that they are interested in looking at strings of connections and how decisions made at one locale affect a large number of people (3). They also claim that they are not interested in creating a "composite history" or more traditional nationalistic histories; instead, this volume is a project in looking at interactions (4). Nonetheless, as a result of the breakdown of a nation-state focus, they instead reduce the mosaic of contexts into categories that are discernable across time and space, constructing some broad pattern or process of history that provides an understanding to the present generation of scholars. The movement of thousands of Europeans, Africans, and Indigenous groups is not understood on their own terms, but rather, through "migration" (as one example of this reduction). This relationship, above all else, is related to a hierarchical notion of history and time, one that is very much akin to an Annales approach to history. The volatility of everyday life is partitioned off from the ethereal processes of history: the locale is defined by the process and the process is defined by the locale. But do we need to think of the Atlantic in those terms? Do we need an overarching comprehension of its breadth? Moreover, do we need a textbook to attempt to study such a thing?

I would argue the answer is a resounding no. Instead of striving for a comprehensive survey of the Atlantic, let us embrace the idiosyncrasies of the stories that we can tell. Perhaps it is best to think of the Atlantic as an empty canvas. It is only through our own research that we can begin to put lines and trajectories on the white, or in this case ocean-blue, space, tracing real people and things from locale to locale through time and space. It is a return to an emphasis on the fine grained interactions. Here we can focus more clearly on the idea of place-making, which in Atlantic History has been called "cis-Atlantic" history by David Armitage (2005). More importantly, for archaeology, is the fact that a focus on place-making allows the archaeologists to concentrate on what they do best -- understanding the materiality of particular places at particular times. With these fine-grained, focused methods, the archaeologist can move beyond the site, following people and materials as they cross and re-cross the Atlantic.

In conclusion, I think that the authors have done an exquisite job attempting to grapple with the Atlantic from a holistic perspective. Nonetheless, I do not think that it is the approach that archaeology should embrace. Instead, we can look to the work of micro-historians and their ability to look at fine-grained interactions of particular places and their capacity to debunk widely-held claims of broad patterns and trends in history as a possible template to follow for the Atlantic historian and archaeologist (see Putnam 2006). Furthermore, I think we can look to the authors' work outside of this textbook, what I would call Atlantic History "in action," to find more appropriate approaches to the Atlantic than those presented in this volume. Alison Games' work tracing the movements of travelers from London to the Lowcountry to the American colonies comes to mind (1997). Here there is less of a focus on a monolithic Atlantic or migration patterns; rather, Games' work seeks to get inside the mind of her subjects (an emic approach for those of us who work within anthropology). In the end, we cannot approach the Atlantic by presupposing its existence in some distant place or time. Rather, we the researchers must construct it through our work as we seek to understand the people and places that shape our world in the present.

References Cited

Armitage, D. (2005). Three Concepts of Atlantic History. In D. Armitage, & M. Braddick (Eds.), The British Atlantic World 1500-1800. New York: Palgrave.

Games, A. (1997). The English Atlantic World: A View from London. Pennsylvania History 64: 46-72.

Putnam, L. (2006). To Study Fragments/Whole: Microhistory and the Atlantic World. Journal of Social History Spring: 615-30.

[Return to table of contents]


©2008 African Diaspora Archaeology Network
Copyright and all rights reserved by
individual authors for each article.
Please send comments, suggestions, or questions
to Chris Fennell at cfennell@illinois.edu
Last updated: September 27, 2009
Text only menu
Search