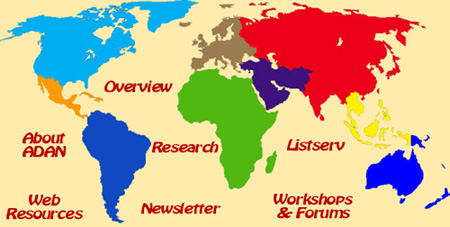 September 2011 Newsletter
ISSN: 1933-8651
In this issue we present the following articles, news, announcements, and reviews:
Articles, Essays, and ReportsNews and AnnouncementsUpcoming ConferencesBook Reviews
---
Exploring the Material Culture of Death in
Enslaved African Cemeteries in Colonial Virginia and South Carolina
By Christina Brooks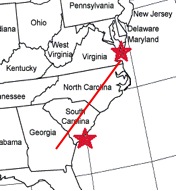 In colonial America, throughout the Southeast region of the country, an invisible line once existed. With no identified boundaries that line ran roughly in a southwest direction from the Chesapeake to a point in the Low Country. That line separated two politically, environmentally and socially disparate regions inhabited by culturally distinct yet similar groups of enslaved Africans.

When examining the mortuary practices and funerary rituals of these two groups of enslaved Africans, the result of this undefined cultural boundary becomes apparent. Upon crossing that invisible line, patterns emerge in the archaeological record that demonstrates the differences in enslaved African burial sites between the two regions. As these groups moved into the 19th century that invisible line, dividing the regions and the culturally unique patterns, becomes less apparent. Mortuary practices and funerary rituals become less distinct as enslaved Africans transition from wholly African to African American. [Read or download this full article here in Adobe .pdf format >>>].

[Return to table of contents]


---
More than Memory: Representing an
African American Neighborhood at the Ravenscroft Site
By Ywone Edwards Ingram
Between 2006 and 2009 archaeologists from the Colonial Williamsburg Foundation and students from College of William and Mary excavated the Ravenscroft site. The site bears the name of one of its eighteenth-century owners, Thomas Ravenscroft, and is located at the northwest corner of Nicholson and Botetourt streets in a section of the Historic Area now designated Block 28. While excavations at this site concentrated on an eighteenth-century cellar previously uncovered in 1954 and 1998, the site material assemblages also represent a twentieth-century African American neighborhood. Research focused on African Americans at the site during the eighteenth century; but with the abundance of artifacts from the twentieth century, scrutiny has turned towards this period of site occupation. This overview presents some of the preliminary findings uncovered in the ongoing historical studies that are integral to the archaeological investigations. [Read or download this full article here in Adobe .pdf format >>>].

[Return to table of contents]


---
Buna Qalaa: A Quest for Traditional Uses of Coffee
Among Oromo People with Special Emphasis on Wallaga, Ethiopia
By Bula Sirika Wayessa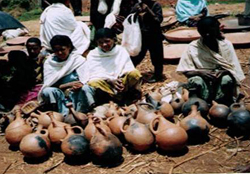 Coffee is used among Oromo of West Wallaga as traditional medicine, food and beverage. It is also core part of almost in every daily ritual practices in the society. The Oromo also link coffee tradition with traditional pottery technology. Presently the Oromo follow different religious denominations. Regardless of their religious background, the Oromo practice coffee ceremonies in the same manner because it is a marker of their common ethnic identity. Traditionally the people believe that coffee is different from other plants because it grew out of the tears of Waaaq (God). In this society, the coffee ceremony is a forum for social networking and it is where elders pass onto their children norms and values of the society that sustain social identify of the group members. [Read or download this full article here in Adobe .pdf format >>>].
---
The Seneca Village Archaeological Excavations, Summer 2011
By Diana diZerega Wall and Nan A. Rothschild
This summer, the Institute for the Exploration of Seneca Village History conducted archaeological excavations at Seneca Village, the 19th century community located in today's Central Park. Founded in the 1820s by African Americans, by 1855 the village was a thriving community with a population of over 260, three churches, and a school. Approximately two-thirds of those who lived there were of African descent, mostly middle class, while the remainder were Europeans, mostly Irish. In the 1850s, the City decided to construct Central Park in an area that included Seneca Village; it took the land through the right of eminent domain, evicted the residents, and razed their homes for the creation of the Park. Although landowners were compensated for their loss, many felt the compensation was inadequate, and renters of course received nothing at all. [Read or download this full article here in Adobe .pdf format >>>].

[Return to table of contents]


---
Through the Challenges,
Archaeology Blossoms at Howard University
By Flordeliz T. Bugarin and Eleanor King
Despite the news in January 2011 that the Howard University anthropology program would close, students and faculty in archaeology swung into full gear and had some of our busiest and most productive spring and summer months to date. Shortly after President Sidney Ribeau announced the programs on the list for closure, we began working on two proposals, one intended to create a new interdisciplinary program and the other focused on integrating an anthropology concentration into sociology. Concerned mostly about our current students and research projects, we also continued to organize field schools, gather data from the collections housed in our labs, and create new opportunities for undergraduates to obtain research and practical experience.

The decision to close the program impacts the students the most, since it means that a major in anthropology will no longer be offered at Howard University. Remaining classes, however, will ensure the continued presence of a "concentration in anthropology" on campus and students have until 2015 to finish their major requirements. The current challenge for faculty is to determine how to interpret the meaning of a "concentration," whether it entails only a few classes suited for other majors or a more reflective picture of our discipline from a four-field approach. [Read or download this full article here in Adobe .pdf format >>>].

[Return to table of contents]


---
The Editors' Corner

We, the new co-editors would like to extend a welcome to the next phase of the ADAN. We are indebted and thankful to Chris Fennell, for all of his hard work and years of dedication to this online community. This task is not simple and we take it on with honor and excitement.

We encourage new voices and dialogues to help the ADAN grow on both a local and global scale. In the issues to come we, along with co-editors Christopher Barton and John McCarthy, will be laying out some of our ideas and goals for the journal and welcome suggestions from the ADAN community
-- Whitney Battle-Baptiste and Kelley Deetz

[Return to table of contents]


---
New Book
The Anatomy of Blackness:
The Science of Slavery in the Age of Enlightenment
By Andrew S. Curran
Johns Hopkins University Press,
Paperback, 328 pp., ISBN-13: 9781421401508, 2011.

Description from the Publisher:


This volume examines the Enlightenment-era textualization of the Black African in European thought. Andrew S. Curran rewrites the history of blackness by replicating the practices of eighteenth-century readers. Surveying French and European travelogues, natural histories, works of anatomy, pro- and anti-slavery tracts, philosophical treatises, and literary texts, Curran shows how naturalists and philosophes drew from travel literature to discuss the perceived problem of human blackness within the nascent human sciences, describes how a number of now-forgotten anatomists revolutionized the era's understanding of black Africans, and charts the shift of the slavery debate from the moral, mercantile, and theological realms toward that of the "black body" itself. In tracing this evolution, he shows how blackness changed from a mere descriptor in earlier periods into a thing to be measured, dissected, handled, and often brutalized.

[Return to table of contents]


---
New Book
Ripe for Emancipation
By Neely Young
Mariner Companies, Inc.,
Paperback, 236 pp., ISBN-13: 9780984112890, 2011.

Description from the Publisher: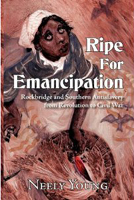 A number of historians have held that antislavery activity died out in the South after the early 19th century. Neely Young's extensive research has uncovered evidence of a continuing antislavery tradition in the so-called "Upper South" from the Revolution until about 1850. This was not completely true, as you will learn in Ripe for Emancipation. This tradition of antislavery sentiment thrived most in the Appalachian regions of western Virginia, western North Carolina, eastern Tennessee, and Kentucky. One of the centers of antislavery activity was Rockbridge County, Virginia, which supplied some of the leading figures in the Virginia and Upper South emancipationists' movements. The people of Rockbridge were reluctant to join the Confederacy and when they did, it was not to defend slavery or even states' rights but to defend their lives, homes, and property against northern invasion.

[Return to table of contents]


---
New Book
Black Feminist Archaeology
By Whitney Battle-Baptiste
Left Coast Press,
Paperback, 200 pp., ISBN-13: 9781598743791, 2011.

Description from the Publisher: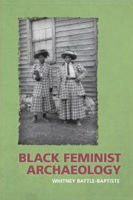 Black feminist thought has developed in various parts of the academy for over three decades, but has made only minor inroads into archaeological theory and practice. Whitney Battle-Baptiste outlines the basic tenets of Black feminist thought and research for archaeologists and shows how it can be used to improve contemporary historical archaeology. She demonstrates this using Andrew Jackson's Hermitage, the W.E.B. Du Bois Homesite in Massachusetts, and the Lucy Foster house in Andover, which represented the first archaeological excavation of an African American home. Her call for an archaeology more sensitive to questions of race and gender is an important development for the field.

"Battle-Baptiste has wielded her keyboard in bringing awareness to the life stories of those who have too long walked in the shadows and invites us to bear witness to them. In doing so, she provides another crucial perspective to the growing literature on the potentials for transforming archaeological practice and theory, and the rationales for why this is necessary." -- from the foreword by Maria Franklin, University of Texas at Austin.

[Return to table of contents]


---
New Journal
Journal of African Diaspora Archaeology and Heritage
Edited by Christopher C. Fennell
Left Coast Press, two issues yearly, Spring & Fall, 256 pp., ISSN: 2161-9441.

Description from the Publisher:


The Journal of African Diaspora Archaeology and Heritage provides a focal point for peer-reviewed publications in interdisciplinary studies in archaeology, history, material culture, and heritage dynamics concerning African descendant populations and cultures across the globe. The Journal invites articles on broad topics, including the historical processes of culture, economics, gender, power, and racialization operating within and upon African descendant communities. We seek to engage scholarly, professional, and community perspectives on the social dynamics and historical legacies of African descendant cultures and communities worldwide. The Journal publishes research articles and essays that review developments in these interdisciplinary fields. Journal web site: http://lcoastpress.com/journal.php?id=15.

Submitting a manuscript to the Journal of African Diaspora Archaeology and Heritage -- manuscripts should typically be no longer than 35 double-spaced pages, or approximately 8,750 words, in length. Submissions should include a cover letter, an original manuscript, and any illustrations. All manuscripts should be submitted electronically in MS Word format for the manuscript text and accompanying illustrations should be embedded in the manuscript in low-resolution format. Illustrations should also be provided in separate .tiff format digital files in higher resolution of at least 300 dpi. On the cover page of the manuscript, please include the title, your name, your affiliation, postal address, telephone number, and email address, and a one-paragraph abstract of no more than 200 words, followed by 4 keyword terms for potential use by indexing services. At the end of the manuscript, provide a biographical note of not more than 50 words about each author. Submissions should be sent to Editor Christopher Fennell at cfennell@illinois.edu. An author should contact the editor if unable to submit an electronic version of the manuscript.

Current members of the Journal's Editorial Board include: E. Kofi Agorsah, Professor and Chair, Black Studies Department, Portland State University; Alexis Alande, Professor, Department of History, National University of Benin, Abomey-Calavi; Abdul Alkalimat, Professor of African American Studies, University of Illinois; Scott Allen, Professor, Departamento de Arqueologia, Universidade Federal de Pernambuco, Brazil; Ana Lucia Araujo, Associate Professor of History, Howard University, Washington, DC; Douglas Armstrong, Professor of Anthropology, Syracuse University, New York; Alice Bellagamba, Associate Professor of Cultural Anthropology and African Studies, University of Milano-Biccoca, Italy; Richard Benjamin, Director, International Slavery Museum, Liverpool, UK; Suzanne Blier, Professor of Fine Art, African and African American Studies, Harvard University, Cambridge, Massachusetts; Shihan de Silva Jayasuriya, Senior Fellow, Institute of Commonwealth Studies, University of London; Caleb A. Folorunso, Professor, Department of Archaeology and Anthropology, University of Ibadan, Ibadan, Nigeria; Maria Franklin, Associate Professor of Anthropology, University of Texas; Grey Gundaker, Professor of Anthropology, College of William and Mary, Virginia; John Janzen, Professor of History, Kentucky University; Kenneth Kelly, Professor of Anthropology, University of South Carolina; Mark Leone, Professor of Anthropology, University of Maryland; Kevin MacDonald, Professor, Institute of Archaeology, University College London; Philip Morgan, Professor of History, Johns Hopkins University, Baltimore, Maryland; Paul Mullins, Professor and Chair, Department of Anthropology, Indiana University-Purdue University at Indianapolis; Neil L. Norman, American Council of Learned Societies and Mellon Foundation New Faculty Fellow, Department of Anthropology, College of William and Mary, Virginia; Akin Ogundiran, Professor and Chair, Department of Africana Studies, University of North Carolina, Charlotte; Charles Orser, Jr., Curator of Historical Archaeology, New York State Museum; João José Reis, Professor of History, Universidade Federal da Bahia, Brazil; Francois G. Richard, Assistant Professor, Anthropology and Social Sciences, University of Chicago; Daniel O. Sayers, Assistant Professor, Department of Anthropology, American University, Washington DC; Daniel Schavelzon, Professor and Director, Center for Urban Archaeology, Universidad de Buenos Aires, Argentina; Carmel Schrire, Professor of Anthropology, Rutgers University, New Jersey; Paul Shackel, Professor and Chair, Department of Anthropology, University of Maryland; Theresa Singleton, Associate Professor of Anthropology, Syracuse University, New York; Luis Claudio Pereira Symanski, Assistant Professor, Departamento de Antropologia, Universidade Federal do Parana, Brazil; Ibrahima Thiaw, Associate Professor of Archaeology at the Institut Fondamental d'Afrique Noire, University Cheikh Anta Diop of Dakar, Senegal; John Thornton, Professor of History, Boston University; Laurie Wilkie, Professor of Anthropology, University of California, Berkeley.

[Return to table of contents]


---
New Journal
Heritage and Society
Edited by Elizabeth Chilton and Neil A. Silberman
Left Coast Press, two issues yearly, Spring & Fall, 288 pp., ISSN: 2159-032X.

Description from the Publisher:


Heritage and Society is a global, peer-reviewed journal that provides a forum for scholarly, professional, and community reflection on the cultural, political, and economic impacts of heritage on contemporary society. We seek to examine the current social roles of collective memory, historic preservation, cultural resource management, public interpretation, cultural preservation and revitalization, sites of conscience, diasporic heritage, education, legal/legislative developments, cultural heritage ethics, and central heritage concepts such as authenticity, significance, and value. Journal web site: http://www.lcoastpress.com/journal.php?id=7.

The journal provides an engaging forum about tangible and intangible heritage for those who work with international and governmental organizations, academic institutions, private heritage consulting and CRM firms, and local, associated, and indigenous communities. With a special emphasis on social science approaches and an international perspective, the journal will facilitate lively, critical discussion and dissemination of practical data among heritage professionals, planners, policymakers, and community leaders.

Heritage & Society includes peer-reviewed research on policy, legislation, ethics, and methods in heritage management and will showcase exemplary projects and models of public interpretation and interaction. A peer-reviewed Forum section presents position statements and responses on key current issues. The journal also includes reviews of books, web pages, exhibits, and innovative heritage projects throughout the world.

Editorial Focus: Heritage & Society publishes original research that contributes to the theory and practice of Heritage as it impacts on wider contemporary society. In general, the journal is aimed at both working heritage practitioners and scholars concerned with evolving heritage theory and its application in real-world situations. The journal will provide resources both for ongoing heritage initiatives within nation-specific legislative frameworks as well as more theoretical research papers with international or cross-cultural significance.

Exemplary case studies, project reports, heritage management theories, and technological or technical innovations will be featured in the Journal's Resources Section, which offers readers a selection of evolving heritage tools and techniques. The Forum Section will be devoted to opinion and carefully formulated position papers on contentious subjects of current heritage policy and law.

[Return to table of contents]


---
American Anthropological Association
110th Annual Meeting November 16-20, 2011, Montreal, QC, Canada
Conference Theme: Traces, Tidemarks and Legacies

Sarah Green, 2011 Executive Program Chair

Traces, tidemarks and legacies are words that evoke the shifting and changeable character of differences that nevertheless persist, perhaps in altered form, as differences. Traces leave hints and reminders of half-forgotten things, relations and thoughts. Tidemarks leave indicators of where things have got to so far: this might be a strongly guarded distinction or just a line in the sand that disappears or shifts location the next day. Legacies imply pasts (imagined, asserted or remembered) that become entangled with the present and potential future, both informing and perhaps defining new differences. The traces, tidemarks and legacies of past and possible future distinctions -- partially remembered, partially re-created and partially invented (by anthropologists as much as by anybody else) -- make the world a multiply occupied place. And it is this process of how differences are made, marked, removed, maintained and altered within that multiply occupied place that is the focus for the 2011 theme.

The topic is important now because we are living through a time when most distinctions -- between disciplines, places, environments, peoples, objects, biological and non-biological entities, times, languages, beliefs, epistemologies and ontologies -- have been thoroughly challenged, both intellectually and morally. Indeed, the distinction between the intellectual and the moral has itself been repeatedly questioned. Yet these challenges have not led to the disappearance or reduction of differences. Moreover, massively increased communication, interaction and the ability to blend entities that were never blended before has not led to the disappearance of differences, either. Nevertheless, something significant has happened; the meaning and location of differences, both intellectually and morally, have been rearranged. The 2011 theme invites participants to reflect on how all fields of anthropology, whose own locations have also been rearranged, are engaging with these shifting realities in which we live, within and across disciplines and regions.

Montréal is an ideal location in which to consider such matters, given its rich history of being a multiply occupied place. Montréal's residents are actively engaged with questions of making, marking, removing and remaking differences. This not only involves the city and its own traces and tidemarks but also the city's internationally renowned cultural, performance arts, media and design sectors, all of which are making significant contributions to the transnational debates about how to rearrange the traces, tidemarks and legacies that confront the world today.

[Return to
table of contents]
---
Plains Anthropological Conference
69th Annual Conference, Tucson, Arizona, October 26-29, 2011
On October 26th through 29th, 2011, the Plains Anthropological Conference will be held in Tucson, Arizona at the Marriott University Park Hotel. This is the 69th meeting of the Plains Anthropological Society and its first appearance in Arizona. We hope you can join us for this exciting event. Visit the conference web site at https://www.pac69.com/index.html.

[Return to
table of contents]
---
Southeastern Archaeological Conference
68th Annual Meeting, Jacksonville, Florida, November 2-5, 2011
A Gathering in River City

The annual Southeastern Archaeological Conference returns to Florida this November and for the first time ever it will be held in Jacksonville, the River City. Here you will find all information you need to register for the conference; submit titles and abstracts for symposia, papers, and posters; and learn about the special events planned. . . . On Saturday we will have two special events. The Museum of Science and History has moved its annual Native American Festival to November 5 to accommodate participation by SEAC members. Then, to cap off a great conference, you are invited to take an optional excursion via charter bus to Fort George Island, only 25 minutes away, to tour Kingsley Plantation and/or Rollins Shell Ring, and to take in the sights of one of northeast Florida's nicest maritime forests. Following the tours we will convene at the beach-side pavilions of Little Talbot Island State Park.



[Return to
table of contents]
---
Midwest Archaeological Conference

La Crosse, Wisconsin, October 13-15, 2011
Midwest Archaeological Conference, Inc. Web Site: http://www.midwestarchaeology.org/

Conference Hosts: Mississippi Valley Archaeology Center University of Wisconsin - La Crosse, Archaeological Studies Program

Events include a public outreach meeting -- This meeting is open to anyone interested in networking with others involved and interested in public outreach. This is an opportunity to meet others involved in public outreach, find out what others are doing and get ideas for your own public outreach activities. Visit the conference website for more information: http://midwestarchaeology.org/upcoming-meetings/

[Return to
table of contents]
---
Council for Northeast Historical Archaeology Conference
Utica, NY October 21-23, 2011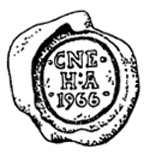 Conference Theme: Connecting People and Places.

The 45th annual meeting of the Council for Northeast Historical Archaeology will take place in Utica, New York October 21-23, 2011. Centrally located to many of the major cities in the northeast and eastern Canada, the Utica area is rich in historical sites, world-class museums, reasonably-priced hotels and restaurants, and wonderful Adirondack scenery. The fall foliage will be at its peak during the conference, adding to the splendor of the region. Utica is easy to get to -- just off of Exit 31 of the New York State Thruway, a five-hour drive from New York City, Boston, Philadelphia, and Montreal. The two closest major airports are at Syracuse (60 miles west) and Albany (95 miles east). Amtrak also serves Utica with four trains a day from New York City.

The conference theme this year is "Connecting Peoples and Places." This theme reflects the Mohawk Valley's many layers of history, especially Utica's role first as a portage across the Mohawk River and later as a British fort. Subsequently, Utica became a major hub along the Erie Canal and a crossroads of the Northeast, hosting traveling celebrities and prominent politicians alike throughout the nineteenth and twentieth centuries. Home of the renowned Gerrit Smith, Utica also served as one of the major centers of the abolitionist movement and is part of the Oneida County Freedom Trail. The utopian Oneida Community also called the county home, and its Mansion House is now a National Historic Landmark. Fort Stanwix, in Rome, is also a National Historic Landmark and the site where important treaties were signed between the Six Nations of the Iroquois and the British and, after the Revolution, the newly independent United States.

We welcome papers and posters that highlight how archaeology reveals the connections between communities despite the distances, both geographical and cultural, that separate them. Topics of interest include: contact-period sites; transportation, communication, and trade networks; industrialization; women's suffrage; slavery and abolition; cemeteries and bioarchaeology; foodways; rituals and religion; sites of conflict; and public archaeology and cultural resource management. Papers and posters on any topic are welcome as well, and are not required to specifically address the conference theme.

[Return to
table of contents]
---
Book Review

Donald A. Yerxa, editor. Recent Themes in the History of Africa and the Atlantic World: Historians in Conversation. Historians in Conversation Series. Columbia: University of South Carolina Press, 2008. 128 pp., Hardcover, ISBN-13: 9781570037573.

Reviewed for the African Diaspora Archaeology Newsletter by Rachel L. Horlings, Director of Underwater Research and Coordinator for Archaeology, Bunce Island Coalition.



This book is an engaging collection of eighteen short articles written by fourteen different historians from a range of backgrounds, including both Africanists and non-Africanists. It is the result of two series of exchanges originally printed in the November/December 2004 and the January/February 2006 editions of the journal Historically Speaking, and is historians in "conversation" about the Atlantic world. Yerxa, as editor, frames the discussions in terms of the challenges that face historians (and therefore also archaeologists) today, specifically, "constructing narratives that give coherence to a messy and complex past without sacrificing its richness and texture" (p. 3). It is a short book with plenty to digest, although its ease of reading makes it deceptive in terms of its depth and complexity. The bulk of the text consists of two discussions, one centered around defining Africa and its place in world history, and the other concerning the veracity of Olaudah Equiano's historical account. The basic format is a "challenge essay" in which an author (Joseph Miller in the first case and Vincent Carretta in the second) presents potentially controversial or challenging perspectives. [Read or download this full review here in Adobe .pdf format >>>]

[Return to table of contents]


©2011 African Diaspora Archaeology Network
Copyright and all rights reserved by
individual authors for each article.
Please send comments, suggestions,
or questions to the editors
Last updated: September 27, 2011
Text only menu
Search