December 2007 Newsletter
ISSN: 1933-8651
In this issue we present the following articles, news, announcements, and reviews:
Articles, Essays, and ReportsNews and AnnouncementsConferences and Calls for PapersBook Reviews
---
The Development of the International Slavery Museum
By Dr. Richard Benjamin*
[Read this article below in .html format, or in Adobe .pdf format.]
Introduction
National Museums Liverpool is the only group of national museums in England based entirely outside London. We are active locally, regionally, nationally and internationally, reflecting the organisation's unique status as a national institution based in a major regional city. The group includes art galleries holding world famous collections -- the Walker Art Gallery, the Lady Lever Art Gallery and Sudley House. In addition, we look after four museums -- World Museum Liverpool, Merseyside Maritime Museum, HM Customs & Excise Museum and now the International Slavery Museum plus a venue that houses our conservation department, the National Conservation Centre.
Phase 1
Phase 1 of the International Slavery Museum opened on Slavery Remembrance Day 2007 (23 August) a day that commemorates an uprising of the enslaved Africans on the island of St Domingo (modern Haiti and the Dominican Republic) in 1791. Designated by UNESCO, the date was chosen as a reminder that enslaved Africans were the main agents of their own liberation. The country was also marking the bicentenary of the Abolition of the British Slave Trade Act. Ultimately, the museum will offer the visitor a greater understanding of the world around them by telling a story of resilience and survival against all the odds, one that is testament to the unquenchable nature of the human spirit.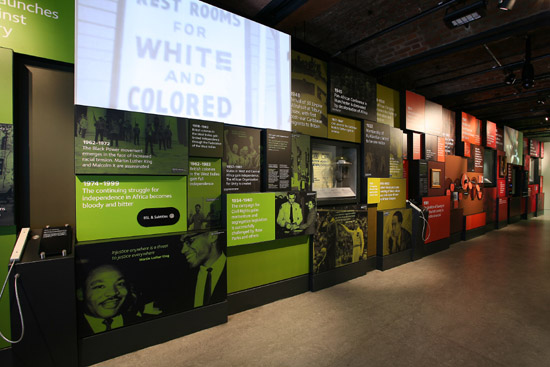 The "Fight for Freedom and Equality" exhibit wall at the International Slavery Museum (ISM). Photograph by C. Lee Garland.
The new museum will build on the success of the Transatlantic Slavery Gallery until recently in the Merseyside Maritime Museum, which was opened by Dr. Maya Angelou in 1994. It will tell the story of transatlantic slavery -- a powerful economic force in world trade, and a destroyer of lives and families on a massive scale, for over four centuries. The new museum will be more than twice the size of the old gallery and will go much further in explaining the extent to which the world has changed as a result of that trade.
Phase 1 includes the building of new galleries on the 3rd floor of the existing Merseyside Maritime Museum and will explore the story of transatlantic slavery from the complex and vital cultures of West Africa before the coming of the Europeans, through the horrific Middle Passage onboard ship, to life in the Americas. The galleries will demonstrate the determined and relentless resistance to enslavement, and how enslaved people themselves contributed to gaining their eventual freedom.
Key messages that will be communicated in the new display galleries are that transatlantic slavery:


created a permanent and enduring injustice;

changed the history of Africa, Europe and the Americas;

was brutal and dehumanising;

was resisted by the enslaved at every opportunity;

requires a shared understanding and a shared commitment to combat the consequences; and

created an African Diaspora which has had profound influence on Western culture.


The galleries will also highlight contemporary concerns such as human rights, under-development in Africa and the Caribbean, and racial discrimination -- examining key questions, such as what it means to be British and Black and racial stereotyping. Displays will explore how people of African descent have contributed to cultural transformation in both the Americas and Europe. The displays in the new museum will challenge preconceptions and address issues which are of relevance to everyone today.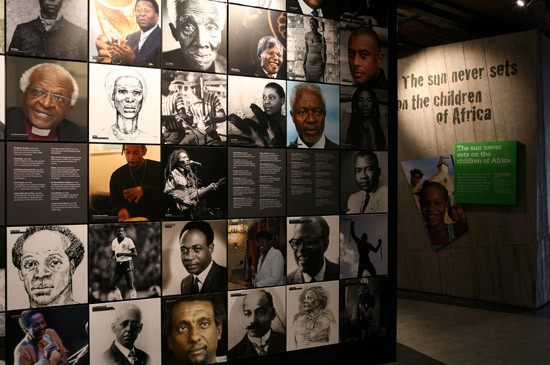 The "Black Achievers" exhibit wall at the ISM. Photograph by C. Lee Garland.
Phase 2
Phase Two will see the development of the Centre for the Study of International Slavery (CSIS) to be opened in 2010 in what is now the Dock Traffic Office, a building adjacent to the Merseyside Maritime Museum. The buildings will be joined by a glass walkway. The building will include exhibition space, an archive, a learning suite, a community zone, and facilities for researchers, visiting scholars and importantly members of the public. Not only will the Centre offer facilities for those interested in both historical and contemporary aspects of slavery but it aims to contribute to greater understanding and informed debate about slavery and its many legacies. It will promote an international, comparative, and interdisciplinary approach to examine the cultural and social effects of the transatlantic slave trade, slavery, and resistance, on all societies involved. CSIS will also further the study of memorialisation, and of the interpretation of slavery as part of a wider public history agenda and to increase understanding of contemporary global issues. We aim to facilitate the exchange of knowledge and opinions between scholars based in Europe, Africa, the Caribbean, and North and South America.
The Centre will facilitate access to rich archival and material collections, while offering a strong focus on questions of culture and heritage. While the Centre's primary focus will be on scholarly research, this activity is designed to contribute to learning and outreach programmes and events for local communities, schools, volunteers, lifelong learners, and the general public. These will raise awareness of the persistence of slavery and means of its eradication, as well as encourage debate about attitudes towards freedom, race, ethnicity, tolerance, respect, and citizenship.
To achieve our aims, the Centre will organise interdisciplinary academic conferences, seminars and workshops; we are building up an international slavery research network with scholars in Europe, Africa, the Caribbean, Latin America, and the USA. We are committed to providing facilities and support for visiting scholars, especially promising young researchers. We also strive to make the extensive archival and other resources that are available in Liverpool more accessible to scholars and general audiences. We will disseminate research outcomes through public lectures and events, through the Centre's monograph series, as well as through our contributions to National Museum Liverpool's nationally acclaimed learning and outreach programmes.
Liverpool: Capital of the Transatlantic Slave Trade
The transatlantic slave trade was the greatest forced migration in history, and it changed the world forever. To understand modern Africa, South America, the Caribbean, the USA and Western Europe, one must understand the story of transatlantic slavery and its consequences.
Liverpool was a key European port from which slave ships set sail for Africa, and the city grew rich on the profits of trading in enslaved people. Goods, including guns, alcohol and textiles, were taken to Africa and exchanged for enslaved Africans, who were then taken to the Americas to be sold. Ships then sailed from the Americas for Europe laden with goods such as sugar, coffee, cotton and tobacco, and then the whole sordid business started all over again.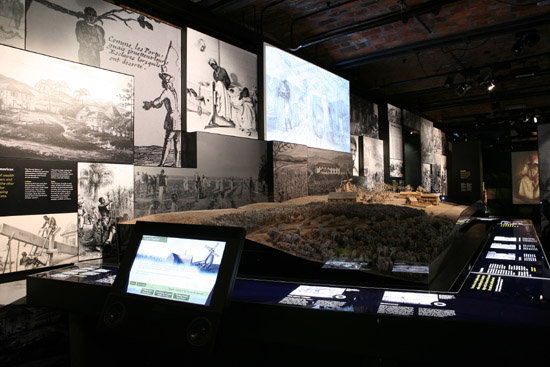 Exhibit with a model of a plantation at the ISM. Photograph by C. Lee Garland.
Bristol merchants were the first to profit, but within 40 years Liverpool had overtaken London and Bristol as the largest trader. By the 1780s Liverpool was the European capital of the transatlantic slave trade. Liverpool was easily accessed by rivers and canals and as such trade goods like cloth, guns and iron were cheaply brought to the port. Liverpool merchants also had the necessary business know how and undercut their rivals, reducing turnaround times and increasing the flexibility of operation. Added to this were the close relationships which had been developed with some African traders and as such the Liverpool merchants knew which goods they wanted.
The legacies left by transatlantic slavery are wide and varied. Some have had a transformational and astonishing influence, such as the development of popular culture in the Americas and its influence on the world. Others are sinister and depressing, such as racism. The museum will explore how people continue to challenge slavery's destructive legacy of prejudice, intolerance and global economic inequality, and will stimulate dialogue and debate around the subject.
Conclusion
As someone of Guyanese descent I was extremely proud and excited at being given the opportunity of heading both a world class museum and research Centre which looks at both the historical and contemporary aspects of slavery. Added to that I aim to make the International Slavery Museum a valuable resource for the local community, in particular the local Black community, as well as visitors from elsewhere. It is vital that members of the Black community in particular feel empowered and involved in the development of the International Slavery Museum. From consultations which have already taken place we have also found that many members of the Black community, both elders and those from the younger generation want the messages which visitors take away from their visit to the museum to be a positive one. The experience should not denigrate the horror of the transatlantic slave trade or contemporary forms of slavery by any means but the many positive achievements of the Black presence in Britain and in particular Liverpool should be fully understood and acknowledged.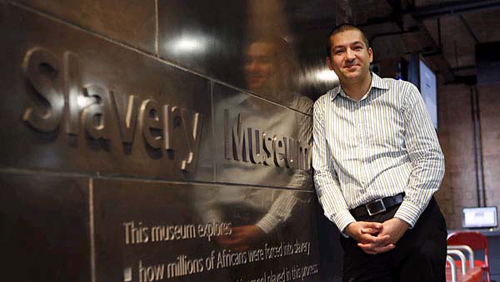 The author at the museum. Photograph by Jonathan Player, New York Times.




The International Slavery Museum should not only act as an instrument of education but as a tool of social change, challenging many of the misconceptions generally held towards the subject of slavery. Whether or not racist incidents instigated in contemporary Britain are a direct result of Britain's involvement in the transatlantic slave trade has yet to be fully understood but the International Slavery Museum here in Liverpool should act as the conduit to answer such challenging questions.

Note

* Dr. Benjamin is the Head of International Slavery Museum, and may be reached via email at richard.benjamin@liverpoolmuseums.org.uk.

[Return to
table of contents]
---
Multivalent Symbols of an Enclosing Hand
By Christopher Fennell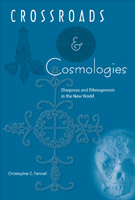 This article provides an edited excerpt from Crossroads and Cosmologies: Diasporas and Ethnogenesis in the New World, University Press of Florida, Gainesville, 2007. Introductory sections of this excerpt outline a theoretical framework, portions of which are then applied in the last section of this article in analyzing the possible meaning and significance of small brass figures of fists or enclosed hands uncovered archaeologically at a number of nineteenth-century work and occupation sites of African Americans.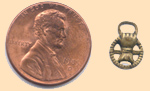 These objects, which have often been referred to as "fist charms" or "hand charms" in archaeological reports, illustrate a dynamic intersection of European-American and African-American belief systems. [Read this full article here in .html or in Adobe .pdf format >>>].

[Return to table of contents]


---
The Archaeology of Captivity and Freedom at Joseph Lloyd Manor
By Jenna Coplin and Christopher Matthews*
[Read this article below in .html format, or in Adobe .pdf format.]
Joseph Lloyd Manor located in Lloyd Harbor, NY and built in 1767, affords a rare opportunity to better understand how captive Africans formed communities on Long Island within and against slavery. Ongoing research is examining the lives of those who labored at the site through a combination of archaeology at the Manor's presumed slave quarter and a unique documentary record. In addition to extensive Lloyd family papers, the writings of Jupiter Hammon are available for analysis. Hammon, who was born into slavery in 1711 and lived his entire life as property of the Lloyds, is considered among the first published African American authors. Hammon's poetry and prose (see Ransom 1970) permits a comparison between his first-hand perspective on captivity and the material record left behind by other captive laborers who made up his immediate community at Lloyd Manor. Hammon's focus on Christian conversion and spirituality guide the direction of this research as it often takes the form of a dialogue with other captive Africans, the Lloyds and Phillis Wheatley. The Long Island Lloyds, a segment of a far-reaching and wealthy Atlantic merchant-planter family, employed captive African labor throughout the 18th century. Hammon was among 10 slaves were enumerated in the 1790 federal census of the site. Our research aims to collect information that will document the diversity of this community and reconstruct the broader local networks in which the Lloyd slaves were enmeshed.
Excavations are focused on a historic outbuilding depicted with a chimney on an 1814 map of the area. The location, size and shape of the structure and especially the chimney suggest a human presence, and based on the findings from our first season of research, we believe these persons were captive Africans. Initial work involved the excavation of seven one-by-one meter test units. These tests identified important subsurface remains of the small 18th century outbuilding detailed on the 1814 map and visually located through ruined surface remains of the brick chimney and its foundation stones. Well-preserved sections of the dry laid south- and east-facing stone foundation walls were uncovered (Figures 1 and 2). Associated displaced layers of foundation stones suggest structure walls collapsed outward after it was abandoned.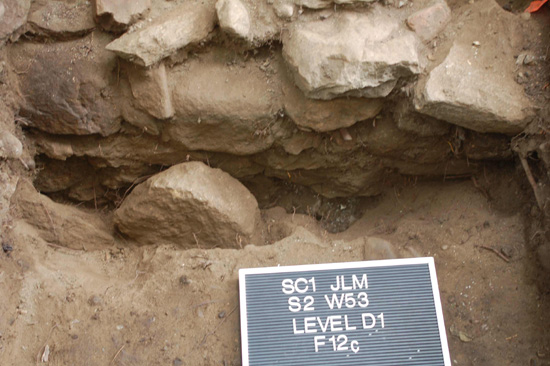 Figure 1. East-facing foundation wall showing interior builder's trench feature at the Joseph Lloyd Manor slave quarter 2007 excavations.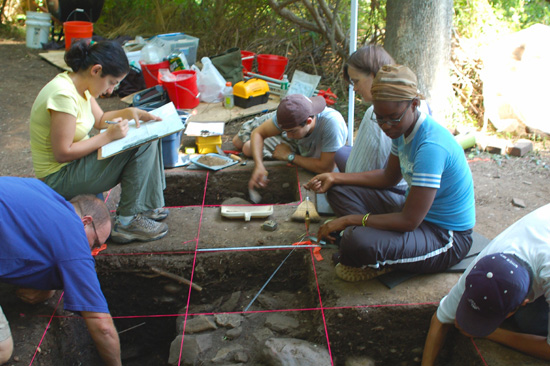 Figure 2. Hofstra University staff, students and volunteers excavating deposits surrounding south-facing foundation wall.
The structure's interior remains, foundation fragments, and fallen wall lay beneath several layers of mixed debris, soil and pebbles that eroded from the slope above. Removal of these layers uncovered a deposit capping significant cultural deposits and containing an 1828 half-cent coin (Figure 3). The date of this coin falls squarely within the time period we think this structure would have been occupied and indicates that the deposits associated with the architectural remains relate to the past occupants we wish to learn more about. Associated with the east-facing foundation fragment was an interior builders' trench containing material remains currently under analysis.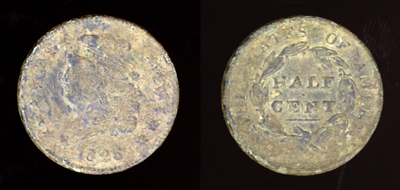 Figure 3. An 1828 half-cent coin.




A different trench was identified in front of the structure. This trench appeared intentionally filled with a deposit of oyster shell and large artifacts fragments. The size of these artifacts and intact state of most of the shell indicates this deposit is undisturbed. Large fragments of a finely molded white salt-glazed stoneware plate and the base of a wine-bottle provide a mid-18th century date. The trench was likely created to manage slope erosion and facilitate the displacement of rainwater away from the house. A complete turtle plastron found at the base of the trench may indicate use of local resources for a dietary supplement and when considered with other evidence may indicate other cultural practices. Being a boundary crossing creature, the buried turtle may also represent evidence of retained African religious beliefs associated with the occupation of this house and possibly a powerful form of resistance.

While additional research in upcoming years will examine this potential in detail, the preliminary findings confirm the occupation of this structure during the time when captive Africans made up the majority of the household's members and, therefore, that this structure was most likely home to at least some of the Lloyd family slaves. Future work will be focused on collecting data that will record efforts by residents to create freedoms in their everyday lives through various expressions of autonomy. Faunal and botanical remains will be identified for signs of supplemental food and medicine. Regional availability of these and other remains will be identified to better understand patterns of exploitation. How far residents were allowed to and capable of traveling off site to gather materials is of particular interest. These actions are expected to disclose the extent of connections between Lloyd family slaves and other people in the region, possibly revealing a larger network built by captive people to expand their horizon, improve their lives and by extension resist their captivity. This would require crossing boundaries predetermined by others, which were part of early New York's burgeoning political, religious and colonial identities and foundational to their enslavement. These boundary crossing efforts mirror those identified by archaeologists working throughout the African Diaspora and possibly symbolized at Lloyd Manor by the buried turtle plastron discussed above. In addition, these actions assert a form of self-mastery distinct from but in conversation with Hammon who wrote of embracing Christian conversion as the best means for seizing control.

Although our research is focused on the past, it occurs with in living communities in Long Island. By doing work founded upon shared interests in the local past we hope to provide tools these communities can use to direct their future. Archaeology contributes otherwise unrecorded diversity to our understanding of past captive African communities. Then instead of a myopic focus on captivity, we can also consider the incredible accomplishments of people whose past acts that form part of the foundation for our communities today. To this end Community Dialogues on history and archaeology with speakers on local African Diaspora research including Warren Perry, Kathleen Velsor and Thelma Jackson-Abidally are essential to the fabric of our work.

Note

* The authors are affiliated with Hofstra University. To learn more about this program or to inquire about participating in the 2008 field season please contact the authors at anthlab@hofstra.edu or (516) 463-7625.

Reference

Ransom, Stanley A., Jr.
1970 America's First Negro Poet: The Complete Works of Jupiter Hammon. Kennikat Press, Port Washington, NY.

[Return to
table of contents]
---
Teaching the Archaeology of the African Diaspora and its Consequences: Thoughts about Entangling Education
By Timothy James Scarlett
[Read this article below in .html format, or in Adobe .pdf format.]
In the Spring of 2007, I scrapped my standard syllabus for my undergraduate Historical Archaeology Class. I had become increasingly dissatisfied with my course's evolution. While the content and structure were fine, and the students learned about the discipline of historical archaeology, I felt the course fell short of its educational potential. When I realized that 2007 was the 200th anniversary of the British empire's ban on the international slave trade as well as the 400th anniversary of the founding of Jamestown, I was inspired to adopt the slave trade and its consequences as my new theme.
Historical archaeology's greatest gift, I believe, is that it is entangled. I use this term in a similar manner to Ann Stahl, to imply both good and bad characteristics of the discipline. Archaeology generally entangles multiple academic subjects -- science and humanities, process and agency, symbol and behavior -- which is a wonderful thing in itself. Historical archaeology, however, also offers the entanglements derived from being the "archaeology of us." It ties students to the materiality of their lives and adds the depth of time, a point that needs no elaboration here. Archaeology's materiality also entangles people with each other because it represents a tangible connection to the past that eludes most high school history curricula. Historical archaeology creates empathy between people.
Because Michigan Technological University's student demographic profile is largely non-Hispanic White (81% +/- 4%) males (76%), and only 2% of our community identifies itself as "out" (4% nationally),[1] I decided that the anniversaries provided me the opportunity to devote my entire class to the archaeology of the African Diaspora. This subject would force students not only to confront new ideas about objects and symbolism, gender and culture, agency in history, behavior and perception, which had been standard parts of my class, but also confront "otherness" in self-critical and reflexive manner.
This was ambitious and idealistic on my part since this is not my area of expertise and I am currently undertaking no research in this area. I was nervous to present myself as an authority figure talking about African and African-American history and I knew that my students would see me as such even if I explained my intellectual process. I was not thrilled at the hours I would have to spend scanning images from books and searching the WWW for pictures to create lectures. As I thought about how I could present research conducted by others without implicating myself as a coauthor or collaborator, it occurred to me that I could just ask people to share their research directly with my class. I sent emails and made phone calls to my colleagues and asked who would be willing to share Powerpoint slide shows. The response from our community was heartening since everyone I asked shared, or offered to share, with me.
I set up the class to run in a relatively chronological manner. As a distribution-fulfilling class, the students come into the course with varied backgrounds. Most knew little to no anthropology per se, except what they learned in our interdisciplinary World Cultures class in the core studies program. Almost none of them knew anything about archaeology, so I began with introductions to archaeology and the idea of culture. This beginning also made Jim Deetz's In Small Things Forgotten a good introductory text. I complemented this with a detailed discussion of culture, race, and ethnicity, drawing heavily on the AAA's Race Project web pages. In addition, Carl Blair[2] gave an excellent guest lecture in which he overviewed the rise of complex societies in Africa, contextualizing regional relationships and the slave trade from the iron age to the early modern period.
I set the stage for the story of the Diaspora by describing Jamestown and her contemporary Spanish, French, Dutch and other settlements. I set this story within the rise of mercantile capitalism and Plantation America, a subject most of the students knew from World Cultures. From there I began presenting research projects contributed by my colleagues. I spoke first about the triangle trade and explained how underwater archaeology provides insight into the lived experiences of the middle passage. Both Jane Webster (University of Newcastle-upon-Tyne) and Hannes Schroeder (Oxford University) sent Powerpoint lectures through which I could share their research with my class. These lectures became points of departure from which we discussed African adaptations to the ecological and social environments of the Americas, bioarchaeology, creolization and ethnicity, and the colonial world. The students began to read Theresa Singleton's edited volume, I, Too, am America. Those who know my research will not be surprised that I put some emphasis on both landscape archaeology and the story of colonoware.
By week 7 of the term, I transitioned into the post-colonial world. I hoped to make colonial and plantation experiences, which are very firmly established in "otherness" for a nineteen year old mid-westerner, into prelude to the stories of people and places closer to home. I made the transition with a discussion of gender, mothering, and medical practice. The students read The Archaeology of Mothering and Laurie Wilkie (University of California, Berkeley) generously sent slides for an accompanying lecture. This topic inspired much discussion and I had not anticipated the enthusiastic way white male engineering students would engage with the history of medical technology as the racialized and gendered practice that Wilkie wove into her narrative. This was an ideal example of the kind of entangled teachable moments created though historical archaeology.
Sarah Fayen and Jon Prown, from the Chipstone Foundation, provided me with a lecture to further punctuate the jump from the colonial world into the nineteenth century. The students' visited Chipstone's on-line version of their exhibit About Face: Toussaint L'Ouverture and the African American Image. I used the story of the Toussaint pitcher to explore the changing construction of race relations in America. This also resonated with my students for an unanticipated reason. They were surprised that such an exhibit would have originated at the Milwaukee Art Museum, as the students had not considered the decorative arts alongside the fine arts. Perhaps more importantly, they were also surprised because although many students were from Wisconsin, they had never considered the Milwaukee Art Museum as a center of African-American or Diaspora-related cultures and history.
I capitalized on that moment by extending our discussions of race and class from stories about African-American midwives and abolitionist potters to consider the archaeology of New York's Five Points neighborhood and the African Burying Ground. We made fruitful comparisons between the lives of African- and Irish- Americans during these weeks, taking full advantage of many on-line resources as well as a hearty critique of Martin Scorsese's Gangs of New York. The students listened to a pod cast of Rebecca Yamin's (John Milner Associates) discussion with Marty Moss-Coaine at WHYY's RadioTimes and compared the archaeology, the movie, and the photographs of Jacob Riis. This activity, which I have used in several versions of this class, is an ideal tool to explore the relationships between representations of the past, academic inquiry, and the social tensions inherent in those activities.
We continued our explorations of the archaeology of African-American lives by connecting the 19th with the 20th century. I moved the class westward from New York, looking at studies of African-American loggers, the United States Colored Troops Civil War service, the Buffalo Soldiers in the west, and the African-American community in Nevada. The students read Boomtown Saloons and Kelly Dixon (University of Montana) also kindly provided slides for a guest lecture. In another unexpected teachable moment, the students connected the African- and Irish-American archaeologies in New York to the study of contemporary communities in Virginia City's western setting. Saloon archaeology was also a hit, but this was less of a surprise.
In wrapping up discussion, I wanted to bring home these archaeologies of African-American experiences. I wanted to try and somehow make them into "the archaeology of us" even though not a single person in my classroom identified any African heritage. I therefore concluded by considering the challenges that archaeology presents through the environmental justice movement, which resonates with civil and environmental engineers as much as students of the social sciences. I first explored the evolution of America's great mid-western cities, connecting historical and economic trends with their physical manifestations in urban geography. I used that perspective to consider the disaster that followed hurricane Katrina's demolition of New Orleans and the Gulf Coast. This served as a timely and powerful conclusion to the class in which I could mix the work of Shannon Lee Dawdy with the personal experiences offered by my sister, who had served as a first responder in Mississippi after the disaster.
This course change made the generosity of the archaeological community clearly evident. Several other scholars offered material that I was able to include in presentations and discussions, and I am particularly indebted to Paul Mullins, Christopher Matthews, Mark Hauser, Nicholas Hanks, Christopher Espenshade, and Timothy Goddard and Paul Shackel, among others. I hope anyone I've neglected to mention will forgive my oversight. In their evaluations, the students mostly forgave the rough edges of my first time through this class and they also appreciated my colleagues' generosity. As one commented, "It was a great way to end, tying together all of it: the Five Points, the burying ground, and the saloons." Another advised me, "continue the guest lectures and presentations from other universities. I appreciate your efforts to do that." Those interested can visit the on-line syllabus to see the links and assigned readings, the changes between what I had hoped to do vs. what I actually did, download lecture outlines as pdfs, and follow the major activities described above at: http://www.ss.mtu.edu/faculty/Scarlett/Histarch/histarch2007.htm.
I certainly exposed the students to a world they neither knew nor understood and their exams made evident that they learned a great deal about archaeology. Next spring, I will certainly refine most of my presentations. The course needs to have the archaeological narratives balanced with more personal stories, so I will probably ask the students to read an ethnography or novel, such as Zora Neale Hurston's Their Eyes Were Watching God. While I used the African Diaspora Archaeology Network's website as a resource, I did not direct my students to the site, nor did I provide direct links to articles and discussions in the ADAN's Newsletter. I also completely neglected the resources of the Digital Archaeological Archive of Comparative Slavery and The Archaeology Channel. Finally, I must find a way next year to assess whether or not I added some empathy to our campus community, entangling our students with experiences lived by others.
I realize now, after other experiments with pod casting and Skype's virtual office capabilities, how much collaborative potential is emerging in the teaching environment. I hope that others will explore similar avenues and perhaps even create a venue for more substantial collaborative work. Perhaps the African Diaspora Archaeology Newsletter, the Digital Archaeological Archive of Comparative Slavery, and the Archaeology Channel could collaboratively establish a teaching space to share such resources. The benefits could be extraordinary.
Notes

[1]. The statistics about race, sex, and sexuality are from Michigan Technological University (2006). MTU's community is very concerned about issues of gender and sexuality on our campus (see Matlock et al. 2006).

[2]. In addition to his archaeological expertise in early iron, Carl is the study abroad coordinator for Michigan Tech's International Programs and Services office.


References Cited

Michigan Technological University
2006 Diversity Fact Sheet. Retrieved from http://diversity.mtu.edu/docs/DiverstyFacts_2006-1.pdf on Thursday, October 4, 2007.

Matlock, John, Janet Delecke, Karin VanDyke, and Aurles Wiggins
2006 Summary Report on Diversity Accomplishments and Future Strategies for Expanding and Enhancing Diversity at Michigan Technological University. Unpublished report retrieved from http://diversity.mtu.edu/Final_MTU_Summary_Report.pdf on Thursday, October 4, 2007.


---
Grave Site Identification on St. John, Virgin Islands:
The Use of Grave Markers and Commemorative
Space during the Danish Colonial Period
By Helen Blouet*
Click on the figure numbers below to view the illustrations to this article.




The history of St. John is riddled with hierarchical divisions which reflected a well-defined class system (Figure 1). From 1718 to 1917, Danish and other European colonists developed plantation economies and maritime trade, both shaped by slave labor and social hierarchies that created inequalities among enslaved Africans, free white Europeans, and freed people of color (Dookhan 1974; Hall 1992). These disparities influenced a person's life and death. For example, burials of the enslaved were not often allowed in church cemeteries reserved for European colonists. Such separations caused people of African descent to create meaningful burial sites within their communities. This paper focuses on how people with varying degrees of power interacted with landscapes and material objects to create meaningful commemorative practices in plantation societies. On St. John and throughout the Caribbean and the world, cemeteries are important sites that contribute to a sense of belonging, heritage, and land ownership for the people who live and lived there (Aries 1974; Besson 2002; Brown 2006; Lenik 2004; Mytum 2004; Olwig 1985, 1994). Here I present how a selection of the Afro- and Euro-Caribbean peoples created, maintained, and changed burial practices and cemeteries within hierarchical racist, classist, and religious structures and landscapes. They used a variety of locations to commemorate the dead. The first cemeteries I present relate to a Danish landowning family. The second example is the cemetery of an early nineteenth century merchant and estate owner who moved from St. Thomas. These examples are followed by burial sites and cemeteries used by enslaved laborers and free people of color.

This paper is adapted from my larger research project that uses archaeological survey, documentary analysis, and Geographic Information Systems (GIS) applications to interpret how social constructs of race, class, and religion impacted the creation, location, and use of memorials and grave sites (Figure 2). Unfortunately, several historic burial sites on St. John are not maintained and protected and many have been forgotten as families pass away, move off-island, or no longer wish to look after them. Furthermore, cemetery practices have changed and few people are buried in traditional plots on family land, without following proper legal codes (Department of Public Works, Virgin Islands Code, Title 19, § 2008). Instead, municipal and church cemeteries are the preferred and legal places for burial.

Burials by Status



Burials for a Danish Landowning Family



In the past, without the use of today's embalming practices, where ever burial took place, it had to be done soon after a person's death, regardless of race, class, or religion. Otherwise, the corpse would rapidly decay in the hot, tropical environment. Bodies were usually buried in the 24 hours that followed a person's death. Wealthy and poor individuals alike, free and enslaved, were buried in a number of locations, including family plots near dwellings or in some form of community cemetery. For example, the Hjardemaals, a well-to-do Danish family who owned Cinnamon Bay plantation in the early 19th century, maintained a family cemetery on a hill top just south of their home. Two tombs stand in the foreground and a row of five nameless tombs stand behind them. (Figures 3 & 4) One of the two tombs in the front bears an inscription for Mrs. Anna Margarethe Berner Hjardemaal, who passed away in 1836 (Figure 5a, 5b). It is believed that the nameless tomb beside her was intended for the body of her husband when he passed. However, Mr. Hjardemaal died in 1845 and was actually buried in the 'Danish' cemetery in the town of Charlotte Amalie on St. Thomas, a short boat ride from St. John. The 'Danish' cemetery was reserved for prominent Danish and Lutheran colonists (Figure 6a, 6b). Here, Mr. Hjardemaal has a tomb made of red brick and marble that bears a unique inscription (Figure 7). Some of his children are also buried with him. It is evident here that the wealthy landowning Hjardemaal family utilized different but significant burial sites for family members. One location was the family cemetery on Cinnamon Bay Estate, and the other was an elite cemetery reserved for Danish families.

Possible Commoner Burials on an Estate



Colonists with less authority or power, including enslaved laborers, were also buried in a variety of places. At the Leinster Bay estate, for example, an estate cemetery lies on a ridge overlooking Leinster Bay and an abandoned sugar factory (Figure 8). Six graves lie in a rough line going up the hill. They vary in design, quality, and preservation. The grave closest to the bottom of the ridge belongs to James E. Murphy (Figure 9), a land owner who came from St. Thomas in the 19th century and soon became prosperous on St. John. His grave on the ridge is marked by a brick and stone rectangular vault and enclosed by a brick wall (Figure 10a, 10b). His name and date of death in 1809 is inscribed on a marble slab, although the date is incorrect and he actually passed away in 1808 (Figure 11) (Knight 2001).

At the top of the ridge lie a few grave markers in different states of preservation. The one pictured in Figure 12 is a brick rectangular vault with no name or wall surrounding it. The remaining graves in the area are marked by nameless brick vaults and piles of brick and stone. These could mark the burials of family members, overseers, servants, or even favored slaves who lived or worked on the property. It is possible that the placement of these burials with that of James Murphy's was meant to reflect a familial or working relationship between people with different quality burial markers and potentially different social statuses. Furthermore, the cemetery at Leinster Bay reflects an association between the deceased who lived there and the land they owned and worked.

Burials for the Enslaved and Free People of Color



Burial sites for enslaved laborers have been identified throughout the Caribbean, including the following locations on St. John. Burials at Adrian Estate were discovered during excavations by Elizabeth Kellar (2003) in the completion of her dissertation research. The burials were encountered under what used to be house floors and gardens of dwellings for the enslaved who lived on the estate. At Lameshur Estate along the beach (Figure 13), unmarked burials near a few tamarind trees were discovered by the National Park Service during the construction of a bathroom stall. According to the skeletal, artifactual, and documentary evidence noted by Ken Wild in 1989, these burials may have been for enslaved or free laborers (Wild 1989).

A burial ground at Cinnamon Bay beach has been identified through documentary analysis and through the discovery of skeletal remains occasionally washing out of the sands during rough wave activity and intense storms. Freed laborers who fell victim to the cholera epidemic in the 1850s were buried here according to documentation (Ivinson 1854), and given the higher than expected amount of human remains that have washed out thus far, National Park archaeologist Ken Wild believes it is possible that enslaved laborers were buried here prior to 1848 (Ken Wild, personal communication, June 2004).

Other sites that may contain formerly enslaved laborers are possible cemeteries at Bordeaux Mountain and L'Esperance. It has been reported by local archaeologists and historians that on occasion, human skeletal remains have washed out of the banks and ridges at these sites (David Knight and Ken Wild, personal communication, June 2004). At Bordeaux (Figure 14), conch shells, piles of stone, and a huge kapok, or silk cotton tree, are present. These objects are thought to be characteristic of grave markers for enslaved and free inhabitants of St. John and the Virgin Islands, and with their placement near slave communities they possibly symbolized belonging to the land, family relationships, and community heritage. (Figure 15).

L'Esperance Estate possesses what looks to be a rectangular grave marker that lies outside of the estate cemetery walls. Inside the estate cemetery at L'Esperance is the grave of Mr. Tonis (Figure 16), an owner of the estate in the early 18th century. Five grave markers bearing no names lie with his (Figure 17), and these could be family members, employees, and/or laborers. The marker outside the walls may be that of an enslaved laborer, because it bears no name or date of death and it is in proximity to the slave laborer village remains. Furthermore, its placement suggests that it once overlooked an open space that, according to 18th century Moravian missionary, C.G.A. Oldendorp (1987[1777]), was the site of Moravian meetings and worship for the slaves on the estate (Figure 18).

Churchyard Burials: A Resting Place for Everyone?



Churches were also important places of burial on St. John. Burials in the Lutheran and Moravian churchyards, two of the most popular congregations on St. John in the 18th and 19th centuries, symbolized a person's religious devotion and church membership. Churchyard burials were often restricted to European church members. However, church mortuary records indicate that some enslaved African members were buried in the churchyards or on church property, while the majority was buried on the estates where they lived (Moravian Burial Records, Emmaus Church, St. John, 1833-1881). The churchyards at Bethany and Emmaus Moravian churches and the Nazareth Lutheran churchyard may contain deceased enslaved laborers, although there are no definite grave markers or diagnostics to support this. Possible markers for the enslaved may be informal piles of stone present in the churchyards (Figures 19 and 20). It is also possible that slave burials may not have been marked in the churchyard, making them imperceptible above ground.

Post-Emancipation Burials



In the late 19th and early 20th centuries, race, class, and religion still impacted the commemorative markers of people of European and African descent, while the types of locations remained similar. Reef Bay estate possesses a cemetery south of the estate buildings, between the sugar factory and the ocean's edge. Numerous adult tamarind trees, some blown over by hurricane winds, grow around the burials. A collection of 8-10 marked burials have been identified, most of which are informal markers of coarse and un-worked stone that outline the burial (Figure 21). Additionally, some markers are piles of coarse stone (Figure 22). It is possible that enslaved laborers were buried here, but there is better evidence for the burials of freed people of color.

One burial sticks out from the crowd at the Reef Bay cemetery (Figure 23). It is the only one to possess a formal masonry marker with an inscription. The inscription bears the name of William Marsh who owned the Reef Bay estate in the late 19th century and early 20th century. He was a descendent of the mixed race Marsh family who moved from Tortola to St. John in the nineteenth century. William Marsh passed away in 1909, and he is commemorated in the cemetery by a rectangular monument with an erect Christian cross on the marker's west end. Marsh is also said to be accompanied in the cemetery by two daughters, whose graves are outlined by coarse field stone. Their markers do not possess names or inscriptions. The other nameless burials could be family members and laborers of the estate. A similar example lies in the cemetery for the Beverhoudt family in Cruz Bay, the main town of St. John. This cemetery, used by people of color, now stands on a hill behind a popular restaurant called the Banana Deck. A thick brick wall with one entrance surrounds the 6 graves inside, all made of brick, mortar, and stone (Figure 24). It appears that the 6 burials are members of the same family and/or unit. The marker pictured here does not bear a name but possesses a Christian cross (Figure 25). Only two graves bear names and inscriptions, one for Ann L. Beverhoudt, d. 1879, the other for Sarah Elizabeth Martin (Figure 26a, 26b), d. 1858. In addition, a seventh nameless burial, marked by a rectangular vault, stands outside the cemetery wall, suggesting that this burial may be for a person who was excluded or distinguished from the other burials. Perhaps this wasn't a relative and instead, this was the grave of a family employee. On the other hand, the cemetery walls enclose a relatively small space and the seventh marker may be for a family member who passed away after the cemetery became full.

The Reef Bay and Beverhoudt estate cemeteries are similar to the Leinster estate cemetery containing James Murphy's grave mentioned earlier because they contain the prosperous landowner as well as possible family members, employees, and laborers. However, James Murphy was a Euro-Caribbean landowner while William Marsh and the Beverhoudts were landowners of color. As living members of the St. John community in the eighteenth and nineteenth centuries, free people of color increasingly owned land (Hall 1992). In addition, some had access to more durable burial markers, such as brick, stone, and marble, and had more freedom to bury their dead on their properties, in churchyards, and in public cemeteries. With respect to the Reef Bay and Beverhoudt estate cemeteries, the two burial sites possess ornate markers for the estate owners, regardless of race and gender, and more modest ones for family members, employees, and/or laborers. The above cases, however, do not appear to be common for free people of African descent in the late nineteenth and early twentieth centuries. While this may be based on community and/or cultural preferences, several contemporaneous markers were made of unworked local stone, probably because it was accessible in the landscape to a free population that still struggled economically and did not purchase commercial and mass-produced grave markers advertised in newspapers and business listings such as the Lightbourn West India Annual and Commercial Directories.

Conclusion



To conclude, Karen Olwig's (1985, 1994) interviews with St. John natives who grew up in the early 20th century revealed that many burial sites for family members, often on family property, provided a sense of belonging and heritage. Similar information has been obtained for different groups around the world, including Afro-Jamaican communities (Besson 2002; Brown 2006), 19th century Jewish communities on Nevis (Gradwohl 1998; Terrell 2005), and European and North American societies in the 18th and 19th centuries (Aries 1974; Mytum 2004). With respect to Afro- and Euro-Caribbean peoples on St. John, the landscapes and locations of the markers within the cemeteries mentioned in this paper suggests that while the presence, nature, and lack of burial markers was largely dependent on a person's access to commemorative marker materials, the locations had significance for family heritage, community belonging, a sense of security, and religious commitments and beliefs. Although marker materials may have changed for some people of color after emancipation, burial locations continued to be diverse. Based on the evidence, people buried their family, friends, and associates in accessible areas near the deceased's dwellings or in a community cemetery. Since many people did not have access to durable and lasting burial markers over time, evidence suggests that a burial's location in the landscape conveyed significant symbolism that honored the dead.

Acknowledgements



I wish to thank the following for their continued support of this project: Doug Armstrong and the Anthropology Department at Syracuse Unviersity (SU); SU Maxwell School of Citizenship and Public Affairs; SU Program on Latin America and the Caribbean; the Moravian Archives, Bethlehem, PA; The Von Scholten Archives, St. Thomas; Ken Wild, Virgin Islands National Park; Friends of the National Park; David Brewer, V.I. Department of Natural Resources and Historic Preservation; Elroy Sprauve; Guy Benjamin; Eulita Jacobs; Chuch and Terry Pishko; David Knight; Athena and Jay Swartley, and the St. John Community.

Note

* Helen Blouet is a doctoral candidate in archaeology and anthropology at Syracuse University.

References Cited

Aries, Philippe. 1974. Western Attitudes towards Death: From the Middle Ages to the Present. Baltimore: The Johns Hopkins University Press.

Besson, Jean. 2002. Martha Brae's Two Histories: European Expansion and Caribbean Culture-Building in Jamaica. Chapel Hill: University of North Carolina Press.

Brown, Vincent. 2006. Spiritual Terror and Sacred Authority: The Power of the Supernatural in Jamaican Slave Society. In New Studies in the history of American Slavery, edited by Edward Baptist and Stephanie Camp. Athens: University of Georgia Press.

Dookhan, I. 1974. A History of the Virgin Islands of the United States. Kingston: Canoe Press.

Gradwohl, David. 1998. "Benditcha Sea Vuestra Memoria: Sephardic Jewish Cemeteries in the Caribbean and Eastern North America." Markers. 15:1-29.

Hall, Neville. 1992. Slave Society in the Danish West Indies. Baltimore: The Johns Hopkins University Press.

Highfield, Arnold R., and Vladimir Barac, trans. 1987. A Caribbean Mission, by C. G. A. Oldendorp, originally published in 1777. Ann Arbor: Karoma Publishers Inc.

Ivinson, Thomas. 1853-54. Letters concerning cholera on St. John, Virgin Islands. West Indian Local Archives, St. John Landfoged, Diverse Correspondence, 1819-1870 (Rigsarkivet, Denmark).

Kellar, Elizabeth. 2003. "The Construction and Expression of Identity: An Archaeological Investigation of the Laborer Villages at Adrian Estate, St. John, USVI." Unpublished Dissertation. Syracuse University.

Knight, David. 2001. Annaberg, An Updated Survey of the Annaberg Factory Complex, Virgin Islands National Park, St. John, U.S.V.I. Virgin Islands Historical and Genealogical Resource Center.

Lenik, Stephan. 2004. Historical Archaeological Approaches to Afro-Cruzan Identity at Estate Lower Bethlehem, St. Croix, U.S. Virgin Islands. Master's Thesis, University of South Carolina.

Moravian Burial Records, Emmaus Church, St. John, 1833-1881. Moravian Archives, Bethlehem, PA.

Mytum, Harold. 2004. Mortuary Monuments and Burial Grounds of the Historic Period. New York/London: Kluwer Academic/Plenum Publishers.

Olwig, Karen. 1985. Cultural Adaptation and Resistance on St. John: Three Centuries of Afro-Caribbean Life. Gainesville: University of Florida Press.

Olwig, Karen. 1994. The Land is the Heritage: Land and Community on St. John. St. John Oral History Association, Monograph No. 1.

Terrell, M. 2004. The Jewish Community of Early Colonial Nevis. Gainesville: U. of Florida Press.

U.S. Virgin Islands Department of Public Works, Virgin Islands Code, Title 19, § 2008.

Wild, Kenneth. 1989. Archaeological Investigations Conducted along Lameshur Road, St. John, U.S. Virgin Islands. National Park Service, Southeast Archaeological Center. Tallahassee, FL.

[Return to
table of contents]
---
Nameless Are Memorialized at Old African Burial Site
By Elias E. Lopez

October 2, 2007
Article posted online by the New York Times at: http://www.nytimes.com/2007/10/02/nyregion/02burial.html
Copyright 2007 New York Times.
Sixteen years after the remains of more than 400 enslaved and free Africans were unearthed in Lower Manhattan, a new monument will open to the public on Friday to honor a place once called the Negroes Burial Ground.
The memorial, the African Burial Ground National Monument, designates the burial site of the remains, which were discovered in 1991 by workers excavating the foundation for the Ted Weiss Federal Building at 290 Broadway.
Photograph by Tina Fineberg / Associated Press. Workers put final touches on the African Burial Ground National Monument on Monday [Oct. 1].




Commissioned by the federal government in 2005 at a cost of $5 million, the monument stands on a fraction of the 6.6 acres of burial ground where, according to historians and archaeologists, 15,000 to 20,000 people of African descent were laid to rest in the 17th and 18th centuries. It is the oldest and largest such burial site in North America, according to the National Park Service. Last year, President Bush proclaimed the site a national monument.

The monument will open to the public with a ceremony at 1 p.m. Friday, followed at 8 p.m. with a candelight procession from Battery Park to the monument at Duane and Elk Streets.

Rodney Léon, 38, a Brooklyn-born architect with the firm Aarris Architects of Manhattan, designed the monument, whose granite slabs rise in acute angles to enclose visitors in the hull-like Ancestral Chamber. An opening in the chamber, straddled by two reflecting pools, leads to a sunken circular court, where voices echo off of walls inscribed with symbols and scriptures.

Down a spiraling ramp is the Ancestral Libation Court, the centerpiece. A map of the world, centered on West Africa, is carved into the floor in gray and black granite, along with the archaeological notations made from the 1991 findings.

There also is a landscaped garden with seven mounds that mark the burial place of seven wooden crypts containing the remains.

"This is an important milestone in the whole memorialization process," said Howard Dodson, one of the early leaders in the development of the memorial and the chief of the Schomburg Center for Research in Black Culture of the New York Public Library. "The ancestors are being treated with dignity, and the monument is part of asserting their humanity and their contribution to this city."

Engraved on the main granite wall are the words: "For all those who were lost/ For all those who were stolen/ For all those who were left behind/ For all those who are not forgotten."

[Return to
table of contents]
---
Virtual Museum of African-American History Opens
This week the Smithsonian Institution opened a new museum -- online. The National Museum of African American History and Culture, the Smithsonian's nineteenth and newest museum, opened on the Web as a virtual collection for scholarship and education. The NMAAHC's building on the Smithsonian Mall in Washington, D.C. will not be completed until 2012. This is the first time a major museum has opened a virtual presence before erecting the tangible structure.

The Web museum highlights a collection called "Let Your Motto Be Resistance," portraits and photographs of people who stood against oppression in various ways, from Frederick Douglass to Ella Fitzgerald to Malcolm X.

The NMAAHC website also has a "Memory Book," which enables site visitors to upload their memories in the form of stories, images, or audio recordings. An online map, which users can navigate, shows how these diverse memories are linked to each other and to content created by the museum to spotlight people, places, issues, and moments in African-American history. This virtual museum of African-American History is available at http://nmaahc.si.edu/.

[Return to table of contents]


---
1807 Commemorated: Website Launch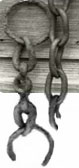 1807 Commemorated is launching a new website in December 2007 which addresses the issues and concerns regarding the portrayal of enslavement and abolition in museums in Britain. Containing discussion points, interviews, articles and information regarding the project's activities, it forms a valuable resource for an understudied topic: http://www.history.ac.uk/1807commemorated/.

1807 Commemorated is a research project at the University of York, which seeks to understand the commemorative processes, politics of dissonance, recognition, representation and identity work that has taken place in museums throughout Britain as the bicentenary of the abolition of the slave trade is marked. Working with six national museums in the UK the project seeks to understand how the representation of enslavement, abolition, legacies and the Diaspora inform notions of identity, whether, individual, community, regional or national. Based upon a three-fold examination of the wider societal context of the bicentenary, displays at museums and art galleries across the country and large-scale audience surveys carried out at the project's partner museums, the project will assess the production, dissemination and consumption of the anniversary.

The wider aim of the project is to address how traumatic histories such as the Transatlantic Slave Trade and the African Diaspora can be relayed to a diverse public in museum displays and exhibitions. The painful memories of the past, of brutality and exploitation are explored and focused upon as the project builds practical examples for museum practitioners and academics using data collected from audience responses.

[Return to table of contents]


---
Frederick Douglass Prize Awarded

Yale University's Gilder Lehrman Center
for the Study of Slavery, Resistance and Abolition
Press Release by Gilder Lehrman Center; http://www.yale.edu/glc/events/2007.htm.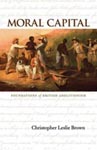 New York, NY (October 3, 2007) -- Christopher Leslie Brown, Visiting Professor of History at Columbia University, has been selected as the winner of the Frederick Douglass Book Prize, awarded for the best book on slavery or abolition. Brown won for his book, Moral Capital: Foundations of British Abolitionism (Published for the Omohundro Institute of Early American History and Culture by the University of North Carolina Press). The book examines the origins of abolitionism in Great Britain in the 18th and 19th centuries. The prize is awarded by Yale University's Gilder Lehrman Center for the Study of Slavery, Resistance, and Abolition, sponsored by the Gilder Lehrman Institute of American History.

In addition to Brown, the other two finalists for the prize were Matt D. Childs for The 1812 Aponte Rebellion in Cuba and the Struggle Against Atlantic Slavery (University of North Carolina Press); and Cassandra Pybus for Epic Journeys of Freedom: Runaway Slaves of the American Revolution and their Global Quest for Freedom (Beacon Press). The $25,000 annual award is the most generous history prize in the field. The prize will be presented to Brown at a dinner in New York City in February 2008.

This year's finalists were selected from a field of over seventy entries by a jury of scholars that included Laurent Dubois (Duke University), Leslie Harris (Emory University), and Stephanie McCurry (University of Pennsylvania). The winner was selected by a review committee of representatives from the Gilder Lehrman Center for the Study of Slavery, Resistance and Abolition, the Gilder Lehrman Institute of American History, and Yale University.

"Christopher Brown's Moral Capital resets the terrain for understanding the origins and effectiveness of British efforts to end slavery in the 18th and 19th centuries," says McCurry, the Merriam Associate Professor of History at the University of Pennsylvania. "Moral Capital not only provides an important new argument about British anti-slavery, but also highlights the nature of the relationship between moral sensibility and political activism at any time."

The Frederick Douglass Book Prize was established in 1999 to stimulate scholarship in the field of slavery and abolition by honoring outstanding books. Previous winners were Ira Berlin and Philip D. Morgan in 1999; David Eltis, 2000; David Blight, 2001; Robert Harms and John Stauffer, 2002; James F. Brooks and Seymour Drescher, 2003; Jean Fagan Yellin, 2004; Laurent Dubois, 2005; and Rebecca J. Scott, 2006.

The award is named for Frederick Douglass (1818–1895), the slave who escaped bondage to emerge as one of the great American abolitionists, reformers, writers, and orators of the 19th century.

The Gilder Lehrman Center for the Study of Slavery, Resistance and Abolition, a part of The Whitney and Betty MacMillan Center for International and Area Studies at Yale University, was launched in November 1998 through a generous donation by philanthropists Richard Gilder and Lewis Lehrman and the Gilder Lehrman Institute of American History. Its mission is to promote the study of all aspects of slavery, especially the chattel slave system and its destruction. The Center seeks to foster an improved understanding of the role of slavery, slave resistance, and abolition in the founding of the modern world by promoting interaction and exchange between scholars, teachers, and public historians through publications, educational outreach, and other programs and events.

[Return to table of contents]


---
The Digital Archaeological Archive of Comparative Slavery
By Jillian Galle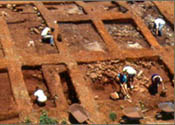 2007 has been a busy year for the Digital Archaeological Archive of Comparative Slavery (DAACS). The archive, which facilitates the archaeological study of slave societies that evolved in the Atlantic World, gives scholars easy internet access to detailed, comparable data from slave-quarter sites across the Chesapeake and Caribbean regions. By using a single set of classification and measurement protocols, the archive makes possible systematic, quantitative comparisons among assemblages from multiple sites. DAACS is also committed to developing analytical methods and innovative research programs to decipher the historical meaning of archaeological evidence.

Since January, archaeological data and historical background information from two slave quarter sites in Maryland, seven sites on Jamaica and two sites on Nevis have been made available to researchers and the public through http://www.daacs.org. These 11 sites include work conducted by Barry Higman at Montpelier Plantation in St. James Parish, Jamaica as well as Douglas Armstrong's excavations at Seville Plantation, in St. Ann, Jamaica. These sites join twenty-one excavated quarter sites from Virginia. DAACS currently contains detailed, standardized data on over 1 million artifacts and 13,000 archaeological contexts from 32 excavated slave-quarter sites in the Chesapeake and Caribbean regions.

In 2008, DAACS turns its attention to South Carolina. Please watch for the launch of data from Leland Ferguson's excavations at Middleburg Plantation in early 2008. Data from Yaughan and Curriboo Plantations will be made available in late 2008. Addition sites from Virginia and Jamaica will also be launched in 2008. Please contact Jillian Galle (jgalle@monticello.org) if you would like to contribute sites or if you would like to consider using the DAACS database for your collections.

Short-Term Fellowships and Travel Grants
for the Digital Archaeological Archive of Comparative Slavery



The Thomas Jefferson Foundation, which owns and operates Thomas Jefferson's historic home at Monticello, is pleased to announce a program of short-term residential fellowships and travel grants at its International Center for Jefferson Studies open to all scholars working on Jefferson projects. Several of these fellowships are reserved for archaeologists whose work focuses on issues of slavery in the greater Chesapeake region, the Carolinas, and the Caribbean and whose work would benefit from the use of the Digital Archaeological Archive of Comparative Slavery. For more information on the Digital Archaeological Archive of Comparative Slavery, please see http://www.daacs.org. Foreign nationals are particularly encouraged to apply.

Short-term fellowships are awarded for periods of up to four months to doctoral candidates and postdoctoral scholars from any country. Awards carry a monthly stipend of $1,500 for United States and Canadian fellows plus pre-approved round-trip airfare, and $2,000 for overseas fellows plus airfare. Residential accommodation may be available on a limited basis. Fellows are expected to be in residence at the Center during the course of the fellowship, and no awards are made for work carried on elsewhere. Fellows have access to Monticello's expert staff and research holdings as well as to the extensive resources of the Alderman Library at the University of Virginia. ICJS/DAACS fellows will be provided with workspace as well as access to computers and Archive staff. Applicants should submit four copies of (1) a succinct description of the research project, including how Archive data will be used (500-words), and (2) a curriculum vitae. In addition, please arrange for three references to be sent directly to the Center at the address below.

Deadline for Applications: April 1, 2008. Applications and references should be addressed to the Fellowship Committee, International Center for Jefferson Studies, Monticello, Post Office Box 316, Charlottesville, Virginia 22902, USA, Attention: Jillian Galle. Announcement of awards will be made no later than May 1, 2008. Application questions should be addressed to Jillian Galle, Project Manager, The Digital Archaeological Archive of Comparative Slavery, 434-984-9873. The fellowship and grants program is underwritten by endowments established for this purpose by the Batten Foundation and First Union National Bank of Virginia, and by a generous grant from the Coca-Cola Foundation.

[Return to
table of contents]
---
The Archaeology of Sugar and Slavery in Colonial Jamaica
University of Virginia-DAACS Field School in Historical Archaeology:
The Archaeology of Sugar and Slavery in Colonial Jamaica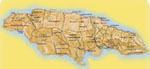 Receive 6 academic credits offered by the University of Virginia
Location: The University of West Indies, Mona. Kingston, Jamaica
Course: Anthropology 382
Season dates: May 24, 2008 - June 21, 2008
Application Deadline: March 15, 2008
Tuition: $3,325 (in-state)/$ 3,418 (out-of-state). Does not include transportation.
Contact: Please contact Jillian Galle at jgalle@monticello.org or 434-984-9873 with any questions regarding the program.

For more information and to apply online, please go to the University of Virginia's Study Abroad website: http://www.studyabroad.virginia.edu/.



The 2008 DAACS-University of Virginia Field School in Historical Archaeology, The Archaeology of Sugar and Slavery in Colonial Jamaica (Anth 382) offers a unique field school experience for advanced undergraduate and graduate students from universities throughout the United States and Caribbean. This field school provides students with a solid grounding in archaeological field and laboratory methods, with a specific focus on understanding slavery in the culturally diverse and economically complex context of the Caribbean through the archaeological record.

The goals of this course are threefold. First, students will learn archaeological survey methods, basic excavation techniques and field recording methods through daily field work on two 18th-century slave villages, each located on the campus of the University of West Indies, Mona, outside of Kingston, Jamaica. Second, regular participation in laboratory activities will expose students to 18th and 19th century material culture and provide the basis for analytical exercises that use the archaeological data to make concrete arguments about people living at the Papine and Mona villages. Finally, students will be exposed to collaborative interdisciplinary research through lectures, tours, and field recording projects with faculty from the University of the West Indies, the Jamaica National Heritage Trust, Colonial Williamsburg, and Monticello. Students will have the opportunity to travel throughout Jamaica through supervised weekly field trips and architectural field recording projects off campus.

[Return to table of contents]


---
New Book
Archaeology of Atlantic Africa and the African Diaspora.
Edited by Akinwumi Ogundiran and Toyin Falola
528 pages, 56 b&w photos, 18 maps, ISBN 13: 978-0-253-34919. Indiana University Press, 2007.
Description from the publisher:


A breakthrough volume in the study of the material culture of the slave trade, this book is devoted to the archaeology of African life on both sides of the Atlantic and highlights the importance of historical archaeology in completing the historical records of the Atlantic world's Africans. Archaeology of Atlantic Africa and the African Diaspora presents a diverse, richly textured picture of Africans' experiences during the era of the Atlantic slave trade and offers the most comprehensive explanation of how African lives became entangled with the creation of the modern world. Through interdisciplinary approaches to material culture, the dynamics of a comparative transatlantic archaeology is developed.

The contributors address a wide range of topics: the incorporation of Africa into the Atlantic economy; the impacts of Atlantic slavery and merchant capitalism on African societies; the dynamics of African resistance to Atlantic slavery on both sides of the Atlantic; the everyday lives of Africans during the era of the Atlantic trade, under slavery, and in the post-emancipation era; African cultural production and the shaping of African identities in the Americas; African skills and knowledge in the making of American economic systems; the inter-group relations among the Africans, on one hand, and Europeans and Native Americans, on the other; and the social practice of archaeology of Atlantic Africa and the African Diaspora. Theories of power, agency, gender, ethnicity, identity, race, and political economy are central to the themes covered in the book. Methodologically, all the chapters emphasize the need to combine rigorous behavioral analysis of material records with landscape approaches.

Chapters include: Part 1. Introduction; 1. Pathways in the Archaeology of Transatlantic Africa, by Akinwumi Ogundiran and Toyin Falola; Part 2. Atlantic Africa; 2. Entangled Lives: The Archaeology of Daily Life in the Gold Coast Hinterlands, AD 1400-1900, by Ann Brower Stahl; 3. Living in the Shadow of the Atlantic World: History and Material Life in a Yoruba-Edo Hinterland, ca. 1600-1750, by Akinwumi Ogundiran; 4. Dahomey and the Atlantic Slave Trade: Archaeology and Political Order on the Bight of Benin, by J. Cameron Monroe; 5. Enslavement in the Middle Senegal Valley: Historical and Archaeological Perspectives, by Alioune Déme and Ndeye Sokhna Guèye; 6. The Landscape and Society of Northern Yorubaland during the Era of the Atlantic Slave Trade, by Aribidesi Usman; 7. The Collapse of Coastal City-States of East Africa, by Chapurukha M. Kusimba; 8. Ghana's "Slave Castles," Tourism, and the Social Memory of the Atlantic Slave Trade, by Brempong Osei-Tutu; Part 3. African Diaspora 9. BaKongo Identity and Symbolic Expressions in the Americas, by Christopher C. Fennell; 10. "In This Here Place": Interpreting Enslaved Homeplaces, by Whitney L. Battle-Baptiste; 11. Bringing the Out Kitchen In? The Experiential Landscapes of Black and White New England, by Alexandra A. Chan; 12. African Metallurgy in the Atlantic World, by Candice L. Goucher; 13. Between Urban and Rural: Organization and Distribution of Local Pottery in Eighteenth-Century Jamaica, by Mark W. Hauser; 14. Allies, Adversaries, and Kin in the African Seminole Communities of Florida: Archaeology at Pilaklikaha, by Terrance Weik; 15. Scars of Brutality: Archaeology of the Maroons in the Caribbean, by E. Kofi Agorsah; 16. The Archaeological Study of the African Diaspora in Brazil, by Pedro P. Funari; 17. The Vanishing People: Archaeology of the African Population in Buenos Aires, by Daniel Schávelzon; 18. Maritime Archaeology and the African Diaspora, by Fred L. McGhee; 19. Archaeology of the African Meeting House on Nantucket, by Mary C. Beaudry and Ellen P. Berkland; 20. Practicing African American Archaeology in the Atlantic World, by Anna S. Agbe-Davies.


[Return to table of contents]


---
New Book
Envisioning Landscape: Situations and Standpoints in Archaeology and Heritage.
Edited by Dan Hicks, Laura McAtackney, Graham Fairclough
400 pages, ISBN-13: 978-1598742817. Left Coast Press, 2007.
Description from the publisher:


A primary characteristic of landscape archaeology is the diversity of its regional traditions, which reveals a range of methods, field locations, disciplinary influences and contemporary voices. Drawing together perspectives from New York to Northern Ireland, from west Africa to the Mediterranean, and from central Europe to Zanzibar, this volume explores the many different ways in which landscapes are envisaged in world archaeology and world heritage. The volume demonstrates how landscape archaeologies can be used to highlight both the different material situations and the alternative political standpoints from which archaeologists work in the contemporary world.

"These rich and diverse papers examine landscape in archaeology from a variety of perspectives and in many different parts of the world. They include both valuable reviews of the history of landscape studies and thoughtful suggestions for directions for future research, especially through connections between landscape and time, identity, and politics. Envisioning Landscape will be of great interest to archaeologists, historians and geographers, and others concerned with the changing relationships between humans and the world they live in -- past, present, and future." -- Peter S. Wells, Department of Anthropology, University of Minnesota

"This new volume in the One World Archaeology series is a significant addition to the field of landscape archaeology. Case studies and sites range from the icon (Historic Annapolis, the Tsodilo Hills) to the new and challenging (the Maze Prison, Northern Island). Its signal contribution lies in engaging with and interrogating formulations of landscape, even as it clears a space for exciting new approaches. This should be considered an essential work for library collections and university reading lists." -- Nick Shepherd, Centre for African Studies, University of Cape Town.


[Return to table of contents]


---
New Book
Travels with Tooy: History, Memory, and the African American Imagination.
By Richard Price
448 pages, ISBN 13: 978-0-226-68059-0. University of Chicago Press, 2007.
Description from the publisher and reviewers:


Thirty-five years into his research among the descendants of rebel slaves in the South American rain forest, anthropologist Richard Price encountered Tooy, a priest/philosopher/healer who crosses boundaries between centuries, continents, the visible and invisible, and the worlds of the living and the dead. Travels with Tooy brings together Price's ethnographic and archival research and Tooy's teachings, songs, stories, and secret languages to explore how Africans in the Americas have created marvelous new worlds of the imagination.

"Richard Price has had a long and torrential romance with the Saramaka Maroons of Suriname, exploring them and himself through a harvest of mythologies which dissolve all boundaries of time and geographical location. With Tooy as guide and mentor, across three centuries of African exile and resettlement in the Americas, we revisit the recent or forgotten spaces of Price's near forty years of patient, scholarly research. It is an astonishing performance, rendering these treasures of anthropological materials in a narrative style as lucid and cordial as the best contemporary fiction." -- George Lamming, author of The Pleasures of Exile.

"An exemplary and loving account of the resilience of an African American cosmological system in a cosmopolitan world." -- J. Lorand Matory, Harvard University, author of Black Atlantic Religion.

"A fascinating meeting of minds between curer and scholar and a must-read for all Afro-Americanists." -- Philip D. Morgan, Johns Hopkins University, author of Slave Counterpoint.

"A tour de force. A tightly argued, incisive contribution to the newly rekindled debate about the role of Africa in the history and social imaginary of African American societies. A major achievement." -- Stephan Palmié, University of Chicago, author of Wizards and Scientists.

"True ethnographic magic. Beautifully written and theoretically sophisticated, it is a model of politically engaged historical ethnography and sustained transcultural dialogue." -- John Collins, Queens College, CUNY.

"The ethnography is incredibly rich and nuanced; the historical narratives are precise and eye-opening; and the portrait of Tooy is fine-grained and moving. This is scholarship at its very best." -- Paul Stoller, author of Money Has No Smell.


[Return to table of contents]


---
New Book
Cultures of the Lusophone Black Atlantic.
Edited by Nancy Priscilla Naro, Roger Sansi Roca, and David H. Treece
272 pages, ISBN 13: 9780230600478. Palgrave Macmillan. Oct. 2007.
Description from the publisher:


This book addresses the Lusophone Black Atlantic as a space of historical and cultural production between Portugal, Brazil, and Africa. The authors demonstrate how this space is not just the result of the imposition of a Portuguese imperial project, but that it has been shaped by diverse colonial cultures. The Lusophone context offers a unique perspective on the history of the Atlantic.

Chapters include: Introduction: The Atlantic, between Scylla and Charybdis, by Nancy Priscilla Naro, Roger Sansi Roca & David H. Treece; Part I: Colonial Formations; The Fetish in the Lusophone Atlantic, by Roger Sansi Roca; Kriol without Creoles: Afro-Atlantic Connections in the Guinea Bissau Region, 16th to 20th Centuries, by Philip J. Havik; Historical Roots of Homosexuality in the Lusophone Atlantic, by Luiz Mott; Part II: Migrations and Colonial Cultures; Atlantic Microhistories: Mobility, Personal Ties, and Slaving in the Black Atlantic World (Angola and Brazil), by Roquinaldo Ferreira; Colonial Aspirations: Connecting Three Points of the Lusophone Black Atlantic, by Nancy Priscilla Naro; Agudas from Benin: The "Brazilian" Identity as a Bridge to Citizenship, by Milton Guran; Emigration and the Spatial Production of Difference from Cape Verde, by Kesha Fikes; African and Brazilian Altars in Lisbon: Some Considerations on the Reconfigurations of the Portuguese Religious Field, by Clara Saraiva; Part III: Hybridity, Multiculturalism, and Racial Politics; History and Memory in Capoeira Lyrics from Bahia, Brazil, by Matthias Rohrig Assuncao; The "Orisha Religion": between Syncretism and Reafricanization, by Stefania Capone; Undoing Brazil: Hybridity Versus Multiculturalism, by Peter Fry.


[Return to table of contents]


---
New Book
Early Slavery at the Cape of Good Hope, 1652-1717.
By Karel Schoeman
507 pages, ISBN 978-1-86919-147-4. Protea Book House, Pretoria, 2007.
Description from the publisher:


The latest book of the award-winning writer and historian, Karel Schoeman, is the first work dealing specifically with the foundation and early years of slavery at the Cape of Good Hope to appear in thirty years and is one of only a few book-length studies of slavery in South Africa. The author rightly points out that this early period was crucial for establishing the ways in which slavery and bonded labour developed at the Cape, which makes its scanty treatment in other books on Cape slavery all the more regrettable. This timely book fills that gap.

Early Slavery at the Cape of Good Hope comprises nine chapters which cover the origins of Cape slavery against the background of slavery in the Indian Ocean world; a detailed exposition of the importation and fate of the first group of slaves that landed at the Cape in 1658; two chapters on the Indian Ocean slave trade which trace the provenance of slaves who were brought to the Cape during the period covered by the book; a thorough depiction of the lives and labours of the Company slaves who lived in the Slave Lodge in Cape Town, and a lengthy exploration of the world of slaves held by private individuals. This is followed by a chapter on how slaves resisted their situation and the ways in which they were controlled by their masters. An important contribution of the book is the final two chapters which present an important synthesis of what we know of the establishment and early history of the small free black (ex-slave) community at the Cape, in which the author also presents a number of short biographies of well-known individuals such as Angela of Bengal, Evert of Guinea and Armosyn of the Cape. The Coda to the book contains an important contribution to the debate about the origin of racism in colonial South Africa.

This significant book is certain to enhance our knowledge of the history of slavery in South Africa and is a valuable contribution to the historiography of Dutch South Africa. It is written in an accessible style and aimed at readers with no knowledge of Dutch and Afrikaans (all quotations are translated). The numerous footnotes refer interested readers to important sources and scholarship on the topic. The book also contains two thorough and lengthy indexes which increase its value as a reference tool for researchers interested in specific individuals and/or topics.

Early Slavery at the Cape of Good Hope can be ordered from Protea Bookshops in Stellenbosch (tel. 021-882-9100) and Pretoria (tel. 012-362-5683/4/5) or directly from the publishers at anika@proteaboekhuis.co.za.


[Return to table of contents]


---
New Book
The Seminole Freedmen: A History.
By Kevin Mulroy
446 pages, ISBN-13: 978-0806138657. University of Oklahoma Press, 2007.
Description from the publisher:


Popularly known as "Black Seminoles," descendents of the Seminole freedmen of Indian Territory are a unique American cultural group. Now Kevin Mulroy examines the long history of these people to show that this label denies them their rightful distinctiveness. To correct misconceptions of the historical relationship between Africans and Seminole Indians, he traces the emergence of Seminole-black identity and community from their eighteenth-century Florida origins to the present day.

Arguing that the Seminole freedmen are neither Seminoles, Africans, nor "black Indians," Mulroy proposes that they are maroon descendants who inhabit their own racial and cultural category, which he calls "Seminole maroon." Mulroy plumbs the historical record to show clearly that, although allied with the Seminoles, these maroons formed independent and autonomous communities that dealt with European American society differently than either Indians or African Americans did.

Mulroy describes the freedmen's experiences as runaways from southern plantations, slaves of American Indians, participants in the Seminole Wars, and emigrants to the West. He then recounts their history during the Civil War, Reconstruction, enrollment and allotment under the Dawes Act, and early Oklahoma statehood. He also considers freedmen relations with Seminoles in Oklahoma during the twentieth and early twenty-first centuries.

Although freedmen and Seminoles enjoy a partially shared past, this book shows that the freedmen's history and culture are unique and entirely their own. Volume 2 in the Race and Culture in the American West Series. Kevin Mulroy is Associate Executive Director for Research Collections and Services at the University of Southern California and author of Freedom on the Border: The Seminole Maroons in Florida, the Indian Territory, Coahuila, and Texas.


[Return to table of contents]


---
New Book
History of The Urhobo People of Niger Delta.
By Peter P. Ekeh
728 pages, ISBN: 9789780772888. Urhobo Historical Society, Nigeria, African Books Collective, Oxford, http://msupress.msu.edu/bookTemplate.php?bookID=3358, 2007.
Description from the publisher:


History of The Urhobo People of Niger Delta is the most comprehensive compilation and study of various aspects of the history of the Urhobo people of Nigeria's Niger Delta. It begins with an examination of the prehistory of the region, with particular focus on the Urhobo and their close ethnic neighbour, the Isoko. The book then embarks on a close assessment of the advent of British imperialism in the Western Niger Delta. History of The Urhobo People of Niger Delta also probes the arrival and impact of Western Christian missions in Urhoboland. Urhobo history is notable for the sharp challenges that the Urhobo people have faced at various points of their difficult existence in the rainforest and deltaic geographical formation of Western Niger Delta. Their history of migrations and their segmentation into twenty-two cultural units were, in large part, efforts aimed at overcoming these challenges.

History of The Urhobo People of Niger Delta includes an evaluation of modern responses to challenges that confront the Urhobo people, following the onrush of a new era of European colonization and introduction of a new Christian religion into their culture. The formation of Urhobo Progress Union and of its educational arm of Urhobo College is presented as the Urhobo response to modern challenges facing their existence in Western Niger Delta and Nigeria. History of The Urhobo People of Niger Delta extends its purview to various other fragments of the Urhobo historical and cultural experience in modern times. These include the difficulties that have arisen from petroleum oil exploration in the Niger Delta in post-colonial Nigeria.

Peter Ekeh is Professor of African American Studies, at the State University of New York at Buffalo. He was formerly Professor of Political Science at the University of Ibadan.


[Return to table of contents]


---
Society for Historical Archaeology
2008 Conference on Historical and Underwater Archaeology
January 9-13, 2008, Albuquerque, New Mexico

The theme for the annual conference of the Society for Historical Achaeology is "The Public Benefits of Historical Archaeology." Topics within the conference theme include: How does the public benefit from historical archaeology? What are the consequences of not engaging the public or demonstrating a public benefit? How do we effectively engage the public? How can "public benefit" be one of the primary goals of our efforts in historical archaeology? The 2008 conference program will feature symposiums, sessions, panel discussions, workshops, and forums that will address these and related questions about the public benefit of historical archaeology. Sessions and forums include "Historical Archaeology and Civic Engagement," "Heritage Matters in the 21st Century," and "Many Archaeologies for Many Publics: Public Archaeology Then, Now, and in the Future."

The conference will thus include numerous symposia and sessions that address subjects in African diaspora archaeology. Among those panel discussions specifically addressing such topics are the following:

Forum: Is "Public Outreach" Enough? Exploring the Place for Activism in 21st Century African Diaspora Archaeology. Moderators: Carol McDavid, James M. Davidson and Jamie C. Brandon. Thursday, Jan. 10, 2008, afternoon proceedings

Symposium: Plantation Archaeology: Expanding Perspectives. Chairs: Chana Kraus-Friedberg and Kristen R. Fellows. Participants: Chana Kraus-Friedberg, Frederick Smith, Kristen Fellows, Janet Six, Jack Gary, Barbara Heath and Lori Lee, Sam Sweitz. Discussant: Theresa Singleton. Thursday, Jan. 10, 2008, afternoon proceedings.

Symposium: Post-Emancipation Transitions in the African Diaspora. Chair: Terrance M. Weik. Participants: Eleanor King and Charles Haecker, Christopher Espenshade, David Palmer, Rachel Feit and Bradford Jones, Liza Gijanto, Shannon Mahoney, Terrance Weik, Kenneth Kelly, Mark Hauser and Douglas Armstrong, Christopher Fennell, Leslie Stewart-Abernathy and Jamie Brandon, Flordeliz Bugarin and Margaret Wood. Discussants: Theresa Singleton and Carol McDavid. Saturday, Jan. 12, 2008, morning proceedings.

Symposium: Archaeologies of Resistance: The Underground Railroad, Maroonage, Armed Struggle, and Beyond. Chairs: James A. Delle and Jill Bennett Gaieski. Participants: Uzi Baram, Samantha Rebovich, Holly Norton, Linda Ziegenbein, Kerri Barile, Jill Gaieski and James Delle, Kenneth Brown. Discussant: Terrance Weik. Saturday, January 12, 2008, afternoon preceedings.

[Return to table of contents]


---
The Fifth Annual Herman C. Hudson Symposium

"Lifting the Veil: Multidisciplinary Perspectives on Identity and Responsibility in Global Societies" The discourse on Black consciousness and its global dimensions are extensive. This discourse is particularly relevant in communities within the African Diaspora. Issues of identity, culture, and the sense of responsibility to the race take on renewed urgency under the present world conditions which are negatively impacting black world communities. What is our individual and collective responsibility to Black Diasporic communities? How is blackness defined within a global society given the vast cultural and economic differences?

The fifth annual Herman C. Hudson Symposium hosted by the African American and African Diaspora Studies Graduate Society at Indiana University, Bloomington seeks abstracts of papers from interdisciplinary perspectives related to these issues. These papers will be presented during our annual conference Saturday, March 22nd, 2008 at the Neal Marshall Black Culture Center on Indiana University, Bloomington's campus. Our keynote speaker for this year's event will be Sonia Sanchez, an influential poet, writer, and social activist. Papers should explore questions pertaining to the cultural, intellectual, historical, social, and political responsibilities and identities of people who are part of the African Diaspora. We are also especially interested in extending our presentation scope to the performing and visual arts, as these are important forms of communication and expression within the African Diaspora.

Interested graduate and undergraduate student presenters should submit a 300 word abstract and a one-page CV. Presenters who are interested in displaying visual art should submit a digital CD of their work along with their 300 word abstract discussing the details of their pieces. Performing artists should submit a one page abstract regarding the form, content, and length of their performance. Panel proposals should include a title, a description of the panel's theme, a 300 word abstract of each paper, the name of the panel chair, and a one page CV for each participant. All abstracts should include the academic affiliation of each participant.

All materials should be emailed with the heading HCHS ABSTRACT to hchs@indiana.edu and postmarked, faxed, or e-mailed no later than, Wednesday, January 20, 2008. Visit our website at www.indiana.edu/~afroamer/. Bergis Jules, Indiana University, School of Library and Information Science, African American and African Diaspora Studies, 812-929-7624, bjules@indiana.edu.

[Return to
table of contents]
---
Cultural Memory of Sacred Spaces in Migrations and Diasporas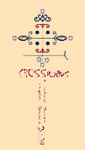 Proposals are invited for PAPERS at the 2008 Association for Cultural Studies International Crossroads Conference, "Of Sacred Crossroads," scheduled for July 3-7, 2008 in the Caribbean (University of the West Indies Kingston, Jamaica). http://www.crossroads2008.org.

Session Description: Sacred spaces are spaces set aside for their spiritual power, commemorative features, or representative significance. These spaces may be associated with specific sites or perceived as a practiced place independent of location. What happens to the shared memory of sacred spaces as individuals and social groups migrate or are dispersed from their homelands? How are these sacred spaces recreated and reinterpreted in their new contexts through narratives and performances, rituals and ceremonies, images and media, secular sites, natural landmarks, and everyday practices? What role does cultural memory play in the complex processes of remembering and forgetting, re-appropriating and producing sacred spaces?

This session seeks to explore and discuss notions of the sacred such as: (a) Diasporic and immigrant cultural identities and the encoding/decoding of sacred spaces (b) Globalization and consumption of indigenous sacred spaces by spiritual tourists, (c) Cyberspace as sacred space and (d) Landscapes as sacred spaces.

Please submit abstracts of no more than 150 words in length should be emailed with the heading ACS ABSTRACT. You will be required to include the following information: author(s), affiliation, email address, title of abstract, and body of abstract. Potential participants are invited to view send abstracts to the session organizer, Elonda Clay at eclay@lstc.edu or submit abstracts via the website at www.crossroads2008.org. The absolute deadline for submission of abstracts for consideration is January 15, 2008.

[Return to
table of contents]
---
Making Race, Making Health: Historical Approaches
to Race, Medicine, and Public Health
The Department of History at the University of Texas at Austin announces an upcoming conference, "Making Race, Making Health: Historical Approaches to Race, Medicine, and Public Health," to be held November 13-15, 2008. Paper topics are not limited to national field or geographic area and proposals that explore a particular topic within a diasporic, imperial, or transnational framework are welcome. We are interested in generating a dynamic conversation among scholars around the following themes: the interconnectedness between medical knowledge, medical practice, and processes of racialization; race, difference, and power within public health discourse and policy; inequality, activism, and health; and diagnostic and therapeutic regimes as sites of contestation. We invite proposals for individual papers on topics including, but not limited to:

Health and medical care in slave and/or post-emancipation societies

Medicine and public health in colonial settings

Racial politics of the production of medical knowledge

Racial disparities in health care

Encounters between professional and popular medicine

Race and mental health

Medicalization of racial difference

Medicine, health and European-indigenous contact

Medicine and American expansion/conquest/empire

Racial politics of medical and public health responses to epidemics and disasters

Diasporic dimensions of healing practices

Race and reproductive freedom/control


Please send an abstract (of no more than 250 words) and a CV, by January 15, 2008, to: University of Texas at Austin, Department of History - Making Race, Making Health Conference, 1 University Station, B7000, Austin, TX 78712-0220. For more information, e-mail msummers@mail.utexas.edu. Martin Summers, Department of History, University of Texas at Austin, 1 University Station, B7000, Austin, TX 78712-0220.

[Return to
table of contents]
---
African American Life and Culture
in the Georgia Lowcountry: 18th to the 20th Century
February 28-29, 2008, Savannah, Georgia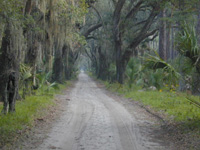 On February 28-29, 2008, Savannah will host a symposium of special significance, "The Atlantic World and African American Life and Culture in the Georgia Lowcountry, 18th to the 20th Century." Sponsoring the event are Savannah State University, Armstrong Atlantic State University, Georgia Southern University, Georgia Historical Society and the Ossabaw Island Foundation. Partners include the King Tisdale Cottage Foundation and the Coastal Heritage Society.

When speaking of the African American experience in the lowcountry, most writers begin with a passing nod to the stretch of coast from Georgetown, South Carolina to Cumberland Island, Georgia and then focus their attention on South Carolina. The Georgia coast has been relatively neglected. And yet the experience of African Americans in the lowcountry, both urban and rural, was an important one, not only for the ways it replicated the traditions, culture and patterns of its neighbor but possessed its own unique identity. This symposium, featuring ten of the leading voices in the field, will provide a much-needed forum for new directions and new scholarship on African- American life in the Georgia lowcountry and its place in the larger Atlantic world.

Themes include the place of Georgia in the Black Atlantic, enslaved Georgia women during the Revolutionary era, African American religious survivals on the coast, the Muslim presence in the Georgia Lowcountry, human relations and family life as reflected in the archaeology of coastal plantations, Reconstruction on Ossabaw Island, community building in post-Civil War Savannah, and the sustainability of Gullah-Geechee culture in today's world.

* The African American experience on the Georgia coast shaped in fundamental ways the experience of all African Americans in this state.

* That experience set a standard for this region in terms of cultural survival, acculturation and resistance.

* The story of the Georgia Lowcountry places the story of African Americans in the context of the Atlantic world, the world of west Africa, the Caribbean and Europe.

* That story offers a means of gauging whether and to what extent traditional African American communities can survive in the twenty-first century.

* Ultimately, slavery, reconstruction and the Gullah/Geechee heritage is not a black story or a Georgia story or even a Southern story. It is an American story, and understanding it in all its regional varieties remains crucial to any understanding we hope to gain about race relations in this country and what it means to be an American.

Participants include: Emory Campbell, Penn Center, St. Helena Island; Erskine Clarke, Columbia Theological Seminary; David Brion Davis, Yale University; Allison Dorsey, Swathmore College; Michael Gomez, New York University; Jacqueline Jones, Brandeis University; Phillip Morgan, Johns Hopkins University; Tim Powell, University of Pennsylvania; Theresa Singleton, Syracuse University; Betty Wood, Cambridge University.

The event will take place at the DeSoto Hilton Hotel. It is open to the public. At the reception Wednesday evening, Cornelia Bailey of Hog Hammock will give words of welcome, and the McIntosh County Shouters will perform. Ten speakers will address the audience over the following two days. On Thursday night, there is a Low Country Boil at the Owens Thomas House. For further information, go to www.ossabawisland.org or call 912- 233-5104.

[Return to table of contents]


---
Journal of Historical Sociology
Imperial Plantations Past and Present

In this special issue, we seek to stage an interdisciplinary conversation between the past and the present in order to engage the enduring logics of plantation systems. While keeping in mind that historical plantations have conditioned those of today, attention to contemporary plantation systems shows that the plantation is no artifact of old empires. We are looking for essays that engage plantations' global reach, even when the object of study is as local as a particular plantation. Editors: Piya Chatterjee, Women's Studies, University of California-Riverside; Monisha Das Gupta, Ethnic Studies and Women's Studies, University of Hawai'i at Manoa; Richard Cullen Rath, History, University o\f Hawai'i at Manoa.

We welcome submissions from all regions that have been profoundly changed by plantations including but not limited to eastern Africa, southern and southeastern Asia, the Americas, or plantation islands (whether in the Caribbean, the West African coast, the Indian Ocean, or the Pacific). We invite essays that think beyond area studies and nationalist frameworks. In this issue, we conceive of plantation economies and societies as bringing together multiple diasporas and staging encounters between indigenous people and immigrants. Of particular interest to us are papers that consider conquest from indigenous perspectives while marking land appropriation as necessary to the development of the plantation complex.

Submissions might investigate the connections, disjunctures, and interplay among various racialized/ethnic groups as well as consumers and producers; multi-disciplinary approaches linking cultural processes such as diaspora and creolization; or the effects of supra-national structures like the World Bank and programs for structural adjustment on labor and commodity circuits. We would like to see the papers track shifts in labor regimes and consumption patterns over time rather than considering them in isolation.

Millions of workers continue to labor within racialized, gendered, and sexual economies of the plantation from which the past is difficult to extricate. Essays might consider colonial, neo-colonial, and post-colonial plantations as carceral economies geared toward rendering labor predictable through everyday and extraordinary violence. We would like to foreground analyses that treat race and gender as intersecting systems of violence. We also seek papers that investigate how plantations carry ideologies such as race, caste, patriarchal gender roles, heteronormativity, or religion around the globe. What relations of power do plantations carry with them and how are they transformed in the process? We are looking for the ways that consumption simultaneously fetishizes and erases the laboring bodies who produce plantation commodities. What fantasies of consumerism erase the corporeality of the product consumed? How does capitalism both connect and isolate labor, plantation infrastructures, and consumers? By connecting cultures of mass consumerism to cultures of production, we seek to bridge the artificial divides of metropole and periphery, global and local. How do memory and memorialization -- for example in nostalgic recreations of plantations as tourist sites -- erase or minimize the realities of historic and present-day plantations? In sum, we want this special issue to trace how historical and contemporary plantations manifest the global circuits of labor, commodities, and consumption.

Please send an abstract of 250 words by January 10, 2008 to jhscfp@way.net. If you already have a paper, please send it to the same address along with the abstract. The final articles should be 7,500-10,000 words. While we encourage authors to use images for their articles, they have to high resolution jpg, tiff or pdf files. The issue is slated for publication in January or February 2009 (volume 21, issue 4). Direct any questions about the special issue to the above address. Natalie D. A. Bennett, PhD., Assistant Professor, Women's & Gender Studies, DePaul University, Byrne Hall, 4th Floor, 2219 N. Kenmore Avenue, Chicago, IL 60614-4412; phone: 773.325.4047; fax: 773.325.4412; edress: nbennet1@depaul.edu; web: www.depaul.edu/~wms.

[Return to
table of contents]
---
Editor's Note on Book Reviews
John McCarthy is our book review editor, coordinating reviews to be written for this Newsletter, and he has received review copies of a number of books from presses that he can supply to individuals who agree to write a review of such recent publications. If you, or someone you know, would be interested in book review assignments for the African Diaspora Archaeology Newsletter, please drop John a note, at strongjohn10856@gmail.com. A reviewer receives a free copy of the book.

I also will occasionally publish selected book reviews in this Newsletter from H-Net, the Humanities and Social Sciences Online service, which makes such reviews available for reproduction for educational purposes. Other reviews are available on the H-Net Reviews web site. -- Chris Fennell

[Return to
table of contents]
---
Film Review
Quilombo Country (2006). Directed, produced, and photographed by Leonard Abrams; Assistant Director, Shirli Michalevicz; Assistant Producer, Eduarda Ribeiro; Narrator, Chuck D. Quilombo Films, New York. 73-minute length. Available through www.quilombocountry.com.

Reviewed for the African Diaspora Archaeology Newsletter by Chris Espenshade, New South Associates


Please allow me a few disclaimers before getting into the body of the review. First, I am not really a film reviewer. Accordingly, I will not be offering any in-depth comments on the cinema-graphic strengths of this film (but please note that it has played to strong reviews at many international festivals). Secondly, I am an archaeologist, and I do not pretend to be fully versed in the historical and cultural anthropological study of the Diaspora and the diverse New World cultures created by the Diaspora. Accordingly, I reviewed this film: (a) to inform the readers of this Newsletter about the content of the documentary; and (b) to evaluate how interesting the film might be to archaeologists of the Diaspora.
One more, short note must be made before getting into the heart of the review. The documentary contains people speaking Portuguese (as to be expected in Brazil), but provides English-language subtitles. As well, the revised version of the DVD (as provided for review) includes an English-language narrative by Chuck D. The director makes only limited use of the narration, preferring to let the images and the people speak for themselves. In this instance, the approach works well.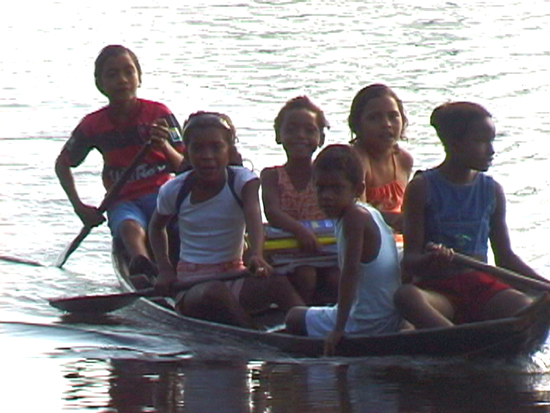 Children on their way to school in Varre Vento, Trombetas, Brazil. Photograph courtesy of Leonard Abrams.
I strongly recommend that African Diaspora archaeologists make the effort to see this film. It is a visually stunning investigation into quilombos of Brazil. The film presents a fast-moving, yet detailed, examination of today's quilombos, of their history, and of their ties to African culture. Quilombos (an Angolan word for "encampments") refers to communities that were established by Brazilian Maroons (runaway slaves), often with assistance from local Indians. We learn that there are more than 2,000 such communities in Brazil today, and that their residents face significant struggles to maintain their cultural identity.
The film begins with a short overview of the history of quilombos, and then visits the residents of quilombos in three main regions of northern Brazil: Itapicuru, Marajo, and Trombetas. Some of the still graphics in the background portion of the film are too basic, and detract from the overall quality of the documentary. As Abrams traveled through these areas, he allowed the people to speak about their history, the importance of their identity, and their struggles in modern times.
Abrams provides a sampler of local life ways and traditions. He is to be applauded for not seeing solely African roots in all the quilombo traditions, but rather celebrating the syncretism of diasporic African, native Indian, and Brazilian Portuguese. For example, the quilombo process for preparing manioc is identical to that described by Columbus for the Taino Indians and to that recorded ethnographically among many Amazonian tribes.
To archaeologists of the African Diaspora, the film offers brief flashes of what we consider classic, African-derived traits. We see people who still construct and live in wattle and daub houses. We see hand-made nets and rice-winnowing baskets that mirror those to be purchased in Gullah markets of the South Carolina coast. We see drumming, singing, and dancing that match historical descriptions of slave communities of African Americans and African Caribbeans.
The belief systems are the clearest and most visible examples of syncretism. Despite the best efforts of the Catholic Church to eliminate African-derived beliefs, the local religions (e.g., Macumba) are a complex mixture of Portuguese Catholicism, African-derived traditions, and possibly indigenous influences. Quilombo religions are closely tied to the local landscape, to the available folk medicines, and to spirits of the forest. The film samples many festivals and ceremonies, and all are creole. Indeed, we are told that more than one-third of all Brazilians have African-derived traits in their religious practices.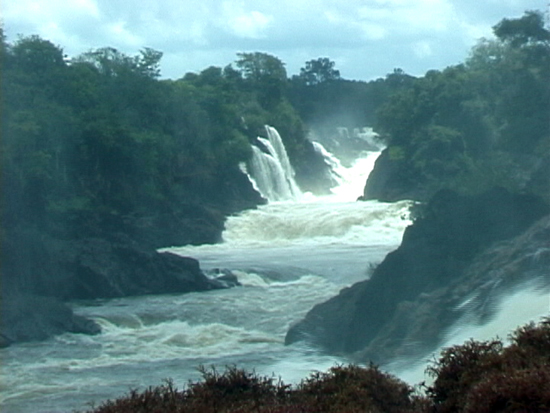 Pancada Falls on the Erepecuru, an Amazon tributary in the Trombetas region of Brazil. Photograph courtesy of Leonard Abrams.
An example of this religious creolism, a possible cosmogram is illustrated from the Marajo area, and it is said to be used "to call healers from the depths." The symbol has a cruciform in its center, surrounded by a Star of David, in turn surrounded by arrows projecting outwards from each point of the star. In this same area, despite the presence of much metal-ware, glass, and plastic, small clay pots are still used in certain religious practices.
Possible cosmogram inscription in chalk on the inside walls of a house in the Marajo Island area. Photograph courtesy of Leonard Abrams.




The film also addresses the concepts of self-identity, the uses of heritage, and the fight to maintain communities. Despite enhanced legal standing, the quilombos all face issues of land control, access to education, blatant and subtle racism, and economic exploitation. There is a wonderful piece of footage of a quilombo woman departing a peaceful stream with water pot balanced on her head, only to be forced off the trail by a bulldozer. The re-emergence of the quilombo identity is seen as key to fighting the modern battles. Abrams does an excellent job of presenting the challenges of the quilombos without being either preachy or paternalistic.

The writing and the unobtrusive narrative style serve well the telling of this story. Chuck D and the writer do not emote or oversell the obvious tragedies of quilombo history, nor do they fall into the trap of presenting these African Brazilians as "noble savages."

The viewer should not expect a perfectly smooth movie. This film was shot in digital video, and was edited to provide a feel for the places and people. The images are striking, but not always perfectly lit or steadily shot. At first, the unsteadiness of some of the camera work seems a bit distracting, but by the end of the film I recognized how well it fit with the music, people, and images captured.

There will be instances in this film where you wish you had been told more (those of us spoiled by commercial, Hollywood DVDs will be looking for the Director's Cut and DVD Extras). For example, the Colonoware researchers in the crowd might like more detail on the traditional uses of clay pots at Pajé. However, the viewer must keep in mind that a 73-minute documentary covering more than 200 years and thousands of square miles cannot provide the same level of detail as an academic study of a single community. I learned a lot watching this film, and it made me want to learn more. As an informative overview, Quilombo Country succeeds.

I feel that this film will appeal to the readers of the ADAN. The documentary would also serve well as a teaching tool in undergraduate courses on the Diaspora. It can serve well as a platform or starting point for classroom discussions on a number of key topics including racial identity, cultural syncretism, resistance to slavery, and the role of heritage in the modern world. It is a well-made, interesting, and enlightening story. I hope you enjoy Quilombo Country as much as I did.

[Return to table of contents]


---
Book Review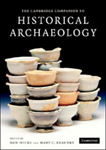 Dan Hicks and Mary C. Beaudry, editors. The Cambridge Companion to Historical Archaeology. Cambridge: Cambridge University Press, 2006. xvi + 404 pp., illustrations, maps, integrated references, index. $85.00 (cloth), ISBN-13 978-0-521-85375-0; $37.99 (paper), ISBN-13 978-0-521-61962-2.

Reviewed for the African Diaspora Archaeology Newsletter by John P. McCarthy, S&ME, Inc., Mt. Pleasant, SC.



This is a big book full of big ideas, and it is one that every historical archaeologist should find the time to at least peruse, if not immerse themselves in. Hicks, now of Oxford University, and Beaudry, of Boston University, have assembled a wide-ranging review of historical archaeology on an international scale through 17 essays commissioned especially for this volume. The themes addressed include: documentary archaeology, the writing of historical archaeology, colonialism, capitalism, industrial archaeology, maritime archaeology, urban archaeology, material culture, the archaeologies of landscapes, buildings, and households, and the place of historical archaeology in broader context. While the archaeology of the African Diaspora is not explicitly and individually considered, it is a theme that recurs in various places in the volume, as I will discuss further. In sum, I have to concur with the volume's "blurber" who asserts that, "This book is essential reading for anyone studying or researching the material remains of the recent past."

One might be temped to assume that a volume of this sort is just for students. However, that is not the case. While certainly suitable for upper division undergraduate or graduate course use, the essays present timely and well-balanced overviews of their subject material of use to anyone wanting to review the central concerns of the discipline at this point in time.

Following an introduction by the editors, the book is divided into five parts. The first, Archaeology and History, includes three chapters: Laurie Wilkie discusses documentary archaeology, Gavin Lucas discusses time in historical archaeology, and Rosemary Joyce considers the process of writing historical archeology.

Part II reviews key themes in the discipline beginning with Susan Lawrence and Nick Shepherd discussing colonialism. In the following chapters Tadhg O'Keeffe and Rebecca Yamin discuss urban archaeology; John Schofield and William Johnson consider archaeology, heritage and the recent and contemporary past; Randall McGuire looks at Marxism and capitalism; Jim Symonds and Eleanor Casella review industrialization; and Joe Flatman and Mark Staniforth discuss maritime archaeology of the historic period.

Part III, Historical Archaeology and Material Culture, presents two papers. Matthew D. Cochran and Mary C. Beaudry review the role of material culture studies and David Barker and Teresita Majewski discuss ceramic studies.

Historical Archaeology and Landscapes is the subject of Part IV. Cornelius Holtorf and Howard Williams discuss landscapes and memories. Lu Ann De Cunzo and Julie Ernstein then consider landscapes, ideology and experience in historical archaeology.

Part V focuses on the historical archaeology of buildings. Dan Hicks and Audrey Horning provide an overview of the topic, followed by Julia King discussing difference and identity in household archaeology.

Barry Cunliffe provides an afterword that situates historical archaeology in the wider discipline of archaeology. This is a refreshing perspective since most archaeologists in North America are trained to think of archaeology as one of the four subfields of anthropology.

In as much as most of the contributors are well known figures in the field, it almost goes without saying that each of these essays is authoritative and well written. Rather than try to provide a summary of each, I will focus instead on how the archaeology of the African Diaspora is addressed.

Wilkie is the first of the authors in this volume to explicitly mention the archaeology of the African Diaspora. Her essay mentions the importance of oral sources to the study of African-American sites, in particular, and she discusses oral sources as used in her doctoral research at Oakley Plantation to highlight the way that written and oral sources can be combined with archaeological data to construct more holistic histories than are possible by relying on any one source in isolation.

O'Keeffe and Rebecca Yamin make reference to the African Burial Ground project in New York City and to the controversy over the possibility of material associated with the slaves owned by President George Washington at the Liberty Bell Center at Independence National Historical Park in Philadelphia to highlight the public and political natures of urban excavation projects. Their more substantive discussions consider issues of ethnicity and class, but focus on groups other than African Americans.

McGuire's survey of the influence of Marxism mentions James Delle's research on a Jamaican coffee plantation as a landscape of structured race and gender relations. He also references Paul Mullins' study of African-American consumer behavior in Annapolis and Mark Leone's work on African-influenced spiritual practices. None of these are discussed in any depth, but rather are seen as examples of research applying critical archaeology and anthropological political economy.

Symonds and Casella's discussion of the archaeology of industrialization notes a trend toward the social lives of workers, wider understandings of power, class relations, domestic relations, patterns of residence, etc. addressing how working people lived as well as labored. Gradwohl and Osborn's work on the African-American coal-producing community of Buxton, Iowa is offered as an example of a study that took into account workers' racial identities and consumer behavior.

Flatman and Staniforth discuss at some length the potential of maritime archaeology to contribute to the archaeology of the African Diaspora. They see the documentation of maritime trade, and slave ships in particular, as important sources as a compliment to the story told by terrestrial sites. They note that this potential is as yet unrealized, but they are optimistic about its potential.

Barker and Majewski include a discussion of Colonoware in their review of historic ceramic studies. They are particularly taken with the creolized nature of this artifact type and the apparent blending of African, Native American, and European traditions that this ware type seems to represent. They also consider ceramic vessel forms in their discussion and what they may indicate about foodways, citing Otto's work on ceramics used on Lowcounty plantations which noted the wide-spread use of bowls on slave and overseer sites relative to those of planters where plates were better represented.

Finally, King's essay on household archaeology returns to Colonoware noting that studies as diverse as those of this ceramic ware and of the contexts of storage pits at slave houses have been read by some structuralist archaeologists as evidence of everyday forms of domination and resistance.

To this reviewer, the above taken in total, suggests that the archaeological study of various aspects of the African Diaspora is now well integrated into the historical archaeology enterprise writ large. This volume is important not only for making this point clear, but also for the broad context it offers for studies concerned with the African Diaspora. Issues of identity, race, gender, cultural transmission, etc. are no longer unusual, but are routinely addressed in investigating sites associated with the African Diaspora and evidence from such sites is routinely applied in comparative contexts.

As evident in my opening paragraph, I am enthusiastic about this volume and its usefulness to both experienced practioners and students alike. It is evidence that historical archaeology has found a place as an important part of the archaeological world, disputing, if not eradicating, the notion that historical archaeology can only contribute relatively unimportant minutia as "handmaiden to history."

Finally, while the contributors are overwhelmingly academics from the United Kingdom and the United States, two other European counties, Australaisa (two contributors) and South Africa are also represented. It is clear that historical archaeology, while still capable of fine-grained local studies, is increasing a global enterprise, concerned with big issues and big questions. The African Diaspora is among these. But as Cunliffe notes, it is an Anglophone global enterprise at this time, and we must take care that historical archaeology not become, "just an Eurocentric archaeology of capitalism (p. 318)." Understanding the African roots of African cultures in the Diaspora is one means of achieving this end; one that the readers of this newsletter are fully engaged with.

[Return to table of contents]


---
Book Review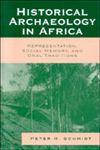 Peter Schmidt. Historical Archaeology in Africa: Representation, Social Memory, and Oral Traditions.. Lanham: AltaMira Press, 2006. xi + 316 pp. Illustrations, maps, notes, bibliography, index. $80.00 (cloth), ISBN 978-0-7591-0964-3; $32.95 (paper), ISBN 978-0-7591-0965-0.

Reviewed for the African Diaspora Archaeology Newsletter by Liza Gijanto, Syracuse University.



In his most recent text, Historical Archaeology in Africa: Representation, Social Memory, and Oral Traditions, Peter Schmidt compiles three decades of research in East Africa focused on iron producing communities. In particular, Schmidt presents an alternative approach to historical archaeology that embraces oral as well as written historical sources. He utilizes, and often includes entire sections of previous articles and his 1978 text, Historical Archaeology: A Structural Approach in an African Culture, where he initially addressed issues related to historical archaeology in the non-western world. Schmidt's new text demonstrates a well thought out approach that challenges not only the traditional sources of data which define historical archaeology, but also the dominant perceptions and narrow view of the field which centers on the west and European expansion.

The core of Schmidt's new approach is that archaeologists should incorporate all possible historical sources through: (1) the inclusion of oral histories and (2) the incorporation of social memory and mnemonics. Schmidt addresses each in turn and within his overall argument by dividing the text divided into two sections. The first section provides the historical background and components of Schmidt's new approach while the second section is largely focused on the process of making history including the appropriation of key locations on the landscape to assert political dominance. For Schmidt's purposes these locations were tied to iron production. To support this argument, he not only discusses his own work in East Africa but also addresses studies of iron smelting communities that have similar representations of human reproduction linked to technological and social practices revolving around the smelting process. Throughout the text key themes are emphasized and intertwined in Schmidt's overall argument that the 'unnatural' division between prehistoric and historic archaeology is largely defined by time rather than available sources as the name suggests. He furthers this argument by suggesting that this has lead to research framed within a western context of contact and later capitalism and colonialism, which denies numerous indigenous populations their history.

Schmidt argues most strongly for the incorporation of all available historical sources, emphasizing the importance of oral traditions. In Chapter 2, Schmidt revisits former essays to illustrate the historical development of the incorporation of oral sources in African archaeology as he perceives it. After presenting a brief history of the use of these sources Schmidt addresses the use of critical archaeology and the processes of making rather than discovering history. In particular, he demonstrates how his study of the Cwezi utilizes the 'tacking method' or moving critically between historic sources rather than using one source to either validate or contradict another source (p. 53). He also stresses that oral histories, like written sources must be viewed within the contexts that they were created. He states that by being more open to sources such as oral histories and traditions, as well as being aware of historical representation and social memory tied to the landscape, archaeologists will be able to present a more complete image of the past.

Schmidt details the second component to this new approach, the incorporation of social memory and mnemonics, in Chapter 4. Again, he includes his original research to demonstrate the development of this application as it was initially applied it to understand the socio-temporal aspects of the Haya landscape. Schmidt theorizes that the connections made to the physical landscape -- natural and manmade -- are highly affected by the past and present political climate. This is then linked to the idea of tropes (Chapter 5) whereby these identified places then "function as a means of political domination, religious manipulation, and economic exploitation" (p. 99). Schmidt argues that by recognizing tropes, it is possible to identify periods of change, or sociopolitical disruption in the past. A central assumption of this point is that incoming groups seeking to gain political domination, thus reorienting the meaning of these spaces for their benefit, continuously usurp the same spaces. Schmidt notes that certain histories or traditions were known by some groups, but not others that resided in the region depending on the site's importance to their own political dominance. He illustrates this argument through a discussion of the role and status tied to ironworkers in African chiefdoms and kingdoms (pp. 111-17). He demonstrates how individual King's or clans would claim or legitimize their power by connecting themselves to iron production by physically occupying the same space where production occurs and using iron objects to symbolize their power.

The above points are ultimately reiterated through Schmidt's case study and critiques by demonstrating how tropes and mnemonics are interrelated through their contextual situation in oral traditions. Through detailed inquiry and investigation, it is possible to trace the development of tropes through time and thus trace change and conflict. Schmidt further suggests that by ignoring these sources of data because of a prejudice toward written colonial accounts, African historical archaeology is severely limited.

The final component of the first portion of the text addresses the physical components of the past highlighting the role of landscape in social memory (Chapter 6). Here Schmidt draws upon studies completed in North American historical archaeology as well as in Africa. However, he is aware that it is not enough to present an argument for this approach, or awareness of potential historical sources, but that an implementation of this is not possible unless one is also aware of the current context and recognizes that as researchers we are making rather than simply discovering history. Though it may not be intentional, his collaboration on several chapters with other researchers reiterates this, demonstrating the need for multiple points of view in interpretation of these layers created at various times by different groups seeking power in the region.

The second portion of the text is devoted to the discussion of what Schmidt refers to as a "historically informed archaeology" (p. 167). He highlights the impact of western thought (most notably the conceptualization of Africa as technologically backward), the impact of colonial investigations, and African Independence on the development of archaeological practice in Africa. Again he incorporates previous works and a continued discussion of different aspects of his work with the Haya. This is supplemented by his own experiences as a foreign researcher in Tanzania and at the University of Dar es Salaam. In Chapter 8 Schmidt discusses the impact of the current and previous political climate on African archaeology including issues of funding. He argues that in order for archaeology to play a significant role, it must become an indigenous archaeology that incorporates all facets of history making beyond those favored in the west and by western researchers working throughout Africa. He also emphasizes an approach to historical interpretation that he refers to as the onion peel analogy, which stresses the fact that history is constantly recreated and therefore contains many individual layers within the whole. The complexity of the past is further emphasized by Schmidt's discussion of present-day politics and the role of African researchers in studying African archaeology.

Schmidt's final chapters implement his approach with direct application to his work on the Cwezi and Haya. Chapters 9 and 10 examine the interpretations of prominent Cwezi sites in Uganda (Bigo and Mubebde Hill) within a critical framework highlighting the past misuse of oral traditions, and their current reexamination within a critical historical archaeological framework as proposed in the first section of his text. Chapter 9 addresses the past interpretations of the Bigo site that was originally investigated in order to corroborate oral traditions that it served as a capital for the Cwezi. A critical reading of this study demonstrated a 'rerepresentation' of this site as Cwezi by colonial authorities who favored this group (pp. 226-28). Chapter 10 addresses the 'myth of statehood' created by the colonial government to legitimize the local kings they wished to hold power (p. 247). Here he discusses the past interpretations of Mubende Hill as a royal residence. However, recent research has demonstrated that the site was not a significant place of occupation during the Early Iron Age as previously believed. Again the former history was created for political legitimacy and the overall development of this Cwezi-centric past is ultimately placed within the larger eurocentric view of the Horn of Africa in Schmidt's final chapter.

Though Schmidt is careful, and ultimately successful in presenting his argument for a more informed historical archaeology of Africa, there is no final summation. Yet, it is clear if this is meant as a call for change throughout the field and not simply to raise awareness of the potential for a 'historically informed' archaeology in Africa. He provides several critiques of both historical archaeologists working in Africa and those that emphasize a capitalist definition yet also seems to limit himself in the same way by focusing on what he sees as non-traditional sources. Schmidt's work not only provides key insights to method in African archaeology, but also challenges historical archaeologists working throughout the world to utilize a wide variety of sources when interpreting the past as well as to move beyond the imposed prehistoric/historic period dichotomy as advocated by Lightfoot (1995) and others working in North America.

Reference Cited

Lightfoot, Kent G.
1995 "Culture Contact: Redefining the Relationship between Prehistoric and Historical Archaeology." American Antiquity 60(2) 199-217.

[Return to table of contents]


---
Book Review

Grey Gundaker and Judith McWillie. No Space Hidden: The Spirit of African American Yard Work.. Knoxville: University of Tennessee Press, 2005. Pp. xviii, 237. $26.95. ISBN 1-57233-356-1.

Reviewed for the African Diaspora Archaeology Newsletter by Patrick H. Morgan, S&ME, Inc., Charleston, SC.



No Space Hidden: The Spirit of African American Yard Work, by Grey Gundaker and Judith McWillie, is an ambitious and satisfying culmination of research in which the authors have created a cogent and reliable source on African American yard workers and their material world. The volume shows how the use of material arrangements within the work yard, generally in the American South, illustrates the connection to religion, the land, and the past. In addition, this volume illustrates the connection and adaptation of similar yard ornamentation practices in Africa. Gundaker and McWillie, through many disciplines such as religion, history, and art history, attempt to chronicle the practice of African American yard adornment, but the volume really is an oral history which allows the subjects of the volume to ultimately tell their story.

Gundaker, an anthropologist, was influenced by the oral histories of former slaves interviewed during the Federal Writer's Project of the 1930s. This project allowed the authors an avenue to access "the invaluable legacy of the great-grandparents and grandparents of the current generations of yard makers" for the book (p. xvii). McWillie, an artist and professor, was raised in Tennessee and was exposed to these yards displaying everyday items conveying deeper meanings. Each author provides expertise which culminates in research and methodology that provides the link of the Africanism of yard work.

No Space Hidden is broken down into six portfolios and six chapters. In the portfolios the authors present, photographically, distinct themes with a descriptive explanation of the work on each. The subjects are allowed within these portfolios to express what their work's meaning is and how its expression affects their everyday life. It is within the following chapter of each portfolio that Gundaker and McWillie expound on the context. Yardworkers' oral histories provide the skeleton on which the authors base the book. It is from these histories that they are able to establish the "lexicon" of yard art and translate the meaning to the reader.

African traditions that have lasted several centuries of slavery, have manifested into a particular art form which allows "yard work [to be] a spiritual medium, rather than merely a form of 'expression' or accommodation for its own sake" (p. 11). Some of these traditions or "Africanisms" have a spiritual overtone, such as Central African customs of staking hollow rods into the soil in order to allow communication with dead. These rods also carried water, the "preeminent signifier of the spirit" (p. 32). In addition, statuary, from Jesus to chickens, in the yard and in cemeteries serves as "watchers" or the conscience that "remind people that they are accountable for their actions" (p. 132). American Christianity, as Gundaker and McWillie point out, have "infuse[d] [with] older, transatlantic notions of matter and spirit with fresh purpose," most assuredly being the genesis of the yard work seen in the American South today.

While the yard workers attempt to convey messages of their belief systems, this sometimes is misinterpreted. Some of these articulate yards are dismissed by neighbors as unkempt, that despite their design, it is the purely visual which offends. Some were even directed to clean up their yards. In some instances, the labeling of some yards as "voodoo" yards "exposes genuine sensitivities and resistances to the dimensions of yard work that some consider unchristian" (p. 19). In many instances print journalism has associated yard art as "voodoo" or has referred to some as mere drug induced "artists" choosing to dismiss the yard work, giving an irresponsible portrait of what the yard workers do.

Despite these small hindrances to the expression of the yard workers, the authors do their best to show that the establishment and maintenance of the connection to their African roots is the ultimate expression of the yard workers. The essence of their argument can be summed up from page 12, "Certain yard workers are…finding in materials and actions the ingredients of a metalanguage not reducible to speech or writing with which to comment on the human condition and take responsibility for directing its course." The work Gundaker and McWillie present here establishes and emphasizes their subjects' stories and oral histories in their own words. The ancestors are paid reverence through the presentation of the objects and the expression of ideals and beliefs are conveyed. Belief, both of life and of death, is displayed whether it is obvious or not. The expression of the yard, when one's past is filled with the lack of self expression, is utilized as a vehicle to communicate with everyone, both living and dead whether it is immediately understood or not.

Diaspora archaeologists may view this book as a foundation or background from which to begin and execute research. Since these yard workers and the "yard art" have been so heavily influenced by the African traditions, it is advantageous as the archaeologist to examine if there are material connections in the archaeological record with these same traditions. Slavery has been a growing topic in historical archaeology over the past thirty years. Colonoware pots found with cosmological symbols are shown in Leland Ferguson's work, Uncommon Ground. This particular example shows the how the symbols, despite the geographical separation, maintain a deeply rooted connection to one's ancestors, traditions and beliefs. Admittedly, this connection revealing itself in material culture, and hence the archaeological record is by no means completely new territory. However the connections explained by Gundaker and McWillie in this modern era have a genesis and it began in Africa, and was influenced by Christianity and within slavery. The expression of the African-American yard workers who are free to be overt is loud and clear, where their slave ancestors did not have the same avenues of expression. Their expression was far more subversive and hidden. Indeed this was also a way of communicating messages of escape, such as in the case of quilts and other sewn fabrics. Ultimately the archaeologist can find comparative research within Gundaker's and McWillie's work which can helpful and show the "connections" of the past and place where in this "timeline" the material culture of a particular archaeological site belongs.

No Space Hidden is ultimately a scholarly work which integrates emic and etic approaches, whereby the subjects' and authors' explanations are equally accessible to the reader. The book is well-researched and utilizes oral history and it is through this medium that that the weight of the book can be felt. While beauty is subjective, the message of the yard workers' is cemented is tradition, spirituality and the connection to the past in order to guide the present. Gundaker and McWillie present a strong collaboration which is accessible to wide range of fields and its practitioners.

[Return to table of contents]



©2007 African Diaspora Archaeology Network
Copyright and all rights reserved by
individual authors for each article.
Please send comments, suggestions, or questions
to Chris Fennell at cfennell@uiuc.edu
Last updated: December 13, 2007
Text only menu
Search