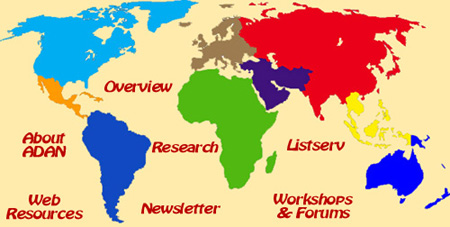 December 2010 Newsletter
ISSN: 1933-8651
In this issue we present the following articles, news, announcements, and reviews:
Articles, Essays, and ReportsNews and AnnouncementsConferences and Calls for PapersBook Reviews
---
A Community of Households: Early 19th-Century
Enslaved Landscapes at James Madison's Montpelier
By Matthew Reeves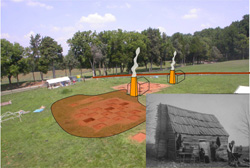 Over the next three years, the Montpelier Foundation will conduct archaeological investigations of various households that were part of the early 19th-century (1810s to 1830s) enslaved community at Montpelier. Three different living areas for the enslaved community have been identified in Montpelier's 1,250-acre historic core that in the early-19th century was called the Home Quarter: (1) the South Yard -- the quarters for house slaves who resided within the formal grounds of the mansion; (2) the Stable quarter -- a set of quarters associated with the operations of the mansion household which appear to have included those enslaved individuals working as gardeners, craftspeople, or in the stables; and (3) the Field quarter -- the quarters for field slaves located in the heart of the working complex for the Home Quarter. The relationship between the location of these sites and the assumed work role of household occupants is consistent with numerous studies that have shown a slave's "occupation" typically determined his or her place of residence. The spatially distinct location of these three quarters allows us to make the comparative contrast between these households in terms of the style of housing, yard organization, and material goods. [Read or download this full article here in Adobe .pdf format >>>].

[Return to table of contents]


---
Okra Soup and Earthenware Pots:
The Archaeology of Gullah Communities
By Carl Steen and Jodi A. Barnes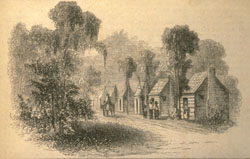 The archaeology of the South Carolina Lowcountry has been pivotal in the archaeology of the African diaspora, particularly the archaeology of slavery and plantation life. Yet few archaeologists have considered the archaeology of Gullah peoples, despite the prolific scholarship on the Gullah. Here we consider what archaeology can tell us about how Gullah communities and identities were created and maintained over time. Community, like the concept of "place," tends to be a taken for granted term. It is usually, although not always, used to designate a small-scale and spatially bounded area inhabited by a population, or part of it, that has certain characteristics in common that tie it together. Archaeologists have contributed to our understanding of households; yet community studies have tended to focus on the functions that a community serves within a social structure. From this perspective, "the community is a co-residential collection of individuals or households characterized by day-to-day interaction, shared experiences, and common cultures." This definition depicts community as natural and synonymous with the site or the settlement system, since common culture is often considered a shared architecture or artifact assemblage. Communities, places of lived experience, are often depicted as consisting of a list of traits -- of values, languages, material practices, ecological adaptations, marriage patterns, and the like -- rather than places created through day-to-day interaction and shared experiences. [Read or download this full article here in Adobe .pdf format >>>].

[Return to table of contents]


---
The Old Plantation Painting
at Colonial Williamsburg: New Findings and Some Observations
By Jerome S. Handler
Arguably the best known visual depiction of African American life during the eighteenth century, this small watercolor, owned by the Colonial Williamsburg Foundation (CWF), poses a number of questions of interpretation and identification. The artist did not name the painting, which gives a unique visual perspective on early African American life, but former owners gave it the arbitrary title "The Old Plantation," by which it is now commonly known. The painting, which is unsigned, undated and not given a provenience, depicts what are presumed to be plantation slaves dancing and playing musical instruments within a rural setting. The history of how this painting came to be known and ultimately owned by CWF is well documented in a recently published work by Susan Shames, the decorative arts librarian with CWF. Most importantly, her meticulous genealogical and historical research has identified the artist for the first time, and has also refined earlier speculations on the probable locale of the painting and the approximate date at which it was made. [Read or download this full article here in Adobe .pdf format >>>].

[Return to table of contents]


---
Archaeological Investigations and LiDAR
Aerial Survey in Edgefield, South Carolina
By Christopher Fennell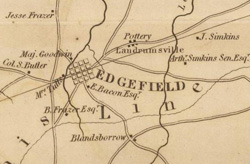 The first innovation and development of alkaline-glazed stoneware pottery in America occurred in the Edgefield County area of South Carolina in the early 1800s. It remains an enduring mystery as to how these new ceramic methods were developed in that place and time, and how the techniques of clay choice, temper, and glaze developed over the following century. These potteries employed enslaved and free African-American laborers in the 19th century, and the stoneware forms also show evidence of likely African cultural influence on stylistic designs. Edgefield potteries thus present fascinating research questions of understanding technological innovations and investigating the impacts of African cultural knowledge and racial ideologies on a craft specialization during the historic period in America. This project entails an interdisciplinary, collaborative, and archaeological study of the first development in America of alkaline-glazed stoneware pottery forms, the development of that South Carolina industry over time, and the impacts of racism and African cultural influences on those processes. [Read or download this full article here in Adobe .pdf format >>>].

[Return to table of contents]


---
Cultural Heritage Resources of the New Oyo Empire,
Southwestern Nigeria: Prospects for Sustainability
By Titilayo O. Olukole
In this project I employed a multidisciplinary approach involving ethnographic and reconnaissance surveys to investigate, identify, and classify potential New Oyo empire sites as cultural heritage resources. The New Oyo empire was located in southwestern Nigeria about 130 km south of the Old Oyo, and 55 km north of Ibadan. Following the decline of the Old Oyo empire in 1837 the New Oyo developed and shared similarities with facets of the Old Oyo. Yet, the New Oyo empire was distinct from its predecessor as a result of environmental changes, relocation, and shifts in urbanization. My work here reveals that a number of the cultural heritage resources of Yoruba-speaking people and the New Oyo empire have not been investigated or otherwise suffer neglect. This study therefore identifies and classifies a number of cultural heritage resources of the New Oyo with a desire of showcasing such sites as important heritage resources within Nigeria. These cultural heritage resources can play important roles in our current engagement with the history of Nigeria as impacted by the trans-Atlantic slave trade over several centuries. [Read or download this full article here in Adobe .pdf format >>>].

[Return to table of contents]


---
African and Africanist Archaeologists Voice
Their Support of Anthropology at Howard University
By Flordeliz T. Bugarin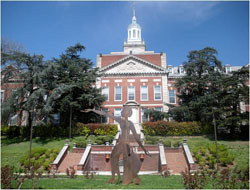 President Sidney A. Ribeau is in the middle of deliberations regarding the future of anthropology at Howard University. After announcing on September 23, 2010 that he is considering closing the undergraduate majors in anthropology and African studies, among other majors and programs, he set aside a period of discussion and requested responses and suggestions from students and faculty. We are just coming out of this period and are waiting for the announcement of his final decision. We expect to hear news in January 2011.

The last few months on campus have been a whirlwind of town hall meetings, visits by deans and the Provost to departments, and constructive discussions within the Howard community. During this process and in response to the President's announcement, the anthropology faculty submitted a document that highlighted the strengths of our program and the benefits we bring to Howard University in terms of research, funding, and service. As part of our contributions, we highlighted the projects and collections within our department that focus on the archaeology and bioarchaeology of Africa and the African Diaspora. Our program is well known due to the New York African Burial Ground Project. We also house the W. Montague Cobb Human Skeletal Collection. In addition, faculty direct projects such as the Buffalo Soldiers Archaeological Project, the Walter C. Pierce Park African American Burial Ground Project, and the Nicodemus, Kansas, Birth of an African American Town Archaeology Project. The archaeological projects in Africa include the James Island, Gambian Slave-Trading Site Project and work done on trade in the 19th century between the British and the Xhosa in the Eastern Cape of South Africa. [Read or download this full article here in Adobe .pdf format >>>].

[Return to table of contents]


---
Christopher Barton Joins
as ADAN Newsletter Co-Editor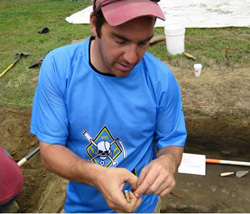 The African Diaspora Archaeology Network (ADAN) welcomes Christopher Barton as a new co-editor of the quarterly Newsletter. Chris' research and public engagement work includes 19th century African American communities. He provides a brief introduction concerning his interests --

"I am a doctoral student at Temple University, studying under David G. Orr. The work for my dissertation focuses on Timbuctoo, an African American community in southern New Jersey (1820 to the present). At Timbuctoo, I am exploring the archaeology of race and archaeology as social activism. My major influences have included Chris Fennell, Mark Leone, Barbara Little, Christopher Matthews, Paul Mullins, Charles Orser, Robert Schuyler, and Paul Shackel. In the future, I would like to see archaeology become much more democratic and relevant to the present-day; it is because of this vision that I am extremely excited to be a part of the Newsletter. Thank you."

We also extend our continuing gratitude to John McCarthy, who serves as the book review editor for the Newsletter.

[Return to table of contents]


---
Dr. Cheryl LaRoche Receives 2011
John L. Cotter Award by Society for Historical Archaeology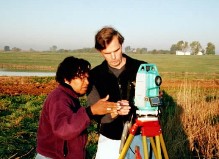 Dr. LaRoche has been selected to receive the 2011 John L. Cotter Award in Historical Archaeology for outstanding scholarly achievement based on her remarkable work in expanding interdisciplinary developments of historical archaeology in examinations of African American history. She is a lecturer, public speaker, consultant, researcher, and professor who crosses several disciplines in her investigations of the African diaspora. LaRoche's work has had a profound effect through intellectual enhancement of research designs implemented within our profession and through her political and educational outreach to governmental and public audiences. She has excelled in expanding the knowledge of public and governmental audiences in the methods of archaeological and historical analysis of African American heritage. LaRoche has also worked ceaselessly to enhance the preservation and understanding of related archaeological sites.

LaRoche has been a powerful voice within archaeology to encourage researchers focusing on the African diaspora to be as knowledgeable of the intellectual heritage of African American scholars, such as W. E. B. Du Bois and Frederick Douglass, as they are of archaeological methods and theory. Among other works, her co-authored article with Michael Blakey, "Seizing Intellectual Power: The Dialogue at the New York African Burial Ground," Historical Archaeology 31(3): 84-106 (1997), has been widely cited across disciplines and discussed extensively by her peers within historical archaeology who seek to implement her recommended framework for research projects and civic engagement. Through such works, LaRoche has significantly enhanced the way historical archaeologists approach African American sites through interdisciplinary methods and through ethically-engaged collaborations with stakeholder communities.

By incorporating cultural landscape analysis in her most recent work, LaRoche has extended her interdisciplinary reach once again. For example, in "The 'Balance Principle': Slavery, Freedom, and the Formation of the Nation," in Cabin, Quarter, Plantation: Architecture and Landscapes of North American Slavery, edited by Clifton Ellis and Rebecca Ginsburg, pp. 233-62 (Yale University Press, 2010), she examines the intersections of legal history, the contours of slavery and racism, and the development of escape routes and strategies of resistance. Her analysis serves to enhance historical archaeologists' understanding of the larger geographic contexts of African American sites and trajectories of movement across the landscape. Similarly, LaRoche's pioneering dissertation from the University of Maryland in 2004 combined research in archaeology, free Black communities, and insights into the achievements of African Americans in aiding one another to attain freedom through the "Underground Railroad." Her work provides a framework for archaeologists grappling with this nebulous, clandestine history. LaRoche's research into slavery and the constitution, the fugitive slave law, and the resistance of enslaved women grew out of her dissertation, and we can look forward to future expansions of these interdisciplinary studies and insights from this exceptional scholar. She has also exposed young scholars to archaeological precepts in university classes, providing course instruction in the History department at Georgetown University and in the American Studies department at the University of Maryland, College Park.

LaRoche has provided invaluable consulting services for a number of archaeological projects focused on African diaspora histories. She has worked extensively with the public and with her colleagues inside and outside the profession as a steward for neglected, forgotten, or threatened archaeological resources. LaRoche served as an archaeological conservator for the African Burial Ground Project in New York City and has worked tirelessly to inform archaeologists about the importance of related issues in artifact conservation. Among her on-going efforts are educational outreach and consulting services for the National Park Service, Boston's African Meeting House, the University of Massachusetts, Boston, the City of Philadelphia, and the Duffield Street Project in New York City. She served on the "Preserve America Summit" panel and was an adviser and participant for the African American National Historic Landmark Assessment Survey. As one of the authors of the "National Significance of the Harriet Tubman Historic Area," LaRoche applied a cultural landscape assessment in that project for the National Park Service. In addition, she has provided guidance and direction for the public interpretation at the President's House site in Independence National Historical Park in Philadelphia.

In 2006 and again in 2010, Maryland Governor Martin O'Malley announced LaRoche's appointment to the African American Museum Corporation Board of Directors. She currently serves as Vice Chair of the Commission on African American History and Culture and is a newly appointed board member of the Reginald F. Lewis Museum. Most recently, LaRoche was instrumental in shaping Maryland legislation which provides capital funds to help preserve and protect African American heritage sites. She has also worked as a historical and archaeological consultant for the National Forest Service, Shawnee National Forest Service, and the Joseph Holston Underground Railroad Art Project.

Dr. LaRoche has made exceptional contributions to historical archaeology and its related disciplines and has embarked, as a recent doctoral recipient, in a career of scholarly excellence. She has significantly enhanced the quality of historical archaeologists' approaches to research projects and of governmental and public audiences' understanding of archaeologists' contributions to commemorating and preserving African American heritage. Akin Ogundiran, Professor and Chair of the Africana Studies Department, University of North Carolina at Charlotte, will present the John L. Cotter Award to Dr. LaRoche at the Society for Historical Archaeology's conference banquet in Austin, Texas, on January 7, 2011.

[Return to table of contents]


---
Crossroads and Cosmologies Receives 2010
Gustave O. Arlt Award in the Humanities by Council of Graduate Schools

Council of Graduate Schools
Press Release, Dec. 2010
http://www.cgsnet.org/portals/0/pdf/N_pr_2010ArltAward.pdf



Washington, DC -- The Council of Graduate Schools (CGS) has awarded the 2010 Gustave O. Arlt Award in the Humanities to Dr. Christopher C. Fennell, Associate Professor, Associate Head & Director of Graduate Studies, Department of Anthropology, University of Illinois Urbana-Champaign. The awards ceremony was held during the CGS 50th Annual Meeting.

Created in 1971, the Arlt Award honors the first president of CGS and is given annually to a young scholar-teacher who has written a book deemed to have made an outstanding contribution to scholarship in the humanities. Dr. Fennell becomes the award's 39th recipient for Crossroads and Cosmologies: Diasporas and Ethnogenesis in the New World (University Press of Florida, 2007). He received a Ph.D. in Anthropology from the University of Virginia in 2003.

Crossroads and Cosmologies has been hailed as "a powerful interpretative framework within which to posit how new cultural identities were formed from the interactions of different cultural groups" by the Journal of Middle Atlantic Archaeology; it examines the way different cultures retained their religious artifacts and symbols as they moved from Europe and Africa to North America, the Caribbean, and South America. Theresa Singleton of Syracuse University called it "an intriguing analysis of religious artifacts that provides an innovative conceptual framework and methodology for the archaeological study of diasporas" saying it "greatly advances our understanding of cultural creativity over simplistic notions of creolization."

The Council of Graduate Schools is an organization of over 500 institutions of higher education in the United States and Canada engaged in graduate education, research, and the preparation of candidates for advanced degrees.

[Return to table of contents]


---
Judith Carney, Siddharth Kara, and
Richard Rosomoff Share Frederick Douglass Book Prize
Gilder Lehrman Center for the
Study of Slavery, Resistance, and Abolition
Yale University
Press Release, November 5, 2010
www.yale.edu/glc


New Haven, Conn. -- Judith A. Carney, Professor of Geography at the University of California, Los Angeles, Siddharth Kara, Fellow on Human Trafficking at Harvard University, and Richard Nicholas Rosomoff, an independent writer, have been selected as the co-winners of the 2010 Frederick Douglass Book Prize, awarded for the best book written in English on slavery or abolition. Carney and Rosomoff won for their book Inside the Shadow of Slavery: Africa's Botanical Legacy in the Atlantic World (University of California Press), and Kara won for his book, Sex Trafficking: Inside the Business of Modern Slavery (Columbia University Press).
The prize is awarded by Yale University's Gilder Lehrman Center for the Study of Slavery, Resistance, and Abolition and the Gilder Lehrman Institute of American History based in New York City. Carney, Kara, and Rosomoff will share the $25,000 prize, which is the most generous history prize in the field. The prize will be presented at a dinner in New York City in February 2011. The other finalist for the prize was Robert E. McGlone for his book John Brown's War Against Slavery (Cambridge University Press).

This year's finalists were selected from a field of nearly 100 entries by a jury of scholars that included Edward Ball (independent author), Jeffrey Ferguson (Amherst College), and Martha Hodes (New York University). "In the Shadow of Slavery tells the fascinating story of how enslaved Africans shaped and changed the landscape of the New World," says Hodes, the 2010 Douglass Prize Jury Chair and Professor of History at New York University. "With remarkable originality, the authors reveal how the men and women of the Middle Passage wielded their agricultural experience as part of the unending struggle to control their own lives. Interpreting archival evidence with both rigor and creativity, Carney and Rosomoff explore the provisioning of slave ships, the transfer and diffusion of African horticultural knowledge, the botanical gardens of slaves, and the gastronomic legacies of black slavery, among many other intriguing topics. Comprehensive and compelling, this is a work of truly global dimensions that narrates the ordeal of enslavement as a simultaneous story of food, memory, and survival."
Hodes remarks that Kara's book Sex Trafficking, "carefully and compassionately convinces us to understand the phenomenon of modern-day human sex trafficking as part of the history of slavery and abolition." She continues, "For his research, Kara posed as a customer across Asia, Europe, and the United States, entangling himself with perpetrators and speaking confidentially with victims. Sidestepping sensationalism and absent any delusion of casting himself as a rescuer, Kara relates wrenching stories in lucid prose, thereby shedding a strong and steady beam of light on a widespread and ongoing global crime. With an exemplary mixture of courage and humility, the author combines a gripping first-person narrative with trenchant economic analysis and clear-eyed proposals for change. In the end, this book prevents us from consigning slavery to the past."

The Frederick Douglass Book Prize was established in 1999 to stimulate scholarship in the field of slavery and abolition by honoring outstanding books. Previous winners were Ira Berlin and Philip D. Morgan in 1999; David Eltis, 2000; David Blight, 2001; Robert Harms and John Stauffer, 2002; James F. Brooks and Seymour Drescher, 2003; Jean Fagan Yellin, 2004; Laurent Dubois, 2005; Rebecca J. Scott, 2006; Christopher Leslie Brown, 2007; Stephanie E. Smallwood, 2008; and Annette Gordon-Reed, 2009. The award is named for Frederick Douglass (1818–1895), the slave who escaped bondage to emerge as one of the great American abolitionists, reformers, writers, and orators of the 19th century.

The Gilder Lehrman Center for the Study of Slavery, Resistance and Abolition, a part of The Whitney and Betty MacMillan Center for International and Area Studies at Yale University, was established in November 1998 through a generous donation by Richard Gilder and Lewis Lehrman and the Gilder Lehrman Institute of American History. Its mission is to promote the study of all aspects of slavery, especially the chattel slave system and its destruction. The Center seeks to foster an improved understanding of the role of slavery, slave resistance, and abolition in the founding of the modern world by promoting interaction and exchange between scholars, teachers, and public historians through publications, educational outreach, and other programs and events.

[Return to table of contents]


---
Number of Blacks Earning
Doctorates Reached an All-Time High in 2009
Journal of Blacks in Higher Education
December 16, 2010
http://www.jbhe.com/latest/index121610.html#doctorates


According to the National Science Foundation, in 2009 there were 2,221 African Americans who earned doctoral degrees from U.S. universities. This was the highest number of doctorates awarded to blacks in any single year. African-American doctoral awards increased by a healthy 10.1 percent from 2008 to 2009. Since 2005, black doctoral awards are up by 23.5 percent.

African Americans won 4.5 percent of all doctorates awarded in the United States last year. If we exclude foreign students, we find that African Americans made up 6.9 percent of all U.S. citizens or permanent U.S. residents who earned doctorates.

Blacks earned 947 Ph.D.s in scientific fields, up from 825 in 2008, an increase of nearly 15 percent. Another 1,274 African Americans earned doctorates in non-scientific fields. Many of these doctorates were in the field of education.

[Return to table of contents]


---
Racism Plagues Every Society -- UN Reports
United Nations
November 1, 2010
http://www.un.org/apps/news/
story.asp?NewsID=36633&Cr=&Cr1=



Racism and xenophobia still ravage contemporary society and no state is immune to their effects, the United Nations Special Rapporteur on contemporary forms of racism, racial discrimination, xenophobia and related intolerance, Githu Muigai, said today.

"Racism and xenophobia are not yesterday's problems; they remain an immense challenge for today," Mr. Muigai said while presenting two reports to the UN General Assembly.

"Be it the member of an ethnic minority who is attacked or killed in the context of a conflict due to his or her minority status; the individual subjected to stop and searches, interrogations or arrests, solely because of his or her perceived religious or ethnic background; the migrant, the refugee or asylum-seeker who faces daily discrimination due to his or her status as a non-citizen; or the football player who is insulted because of his skin colour -- all these people unfortunately demonstrate the validity of my statement," he said.

Mr Muigai noted that no state is immune to extremist political parties, movements and groups, and warned that racism may lead to genocide, war crimes, ethnic cleansing and crimes against humanity.

"Relying on the dehumanization of the other, hate speech may indeed become an effective tool in times of conflict to incite people to commit acts of violence, including killings, against specific individuals or groups of individuals," he said.

The Special Rapporteur warned in particular against "deeply marked tendencies to characterize migration as a problem and threat to social cohesion."

"Migrants, refugees and asylum-seekers, regardless of their migration status, are entitled to have all their human rights protected by the State where they live without discrimination," Muigai said. He urged States to ensure that migration policies are "at all times consistent with international human rights instruments."

He called on states to be vigilant against extremist groups and to condemn and outlaw organizations and activities that promote or incite racial discrimination. He noted, however, that fighting racism requires more than the enactment of anti-discrimination laws.

"Overcoming racism also requires addressing public and private attitudes which justify and perpetuate racism at all levels and in all areas of life," he said.

On the question of incitement to racial or religious hatred, Muigai stressed that "vigorously interrogating and criticizing religious doctrines and their teachings is thoroughly legitimate and constitutes a significant part of the exercise of the right to freedom of expression and freedom of religion."

But he expressed concern about discrimination against individuals on the basis of their religion or belief; attacks on religious sites; religious and ethnic profiling; and negative stereotyping of religions, their followers, sacred persons, and symbols.

Mr. Muigai is a lawyer specialized in international human rights law. He was appointed by the Human Rights Council as a Special Rapporteur – reporting to that body as an unpaid, independent expert -- beginning August 2008.

[Return to table of contents]


---
On Eve of the International Year for People of African Descent
UN Secretary-General Calls for Final End to Racism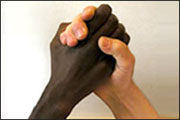 United Nations
December 10, 2010
http://www.un.org/apps/news/
story.asp?NewsID=37018&Cr=racism&Cr1=#



As the United Nations system gears up to celebrate 2011 as the International Year for People of African Descent, Secretary-General Ban Ki-moon delivered an impassioned plea today to the world community to eradicate racism once and for all.

"The international community cannot accept that whole communities are marginalized because of the colour of their skin," he told an event at UN Headquarters in New York to launch the Year. "People of African descent are among those most affected by racism. Too often, they face denial of basic rights such as access to quality health services and education. Such fundamental wrongs have a long and terrible history.

"The international community has affirmed that the transatlantic slave trade was an appalling tragedy not only because of its barbarism but also because of its magnitude, organized nature and negation of the essential humanity of the victims."

"Even today, Africans and people of African descent continue to suffer the consequences of these acts," he added, calling for their full integration into social, economic and political life and at all levels of decision-making.

The General Assembly proclaimed the Year in December 2009 in a resolution citing the need to strengthen national actions and regional and international cooperation to ensure that people of African descent fully enjoy economic, cultural, social, civil and political rights, to advance their integration into all political, economic, social and cultural aspects of society, and to promote a greater knowledge of and respect for their diverse heritage and culture.

"As the Universal Declaration of Human Rights affirms, 'all human beings are born free and equal in dignity and rights,'" Mr. Ban said. "If we are to make those words real, then we must eradicate racism once and for all. The success of the International Year requires concerted efforts across the United Nations system and at the regional and national levels, with the widest possible engagement and participation."

Also addressing the event was the Assistant Secretary-General for Human Rights, Ivan Simonovic, who said the International Year offers a unique opportunity to redouble efforts to fight racism, racial discrimination, xenophobia and related intolerance that affect Afro-descendents in all parts of the world.

"The International Year must become a milestone in the ongoing campaign to advance the rights of people of African descent and it deserves to be accompanied by activities that fire the imagination, enhance our understanding of the situation of people of African descent and are a catalyst for real and positive change in the daily lives of the millions of Afro-descendents around the world," he told the gathering.

[Return to table of contents]


---
Transatlantic Slave Trade
Visual Record Online: Updated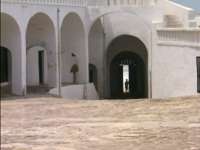 The Atlantic Slave Trade and Slave Life in the Americas: A Visual Record, www.slaveryimages.org. This a searchable collection of 1,275 images continues to be revised and corrected on a regular basis. Since the last up-date report in August 2007, corrections and modifications have been made to already existing entries, but new images have been added, particularly on the Caribbean, U.S. South and West Africa in the nineteenth century.

The latter include 22 unique, unpublished drawings and watercolors of social life, settlements, and material culture along West African coastal areas, particularly Liberia and what is today Equatorial Guinea (Corisco Island). These materials are held by the Department of Special Collections of the University of Virginia Library (see www.slaveryimages.org image references UVA01 and following).

The compilers particularly request assistance in identifying the provenience and content of these drawings, as they continue to welcome more generally any suggestions for corrections or modifications to the current bibliographic and historical information. They appreciate hearing from persons with specialist knowledge of any of the images. Such persons, from a variety of fields in a number of countries, have helped to improve information in the entries, thus enhancing the site's value as a research and teaching tool. The website continues to be widely used; for example, from 4 Feb. 2007 to 25 Oct. 2010, the site has been accessed by over 515,000 "unique visitors." Comments can be addressed to Jerry Handler at jh3v@virginia.edu.

[Return to
table of contents]
---
Harsh Life of Washington's
Slaves at Mt. Vernon Revisited
By Faiza Elmasry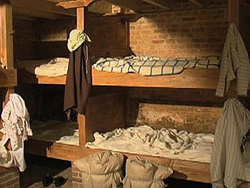 Voice of America News
November 30, 2010
http://www.voanews.com/english/news/usa/places/
Harsh-Life-of-Washingtons-Slaves-Revisited-111032034.html

Refurbished Mount Vernon quarters shed new light
on the slaves of America's first president



George Washington was born into a world where slavery was an accepted part of life. When his father died in 1743, Washington -- at the age of 11 -- inherited 10 slaves.

When the nation's first president died in 1799, more than 300 slaves lived in quarters on his Mount Vernon estate. This year, those slave quarters, first opened to the public in 1962, went through an extensive archaeological analysis and restoration.

These refurbished quarters shed new light on the story of the slaves who lived and worked at Mount Vernon.

Hard life



The renovated quarters are two one-story wings added to the Mount Vernon greenhouse shortly after Washington became president. Each one is divided into two small workrooms, and two sleeping areas, one for men and another for women. Most of Washington's married slaves did not live in the same household as their spouses. Each room had a fireplace and was accessed by a single doorway.

"We have a lot of archaeological materials that we excavated from the slave quarter site," Archeologist Dennis Pogue says. "And from that, we know the kinds of things that they were actually using; the ceramics that they were eating from, the food remains. We found a lot of animal bones, so we know that they were eating lots and lots of wild animals -- that they were augmenting the rations that they were getting from the Washington's."

Pogue says documents written by George Washington, his family and white employees, and other plantation owners provided information about the quarters and the slaves who lived there.

"I mean we have some descriptions of what these quarters look like and they describe them as huts and they say 'They are more miserable than anything that you can imagine,'" Pogue says. "We don't want to whitewash this part of the story. These folks were owned by other people. They had no rights of their own and they were doing hard work."

Bringing history to life



The actual restoration of the site took almost 10 months. In addition to restoring the living quarters, clothing, tools, furniture, cookware, toys and personal accessories used by the slaves were reproduced. These items help bring to life the living conditions and experiences of the maids, cooks, servants, skilled craftsmen and laborers who worked on the five farms that made up the Mount Vernon property.

The renovated quarters include two one-story structures added at Mount Vernon shortly after George Washington became president. "It's a culmination of over 20 years of research. So it's wonderful to see this brought to the public's attention," he adds.

A number of descendants of George Washington's slaves attended the opening celebration of the restored quarters. Among them was Rohulamin Quander, a senior administrative judge in Washington, D.C. and founder of the Quander Historical Society.

"Sukey Bay was an 18th century Quander ancestor who lived at the River Farm," Quander says. "She had several children: Nancy Carter Quander and Rose, both were Sukey Bay's daughters. Nancy was a spinner. She lived up to 1850s. We have records for her working around in landscaping right here at Mount Vernon and other Quander family ancestors worked here. We have a long history of involuntary and presumably uncompensated servitude."

Last summer, the Quanders celebrated their 85th family reunion at Mount Vernon. Quander says renovating the slave quarters is a significant gesture of recognition for the hundreds of enslaved African Americans -- men and women -- who lived there.

"For many years, their names were forgotten,Quander adds. "The roles that they had played were forgotten. If the man they worked for, George Washington, is glorified, we want to give these men and women their just due because they were the ones who toiled from sunup to sundown, six to seven days a week, who made it possible for him to go off to do many, many great things that benefited all of us."

Learning opportunity



The chance to see what life was like for slaves by visiting the renovated slave quarters is a great opportunity for teachers like Beth Cayer. She's brought her 5th grade students on a field trip to Mount Vernon as part of their history class.

"It's beautiful. I hadn't seen it last year, so I was really excited for the kids to see it this year, because we've done a big unit about colonial America and we did a 4-day-lesson on slavery," Crayer says. "So it was a real eye-opener to a lot of the kids, the conditions that they lived in here. Of course some of the kids have the ancestors that came over that way. So it was a real eye-opener for them to see the contrast in life styles. It made a real impression on them."

Giving visitors a better understanding of the nature and harshness of slavery was one of the reasons for restoring the buildings. The point was not lost on Gloria Alice Holmes, another of Sukey Bay's descendants who came to Mount Vernon for the dedication ceremony.

"It's raining today," Holmes says. "I'd like to say in my opinion, the rain- that's the tears of the slaves saying thank you, thank you for not forgetting us."

Mount Vernon officials expect more than one million visitors to tour the restored slave quarters next year.

[Return to
table of contents]
---
Philadelphia Site Honoring Washington
and His Slaves Ready for Dedication
By Stephan Salisbury
Philadelphia Inquirer
December 12, 2010
http://www.philly.com/inquirer/front_page/
20101212_Oppressed_lives_open_house.html



After more than eight years of street demonstrations, arguments, haggling, and missed deadlines; after unprecedented public debate about the impact of slavery on life in Philadelphia and the United States and on the life and moral character of George Washington; after thousands of news articles, feature stories, and TV and radio programs, the site marking the intertwined lives of presidents and slaves is set to open to the public with a simple ribbon-cutting at noon Wednesday.

It may be snowing or raining. It may be bitterly cold. The public may be distracted by the holidays. President Obama will not be there on Independence Mall. No matter.

"President's House: Freedom and Slavery in Making a New Nation" is done, and project managers say that given all the talk, sweat, and sometimes-rancorous disagreement that have gone into it, what's done should be open and seen.

"It's either the end of the beginning or the beginning of the end," said Randall Miller, a professor of American history at St. Joseph's University who has been involved for the whole length of the winding, bumpy road leading to the doorway of the President's House.

"Finally, the public will get to weigh in," he said, on whether the memorial has found the right balance in evoking two presidents and commemorating nine slaves.

Clay Armbrister, Mayor Nutter's chief of staff, called the site virtually iconic at birth.

Not only does it define the small piece of ground at Sixth and Market Streets where Presidents Washington and John Adams lived, but it focuses on the enslaved Africans held by Washington at the house, which was largely demolished in 1832.

Behind the site, a few feet from the Liberty Bell Center's entrance, an enclosure of glass, wood, and steel commemorates the nine.

"The installation in and of itself will do what educational exhibitions are meant to do -- provoke thought and debate -- and I think there will be a lot of thought and debate," Armbrister said.

Cynthia MacLeod, superintendent of Independence National Historical Park, acknowledged that mid-December was not the best time to open, but "to have it finished and not bring some attention to that would be unfortunate," she said.

"The exhibit really brings to the fore this dichotomy in our country of freedom and slavery," MacLeod said. "The Declaration of Independence at that time did not mean everyone. It took the Civil War to abolish slavery, and the civil-rights movement of the 1960s to make civil rights more of a reality in addition to freedom." [Read the full article online at the Philadelphia Inquirer web site.]

[Return to
table of contents]
---
New Book
Atlas of the Transatlantic Slave Trade
By David Eltis and David Richardson
Yale University Press, Hardcover
336 pp., ISBN-13: 978-0300124606, 2010.

Description from the Publisher: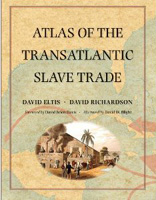 Between 1501 and 1867, the transatlantic slave trade claimed an estimated 12.5 million Africans and involved almost every country with an Atlantic coastline. In this extraordinary book, two leading historians have created the first comprehensive, up-to-date atlas on this 350-year history of kidnapping and coercion. It features nearly 200 maps, especially created for the volume, that explore every detail of the African slave traffic to the New World. The atlas is based on an online database (www.slavevoyages.org) with records on nearly 35,000 slaving voyages -- roughly 80 percent of all such voyages ever made. Using maps, David Eltis and David Richardson show which nations participated in the slave trade, where the ships involved were outfitted, where the captives boarded ship, and where they were landed in the Americas, as well as the experience of the transatlantic voyage and the geographic dimensions of the eventual abolition of the traffic. Accompanying the maps are illustrations and contemporary literary selections, including poems, letters, and diary entries, intended to enhance readers' understanding of the human story underlying the trade from its inception to its end. This groundbreaking work provides the fullest possible picture of the extent and inhumanity of one of the largest forced migrations in history.

[Return to table of contents]


---
New Book
Challenge of Culture in Africa: From Restoration to Integration
By Bernard Nsokika Fonlon
Langaa RPCIG, Cameroon, Paperback
96 pp., ISBN-13: 978-9956578986, 2010.

Description from the Publisher: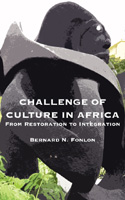 This book was first published as a two-part essay in 1965 and 1967 in ABBIA -- Cameroon Cultural Review -- under the title "Idea of Culture." Its main argument is that indigenous Africans cultures must be the foundation on which the modern African cultural structure should be raised; the soil into which the new seed should be sown; the stem into which the new scion should be grafted; the sap that should enliven the entire organism. This culture, the object of imperialist mockery and rejected, needs rehabilitation. However, such rehabilitation of African culture cannot be a mere archaeological enterprise. It will not answer to dig up the past and live it as it was. Not only is African culture not without its imperfections, times change and African culture must adapt itself, at every turn, to the changing times. In restoring African culture, it is imperative to steer clear of two extremes: on the one hand, the imperialist arrogance which declared everything African as only fit for the scrap-heap and the dust-bin, and, on the other hand, the overly enthusiastic and rather naive tendency to laud every aspect of African culture as if it were the quintessence of human achievement.

[Return to table of contents]


---
New Book
Mississippi in Africa: The Saga of the Slaves of
Prospect Hill Plantation and Their Legacy in Liberia Today
By Alan Huffman
University Press of Mississippi, Paperback
336 pp., ISBN-13: 978-160473753, 2010.

Description from the Publisher: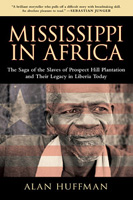 When a wealthy Mississippi cotton planter named Isaac Ross died in 1836, his will decreed that his plantation, Prospect Hill, should be liquidated and the proceeds from the sale be used to pay for his slaves' passage to the newly established colony of Liberia in western Africa. Ross's heirs contested the will for more than a decade in the state courts and legislature, prompting a deadly revolt in which a group of slaves burned Ross's mansion to the ground. But the will was ultimately upheld. The slaves then emigrated to their new home, where they battled the local tribes and built vast plantations with Greek Revival-style mansions in a region the Americo-Africans renamed "Mississippi in Africa." In the late twentieth century, the seeds of resentment sown over a century of cultural conflict between the colonists and tribal people exploded, begetting a civil war that rages in Liberia to this day. Journalist Alan Huffman tracked down Prospect Hill's living descendants, deciphered a history that has been ruled by rumor, and delivered the complete chronicle in riveting prose. Huffman has rescued a lost chapter of American history whose aftermath is far from over.

[Return to table of contents]


---
New Book
World of a Slave: Encyclopedia of the
Material Life of Slaves in the United States
Edited by Martha B. Katz-Hyman and Kym S. Rice
ABC-CLIO/Greenwood Press, Hardcover (two volumes)
700 pp., ISBN-13: 978-031334942, 2010.

Description from the Publisher: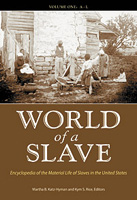 This two-volume encyclopedia is the first to focus on the material life of slaves. Enslaved blacks retained some private realm that included toys, musical instruments, clothing, jewelry, and distinctive hair styles. Many individuals successfully preserved African traditions and beliefs, often adapting them to their new home. It is through such objects and practices that modern readers can gain at least some understanding of the day-to-day lives of these men, women, and children. Although many encyclopedias discuss slavery, enslaved blacks, and African American life and culture, none focus on the material world of slaves, such as what they saw; touched; heard; ate, drank, and smoked; wore; worked with and in; used, cultivated, crafted, played, and played with; and slept on. The two-volume World of a Slave: Encyclopedia of the Material Life of Slaves in the United States is a landmark work in this important new field of study. Recognizing that a full understanding of the complexity of American slavery and its legacy requires an understanding of the material culture of slavery, the encyclopedia includes entries on almost every aspect of that material culture, beginning in the 17th century and extending through the Civil War. Readers will find information on animals, documents, economy, education and literacy, food and drink, home, music, personal items, places, religion, rites of passage, slavery, structures, and work. There are also introductory essays on literacy and oral culture and on music and dance.

[Return to table of contents]


---
New Book
Archaeology of Louisiana
Edited by Mark A. Rees
Louisiana State University Press, Hardcover
512 pp., ISBN-13: 978-0807137031, 2010.

Description from the Publisher: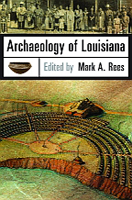 Archaeology of Louisiana provides a groundbreaking and up-to-date overview of archaeology in the Bayou State, including a thorough analysis of the cultures, communities, and people of Louisiana from the Native Americans of 13,000 years ago to the modern historical archaeology of New Orleans. With eighteen chapters and twenty-seven distinguished contributors, this book brings together the studies of some of the most respected archaeologists currently working in the state, collecting in a single volume a range of methods and theories to offer a comprehensive understanding of the latest archaeological findings. In the past two decades alone, much new data has transformed our knowledge of Louisiana's history. This collection, accordingly, presents fresh perspectives based on current information, such as the discovery that Native Americans in Louisiana constructed some of the earliest-known monumental architecture in the world-extensive earthen mounds-during the Middle Archaic period (6000-2000 B.C.) Other contributors consider a variety of subjects, such as the development of complex societies without agriculture, underwater archaeology, the partnering of archaeologists with the Caddo Nation and descendant communities, and recent research in historical archaeology and cultural resource management that promises to transform our current appreciation of colonial Spanish, French, Creole, and African American experiences in the Lower Mississippi Valley. Accessible and engaging, Archaeology of Louisiana provides a complete and current archaeological reference to the State's unique heritage and history.

[Return to table of contents]


---
New Book
New Philadelphia: An Archaeology of Race in the Heartland
By Paul A. Shackel
University of California Press, Paperback
240 pp., ISBN-13: 978-0520266308, 2010.

Description from the Publisher: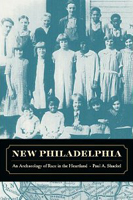 New Philadelphia, Illinois, was founded in 1836 by Frank McWorter, a Kentucky slave who purchased his own freedom and then acquired land on the prairie for establishing a new -- and integrated -- community. McWorter sold property to other freed slaves and to whites, and used the proceeds to buy his family out of slavery. The town population reached 160, but declined when the railroad bypassed it. By 1940 New Philadelphia had virtually disappeared from the landscape. In this book, Paul A. Shackel resurrects McWorter's great achievement of self-determinism, independence, and the will to exist. Shackel describes a cooperative effort by two universities, the state museum, the New Philadelphia Association, and numerous descendents to explore the history and archaeology of this unusual multi-racial community.

[Return to table of contents]


---
New Book
A Slaveholders' Union: Slavery, Politics,
and the Constitution in the Early American Republic
By George W. Van Cleve
University of Chicago Press, Hardcover
388 pp., ISBN-13: 978-0226846682, 2010.

Description from the Publisher: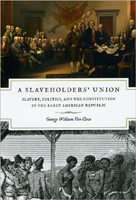 After its early introduction into the English colonies in North America, slavery in the United States lasted as a legal institution until the passage of the Thirteenth Amendment to the Constitution in 1865. But increasingly during the contested politics of the early republic, abolitionists cried out that the Constitution itself was a slaveowners' document, produced to protect and further their rights. A Slaveholders' Union furthers this unsettling claim by demonstrating once and for all that slavery was indeed an essential part of the foundation of the nascent republic. In this powerful book, George William Van Cleve demonstrates that the Constitution was pro-slavery in its politics, its economics, and its law. He convincingly shows that the Constitutional provisions protecting slavery were much more than mere "political" compromises -- they were integral to the principles of the new nation. By the late 1780s, a majority of Americans wanted to create a strong federal republic that would be capable of expanding into a continental empire. In order for America to become an empire on such a scale, Van Cleve argues, the Southern states had to be willing partners in the endeavor, and the cost of their allegiance was the deliberate long-term protection of slavery by America's leaders through the nation's early expansion. Reconsidering the role played by the gradual abolition of slavery in the North, Van Cleve also shows that abolition there was much less progressive in its origins -- and had much less influence on slavery's expansion -- than previously thought. Deftly interweaving historical and political analyses, A Slaveholders' Union will likely become the definitive explanation of slavery's persistence and growth—and of its influence on American constitutional development—from the Revolutionary War through the Missouri Compromise of 1821.

[Return to table of contents]


---
New Book
Race and Slavery in the Middle East:
Histories of Trans-Saharan Africans in
Nineteenth-Century Egypt, Sudan, and the Ottoman Empire
Edited by Terence Walz and Kenneth M. Cuno
American University in Cairo Press, Hardcover
256 pp., ISBN-13: 978-9774163982, 2010.

Description from the Publisher:


In the nineteenth century hundreds of thousands of Africans were forcibly migrated northward to Egypt and other eastern Mediterranean destinations, yet relatively little is known about them. Studies have focused mainly on the mamluk and harem slaves of elite households, who were mostly white, and on abolitionist efforts to end the slave trade, and most have relied heavily on western language sources. In the past forty years new sources have become available, ranging from Egyptian religious and civil court and police records to rediscovered archives and accounts in western archives and libraries. Along with new developments in the study of African slavery these sources provide a perspective on the lives of non-elite trans-Saharan Africans in nineteenth century Egypt and beyond. The nine essays in this volume examine the lives of slaves and freed men and women in Egypt, Sudan, and the Ottoman Mediterranean. Contributors: Kenneth M. Cuno, Y. Hakan Erdem, Michael Ferguson, Emad Ahmad Helal Shams al-Din, Liat Kozma, George Michael La Rue, Ahmad A. Sikainga, Eve M. Troutt Powell, and Terence Walz.

[Return to table of contents]


---
New Book
The Warmth of Other Suns:
The Epic Story of America's Great Migration
By Isabel Wilkerson
Random House, Hardcover
622 pp., ISBN-13: 978-0679444329, 2010.

Description from the Publisher:


In this epic, beautifully written masterwork, Pulitzer Prize-winning author Isabel Wilkerson chronicles one of the great untold stories of American history: the decades-long migration of black citizens who fled the South for northern and western cities, in search of a better life. From 1915 to 1970, this exodus of almost six million people changed the face of America. Wilkerson compares this epic migration to the migrations of other peoples in history. She interviewed more than a thousand people, and gained access to new data and official records, to write this definitive and vividly dramatic account of how these American journeys unfolded, altering our cities, our country, and ourselves. With stunning historical detail, Wilkerson tells this story through the lives of three unique individuals: Ida Mae Gladney, who in 1937 left sharecropping and prejudice in Mississippi for Chicago, where she achieved quiet blue-collar success and, in old age, voted for Barack Obama when he ran for an Illinois Senate seat; sharp and quick-tempered George Starling, who in 1945 fled Florida for Harlem, where he endangered his job fighting for civil rights, saw his family fall, and finally found peace in God; and Robert Foster, who left Louisiana in 1953 to pursue a medical career, the personal physician to Ray Charles as part of a glitteringly successful medical career, which allowed him to purchase a grand home where he often threw exuberant parties. Wilkerson brilliantly captures their first treacherous and exhausting cross-country trips by car and train and their new lives in colonies that grew into ghettos, as well as how they changed these cities with southern food, faith, and culture and improved them with discipline, drive, and hard work. Both a riveting microcosm and a major assessment, The Warmth of Other Suns is a bold, remarkable, and riveting work, a superb account of an "unrecognized immigration" within our own land. Through the breadth of its narrative, the beauty of the writing, the depth of its research, and the fullness of the people and lives portrayed herein, this book is destined to become a classic.

[Return to table of contents]


---
New Report
The Ceramics Assemblage from the Kingsley Plantation Slave Quarters
By Karen McIlvoy
National Park Service, online report
URL http://www.nps.gov/archeology/sites/
npSites/kingsleyCeramics.htm, 2010.

Description from the Publisher: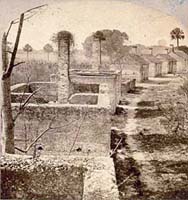 For the past four years, a University of Florida field team has conducted archeological excavations at Kingsley Plantation, located in the NPS Timucuan Ecological and Historic Preserve in Duval County, Florida. Kingsley Plantation was active in the early 19th century. The excavations have focused primarily on the slave quarters from the period in an attempt to reconstruct the daily lives of their inhabitants. The report describes the ceramics assemblage recovered from the Kingsley Plantation Slave Quarters and compares it to the archetypal antebellum plantation of Cannon's Point Plantation, GA. The basic analysis of the ceramic artifacts is a fundamental first step in the broader goal of interpreting the role of material objects in the slaves' daily lives. [Read the full report online.]

[Return to table of contents]


---
Society for Historical Archaeology
Annual Conference on Historical and Underwater Archaeology
Including Forum on African Histories and Diasporas:
A Conversation with Robert Farris Thompson
Austin, Texas, Jan. 5-9, 2011

The Annual SHA Conference on Historical and Underwater Archaeology will be held at the Hilton Austin Hotel, in downtown Austin. Located in the heart of Texas, Austin is an exciting and dynamic city. It is made up of a diverse blend of cultures that can be experienced through everything from music and dining to architecture, art, and history. This is all in keeping with the conference theme for 2011, Boundaries and Crossroads in Action: Global Perspectives in Historical Archaeology. Additional details on the conference are available online at http://www.sha.org/about/conferences/2011.cfm.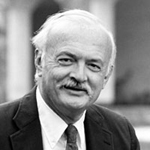 The annual forum of the African Diaspora Archaeology Network (ADAN) will be convened on Friday, Jan. 7, 2011, from 9am to 12pm in Grand Ballroom F of the Hilton Austin conference center, and is entitled African Histories and Diasporas: A Conversation with Robert Farris Thompson.

Bob Thompson is Col. John Trumbull Professor of History of Art at Yale University. For over 50 years, he has studied aspects of African diasporas through field research on both sides of the Atlantic. A sampling of his work includes: Black Gods and Kings; African Art in Motion; Face of the Gods; and Tango: The Art History of Love. His foundational reader, Flash of the Spirit, discusses West African influences on contemporary Afro-Caribbean populations, as manifested in material culture, philosophies, and performance. Thompson's contributions to the historical analysis of African heritage have enabled our field to investigate the dynamic nature of the archaeological record as it pertains to the many strands of African diasporas. His work has challenged once widely held beliefs of simple forms of acculturation experienced by people of African descent, resulting in an expanding discourse within archaeology on processes of transcultural innovation, creolization, hybridity, and syncretism.

Prof. Thompson's keynote presentation will be followed in the second hour of our three-hour forum with comments by several lead discussants, including Leland Ferguson, Maria Franklin, Grey Gundaker, Jill Koverman, Akin Ogundiran, and Kenneth L. Brown. The third part of this three-hour forum is reserved for open group discussions among all attendees as to the forum theme and any other topics, news, questions, and announcements.

The ADAN extends sincere thanks to individuals and organizations who have provided sponsor support for this annual forum event, including Andrew Agha, Grey Gundaker, Mark Hauser, Nicole Isenbarger, J.W. Joseph, John McCarthy, New South Associates, the John L. Warfield Center for African & African American Studies at the University of Texas at Austin, the Department of Africana Studies at the University of North Carolina-Charlotte, and the Department of Anthropology at the University of Illinois, Urbana-Champaign.

Additional events related to African diaspora archaeology include the following tours, workshops, panels, and symposia (among others) -- [Read or download this full article here in Adobe .pdf format >>>].

[Return to table of contents]


---
"Black Is . . . Black Ain't"
Reconceptualizing the African Diaspora
An Interdisciplinary Symposium
Indiana University, Bloomington, March 25-26, 2011


The African Diaspora has been historically conceived as originating with the Transatlantic Slave trade. However, some would argue that to perceive the African Diaspora only in relation to slavery is to obscure alternative means of conceptualizing the movement of Black bodies. As scholars committed to interdisciplinary research, the Graduate Society of the Department of African American and African Diaspora Studies at Indiana University brings together scholars, community activists, artists, and other professionals to interrogate definitions of, theorize about, and imagine new possibilities for the African Diaspora.

For our eighth annual Herman C. Hudson Symposium, we invite abstracts for papers that will address the following topics: What are the practical applications of African American and African Diaspora Studies/Black Studies in the 21st century? How do migrations -- local, national and international -- affect diasporic identities? How does contemporary audio/visual media and popular culture help to re-imagine the borders of diasporic communities? How do outliers serve as change agents in these communities? What are the ways that the academy can engage in constructive dialogues with nonacademic communities?

We also encourage papers that engage these topics through the intersections of race with gender & sexuality; class; disabilities; color, ethnicity, and nationality; marginalization and resistance; rurality and urbanity; performativity; religion and spirituality; environmentalism and sustainability; and public policy and commerce. We welcome submissions from graduate and undergraduate students, educators, creative artists, and community and cultural workers. Interested panelists should submit a one-page abstract of an unpublished paper, and a one-page CV or a 50-75-word bio. Presenters who are interested in displaying visual art should submit a digital CD of their work along with a one-page abstract discussing the details of their piece(s). Those interested in exhibiting their topic via poster board should follow the guidelines for submitting a paper abstract and visual art. Panel proposals should include a description of the panel's theme, a one-page abstract from each paper, the name of the panel chair, and a one-page CV or a 50-75-word bio for each participant. All abstracts should include the academic or organizational affiliation of each participant.

Submission Deadline: January 12, 2011. Please email abstracts and accompanying information to the attention of Abegunde, Abstract Committee Chair, at hchs@indiana.edu. If submitting a CD, please indicate this in your email. CDs should be mailed to the attention of Abegunde at the following address: Herman C. Hudson Symposium 2011, Department of African American and African Diaspora Studies, Indiana University, Memorial Hall, M18, 1021 E. Third St, Bloomington, IN 47403.

[Return to
table of contents]
---
Black Studies in the Age of Obama:
Interdisciplinary Approaches to Black Identity
University of Delaware, March 19-26, 2011


The Department of Black American Studies at the University of Delaware, in collaboration with Delaware State University, Morgan State University, and Bowie State University, extend a call for papers for an inaugural regional undergraduate student research conference related to the theme -- broadly conceived -- Black Studies in the Age of Obama: Interdisciplinary Approaches to Black Identity. Complete panels and individual paper submissions may be submitted from a wide range of disciplines, including, but not limited to, journalism and public relations, Africa and Africans in the diaspora, Caribbean Studies, education, labor, community engagement, gender, sexuality, visual culture, and any aspect of the Humanities. Presentations can be conventional papers/essays, digital media, poetry, theatrical presentations and/or visual and print media. Proposal Deadline: January 14, 2011. Proposals should be submitted electronically and must include your name, title of the paper, panel, or roundtable format, and an abstract of 150 words. They should also include the institutional affiliation of each presenter, phone numbers, and email addresses. Complete essays are not due until the day you present. Dr. Carol E. Henderson, Associate Professor of English, Interim Chair, Dept. of Black American Studies, University of Delaware, 417 Ewing Hall, Newark, DE 19716, (302) 831-2897 (phone) (302) 831-6063 (fax), ceh@udel.edu; Dr. Myrna Nurse, Assistant Professor of English, Dept. of English and Foreign Languages, Delaware State Univesity, Dover, DE 19901, mnurse@desu.edu, email: ceh@udel.edu.

[Return to
table of contents]
---
Crossroads I: The New African Diasporas
University of North Carolina at Charlotte, April 14-15, 2011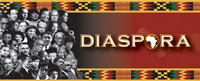 Since 2002, the Africana Studies Department at UNC Charlotte has organized an annual symposium to examine a critical theme in the African Diaspora Studies. The 2011 symposium titled "Crossroads I: The New African Diasporas" will take place on April 14-15, 2011, and will focus on the post-Cold War African and Caribbean diasporic formations in the United States. Urban, cosmopolitan, and socioeconomically diverse, these populations account for about 20% of the Black population in the US. Today, they are no longer concentrated only in the traditional immigrant cities of the northeast, but are also of significant presence in the emerging global cities of the New South and the Midwest. Several studies tend to emphasize the immigrant experience and national origins of the post-1980s African and Caribbean populations with a focus on them as transient and bounded groups. Yet, the maturation of the first generation immigrants and the rootedness of the second generation as US citizens and permanent residents pose new challenges to the normative meanings of immigrants versus citizens, with implications for the ways we construct Black identities and define policy issues. Categorizing these populations as the New African Diasporas, as many recent studies have done, however calls for new conceptual, theoretical and empirical evaluations that transcend the bounded immigrant narratives.

Presenters are invited to focus on a conceptualization of the New African Diasporas as overlapping knowledge communities with overlapping memories and interests; and to explore how these communities are building social capitals that are at once transcultural and transnational, as well as rooted in the local and national spaces of the host community; in this case, the United States. Some of the questions that participants may explore are the following: What are the self understandings of the New African Diasporas as individuals and social groups in terms of identities and social classifications? How do these self understandings simultaneously blur and highlight social boundaries; as well as interrogate, subvert or align with the host community values? What challenges do these identities pose to the unfinished project of Black aspirations for full citizenship and empowerment in a racialized nation-state? What are the spaces of intercultural/social relations between the New African Diasporas and the historically segmented racial/ethnic subjectivities (e.g., African American, Latino, White), and what are the implications of these relations (or lack of it) for future social policies and politics? How are the New African Diasporas transforming the urban and suburbia spaces in economic, political, cultural, and social terms; and how are the material and social values of the "new home" transforming them? What are the conceptual values that the New African Diasporas, as a construct, bring to the theorizing of the broad African Diaspora subjectivities in the 21st century? What are the implications of the New African Diasporas for policy issues on race, multiculturalism, diversity, national/global security, and social justice, especially as these may affect education, health, business, and community development? What are the genres of new cultural production (e.g., literary and arts) that the members of the New African Diasporas are generating, and how do these interrogate senses of place and belonging? How can we infuse the New African Diaspora subjectivities into the pedagogy of the Black experience and Africana Studies? What are the interfaces between the New African Diaspora subjectivities and the Area Studies paradigms represented by the African, Caribbean, European, and Latin American Studies? What roles can the Digital Age technologies play in documenting, interpreting, and disseminating the New African Diasporas' experience?

Participants from different branches of the social sciences and humanities are invited to explore any of the above questions and related topics. The symposium encourages methodological and theoretical diversity, and is open to senior and junior scholars, advanced graduate students, as well as policy analysts. Interested participants should submit 250-400 word abstract and two-page vitae to africana_studies@uncc.edu by January 14, 2011. Those whose abstracts are accepted will be asked to submit a draft of their paper no later than March 31, 2011. Arrangements are being made to publish a selection of the symposium papers in a thematic volume of a journal of Africana/African Diaspora Studies. Contact Akin Ogundiran (704-687-2355; ogundiran@uncc.edu) if you have any questions. The symposium is sponsored in part by the Chancellor's Diversity Challenge Fund and the Office of the Dean of the College of Liberal Arts and Sciences at UNC Charlotte; the African Diaspora Consortium of the Carolinas; JOMA Arts and Consulting, LLC.; the Neighborhood Good Samaritan Center Inc.; and the Council for the Advancement of Yoruba Studies.

[Return to
table of contents]
---
Heritage of Memorials and Commemorations
Cambridge University, UK, April 15-16, 2011
12th Cambridge Heritage Seminar, the Heritage of Memorials and Commemorations. The process of memorializing and commemorating people and events has come under scrutiny in recent years. Controversies have been sparked by memorials. Some commemorative events have become stage settings for occasionally violent confrontations between different memorial narratives, and the relationship between history and memory is being put through a 'stress test' of sorts. Though memorial processes have a long history, this new scrutiny has given rise to important questions about their social function, the intentionality behind commemorative gestures and their impact: Do memorials help us forget? Are they reconciliatory? Who do commemorative events exclude? What purpose to they serve? Do they help us not repeat the mistakes of the past? Why do people use memorials? Who uses them? How and when are 'forgotten' memorials reinvigorated by communities? With these questions new terms are also emerging: 'spontaneous shrines' (Santino 1992), 'memorial mania' (Doss 2008), 'grassroots memorials' (Sanchez-Carretero and Margy 2010).

This 12th edition of the Cambridge Heritage Seminar seeks to bring together researchers and practitioners from a wide array of disciplines and communities of practice to explore what and how we choose to commemorate and the impact that this has on our own memories and identities, and thus on heritage. How to take part: There are three ways of taking part in this seminar: presenting a paper, providing a poster, being a participating audience member. Paper proposals should clearly outline the questions that will be addressed and the empirical evidence or case study that will be drawn on. The proposals should not exceed 500 words and should be accompanied by a short (150 word) biographical note about the author. Posters proposals should illustrate one particular instance of commemoration or make a concrete theoretical point. Paper and poster proposals should be sent to Liz Cohen at esc35[at]cam.ac.uk no later than 15 February 2011. Papers will be selected by 1 March. To register to participate in the event as an audience member please write to Dominic Walker at dw374[at]cam.ac.uk by 1st April 2011 -- numbers will be limited so please register as early as possible to avoid disappointment. Heritage Research Group, Department of Archaeology, Cambridge University, Downing Street, Cambridge, UK, Email: esc35 at cam.ac.uk.

[Return to
table of contents]
---
Working in the Big Easy:
The History and Politics of Labor in New Orleans
Tulane University, April 22-23, 2011


Working in the Big Easy: The History and Politics of Labor in New Orleans, From Slavery to Post-Katrina. The University of New Orleans and Tulane University invite proposals for papers on the history, culture, and politics of labor in New Orleans. Despite a wealth of historical, anthropological, and sociological studies that consciously seek to address questions of inequality, racism, slavery, and urban politics in one of the United States' oldest, most important, and distinct metropolitan areas, scholars have rarely explicitly integrated studies of work and labor into their analyses of the broader New Orleans area. This two-day workshop style conference will bring together scholars from diverse disciplines and methodological perspectives who share a commitment to understanding the history, politics, and culture of work and ground themselves in the context of New Orleans. We invite proposals on any topic that analyzes labor in New Orleans, including, but not limited to: urban slavery; seafaring; dock work and stevedoring labor; service and tourism; post-disaster construction and rebuilding; the work of musicians and entertainers; public sector work and organizing; immigration and labor; and fishing and seafood labor. Preliminary discussions for an edited volume have begun, and to that end we seek chapter length papers for a workshop style conference. Additionally, we expect to secure some funding for travel and lodging for out of town participants. Please send a 2 page abstract and brief c.v. to tadams@tulane.edu by February 15th. Questions may be addressed to Steve Striffler at sstriffl@uno.edu or Thomas Adams at tadams@tulane.edu. Thomas J. Adams, Ph.D., Department of History, Tulane University, (504) 862-8608, tadams@tulane.edu.

[Return to
table of contents]
---
Race, Space and Nature Symposium
University of California, Berkeley, April 27, 2011


This conference aims to open up dialogue among graduate students, post-doctoral researchers, faculty, and independent scholars who critically engage with analytics of race/racialization and 'the environment,' broadly conceived. We are interested in understanding how scholars understand the experiences, practices, creativities, political economies and subjectivities of racialized groups in relationship to the spaces that they move through and create: the environment, nature and cities. In what ways do racialized experiences and identities come to structure narratives, practices, and politics in relationship to built and "natural" environments? If racialization occurs in and through places, how are these processes sedimented or resisted by people? How do racial constructs connect to spatial, environmental ones and vice versa -- and why does it matter?

Interdisciplinary scholars have developed a large body of literature that considers the role of race/racialization in the context of spatial inequality, marginalization and oppression. Increasingly, scholars have interrogated the roles of agency and innovation in environmental practice among various racial groups, including the forms through which racial analytics help to shape those interactions. This one-day conference will critically engage these questions in order to ask: How do issues of race and racialization intersect with spatial, environmental, territorializing practices, discourses, and politics in the contemporary moment? We seek papers from a variety of theoretical, disciplinary, and methodological perspectives. This includes but is not limited to topics such as: racialized access to resources; the role of race in global environmental discourses and politics; activist practice; social movements; international development; intersectional engagements with race, gender, sexuality and class; political ecologies of race, space, and urban environmental practice; the rise and fall of cities; environmental and climate justice; critical food studies.

The symposium will include a working lunch where we will match scholars with others in their fields. The event is open to the public, free, and includes lunch with registration, as funds allow. We will conclude with a keynote from UC Berkeley Assistant Professor Carolyn Finney. To participate, please submit a 250 word abstract by January 15 to conference organizers Rachel Brahinsky, Laura-Anne Minkoff-Zern, and Jade Sasser at race.conference.berkeley@gmail.com. Please include, in the body of the email: your name, affiliation, contact information, and abstract. We will respond to submissions in early February. Once accepted, final papers must be submitted two weeks before the symposium.

[Return to
table of contents]
---
Society of Caribbean Studies Annual Conference
Liverpool, June 29th 2011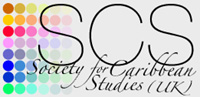 35th Annual Conference of the Society of Caribbean Studies, International Slavery Museum, Albert Dock, Liverpool, Wednesday 29th June - Friday 1st July 2011. The Society for Caribbean Studies invites submissions of short abstracts of 250 to 400 words for research papers on the Hispanic, Francophone, Dutch and Anglophone Caribbean and their diasporas for this annual international conference. Papers are welcomed from all disciplines and can address the themes outlined below. We also welcome abstracts for papers that fall outside this list of topics, and we particularly welcome proposals for complete panels, which should consist of three papers. Deadline for abstracts: 7th January 2011. Those selected for the conference will be invited to give a 20-minute presentation and will be offered the opportunity to publish their work as part of the Society's online series of papers. Provisional panels: Liverpool and the Caribbean; The Fall of the Plantation Complex; Museums and Caribbean Histories; Slavery, Commemoration, and Representation; Ports and Cities; Health, Social Policy, and Disability; Environment and Natural Disasters; The Challenges of Democracy; Childhood and Education; Theatre, Dance, and Performance; Food and Material Culture; Colonial Governance and Decolonisation. To submit an abstract online, please visit our website: http://www.caribbeanstudies.org.uk/. Proposals received after the deadline may not be considered. For further queries, or alternative methods of abstract submission, contact Lorna Burns at societyforcaribbeanstudies@gmail.com, or by mail at The Department of English Literature, 5 University Gardens, University of Glasgow, Glasgow, G12 8QQ.

[Return to
table of contents]
---
Creativity and Cultural Expressions in Africa and the African Diaspora
University of Ibadan, Ibadan, Nigeria, July 4-6, 2011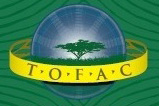 Creativity and Cultural Expressions in Africa and the African Diaspora. Toyin Falola Annual International Conference on Africa and the African Diaspora. We are inviting scholars to submit conference papers and full panel proposals for The Toyin Falola Annual International Conference on Africa on Creativity And Cultural Expressions in Africa and the African Diaspora. Accounts of creativity and the imagination have emerged in numerous areas such as literature and the arts, psychology, mathematics and the sciences, business, popular psychology, the social sciences, engineering and technology. The discourse of creativity that surfaces within multiple fields reveals that the notion of the individual creator is not simply widespread, but omnipresent; indeed, it is a fundamental ideology of Western culture. Challenging the individualist and depoliticized ideology of creativity, the conference calls for papers that present alternative accounts of the social and political dimensions of creativity as they relate to invention, technology, work, artistic and cultural production, the body, desire, pedagogy and social change. The conferenc e aims to reach a multidisciplinary academic audience; artists and grassroots activists; the political, journalistic, and information technology communities; and interested members of the general reading public. The conference promises to create a provocative space for comparative critical dialogue between scholars and dancers, actors and writers, songwriters and singers. The conference invites papers on all aspects of creativity, from the artistic to the scientific and the humanistic.

Scholars in all disciplines are invited to propose papers on various aspects, including but not limited to any of the following: Creativity Profile: what is novel and original among Africans and Black people generally; Value Added to Progress: development ideas, new thinking; Globalized Modernity and its consequences on music, dance, performance, home-video culture, African Traditional Religion, indigenous African clothes and textile designs, indigenous African philosophies, wise sayings and general thought process; Music; Dance; Performance; The creative process in Africa and the African Diaspora (e.g., how do the diviners work; how do masquerades perform?); Creative thought processes (what do texts in divination represent? how do we interpret works of literature? etc.); Creativity and the Everyday; Gender, Imagination, and Creative Space; Ethical issues such as in technological innovations, stunning improvements in our knowledge of and mastery over the natural world and living organisms, concentration of power, wealth and resources in the first world; the concomitant impoverishment of the rest; global environmental destruction; and applications of new knowledge and technology that may be harmful or dangerous; Histories of creativity and inventions; The politics of creativity (e.g., creativity and resistance, anti-colonial genres, creativity and apartheid, creativity and democratic movements); Nollywood (production, text, marketing, impact, etc.); Technology, Information, Innovation (e.g., the ambivalent effects and challenges of proliferating technologies and information); "Beyond Art" as expressed in the current range of artistic and cultural practices, especially in the wake of the drastic shifts in critical paradigms associated with women's studies, multiculturalism, cultural studies, women's art, popular culture, queer studies and Culture Wars of the 1980s and 1990s; The Expanding Body: e.g., the widespread experimentation and new theorizations with regard to the body and its relation to subjectivity; The pedagogy of creativity: strategies, agents and locations that have sought to transcend the hierarchies and limits of traditional pedagogy; Social Movements: developments in new social movements and their creative strategies for political organizing, protest, and autonomy; how activists and communities have been imagining and enacting their political aspirations and organizing.

Participants will be drawn from different parts of the world. Graduate students are encouraged to attend and present papers. The conference will provide time for scholars from various disciplines and geographical locations to interact, exchange ideas, and receive feedback. Submitted papers will be assigned to particular panels according to similarities in theme, topic, discipline, or geographical location. Additionally, selected papers will be published in book form. The deadline for submitting paper proposals is March 30, 2011. Proposals should include a 250-word abstract and title, as well as the author's name, address, telephone number, email address, and institutional affiliation. Please submit all abstracts to: Professor Ademola Dasylva dasylvang@yahoo.com or a.dasylva@ibadanculturalstudiesgroup.org. For more information, please visit the conference website: http://www.ibadanculturalstudiesgroup.org/toyinfalolaconference/.

[Return to
table of contents]
---
We Carry These Memories Inside of We
Celebrating the 20th Year Anniversary of Daughters of the Dust
College of Charleston, September 16-17, 2011
We Carry These Memories Inside of We: Celebrating the 20th Year Anniversary of Daughters of the Dust and the Black Art aesthetic of filmmaker Julie Dash. A two-day symposium, September 16-17, 2011, hosted by the College of Charleston's Avery Research Center for African American History and Culture. Twenty years ago, filmmaker Julie Dash broke through racial and gender boundaries to become the first African American woman to debut a film with wide release across the country. Daughters of the Dust is a highly artistic film that introduced many Americans to the history, opulence, and complexity of the South Carolina Gullah-Geechee culture and contextualizes it within wider discourses on race, class, gender, and skin-color at the turn of last century. Here Dash turns the camera's gaze onto her ancestors and their rich culture that thrived for centuries and continues to do so today.

The College of Charleston's Avery Research Center, Carolina Low Country and Atlantic World (CLAW) Program, and African American Studies Program (ASST), The International African American Museum (IAAM) and the South Carolina Historical Society plan to examine the lessons learned from Daughters of the Dust and its influence in the academy and society. The 20th Year anniversary of Daughters of the Dust provides the space and opportunity to reflect on converging discourses of race, gender, and class and the impact they had on Black women's lives, identities, and agency at the turn of the 19th century. Furthermore, we hope to give thoughtful consideration to the special place Daughters of the Dust occupies within the academy—as a source of inspiration to African American scholars, students, and artists, an homage to the Black art aesthetic in the post-modern and post-Black arts eras, a creative expression of Black feminist criticism, and the untold story of a rich, but forgotten cultural legacy of our shared American heritage. During this two-day retrospective we hope to examine the following themes: Black female identity: On screen and Behind the lens; Civil Rights, Black Women's Rights, and Human Rights; The Black Art Aesthetic—Creative expression in the post-Black arts eras; Daughters of the Dust and African American Studies; Julie Dash and African American Women's Literary Expression; Their Eyes Were Watching Us: African American Women Filmmakers and Actresses; The Legacy of Slavery and Colonial Sensibilities in 21st Century Charleston; In Search of Agency: Literacy and Freedom; Migration and opportunity.

We welcome papers and complete panel sessions related to these themes and others from faculty, artists, filmmakers, graduate students, and public history professionals. Because of the overlapping nature of themes portrayed in the film, we expect that some presentations will be inter-disciplinary in nature, and we encourage proposals that examine the film from many intersections such as race and sexuality, Black identity and regional identity, or Women's Rights and Human Rights. All papers accepted for the symposium will be considered for inclusion in an anthology of essays examining Daughters of the Dust and its place in African American Studies, Film Studies, and Black Feminist Criticism edited by Patricia Williams Lessane and Dr. Conseula Francis. The deadline for proposals is March 4, 2011; complete papers due by August 1, 2011. Please send all paper and panel proposals to lessanepw@cofc.edu with your name, institution, title, email address, presentation title and format, along with a 150 word abstract, brief bio, and recent cv. Please put "Daughters proposal" in your subject line. Selected papers should follow MLA guidelines and have a maximum of ten pages, not including endnotes and/or bibliography. Presentations will be limited to twenty minutes. Visual artists wishing to display work that commemorates Julie Dash and Daughters of the Dust should send a high-resolution image of their work, along with a brief bio, and artist's statement by May 2, 2011. Artists are responsible for getting their work to Avery, and then we will insure the safe return for all accepted pieces. Information regarding registration, lodging, and symposium schedule will be available on the Avery Research Center's website beginning in March 2011. Contact information: Patricia Williams Lessane PhD, Executive Director, The Avery Research Center at The College of Charleston, 125 Bull Street, Charleston, South Carolina 29424, (p) 843-953-7234.

[Return to
table of contents]
---
Memories of Conflict and Disaster:
Oral History and the Politics of
Truth, Trauma, and Reconciliation
Denver, Colorado, October 12-16, 2011
The Oral History Association invites proposals for papers, panels, roundtables, and presentations for its 2011 annual meeting to be held October 12-16, 2011, at the Renaissance Hotel in Denver, Colorado. Meeting Theme: "Memories of Conflict and Disaster: Oral History and the Politics of Truth, Trauma, and Reconciliation." The 2011 OHA Annual Meeting is being held a month after the 10th anniversary of 9/11/2001. The past century has spawned more than this one grave event; 9/11 was one of a myriad of natural and manmade conflicts and disasters that have occurred throughout the world in the recent and more distant past. So naturally, the theme of this meeting reflects these timely topics. And as the subtitle suggests, we have lent a particular ear to the interpretation and preservation of these events in light of the search for truth, the documentation of trauma, and the quest for reconciliation. Cataclysmic conflicts and disasters destroy people and property. They also, however, offer the prospect of change and rebirth. Leaders seemingly try but rarely succeed to learn lessons from these types of events; ordinary people tell, gather, and preserve individual stories of loss, survival, resilience, and renewal. The documentation of such recent events in human history in a way that adheres to the OHA's best practices and standards can be tricky to navigate. Conflict and disaster need not be explosive or ground-shaking to shape the cultural landscape, and as such, we welcome a wide interpretation of the call for papers.

As with all previous OHA meetings, the Program Committee welcomes broad and diverse interpretations of the conference theme as reflected in proposals for panels, individual papers, performances, exhibits, and roundtables. We especially encourage presenters to think about nontraditional delivery models, such as interactive sessions, dialogic formats that engage audience, and use of digital media. Presenters are reminded to incorporate voice and image in their presentations. OHA is open to proposals from the variety of fields traditionally represented in our meetings, including history, folklore, literature, sociology, anthropology, American and ethnic studies, cultural studies, political science, information science and technology, communications, and urban studies. In recognition of the important work occurring outside the United States, we also hope to have a significant international presence at the meeting. And, as always, OHA welcomes proposals from independent scholars, community activists and organizers, archivists, librarians, museum curators, web designers, documentary producers, media artists, ethnographers, public historians, and all practitioners whose work is relevant to this meeting's focus on conflict or disaster.

Proposal format: For full sessions, submit a title, a session abstract of not more than two pages, and a one-page vita or resume for each participant. For individual proposals, submit a one-page abstract and a one-page vita or resume of the presenter. Each submission must be accompanied by a cover sheet, which can be found on the OHA website. The deadline for submission of all proposals is Friday, January 21, 2011. All proposals should be submitted via email to oha@dickinson.edu, or if available, through an online submission page to be determined later. The cover sheet, which can be downloaded from our website, and all proposal documents must be combined into one attachment in Microsoft Word format. Please do not send the documents as separate attachments. If you do not receive email confirmation by Monday, February 7, 2011, please contact the OHA office to make sure your submission has been received. Proposal queries may be directed to: Jennifer Abraham, Louisiana State University, 2011 Program Co-Chair: jabrah1@lsu.edu.

[Return to
table of contents]
---
Moving Communities and Networks
in the Era of the Trans-Atlantic Slave Trade
Chicago, January 6-9, 2012


Moving Communities and Networks in the Era of the Trans-Atlantic Slave Trade, a multi-session workshop to be convened at American Historical Association Meeting, Chicago, January 6-9, 2012. In the last years scholars have paid attention to the formation of communities and networks across and beyond the Atlantic Ocean during the period of the trans-Atlantic slave trade. In several regions, these communities‹often constituted of enslaved and freed men and women who returned from the Americas to Africa, as well as slave merchants‹contributed to the development of commercial, cultural, and religious exchanges that sometimes continued after the end of the Atlantic slave trade. All over and beyond the Atlantic basin these networks were supported by individuals such as local chiefs, captains, crewmembers, interpreters, overseers, and other employees, who can hardly be defined only as victims or perpetrators, but rather as in-betweens who played essential roles in the slave trade. The activities and the way these individuals and groups identify themselves changed over time depending on personal ties, and the local and trans-Atlantic contexts. Suitable papers will examine economic activities, traditions, as well as cultural and religious practices developed by these networks and communities during the period of the trans-Atlantic slave trade. Papers developing comparative analysis and/or focusing on the role of in-betweens and other social actors who supported the slave trade are particularly welcomed.

Please send your paper proposal no later than February 1st 2011 to: aaraujo@howard.edu or analucia.araujo@gmail.com. Paper proposals in English must contain: paper's title; abstract (up to 300 words); biographical paragraph (up to 250 words, no curriculum vitae, please); correct mailing and e-mail address; audiovisual needs, if any. Chairs and commentators, please send: biographical paragraph (up to 250 words, no curriculum vitae, please); correct mailing and e-mail addresses. Please note: abstracts of accepted proposals will be posted on the AHA program website; papers must be submitted on December 1st 2011 to be posted on the conference website. Ana Lucia Araujo, Assistant Professor, Howard University, Department of History, Frederick Douglass Memorial Hall, 2441 6th Street N.W., Room 302, Washington D.C., United States, 20059, Phone number: 202-806-9362, http://www.coas.howard.edu/history/faculty_Araujo.html.

[Return to
table of contents]
---
Call for Papers: Generations of Feminism
Thirdspace: A Journal of Feminist Theory and Culture


The editors of Thirdspace: A Journal of Feminist Theory and Culture invite submissions for a themed issue of their journal, "Generations of Feminism." We welcome papers on subjects including (but not limited to): Contemporary and historical debates and discussions about generational divides within feminisms; Reflections on geographic and global distinctions within debates and discussions about generationality and feminism; The politics of seniority and generation in feminist organizations, activist groups, and academic communities; The notion of feminist "waves" and its remaking, conceptualization, and contemporary relevance; The issue of "mother-daughter" dynamics within feminist movements and theories, and in society more broadly; The ways in which race, class, and sexuality impact (or are left out of, or marginalized within) debates about feminism and generationality; How different generations of feminists define and reshape ideologies and practices of feminisms.

To be considered for this special issue, submissions must be received by February 28th, 2011. We welcome submissions from a wide range of disciplinary and geographical perspectives. Submissions from researchers working within, or among, the disciplines of geography, sociology, literature, area studies, cultural studies, film/media studies, art, history, education, law, and women's/gender studies are particularly encouraged. We accept the submission of work from scholars of any rank or affiliation, and encourage submissions from emerging feminist scholars, including graduate students. All submissions to the journal must be submitted electronically through our online submission process. All submissions are peer-reviewed by established, senior feminist scholars. For more information on our publishing policies see: http://www.thirdspace.ca/journal/about/editorialPolicies. To submit: Please follow our online submission process at http://www.thirdspace.ca/journal/about/submissions. For more information, please contact us at info@thirdspace.ca.

[Return to
table of contents]
---
Book Review

Gwendolyn Midlo Hall. Slavery and African Ethnicities in the Americas: Restoring the Links. Chapel Hill: University of North Carolina Press, 2007. 248 pp, 24 illustrations, bibliography, index. $19.95 paperback. ISBN 978-0-8078-5862-2.

Reviewed for the African Diaspora Archeology Newsletter by Patrick H. Morgan, S&ME, Inc., Charleston, SC



At first glance, the book Midlo Hall delivers the reader appears typical of a historical ethnic study but upon closer examination the book explores the intricacies of African ethnicity and the desirable qualities of each ethnicity employed that were so desirable for the institution itself. Midlo Hall looks at every angle of the slave trade with regards to ethnicity. Perhaps in a different study this may be an overload of information, but the greater picture established by the analysis of African ethnicity imported into Colonial and Antebellum America, Brazil, and the Caribbean creates a well crafted analysis of the African Diaspora.

In terms of her data sets, the author employs a series of internet accessible databases concerning the slave trade, both published by other scholars and herself. This publicly accessible data allows the reader to have access to the raw data that underpins the production of this and other similar works. The ability for the public, researchers and lay people alike, to access this data lies at the heart of Midlo Hall's desire for "a better-informed discussion of African cultural influences in various regions in the Americas" (p. 165).

The book is divided into seven chapters. The author's goal of the book may ultimately be to make "invisible Africans visible" (also the title of Chapter 2). At the very least it is one of several that the author must achieve for the book to be a successful example of ethnic studies. If Midlo Hall's goals for Chapters 1 and 2 are to introduce the reader to the intricacies of African ethnic groups and the study of the African Diaspora as a whole, she succeeds. Additionally she wades through the records found on both sides of the Atlantic to infer meaning from the tangled jargon and missing data.

Chapter 3 discusses the myths associated with the idea of a diverse African ethnic background and how the reality was that ethnic groups were clustered regionally in America. She summarily concludes, giving proper thought, that "although Africa is a huge continent with many different peoples, only some of them were involved in the Atlantic slave trade, and relatively few African ethnicities were brought to the Americas in significant numbers" (p. 57). She goes on to discuss the idea that slave ships were scooping up Africans wherever they could be found was false. In fact, she explains that in many cases, slaves were transported from few places along the coast to create a shorter stay on the slave ship for the enslaved. This ensured that more enslaved Africans had the potential to survive and thus protect the ultimate profits of investors.

In addition, Midlo Hall discusses the reasons for the clustering of ethnic groups in America. She establishes a chain of history for the Atlantic slave trade that begins with the Portuguese and their African holdings and that ultimately includes such as Britain, Spain, Holland and France. The clustering theory she presents is established solidly in documentary evidence. For example, Midlo Hall writes that specific crops in Africa needed specialists. In the case of rice, the areas where this crop prevailed in Africa are where slaves were acquired to establish and cultivate the crop in America. In South Carolina, for example, of the total 556 voyages to the colony, 44% came from the rice-cultivating regions of Senegambia and Upper Guinea. Other areas such as Georgia, Florida, Northeast Brazil and the Mississippi Delta have even higher percentages of voyages from Senegambia and Upper Guinea further illustrating Midlo Hall's reasoning for the clustering. Other reasons for the clustering had to do with socialization and the idea that the majority of slave owners wanted their slaves fractionalized, while not wholly untrue, was generally misconstrued.

While Chapter 3 focuses on the overall reasons for the clustering ethnic groups with the Transatlantic slave trade, Chapters 4-6, focus on specific locales in Africa that are notable epicenters of the African Diaspora. Chapter 4 looks at Greater Senegambia and Upper Guinea, the area where the rice cultivation specialty is highest. Because of the knowledge of rice cultivation, Senegambians were clustered more in the American colonies than anywhere else in the Americas.

Chapter 5 concentrates on Lower Guinea: Ivory Coast, Gold Coast, Slave Coast/Bight of Benin, while Chapter 6 takes a close examination of Lower Guinea: Bight of Biafra. In these chapters she tackles the difficult question in regard to the identity of African ethnicities in the Americas. In particular she uses the example of the Mina people to show the inconsistency of slavers, slave owners, record keepers and modern day scholars. She examines why the reoccurring use of "Mina," an ethnic group whose name is used in a variety of ways over time is problematic. The author uses this example to "illustrate the pitfalls of seizing on obvious, nominal similarities to identify African ethnicities" (p. 114). Additionally she establishes how ethnic groups vary with relation to geographical locations such as the 'Gold Coast,' 'Ivory Coast,' i.e. that are named for the natural resource found in that region and how these monikers can add confusion to African ethnicity. She discusses the Igbo, an ethnicity in Africa that has been overlooked traditionally with regards to African ethnicities in the Americas. Here, Midlo Hall adequately discusses how Igbo women, in particular, because of low infant mortality rates were a highly valuable asset in the continuation of slavery. Within Chapter 7, Midlo Hall discusses the Bantulands of West Central Africa and Mozambique. She explains that the slave trade began quite early in this region and ended very late. The clustering of Africans in the Americas can be seen periodically. Africans from Angola are settled in the east coast of South America; the Kongo in the Caribbean and the U.S. coastal regions; and the Bantu, which are found in clusters in all parts of the Americas.

It is clear that Midlo Hall wants to reestablish the links that only remain in the remaining documentary evidence she and other scholars have sought to keep intact. With this work she accomplishes that goal. She is able to relate a documentary poor history by utilizing the document riches contained within the slave databases she has utilized. For matters concerning the American Archaeologist, especially where ethnic studies may arise, this book provides an invaluable resource. Despite the lack of recorded information with regards to slaves, slavery, and the documentation of their roots, this book is a very good example of how much information does exist and when utilized properly, can provide a wealth of knowledge concerning the African Diaspora.

Editor's note: Dr. Hall also maintains a searchable online database, entitled Afro-Louisiana History and Genealogy.

[Return to table of contents]


---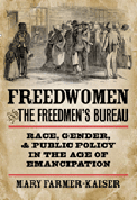 H-NET BOOK REVIEW
Published by H-CivWar, http://www.h-net.org/~civwar/ (Nov. 2010).

Mary Farmer-Kaiser. Freedwomen and the Freedmen's Bureau: Race, Gender, and Public Policy in the Age of Emancipation. New York Fordham University Press, 2010. xiv + 275 pp. $80.00 (cloth), ISBN 978-0-8232-3211-6; $26.00 (paper), ISBN 978-0-8232-3212-3.

Reviewed for H-CivWar by Mark Elliott, University of North Carolina, Greensboro

Protecting Freedwomen and Children: The Gendered Presumptions of Reconstruction



Established by an act of Congress in March 1865, the Bureau of Refugees, Freedmen and Abandoned Lands was a hasty improvisation designed by Republican congressmen to avert mass starvation and suffering, protect the rule of law and the rights of laborers, and provide the foundation for economic health and peace to return to the South in the aftermath of the Civil War. Its task was unprecedented, and highly controversial, for an agency of the federal government. Prevailing economic theories left little room for government intervention into the economy on behalf of labor, while matters of courtroom justice and disaster relief were traditionally left to local administration and private charities. But, these were unprecedented times and the Republican-led Congress felt a weighty responsibility. The immense social crisis looming that made the bureau necessary came as a direct consequence of U.S. policies--namely the physical destruction of the South wrought by the U.S. armed forces, and the socioeconomic upheaval that resulted from Lincoln's policy of emancipation. Dubbed the "Freedmen's Bureau," the bureau's efforts quickly became consumed with the plight of former slaves and the political objective of establishing the success of emancipation. It would have to do so with limited resources and in the face of a furious opposition (that included the president of the United States) tirelessly denouncing it as an unconstitutional abuse of federal power.

Understandably, in light of its importance, historians of Reconstruction have scrutinized the actions of the Freedmen's Bureau in painstaking detail in plentiful local and generalized studies. It is unsurprising, too, that the reputation of the bureau has risen and fallen along with the broader historiographical trends on Reconstruction. In the 1950s, revisionist historians John Cox and LaWanda Cox rescued the "misrepresented Bureau" from the vilifications of the Dunning school scholars who depicted it as a corrupt and partisan Republican machine. The Coxes helped launch the modern debates over the bureau by emphasizing its achievements, especially in protecting freedpeople's rights and upholding the law.[1] Others were not as impressed. A loosely defined wave of scholarship from the 1960s through the 1980s -- known to specialists as "post-revisionism" -- highlighted the conservatism of the bureau's agenda, which they regarded as compromised by its commitment to capitalism and hamstrung by paternalistic attitudes toward freedpeople akin to those of the southern planters. Eric Foner's 1988 historiographical landmark work Reconstruction: America's Unfinished Revolution elegantly synthesized these contrasting viewpoints by arguing that the bureau's genuine commitment to black advancement was constrained, and at times undercut, by the predominating "free labor ideology" of the Republican Party that placed too much faith in market solutions and failed to reckon with the cultural power of an entrenched racial caste system in the South. Yet, Foner clearly admired the dogged determination of the bureau's leaders in the face of entrenched opposition and regarded the bureau's achievements as considerable in light of the political and ideological constraints of the times.[2]

More than twenty years after Foner's Reconstruction, the historical literature on Reconstruction and the Freedmen's Bureau continues to thrive and expand. Mary Farmer-Kaiser's Freedwomen and the Freedmen's Bureau: Race, Gender and Public Policy in the Age of Emancipation is the latest of a number of important new works to highlight the role of women and gender in Reconstruction, joining notable books by Nancy D. Bercaw, Peter Bardaglio, Laura F. Edwards, Carol Faulkner, Thavolia Glymph, Susan E. O'Donovan, Hannah Rosen, Leslie A. Schwalm, Amy Dru Stanley, and Karen Zipf.[3] In both her approach to the evidence and her argument, Farmer-Kaiser speaks directly to the prevailing historiography on the Freedmen's Bureau.[4] First, she seeks to correct the widespread presumption, echoed by many of the above-named authors, that the Freedmen's Bureau administered its policies without taking gender into consideration. Secondly, she asserts that freedwomen were active agents in forcing bureau agents to consider gender by appealing to the special need for government to protect and assist them as "defenseless" women. In order to demonstrate this, she looks beyond high-level policymakers at the state and federal level and combs through the records of the bureau on the local level in four states -- Virginia, Georgia, Louisiana, and Texas -- to uncover the "gendered responses" of local bureau agents to complaints registered by freedwomen (p. 12). She finds that the duty to protect mothers and children was deeply ingrained in the minds of the white middle-class men who served as local agents for the bureau. Close examination of these records show that freedwomen often, but not always, made allies of these agents by appealing to their predisposition to protect mothers and children.

In many ways, Farmer-Kaiser's book exemplifies much of the post-Foner writing on Reconstruction by upholding Foner's paradigm while modifying some of his conclusions. In particular, she begins with Foner's premise that adherence to the "free labor ideology" controlled the response of the bureau agents to conditions in the South, but she adds a gendered dimension to northern ideology that was largely absent from Foner's account. At the heart of Foner's thesis is his judgment that "The Freedmen's Bureau was not, in reality, the agent of the planters, nor was it precisely the agent of the former slaves. It can best be understood as the agent of the northern free labor ideology itself."[5] Farmer-Kaiser strongly endorses this assessment, but she deepens our understanding of this ideology by exploring the "gendered" notion of freedom embedded within it that structured the bureau's attitude towards freedwomen. Her first chapter describes the importance of "true womanhood" to the free labor economic model. From the viewpoint of bureau agents, freedwomen were natural dependents whose proper social and economic role was to cultivate domestic order as wives and mothers. Thus, encouraging women to embrace marriage, motherhood, and middle-class morality was as essential to the free labor ideology as labor contracts and market hegemony.

After providing the intellectual contours of "gendered freedom" in chapter 1, Kaiser-Farmer goes on to examine how presumptions about gender roles shaped the major day-to-day tasks of the Freedmen's Bureau. In four separate chapters, she examines how the bureau performed the following tasks: 1) distributing emergency relief; 2) negotiating and enforcing fair labor contracts; 3) reuniting families and determining custody of freed children; and 4) administering justice in bureau and military courts. One famous area of the bureau's work that Kaiser-Farmer chooses to exclude from her study is its leadership in facilitating the establishment of both public and private schools. Because the bureau did not actually run the schools once they were opened, its relationship with schools was mostly advisory and thus she considers it beyond the scope of the bureau's official duties. This exclusion makes sense within the restricted definition of her study, but it contributes to what may be an overly tight focus on official bureau duties that obscures the collaborations between the bureau and other public and private institutions. As a result, this study portrays the bureau agents and freedwomen somewhat in vacuum, with a laser-like concentration on their direct interactions that sometimes neglects the wider context in which the bureau agents worked hand-in-hand with missionaries, teachers, and school administrators who were carrying out their own "gendered" reconstruction of the South. How these allies influenced the bureau's agents, and how the bureau shared some of its responsibilities to these organizations are important questions left unexplored by this study.

Farmer-Kaiser offers copious evidence to support her theses. In the early days of the Freedmen's Bureau, the bureau favored freedwomen and children over freedmen in distributing relief. She presents stunning statistics that indicate that freedwomen received the bulk of relief support -- as much as 85 percent in some places -- as agents sympathized with widowed wives and abandoned mothers in need, while often rejecting the claims of able-bodied men. Farmer-Kaiser attributes this phenomenon to the Victorian presumptions of bureau workers, who feared that relief to men would promote idleness and create a dependency on government charity -- an especial concern of General Oliver O. Howard, head of the bureau. For stern moralists like Howard, widowed/deserted wives and mothers constituted "the deserving poor" while unemployed men were often "undeserving" idlers. Freedmen's Bureau agents reflected this attitude in their expectation that freedmen ought to assume the role of household provider, which resulted in a willingness to assist women and children whose male providers were absent or unable to perform their role. The men themselves received little sympathy.

One aspect of the "free labor ideology" that Kaiser-Farmer illuminates is the silent gendered presumptions of free market theory. Whereas men were presumed to possess the freedom to enter into a binding contract, married women were not. Marriage contracts trumped labor contracts in the minds of most bureau agents. The question of whether freedwomen ought to work as laborers in the fields was a vexed one. In the North, women's work outside the home violated middle-class gender norms, though it was commonly accepted for working-class and immigrant women, while in the South white planters demanded that black women work in the fields as they did in slavery times. Though often anxious about "idleness" among married freedwomen, agents tended to defer to freedmen to determine the terms of labor for their wives (and children), even to the point of nullifying contracts that did not meet the husband's approval. Although the bureau's official policy was to regard those who refused to sign labor contracts as "vagrants" who could be compelled to work, this policy did not extend to women whose husbands prevented them from laboring in the fields (or limited their laboring hours). While empowering men as rulers of their household on the one hand, the free labor ideology opened a path for women to demand more of their husbands as well. Freedwomen lodged numerous complaints with the bureau against husbands who were abusive, spendthrift, or who otherwise failed to provide adequate support. Interestingly, bureau agents found themselves arbitrating discord within many a household and chastising husbands on behalf of freedwomen.

Although the voices of freedwomen are rarely heard directly in the bureau's records, Farmer-Kaiser does a nice job of culling a few representative stories, and partial stories, that convey the agency of freedwomen had in shaping the policies of Reconstruction. Freedwomen's agency comes through the strongest in their determination to assert their "parental rights" in establishing custody and control over their children. Freedwomen often enlisted the support of the bureau to reclaim their children from former masters who used apprenticeship laws -- or outright kidnapping -- to gain custody of minors to provide cheap labor. Complicating matters, no doubt, was the fact that these "fatherless" children were sometimes the unacknowledged offspring of the white families who claimed them. When seeking justice from the bureau, it became more difficult when black women were accused of being immoral or sexually promiscuous, which chilled the sympathy of the middle-class bureau agents. Bureau agents would not hesitate to remove children from households that were deemed immoral or from parents that could not provide the necessities of life. Though achieving mixed success, freedwomen nevertheless showed an unflinching determination to use whatever power they had to reunite their families and regain custody of their children.

Because of the limitations of her sources, Farmer-Kaiser's book reveals more about the "free labor ideology" and public policy than it does about the thoughts and perceptions of the freedwomen. To what degree did the freedwomen accept or reject middle-class domestic ideals? Were their attempts to play upon northern gender presumptions in their dealings with the bureau merely strategic, or did they share in some of those presumptions? One wonders how the relationships between freedwomen and the middle-class northern white women they encountered in bureau-founded schools and Protestant missions compared with the dynamic between them and the male bureau agents. To what degree were northern white women mediators or facilitators of their complaints to the Freedmen's Bureau? This is not to rob freedwomen of agency, but merely to complicate the context -- a complex cultural encounter with northern men and women -- that provided circumstances of their agency.

Examining the bureau agents' interactions with the private organizations and missionary groups might shed some light on their actions as well. What might appear as a cold-blooded adherence to free market doctrine may appear differently if the same bureau agents who refused to provide government "charity" to able-bodied men did not hesitate to send those men to the missionaries next door. The line between public and private was certainly blurred in the project of Reconstruction, and the extent to which the existence of other sources of northern philanthropy and relief shaped the interactions of freedpeople and bureau agents needs to be considered. Facing the harsh political backlash, the agents of the Freedmen's Bureau surely thought it wise to place as much responsibility for Reconstruction as possible in private hands to deflect the accusation that it provided a government dole to "lazy" blacks. More attention to public-private collaborations is needed, generally, in the study of the Reconstruction period.

Farmer-Kaiser's contribution to the literature is significant in that she is the first scholar to examine in a book-length study how the policies of the Freedmen's Bureau were shaped by gender ideologies. In this endeavor, she has succeeded admirably. The myth that bureau agents remained steadfastly blind to gender differences as the strictures of free labor theory seemed to imply has been definitively exposed. This book is also an important contribution to the history of gender and public policy that follows in the path of scholars like Theda Skocpol and Linda Gordon who have analyzed similar gender presumptions at work in the evolution of the modern welfare state prior to the New Deal. Future studies of Reconstruction, I hope, will explore the ramifications of this insight in a broader context and begin to explore the other ways in which the agents of Reconstruction -- both governmental and nongovernmental -- acted in ways that did not conform to gender-blind economic doctrines and free market mantras.

Notes

[1]. John Cox and LaWanda Cox, "General O.O. Howard and the 'Misrepresented Bureau,'" Journal of Southern History 19 (November 1953): 427-456. Although W. E. B. Du Bois made a strong revisionist case for the Freedmen's Bureau decades in advance of the Coxes, the historical profession largely ignored his work until the 1960s. The revisionist wave of scholarship that the Coxes inaugurated culminated with the landmark studies, John Hope Franklin, Reconstruction After the Civil War (Chicago: University of Chicago Press, 1961); and Kenneth Stampp, The Era of Reconstruction, 1865-1877 (New York: Alfred A. Knopf, 1965).

[2]. Eric Foner, Reconstruction: America's Unfinished Revolution, 1863-1877 (New York: Harper & Row, 1988). Two influential examples of post-revisionism are William S. McFeely, Yankee Stepfather: General O.O. Howard and the Freedmen (New Haven: Yale University Press, 1968); and Leon F. Litwack, Been in the Storm So Long: The Aftermath of Slavery (New York: Alfred A. Knopf, 1979).

[3]. Surprisingly, the explosion of works that examine gender in the Reconstruction period failed to warrant a chapter of its own in the otherwise comprehensive review of the historiography edited by Thomas J. Brown, Reconstructions: New Perspectives on the Postbellum United States (New York: Oxford University Press, 2006). The major works are: Nancy Dunlap Bercaw, Gendered Freedoms: Race, Rights, and the Politics of Household in the Delta, 1861-1875 (Gainesville: University of Florida Press, 2003); Peter Bardaglio, Reconstructing the Household: Families, Sex, and the Law in the Nineteenth-Century South (Chapel Hill: University of North Carolina Press, 1995); Laura F. Edwards, Gendered Strife and Confusion: The Political Culture of Reconstruction (Urbana: University of Illinios, 1997); Carol Faulkner, Women's Radical Reconstruction: The Freedmen's Aid Movement (Philadelphia: University of Pennsylvania Press, 2004); Thavolia Glymph, Out of the House of Bondage: The Transformation of the Plantation Household (Cambridge: Cambridge University Press, 2008); Susan E. O'Donovan, Becoming Free in the Cotton South (Cambridge: Harvard University Press, 2007); Hannah Rosen, Terror in the Heart of Freedom: Citizenship, Sexual Violence, and the Meaning of Race in the Postemancipation South (Chapel Hill: University of North Carolina Press, 2009); Leslie A. Schwalm, A Hard Fight For We: Women's Transition from Slavery to Freedom in South Carolina (Urbana: University of Illinois Press, 1997); Amy Dru Stanley, From Bondage to Contract: Wage Labor, Marriage, and the Market in the Age of Slave Emancipation (Cambridge: Cambridge University Press, 1998);and Karin L. Zipf, Labor of Innocents: Forced Apprenticeship in North Carolina, 1715-1919 (Baton Rouge: Louisiana State University Press, 2005).

[4]. What has been called the "New Freedmen's Bureau Historiography" is reviewed in John David Smith, "'The Work It Did Not Do Because It Could Not': Georgia and the 'New' Freemen's Bureau Historiography," Georgia Historical Quarterly 82 (Summer 1998): 331-349; Paul A. Cimbala and Randall M. Miller, eds., The Freedmen's Bureau and Reconstruction: Reconsiderations (New York: Fordham University Press, 1999); and Robert Harrison, "New Representations of a 'Misrepresented Bureau': Reflections on Recent Scholarship on the Freedmen's Bureau," American Nineteenth Century History 8 (June 2007): 205-229.

[5]. Eric Foner, Politics and Ideology in the Age of the Civil War (New York: Oxford University Press, 1980), 101.

Copyright (c) 2010 by H-Net, all rights reserved. H-Net permits the redistribution and reprinting of this work for nonprofit, educational purposes. This work is licensed under a Creative Commons Attribution-Noncommercial-No Derivative Works 3.0 United States License.

[Return to table of contents]


---

H-NET BOOK REVIEW
Published by H-Florida, http://www.h-net.org/~florida/ (Nov. 2010).

Frank Andre Guridy. Forging Diaspora: Afro-Cubans and African Americans in a World of Empire and Jim Crow. University of North Carolina Press, 2010. xiv + 270 pp., $59.95 (cloth), ISBN 978-0-8078-3361-2; $22.95 (paper), ISBN 978-0-8078-7103-4.

Reviewed for H-Florida by Jeff Donnelly, Miami Design Preservation League

Ninety Miles Away, But Not So Far Apart



Frank Andre Guridy has produced a fascinating study of "cross national exchange between Afro-Cubans and African Americans" (p. 2). While the focus of this book is on four specific stories, the author's ambitions extend to commentary on the phenomenon of diaspora, the awareness and kaleidoscopic expression of a people's migration in multiple national and temporal contexts. Guridy contends that "Afro-descended peoples in Cuba and the United States came to identify themselves as being part of a transcultural African diaspora, an identification that did not contradict black aspirations for national citizenship" (p. 4). In development of his thesis, Guridy has selected four exemplary moments in U.S. and Cuban republican history: Booker T. Washington's effort to enroll Afro-Cubans in his Tuskegee Institute, the role of Garveyism in Cuba, the interface of the Harlem Renaissance and afrocubanismo, and the development of Afrocentric tourism in Cuba and the United States before the Cuban Revolution.

Guridy has uncovered a Tuskegee-Cuba connection not widely noted in other commentary. From archival sources, Guridy documents the efforts of Washington to enable African-descended students from other nations, including Cuba, to attend his Tuskegee Institute. Guridy concludes that Cubans attending Tuskegee were able to use that experience as a way to achieve upward mobility in Cuban society, especially in the field of architecture, a program that attracted most of the successful male Afro-Cubans at Tuskegee. The building housing the major twentieth-century Afro-Cuban cultural center, Club Atenas, was designed by a Tuskegee alumnus, Luis Delfin Valdes.

In his second example, Guridy points out that Cuba had more "divisions" or chapters of Marcus Garvey's Universal Negro Improvement Association (UNIA) than any other country outside the United States. Garvey's cosmopolitan movement not only involved people of varying nationalities, but also relied on the efforts of many whose life stories included extensive migrations among Caribbean countries and the United States. These migrations, in Guridy's view, contributed to the creation of a diasporic consciousness, sometimes expressed as "the Negro peoples of the world." Guridy also locates the role of Garveyism in Cuba, highlighting the tensions the UNIA movement produced in a society not fully comfortable with its multiracial reality and its racial hierarchies.

Langston Hughes appears in the third segment of Guridy's story, which includes a detailed account of Hughes and his search for the "heartbeat and songbeat of Africa" in Cuba (p. 135). This is perhaps the most developed section of Forging Diaspora and where the specific examples selected by Guridy best exemplify his thesis: African Americans and Afro-Cubans discovered a commonality without losing their nationality. Poetry, art, sculpture, and music all figure in the development of this section, but the most vivid moments occur when Hughes discovers that the patrons and musicians of the Afro-Cuban dance halls are "Mi gente" (p. 133).

The final section of Guridy's work describes the advent of African American tourism in Cuba and Afro-Cuban visits to the United States. In both cases, the tourists had to overcome obstacles arising from racial discrimination, and Guridy provides some revealing examples of the comparison and contrast between the racial hierarchies of the United States and Cuba. In this section, racial uplift, advocacy for civil rights, and black entrepreneurship combine in complex ways, delineating and overcoming the racialization of leisure in both countries. Guridy highlights the role of Howard University in this period.

Guridy relates each of these four stories in a felicitous summation of his extensive archival research. He provides, from each of the stories, evidence that both African Americans and Afro-Cubans developed an awareness of their common experience and national differences through their contacts. His work presumes some basic knowledge of African American history in the United States, the imperial project of the United States, the history of race relations in the Cuban republic, and the wider intellectual and cultural context of negritude. At the end, Guridy's book provokes more questions than it provides answers. Forging Diaspora will encourage readers to explore more deeply by demonstrating that substantial understanding of any one of these topics requires a better understanding of the others.

Guridy discussed his book further in the context of American imperialism and the African diapora at the African American History Panel at the Harlem Book Fair, on July 10, 2010. In this discussion, He offered a more concise statement of his concept of the African diaspora. His comments can be heard or read at http://www.c-spanvideo.org/program/294543-6&showFullAbstract=1.

Copyright (c) 2010 by H-Net, all rights reserved. H-Net permits the redistribution and reprinting of this work for nonprofit, educational purposes. This work is licensed under a Creative Commons Attribution-Noncommercial-No Derivative Works 3.0 United States License.

[Return to table of contents]



©2010 African Diaspora Archaeology Network
Copyright and all rights reserved by
individual authors for each article.
Please send comments, suggestions, or questions
to Chris Fennell at cfennell@illinois.edu
or Christopher Barton at tua94766@temple.edu
Last updated: December 27, 2010
Text only menu
Search