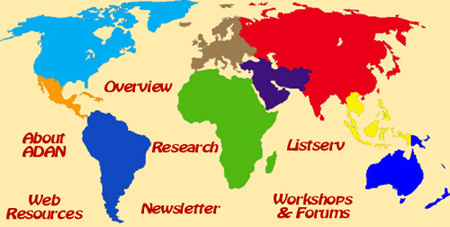 June 2010 Newsletter
ISSN: 1933-8651
In this issue we present the following articles, news, announcements, and reviews:
Articles, Essays, and ReportsNews and AnnouncementsConferences and Calls for PapersBook Reviews
---
Obscuring the Inequalities of Slavery:
Identifying Differential Access to Ceramics at Monticello
By Kari Lentz
From the 1770s to the 1790s Thomas Jefferson, the third president of the United States, resided at Monticello. This paper will focus on the lives of the enslaved African Americans who worked and lived on his estate during that time. Historical documents and archaeological materials are used to investigate the relationship between spatial proximity of slave quarters to Jefferson's mansion. Building on Diana Crader's work on faunal remains from Mulberry Row and William Adams' and Sarah Boling's scholarship on ceramics owned by enslaved African Americans on antebellum Georgian plantations, this paper attempts to unravel the complex patterns of economic consumption within the slave society at Monticello. By utilizing the Digital Archaeological Archive of Comparative Slavery (DAACS) database this analysis produces original research on how enslaved African Americans obtained expensive ceramic vessels and what this pattern of consumption meant from the perspectives of Jefferson and the enslaved individuals living at Monticello. An analysis of the value and variability between the ceramic assemblages from Mulberry Row, Sites 7 and 8, and the Elizabeth Hemings site reveal that these individuals had differential access to costly ceramic goods. This article asserts that differential access to high-priced ceramics was related to the proximity of the enslaved individuals to Jefferson's mansion, which is consistent with a model wherein Jefferson distributed expensive ceramics to the slaves closest to his mansion in order to obscure the brutal inequalities of slavery from his view and the view of his visitors. [Read or download this full article here in Adobe .pdf format >>>].

[Return to table of contents]


---
The Sexton's House Has a Ritual Concealment:
Late Nineteenth-Century Negotiations of Double Consciousness
at a Black Family Home in Sussex County, New Jersey
By Megan E. Springate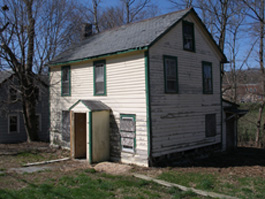 An archaeological data recovery was recently completed by Richard Grubb & Associates, Inc. at the Cooper-Mann House site (28-Sx-399), owned from 1862 through 1909 by the Manns, a free black family in Sussex Borough (formerly known as Deckertown), Sussex County, New Jersey. These excavations were done in advance of a New Jersey Department of Transportation (NJDOT) project to realign State Route 23 through the area; the Cooper-Mann House site was considered significant for its long association with the Mann family. Excavations were conducted in 1999 around the exterior of the house, and in 2008, in the building's interior prior to demolition. Prior to excavations, the interior walls of the house were removed as part of asbestos remediation; this left the framing of the house open for inspection and investigation.

In addition to several features and deposits associated with the family, a protective ritual concealment was identified. Two other possible concealments were present, though the ritual nature of them is ambiguous. Analysis of the archaeological data, in conjunction with the documentary record shows that, beginning around the third quarter of the nineteenth century, the Mann family actively engaged the vastly white Deckertown community, exemplified by their becoming members of the local Presbyterian Church. William Mann served as a church official -- a sexton -- for that congregation. At the same time, the family chose to engage more with the local market economy, and to spend money to display and assert their social status in ways meaningful both to the white community and to other blacks. The material remains left by the Mann family show their negotiation of what W.E.B. Du Bois termed the "double consciousness" of many blacks living in America. This article documents the ritual concealment, and places it in the context of the Mann family's experience. [Read or download this full article here in Adobe .pdf format >>>].

[Return to table of contents]


---
Diggin' Uncle Ben and Aunt Jemima:
Battling Myth through Archaeology
By Kelley Deetz
While slavery ended over 150 years ago, its legacy permeates our social, cognitive and material worlds. Boxes of Aunt Jemima Pancake mix and Uncle Ben's Rice stock our grocers' shelves, while using the image of enslaved cooks to authenticate their products. This mythical cook is so engrained in America's culture and consciousness that we have neglected to interrogate this widely accepted memory. My dissertation redefines the mythical "slave cook" and has uncovered their rich and complex history and role in plantation culture. Archaeological data is critical in re-informing contemporary mythical ideas about enslaved cooks and their kitchens, and helps reshape their legacy in America's cultural history.

In order to understand the context of this study, it is important to define the myth of the "slave cook." During the nineteenth century, Abolitionist literature began presenting the horrors of Southern slavery, depicting a brutal and inhumane society. Southern planters, responding to this trend, argued that their slaves, especially those working in the house, were treated like family, and in this romanticized moment, the iconic "slave cook" was born. As the twentieth century rolled in, advertisements using the "black cook" image proved successful as they helped sell premixed baking products, syrups, cereals and rice. Aunt Jemima became a household name along with Rastus and Uncle Ben. American consumers, eager for a quickly prepared meal, reached for these "slave in a box" products at alarming rates. [Read or download this full article here in Adobe .pdf format >>>].

[Return to table of contents]


---
The Loss of the Slave Ship Fly
at the Florida Keys in 1789
By Gail Swanson
The archipelago named the Florida Keys begins just south of Miami at the end of the mainland Florida peninsula and continues down and westward to the Dry Tortugas. Offshore of the islands is a living coral reef which has long proven very dangerous to shipping. The sea lane past the Keys leads to the Gulf Stream, and for centuries has been traveled by nearly all vessels leaving Havana, the Gulf of Mexico, the western Caribbean and northern South America. There are perhaps a thousand shipwrecks off the Florida Keys. Seven are known to be the remains of "slavers" -- vessels used in the transport of individuals abducted into slavery. Only two, the "Ivory Wreck" and the British slaver Henrietta Marie, lost unladen in a storm in 1700, have been discovered.

This article examines the history of one of the undiscovered wrecks -- that of a British ship named the Fly, in route from Jamaica directly to Sierra Leone when she was lost in 1789. Because of the documentation of this vessel's construction, voyages, and wrecking, and especially because of a related narrative by the great abolitionist Thomas Clarkson, this shipwreck would be of great interest if ever located. The sight in Bristol, England, of a sloop named the Fly, which later was wrecked at the Florida Keys, led to a thorough examination of that vessel by Thomas Clarkson (1760-1846), who employed data concerning such ships in advocating the end of the trans-Atlantic slave trade. [Read or download this full article here in Adobe .pdf format >>>].

[Return to table of contents]


---
2010 Black History Showcase
Features African American Archaeology
By Patrice L. Jeppson*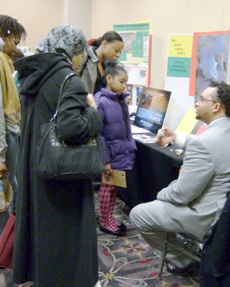 The Black History Showcase is an annual exposition mounted in Philadelphia, Pennsylvania. Its stated mission is reinforcing African American pride and fostering tolerance and respect through promoting a greater awareness for and appreciation of African American history.

Held each February in celebration of Black History Month, this event draws upon "real people, real artifacts, and real stories" to highlight African American history and achievement. Now in its seventh year, the Showcase attracts thousands of African American members of the general public for an "'edutainment' (education + entertainment)" experience. This year, for the first time, African American archaeology was featured among the Showcase exhibits. Students and faculty from Cheyney University of Pennsylvania (the nation's oldest Historical Black College or University (HBCU)), teamed with a National Park Service Archeologist (Jed Levin) to present information about Philadelphia-area African American historical archaeology.

In specific, this new exhibit aimed to demonstrate how Philadelphia African American history can be learned through archaeology. The recent excavations done at the President's House and the James Dexter archaeological sites in Independence National Historical Park were featured, as were cultural resource excavations conducted several decades ago at the First African Baptist Church Burial Grounds. Archaeological site maps, excavation photographs, and reproductions of artifacts were used to engage the Showcase audience. The archaeologists and university students spent more than 16 hours in one-on-one conversation with adults and children explaining how archaeological evidence can inform us today about past African American cultural experience.

The Black History Showcase was founded by Everett Staten and is produced by Everett & Associates, Inc., in association with the Proud African American Foundation, a nonprofit organization dedicated to promoting awareness and appreciation of African American history. The event's annual exhibitors include, among others, surviving members of the Tuskegee Airman, members of the 9th and 10th Calvary of the Buffalo Soldiers, and players from the Philadelphia Stars Negro League. Exhibits feature, among other topics, Black Inventors, the Civil War-era Colored Troops, the history of Blacks in Ice Hockey, and material culture evidence from the slavery and Jim Crow-eras. This year's Showcase was co-sponsored by the U.S. Census, the Philadelphia Tribune, the Philadelphia Sunday Sun, the Philadelphia Inquirer, Philly.com, Neighborhood Leader, Teenshop, Heath Partners, Scoop USA, American Legacy, WURD and WDAS radio stations, the Proud African American Foundation, the Philadelphia Convention Center, Colgate-Palmolive, OARC, KD Communications Group, and Everett & Associates, Inc. The Black History Showcase is always free and is open to all. The vast majority of the audience attendees are African American residents from the city of Philadelphia, South Eastern Pennsylvania, and Southern New Jersey.

The Cheyney University participants included an Adjunct Assistant Professor of Anthropology in the Department of Social and Behavioral Sciences (Patrice L. Jeppson, Ph.D.), students from CU Anthropology courses (Tiffany Stanley and Vinta Gains from "Introduction to Anthropology" and "Culture, Language, and Society") and an Internship student (Tristan Hebron) whose hands-on heritage policy research has helped lay groundwork for erecting an historical marker at the Dexter archaeological site. The class of students from CU's upper division "Culture, Language and Society" course (Spring 2010) assisted in designing the display materials used during the Showcase. These students suggested the graphics to be used, advised on color and presentation layout, and helped in the writing of titles and text captions. Dr. Shirley Parham, CU Professor of History, contributed several of the graphics used in the display as did NPS Archeologist Jed Levin and Mitchell Smith of MediaSmith Productions (the documentary filmmaker of In The Shadow of Liberty: The Search for James Dexter, an historical archaeology documentary).

Participation in the Black History Showcase was sought out both to share African American archaeological research findings with the community and to encourage awareness of archaeology as an endeavor important for African Americans. The Showcase highlights African History and presents African Americans who have achieved greatness in sports, the military, and science. In approaching the organizers, a case was put forth that offered not only viable history resources but expressed a need for African Americans to become involved in the field of archaeology and recognize it as a possible profession. Recent HBCU experience in trying to recruit African Americans for the field of historical archaeology was referenced (including Eleanor King, "Buffalo Soldiers, Apaches, and Cultural Heritage Education," Heritage Management 1(2):19-33, 2008). It was posited that until African Americans saw African Americans involved in archaeology, archaeology of the African Diaspora would continue to be conducted by non-African Americans. Founder Staten appreciated this reality and made a special point of stating that, in their participation, the students from Cheyney University would be serving as valuable educational role models for the community.

Important insights were garnered from this community outreach experience. It was learned through engaging the many thousands of African American citizens from the region that many local African Americans are aware of the President's House archaeological research and remain vested in its outcome, commonly inquiring as to the status of the site's commemorative 'memorial' development. It was discovered through conversations that James Dexter and the archaeological research related to his life are not well known by the local African American community as of yet. Many Showcase attendees remembered the First African Baptist Church cemetery excavations which took place more than two decades ago. Few had realized that this early African American historical archaeology research fed into a recent, 2007, African American Museum of Philadelphia exhibit about early Philadelphia African American history (Jeppson 2007). And while most Showcase attendees were aware that the institution of slavery existed in the North, our engagement activities indicated that members of the local African American community often appear unaware of the rich cultural history of Free Blacks in early America. Future prospects for archaeological outreach via the Black History Showcase look promising. Showcase Founder Everett Staten stated that he was pleased to have African American archaeology included in the Black History Showcase and has invited the presenters to return next year.

* Patrice L. Jeppson, Ph.D., Department of Social and Behavioral Sciences, Cheyney University of Pennsylvania.

[Return to table of contents]


---
Graduate Programs in African Diaspora Archaeology
By Christopher Fennell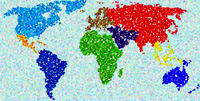 The following compilation provides a list of graduate school programs that can provide concentration and training in African diaspora archaeology subjects. There are currently very few programs that formally offer a graduate degree specializing in this subject area, but there exist many programs that offer graduate degrees in archaeology and include faculty members who specialize in African diaspora subject areas. The list set out below was compiled based on published directories, information provided by the departments, and details sent to me by graduate students and faculty members. This list of programs and of related faculty within each program is not exhaustive. If you are aware of other graduate programs in African diaspora archaeology not listed below, or of additional details concerning those that are listed, please contact me so I can include such information in future compilations.
In addition, graduate programs in African diaspora studies or African-American studies can also be of great benefit to a graduate student seeking to specialize in related archaeological approaches. A list of such programs in African diaspora studies and African-American studies is available on the web site of the Association for Studies of Worldwide African Diasporas, at: www.aswadiaspora.org/links.html.
---
Ball State University
Department of Anthropology
Degrees offered: MA

Information from the school: The Master of Arts program with a major in anthropology is designed to provide students with a broad understanding of general anthropology as well as experience in a specialized area so they may pursue doctoral studies if desired. Core courses in three major subdisciplines are required, as well as a theory course. Related faculty: Mark Groover. Address: Department of Anthropology, Ball State University, Muncie, Indiana 47306-0435, USA. / Ph: (765) 285-1575 / Email: mdgroover@bsu.edu / URL: www.bsu.edu/anthropology/.



---
College of William and Mary
Department of Anthropology
Degrees offered: MA, PhD

Information from the school: William & Mary offers graduate an MA in historical archaeology and an MA/PHD in anthropology. The MA is a terminal degree preparing students for careers in historical archaeology and related professions. The MA/PhD program with specializations in historical archaeology and historical anthropology prepares students for research and teaching in anthropology. The anthropology of the past, meeting place of ethnography, historical documentation and material culture, informs the program in historical anthropology. Faculty research emphasizes the archaeology and historical anthropology of colonialism in the Atlantic world as rooted in the Chesapeake, the Caribbean, West Africa, the American Northeast, and the American Southeast. The MA and MA/PhD programs offer faculty expertise and research opportunities for the study of African Diasporic communities in North America as well as pluralistic colonial encounters involving Natives, enslaved Africans, and European colonists. The Department's Institute for Historical Biology maintains databases on the bioarchaeology of the Diaspora. Related faculty: Michael Blakey, Joanne Bowen, Kathleen Bragdon, Marley Brown, Martin Gallivan, Grey Gundaker, Neil Norman, Frederick Smith. Address: PO Box 8795 Washington Hall, Room 103 Williamsburg, VA 23187-8795, USA. / Ph: (757) 221 1056/1055 / Fx: (757) 221-1066 / E-mail: kamurp@wm.edu / URL: www.wm.edu/anthropology.



---

George Washington University
Department of Anthropology
Degrees offered: MA

Information from the school: Our master's program in Anthropology is designed to provide students with a comprehensive grounding in the four fields of the discipline: biological anthropology, sociocultural anthropology, archaeology, and linguistics. In addition, students may choose a formal concentration in folklife, international development, or museum training. Related faculty: John Michael Vlach, Stephen C. Lubkemann, and Pamela Cressey (head of Alexandria Public Archaeology). Address: Hortense Amsterdam House, 2110 G Street, NW, Washington, DC 20052 USA / URL: www.gwu.edu/~anth/ (G.W.U.) and oha.alexandriava.gov/archaeology/ (Alexandria Archaeology)



---

Illinois State University
Department of Sociology and Anthropology
Degrees offered: MA/MS

Information from school's website: The Master's Degree in Archaeology has three concentrations: Historical Archaeology, Prehistoric Archaeology, and Bioarchaeology. We emphasize fieldwork, analytical methods, theory, and writing for all of our students regardless of their concentration. The Historical Archaeology concentration focuses on the archaeology of the modern world, with ongoing faculty projects in the archaeology of Spanish colonization, post-colonial French communities, and the 19th-century U.S. and El Salvador. While not the sole focus of these projects, the African Diaspora community is nonetheless an important aspect of each and forms part of the overall research design. The multidisciplinary approach of the master's program allows students to take courses from an array of departments, including Sociology & Anthropology, History, and Geology-Geography. Related faculty: Elizabeth M. Scott, Kathryn E. Sampeck. Departmental address: 332 Schroeder Hall, Campus Box 4660, Illinois State University, Normal, IL 61790-4660, USA. URL: http://sociologyanthropology.illinoisstate.edu/.



---

Oxford University
School of Archaeology
Degrees offered: MSt/MSc/MPhil, PhD

Information from school's website: Graduate students are admitted by the Committee for the School of Archaeology. They may opt to study for a Master's degree of one or two year's duration (MSt, MSc, MPhil), or choose to embark on a degree by research (MLitt, DPhil). Prior completion of a Master's degree or equivalent, either at Oxford or elsewhere, is normally required for research students, but it is possible to begin graduate work at Oxford as a Master's student (for instance the MSt in World Archaeology or MSt Landscape Archaeology) and subsequently decide to proceed onward to the doctoral level. Graduate students in archaeology and their supervisors are grouped around the Institute of Archaeology and the Research Laboratory for Archaeology and the History of Art (archaeological science), which together form the School of Archaeology. In addition to the library resources of the Bodleian Library, the Sackler Library and the Balfour Library include dedicated archaeological collections. Archaeological research and teaching also makes use of the university's extensive Museum collections, especially the world archaeology collections of the Pitt Rivers Museum, and the collections of the Ashmolean Museum. Related faculty for African diaspora archaeology include: Chris Gosden (archaeology and colonialism), Dan Hicks (historical archaeology), Gary Lock (landscape archaeology), and Peter Mitchell (African archaeology). Address: School of Archaeology, 36 Beaumont Street, Oxford, OX1 2PG; Ph: +44 (0) 1865 278240, 613011 / Email: administrator@arch.ox.ac.uk; URL: www.arch.ox.ac.uk/.



---

San Diego State University
Department of Anthropology
Degrees offered: MA

Information from the school: When the graduate student enrolls in the Department and achieves conditional or classified graduate standing, he/she is advised by the Graduate Coordinator to develop a program of study designed to provide the breadth, depth, and specialized training necessary for a professional career in Anthropology. Related faculty: Seth Mallios. Address: 5500 Campanile Dr., San Diego, CA 92182-6040, USA. / Ph: (619) 594-5527 / Fx: (619) 594-1150 / E-mail: anthro@mail.sdsu.edu / URL: www-rohan.sdsu.edu/~anthro.



---

Sonoma State University
Department of Anthropology
Degrees offered: MA (in Cultural Resource Management)

Information from school's website: The Master of Arts in Cultural Resources Management (CRM) involves the identification, evaluation and preservation of cultural resources, as mandated by cultural resources legislation and guided by scientific standards within the planning process. The primary objective of the Master's Program in Cultural Resources Management is to produce professionals who are competent in the methods and techniques appropriate for filling cultural resources management and related positions, and who have the theoretical background necessary for research design and data collection and analysis. Related faculty: Adrian Praetzellis, Margaret Purser. Address: 1801 East Cotati Ave., Rohnert Park, CA 94928 USA / URL: www.sonoma.edu/anthropology/.



---

Syracuse University
Department of Anthropology
Degrees offered: MA, PhD

Information from the school: Graduate study in historical archaeology combines the theory and techniques of anthropological archaeology with the use of documentary source material and oral historical information. The department offers a strong program in historical archaeology, with particular focus on Africa and the African diaspora. However, graduate students receive holistic, four field training in anthropology. In addition, the placement of the Department within the Maxwell School of Citizenship and Public Affairs and the College of Arts and Sciences affords access to related programs such as museum studies, historic preservation, policy planning, and environmental studies. The program is unique in having several faculty with research foci on Africa and the African diaspora. Related archaeology faculty: Theresa Singleton, Christopher DeCorse, and Douglas Armstrong. Other Department faculty include bioarchaeologist Shannon Novak and cultural anthropology faculty: John Burdick (Brazil, Latin America), Peter Castro (Africa); Deborah Pellow (West Africa). Address: 209 Maxwell Hall Syracuse, NY 13244-1090, USA / Ph: (315) 443-2200 / Fx: (315) 443-4860 / URL: www.maxwell.syr.edu/anthro/.



---

University College London
Institute of Archaeology
Degrees offered: MA, PhD

A major centre of African archaeological research in the UK, the UCL Institute of Archaeology has been offering taught courses and research supervision in African Diaspora Archaeology since 2002. MA students wishing to concentrate on the African Diaspora should take the MA Archaeology, with course options to include 'The Archaeology of Ethnicity' (normally includes Diaspora lectures) and 'Archaeologies of African Political Traditions' (which considers, in part, the archaeology of slavery in Africa). MA students may also sit in on the upper-level undergraduate course 'The Archaeology of the African Diaspora' (offered in alternate years, including the 2010/2011 academic year). Research dissertation supervision at MA and PhD level is offered in West African and East African historical archaeology, African Diaspora archaeology and African cultural heritage management. In addition to UCL's own excellent library facilities, students can access the collections of SOAS and the British Library, both being within 1km of the Institute. UCL has a substantial Africanist graduate community and a history of outreach and involvement, including the hosting of public British Academy and AHRC funded symposia on slavery and the diaspora commemorating Abolition 2007. Related faculty for African and African Diaspora archaeology include: Kevin MacDonald (Historical Archaeology of West Africa and the Diaspora), Andrew Reid (Historical Archaeology of Eastern Africa), and Paul Basu (West African Cultural Heritage/ Museum Studies). Address: 31-34 Gordon Square, London WC1H OPY, United Kingdom; Ph +44 (0) 7679 7495. Graduate inquiries should be routed to graduate programmes administrator Lisa Daniel (l.daniel@ucl.ac.uk). URL: www.ucl.ac.uk/archaeology/.



---

University of Arkansas
Department of Anthropology
Degrees offered: MA, PhD

Information from the school: The University of Arkansas offers many approaches to the various subfields and topics within anthropology. The program draws upon the strengths of 17 department-based faculty members as well as 15 Ph.D.-holding archeologists within the Arkansas Archeological Survey who have graduate faculty status with the university. As well as offering B.A., M.A., and Ph.D. degrees, the department cooperates in an interdisciplinary Ph.D. program in Environmental Dynamics. Related faculty: Drs. George Sabo (archeology and ethnohistory), Robert Mainfort (archeology and cemetery studies) and JoAnn D'Alisera (cultural anthropology, African Diaspora) and Drs. Jamie Brandon and Leslie "Skip" Stewart-Abernathy (both historical archeologists with interests in the African Diaspora, Off-Campus, Arkansas Archeological Survey). Old Main 330, University of Arkansas, Fayetteville, AR 72701 / Ph: (479) 575-2508; Fx: (479) 575-6595 / URL: www.uark.edu/depts/anthinfo/.



---

University of California, Berkeley
Department of Anthropology
Degrees offered: MA, PhD

Information from the school: Graduate study at Berkeley is characterized by its extraordinary breadth. The department's award-winning faculty, both social cultural and archeaological, engage diverse analytic and substantive problems and work across the United States and around the world. Related faculty: Laurie Wilkie, Paul Farnsworth. Address: 232 Kroeber Hall Berkeley, CA 94720-3710, USA / Ph: (510) 642-3391 / Fx: (510) 643-8557 / URL: anthropology.berkeley.edu.



---

University of California, Santa Cruz
Department of Anthropology
Degrees offered: MA, PhD

Information from the school: The doctoral program in anthropological archaeology focuses on the archaeology of late precolonial societies in Africa (East and West) and the Americas (North America and Mesoamerica), and the archaeology of colonial encounters in both regions. The program's focus on the archaeology of colonialism is augmented by departmental strengths in the cultural anthropology of colonial encounters and is further enriched by interdisciplinary relationships with faculty in History, Latino and Latin American Studies, and History of Art and Visual Culture. Doctoral students choose methodological concentrations in any of the following: ceramic materials analysis, household archaeology, landscape archaeology, spatial analysis, zooarchaeology, and chemical and isotopic characterization studies, singly or in combination. Related faculty: Chelsea Blackmore, Diane Gifford-Gonzalez, Judith Habicht-Mauche, and J. Cameron Monroe. Other Related faculty/staff: William Hildebrandt. Address: Department of Anthropology, University of California, Santa Cruz, CA 95060 USA; phone: (831) 459-9920; fax: (831) 459-5900; URL: http://anthro.ucsc.edu.



---

University of Chicago
Department of Anthropology
Degrees offered: MA, PhD

Information from the school: The Department of Anthropology at the University of Chicago offers a doctoral program with a concentration in archaeology, sociocultural, or linguistic anthropology. Although an M.A. degree is earned during progress towards the Ph.D., no one is admitted to the Department solely to seek the M.A. Related faculty: Shannon Lee Dawdy (U.S., Cuba, Mexico; historical archaeology), Michael Dietler (Kenya, ethnoarchaeology), Stephan Palmie (Cuba), François Richard (West Africa, Senegal), Jean Comaroff and John Comaroff (South Africa). Address: 1126 East 59th Street, Chicago, IL 60637 USA / URL: anthropology.uchicago.edu/.



---

University of Florida
Department of Anthropology
Degrees offered: MA, PhD

Information from the school: Anthropologists at the University of Florida carry out research in Africa, Latin America and the Carribbean, North America, Asia, and Europe. Our teaching program, at both the graduate and undergraduate levels and in all fields of the discipline, reflects a strong commitment to a cross-cultural, comparative perspective. We have continuing relationships with universities, research centers and institutes, government bureaus, non-governmental institutions, and development agencies in Latin America, the Caribbean, sub-Saharan Africa, and Asia. Related faculty: James Davidson and Peter Schmidt. Address: PO 117305, Gainesville, FL 32611, USA / Ph: (352) 392-2253 / Fx: (352) 392-6929 / URL: www.anthro.ufl.edu.



---

University of Houston
Department of Anthropology
Degrees offered: MA

Information from the school: The programs of the Department of Anthropology focus on archaeology and ethnology as specialized areas of study. A diverse curriculum provides courses in the major subfields of ethnology, archaeology, linguistics, and physical anthropology as well as in the study of important world regions, such as the United States, North America, Latin America, and Africa. Related faculty: Kenneth Brown. Address: 233 McElhinney, Houston, TX 77204-5020, USA / Ph: (713) 743-3780 / Fx: (713) 743-4287 / E-mail: edmiller@mail.uh.edu / URL: www.uh.edu.



---

University of Idaho
Department of Sociology and Anthropology
Degrees offered: MA

Information from the school: The University of Idaho's Department of Sociology and Anthropology offers a Master of Arts degree in Anthropology. This program includes class work, seminars, directed studies, independent research, a thesis, and a combined final oral exam and thesis defense. The curriculum provides sound training in general anthropology, archaeology, physical anthropology, and ethnology. Department research specialities include historical archaeology; prehistoric Northwest archaeology; Plateau Indian ethnography; human evolution; and indigenous peoples of South America. Related faculty: Mark Warner, Stacey Camp. Mailing Address: P.O. Box 441110, University of Idaho Moscow, Idaho 83844-1110 USA / URL: www.class.uidaho.edu/soc_anthro/.



---

University of Illinois, Urbana-Champaign
Department of Anthropology
Degrees offered: MA, PhD

Information from the school: Our program offers M.A. and Ph.D. degrees, including a new M.A. track concentrating on Cultural Heritage and Landscape studies, offered in conjunction with the Department of Landscape Architecture. Our graduate program provides students with in-depth training and education in a range of theoretical and methodological approaches to archaeological investigations. Graduate research and coursework opportunities are also available through the University's African American Studies and Research Program and the Center for African Studies. Related faculty: Christopher Fennell, Helaine Silverman, Rebecca Ginsburg, and Norman Whitten (emeritus). Address: 109 Davenport Hall, 607 S Mathews Ave, Urbana, IL 61801, USA / Ph: (217) 333-3616 / Fx: (217) 244-3490 / E-mail: anthro@illinois.edu / URL: www.anthro.illinois.edu/.



---

University of Maryland
Department of Anthropology
Degrees offered: MAA, PhD

Information from the school: The University of Maryland's Master of Applied Anthropology (MAA) is a two-year professional degree designed for those students interested in the practice and application of anthropology. Program emphasis is on the utilization of anthropological knowledge in practical settings. Among the courses offered are studies in archaeology, biology, and cultural anthropology. Skills are developed through a summer internship and enhanced by working with professionals in related fields.

The Department of Anthropology offers a Ph.D. Training is offered to historical archaeologists who wish to combine anthropological orientations with the application of archaeology in many settings, including government agencies, cultural resource management firms, and universities. Opportunities for research exist with Archaeology in Annapolis, Baltimore, the National Park Service, and in the three archaeological laboratories within the department. The University of Maryland, College Park has a wide-range of scholars from many disciplines and offers opportunities throughout the fields concentrating in the African diaspora. The University provides an environment for broad-based scholarship in diasporic studies in general.

Related faculty: Stephen A. Brighton, Mark P. Leone, Paul A. Shackel, Fatimah L.C. Jackson, and Tony L. Whitehead. Address: 1111 Woods Hall, College Park, MD 20742-7415, USA / Ph: (301) 405-1423 / Fx: (301) 314-8305 / E-mail:anthgrad@deans.umd.edu / URL: www.bsos.umd.edu/anth.



---

University of Massachusetts, Amherst
Department of Anthropology
Degrees offered: MA, PhD

Information from the school: The graduate program in anthropology enables students to become fully competent anthropologists. Robert Paynter and Whitney Battle-Baptiste conduct research at the W.E.B. Du Bois Boyhood Homesite. This work is greatly facilitated by access to and staff support for Du Bois's Papers that are in the Special Collections and Archives of the W.E.B. Du Bois Library at UMass Amherst. Whitney Battle-Baptiste also conducts research on plantations in the U.S. Southeast, the materiality of contemporary African American popular culture, and Black Feminist theory and its implications for archaeology. Enoch Page and Amanda Walker Johnson, colleagues in the Anthropology Department, share research interests in related aspects of the African Diaspora. Faculty and students in the W.E.B. Du Bois Department of Afro American Studies, in the Du Bois Center of the University Library, in the Center for Heritage and Society, and in the Public History Program of the History Department also share interests in African Diasporic research and presenting it to this country's many publics. Related faculty: Whitney Battle-Baptiste, Robert Paynter, Enoch Page, and Amanda Walker Johnson. Address: 215 Machmer Hall, Amherst, MA 01003 USA / URL: www.umass.edu/anthro/.



---

University of Massachusetts, Boston
Department of Anthropology
Degrees offered: MA

Information from the school's website: Unlike many other programs in the U.S. that offer M.A. degrees in archaeology, the UMass Boston program is currently devoted solely to historical archaeology and its integration with anthropology and history. The sharpness of focus yet depth of coverage is made possible by the significant number of historical archaeologists and associated colleagues in the program's primary academic departments and affiliated research center, and their joint commitment to a significant set of critical themes in historical archaeology. Related faculty: Stephen Mrozowski. Address: Department of Anthropology, University of Massachusetts-Boston, Boston, MA 02125-3393 USA / Ph: 617-287-6854 / Fx: 617-287-6857/ URL: www.umb.edu/academics/departments/anthropology/.



---

University of Montana
Department of Anthropology
Degrees offered: MA, PhD

Information from the school: The Cultural Heritage Program is a way to earn either the M.A. or Ph.D. degree in Anthropology while focusing on methods and theories related to preserving the culture, heritage, and diversity of all peoples. It is designed to produce professionals in the many areas of culture heritage preservation who are firmly grounded in the fundamentals of anthropology. Related faculty: Kelly J. Dixon and Gregory Campbell. Address: Social Science Bldg 235, 32 Campus Drive Missoula, MT 59812, USA / Ph: (406) 243-2693 / Fx: (406) 243-4918 / E-mail: rehanna.olson@mso.umt.edu. / URL: www.umt.edu/anthro.



---

University of North Carolina, Chapel Hill
Department of Anthropology
Degrees offered: MA, PhD

Information from the school: The department offers advanced work leading to the master of arts and doctor of philosophy degrees. Students admitted into the graduate program are admitted for the Ph.D. degree. A master's degree may be taken as part of the program leading to the Ph.D. degree; however, a master's degree is not an essential part of the doctoral program. The Ph.D. degree requires specialization in a defined area of study and the completion of an acceptable dissertation treating some problem within this area. The Ph.D. program is quite flexible; any area or problem can be selected for study, provided it meets the approval of the student's adviser, Ph.D. committee, and the faculty. Part of the training of a professional anthropologist is based on a minimum of one year's fieldwork. Each student in archaeology is given the opportunity to work with the Department faculty and the professional staff of the Research Laboratories of Archaeology (RLA) in close and direct interaction to develop technical, observational, and decision-making skills in rigorous research situations. For all archaeology students, and especially those with a Southeastern focus, important resources and opportunities are available through the RLA. Although the RLA, a research center for Southeastern archaeology and ethnohistory, is administered separately from the Department of Anthropology, it interacts closely with the Department by providing fieldwork and laboratory opportunities, including assistantships, and by making available its facilities and collections. Related faculty: Anna Agbe-Davies, R. P. Stephen Davis, Glenn Hinson, Fatimah Jackson, Brett Riggs, C. Margaret Scarry, Karla Slocum, Vincas P Steponaitis. Address: CB No. 3115, 301 Alumni Building, Chapel Hill, NC 27599-3115 / Ph: (919) 962-1243 / Fx: (919) 962-1613 / E-mail:anthropology@unc.edu / URL: http://anthropology.unc.edu/.



---

University of Pennsylvania
Department of Anthropology
Degrees offered: MA, PhD

Information from the school: Our department is unique in that it offers a four-field approach, providing breadth of training. The core courses for the Masters (MA) and PhD programs provide an in-depth introduction to Anthropology as a whole. Because of the broad education offered, graduates and advanced students of the program would be qualified to teach in areas beyond their own specialty, resulting in multiple teaching opportunities. Historical Archaeology has been taught at Penn since 1960/1961 and there has been a graduate concentration in the discipline for over forty years. A number of Penn graduate students have worked on aspects of African Diaspora Archaeology carrying out projects in Africa (South Africa) itself and in both Latin American (West Indies) and in North America. Currently a number of students are very interested in the subject of plantations and in expanding the scope of such studies beyond North America. Related faculty: Robert Schuyler. Address: University Museum Rm. 323, 3260 South Street, Philadelphia, PA 19104-6398 USA / URL: www.sas.upenn.edu/anthro/.



---

University of South Carolina
Department of Anthropology
Degrees offered: MA, PhD

Information from the school: The Department offers the M.A. and, as of 2005, the Ph.D. in Anthropology. Our program offers instruction in the four traditional sub-fields of anthropology: archaeology, cultural anthropology, linguistic anthropology, and physical/biological anthropology. In this we are unusual. As of 1993, the American Anthropological Association had noted that only 28% of all departments had faculty in all of the four traditional sub-fields. While students are asked to specialize in one of these fields, we particularly seek students who wish to cross the boundaries between fields and combine them in their graduate work. Particular areas are African American historical archaeology (Kelly and Weik), African prehistoric archaeology and ethnoarchaeology (Casey), African historical archaeology (Kelly), Maroon studies (Weik), ethnobotany (Wagner), and Eastern North America (Wagner, King, and Cobb). The South Carolina Institute of Archaeology and Anthropology also has several archaeologists working on prehistoric and historic archaeology of the Southeast and a very large collection of materials from the state. Related faculty: Kenneth Kelly, Terrance Weik, Joanna Casey, Gail Wagner, Charles Cobb (Director, SCIAA), Adam King (SCIAA), and Leland Ferguson (emeritus). Address: 1512 Pendleton Street, Hamilton College Room 317, Columbia, SC 29208, USA / Ph: (803) 777-6500 / Fx: (803) 777-0259 / E-mail: anthroinfo@mailbox.sc.edu / URL: www.cas.sc.edu/ANTH/.



---

University of Southern Mississippi
Department of Anthropology and Sociology
Degrees offered: MA

Information from the school: The graduate program emphasizes exposure to the four fields of anthropology as a means of preparing for further graduate study, applying anthropological principles in the public service or government sectors, or teaching at the undergraduate level. At the same time we expect students to develop an in-depth grounding in their subfield of interest, from theoretical, methodological, and practice standpoints. We also encourage development of a personal research interest as quickly as possible, ultimately expressed as thesis research. We encourage students to explore topics about which the faculty can provide useful input either through coursework, directed reading, or personal expertise. Related faculty: Amy L. Young. Address: 118 College Dr., #5074, Hattiesburg, MS 39406-0001, USA / Ph: (601) 266-4306 / Fx: (601) 266-6373 / E-mail:antsoc@usm.edu / URL: www.usm.edu/antsoc.



---

University of Texas, Austin
Department of Anthropology
Degrees offered: MA, PhD

Information from the school: Archaeology at the University of Texas reflects the breadth of specialization of its faculty, and its strong links with other disciplines. The program enjoys strong ties with Geography, Classics, Latin American Studies, Asian Studies, Social, Cultural, Folklore and Public Culture, Linguistics, and Physical Anthropology. A strong and active group of graduate students, the presence of the Texas Archeological Research Lab, major CRM firms, and offices in State Government make Austin's community of archaeologists and related scholars exceptionally large and diverse. Graduate programs and tracks within Anthropology include the African diaspora graduate program, Borderlands, and Activist Anthropology. Related faculty in Archaeology and African Diaspora studies: Maria Franklin (historical archaeology, North America), Samuel Wilson (prehistory and ethnohistory, Caribbean), James Denbow (prehistory, Africa), Edmund Gordon (social anthropology, Latin America), Christen Smith (social anthropology, Latin America, race and gender), Joao Vargas (social anthropology, Brazil and North America), Jemima Pierre (social anthropology, West Africa and North America). Address: Department of Anthropology, 1 University Station C3200, Austin, TX 78712-0303, USA / Ph: (512) 471-4206 / Fx: (512) 471-6535 / for information on the anthropology graduate program and admissions contact Heather Nathanson-Flowers at H.Flowers@mail.utexas.edu / URL: www.utexas.edu/cola/depts/anthropology/.



---

University of Virginia
Department of Anthropology
Degrees offered: MA, PhD

Information from the school: The archaeology section of the Anthropology department includes five full-time and two part-time faculty. Faculty in closely related disciplines such as History, Architectural History, Art History and the Carter Woodson Institute add strong interdisciplinary strength to shared research interests in African and African American history, diaspora studies, African historical archaeologies, and material culture studies in the Eastern U.S., the Caribbean and West and East Africa. Shared interests in colonialism and slavery can be found across these areas of faculty and graduate student research. We emphasize the integration of anthropological theory with archaeological field methods and analytical approaches. Related Anthropology faculty: Jeffrey Hantman, Adria LaViolette, and Fraser Neiman. Address: PO Box 400120, Charlottesville, VA 22904-4120, USA / Ph: (434) 924-7044 / Fx: (434) 924-1350 / URL: www.virginia.edu/~anthro/.

[Return to table of contents]


---
University of Virginia Online Bibliography of Slavery
By Joseph C. Miller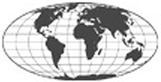 The Bibliography of Slavery, compiled over thirty years in annual supplements printed in Slavery and Abolition since its founding in 1980, is available to the public as a searchable on-line database at this URL: http://www2.vcdh.virginia.edu/bib/.

The database contains verified references (except as noted) to approximately 25,000 scholarly works on slavery and slaving in all academic disciplines and in all western European languages, worldwide and throughout human history, including modern times. It includes all known print materials published in scholarly formats since 1900, as well as digital scholarly journals, recent unpublished presentations at academic conferences, professional historical sites, and major museum exhibitions and catalogs. It is now current through 2007 and will be updated annually (with a one-year lag) with the ongoing annual supplements from Slavery and Abolition, now compiled by Thomas Thurston (Gilder-Lehrman Center for the Study of Slavery, Resistance and Abolition at Yale University).

Site sponsors include the Virginia Center for Digital History and the Institute for Advanced Technology in the Humanities at the University of Virginia, as well as the University's Carter G. Woodson Institute for African American and African History, the College and Graduate School of Arts & Sciences, and Office of the Vice-President and Provost. Other sponsors are the Gilder Lehrman Center for the Study of Slavery, Resistance, and Abolition, the Gilder Lehrman Institute of American History, and the Virginia Foundation for the Humanities.

Joseph C. Miller (Department of History)
Scot A. French (Director, Virginia Center for Digital History)
Worthy Martin (Acting Director, Institute for Advanced Technology in the Humanities).

[Return to table of contents]


---
New Book
In the Shadow of Slavery: Africa's Botanical Legacy in the Atlantic World
By Judith A. Carney and Richard Nicholas Rosomoff
University of California Press, Paperback
280 pp., 10 color illus., 10 photographs, 48 line illus.
ISBN-13: 978-0-520-25750-4, 2010.

Description from the Publisher: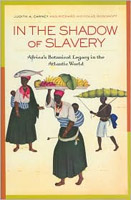 The transatlantic slave trade forced millions of Africans into bondage. Until the early nineteenth century, African slaves came to the Americas in greater numbers than Europeans. In the Shadow of Slavery provides a startling new assessment of the Atlantic slave trade and upends conventional wisdom by shifting attention from the crops slaves were forced to produce to the foods they planted for their own nourishment. Many familiar foods-millet, sorghum, coffee, okra, watermelon, and the "Asian" long bean, for example-are native to Africa, while commercial products such as Coca Cola, Worcestershire Sauce, and Palmolive Soap rely on African plants that were brought to the Americas on slave ships as provisions, medicines, cordage, and bedding. In this exciting, original, and groundbreaking book, Judith A. Carney and Richard Nicholas Rosomoff draw on archaeological records, oral histories, and the accounts of slave ship captains to show how slaves' food plots -- "botanical gardens of the dispossessed" -- became the incubators of African survival in the Americas and Africanized the foodways of plantation societies.

[Return to table of contents]


---
New Book
Discovering Black Vermont:
African American Farmers in Hinesburgh, Vermont, 1790-1890
By Elise A. Guyette
University of Vermont Press, Paperback
232 pp., ISBN-13: 978-1584657606, 2010.

Description from the Publisher:


An impressive work of historical recovery, Discovering Black Vermont tells the story of three generations of free blacks trying to build a life and community in northern Vermont in the years following statehood. By piecing together fragments of the history of free blacks in Vermont -- tax and estate records, journals, diaries, and the like -- the author recovers what is essentially a lost world, establishing a framework for using primary sources to document a forgotten past. The book is an invaluable resource for those conducting local history research and will serve as inspiration for high school and college students and their teachers. "Although Vermont was the first state to outlaw adult slavery in its Constitution, in 1777, racism still lurked in the Green Mountains. In delving into the lives of family members, Guyette didn't have anything as simple as a diary to work with. Instead, she had to rely on the experiences of other black Vermonters, as well as grand lists and pension and probate records, to get a feel for their lives. Other African-Americans in Vermont suffered vandalism, slander and lawsuits from their neighbors. The Clarks and the other Hinesburg families probably were not immune from such strife. Guyette believes that their story is integral to understanding Vermont today." -- Times Argus.

[Return to table of contents]


---
New Book
The Akan Diaspora in the Americas
By Kwasi Konadu
Oxford University Press, Hardcover
324 pp., ISBN-13: 978-0195390643, 2010.

Description from the Publisher:


In his groundbreaking study of the Akan diaspora, Konadu demonstrates how this cultural group originating in West Africa both engaged in and went beyond the familiar diasporic themes of maroonage, resistance, and freedom. Between the sixteenth and nineteenth centuries, the Akan never formed a majority among other Africans in the Americas. But their leadership skills in war and political organization, efficacy in medicinal plant use and spiritual practice, and culture archived in the musical traditions, language, and patterns of African diasporic life far outweighed their sheer numbers. Konadu argues that a composite Akan culture calibrated between the Gold Coast and forest fringe made the contributions of the Akan diaspora possible. The book examines the Akan experience in Guyana, Jamaica, Antigua, Barbados, former Danish and Dutch colonies, and North America, and how those early experiences foreground the modern engagement and movement of diasporic Africans and Akan people between Ghana and North America. Locating the Akan variable in the African diasporic equation allows scholars and students of the Americas to better understand how the diasporic quilt came to be and is still evolving.

[Return to table of contents]


---
New Book
The African Diaspora and the Disciplines
Edited by Tejumola Olaniyan and James H. Sweet
Indiana University Press, Paperback
376 pp., ISBN-13: 978-0253221919, 2010.

Description from the Publisher:


Focusing on the problems and conflicts of doing African diaspora research from various disciplinary perspectives, these essays situate, describe, and reflect on the current practice of diaspora scholarship. Tejumola Olaniyan, James H. Sweet, and the international group of contributors assembled here seek to enlarge understanding of how the diaspora is conceived and explore possibilities for the future of its study. With the aim of initiating interdisciplinary dialogue on the practice of African diaspora studies, they emphasize learning from new perspectives that take advantage of intersections between disciplines. Ultimately, they advocate a fuller sense of what it means to study the African diaspora in a truly global way. Contributors: Tejumola Olaniyan, James H. Sweet, Kim D. Butler, Fatimah L. C. Jackson, Latifa F. J. Borgelin, Judith A. Carney, Theresa A. Singleton, Paget Henry, Robert Fatton Jr., Olufemi Taiwo, Sandra L. Richards, Melvin L. Butler, Moyo Okediji, Grant Farred, Carolyn Cooper, Xolela Mangcu, and Jayne O. Ifekwunigwe.

[Return to table of contents]


---
New Book
African Systems of Slavery
Edited by Stephanie Beswick and Jay Spaulding
Africa World Press, Paperback, 304 pp.,
ISBN-13: 9781592217250, Oct. 2009.

Description from the Publisher: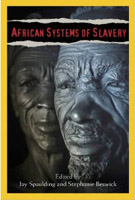 African Systems of Slavery continues a discussion opened by Suzanne Miers and Igor Kopytoff in 1977 with their seminal collection Slavery in Africa. The present volume contains new offerings by original contributors as well as valuable studies by newcomers who share the original editors' perspectives. These include a nuanced understanding of African institutions of human subordination and a preference for definitions and terminology rooted in African culture. While some African historical situations attained a status that would justify the application of concepts imported from the world of Atlantic or Islamic slavery, many did not, and the burden of this volume is to oppose the politically popular but intellectually highly reductionist tendency to do so. African slavery, in the first instance, should he approached on its own terms. The contributors address a variety of historical settings both old and new, from large kingdoms and decentralized small-scale communities, widely distributed across the reaches of an admittedly vast and complex continent. Implicit in their collective analysis is a critique of a conventional periodization of African slavery whereby the institution was primarily an Early Modem phenomenon, first introduced but then abolished by aliens at the price of a nineteenth and twentieth-century period of colonization. Rather, it would seem that diverse African systems of slavery not only long antedated the intrusion of Muslims and Europeans, and interacted in diverse complex ways with the challenges and opportunities posed by those intrusions, but may now also have arisen again in modem farms born of ancient cultural roots but expressed in very contemporary idioms. The search for true freedom continues.

Contributors: Suzanne Miers, Stephanie Beswick, Jay Spaulding, Martin A. Klein, Robert Baum, Raymond E. Dumett, Nwando Achebe, Randall Fegley, Robert Harms, Wyatt MacGaffey, and Randall Fegley.

[Return to table of contents]


---
New Book
Livestock, Sugar and Slavery:
Contested Terrain in Colonial Jamaica
By Verene Shepherd
Ian Randle Publishers, Paperback
325 pp., ISBN-13: 978-9766372569, 2009.

Description from the Publisher: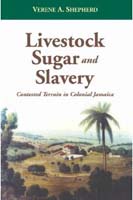 Livestock, Sugar and Slavery examines the evolution and expansion of the pen-keeping industry, the role and status of the pen-keepers and the experiences of the enslaved labourers on pens, a virtually unexplored area of Caribbean history. It argues that the relationship between those who raised livestock and those who grew sugar cane, while symbiotic in one sense, was also conflict-ridden in another. There were contests between sugar proprietors and pen-keepers over land, boundaries, enslaved labourers, and social and political status, demonstrating that the ranking game was intensely practised in the age of modernity. Complete with copious notes and an extensive bibliography, Livestock, Sugar and Slavery provides a comprehensive source material for students and academics interested in colonial Jamaica.

[Return to table of contents]


---
New Exhibit
African Continuum: Sacred Ceremonies and Rituals
Museum of the African Diaspora, San Francisco, California
March 20, 2010 to August 28, 2010.

Description from the Museum:


Bryan Wiley is a photojournalist who has traveled the Atlantic Black diaspora documenting altars and ritual practices by African descendants and in doing so, illuminates continuities in beliefs and customs of descendants of former slave populations. Wiley uses the concept of altar (a high place of veneration) as a vehicle for intersections in art and history. Altars, in many cultures represent sites of ritual communication that often open a pathway to divine consciousness with the supernatural world. They also act as a place of public social interaction and intervention that explores disruption and continuity of African peoples and their descendants.

Wiley has assembled his photographs of altar objects from Brazil, Haiti, Cuba, South Carolina and New Orleans into large ornate frames creating collages that reveal the blurred lines between sacred and secular worlds. Wiley's assembled images focus on the power of the natural elements, earth, wind, fire, and water as manifest in the deities venerated in the altars. Large photographs of the physical locales and the surrounding landscapes contextualize his interpretive installations creating a quiet atmosphere of reverence. Wiley reveals that the process of visiting the countries, gaining access to the rituals and ceremonies has profoundly impacted his art practice, "Since I've been on this journey, I have listened to my spiritual voice more" said Wiley (Lizzetta LeFalle-Collins, Ph.D., Collaborating Curator).

[Return to table of contents]


---
New Film
Slave Routes: Resistance, Abolition and Creative Progress
By Jayne Cortez, produced by Manthia Diawara
Third World Newsreel, http://www.twn.org
100 minutes, color, 2009.

Description from the Publisher:


From the 1400s to the 1800s millions of Africans were forcefully removed from Africa and shipped across the Atlantic to the so-called "New World." In 1808, the passage of the Transantlantic Slave Trade Act made transporting or importing slaves in the United States or its territories illegal. Slave Routes: Resistance, Abolition and Creative Progress was an international symposium held at New York University from October 9-11, 2008, to commemorate the 200th anniversary of the abolition of the Transatlantic Slave Trade by the United States. Distinguished scholars, writers, musicians, visual artists, and organizers from the United States, Africa, Europe, the Caribbean and Latin America convened to discuss slavery, the slave trade and its consequences, in plenary, panels, readings, performances, conversations and film/video screenings. Participants included Maya Angelou, Rex Nettleford, Amiri Baraka, Ali Mazrui, Nicole Lee, Randy Weston and many others. The documentary is an affirmation of the human spirit's ability to triumph over the worst horrors and brutalities, and to create new and dynamic ways of being in the world.

[Return to table of contents]


---
Journal of Pan African Studies
Special Issue: Revisiting Franz Fanon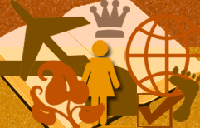 The Journal of Pan African Studies is inviting manuscript submissions for its special issue on Frantz Fanon, with guest editor Kurt B. Young. The broad focus of this issue will be to commemorate fifty years since Fanon's death with reflections on the scope, depth and impact of his life, activism and scholarship. The dedication of such an effort to Fanon's legacy is indeed timely. The significance of the Martiniquean psychiatrist, theoretician and revolutionary's legacy can be measured by his sustained relevance to generations of thinkers, practitioners, academics, and students.

The issue will explore these general themes: The life and times of Frantz Fanon; Fanon's intellectual contributions; Fanon and contemporary Africa;, and Fanon's Diasporic relevance. Possible manuscript topics may include: Emerging Perspectives on the life of Frantz Fanon; Rethinking and reconceptualizing Fanon; Négritude and culture in Fanonian thought; Fanon on consciousness and the anti-colonial struggle; Fanon and postcolonial discourse; Fanon in the Pan African context; Africa and the African Diaspora since Fanon; Fanon in the Caribbean radical tradition; Fanon and the Black radical tradition; Fanon and revolutionary Black nationalism in the United States.

General Guidelines: The Journal of Pan African Studies seeks works that: present original research methods/theory, add to a body of research, announce research findings, guide future research, explore theories, distribute new knowledge, present new ideas, invite discussion, introduce research reviews, and provide new terminology centered in Pan African Studies. Submitted articles should have: an introduction, literature review (annotated bibliographies accepted), a methodological construct, results, discussion, conclusions, and suggested steps for further research that can intellectually engage scholars, students and others with interest in African world community studies (Pan African Studies). As a trans-disciplinary scholarly journal devoted to a synthesis of African world community studies and research that works to ask questions and seek answers to critical contemporary and historical issues, based on an affirmative African centered logic and language of liberation, we have decided not to use the term 'tribe' or slaves in reference to the African experience. Therefore all contributors should acknowledge this policy before submitting content. The preferred alternative terms and concepts include 'ethnic group' and 'the enslaved.' In regards to the use of the word black, when it is used to indicate people of African heritage, we recommend that it be capitalized.

Submission requirements: The entire work, including a concise title, a 150 word abstract, and standard scholarly citations, should not exceed twenty-five (25) double-spaced pages. All manuscripts must be original (hence, not under consideration anywhere) and submitted to the guest editor in MS word format via e-mail. No drafts will be accepted. Only abstracts and full papers should be submitted. Do not place page numbers or paper title (on each page) on the manuscript. Place all notes and the bibliography at the end of the manuscript. Articles (or parts of articles) in languages other than English will be considered, however they must also be presented in English. All submissions must list the author's current affiliation and contact points (location, e-mail address, etc.). In regards to style (APA, MLA, Chicago, etc.), use what is standard in your area of study. Camera ready manuscripts will receive first preference in the publishing cycle. Manuscripts must be submitted no later than August 15, 2010. Final revised manuscripts will be due no later than October 15, 2010. Please submit manuscripts for the special issue as an email attachment in MSWord format to Kurt B. Young at: kurtbyoung@yahoo.com.

[Return to table of contents]


---
Emerging Perspectives in African Studies
Africanist Graduate Student Conference
Michigan State University, October 8-9, 2010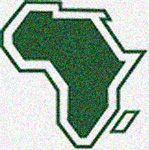 The fourth annual Africanist graduate student research conference at Michigan State University will focus on thetheme, "Emerging Perspectives in African Studies." This theme is meant to inspire graduate students focusing on African Studies, to explore new methodological, theoretical and topical directions among their peers and future colleagues. By doing so at MSU, one of the nation's first African Studies centers, the organizers hope graduate students will acknowledge their debt to those who have gone before them even as they work toward developing new perspectives in African studies. The purpose of the conference is to provide an opportunity for graduate students to discuss their research, receive constructive feedback, network with other students and scholars, and sharpen presentation skills in a comfortable and relaxed environment. Please note that we are especially seeking papers on Africans in Diaspora (or African Diasporas) in order to prepare students who will present at the 2010 African Studies Association Annual Meeting, "African Diaspora and Diasporas in Africa."

The conference is interdisciplinary and open to students at all levels of their graduate careers. The organizing committee invites papers from historical, political, sociological, anthropological, educational and literary perspectives. Students conducting research in the natural sciences, health, gender, and the arts are also highly encouraged to participate. Submissions may include research proposals, research designs, dissertation or thesis chapters, methodological models, work in progress, outlines of dissertations, and preliminary research findings. Beginning this year, we are also looking for experienced graduate students to serve as discussants for the panels. Interested discussants should be ABD and have research experience in Africa.

Abstracts Due: August 1, 2010; email submissions and questions to: msuasgc@msu.edu. Abstracts should include the author's name, address, institutional affiliation, email address, and phone number. In 300 words or less, provide a clearly identifiable thesis, information on methods and/or sources used, and describe the significance of the research to your field. Please also identify three key words. Interested discussants should send a curriculum vitae that includes areas of specialization. Students may also consider submitting a panel proposal, including an abstract for the panel and an abstract for each paper presenter. The panel abstract should include a statement about the panel topic and a brief summary of the arguments to be explored by contributing papers.

Because of the short time frame between abstract submission and conference date, we will require attendance confirmation by September 1, 2010. Accepted papers should be submitted by September 13, 2010 to allow discussants ample preparation time. More information can be found at the Conference's website (http://africa.msu.edu/gradconference) or you can join our Facebook group: MSU Africanist Graduate Student Conference.

[Return to table of contents]


---
Examining Race in the 21st Century
Monmouth University, November 11-13, 2010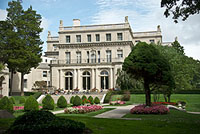 The idea of race continues to be controversial. In spite of different historical developments in various parts of the world, the meaning of race and its significance remains an open issue.

Some of the questions this conference seeks to address are: Why do the issues that surround race continue to be important? Is race a useful construct? How are systems of racial classification and identity manifested in social institutions and relationships? What are the parameters of race, racism, and the teaching of "race" in higher education? We seek individual papers, panels, workshops, and posters from multiple disciplinary perspectives that can include but are not restricted to the following topics: Race and identity in different cultures; Race, gender, ethnicity, color, and class; Race in the Obama era; Race and diversity in higher education; The concept of post-racialism in history and society; Race and popular culture; Race and urbanization; Race changes: Racial formation, then and now; Race and identity in local and global perspective; Race, continuity, and change; Implications of racial discourse; Race and ethnicity: similarities and differences; Race and power; Race, Gender, Class; Race and Labor; Race in Politics. Confirmed Speakers: Dr. Robin D.G. Kelley, University of Southern California; Dr. Paul Finkelman, Albany Law School; Dr. Isar P. Godreau, University of Puerto Rico, Cayey; Puerto Rico; Dr. Irene Silverblatt, Duke University; Dr. Rogers Smith, University of Pennsylvania; Dr. Tera W. Hunter, Princeton University.

Please send 250 word abstracts to secondbiennialraceconf@gmail.com by August 30, 2010. Please visit the website at www.monmouth.edu/race/ often for further updates. For more information, contact Hettie V. Williams, Lecturer, African American History, Department of History and Anthropology, hwilliam@monmouth.edu or Dr. Catherine Duckett, Associate Dean, School of Science, at cduckett@monmouth.edu.

[Return to table of contents]


---
Indian Ocean World Centre Conference
Enslavement, Bondage and the
Environment in the Indian Ocean World
McGill University, 2011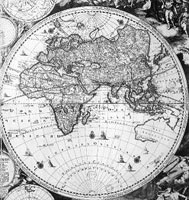 This is a call for papers for an interdisciplinary conference on enslavement, bondage and the environment in the Indian Ocean World (from Africa to the Middle East, South and Southeast Asia, and the Far East). A wide range of themes will be considered, including the following: the process of enslavement; natural disasters and enslavement; human-made disasters and enslavement; debt and enslavement; the slave trade; slavery; forced labour; migration and enslavement; the economy of servitude; the sex profile of servitude; collective enslavement; race and enslavement; religion and enslavement; agency in servitude.

The conference will follow the Avignon model. Papers will be distributed in advance. Authors do not read their papers. Sessions will be organised according to theme and will take the form of a discussion led by a discussant. Deadline for submission of abstracts (1 paragraph) is 30 September 2010. Responses will be distributed by 1 October 2010. Deadline for submission of accepted papers in English or French (max. 10,000 words in MS Word) is 15 February 2011. Kindly include with your abstract: Full name; Institution; Professional Title; Full Postal Address; Email; Designation as either an academic or a student registrant.

This event is sponsored by the Indian Ocean World Centre and SSHRC. Indian Ocean World Centre at McGill University is a research initiative and resource base established to promote the study of the history, economy and cultures of the lands and peoples of the Indian Ocean World -- from China to Southeast and South Asia, the Middle East and Africa. Additional information available from: Lori Callaghan, Peterson Hall, McGill University, 3460 McTavish Street, Room 100, Montréal, Quebec, Canada H3A 1X9, Tel: 514.398.6204.

[Return to table of contents]


---
State of African American Studies:
Methodology, Pedagogy, and Research
Schomburg Center for Research in Black Culture, January 6-8, 2011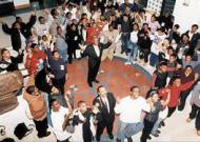 The Schomburg Center for Research in Black Culture and the Institute for Research on the African Diaspora in the Americas and the Caribbean at the City University of New York extend a call for papers for their regular conference on the state of scholarship in African American Studies. Entitled, The State of African American Studies: Methodology, Pedagogy, and Research, the conference will take place on January 6-8, 2011 at the Schomburg Center, located at 135th Street and Malcolm X Boulevard in Harlem, and the Graduate Center of the City University of New York, located at 365 Fifth Avenue. Complete panels and individual paper submissions related to the theme -- broadly conceived are invited from scholars and graduate students. In addition to papers in your academic areas of expertise, and on teaching and research methodologies, are particularly welcome submissions on labor, community engagement, gender, sexuality, visual culture, and relations in the disapora.

Proposals should be submitted electronically and must include your name, title of the paper, panel, or roundtable, and an abstract of 150 words. They should also include the institutional affiliation of each presenter, phone numbers, and email addresses. Submit proposals by November 1, 2010 to: Aisha al-Adawiya, State of African American Studies, Schomburg Center For Research in Black Culture, 515 Malcolm X Boulevard, New York NY 10037-1801. E-mail:aaladawiya@nypl.org.

[Return to table of contents]


---
Peoples, Publics, and Places of the Souths
Southern American Studies Conference
Georgia State University, February 17-19, 2011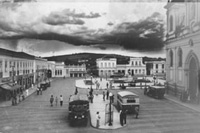 Georgia State University will host the SASA 2011 conference, Peoples, Publics, and Places of the Souths, in downtown Atlanta. We are excited to host a conference on the U.S., Hemispheric, and Global Souths in a city where they so prominently converge. Atlanta began as railroad junction designed to link the regions of the United States, and via their ports, the Atlantic and Pacific worlds. It is now a cosmopolitan metropolis, the home of migrants and settlers from around the globe and the nation's busiest airport. Atlanta, which some postulate is shorthand for Atlantica-Pacifica, has served and continues to serve as a crossroads, a switching point, and a terminus of the three souths.

We invite our colleagues in American Studies, Southern Studies, and all related fields of study to join us in interdisciplinary investigations of the interconnections among the U.S., Hemispheric, and Global Souths. As always, we encourage graduate students to present papers. SASA's Critoph Prize is an award for the best graduate student paper given at the conference; it includes a certificate and a check for $250 as well as recognition at the next SASA meeting. While we hope to attract a host of comparative, cross-cultural, transnational and transregional projects, we are open to a wide range of topics, panels, and presentations. Topics might include: Plantation economies and post-plantation cultures; Port cities, maritime networks, and aquatic regions; African-American return South migrations; Food ways, culinary cultures, sustainable agricultures; Queer capitals and communities; Vernacular architecture and regional identities; Questioning the solid South; Public cultures, public performances; Transregional and transoceanic artistic, cultural, and literary relations; New World and New Southern Studies; Monuments, memorials, and museums; Creole languages and lifeways; Post-First/Third World theorizations; Social movements across borders; Obama and the Three Souths; Postcolonialism and the U.S. South; Occupied territories and contested terrains; Political ecologies and economies; Indigenous nations and Native networks; African-American perspectives on the Souths; Southern Silicon Valleys.

Please send proposals that include a 150-200 word abstract and a one-page C.V. for each participant on an individual or session proposal to Christine Skwiot at cskwiot@gsu.edu. Deadline: September 15, 2010. Christine Skwiot, Assistant Professor of History, Co-Chair, Program in World History and Cultures, Advisor, B.I.S. in International Studies, Department of History, Georgia State University, Atlanta, Georgia.

[Return to table of contents]


---
Artistry of African/Diaspora Blacksmiths
15th Triennial Symposium on African Art
University of California, Los Angeles, March 23-26, 2011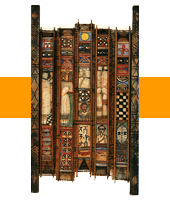 Call for presenters on the artistry of African/Diaspora blacksmiths for the 15th Triennial Symposium on African Art, University of California, Los Angeles, March 23-26, 2011. This is an open call for scholars to present on the topic of the artistry of African blacksmiths as part of a major traveling exhibition and publication project tentatively entitled Striking Iron: The Art of African Blacksmiths. We envision an exhibition of approximately 250 pieces of the very finest iron artwork from the entire continent, from earliest times to the present. Some objects may be combinations of iron and other metals, or smelting/forging related objects in other media, but the central emphasis will be on forged forms. Smelting, its histories, technologies, and cultural contexts will also be included. The publication will be a substantial edited volume of essays accompanied by a DVD. Topics may include, but are not limited to the following:

The Histories and Cultures of Iron in Africa - Origins; places; techniques/technologies of smelting and forging; independent inventions/diffusions; iron, trade, and state-formation; social/spiritual aspects of earliest iron-working sites, hunter-gatherers, herders, agriculturalists, complex societies; first Afro-Euro-Arab-South Asian contacts; trade in goods and humans; colonial impact; post/neo-colonial influences and realities; the arts of blacksmiths' societies, including masking, songs, musical instruments, dance regalia, etc.; others?

Forms/Intentions - Studies of object types according to purposes/significances from all parts of the continent: Figures of Ascendancy; Forms of Descent; Lamps and Illumination; Iron and Authority; Musical Iron -- Shapes and Sounds; Currency and Forging Value; Tool Artistry; Iron Ornament -- Prestige and Presence; Artful Weaponry; Smelting/Smithing Related Forms (copper anvils, wood/clay bellows, brass pokers, etc.); others?

Forging the Future - Works by contemporary African/Diaspora artists and issues of changing technologies/resources; others?

This project and the Triennial sessions are being forged by the team of Tom Joyce, Allen Roberts, Bill Dewey, and Henry Drewal and we hope to include essays on specific topics by scholars and artists from Africa, Europe, Asia, and the Americas. We are excited about this project and look forward to receiving at your earliest convenience the following: 1) Title; 2) Abstract (200 words); 3) Media requirements (PowerPoint, video, etc.); 4) Full contact information including mailing address, phone, and email address. Please send this to all team members not later than September 15, 2010: wtjoyce@earthlink.net, aroberts@arts.ucla.edu, wjd14@psu.edu, hjdrewal@wisc.edu.

[Return to table of contents]


---
Africa in World Politics
University of Texas at Austin, March 25-27, 2011
We are inviting scholars to submit conference papers and full panel proposals for the 2011 conference on Africa in World Politics. The goal of this conference, convened by Toyin Falola, is to create an interdisciplinary dialogue concerning Africa's contemporary and historical place in world politics. Africa is too often regarded as being on the periphery of the world political arena, when in fact the nations of Africa have played an important, although often tactically manipulated, role in global affairs. What was Africa's historical place in world politics? How did independence and the Cold War change this locality? What is Africa's role today and what needs to be done to insure that the African voice is heard in international forums in the future?

Some potential paper topics may include: Africa in the Ancient and Medieval Worlds (Africa in the Medieval Islamic World, Indian Ocean trade, Egypt and Carthage in the Classical World); The politics of the Atlantic Slave Trade and slavery in the Atlantic world; Pan-Africanism and its global political implications (for instance, the creation of Liberia); African colonies' role in the new European nationalism of the late nineteenth century; Africa and Africans in the World Wars; Africa in the United Nations and the United Nations in Africa; Strategic political alignment during the Cold War; Africa and the Non-Aligned Nations (the Bandung Conference, the Afro-Asian People's Solidarity Organization, etc.); African nations as "third world" or "developing" nations; Africa's changing role in the context of North-South relations; Africa's relations with the United States, EU, and the individual countries of Europe in the post-Cold War geopolitical situation; The rise of Asian interests in Africa and their political implications, including those of China, India, and Japan; Africa, Africans, and the politics of transnational communities; African representation in international institutions, ranging from the economic (IMF and World Bank) to those concerned with health and human services (The Red Cross/Crescent and WHO) The effectiveness and role of African political institutions such as the African Union (AU) and the previous Organization for African Unity (OAU); Cultural expressions of political realities, including political protest in the forms of music, literature, film, art, etc., both in Africa and throughout the Diaspora; Forms of transnational political protest; The concern over global terrorism and the instability of African nations; Africa in the international courts, addressing issues of piracy, crimes of pharmaceutical companies, genocide, etc.; The political implications of past and present world financial crises.

As with all our previous conferences, participants will be drawn from different parts of the world. Submitted papers will be assigned to particular panels according to similarities in theme, topic, discipline, or geographical location. Papers can also be submitted together as a panel. Additionally, selected papers will be published in book form. This conference also has a commitment to professional development which will be fostered through workshops in writing, publishing, and conference presentation. The conference will also provide ample time for professionals from various disciplines and geographical locations to interact, exchange ideas, and receive feedback. Graduate students are especially encouraged to attend and present papers and will be partnered with a senior scholar to encourage their own growth as scholars. The deadline for submitting paper proposals is November 30, 2010. Proposals should include a 250-word abstract and title, as well as the author's name, address, telephone number, email address, and institutional affiliation. Please submit all abstracts to Toyin Falola at toyin.falola@mail.utexas.edu and Jessica Achberger and Charles Thomas at africaconference2011@gmail.com. Additional information is available at http://www.utexas.edu/conferences/africa/2011/11Home.html.

[Return to table of contents]


---
Abolishing Slavery in the Atlantic World:
The 'Underground Railroad' in the Americas, Africa, and Europe
Russell Sage College, April 8-10, 2011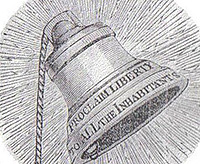 Where there was slavery, there was resistance, escape, and rebellion. The Transatlantic Slave Trade (1400s to 1800s) was a global enterprise that transformed the four continents bordering the Atlantic, and that engendered the formation of a multifaceted and international Underground Railroad resistance movement.

The broad geographic nature of this freedom struggle is the theme of the 2011 UGR Public History Conference. We invite proposals that address capture, enslavement, and resistance within and across borders in Africa, Europe, and the Americas, historically and contemporarily, as well as proposals that address the preservation of the voices of the past and their relationship with us today.

Russell Sage College is located in Troy, New York. Proposal submissions due by July 31, 2010. Additional information available at http://www.ugrworkshop.com/call2011.pdf, by email to urhpcr2011@gmail.com, or by postal mail to URHPCR, P.O. Box 10851, Albany, NY 12201; Additional details at www.ugrworkshop.com or call 518-432-4432.

[Return to table of contents]


---
Bloodwork: The Politics of the Body, 1500-1900
University of Maryland, College Park, May 6-7, 2011




This conference will explore how conceptions of the blood -- one of the four bodily fluids known as humors in the early modern period -- permeate discourses of human difference from 1500 to 1900. "Bloodwork" begins with the assumption that the concept of "race" is still under construction and that our understanding of the term would profit through an engagement with its long, evolving, history. Specifically, it asks how fluid transactions of the body have been used in different eras and different cultures to justify existing social arrangements.

Recent scholarship has opened up the question of the continuities and discontinuities between early modern and modern rationalizations of human difference. In early modern England, "race" commonly referred to family lineage, or bloodline, and relied upon pervasive notions of what were believed to constitute the properties of blood. The anxieties anatomized in Thomas Elyot's Boke named the Governour (1537) about the degradation of "race," or the corruption of noble blood, describe the physical technologies by which virtue -- both physical and moral -- was thought to be conveyed through bloodlines. Daniel Defoe's later satire A True-Born Englishman (1708) echoes this rationale for difference. The language of his poem not only insinuates the crossover of the term "race" from family lines to national groups, but also supplies evidence that both kinds of racial ideology -- whether affirming social hierarchy or national superiority -- rest upon the invisible qualities of the blood. In late eighteenth-century Anglo-America, Thomas Jefferson invokes such notions as "White," "Indian," and "Negro" blood in order to suggest an essential difference between what he calls "the races," a difference that he sees as "fixed in nature," thereby anticipating modern racialism.

A comparative conference such as ours, that is trans-historical and transnational and draws literary critics and historians of cultures on both sides of the Atlantic world, will make a significant contribution to this ongoing debate about the "invention" of race. Questions to be addressed include: How does blood rationalize bodily difference in the period in which you work? How is blood used as a metaphor in your period? How is it contested? How and why is the idea of blood transforming? How does it operate in the body? What are the physical technologies of the body and how are these pressed into the service of difference? Conversely, how is the rationalization of bodily difference embedded in "scientific" discourse? Is religious difference figured in cultural or somatic terms? Does the body have a moral constitution? Plenary Speakers: Colin Dayan, Department of English, Vanderbilt University; Michael Hanchard, Department of Political Science, Johns Hopkins University; Ruth Hill, Department of Spanish, Italian & Portuguese, University of Virginia; Mary Floyd-Wilson, Department of English, University of North Carolina at Chapel Hill. Conference Organizers: Kimberly Coles, Ralph Bauer, Zita Nunes, and Carla L. Peterson. Please submit abstracts of 500 words for complete panels (abstracts plus panel descriptions), incomplete panels, or individual papers by October 15, 2010 to: bloodwork@umd.edu.

[Return to
table of contents]
---
Vernacular Architecture Forum Annual Meeting

AFalmouth, Jamaica, May 31 to June 4, 2011
The Vernacular Architecture Forum invites paper proposals for its Annual Meeting in Falmouth Jamaica May 31 to June 4, 2011. Papers may address vernacular and everyday buildings, sites, or cultural landscapes worldwide. Submissions on all vernacular topics are welcome, but we encourage papers that explore topics related to the conference themes of heritage tourism as the new colonialism; climate and vernacular design; creolization, hybridity, acculturation and other models for cultural engagement; and race, slavery, and place. Papers should be twenty-minutes in length, although proposals for complete sessions, roundtable discussions, or other innovative means that facilitate scholarly discourse are also welcome.

Presenters must deliver their papers in person and be VAF members at the time of the conference. Speakers who do not register for the conference by April 1, 2010 will be withdrawn. Please do not submit an abstract if you are not committed to attending the papers session on June 4. Presenter Fellowships to offset registration costs are available to students and recent graduates. For more information on Presenter Fellowships see http://www.vafweb.org/awards/presenter.html.

Proposals must be one-page, fewer than 400 words, and include paper title, author's name, and email address. Please state clearly the argument of the paper and explain the methodology and content. Papers should be theoretical or analytical in nature, rather than descriptive. Attach a one-page CV to your proposal submission. The deadline for proposals is September 13, 2010. Electronic submissions of proposals and CVs in Word format are preferred. Please send email proposals to Andrew Dolkart at asd3@columbia.edu or hard copies to: Andrew Dolkart, Columbia University School of Architecture, Planning and Preservation, 413 Avery Hall, New York, NY 10027. For general information about the Jamaica meeting contact Louis Nelson at ln6n@virginia.edu>mailto:mmc@gwu.edu.

[Return to table of contents]


---
African Liberation and Black Power:
The Challenges of Diasporic Encounters
Across Time, Space, and Imagination
6th Biennial Conference of the Association for
the Study of the Worldwide African Diaspora
University of Pittsburgh, November 3-6, 2011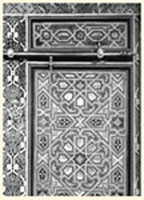 In 1954, novelist and intellectual Richard Wright published Black Power, a provocative book in which Wright offered his reflections on his travels to the Gold Coast as it was in the process of becoming the independent nation of Ghana. The term "Black Power" that Wright used to signify the possibilities of freedom and development for Africans, as well as Pan-African cultural connections, would become a familiar notion to people of African descent around the world, who identified with its potent message for liberation and cultural revitalization. In so doing, Wright opened a new chapter in the long history of political and intellectual dialogue across the African Diaspora-one that revealed both the convergences and ruptures between people of African descent on the continent and in Diaspora.

For its sixth biennial conference, to be held in Pittsburgh, ASWAD explores the theme "African Liberation and Black Power: The Challenges of Diasporic Encounters Across Time, Space and Imagination." This conference intends to appreciate the Diasporic dimensions and articulations of Black Power, with special emphasis on Africa, Europe, the Caribbean, Latin America, and Asia by tracing the genealogies of the concept and challenging localized limitations of Black Power scholarship.

Though the term "Black Power" is most frequently associated with the political and cultural movement of the 1960s and 1970s in the United States, the drive to valorize blackness and Africanity/Africanité was broadly shared throughout Africa and the African Diaspora. Black Power was a transnational phenomenon; in addition to the U.S., organizations, activists, artists, and politicians in Canada, Trinidad, Guyana, Jamaica, Bermuda, UK, South Africa, Zaire, and elsewhere explicitly identified themselves as adhering to Black Power. Each of these local movements responded in unique ways, but remained in dialogue with peoples of African descent and other peoples seeking creative responses to oppressive regimes. At the same time, 1970s black feminist organizations such as the Combahee River Collective (USA) and the Southall Black Sisters (UK), as well as writers such as Claudia Jones, Audre Lorde and Bessie Head, openly contested the masculinist, heteronormative tendencies within Black Power. Indeed, Diasporic feminists often imagined freedom in far more expansive political and aesthetic terms than their male counterparts.

In exploring Black Power as a global phenomenon, ASWAD encourages the submission of papers that interrogate the elements that define Black Power, its multiple locations, and articulations, its gendered and sexual contours, the transnational connections that informed and nurtured it as well as global and local cultural and political projects that revitalize it in the twenty-first century. In addition, we seek to identify the antecedents of Black Power, and historicize it within the trajectories of African and African Diasporic literature, culture, media, philosophy, politics, and the academy itself, as well as its relationship to health and environmental issues. The cultural and ideological foundations of Black Power had deep roots in the 17th, 18th, and 19th centuries and, as such, ASWAD encourages papers that excavate the origins of the cultural, intellectual, and political expressions that gave birth to the liberation struggles of the 20th century. All geographic areas will be represented, including Africa, the Americas, the Middle East, Europe, and Asia. Paper and panel proposals that incorporate women, gender, and sexuality as categories of analysis are encouraged.

The University of Pittsburgh is hosting the conference in Pittsburgh, Pennsylvania. Please send a two-page abstract (for either a single presentation or a panel) and a one-page CV (or multiple one-page CV's) by March 15, 2011. They can be sent prior to submitting the registration fee, and are to be sent electronically via email attachment to: aswad2011@osu.edu. Other queries (but not abstracts; please send all abstracts to same email address) can be addressed to: Leslie M. Alexander, Conference Co-Chair, Associate Professor, 371 Dulles Hall, 230 West 17th Avenue, Department of History, The Ohio State University, Columbus, OH 43210. We intend to post papers on our website, and some may be selected for publication. If you do not wish your paper to appear in either format, please clearly indicate such. Completed materials should be submitted in publishable form prior to the first week in October, 2011.

[Return to table of contents]


---
Book Review

Jean Libby. John Brown Photo Chronology: Catalog of the Exhibition at Harpers Ferry 2009. Allies for Freedom Publishers, Palo Alto, CA, 2009. 96 pp. with b&w and color illustrations, portraits, references, 8 x 10 format (paper), ISBN 978-0977363872.

Reviewed for the African Diaspora Archeology Newsletter by Teresa S. Moyer



John Brown's raid on Harpers Ferry in 1859 constituted one event that brought American debate to a head via the Civil War, and his story continues to be relevant today. Jean Libby's past research into Brown and Harpers Ferry has shaped and challenged the ways that scholars and the public perceived his insurrectionist work and activism for African Americans. Her recent publication on John Brown is the catalog that accompanies a photographic exhibition on permanent display at Harpers Ferry National Historical Park in Harpers Ferry, West Virginia. The exhibit also traveled to the National Archives and Records Administration in Philadelphia, Pennsylvania and other locations. The catalog focuses on images of Brown by way of daguerreotypes, albumen and sepia prints, painted photographs, engravings, and other representations of Brown, his family, and places and people associated with his efforts. The images illustrate a series of essays by Libby and other authors on elements of Brown's actions and their significance in American history. Together, the images and essays demonstrate the importance of photography in John Brown's crusade to end African American slavery in the United States.

Libby's catalog reflects her work to locate and analyze primary visual sources of Brown portraiture. The images of Brown date from 1848 to 1858, the decade of the Fugitive Slave Law, the Kansas-Nebraska Act, and the Dred Scott decision. A few additional images were printed posthumously from earlier prints. Together, they track Brown's changing appearance over the course of his work to advance the abolishment of slavery and the advancement of African American freedom from young man to iconic bearded insurrectionist. Their number and timing reflect Brown's awareness of the effect of his image and its potential to recruit and promote the cause of abolition. Brown carried copies of his portraits for distribution. No photographs of Brown from 1859 have been located, only his commissions of reproductions. When appropriate, the reverse sides of images are reproduced to show handwritten captions. The captions accompanying the images include the photographer, medium, year, purpose of the image in production or reproduction, and other pertinent information. On occasion, text or captions are superimposed over images, which is unusual for a catalog of a photographic exhibition because it obscures the original composition. All the images in the book, nonetheless, are high-quality reproductions printed on semi-gloss paper. The attention paid to printing makes the book a useful compilation for Brown scholars.

Additional images in the catalog include modern scenes from Harpers Ferry, descendants of John Brown, historians, places beyond Harper Ferry that are associated with Brown, and gravestones. Two images of the exhibit are included. The location of one is not identified, but the other is of the exhibit on travel to a workshop. It would be interesting to see more of the exhibit in context, particularly at Harpers Ferry, because exhibition catalogs are as much a record of an exhibit as they are of the exhibit contents.

The scope of images included in the catalog could be expanded to improve the visual historical context for readers, particularly those who focus on African American history and archaeology rather than John Brown. The catalog focuses on photographs, but also includes a few drawings or engravings. Considering their inclusion, I wondered why the iconic images of Brown and Harpers Ferry were not included in the catalog, such as the burning of the armory and Brown's execution, for the reader's information. Modern scenes of Brown-associated buildings are in the catalog, but not images from the archaeological excavations around the arsenal and armory or artifacts taken from those excavations. For archaeological readers of this newsletter, in particular, such images would intersect with activist archaeologies and provide visual evidence of past social activism. More images of nineteenth-century African Americans would also be useful to readers. Libby includes only Frederick Douglass as a contemporaneous African American to Brown. The inclusion of nineteenth-century scenes of enslaved persons at home, in fields, or with their families would provide needed information about the conditions against which, and the people for whom, Brown set his cause. Libby does include a map of nearby plantations and buildings associated with slavery, but they cannot impart the conditions in which people lived as can historical images. Images of the raid-in-action, Brown's hanging, and of enslaved persons would help modern readers who are unfamiliar with the history of the era or the breadth of sources available to scholars.

The essays in John Brown Photo Chronology provide context on the history represented in the images and the images themselves. The strength of the text is its discussion of the facts surrounding John Brown and his cause. Quotes from well-known and lesser-known historical figures highlight the ideology behind Brown's work. Libby's essays communicate details about Brown's travels and his life, as well as explanations about the history of the images themselves -- information about the photographers, the technology, and the social context of photography in the mid-nineteenth century. In addition, Louis A. DeCaro, Jr. addresses Brown's increasing militancy upon his return to Ohio circa 1851-1855 from the northeast. Brown's familiarity with black leaders and communities in the northeast, along with the threat of the Fugitive Slave Act, inspired his expanding work to associate with African Americans to abolish slavery and bring fugitives from slavery into free states. A separate essay by DeCaro focuses on his work as biographer of Clarence S. Gee, a collector of Brown images and documents. Hannah N. Geffert looks at the influence of the Dred Scott case on Brown. She outlines its impact on Brown's development of a governmental framework for liberated slaves. Judy Sweets discusses the Underground Railroad in Kansas. Brown assisted escaped persons as an escort. Sweets also contributes an essay on Brown's history and the collections in historical societies, archives, and museums in Kansas. Libby compiles biographies of the photographers into an essay at the back of the book. Together, the essays provide an overview of key people and events surrounding Brown's work. It would have been helpful to have essays on the historical circumstances facing blacks in America during the mid-nineteenth century, beyond the Underground Railroad, as context for Brown's activism.

The strengths of text and imagery are complicated by the organization and design of the catalog. Attribution of the essays is inconsistent in the main body of the catalog such that the reader must frequently flip to the table of contents to identify the author. Some passages are clearly attributed to authors other than Libby, but oftentimes where those passages end and Libby's begin is unclear. The reader must flip between the front matter and the main text for guidance. The images often, but not always, have captions immediately with them, but they may also have additional information in captions on the opposite page. Where citations and captions begin or end amid the main text is often difficult to discern. As a result, the reader must put in some work to understand the structure of the book, the relationships of its components, and the authorship of the content.

The point of John Brown Photo Chronology is that the technical medium of photography -- its lifelike reproduction of human subjects as well as its reproducibility -- provided John Brown with a tool to promote his cause with his likeness as a symbol. The book is of interest to Brown scholars, as well as students of the history of photography. Despite problems with the organization and design of the book, its contents provide readers with the ability to look at the person associated with some of the most important events of nineteenth-century African American activism.

[Return to table of contents]


---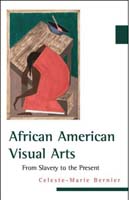 H-NET BOOK REVIEW
Published by H-AfrArts, http://www.h-net.org/~artsweb/ (Jan. 2010).

Celeste-Marie Bernier. African American Visual Arts: From Slavery to the Present. Chapel Hill University of North Carolina Press, 2009. 296 pp. $65.00 (cloth), ISBN 978-0-8078-3256-1; $24.95 (paper), ISBN 978-0-8078-5933-9.

Reviewed for H-AfrArts by Monique Fowler-Paul Kerman

Searching for the Ever-Elusive Black Aesthetic



In her introduction to African American Visual Arts, Celeste-Marie Bernier claims that too much African American art criticism focuses on sociological, biographical, and historical issues to the detriment of formal analysis. Her aim is thus to present case studies of twenty artists from the nineteenth, twentieth, and twenty-first centuries who do just that. Each case study examines the artist's "thematic concerns and aesthetic issues," with the interpretive focus on his/her personal statements and "individual histories" (p. 3). Overall, Bernier hopes to suggest the development of an African American visual arts tradition through the analysis of work by artists who have been influential in that development.

Citing the challenges of a racist white mainstream, Bernier discusses both the problems of the lack of exposure to African American art and the concurrent dearth of art historical scholarship concerning these artists. She explains that many contemporary and emerging artists have recently become even more disillusioned than their predecessors. While the collection, display, sale, and study of African American art is unquestionably hampered by the historical marginalization and exclusion of African American artists in American society and culture, it is surprising that Bernier insists that conditions are as dire as ever. The selection of Fred Wilson to represent the United States in the 2003 Venice Biennale, and the 2007 retrospective of Kara Walker, then just thirty-nine years old, at the Whitney Museum of American Art are just two events that would seem to mitigate Bernier's statement to a substantial degree. In her introduction, Bernier describes a world of art racism from which it is difficult to emerge as an individual, and yet she herself tends toward art historical analysis predicated on race.

Bernier addresses criticisms of categorizing artists into such classifications as "black" or "African American" by accepting their validity in terms of the tendencies toward the subsequent segregation or "ghettoization" of these artists and their work. She explains that these "terms do run the risk of over-essentializing and artificially setting works apart according to racialized lines, particularly given that many artists are heavily influenced by and, in turn, had their own impact upon, mainstream white American and European art movements" (p. 10). In the next paragraph, however, she asserts that "a case can be made for focusing solely on African American artists on the grounds that black artists not only had a profound influence on one another but also that their works betray a shared commitment to the search for a new visual language within which to represent personal and public narratives and histories related to African American life" (ibid.). Regrettably, this view robs the artists featured in the case studies of any context other than that of being racially linked to all the other artists being analyzed in the following chapters. This is not to deny that African American artists over the last two centuries have expressed concerns about and sympathies with experiences of racism or a distinctive African American culture and values in their work, only to stress that emphasizing these in order to construct a "black aesthetic" that overrides all other creative influences and thematic concerns is fundamentally limited.

After the introduction, six chapters follow that focus on three to five case studies each. Bernier seems to have selected the artists for their resonance with the overarching theme of the chapter. The artists are grouped according to era and these in turn are presented in chronological order. Thus, she begins with artists working under the conditions of slavery or living and working in the United States before 1900, namely, a potter known only as "Dave," James P. Ball, Harriet Powers, Edmonia Lewis, and Henry O. Tanner. The second chapter concerns artists associated with the Harlem Renaissance in the 1920s and 30s: Aaron Douglas, Archibald J. Motley Jr., and Charles Alston. The third chapter focuses on the "abstract-figurative style[s]" of William Edmondson, Horace Pippin, and Jacob Lawrence, particularly during the 1940s (p. 89). The fourth chapter features the documentary and politically charged work of Charles White, Elizabeth Catlett, and Gordon Parks, ranging from 1940 to 1972. The fifth chapter investigates how the work of Norman Lewis, Romare Bearden, and Betye Saar from the 1950s on emphasized formal aesthetics over social documentary or political statements. The sixth chapter discusses contemporary artists David Hammons, Howardina Pindell, and Walker as challenging audience's expectations of black art from 1970 to the present. Bernier selects a few works of each artist on which she focuses her analysis. It is a diverse and exciting body of work, which is lamentably underrepresented in illustrations; appendix B supplies a list of publications of these works, either in print or online.

With each case study, Bernier addresses previous art criticism and compares it with her own findings based on formal analysis and previously unpublished artists' interviews and writings. While some of these studies reveal compelling new data and energetically refute previous assumptions about these artists and their work, others do not hold up as well to scrutiny. Chapter 1 is the strongest in terms of its art history. Bernier investigates the ways in which the artists featured establish their subjectivity in the face of racist objectification. She specifically sets out to counter assumptions that African Americans made no art before 1900, using new archaeological evidence from sites like the African Burial Ground in New York City unearthed in 1991 to bolster her argument. She links both formal and symbolic aspects of the artists' work to their shared African cultural roots, and discusses how the enigmatic poetry of Dave the Potter and imagery of Powers, as well as the "alternative iconography" of Ball, represent forms of resistance to racist oppression (p. 31). Although critics dubbed the racial features of sculptor Edmonia Lewis's figures "assimilationist," Bernier describes Lewis's subject matter as pushing acceptable social and racial boundaries to depict heroic men alongside, rather than indifferent or superior to, long suffering black women (pp. 45-46). Tanner, criticized for avoiding black social issues, does address these in works like The Thankful Poor (1894). However, Bernier asserts that first and foremost, Tanner was interested in form and technique, not statements of racial hardship or solidarity. This brings up the question that continually nags the reader of African American Visual Arts: should African American artists be obligated to make "black art," or work that somehow foregrounds or emphasizes African American experience, either formally or in terms of subject? It is not difficult to imagine that, for many artists, the answer is an emphatic "no!" However, Bernier's stance on this issue seems contradictory, or at least ambiguous.

In chapter 2, Bernier contends that the fractured and abstract forms of Douglas and Alston were uniquely suited to the aims of the Harlem Renaissance, the "'new racial idiom'" and "'school of Negro art'" espoused by art historian Alain Locke (p. 58).[1] She describes Douglas's abstract and symbolic forms in Aspects of Negro Life (1934) as "celebrat[ing] black survival," noting that "Douglas's insistence that he was forced to portray 'everything not in a realistic' but in an 'abstract way,' even to begin to approach the inner realities of black life, establishes a key feature of African American art. His design patterns and abstract stylizations exposed the limitations of realist or documentary modes ever to represent the distorted, marginalized, and elided facets of black culture" (p. 62). This statement is difficult to reconcile with Bernier's assessment of Tanner in the previous chapter, or of White, Catlett, or Parks in chapter 4, wherein she praises their realism for graphically depicting the difficult lives of black people in white-dominated society. As for Alston, Bernier introduces the artist as not a black artist but, in his own words, "'an artist who happens to be black'" (p. 79). She adds, "He was convinced it was futile to adopt 'a separate set of rules and qualities for Black art'" (ibid.). Alston's resistance to expectations of "black art" speaks directly to the problematic nature of such a concept. When the audience and critics insist that one's racial heritage requires one to produce a certain kind of art, then creativity is limited, stifled, or sequestered into an artistic ghetto. Unfortunately, Bernier's analysis marginalizes any influences on or contexts of the work of African American artists other than racial ones in order to find overarching formal characteristics that she can expand into a "black aesthetic."

It certainly seems significant, for example, that some of the artists in the case studies lived in poverty, while others had access to art education, professional support, and relatively wealthy patrons. In the conclusion for chapter 2, there is an intriguing discussion of Douglas's disdain for and Alston's admiration of contemporaneous artists Edmondson and Lawrence, respectively. Bernier quotes Douglas dismissing Edmondson as "a person with very little education and none at all from an art viewpoint," while she credits Alston for "discovering" Lawrence (p. 87). She writes that Alston's "ability to see an African American master in a 'kid' who attended his after-school art class for impoverished black children sets the stage for recovering the lives of self-taught folk artists" (ibid.). She goes on to examine Palmer Hayden's Janitor Who Paints (c. 1939-40) as an "unflinching portrayal of African American working-class poverty," noting that Hayden was himself a janitor cum painter (p. 88). Contrasting the self-taught Edmondson, folk-influenced Lawrence, and working-class Hayden with the middle-class, art-educated Douglas and Alston demonstrates a sizable gulf between their experiences, which is then reflected not only in the artists' works, but also in the ways in which those works were received by critics and the public. Regrettably, Bernier does not address similar issues of class in other chapters.

Bernier concludes with an epilogue in which she discusses how themes of slavery and the Middle Passage continue to inspire contemporary black artists, including Jefferson Pinder, Kerry James Marshall, Michael Ray Charles, Laylah Ali, and Renée Cox. She sees these "hidden histories" not only as the subject of much African American art but also as an "aesthetic approach" (p. 222). She describes these artists as "preoccupied as their forebears with unearthing buried stories to communicate an 'essence of black imagery'" (ibid., quoting Pinder). It is difficult to reconcile this statement with the paragraph that follows it, in which Bernier highlights the frustration of, among others, abstract sculptor Melvin Edwards "at white art world attempts to dictate the forms and subject matter in his works" (ibid.). She then asserts that "the African American artist's fight for aesthetic freedom is still ongoing" (ibid.). Bernier continues by explaining how the work of Charles subverts the expectations of black communities. She quotes Charles as explaining that "'most blacks have a perception about art by black people. That art by an African-American artist should look a certain way'" (p. 223). Thus African American artists are continually striving for freedom from the expectations of both the white mainstream and black audiences. Yet Bernier's search for aesthetic and stylistic commonalities in African American Visual Arts seems like an impediment to that freedom. Despite these issues, Bernier's book presents some compelling art work by a range of modern and contemporary African American artists spanning more than a century. She includes previously unpublished testimony and commentary from the artists themselves to elucidate their creative practices, and in the process introduces some intriguing questions that suggest further research.

Note

[1]. The source that Bernier provides for Locke's statement is cited as "Locke 1927: 266," but she does not list a 1927 publication by Locke in the bibliography.

Copyright (c) 2010 by H-Net, all rights reserved. H-Net permits the redistribution and reprinting of this work for nonprofit, educational purposes. This work is licensed under a Creative Commons Attribution-Noncommercial-No Derivative Works 3.0 United States License.

[Return to table of contents]


---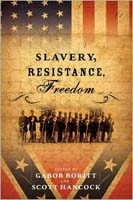 H-NET BOOK REVIEW
Published by H-South, http://www.h-net.org/~south/ (April 2010).

G. S. Boritt, Scott Hancock, eds. Slavery, Resistance, Freedom. Oxford Oxford University Press, 2009. 165 pp., $15.95 (paper), ISBN 978-0-19-538460-4.

Reviewed for H-South by Kirt Von Daacke, Lynchburg College

A Crisis of Race



Slavery, Resistance, Freedom, a fine collection of essays edited by Gabor S. Borritt and Scott Hancock of Gettysburg College, grew out of that college's twentieth-anniversary Civil War Institute. The institute, perennially a wellspring of new scholarship on the war, in 2006 gathered a star group of historians and devoted an entire week to the theme of African American history. This slim volume represents the result of that meeting, and as well offers readers fresh perspectives on "the difference that slavery and freedom made to African Americans, and how African Americans resisted slavery and responded when it crumbled" (p. xiii). The essays collected within, examining the role of slavery in the public imagination; runaway slaves; free blacks in the North; the African American experience on the North-South border; the Union Army's only all-black division; and black political leadership during Reconstruction, will without a doubt prove very useful to anyone teaching undergraduate courses on African American history, the U.S. survey, and especially courses focused on the Civil War era.

The book opens with a critical meditation by Ira Berlin on the role and importance of slavery in both U.S. history and in ongoing public debates about history. Berlin sets the tone for this volume in arguing that "American history cannot be understood without understanding slavery" (p. 6). Therein lies one of the great strengths of this collection -- forcefully reinserting slavery into the discussion of the Civil War era -- a breath of fresh air in the classroom, where students' knowledge of the era often extends little beyond having seen the movie Gods and Generals (2003) and having attended battle reenactments. These essays will surely help students understand the importance of abandoning a hagiographic focus on Robert E. Lee, Ulysses S. Grant, Stonewall Jackson, William Tecumseh Sherman, and even Abraham Lincoln.

Further, this volume represents a useful corrective in reminding readers that "behind the interest in slavery is a crisis of race" (p. 8). Ira Berlin's thoughtful analysis implies a need for updating W. E. B. DuBois's conviction that "the problem of the Twentieth Century is the problem of the color line."[1] Indeed, the 2008 presidential election has demonstrated that race remains an American dilemma even in the twenty-first century, and reminded Americans of the power of history and memory in structuring even our modern conceptions of race and identity. As Berlin argues, "slavery lives -- and will continue to live -- in both history and memory ... perhaps by incorporating slavery's memory into slavery's history -- and vice versa -- Americans, white and black, can have a past that is both memorable and -- at last -- past" (p. 20).

Slavery, Resistance, and Freedom's value to contemporary educators, however, goes far beyond simply alerting readers to the importance of slavery in understanding even present-day America. The collected essays also represent a fantastic introduction to some of the best recent scholarship on the experience of black Americans in slavery and in freedom, and do so in a highly accessible and readable fashion. The second essay in the volume, by John Hope Franklin and Loren Schweninger, represents a powerful distillation of the findings of their Lincoln Prize-winning monograph Runaway Slaves: Rebels on the Plantation.[2] This essay and the one by Scott Hancock on black construction of memory in the prewar North, by examining the antebellum foundations of the postwar black experience and expectations, when slaves and free blacks "challenged the system ... struggled to attain their freedom," and subsequently sought to maintain and define that very freedom, lays the groundwork for the essays that follow, which focus solely on the black experience in the Civil War and Reconstruction eras (p. 23). Hancock, by focusing on storytelling, oral traditions, memory, protest, and ideas about identity and citizenship, offers the undergraduate reader an excellent introduction to newer modes of historical interpretation and forces students to see African Americans as extremely active participants in the history of the early republic.

Edward L. Ayers, William G. Thomas III, and Anne Sarah Rubin attempt to de-emphasize the forced dichotomy of North and South in an essay that compares the black experience in two locales, one in Pennsylvania and the other in the Shenandoah Valley of Virginia, at the onset of the Civil War. This essay represents yet another entry in an increasingly crowded field of literature growing out of the Valley of the Shadow Web site.[3] In particular, students will find this essay illuminating, as it does such an admirable job of asking large questions in examining small places. As a result, it will prove especially useful for those seeking to encourage students to engage in their own research projects, whether through the Valley of the Shadow portal or by investigating another locale on their own.

Noah Andre Trudeau's "A Stranger in the Club: The Army of the Potomac's Black Division" charts "the brief history of the only black division organized in the Civil War to be made part of what is arguably the best-known Union force of the period: the Army of the Potomac" (p. 96). Although in many ways making the most traditional contribution to the volume by presenting a narrative-driven account of the formation and battle experiences of that black division, Trudeau's essay nonetheless continues to highlight black action and black thought during the Civil War while demonstrating rather forcefully that the black identity formation charted earlier by Hancock was in fact national in scope -- "the experience of fighting within the Army of the Potomac was central to what the black community hoped would be a transformation of American society" (p. 117).

The final essay, contributed by eminent historian Eric Foner, examines black political participation and office-holding during Reconstruction. Foner's essay highlights the promise inherent in the immediate postwar period, the incredible obstacles to black equality that remained firmly ingrained in American society and culture, and ultimately, the energy, agency, and skill with which African Americans attempted to become part of America's political nation. For scholars of the era, this essay sheds little new light, but for anyone teaching the era, it will help in the struggle against what appears to be one of the most enduring of myths about the time period -- one in which black officeholders were portrayed (and still are by many undergraduates) as "ignorant and propertyless, lacking both the education and the economic stake in society supposedly necessary for intelligent governance" (p. 119).

Taken as a whole, the essays contained within the pages of Slavery, Resistance, Freedom represent an incredibly valuable resource for anyone teaching a Civil War-era course and seeking to keep the focus consistently on the broader meanings of the war. The volume also would fit well with anyone seeking a single comprehensive examination of the contours of the black experience in that era as a supplementary text in a more traditionally-structured Civil War course centering on military and political history. Ultimately, Slavery, Freedom, Resistance forcefully reminds the reader that the Civil War represented a crisis of race, one that America had been wrestling with for decades before the onset of war and one that it continues to work out symbolically on the contested terrain of historical memory more than 140 years after the war ended.

Notes

[1]. W. E. B. DuBois, The Souls of Black Folk: Essays and Sketches (Chicago: A.C. McClurg & Co., 1907), vii.

[2]. John Hope Franklin and Loren Schweninger, Runaway Slaves: Rebels on the Plantation (New York: Oxford University Press, 1999).

[3]. In addition to this essay, the Valley of the Shadow Web site (winner of the eLincoln Prize in 2000, at http://valley.lib.virginia.edu) has represented the chief archival source for Edward L. Ayers and Andrew J. Torget, Two Communities in the Civil War (Norton Casebook in History) (New York: W. W. Norton & Co., 2007); Edward L. Ayers, In the Presence of Mine Enemies: The Civil War in the Heart of America, 1859-1863 (New York: W. W. Norton & Co., 2004), which won the Bancroft Prize; and Edward L. Ayers and Anne Sarah Rubin, The Valley of The Shadow: Two Communities in the American Civil War -- The Eve of War (New York: W. W. Norton & Co, 2000), which includes a searchable CD-ROM with primary documents.

Copyright (c) 2010 by H-Net, all rights reserved. H-Net permits the redistribution and reprinting of this work for nonprofit, educational purposes. This work is licensed under a Creative Commons Attribution-Noncommercial-No Derivative Works 3.0 United States License.

[Return to table of contents]


---

H-NET BOOK REVIEW
Published by H-AfrArts, http://www.h-net.org/~artsweb/ (March 2010).

Joan Cameron Bristol. Christians, Blasphemers, and Witches: Afro-Mexican Ritual Practice in the Seventeenth Century. Albuquerque University of New Mexico Press, 2007. 283 pp., $24.95 (paper), ISBN 978-0-8263-3799-3.

Reviewed for H-AfrArts by Andrea Lepage

Afro-Mexican Ritual, Power, and Authority in New Spain



In this inclusive study, Joan Cameron Bristol examines ritual practice in seventeenth-century New Spain through the lens of Afro-Mexican people and cultures. In Christians, Blasphemers, and Witches: Afro-Mexican Ritual Practice in the Seventeenth Century, Bristol is especially interested in the relationship between ritual and authority in Mexico, and she emphasizes the ways that both sanctioned and unsanctioned ritual practices were used by Afro-Mexicans to undermine Spanish colonial authority. Bristol's category of "Afro-Mexican" encompasses men and women born in Africa as well as Spain, creole blacks (blacks born in the New World), and mulattoes (people of mixed racial heritage). In considering enslaved, free, and emancipated individuals, this study also draws attention to the varying degrees of Hispanicization exhibited by Afro-Mexicans. The lack of specificity of colonial documents forces Bristol to identify the origins of most Afro-Mexicans as simply "West" or "West Central" African. Nonetheless, in the New Spanish colonial context, the author conveys clearly the complexity of the Afro-Mexican community and the many identities carried by its community members.

The development of slavery in Mexico took place between 1580 and 1640 as people of African descent were used to supplement indigenous labor in the Americas. Although many Europeans voiced concerns about the enslavement of indigenous people, far fewer were concerned with the enslavement of Africans. On the contrary, some argued that slavery benefited the souls of Africans because it was through this institution that they were offered baptism, and thus salvation. Yet unlike the indigenous population, Africans were not offered extensive pre- or post-baptismal education. While the Spanish Crown officially mandated that slaves learn Spanish and be indoctrinated into the Christian faith, the time necessary for such conversion meant that slave owners were unlikely to push for the full indoctrination of their slaves. Overall, this lack of religious education meant that Spaniards and Afro-Mexicans probably had very different understandings of Christianity. Afro-Mexican misunderstandings -- accidental or intentional -- opened the door to unorthodox ritual activity.

The first main theme considered by Bristol is that the Afro-Mexican experience cannot be separated from the experiences of other members of New Spain's population. Because Afro-Mexicans participated in all aspects of colonial life, any study of Afro-Mexicans must necessarily recount the stories of indigenous, Iberian, creole, and mixed populations in New Spain. Chapter 1 provides a clear example of the intersection of Afro-Mexicans and Spaniards through the examination of the case of Juana Esperanza de San Alberto. Born a member of the [Bran] ethnic group in West Africa, Esperanza was a servant to the Carmelite nuns of San José in Puebla for sixty-eight years. She professed as a Carmelite nun on her deathbed in 1678 when she was more than eighty years old. Esperanza's case seems especially surprising because as a non-Spaniard, she did not meet the limpieza de sangre (purity of blood) requirements to profess as a Carmelite. Perhaps more surprisingly, Esperanza became the subject of a vida in which she was exalted as a model for Spanish nuns. Esperanza was celebrated in this vida because she was an exceptional black woman. Other narratives had been written in honor of devout black women, but Bristol notes that in these narratives there was a tendency to whiten, or even Hispanicize, the black individuals represented. In Esperanza's case, her blackness is actually emphasized by her biographers as a way to underscore her exceptional character. Bristol contends that the language of exceptionality applied to Esperanza's story served to distinguish her from other black women who were neither worthy nor holy enough to profess as nuns. Bristol illustrates how Esperanza's exceptionality actually served the purpose of reflecting the exceptionality of the Carmelites: "Her success was theirs" (p. 60).

While Bristol fully examines the connections between Afro-Mexicans, Spaniards, and creoles, she leaves the interactions between Afro-Mexicans and indigenous people less well explored. Chapter 5 focuses on the use of magic by unlicensed Afro-Mexican curers, but fails to establish strong connections between Afro-Mexicans and other members of the New Spanish community. Many of the rituals utilized by these curers had indigenous roots, and most of the materials used can also be linked to indigenous curative practices. Thus, Bristol's attempt to identify African roots for these rituals -- and thereby differentiate them from indigenous or European practices -- is not entirely convincing. Perhaps an examination of the exchange that led Afro-Mexicans to adopt indigenous curative practices would better support Bristol's argument that the experiences of Afro-Mexicans cannot be separated from the experiences of indigenous people and Spaniards.

The second major theme considered by Bristol concerns Spanish theories about color, honor, and religion. According to Bristol, these theories defined Afro-Mexican opportunities and societal roles. Bristol notes that "colonial social identities were expressed through the concept of calidad [which was] based on skin color, clothing, occupation, personal relationships, cultural practices, limpieza de sangre, status as slave or free, and other conditions" (p. 26). The notion of calidad drives much of this study and in chapter 2, Bristol presents a variety of case studies to examine the ways in which Afro-Mexicans used Spanish prejudices against blacks to their distinct advantage. For example, in 1607, another slave named Esperanza who had recently arrived in Veracruz via Angola and was classified as bozal (unhispanicized), denounced herself for having taken communion without having confessed beforehand. Esperanza defended herself on the grounds that she had only recently arrived and was therefore unfamiliar with Catholic ritual. Though it is unclear whether Esperanza had been baptized, her Inquisition testimony nonetheless reveals that she had not received a Christian education. It is possible that in identifying herself as bozal, Esperanza used this Spanish system of categorization to her advantage, hoping that she would receive a lesser punishment. Bristol argues that Afro-Mexicans quickly became aware of the structure of colonial authority and were able to manipulate the system to their advantage.

The third major theme around which Bristol's book is structured is that the meanings and forms of rituals were not fixed, and could therefore be sites from which to challenge established power. She highlights the ways in which participation in both sanctioned and non-sanctioned ritual practices allowed Afro-Mexicans to create alternate forms of authority. This aspect of Bristol's project is by far the most compelling. In chapter 3, the author shows how sanctioned religious practice, such as confraternity membership, could lead to unsanctioned behaviors. This chapter begins with a vivid description of an incident that took place in 1611 when more than fifteen hundred members of a black confraternity dedicated to Nuestra Señora de la Merced took to the streets to protest the wrongful death of one of their female members. Though he denied it, the confraternity members held the slave's owner responsible for her death. The leaders of this rebellion were punished publicly and their owners were directed to sell these agitators outside of the colony. This uprising points to a common fear that black confraternities were a threat to the colonial order because they could serve as locations for the organization of rebellions and other anti-colonial activities. In most other contexts, Afro-Mexicans were prohibited from congregating in large groups. In the aftermath of this rebellion, many black confraternities were dissolved, and those that continued to function were allowed to do so only under the supervision of Spanish clerics or other officials. Bristol exposes the tension between the mandate to offer Afro-Mexicans spiritual salvation and the deep-seated suspicions held by secular authorities of Afro-Mexicans and their motives.

Chapter 4 presents a series of fascinating case studies which together illustrate a pattern of renunciation of God that was used by enslaved Afro-Mexicans to improve their general circumstances. Before or during beatings, some slaves threatened that they would be forced to renounce God if the beatings continued. Though slave-owners were legally responsible for the spiritual well-being of their slaves, such threats rarely succeeded in putting a stop to the violence, but did in fact lead to the renunciation of God by numerous Afro-Mexicans. The cases presented show that slave-owners understood these renunciations to be deliberate tactics employed by slaves to prevent bodily harm. But these same individuals would have known that any person who renounced God was likely to be called to defend himself or herself in front of the Inquisition. In the end, renunciations did not seem to stop abuse; on the contrary, most Afro-Mexicans who renounced God received additional public punishment. As Bristol argues, this practice represents Afro-Mexican "attempts to use the same religious practices and forms of knowledge that upheld the official system of authority to try to challenge that system" (p. 121).

In chapter 6, the author examines an Inquisition case in which a group of Afro-Mexicans were accused by neighbors of "usurping ecclesiastical jurisdiction" (p. 194). Witnesses charged the mulatto leaders of this group with founding a religious order, wearing priestly vestments, and performing masses and other religious ceremonies without having taken religious orders. Testimony makes it clear that many members of the surrounding community viewed these ceremonies with suspicion, but inquisitors deemed the activities to be orthodox and even mundane. Bristol questions whether unofficial religious orders such as this represented an effort to subvert colonial authority. In the end, it may be that such organizations actually offered an alternate authority -- one that had clear meaning within the Spanish system, but was at the same time outside the Spanish power structure.

Without a doubt, Bristol clearly demonstrates her main assertion that Afro-Mexicans took advantage of the different forms of authority that existed in New Spain. Whether by hiding behind an Afro-Mexican ethnic stereotype, renouncing God in the hope that physical violence would be exposed, or leading unsanctioned religious services, many Afro-Mexicans understood colonial secular and religious authority and attempted to make those systems of authority work to their advantage. Both the clarity of Bristol's prose and her inclusion of dozens of gripping case studies make this an accessible study for the undergraduate classroom. Her in-depth examination of the ways that Afro-Mexicans negotiated and manipulated Spanish structures of authority makes this a stimulating read for specialists in Latin American studies.

Copyright (c) 2010 by H-Net, all rights reserved. H-Net permits the redistribution and reprinting of this work for nonprofit, educational purposes. This work is licensed under a Creative Commons Attribution-Noncommercial-No Derivative Works 3.0 United States License.

[Return to table of contents]


---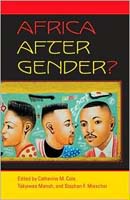 H-NET BOOK REVIEW
Published by H-Africa, http://www.h-net.org/~africa/ (June 2010).

Catherine M. Cole, Takyiwaa Manuh, Stephan F. Miescher, eds. Africa after Gender? Bloomington Indiana University Press, 2007. 336 pp., $24.95 (paper), ISBN 978-0-253-21877-3.

Reviewed for H-Africa by Jacqueline-Bethel T. Mougoué, Purdue University

Dialogues on the Changing Discourse about Gender within African Studies



Africanists have been challenging the easy assumption that African gender studies are mostly informed by Western gender ideologies, theories, and methods. The contributors of "Africa after Gender?" attempt to debunk this generalization by highlighting the ways in which African gender theories and methods can "also" influence and contribute to Western gender studies. The editors of the text argue that this can only be done if there are more dialogues about gender studies between scholars based in Africa and those situated in North America and Europe. Thus, the book's overall purpose is to showcase such dialogues. The text has two main goals. The first is to "make a productive intervention in the dynamic of North-South relations, between scholars living and working in Africa and those who reside in Europe and North America." The collaborators "wish to move the discourse on gender in Africa beyond simple dichotomies, entrenched debates, and the polarizing identity politics that have so paralyzed past discussions" (p. 3). The second goal is to present an interdisciplinary and transdisciplinary approach about gender in Africa. By following these two overarching concerns, the diverse authors of "Africa after Gender?" successfully speak to key debates in African gender studies.

The introduction sufficiently describes the framing arguments of the contributors' works and their significance within African gender scholarship. The rest of the book is organized into four themes. The first devotes its attention to the volatility of new African gender identities. This section includes several well-written works, such as Lynn Thomas's piece which emphasizes the historical narratives (and academic importance) of school girl pregnancies in Africa. The second theme is about African activism -- its struggles and demands. This portion of the book includes Takyiwaa Manuh's chapter on the complexities of undergoing gender research in Ghana. The third theme explores a myriad of African perceptions of gender. Nana Wilson-Tagoe's work in this section stresses African women writers and the representation of their culture and identity in their literatures. Topics of gendered men/masculinity and issues of misogyny/seniority within African communities comprise the text's last theme. Lisa Lindsay's piece on the emergence of the male breadwinner in colonial Nigeria is one of the four essays worth highlighting in this last section.

A key strength of the book is embedded in its transcontinental, multidisciplinary, multiracial, and multi-gendered approach. For example, Sylvia Tamale is based in Uganda and Wilson-Tagoe writes from London. Contributors also come from a wide array of academic disciplines, such as history, drama, English, comparative literature, sociology, and social anthropology. This diversity reminds us of the evolving nature of the discourse of gender in Africa. Additionally, it supports the book's main aim of promoting dialogues about African and gender issues that span across multiple academic and geographic regions.

It is difficult to list all the subjects addressed in this excellent book. However, several essays stand out from the rest. One is "Gender after Africa!" by Eileen Boris. This chapter reflects on three interventions African scholarship brings to the reconsideration of gender as a category of analysis. The three issues Boris analyzes are the "unsettling relationship between the biological and the social that reinforces trends within feminist thought; a questioning of the privilege of gender over social attributes, especially age, lineage, kinship, and wealth, thus complicating understandings of 'intersectionality'; and a revealing of gender as an expression of power through historical struggles over colonization and liberation" (p. 192). The only shortcoming of this wonderful essay is that, at ten and a half pages, it is too brief.

A second chapter, "Dialoguing Women" by Nwando Achebe and Bridget Teboh, also exemplifies the strength of the book's content. The essay is an example of studies conducted by a growing number of scholars who are doing field research in their countries of origin. Achebe and Teboh's work outlines the complexities of such research. Hailing from different African countries (Achebe from Nigeria and Teboh from Cameroon), these scholars highlight critical issues and questions about doing research in their respective native countries, such as: What does it mean to be an African and female? What are the highlights, the joys, and the tribulations of conducting research among one's own people? Using anecdotes from their own experiences, the scholars also reveal research methodologies they have utilized. This contribution clearly points to the empirically rich and theoretical and methodological importance of "Africa after Gender?"

A postscript in the book, "The Production of Gendered Knowledge in the Digital Age," also showcases the text's methodological and theoretical contributions. In today's world, more researchers are using modern technology to inform their work (e.g., chat forums). This excellent addition to the end of the book speaks to the complexities and importance of using modern technology to inform African gender issues. For example, the piece stresses the significance of online African feminist journals, such as "Jenda." The essay also emphasizes the ways in which African gender activism is informed by the use of technology. For instance, in Uganda, several organizations have used the Internet for community building and information sharing to address gender equality. This postscript reminds readers that African gender research methodologies and theories should expand beyond our physical realm and should also spill over into the world of technology, specifically the Internet.

A critical drawback of "Africa after Gender?" is the lack of greater regional diversity among the geographical regions of emphasis. Essentially, the essays focus mostly on African Anglophone countries. The countries that dominate the discourse on African gender issues are Ghana and Nigeria. Few Francophone African countries are addressed in the book, except for Teboh's research experiences in Cameroon and Eileen Julien's analysis of a French-language novel by a Senegalese woman ("Scarlet Song" [1981]). It is difficult to assert that this problem is unique to the book as it is also evident in other academic fields in the humanities. This is a problem even acknowledged by Marc Epprecht in his December 2009 article when he writes that Anglophone Africa dominates the production of knowledge and theorization about African sexualities in history.[1] The same can be said about African gender studies. More research from Francophone (and Lusophone) African countries would aid in redressing this problematic imbalance.

In sum, this is a truly remarkable and important book despite its drawbacks. This text offer a fresh and challenging analysis on African gender issues. Through dialogues, the collaborators are able to trace the significance of gender (as a concept and as a guide for action) within diverse African contexts. This book is very accessible and engaging for scholars and students at the graduate level. It should have widespread appeal to Africanists from all subfields, as well as scholars of women and gender studies. "Africa after Gender?" makes a significant contribution to African studies and illuminates the changing discourse of gender within African contexts.

Note

[1]. Marc Epprecht, "AHR Forum: Sexuality, Africa, History," American Historical Review 114, no. 5 (December 2009): 1258-1272.

Copyright (c) 2010 by H-Net, all rights reserved. H-Net permits the redistribution and reprinting of this work for nonprofit, educational purposes. This work is licensed under a Creative Commons Attribution-Noncommercial-No Derivative Works 3.0 United States License.

[Return to table of contents]


---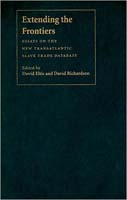 H-NET BOOK REVIEW
Published by H-Albion, http://www.h-net.org/~albion/ (April 2010).

David Eltis, David Richardson, eds. Extending the Frontiers: Essays on the New Transatlantic Slave Trade Database. New Haven Yale University Press, 2008. 377 pp., $90.00 (cloth), ISBN 978-0-300-13436-0.

Reviewed for H-Albion by Isaac Land, Indiana State University

Slavery By the Numbers



The first systematic attempt to count how many enslaved Africans crossed the Atlantic was Philip Curtin's classic 1969 The Atlantic Slave Trace: A Census, which reckoned by entire centuries and necessarily relied on a great deal of educated guesswork. Since then, new technologies have enabled scholars to share evidence from a wide variety of sources on different continents, accumulating multiple sources of information on many individual voyages. There is no longer a high risk of counting ships and their cargoes twice (once on departure from Africa and again on arrival in the Americas). It is now possible to quantify how many slaves crossed the Atlantic in any given year with a high degree of accuracy. Databases allow us to sort the individual voyages according to many different variables, including the port of departure, the point of arrival in Africa, the mortality during the Middle Passage, and the American destination that ultimately received the human cargo.

The data discussed in this volume is derived from the substantial and wide-ranging update to the Transatlantic Slave Trade Database (searchable for free at http://slavevoyages.org) that has been carried out since the release of an earlier version of the database on CD-ROM in 1999 and the discussion of the initial findings in the William and Mary Quarterly in 2001. I will follow the convention adopted by the editors and refer to the 1999 data as TSTD1, while the newest findings are TSTD2. Since 1999, 8,232 new voyages have been added to the database, and 19,729 of the voyages already included are modified to reflect new information. The editors remark that with this latest refinement of the data, it is possible that "this book will be the last to devote a major part of its thrust to assessing the overall size of the slave trade" (p. 53). The concluding essay by David Eltis and Paul Lachance offers a reappraisal of "rates of natural decrease" in the Caribbean, reminding us that estimates about the scope of the slave trade have also shaped the debate on other important demographic topics (p. 355).

It was already well known that Brazil took the lion's share of slaves from Africa; a concentrated effort to improve the coverage of ships flying the Portuguese or Brazilian flags has resulted in a 13 percent increase in the overall estimate of persons removed from Africa over the entire course of the slave trade (an additional 1.5 million human beings unknown to TSTD1), and an 11 percent increase in the equivalent estimate of enslaved persons arriving alive in the Americas (p. 45). The editors note that "it now appears that British dominance of the slave trade was confined to eight of the thirteen decades between 1681 and 1807" with "two long periods of Portuguese preeminence" on either side (p. 39). Indeed, even in several of the "dominant" British decades, Portuguese slave traders nearly tied them for the number one position. For example, in the period 1751-60, the British accounted for the shipment of 255,346 Africans, but the Portuguese transported 215,934 (table 1.6). The new numbers also force some reappraisal of the role of individual port cities in the trade as a whole: "Liverpool has often been viewed as the quintessential slave-trading port, but in fact the ports of Bahia and Rio de Janeiro were individually responsible for far more slaves reaching the Americas" (p. 39). Little-known Brazilian ports, such as Recife, sent out about two thousand slave ships in total, equivalent to Bristol's trade and exceeding that of Nantes (p. 122). Not surprisingly, raising our estimate of the number of slaves destined for Brazil also involves a notable increase in the weight of the Congo River basin and Angola, which figure more than ever as prime contributors of captives.

The essays in this volume are concerned with what was new in TSTD2, and this was -- by design -- mostly about rectifying gaps in our knowledge of the Luso-Atlantic world, which receives no less than four chapters of coverage. Although the French, the Dutch, and even the Duchy of Brandenburg (which launched fifty-six voyages, mostly in the 1690s) can boast chapters of their own, there is no chapter devoted to Britain or its colonies per se. As I have noted, however, the new data enables us to set Britain, its trade, and its colonies in a broader comparative context with unprecedented accuracy. Some refinements also improve our knowledge of the performance of various British ports in comparison with each other. Considering the entire history of the slave trade, "London now appears to have been twice as important as Bristol and not far behind Liverpool, albeit with a trade that endured over a longer period" (p. 39).

Taking a hard look at the early and mid-nineteenth-century numbers also puts Britain's much-touted efforts to ban the transatlantic trade in a less flattering light. In the Luso-Atlantic world, the numbers of slaves enduring the Middle Passage went up, not down, after 1807. Although "about eighty-five vessels from Bahia were captured by British forces" between 1811 and 1830, which sounds impressive, this period and the two decades that followed marked the climax of the trade in Brazil (p. 146). The figures show that many hundreds of thousands of slaves were never intercepted. When British pressure made it inconvenient to disembark captives in the port of Salvador, they were simply set down on nearby beaches and islands (p. 140). In nearby Uruguay, slaves arrived as "colonists" from Africa, avoiding the rules while fooling no one (p. 37). The chapter on Cuba, illuminated by insights from the Cuban archives, paints a similar picture: slavers entered the island's ports "with complete impunity," while the "many hidden creeks" of the lower Congo River foiled the British patrols on the other side of the Atlantic (pp. 187, 192). It is particularly sobering to see that the numbers of captives departing from Sierra Leone's creeks and inlets showed little or no decline in the decades following 1807 (table 1.7); one would never guess that this part of the African coast was also the site of a bold experiment in freedom undertaken by former slaves from the Americas, and the place where the Royal Navy delivered its "recaptives" from intercepted slave ships.

One potential shortcoming of history by the numbers is that it may prejudice us in favor of the study of numerically larger groups, or of groups whose existence and movements are easiest to quantify. TSTD2 is so impressive, and so easy to access, that there is some risk that it could discourage historians from considering other, less well-documented populations that fell outside its purview. Native American slaves amounted to a modest fraction of the total of enslaved persons in the Americas, but in certain times and places they could be quite important, as demonstrated by Allan Gallay's prize-winning book on South Carolina, The Indian Slave Trade: The Rise of the English Empire in the American South, 1670-1717 (2002). It would be unfortunate if our lavish, and entirely laudable, attention to the demographic rise of African Americans had the effect of eclipsing our awareness of Native American populations, which, despite the myth of the "vanishing Indian," did in fact persist and adapt, exercising an influence over colonial societies from beginning to end despite their diminished numbers.

Copyright (c) 2010 by H-Net, all rights reserved. H-Net permits the redistribution and reprinting of this work for nonprofit, educational purposes. This work is licensed under a Creative Commons Attribution-Noncommercial-No Derivative Works 3.0 United States License.

[Return to table of contents]


---

H-NET BOOK REVIEW
Published by H-AfrArts, http://www.h-net.org/~artsweb/ (April 2010).

Dale Rosengarten, Theodore Rosengarten, Enid Schildkrout, eds. Grass Roots: African Origins of an American Art. Long Island City Museum for African Art, 2008. 269 pp., $35.00 (paper), ISBN 978-0-945802-51-8.

Reviewed for H-AfrArts by Kristine Frank Elias

Roots: Context and Complexity



Grass Roots: African Origins of an American Art, co-edited by Dale Rosengarten, Theodore Rosengarten, and Enid Schildkrout, is a companion publication for an exhibition of the same name organized by the Museum for African Art in New York City in cooperation with the Avery Research Center for African American History and Culture at the College of Charleston and the McKissick Museum at the University of South Carolina. Along with the authors, researchers from a number of disciplines contribute to the text, including Peter H. Wood, Judith A. Carney, Jessica B. Harris, Sandra Klopper, John Michael Vlach, Fath Davis Ruffins, and J. Lorand Matory. Together these essays provide a rich historical and cultural context for the coiled baskets of the South Carolina Lowcountry on display.

As the title suggests, several essays in the book focus on Africa as the potential site of origin for Lowcountry coiled baskets. To scholars of the African diaspora, this search for African sources is a familiar one. However, the path taken in Grass Roots is refreshing for its recognition of the complexity of such a search for origins. In the first pages of the introduction, Theodore Rosengarten outlines the challenges of establishing a direct lineage to Africa based on formal qualities alone. He raises an issue that we as art historians must keep in focus: "Nothing and no one in Africa stand still," making formal comparisons problematic (p. 13). However, the book "emphasizes the indisputable African contribution to Lowcountry basketry but opens the door to the possibility of other influences as well" (p. 14). This statement serves to frame the essays that follow, which, drawing on a variety of disciplinary perspectives, examine the evidence for the cultural continuities that are at the center of the study.

The main text is a collection of ten loosely connected chapters providing multiple perspectives on basket making and the cultural history of the Lowcountry region (with one additional chapter that focuses on southern Africa). Although formal analysis and comparison of the Lowcountry and African baskets is discussed, attention is focused on changes in basket making over time and how economic, social, political, and cultural pressures play a role in change. Indeed a number of chapters provide a variety of historical and environmental contexts for basket making in the Lowcountry that one might not expect to see in an art exhibition catalog. For example, Wood, a historian, discusses transferrable skills slaves could have used to their advantage, like canoe building and fishing, while Carney, a geographer, raises questions of agricultural connections between rice cultivation in Africa and the Lowcountry. Overall, we gain an understanding of the basket country as a culturally complex world, instead of a one-dimensional, timeless place of baskets.

Critical chapters on basketry are those authored by Schildkrout and Dale Rosengarten, Dale Rosengarten, and Klopper. In the first chapter, "African Origins: Ancestors and Analogues," Schildkrout and Rosengarten argue for a comparison of Lowcountry and African baskets based on technique and materials; at the same time, the authors point out that tracing origins through formal similarities is "intriguing" but difficult (p. 22). Schildkrout and Rosengarten tighten the connection through a discussion of the production environment -- in West Africa, rice production was an integral part of the culture; on a plantation, the slaves and baskets were means of production. There is strong evidence of an economic demand for slaves with experience in rice cultivation, and it is reasonable to conclude that individuals with this experience brought with them knowledge and expertise that might be used advantageously. The multiple factors contributing to the development of basket-making techniques and production underscore that there are no straight lines from past to present in material culture. Overall, we are left with a clear sense of the complex history and a greater appreciation for the art form and basket makers themselves.

The chapters written by Dale Rosengarten herself highlight a deep understanding of Lowcountry people and baskets. While her work is objective, it reflects the empathy, integrity, and respect of a scholar intimate with her subject. It is clear that she understands not only the history but also the present circumstances of Lowcountry communities and the role basket making plays in the lives of contemporary people from a source of income to a source of pride. She shows how economic, social, cultural, and environmental change is omnipresent in the community and reflected in the art of basketry. For example, in chapter 6 -- "Missions and Markets: Sea Island Basketry and the Sweetgrass Revolution" -- she recounts how the sweetgrass basket makers of Mt. Pleasant "seized opportunities offered by retail merchants and a budding tourist trade to increase their output and expand their repertory" (p. 128). Her perspective helps us understand Lowcountry baskets as a living tradition in a complex cultural and economic environment.

Klopper provides the only look at African basketry in chapter 7, entitled "Necessity and Invention: The Art of Coiled Basketry in Southern Africa," which includes several beautiful additions to the catalog. While Klopper proposes possible connections between southern African and South Carolinian baskets, the primary contribution of her essay is its position as a comparative case study. The basket-making traditions of southern Africa are reviewed in cultural contexts that echo what other essays explore in relation to the Lowcountry. Klopper examines some key influences on basket-making traditions, such as missionary activities, economic pressures, and the accessibility of raw materials; these factors are relevant to the Lowcountry case as well. An interesting comparison can be made between the influence of the Penn School established in the early 1900s on St. Helena Island outlined by Dale Rosengarten and the Vukani Association founded in southern Africa by Swedish missionaries Kjell and Bertha Löfroth in the late 1960s described by Klopper. Although Klopper does not make this connection overtly, the reader can easily see the similarities between how the Penn School and Vukani Association influenced basket making in the Lowcountry and southern Africa respectively.

Although the book demonstrates both a breadth and depth of knowledge, it is neither dense nor theoretical, making it accessible to the general reader. As an exhibition catalog, it is replete with beautiful photographs of the baskets as well as historical documents, maps, various art works, and photographs of the people and regions discussed. However, the book would have benefited from more complete descriptions of the catalog images, for they are not always discussed specifically in the accompanying essays. Despite this flaw, the book presents a textured reading that weaves together historical, cultural, and economic context and a perspective on how the coiled baskets have become cultural symbols. Woven into the overall discussion of context and change is the discussion of how meaning is formed. Specifically, the idea of African origins is addressed. It is clear that the idea of African origins has a life of its own, nurtured by cultural stakeholders and resulting in community pride and restored heritage, with baskets as the material symbol.

Copyright (c) 2010 by H-Net, all rights reserved. H-Net permits the redistribution and reprinting of this work for nonprofit, educational purposes. This work is licensed under a Creative Commons Attribution-Noncommercial-No Derivative Works 3.0 United States License.

[Return to table of contents]


---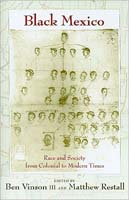 H-NET BOOK REVIEW
Published by H-AfrArts, http://www.h-net.org/~artsweb/ (April 2010).

Ben Vinson, Matthew Restall, eds. Black Mexico: Race and Society from Colonial to Modern Times. Albuquerque University of New Mexico Press, 2009. 278 pp., $27.95 (paper), ISBN 978-0-8263-4701-5.

Reviewed for H-AfrArts by Matthew F. Rarey, Department of Art History, University of Wisconsin-Madison, and Alyson Williams, Latin American, Caribbean and Iberian Studies, University of Wisconsin, Madison

The Direction of Afro-Mexican Studies



In the midst of fierce debates about the constructions of racial difference on both sides of the Rio Grande, and questions about how to undertake the study of race in Latin America given the complexity of the issue, Ben Vinson III and Matthew Restall take a stance that black Mexicans are a historically identifiable population with a traceable history. The book's title, Black Mexico: Race and Society from Colonial to Modern Times, makes that political statement. The book itself presents a wide range of essays to make this case from the beginnings of Mexican slavery to the twenty-first century and poses powerful questions about historical and contemporary constructions of racial difference, classification, and political life in Mexico. The essays' collective scope is impressive, using historical, anthropological, and contemporary lenses, to encompass ideas of freedom and agency under slavery, mestizaje (the process of ethnic and cultural mixture between indigenous peoples, Africans, and Europeans), and present-day movements for political autonomy. The result is a long-overdue accessible introduction to the history, culture, and political life of Mexico's black population that does an excellent job of acknowledging, and attempting to fill, gaps in recent scholarship on Afro-Mexican history and society.

The editors' introduction notes the book's dominant theme as the integration of blacks into Mexican society. Necessarily, this poses the question of how a black Mexican is defined. Rather than being seen as a hindrance, that question is tackled from multiple angles. Section 1, "Entering the Colonial World," stresses the importance of being able to detect Afro-Mexicans in historical records as a distinct group and engages ideas of Afro-Mexican social integration through considerations of slavery, freedom, social agency, and racial identity and hierarchy in colonial Mexico. Section 2, "Engaging Modernity," surveys contemporary manifestations of identity discussed from the viewpoint of Afro-Mexicans, black Mexican political activists, and researchers from the United States.

"Entering the Colonial World" is dominated by studies of changing conceptions of freedom, agency, and social integration. It begins with Frank "Trey" Proctor III's insistence that universal ideals of liberty were not always the motivation behind slave rebellions in Mexico, that they were frequently motivated only by concerns for fair treatment. This opens up an important theoretical space for other essays that think through the very complex relationship between individual freedom and the maintenance of the larger social hierarchy. Andrew B. Fisher's essay moves down this road by examining the relations between blacks and indigenous groups in Guerrero, providing a case study for the unstable position occupied by Afro-Mexicans between Spanish colonists and the massive indigenous population in New Spain. Pat Carroll takes this a step further, citing the many ways in which blacks were able to fully integrate themselves into predominantly indigenous areas through displays of cultural practice, something that could never occur in Spanish and creole areas. He shows Afro-Mexicans then using these negotiations to play Spanish and creole (or indigenous and Spanish/creole) social systems against each other for their own benefit. Vinson continues historical considerations of Afro-Mexican agency through his study of free black Mexican labor, noting the ways in which blacks became integrated into the free labor sector by the late 1700s. Shifting from discussions of labor and intergroup negotiations to self-determination, Nicole von Germeten then presents convincing research to argue that otherwise degrading race labels were actually skillfully negotiated by blacks in New Spain, and frequently used to their own advantage inside the social hierarchy. Finally, a co-authored chapter by Joan Bristol and Matthew Restall presents an intriguing history of Afro-Mexican and Afro-Yucatan love-magic potions, developing ideas first articulated in Bristol's Christians, Blasphemers, and Witches: Afro-Mexican Ritual Practice in the Seventeenth Century (2007). Their argument that ritualists of African descent were valued and consulted ahead of indigenous practitioners works in tandem with much new research articulating the ways in which ritual and magical practice could actually produce very powerful and quite real forms of social agency for those with such specialized knowledge, particularly regarding its use by slaves or servants to render their own masters kind or more pliable. What emerges from this section is one of the best overviews yet written of the many ways to conceive of freedom and social agency for black Mexicans: relations with indigenous communities; cultural practices; ritual and magic; adaptation and re-formation of racial names; and the politics of labor. The essays are a fascinating, cohesive, and yet refreshingly diverse set of case studies that address freedom and agency on both historically specific and theoretical levels.

Section 2, "Engaging Modernity," presents a series of theses on Afro-Mexican self-identity, from stern warnings regarding the dangers if Afro-Mexicans are not recognized as a distinct ethnic group to questioning the very existence of such a group in modern Mexico. In their introduction, the editors note that studies of black contributions to Mexican society largely position Afro-Mexican culture as "relegated to the colonial era or the early national period" (p. 2). Unfortunately, Black Mexico falls into this same trap. For example, section 1 is considerably longer and more wide-ranging than section 2. At minimum, this discrepancy makes apparent the desperate need for more research on contemporary Afro-Mexican political and social consciousness. Fortunately, the few essays here provide a solid start for considerations of social identity, and the research practices used to engage them.

Laura A. Lewis begins with one of the best accounts of fieldwork in Afro-Mexico yet published, fully elucidating the complexities of studying a group whose concern lies more with social class than racial identity, particularly one whose consciousness lies across two nations with very different conceptions of race, Mexico and the United States. Her essay leads the reader to begin thinking through the ways in which the category Afro-Mexican can be considered a reaction to strict-constructionist racial definitions in the United States. Bobby Vaughn takes up this point in his personal narrative reflecting on his time living in Mexico. Vaughn argues that residents of the Costa Chica -- the predominantly Afro-Mexican region along the coast of Oaxaca and Guerrero -- should be allowed to engage with questions of identity and blackness on their own terms. Alva Moore Stevenson tackles the same questions through the story of her own family. While from our vantage point her genealogy prevents any easy classification along national, ethnic, or linguistic lines, she is insistent on two points: first, that she is an Afro-Mexican, and second, that the contributions of Afro-Mexicans to the national histories of Mexico and the United States are quite significant, if often ignored. An insistence on the need to recognize Afro-Mexican identity is brought to its full force by Jean-Philbert Mobwa Mobwa N'Djoli in the book's final essay. He specifically enumerates the ways Afro-Mexicans suffer from their lack of recognition by the Mexican government, and presents a series of demands to overcome this barrier. This is a pointed contrast to the more nuanced approaches of the previous three essays, particularly since Black Mexico ends on this forceful political note. It might have been more appropriate to reverse the order of the essays, moving from strict definitions of racial consciousness to the problems therein presented by Stevenson, Vaughn, and Lewis.

Yet perhaps it is only with such a forceful conclusion that we can accurately reflect on the hundreds of years of complex and multifaceted history surveyed in the previous section. It is clear that more work needs to be done in contemporary identity studies, and though we find it difficult to believe the editors could not have found more essays to include in section 2, this is a minor point in an otherwise overdue and welcome volume. Black Mexico, addressing every major issue and relevant perspective in Afro-Mexican studies, should emerge as the major introductory text in the field.

Copyright (c) 2010 by H-Net, all rights reserved. H-Net permits the redistribution and reprinting of this work for nonprofit, educational purposes. This work is licensed under a Creative Commons Attribution-Noncommercial-No Derivative Works 3.0 United States License.

[Return to table of contents]


©2010 African Diaspora Archaeology Network
Copyright and all rights reserved by
individual authors for each article.
Please send comments, suggestions, or questions
to Chris Fennell at cfennell@illinois.edu
Last updated: August 9, 2010
Text only menu
Search