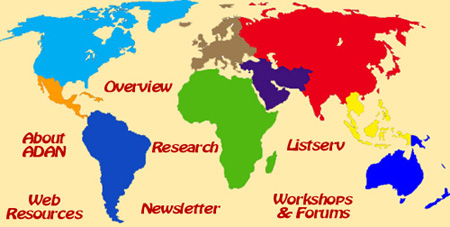 June 2023 Newsletter
ISSN: 1933-8651
In this issue we present the following articles, news, announcements, and reviews:
Articles, Essays, and ReportsNews and AnnouncementsNew Exhibit, Webinars, and BooksBook Reviews
---
Commemorating Mark E. Mack's Commitments
and the Mt. Pleasant Plains Cemetery, Washington, DC
By Christopher Fennell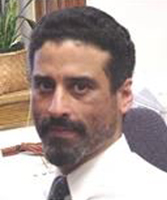 The Mark E. Mack Community Engagement Award was created by the Society for Historical Archaeology to honor those individual researchers or research project teams that exhibit outstanding best practices in community collaboration, engagement, and outreach in their historical archaeology and heritage preservation work. Mack awardees demonstrate a commitment to the representation of and open dialogue with stakeholders in archaeological research, especially descendant, local, and minority communities.

The award commemorates the life and career of Mark E. Mack (1961-2012) and encourages diversity in the profession by cultivating relationships between archaeologists and stakeholder communities. Mack was well known for his work on the New York African Burial Ground project. He was a professor of anthropology at Howard University and curator of the university's W. Montague Cobb Research Laboratory. Throughout his career, he exemplified many of the qualities we value as best practices in community, stakeholder collaboration (image courtesy of Howard University).

Mack's work and inspiration were also recognized in December 2021 with the unveiling of exhibits commemorating the escape routes of the "Underground Railroad" at Walter Pierce Park in Washington, DC. The exhibit markers were dedicated by descendants of those who were buried at the site when it was Mt. Pleasant Plains Cemetery. Mt. Pleasant was a burial ground where more than 8,400 African-American Washingtonians were laid to rest between 1870 and 1890. The cemetery was established and managed by the Colored Union Benevolent Association, a group created by free African Americans in 1838.

[Read or download this full article here in Adobe .pdf format >>>].

[Return to table of contents]


---
African Diaspora Communities of the Shawnee National Forest
and Mary R. McCorvie's Civic Engagements
By Mark Wagner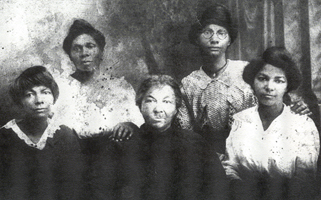 Mary McCorvie and her projects focused on the African diaspora communities of the Shawnee National Forest region received the 2023 Mark E. Mack Award Community Engagement Award by the Society for Historical Archaeology. Mary served as the Heritage Program Manager on the Shawnee National Forest in southern Illinois from 1991 through 2021. During that time she conducted extensive collaborative public outreach programs with African-American, Native-American, and local Euro-American stakeholders to reconnect them with their heritage within Illinois. Her most well-known project involved the pre-Civil War, African-American community called Miller Grove.
Established by freed slaves in the 1840s, the now-abandoned community of Miller Grove consisted of over 20 homesteads, a church, school, and cemetery, all located on a landscape of rolling hills that would later become Forest Service land (Photograph of Abby Gill Miller and her daughters, ca. 1910, above). Mary was instrumental in the preservation of this community though her sponsorship of collaborative investigations into its history, including archaeology and oral history interviews with descendant family members. As part of these initiatives, she directed a multi-year, Historic Black College grant sponsored by the Forest Service headquarters in Washington, DC. This support provided funding for two students to be trained annually in archaeology, historical research, and oral history interviews at Miller Grove. She also developed an "I Too Am America" (ITAA) summer camp program for Miller Grove in which Historic Black College students served as mentors for 324 African-American, 6 Hispanic-American, and 65 Euro-American school children. Adult chaperones and instructors involved in this project totaled an additional 109 participants.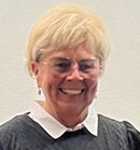 The ITAA summer camps worked to reconnect school children of an underserved area -- deep southern Illinois -- with their heritage by instilling in them a sense of pride in their region. Mary also worked with adult community volunteers, including Americorps "Promise Fellows," the "100 Black Men of America Club," and the African-American Museum of Southern Illinois in the implementation of this program. The Promise Fellows identify and work with 6th to 8th grade students in a one-to-one mentorship to engage students with their community. The 100 Black Men Club mentors similarly seek to develop young people into future leaders by surrounding them with positive influences.

[Read or download this full article here in Adobe .pdf format >>>].

[Return to table of contents]


---
Interpreting the Domestic Slave Trade: Exhibits and Research at
Alexandria's Freedom House Museum at 1315 Duke Street
By Tatiana Niculescu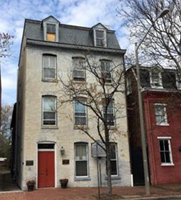 In May 2022, the Freedom House Museum reopened in Alexandria. The much-anticipated reopening made regional and national news and marks a new chapter in the history of the site. Two of the three powerful new exhibits showcase archaeological artifacts associated with the lives of free and enslaved Black individuals who lived and passed through Alexandria.

The Freedom House Museum located at 1315 Duke Street is the remains of a large complex through which thousands of Black men, women, and children were trafficked between 1828 and 1861. In the decades before the Civil War, Alexandria was a major port in the domestic trade of enslaved people and a variety of firms operated within the city, forcibly transporting people from the Chesapeake region to the Deep South. At its height, the massive complex spanned nearly half a city block, enclosed by high brick walls and fencing.

The Freedom House Museum seeks to reframe white supremacist history. Slavery, race-based laws, and racial terror erased and diminished African American history and contributions from the national narrative. This museum honors the lives and experiences of the enslaved and free Black people who lived in and were trafficked through Alexandria. Archaeological investigations and artifacts have contributed to the reframing of this narrative.

[Read or download this full article here in Adobe .pdf format >>>].

[Return to table of contents]


---
"Dwellings of the Enslaved" on Preservation Virginia's
2023 List of Virginia's Most Endangered Historic Places
By Douglas W. Sanford and Dennis J. Pogue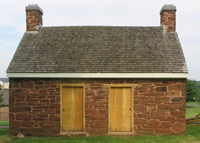 On May 9, Preservation Virginia announced its 2023 listing of the State's most endangered historic places. Nominated by the Virginia Slave Housing Project, the state-wide listing for "Dwellings of the Enslaved" recognizes the diverse range of threats to surviving examples of domestic housing associated with unfree African Americans (the text of the full nomination is set out below). These buildings represent cultural resources critical for understanding the history of race-based slavery in Virginia and for interpreting descendant communities' heritage. In addition, the same cabins and quarters have significant archaeological components that when excavated and analyzed, allow for more complete and nuanced interpretations of enslaved people's daily lives, resistance to oppression, and their sense of identity.

Begun in 2007, the Virginia Slave Housing Project is co-directed by Douglas W. Sanford, former professor of historic preservation at the University of Mary Washington, and by Dennis J. Pogue, recently retired from the graduate historic preservation program at the University of Maryland, College Park. A major goal of the Project has been to compile comparative data on slave housing from archaeological sites, historic documents (such as fire insurance policies), previous architectural research, and especially, surviving dwellings of the enslaved in rural and urban settings across the State. To date, the Project has documented 120 standing buildings in the field.

Another primary objective centers on promoting the preservation and interpretation of these buildings. Based on our experience over the last 15 years, we realize that the physical survival of slave-related buildings does not equate with preservation. Proactive means of maintenance, repair, and rehabilitation are needed. We hope that Preservation Virginia's listing for "Dwellings of the Enslaved" will encourage local citizens and community organizations to consider steps for identifying, documenting, and preserving the cabins, quarters, and kitchens that formerly housed enslaved Blacks.

[Read or download this full article here in Adobe .pdf format >>>].

[Return to table of contents]


---
Montpelier Archaeology Recognized with
Society for Historical Archaeology's Roberts Award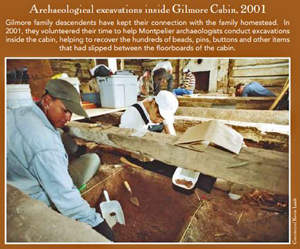 From the Society: "The Daniel G. Roberts Award for Excellence in Public Historical Archaeology was presented to the Montpelier Archaeology Department at the Montpelier Foundation. Nominated by Terry Brock of Wake Forest University, the Montpelier Archaeology Department has been engaged in public archaeology since the early 1990s. Under the leadership of Dr. Matthew Reeves, director of archaeology, the Montpelier Archaeology Department has successfully engaged the public in its work, which has involved extensive outreach and interaction with African American community members, among whom are descendants of those who were enslaved at Montpelier."

"Notably, after Brock had submitted his nomination, the Montpelier Foundation President disengaged from interactions with descendant community members on the Montpelier Board and terminated Reeves and other members of the department. Even more notably -- and a testament to the power of the Montpelier Archaeology program -- the outcry over their termination from the public and the descendant community was so great that the foundation president was replaced and Reeves and his coworkers were reinstated" (SHA Newsletter Spring 2023; image from "The Gilmore Farm Site," by Matthew Reeves and Montpelier Archaeology, African Diaspora Archaeology Newsletter, May 2005).

[Return to table of contents]


---
Edward González-Tennant's Work on Rosewood Community
Recognized with Society for Historical Archaeology's Cotter Award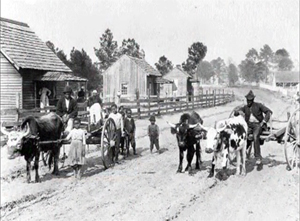 From the Society: "The John C. Cotter Award was presented to Edward González-Tennant by James Davidson of the University of Florida. Presented to scholars in the early stages of their career, Davidson noted that Ed had conducted research on and developed innovative technologies for a range of international historic sites and topics and has been widely published since the receipt of his doctorate in 2011. Ed's work in spatial technologies, GIS, virtual reality, and community engaged, collaborative archaeology are influential and these research tracks coalesced in his work at Rosewood, a Black community in Levy County, Florida, that was destroyed by a violent white mob in January of 1923."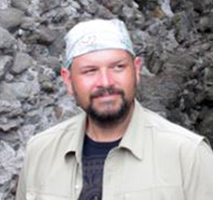 "Denied access to the physical space of the former town of 200, Ed began a virtual reality project that collected written and oral histories of the town and developed a virtual and interactive tour of the town as it appeared in December 1922, shortly before its annihilation. Ed's work resulted in a community-based website and virtual tour of the town (virtualrosewood), provided the basis of his dissertation that in turn was published by the University of Florida Press, and resulted in his being invited to visit and record the Rosewood cemetery, which was surveyed and modeled and added to the Virtual Rosewood website" (SHA Newsletter Spring 2023; images from Remembering Rosewood film by Edward González-Tennant).

[Return to table of contents]


---
African-American Workers at
Catoctin Furnace Focus of Smithsonian Documentary
By Crystal Schelle
Frederick News Post, May 30, 2023
For centuries, when the history of the Catoctin Furnace was told, it traditionally emphasized its European-decent workers.
But a discovery in 1979 of an African-American cemetery at the furnace and the subsequent years of research have led the Catoctin Furnace Historical Society to tell a different story.
The Smithsonian Channel's "America's Hidden Stories: Forged in Slavery" documentary shares the story of how enslaved people played a role during the Industrial Revolution, particularly at Catoctin Furnace.
The Catoctin Furnace was established in 1776, a few years after Thomas Johnson Jr., who would become the state's first governor, discovered a good grade of hematite ore in the Catoctin Mountains. He and Roger Johnson made the furnace to produce pig iron. Over the years, it was converted from charcoal to coal, and it changed hands many times until February 1903, when the furnace was blown for the last time.

The documentary will be shown later in June on the Smithsonian Channel. Comer hopes those who catch "America's Hidden Stories: Forged In Slavery" on the big screen this month will be exposed to history, particularly African-American history, in a new way. "I hope they leave with the same humbling recognition that the African-American community … in this country established, created and made the wealth [and] the power of the country," she said.

[Read this full article online >>>].

[Return to table of contents]


---
Open Access Articles on JADAH
The Journal of African Diaspora Archaeology and Heritage (Taylor & Francis Press) includes open access articles. You can find these on the journal website (link). Examples of articles currently available with free access include: