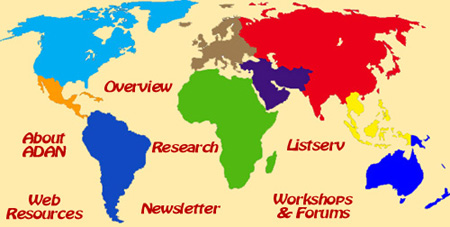 September 2010 Newsletter
ISSN: 1933-8651
In this issue we present the following articles, news, announcements, and reviews:
Articles, Essays, and ReportsNews and AnnouncementsConferences and Calls for PapersBook Reviews
---
Virtual Archaeology and Digital Storytelling:
A Report from Rosewood, Florida
By Edward González-Tennant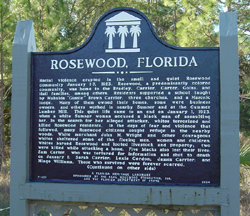 The utilization of virtual worlds as a research and collaborative practice is rapidly growing in archaeology, although largely restricted to prehistoric and monumental sites. This article outlines the application of virtual technologies to the historic site of Rosewood, Florida. In addition to reviewing a wide range of creation and delivery methods for virtual content, the author discusses the ability of digital storytelling to produce multi-vocal representations of archaeological contexts. While the central goal focuses on elaborating the current possibilities of virtual archaeology, a secondary current invites readers to conceptualize the transformative potential of new media in regards to historical archaeology. As new media practice, the combination of virtual archaeology and digital storytelling offers a new toolkit for engaged scholarship. This innovative approach stimulates a democratized practice that is not restricted to classic forms of mass standardization routinely found in traditional forms of interpretation and dissemination. [Read or download this full article here in Adobe .pdf format >>>].

[Return to table of contents]


---
Understanding Nigeria within
the Context of the Atlantic World
By Samuel Oluwole Ogundele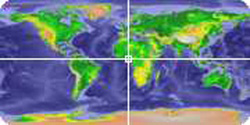 The legacies of the trans-Atlantic slave trade, and its enduring impacts in Nigeria starting in the mid-15th century, present a paradox. Those oppressive activities, orchestrated by European interests, comprise a subject that evokes intense emotional reactions to condemn such incidents of slavery, economic exploitation, and political subjugation. Continuing, damaging effects of the trans-Atlantic slave trade can be seen in the cultural landscape of Nigeria today. In turn, enduring lessons of human character, aspiration, and resilience can also be learned from these histories. In this regard, a paradigm shift presented by trans-disciplinary approaches involving such subjects as archaeology and anthropology presents a promising development. For too long, attention has been almost totally focused on the debilitating effects of the trans-Atlantic slave trade on facets of Nigerian cultures. Such an approach was derived from a discourse of condemnation that tended to inhibit the full potentials of modern education and appreciation of cultural accomplishments in Nigeria's history. The lacunae of silences created as a result of this condemnatory focus and related parameters of authenticity or truth can be filled in through the lenses of archaeological and anthropological sciences among other disciplines.

Such trans-disciplinary research efforts provide new insights into the resilience and achievements of Nigerian cultures. For example, agricultural, culinary, and architectural knowledge and heritage were greatly modified over time in Nigeria as a result of the historical processes and entanglements generated during the period of the trans-Atlantic slave trade. The dietary practices of Nigerians were enlarged and enriched, thus paving the way for a healthier society. Similarly, aspects of Nigeria's sociocultural heritage were adapted in the general lifeways of many people on the other side of the Atlantic. Large social networks in Argentina, Brazil, and Puerto Rico were some of the populations involved in this historical phenomenon of cultural flows and interconnections. This is one example of how Nigerian cultures contributed to the development of the modern world system following their encounters with expanding European colonial enterprise. Today's Nigerians need to learn to participate in the global community in a critical manner, working to prevent political and commercial elites from once again enslaving and oppressing citizens in a short-sighted engagement in "do-or-die" political contests and financial recklessness in the continuing fall-out of the post-colonial era. [Read or download this full article here in Adobe .pdf format >>>].

[Return to table of contents]


---
The Wrecking of the Laden Spanish Slave Ship
Guerrero off the Florida Keys, in 1827
By Gail Swanson
Important to American, British, Cuban, Barbadian and Liberian history is the wrecking of the Spanish slave ship Guerrero off the upper Florida Keys in 1827. It was one of North America's most dramatic maritime events, involving 561 hopeless African people, some 90 Cuban pirates in the slave trade, the 56 person crew of a British warship, and American seafarers from Key West. This article will give an account of the wrecking and then of its aftermath, including involvement by Native Americans from northeast Florida, plantation owner Zephaniah Kingsley, the Captain-General of Cuba, the Governor of Barbados, the people settled at New Georgia, Liberia, and some of the most influential British and American officials of the day, including President John Quincy Adams. Importantly, the names given to 92 of the African survivors in America were recorded when they reached Liberia many months later. I have compiled a number of their life histories including the names of their wives and children, giving a very human perspective to people who are usually just shadowy victims of the slave trade. Currently, members of the "Diving with a Purpose" program of the National Association of Black Scuba Divers are mapping wrecks in Biscayne National Park, where I believe the Guerrero was lost, looking for the remains of that vessel. In 2009 the group received a "Take Pride in America" award for their mapping efforts in a ceremony in Washington, D.C. [Read or download this full article here in Adobe .pdf format >>>].

Additional information about the Guerrero and a documentary produced by the Guerrero Project are available online. As stated on the documentary film's web site, "The Guerrero Project blends the historic story of the only known slave ship to sink in U.S. waters with prisoners on board with modern-day marine expeditions, heated archaeological debate, gritty emotions concerning today's race relations in America and ultimate hope."

[Return to table of contents]


---
A Thatched Cabin on Cumberland Island, Georgia
By Mary R. Bullard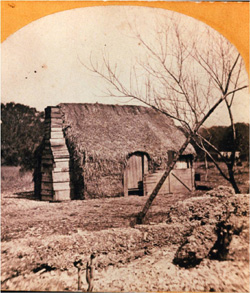 It all started with the scene shown in this image (see Fig. 1 in this article for larger view). While viewing photographs in the Print Department of the New-York Historical Society, in October 1987, I came across an eye-catching, undated stereoview. Handwritten on its reverse side was "Camden County, off Georgia Coast" and "Thatched Cabin, Cumberland Island." No photographer was credited; the photo bears two different handwritings, one in ink, and one in pencil. There was no "back list" on the picture, which would typically consist of commercial information printed on the reverse side of such an image. I immediately noticed the cabin's outstanding attribute, as had the unknown photographer: a fairly small frame cabin, seemingly one room, standing in an undistinguished open field, was roofed with a thick cover of thatch. The luxuriant thatch covered not only the roof but also the cabin's exterior walls. On the exterior at one end of the cabin stood a chimney flue, covered with large wooden shingles.

The opening of the chimney stack was level with the roof tree, or even slightly below it. A low central door faced the photographer, and presumably served as the cabin's main entrance. A wooden door-like construction stood at its side, abutting the exterior wall. In the background gleams what appears to be a small whitewashed building. In the foreground can be seen several low tabby walls. The roof thatching hung down far enough to obstruct passage through the door. Thatch over the door had been distinctively trimmed into a crescent-shaped cut. An extensive heap of oyster shell spills across the near foreground of the stereograph. Initially, the shell heap reminds one of a Timucuan shell midden, of which there are many on this island.

The only date immediately associated with this stereograph was its accession date, 1960-61. No recorded evidence provided a date for the image. This stereograph is presented on an unprinted, yellow-orange mount card. The albumen stereo image has rounded corners, set within the square-cornered and flat mount card. The stereograph can be dated to some degree by comparative studies of that card mount. Professional archivists estimate that it dates from the 1850s to the mid-1870s. . . . The stereoview of this thatched cabin is an unusual example of vernacular architecture which can be placed locally and dated. It is also unusual in giving us a pictorial view from a very isolated freedmen's village, one which persisted after 1865 for at least three decades. Perhaps it is chiefly remarkable for showing up at all. Life in the swamps is not the best place to find vestiges of religious life, and this cabin may have been a Praise House. Its discovery is quite amazing. [Read or download this full article here in Adobe .pdf format >>>].

[Return to table of contents]


---
Recent Dissertations on Archaeology and History




The following, non-exhaustive lists of dissertations on African diaspora archaeology and related history studies were compiled by Chris Fennell. Archaeology dissertations are listed for the period since September 2009. The September 2005, 2006, 2007, 2008, and 2009 issues of the African Diaspora Archaeology Newsletter provided similar compilations of dissertations for the period of 2000-2008. History dissertations are also listed below for the period since September 2009, with a focus on studies addressing aspects of past social structures, social networks, the built environment, material culture, and impacts of racism. If you are aware of other recent dissertations, please email me, and I will include the information in a future newsletter edition. The dissertations listed below are doctoral theses, unless otherwise indicated, and are listed in chronological order by year and then alphabetic order by the author name within each year. Abstracts are available online from the UMI/Proquest service.

Archaeology


Preservation Ethics in the Case of Nebraska's Nationally Registered Historic Places, by Darren M. Adams, University of Nebraska at Lincoln and UMI/Proquest, Ann Arbor, Michigan. 2010.

An Analysis of Feature 33 at Van Winkle's Mill Site: African-American Archaeology in the Ozarks, by Kristina Uselton Boykin, M.A., University of Arkansas, and UMI/Proquest, Ann Arbor, Michigan. 2010.

When Her Thousand Chimneys Smoked: Virginia's Enslaved Cooks and their Kitchens, by Kelley Deetz, University of California at Berkeley. 2010.

Change and the Era of the Atlantic Trade: Commerce and Interaction in the Niumi Commercial Center (The Gambia), by Liza Gijanto, Department of Anthropology, Syracuse University. 2010.

Frontier Landscapes, Missions, and Power: A French Jesuit Plantation and Church at Grand Bay, Dominica (1747-1763), by Stephan Lenik, Department of Anthropology, Syracuse University. 2010.

Gracious But Careless: Race and Status in the History of Mount Clare, by Teresa S. Moyer, University of Maryland, College Park, and UMI/Proquest, Ann Arbor, Michigan. 2010.

Hidden in Plain View: African American Archaeological Landscapes at Manassas National Battlefield Park, by Erika Kristine Martin Seibert, University of Maryland, College Park, and UMI/Proquest, Ann Arbor, Michigan. 2010.

Village des Bambaras: An Archaeology of Domestic Slavery and Urban Transformation on Goree Island, Senegal, A.D. 17th-19th Centuries, by Raina Lynn Croff, Yale University and UMI/Proquest, Ann Arbor, Michigan. 2009.

Reconstructing Early Islamic Maghribi Metallurgy, by Martha Ethel Morgan, University of Arizona, and UMI/Proquest, Ann Arbor, Michigan. 2009.

'Over' Looking the African American Landscape along the East Branch of the Cooper River, Berkeley County, South Carolina, 1783-1820, by Lisa B. Gore Randle, M.A., University of South Carolina, and UMI/Proquest, Ann Arbor, Michigan. 2009.

A Comparative Health Analysis of the Historic African American Cemetery Population from 1LA151, Foster Cemetery, to Three Contemporaneous Historic Southeastern African American Cemetery Populations, by Brandon Samuel Thompson, M.A., University of Alabama, and UMI/Proquest, Ann Arbor, Michigan. 2009.



History


Re-membered Kinship: African and African Diasporan Narratives of Return and Their Relevance in a Transnational World, by Prince Kwame Adika, Illinois State University, and UMI/Proquest, Ann Arbor, Michigan. 2009.

Islands of Memory: The Sea Islands, Black Women Artists, and the Promise of Home, by Folashade Alao, Emory University, and UMI/Proquest, Ann Arbor, Michigan. 2009.

Diasporic Patterns: A Complex Systems Approach to the African Diaspora, by Renee Barlow, Indiana University, and UMI/Proquest, Ann Arbor, Michigan. 2010.

Becoming Santeria: A Transnational Study of Cultural Politics, Media and Religion in Cuba and the United States, by Aisha Mahina Beliso-De Jesus, Stanford University, and UMI/Proquest, Ann Arbor, Michigan. 2009.

Contact, Commentary, and Kongo Memory: Souvenir Ivories from Africa's Loango Coast, ca. 1840-1910, by Nichole Neypes Bridges, University of Wisconsin, Madison, and UMI/Proquest, Ann Arbor, Michigan. 2009.

From Trial to Triumph: Representations of African Americans in Museum Exhibits, by Derrick R. Brooms, Loyola University Chicago, and UMI/Proquest, Ann Arbor, Michigan. 2010.

Afro-Peruvian Identity and Its Connection with the Land: The Guayabo-Chincha Case, by Carola Ramirez Castello, M.A., University of Kansas, and UMI/Proquest, Ann Arbor, Michigan. 2009.

Bound Together: Masters and Slaves on the Kansas-Missouri border, 1825-1865, by Kristen Kimberly Epps, University of Kansas, and UMI/Proquest, Ann Arbor, Michigan. 2010.

"Growing up with the Country": African American Migrants in Indian Territory, 1870-1920, by Kendra Taira Field, New York University, and UMI/Proquest, Ann Arbor, Michigan. 2010.

Engendering Captivity: Black Women and Convict Labor in Georgia, 1865-1938, by Sarah Haley, Yale University, and UMI/Proquest, Ann Arbor, Michigan. 2010.

"Cleave to the Black": Identity, Community, and Allegiance-making in Post-Emancipation Jamaica, by Tanya Huelett, New York University, and UMI/Proquest, Ann Arbor, Michigan. 2009.

Middle Passages: The Redemption of African America through the African Mission Field, 1862-1905, by Brandi Suzanne Hughes, Yale University, and UMI/Proquest, Ann Arbor, Michigan. 2009.

Life in the Banyan Branches: African Americans and Orisa Tradition in Philadelphia, by Nzinga O. Metzger, Florida State University, and UMI/Proquest, Ann Arbor, Michigan. 2009.

Diaspora, Gender, and Identity: Remaining Hausa in the Cameroon Grassfields, c. 1890 to Recent Times, by Harmony S. O'Rourke, Harvard University, and UMI/Proquest, Ann Arbor, Michigan. 2009.

Collective Identity and African American Views of Africa, African Immigrants, and Immigrant Entitlements, by Sadie Pendaz, University of Minnesota, and UMI/Proquest, Ann Arbor, Michigan. 2010.

A Grain of Salt: Remembering the Trans-Atlantic Slave Trade in Benin Republic and Haiti, by Antoinette Pressley-Sanon, University of Wisconsin, Madison, and UMI/Proquest, Ann Arbor, Michigan. 2009.

Locating Slavery in the Modern National Imaginary: The Legacy of Haiti, by Lindsay Rae Puente, University of California, Irvine, and UMI/Proquest, Ann Arbor, Michigan. 2010.

Plantation Technocrats: A Social History of Knowledge in the Slaveholding Atlantic World, 1830-1865, by Daniel Brett Rood, University of California, Irvine, and UMI/Proquest, Ann Arbor, Michigan. 2010.

Authentically African: African Arts and Postcolonial Cultural Politics in Transnational Perspective (Congo (DRC), Belgium and the USA, 1955-1980), by Sarah Van Beurden, University of Pennsylvania, and UMI/Proquest, Ann Arbor, Michigan. 2009.

"A Shrine of Liberty for the Unborn Generations": African American Clubwomen and the Preservation of African American Historic Sites, by Tara Y. White, Middle Tennessee State University, and UMI/Proquest, Ann Arbor, Michigan. 2010.

Anxious Pleasures: Race and Sexual Economies of Transnational Tourism in Salvador, Brazil, by Erica Lorraine Williams, Stanford University, and UMI/Proquest, Ann Arbor, Michigan. 2010.

"Active, Smart, and of a Smiling Countenance": Delaware's Enslaved Women 1760-1820, by Darlene S. Antezana, Morgan State University, and UMI/Proquest, Ann Arbor, Michigan. 2009.

"This Bad Business": Obeah, Violence, and Power in a Nineteenth-century British Caribbean Slave Community, by Randy M. Browne, M.A., University of North Carolina at Chapel Hill, and UMI/Proquest, Ann Arbor, Michigan. 2009.

"City of Refuge": Urban Labor, Gender, and Family Formation during Slavery and the Transition to Freedom in the District of Columbia, 1820-1875, by Katherine Chilton, Carnegie Mellon University, and UMI/Proquest, Ann Arbor, Michigan. 2009.

Cast Upon the Shadows: Essays Toward the Culturalogic Turn in Critical Race Theory, by Tommy Jermaine Curry, Southern Illinois University at Carbondale, and UMI/Proquest, Ann Arbor, Michigan. 2009.

Rammed Earth Architecture's Journey to the High Hills of the Santee and Its Role as an Early Concrete, by Jessica Golebiowski, M.S., Clemson University, and UMI/Proquest, Ann Arbor, Michigan. 2009.

Catalyst for Antebellum Conflict: The Fugitive Slave Law of 1850, by Horace King Houston, Jr., Memphis State University, and UMI/Proquest, Ann Arbor, Michigan. 2009.

An Essential Link in a Vast Chain: New England and the West Indies, 1700-1775, by Eric Bartholomew Kimball, University of Pittsburgh, and UMI/Proquest, Ann Arbor, Michigan. 2009.

Contested Meanings: Audience Responses to the Wedgwood Slave Medallion, 1787-1839, by Saadia Nicoe Teresa Lawton, University of Wisconsin, Madison, and UMI/Proquest, Ann Arbor, Michigan. 2009.

On the Frontier of "Freedom:" Abolition and the Transformation of Atlantic Commerce in Southern Sierra Leone, 1790s to 1860s, by Philip R. Misevich, Emory University, and UMI/Proquest, Ann Arbor, Michigan. 2009.

Slave Castles, African American Activism and Ghana's Memorial Entrepreneurism, by Brempong Osei-Tutu, Syracuse University, and UMI/Proquest, Ann Arbor, Michigan. 2009.

Black Mexico: Nineteenth-century Discourses of Race and Nation, by Marisela Jimenez Ramos, Brown University, 2009.

Sunup to Sundown: Plantation Management Strategies and Slave Work Routines in Barbados, Jamaica and Virginia, 1776-1810, by Justin Roberts, Johns Hopkins University, and UMI/Proquest, Ann Arbor, Michigan. 2009.

Slavery's Borderland: Freedom and Bondage along the Ohio River, 1787-1851, by Matthew Salafia, University of Notre Dame, and UMI/Proquest, Ann Arbor, Michigan. 2009.

Forging an Identity: British Virgin Islands' Slave Society 1672-1838, by Katherine A. Smith, Howard University, and UMI/Proquest, Ann Arbor, Michigan. 2009.

"In Consideration of Divers Good Causes": The Development and Persistence of a Free Black Community in West Laurel, Delaware 1800-1900, by Kimberly M. Toney, M.A., University of Delaware, and UMI/Proquest, Ann Arbor, Michigan. 2009.

Afro-Mexicans: A Short Study on Identity, by Ariane Tulloch, M.A., University of Kansas, and UMI/Proquest, Ann Arbor, Michigan. 2009.

African/Native American Cherokees: The Politics of Ethnic Identity, by William J. Ware, Union Institute and University, and UMI/Proquest, Ann Arbor, Michigan. 2009.

[Return to
table of contents]
---
Excavation of Sites such as Timbuctoo, N.J.,
Is Helping to Rewrite African American History
By DeNeen Brown
Washington Post
August 3, 2010
Article posted online and copyright by Washington Post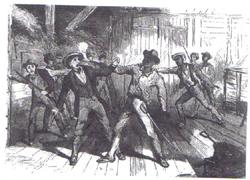 Timbuctoo, N.J. -- In Timbuctoo lies a hill. Underneath that hill lies a house, or what archaeologists think might have been a house once upon a time. The silver clasp of a woman's handbag, piles of Mason jars, chips of dinner plates and an empty jar of Dixie Peach Pomade lie among the bricks that have broken away from the foundation.

These are crushed fragments of a past life when free black people lived in this New Jersey community almost 200 years ago -- free even then, 45 years before Emancipation. "Most of the history of this country is in that house," says David Orr, a classical archaeologist and professor of anthropology at Temple University. Orr is standing at the site down a gray road in Timbuctoo. A hot wind is blowing.

Orr said that the buried community has the potential to be a very important find in African American history. "Timbuctoo is great in a larger context because it lasted, some of it, into the 20th century," he said. "It also has a very large descendant community, so ethnographically it is important."

Timbuctoo was founded by freed blacks and escaped slaves in the 1820s. It was probably named after Timbuktu, the town in Mali near the Niger River, although researchers are still trying to find out how and why it got its name. The neighborhood still exists in the township of Westampton, N.J., about a 45-minute drive northeast of Philadelphia, an enclave of many acres, so tiny and tucked away that when you ask someone at the store two miles away, he tells you he has no idea where it is.

Timbuctoo has always been a secret kind of a place. Had to be, because it was part of the Underground Railroad. There are newer houses here now where some descendants of original settlers still live. But much of the physical history of Timbuctoo is buried underground. Based on a geophysical survey, archaeologists believe that foundations of a whole village of perhaps 18 houses and a church dating back to the 1820s lies beneath layers of dirt.

In June, those archaeologists from Temple University in Philadelphia began unraveling Timbuctoo's secrets, excavating the hill next to a Civil War cemetery where African American troops are buried. The discoveries are fragile and ordinary artifacts of everyday life -- jars for medicines and cosmetics, pieces of shoes, dinner plates -- but to the people unearthing them, they are invaluable.

Story of the oppressed



Archaeological excavation of African American communities such as Timbuctoo is booming across the country, spurred by an increasing number of prominent black academics and politicians and a proliferation of museums dedicated to African American history, whose curators are eager to display the artifacts. (Archaeologists had known about the hill in Timbuctoo for years, but it wasn't until a recently appointed black mayor of the township of Westampton, Sidney Camp, pursued a geophysical survey did the excavation begin.)

"It is very important that these excavations take place," said Rex Ellis, associate director of curatorial affairs at the Smithsonian's National Museum of African American History and Culture, which is scheduled to open on the Mall in 2015. "The tradition has been to overlook these things in the past. There have not been archaeologists specifically searching for these kinds of treasures. For us, this activity will contribute appreciably to our understanding of African Americans as builders and contributors to this nation."

Archaeologists involved in the excavations say they are helping to rewrite an incomplete history -- adding evidence of resistance, not just physical oppression; evidence of integration, not just segregation. They are, they say, unearthing evidence not only of lives endured in slavery, but also of whole communities of escaped slaves hiding in small, self-sufficient communities.

"Historical records are biased and written from a certain perspective. People we are working with haven't had control over the narrative of the past," said Paul Shackel, professor of anthropology at the University of Maryland. "People wrote about them, but wrote from their perspective. If you read the diary of what people thought of African Americans, it is atrocious. It's racist. . . . We are . . . helping to provide the story of the oppressed and helping to make it public."

Aside from researching their own questions, some of the archaeologists are asking descendents and communities what they want to know. This practice spread after the 1990 passage of the Native American Graves Protection and Repatriation, which required archaeologists to repatriate human burial and funerary objects, prompting consultation with descendents, Shackel said. A Temple student working with Orr is conducting interviews with Timbuctoo descendents to help guide the dig.

Christopher Fennell, assistant professor of anthropology at the University of Illinois, says communities connected to old black towns are saying: " 'Don't tell us about brutality in the past. Tell us about how African Americans overcame racism.' There is much more focus on free African Americans like Timbuctoo." Researchers are focusing, for example, on how blacks participated in the Underground Railroad. "The untold story," Fennell says, "is that it was really run by free and enslaved African Americans helping slaves to escape." [Read this full Washington Post article online >>>].

[Related articles on the Timbuctoo project were published by National Public Radio, the Philadelphia Inquirer, and by Chris Barton in the December 2009 issue of the ADAN Newsletter.]

[Return to table of contents]


---
Dig Reveals Story of America's
Last Slave Ship -- and its Survivors
By Ray Hoffman
August 9, 2010
Article posted online and copyright by al.com and Press Register


From bits of brick, pieces of slate and shards of glass, Neil Norman is hoping to piece together the lost world of Africatown.

For the last several weeks, the anthropology professor from the College of William & Mary has excavated sites in Plateau, in north Mobile County, looking for remnants of the daily life of the Africans who arrived in Mobile in 1860 as captives on the slave ship Clotilda.

"This is one of the few projects of its kind in the country," said Norman, who was accompanied by a group of students helping with the dig.

His personal interest deepened after working in Benin, in west Africa, home to the slaves who were brought to Mobile on the Clotilda. . . .

The story of Africatown began when 110 African men, women and children were brought as captives from Dahomey, on the coast of west Africa, to Mobile in 1860. The trip was financed by Timothy Meaher, a Mobile shipyard owner in business with his brothers Burns and James Meaher.

Timothy Meaher had commissioned the voyage to buy the Africans, despite a federal ban on importing slaves. The Clotilda's arrival marked the last known instance of captured Africans being brought to the United States. [Read this full Press Register article online >>>].

[Return to
table of contents]
---
Slave Quarters Discovered at Monocacy National Battlefield
By Karen Mudar, National Park Service
September 1, 2010
Article posted online by National Park Service


NPS archeologists have uncovered the site of the largest known slave habitation site in the mid-Atlantic region at Monocacy NB near Frederick, Maryland. The remains of several dwelling houses have been uncovered, as well as artifacts associated with enslaved occupations of the site from 1794 until 1827. Surface penetrating radar was used to locate two additional house sites, bringing the total to at least six individual structures.

The site is part of the L'Hermitage plantation, established in 1794 by the Vincendières, a family of French planters who came to Maryland from Haiti. By 1800, L'Hermitage was home to 90 enslaved laborers, approximately ten times the number of slaves that would be expected for the size of the plantation, 748 acres. This was the second largest slave population in Frederick County at the time and among the largest in Maryland. There are some indications that the Vincendières tried to rent the slaves to other farms.

The plantation house for the L'Hermitage still exists, and is known by the name of subsequent owners, the Bests. The Best farmhouse provides orientation for locating the quarters of enslaved persons. Historical documents indicate that their homes were located between the plantation house and the public road. The stone foundations of four cabins have been unearthed. Associated artifacts, such as buttons, beads, and pieces of pottery, provide insight into the lives of the enslaved on this plantation. Information from the surface penetrating radar survey will also help focus the excavations, which are expected to continue until October.

Funding for the project has been provided by the NPS Cultural Resource Preservation Program, Monocacy National Battlefield, and the Secretary of the Interior's Youth Intake Program. Undergraduate and graduate students from the University of Maryland, American University, Howard University, and Hood College are assisting with this project. For more information about Monocacy NB and the L'Hermitage, go to www.nps.gov/ncr/mono/.

[A related article, entitled "Brutal slave history unearthed at Frederick County's L'Hermitage," by Michael E. Ruane, was published online August 26, 2010, by the Washington Post.]

[Return to
table of contents]
---
Graveyard DNA Rewrites African American History
New Scientist
September 16, 2010


Article posted online and copyright by New Scientist



Two of Christopher Columbus's shipmates were the first Africans to set foot in the New World, a study has found.

Using DNA analysis of human bones excavated from a graveyard in La Isabela, Dominican Republic -- the first colonial town in the Americas – the new study adds weight to the theory that Africans crossed the Atlantic at least 150 years earlier than previously thought.

"African Americans have come to believe that their history began when the first slave ships docked in the mid-17th century, but our results suggest that it actually started far earlier, at the same time as the Europeans' history on the continent did," says Hannes Schroeder of the Centre for GeoGenetics at the University of Copenhagen, Denmark, who did the analysis.

La Isabela was founded in 1494 on Columbus' second voyage to the New World. Seventeen ships deposited 1700 people – including farmers, builders and priests – on the part of the island of Hispaniola that today is the Dominican Republic. Within two years, all but 300 had died of starvation and disease, and in 1498 the town was abandoned.

Last year, one of Schroeder's collaborators, Douglas Price, from the University of Wisconsin-Madison, suggested that up to seven of the 49 skeletons exhumed from La Isabela's 15th-century graveyard had belonged to Africans. The carbon and strontium isotope ratios in their tooth enamel, which give clues to an individual's diet, pointed at possible African origins for the seven. [Read this full New Scientist article online >>>].

[Return to
table of contents]
---
Idlewild Listed as Important Historic Site
Associated Press
August 11, 2010
Article posted online and copyright by Associated Press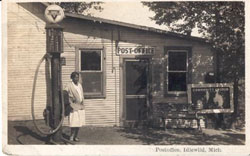 Idlewild, once a popular resort area for African Americans, listed as important historic site



Lansing, Mich. (AP) -- An expanded area around the northwestern Michigan community of Idlewild has been listed in the National Register of Historic Places as a nationally significant historic site. (Click on photo for link to map image).

The state announced the listing Tuesday (Aug. 10). Idlewild was a popular resort area for African Americans from around 1915 into the 1960s. The Lake County community attracted many major black entertainers to its nightclubs.

The National Register of Historic Places recognized Idlewild in 1979, but the state says that nomination included only part of the town and provided inadequate descriptive and historical information.

The State Historic Preservation Review Board announced last year it was nominating the Idlewild Historic District for listing. National Register of Historic Places: http://www.nps.gov/nr.

[Return to
table of contents]
---
New England's Hidden History
By Francie Latour
Boston Globe
September 26, 2010
Article posted online and copyright by Boston Globe


More than we like to think, the North was built on slavery.



In the year 1755, a black slave named Mark Codman plotted to kill his abusive master. A God-fearing man, Codman had resolved to use poison, reasoning that if he could kill without shedding blood, it would be no sin. Arsenic in hand, he and two female slaves poisoned the tea and porridge of John Codman repeatedly. The plan worked -- but like so many stories of slave rebellion, this one ended in brutal death for the slaves as well. After a trial by jury, Mark Codman was hanged, tarred, and then suspended in a metal gibbet on the main road to town, where his body remained for more than 20 years.

It sounds like a classic account of Southern slavery. But Codman's body didn't hang in Savannah, Ga.; it hung in present-day Somerville, Mass. And the reason we know just how long Mark the slave was left on view is that Paul Revere passed it on his midnight ride. In a fleeting mention from Revere's account, the horseman described galloping past "Charlestown Neck, and got nearly opposite where Mark was hung in chains."

When it comes to slavery, the story that New England has long told itself goes like this: Slavery happened in the South, and it ended thanks to the North. Maybe we had a little slavery, early on. But it wasn't real slavery. We never had many slaves, and the ones we did have were practically family. We let them marry, we taught them to read, and soon enough, we freed them. New England is the home of abolitionists and underground railroads. In the story of slavery -- and by extension, the story of race and racism in modern-day America -- we're the heroes. Aren't we?

As the nation prepares to mark the 150th anniversary of the American Civil War in 2011, with commemorations that reinforce the North/South divide, researchers are offering uncomfortable answers to that question, unearthing more and more of the hidden stories of New England slavery -- its brutality, its staying power, and its silent presence in the very places that have become synonymous with freedom. With the markers of slavery forgotten even as they lurk beneath our feet -- from graveyards to historic homes, from Lexington and Concord to the halls of Harvard University -- historians say it is time to radically rewrite America's slavery story to include its buried history in New England.

"The story of slavery in New England is like a landscape that you learn to see," said Anne Farrow, who co-wrote "Complicity: How the North Promoted, Prolonged, and Profited From Slavery" and who is researching a new book about slavery and memory. "Once you begin to see these great seaports and these great historic houses, everywhere you look, you can follow it back to the agricultural trade of the West Indies, to the trade of bodies in Africa, to the unpaid labor of black people."

It was the 1991 discovery of an African burial ground in New York City that first revived the study of Northern slavery. Since then, fueled by educators, preservationists, and others, momentum has been building to recognize histories hidden in plain sight. Last year, Connecticut became the first New England state to formally apologize for slavery. In classrooms across the country, popularity has soared for educational programs on New England slavery designed at Brown University. In February, Emory University will hold a major conference on the role slavery's profits played in establishing American colleges and universities, including in New England. And in Brookline, Mass., a program called Hidden Brookline is designing a virtual walking tour to illuminate its little-known slavery history: At one time, nearly half the town's land was held by slave owners.

"What people need to understand is that, here in the North, while there were not the large plantations of the South or the Caribbean islands, there were families who owned slaves," said Stephen Bressler, director of Brookline's Human Relations-Youth Resources Commission. "There were businesses actively involved in the slave trade, either directly in the importation or selling of slaves on our shores, or in the shipbuilding, insurance, manufacturing of shackles, processing of sugar into rum, and so on. Slavery was a major stimulus to the Northern economy."

Turning over the stones to find those histories isn't just a matter of correcting the record, he and others say. It's crucial to our understanding of the New England we live in now.

"The absolute amnesia about slavery here on the one hand, and the gradualness of slavery ending on the other, work together to make race a very distinctive thing in New England," said Joanne Pope Melish, who teaches history at the University of Kentucky and wrote the book "Disowning Slavery: Gradual Emancipation and 'Race' in New England, 1780-1860." "If you have obliterated the historical memory of actual slavery -- because we're the free states, right? -- that makes it possible to turn around and look at a population that is disproportionately poor and say, it must be their own inferiority. That is where New England's particular brand of racism comes from."

Dismantling the myths of slavery doesn't mean ignoring New England's role in ending it. In the 1830s and '40s, an entire network of white Connecticut abolitionists emerged to house, feed, clothe, and aid in the legal defense of Africans from the slave ship Amistad, a legendary case that went all the way to the US Supreme Court and helped mobilize the fight against slavery. Perhaps nowhere were abolition leaders more diehard than in Massachusetts: Pacifist William Lloyd Garrison and writer Henry David Thoreau were engines of the antislavery movement. Thoreau famously refused to pay his taxes in protest of slavery, part of a philosophy of civil disobedience that would later influence Martin Luther King Jr. But Thoreau was tame compared to Garrison, a flame-thrower known for shocking audiences. Founder of the New England Anti-Slavery Society and the newspaper The Liberator, Garrison once burned a copy of the US Constitution at a July Fourth rally, calling it "a covenant with death." His cry for total, immediate emancipation made him a target of death threats and kept the slavery question at a perpetual boil, fueling the moral argument that, in time, would come to frame the Civil War.

But to focus on crusaders like Garrison is to ignore ugly truths about how unwillingly New England as a whole turned the page on slavery. Across the region, scholars have found, slavery here died a painfully gradual death, with emancipation laws and judicial rulings that either were unclear, poorly enforced, or written with provisions that kept slaves and the children born to them in bondage for years. [Read this full Boston Globe article online >>>].

[Return to
table of contents]
---
Tragedy of Slavery Should Give Rise
to Respect of Cultural Diversity -- United Nations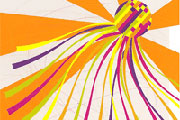 Article posted online August 23, 2010 by UNESCO



Marking the day dedicated to the remembrance of the tragedy of the slave trade and the abolition of servitude, the head of the United Nations agency tasked conserving the world's cultural heritage today urged mankind to promote the beneficial effects of cultural diversity.

"In this International Year for the Rapprochement of Cultures, remembrance of the slave trade and slavery, one of the worst tragedies in the history of humanity, prompts us to reflect on possible ways of alleviating and overcoming such painful memories," Irina Bokova, the Director-General of the UN Educational, Scientific and Cultural Organization (UNESCO), said in a message to mark the International Day for the Remembrance of the Slave Trade and its Abolition.

Since it was established in 1998, the International Day has been used as an opportunity to pay tribute to the struggle led by the slaves themselves to recover their dignity and freedom. An uprising on the island of Santo Domingo on the night of 22-23 August 1791 led to Haiti's independence – the first victory of slaves over their oppressors.

This revolution had worldwide repercussions and a considerable impact on liberation struggles in the Latin American and Caribbean countries, some of which are celebrating the bicentenary of their independence this year.

"I invite all UNESCO's partners, including national authorities, international and non-governmental organizations (NGOs) and civil society, to provide opportunities for exchange and reflection that place emphasis on the beneficial effects of cultural diversity, recognizing the importance of the continuous transfers and exchanges among cultures and the links established since time immemorial," said Ms. Bokova.

In 1994, UNESCO launched the Slave Route Project, which has given the organization significant experience and expertise to contribute to the critical reflection on ways of securing reconciliation and rapprochement among peoples through the shared legacy of the tragedy of slavery.

On the basis of the new strategy defined for the project, UNESCO will continue to implement innovative activities, information and awareness-raising campaigns to disseminate and ensure recognition of historical facts, and the cultural interaction arising from the slave trade and slavery.

To ensure the vitality and sustainability of the project, new themes are being examined to study the issue of slavery in greater depth.

The new themes include Africa's presence in the world; the psychological consequences of the slave trade and slavery; the transfer of knowledge and skills from Africa to the rest of the world; tourism for remembrance; and cultural and creative industries arising from the tragedy.

According to UNESCO, the challenge of "living together" in our multicultural societies implies recognition of each person's history and memory, and the sharing of a common heritage to transcend past tragedies.

[Return to table of contents]


---
United Nations Agency Hails Move to Protect
African Folklore and Traditional Knowledge
Article posted online August 31, 2010 by United Nations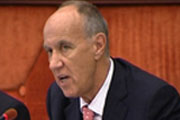 The United Nations agency charged with protecting intellectual property worldwide has welcomed the adoption by a number of African States of a new legal instrument that seeks to protect the continent's traditional knowledge and folklore.

The instrument, adopted earlier this month in Swakopmund, Namibia, by member states of the African Regional Intellectual Property Organization (ARIPO), is designed to preserve and protect the use of Africa's diverse knowledge systems and cultures for the continent's sustainable development.

It will enter into force following ratification by six ARIPO member states.

Francis Gurry, Director General of the UN's World Intellectual Property Organization (WIPO) welcomed the adoption of the Swakopmund Protocol on the Protection of Traditional Knowledge and Expressions of Folklore as "an historic step for ARIPO's 17 member states, and a significant milestone in the evolution of intellectual property."

Developed by African experts over a six-year period, the Swakopmund Protocol is a response to the misappropriation and misuse of the continent's traditional knowledge and traditional cultural expressions.

It was developed in coordination with a similar instrument prepared over the same period by the 16 West African countries comprising the Organization Africaine de la Propriete Intellectuelle (OAPI), and adopted in July 2007.

WIPO provided support to both organizations in the process of developing those instruments. Mr. Gurry said that WIPO was also ready to respond to requests from ARIPO and OAPI member states for support in the development of national laws for the protection of traditional knowledge and traditional cultural expressions.

Meanwhile, WIPO's Intergovernmental Committee on Intellectual Property and Genetic Resources, Traditional Knowledge and Folklore is working towards the development of a legal instrument for the effective protection of traditional knowledge and traditional cultural expressions that would be international in scope.

Following a productive intersessional working group meeting last month, that Committee will meet again in December to continue its work.

[Return to
table of contents]
---
Denouncing 'Slavery In The Modern Age,'
UN Launches Plan Against Human Trafficking
Article posted online August 31, 2010 by United Nations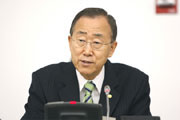 The United Nations today launched a global action plan to combat human trafficking, with senior UN officials urging that governments worldwide take coordinated and consistent measures to try to defeat the scourge.

The plan, launched at a high-level meeting of the General Assembly at UN Headquarters in New York, calls for integrating the fight against human trafficking into the UN's broader programmes to boost development and strengthen security around the world.

It also calls for the setting up of a UN voluntary trust fund for victims of trafficking, especially women and children.

Secretary-General Ban Ki-moon told today's meeting that the action plan should serve as "a clarion call" to UN Member States, international organizations and civil society groups of the need to take immediate steps "to stop this terrible crime against human dignity, which shames us all."

The UN has estimated that more than 2.4 million people are currently being exploited as victims of human trafficking.

"It is slavery in the modern age," Mr. Ban said. "Every year thousands of people, mainly women and children, are exploited by criminals who use them for forced labour or the sex trade. No country is immune. Almost all play a part, either as a source of trafficked people, transit point or destination."

The Secretary-General urged countries, philanthropists and others to contribute generously to the new trust fund for trafficking victims.

"The fund aims to help governments, intergovernmental and non-governmental organizations (NGOs) provide these vulnerable people with protection and support for their physical, psychological and social recovery. After they have been exploited and abused, they should not be punished, too."

The action plan -- which focuses on preventing trafficking, prosecuting offenders and protecting victims -- also stresses the importance of obtaining more research, data and analysis about the problem.

"We must improve our knowledge and understanding of this crime if we are to make good policy decisions and targeted interventions," Mr. Ban said.

He added that the only way to succeed is to strengthen partnerships between States, organizations and programmes, such as the UN Global Initiative to Fight Human Trafficking, known as UN.GIFT (http://www.ungift.org/knowledgehub/) since its creation in early 2007.

In his address to today's meeting, General Assembly President Ali Treki emphasized the human rights aspects of the fight against trafficking.

"Abduction, coercion, trafficking across national and international borders, forcing women and children into sexual exploitation and servitude -- this must not be accepted in today's world," he said.

"As this heinous crime flourishes, thousands of men, women and children are robbed of their safety, their freedom and their dignity. Human trafficking devastates families and tears communities apart. When the history of this horror calls, we cannot let this period be remembered as one in which the global community knew but did not act."

[Return to
table of contents]
---
Shannon Lee Dawdy Awarded
2010 MacArthur Fellowship
Congratulations to Prof. Dawdy for receipt of a MacArthur 'genius' award, and for her excellent work that has addressed the histories of African diasporas in New Orleans and Cuba, among other subjects in historical archaeology.

From the MacArthur Foundation web site, http://www.macfound.org --

"The MacArthur Fellowship is a five-year grant to individuals who show exceptional creativity in their work and the prospect for still more in the future. The fellowship is designed to provide recipients with the flexibility to pursue their creative activities in the absence of specific obligations or reporting requirements. . . . The selection decisions focus primarily on exceptional creativity, as demonstrated through a track record of significant achievement, and manifest promise for important future advances. Emphasis is placed on nominees for whom our support would relieve limitations that inhibit them from pursuing their most innovative ideas."

"Shannon Lee Dawdy is an archaeologist and anthropologist who links scholarship with historical preservation to illuminate the history of the Atlantic World since 1450. In addition to work on the Southeast United States and Caribbean, Dawdy has produced insightful studies of New Orleans from its establishment as a French colony to the present day. In Building the Devil's Empire: French Colonial New Orleans (2008), she integrates the intellectual life of the community with the story of the adventurers, entrepreneurs, and smugglers who resisted governance, providing a markedly expanded narrative of the colonial dynamics and structure of the region. Her recent fieldwork in New Orleans, concentrating on the former site of the Rising Sun Hotel and St. Antoine's Garden behind St. Louis Cathedral, is the largest archaeological excavation undertaken to date in the French Quarter. These two sites are an important part of her current project: an exploration of the connections between aesthetics and social life. Complementing her academic work, Dawdy has also been a vocal advocate for historical preservation. She served as special liaison between the Federal Emergency Management Agency and the Louisiana State Historic Preservation Office to ensure that recovery efforts in New Orleans after Hurricane Katrina remained cognizant of the city's singular archaeological heritage. Through her boundary-crossing scholarship, fieldwork, and efforts to engage the public in uncovering the history of their communities, Dawdy is enriching the arenas of historical archaeology and urban preservation. . . . She is the author of numerous journal articles and book chapters, as well as co-editor of Dialogues in Cuban Archaeology (2005) and Dumont de Montigny: Regards sur le monde atlantique, 1715–1747 (2008)."

[Return to table of contents]


---
2010 Douglass Prize Finalists Announced
News release posted online August 4, 2010 by Gilder Lehrman Center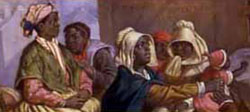 Yale University's Gilder Lehrman Center for the Study of Slavery, Resistance, and Abolition, sponsored by the Gilder Lehrman Institute of American History, has announced the finalists for the Twelfth Annual Frederick Douglass Book Prize, one of the most coveted awards for the study of the African-American experience.

The finalists are: Judith A. Carney and Richard Nicholas Rosomoff for In the Shadow of Slavery: Africa's Botanical Legacy in the Atlantic World (University of California Press); Siddharth Kara for Sex Trafficking: Inside the Business of Modern Slavery (Columbia University Press); and Robert E. McGlone for John Brown's War Against Slavery (Cambridge University Press).

The $25,000 annual award for the year's best non-fiction book on slavery, resistance, and/or abolition is the most generous history prize in its field. The winner will be announced following the Douglass Prize Review Committee meeting in, and the award will be presented at a dinner at the Yale Club of New York on February 24, 2011.

This year's finalists were selected from a field of over eighty entries by a jury of scholars that included Edward Ball (Author and National Book Award Winner), Jeffrey Ferguson (Amherst College), and Martha Hodes (New York University).

The Frederick Douglass Prize was established in 1999 to stimulate scholarship in the field by honoring outstanding accomplishments. Previous winners are Ira Berlin and Philip D. Morgan in 1999; David Eltis, 2000; David Blight, 2001; Robert Harms and John Stauffer, 2002; James F. Brooks and Seymour Drescher, 2003; Jean Fagan Yellin, 2004; Laurent Dubois, 2005; Rebecca J. Scott, 2006; Christopher Leslie Brown, 2007; Stephanie Smallwood, 2008; and Annette Gordon-Reed, 2009.

The award is named for Frederick Douglass (1818-1895), the one-time slave who escaped bondage to emerge as one of the great American abolitionists, reformers, writers, and orators of the nineteenth century.

In the Shadow of Slavery: Africa's Botanical Legacy in the Atlantic World, by Judith A. Carney and Richard Nicholas Rosomoff (University of California Press), tells the fascinating story of how enslaved Africans shaped and changed the landscape of the New World. With remarkable originality, the authors reveal how the men and women of the Middle Passage wielded their agricultural experience as part of the unending struggle to control their own lives. Interpreting archival evidence with both rigor and creativity, Carney and Rosomoff explore the provisioning of slave ships, the transfer and diffusion of African horticultural knowledge, the botanical gardens of slaves, and the gastronomic legacies of black slavery, among many other intriguing topics. Comprehensive and compelling, this is a work of truly global dimensions that narrates the ordeal of enslavement as a simultaneous story of food, memory, and survival.

Siddharth Kara's book Sex Trafficking: Inside the Business of Modern Slavery (Columbia University Press) carefully and compassionately convinces us to understand the phenomenon of modern-day human sex trafficking as part of the history of slavery and abolition. As an investigative reporter, Kara posed as a customer across Asia, Europe, and the United States, entangling himself with perpetrators and speaking confidentially with victims. Sidestepping sensationalism and absent any delusion of casting himself as a rescuer, Kara relates wrenching stories in lucid prose, thereby shedding a strong and steady beam of light on a widespread and ongoing global crime. With an exemplary mixture of courage and humility, the author combines a gripping first-person narrative with trenchant economic analysis and clear-eyed proposals for change. In the end, this book prevents us from consigning slavery to the past.

John Brown's War Against Slavery, by Robert E. McGlone (Cambridge University Press), tells a new version of the story of John Brown by taking on the most perplexing question of all: Why did John Brown carry out the raid at Harper's Ferry? With a fine balance of narration and interpretation, McGlone offers a meticulous re-creation of Brown's life, returning to old questions and asking new ones. No quest for seamless analysis, McGlone's story embraces complexity as he charts transformations in Brown's family alongside the shifting political world of the antebellum United States. This absorbing and learned book ultimately portrays a keen, compassionate, and conflicted abolitionist who made a purposeful decision to go forward with a plot that was sure to fail, but only in the most literal sense.

[Return to table of contents]


---
New Book
Social Archaeologies of Trade and Exchange:
Exploring Relationships among People, Places, and Things
Edited by Alexander A. Bauer and Anna S. Agbe-Davies
Left Coast Press, Hardcover
288 pp., ISBN-13: 978-1598740295, 2010.

Description from the Publisher:


This volume marks an important advance in trade and exchange studies and should be on the bookshelves of all archaeologists. It draws inspiration from its Processual antecedents and, at the same time, engages with new Postprocessual theories of agency, identity, meaning, and materiality in order to develop new ideas about the circulation of culture. This volume focuses on the anthropological concept of trade as a fundamentally social activity concerned not only with the movement of goods, but also on the social context and consequences of that exchange. The distinguished contributors discuss trade on a range of scales -- from a solitary confinement cell to trans-oceanic networks -- in settings around the world and over the past 3000 years. They address themes such as exchange as a communicative act, the ways in which exchange transforms the relationship between people and things, the significance of agency and power in contexts of trade, and how sites of consumption and discard speak to processes of exchange. The volume merges traditional archaeological concerns about trade and exchange with more contemporary issues of agency, identity and social meaning. Chapters include contributions addressing African diaspora subjects by Anna S. Agbe-Davies, Kenneth G. Kelly, Laurie A. Wilkie, and Paul Farnsworth.

[Return to table of contents]


---
New Book
Cabin, Quarter, Plantation: Architecture and Landscapes of North American Slavery
Edited by Clifton Ellis and Rebecca Ginsburg
Yale University Press, Hardcover
264 pp., ISBN-13: 978-0300120424, 2010.

Description from the Publisher: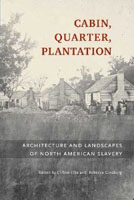 Archaeological and historical scholarship completed over the past decade has revealed much about the built environments of slavery and the daily lives of enslaved workers in North America. Cabin, Quarter, Plantation is the first book to take this new research into account and comprehensively examine the architecture and landscapes of enslavement on plantations and farms. This important work brings together the best writing in the field, including classic pieces on slave landscapes by W. E. B. DuBois and Dell Upton, alongside new essays on such topics as the building methods that Africans brought to the American South and information about slave family units and spiritual practices that can be gathered from archaeological remains. Through deep analysis of the built environment the authors invite us to reconsider antebellum buildings, landscapes, cabins, yards, and garden plots, and what these sites can teach us about the real conditions of enslavement. The starting point in any study of slavery and the built environment, this anthology makes essential contributions to our understanding of American slavery and to the fields of landscape history and architectural history.

[Return to table of contents]


---
New Book
Different Drummers: Rhythm and Race in the Americas
By Martin Munro
University of California Press, Hardcover
296 pp., ISBN-13: 978-0520262829, 2010.

Description from the Publisher: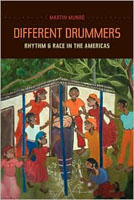 Long a taboo subject among critics, rhythm finally takes center stage in this book's dazzling, wide-ranging examination of diverse black cultures across the New World. Martin Munro's groundbreaking work traces the central -- and contested -- role of music in shaping identities, politics, social history, and artistic expression. Starting with enslaved African musicians, Munro takes us to Haiti, Trinidad, the French Caribbean, and to the civil rights era in the United States. Along the way, he highlights such figures as Toussaint Louverture, Jacques Roumain, Jean Price-Mars, The Mighty Sparrow, Aimé Césaire, Edouard Glissant, Joseph Zobel, Daniel Maximin, James Brown, and Amiri Baraka. Bringing to light new connections among black cultures, Munro shows how rhythm has been both a persistent marker of race as well as a dynamic force for change at virtually every major turning point in black New World history.

[Return to table of contents]


---
New Book
Encyclopedia of African Religion
Edited by Molefi Kete Asante and Ama Mazama
Sage Publications, Hardcover
902 pp. in 2 vols., ISBN-13: 978-1412936361, 2009.

Description from the Publisher:


As the first comprehensive work to assemble ideas, concepts, discourses, and extensive essays in this vital area, the Encyclopedia of African Religion explores such topics as deities and divinities, the nature of humanity, the end of life, the conquest of fear, and the quest for attainment of harmony with nature and other humans. Editors Molefi Kete Asante and Ama Mazama include nearly 500 entries that seek to rediscover the original beauty and majesty of African religion. Features: Offers the best representation to date of the African response to the sacred; Helps readers grasp the enormity of Africa's contribution to religious ideas by presenting richly textured concepts of spirituality, ritual, and initiation while simultaneously advancing new theological categories, cosmological narratives, and ways to conceptualize ethical behavior; Provides readers with new metaphors, figures of speech, modes of reasoning, etymologies, analogies, and cosmogonies; Reveals the complexity, texture, and rhythms of the African religious tradition to provide scholars with a baseline for future works; The Encyclopedia of African Religion is intended for undergraduate and graduate students in fields such as Religion, Africana Studies, Sociology, and Philosophy.

[Return to table of contents]


---
New Book
Listening to Revolt: Selected Writings of George Rawick
By George Rawick, edited and introduction by David Roediger
Charles H. Kerr, Paperback
194 pp., ISBN-13: 978-0882863184, 2010.

Description from the Publisher: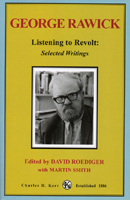 This volume offers the first major collection of the wide-ranging and revolutionary writings of the late George Rawick, a leading figure in both radical history and Marxist sociology. Personal assistant to C.L.R. James, comrade of Marty Glaberman and Selma James, and friend of C. Wright Mills and Michael Harrington, he influenced such leading scholars as Noel Ignatiev, Robin D.G. Kelley, Peter Linebaugh, Rosemary Feurer, Huw Beynon, Margaret Washington, Bruno Cartosio, Enoch Page, George Lipsitz, Nando Fasce, Ferruccio Gambino, Peter Rachleff and John Bracey and organizations like Students for a Democratic Society and the League of Revolutionary Black Workers. Rawick was a rarity who contributed decisively to African American history and to the study of white workers. His exciting scholarly and activist writings are generously represented here and put it context by David Roediger's extensive introductory essay on Rawick's life, thought and politics.

[Return to table of contents]


---
New Book
Public Memory of Slavery: Victims and Perpetrators in the South Atlantic
By Ana Lucia Araujo
Cambria Press, Hardcover
502 pp., ISBN-13: 978-1604977141, 2010.

Description from the Publisher:


In this book, Ana Lucia Araujo argues that despite the rupture provoked by the Atlantic slave trade, the Atlantic Ocean was never a physical barrier that prevented the exchanges between the two sides; it was instead a corridor that allowed the production of continuous relations. Araujo shows that the memorialization of slavery in Brazil and Benin was not only the result of survivals from the period of the Atlantic slave trade but also the outcome of a transnational movement that was accompanied by the continuous intervention of institutions and individuals who promoted the relations between Brazil and Benin. Araujo insists that the circulation of images was, and still is, crucial to the development of reciprocal cultural, religious, and economic exchanges and to defining what is African in Brazil and what is Brazilian in Africa. In this context, the South Atlantic is conceived as a large zone in which the populations of African descent undertake exchanges and modulate identities, a zone where the European and the Amerindian identities were also appropriated in order to build its own nature. This book shows that the public memory of slavery and the Atlantic slave trade in the South Atlantic is plural; it is conveyed not only by the descendants of the victims but also by the descendants of perpetrators. Although the slave past is a critical issue in societies that largely relied on slave labor and where the heritage of slavery is still present, the memories of this past remain very often restricted to the private space. This book shows how in Brazil and Benin social actors appropriated the slave past to build new identities, fight against social injustice, and in some cases obtain political prestige. The book illuminates how the public memory of slavery in Brazil and Benin contributes to the rise of the South Atlantic as an autonomous zone of claim for recognition for those peoples and cultures that were cruelly broken, dispersed, and depreciated by the Atlantic slave trade. Public Memory of Slavery is an important book for collections in slavery studies, memory studies, Brazilian and Latin American studies, ethnic studies, cultural anthropology, African studies and African Diaspora.

[Return to table of contents]


---
New Book
Reading the World: An African Perspective on World History
By Kwasi Konadu
Diasporic Africa Press, Paperback
316 pp., ISBN-13: 978-0966020199, 2010.

Description from the Publisher: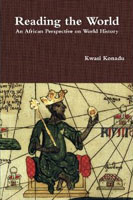 What and who constitutes world history? What makes a history a "world" history? What is the "world" with which world history is concerned? Can another "world" be considered? Scholars of African birth or descent are acutely absent in the writing of and debates concerning world history, inept when it comes to the foregoing questions, and invisible in the production of worldly historical knowledge. Once known as the continent without history or historical consciousness, Africa and its intellectuals represent a much larger segment of the marginalized intellectual world. In fact, the African Network in Global History, founded in 2009 at the University of Ilorin (Nigeria), is the clearest evidence of African scholars' tardy entry into a world history discourse, as well as support for studies in world history that address Africa and the world as seen from African perspectives. We can only begin to answer the above questions when the former peoples and places without history rewrite world history. Certainly, the world should constitute and make a "world history" driven by perspectives on the world rather than a Eurasian world of perspectives. In the past three decades, writers of world history have focused comparatively on historical themes and recurring processes. In their history and traditions, writers of world history and their past exemplars share more than a Eurasian origin; the older traditions modeled by Herodotus of ancient Greece and Sima Qian of China viewed the world through the superiority of their own societies, and current European or white historians honed their views in the context of imperialism and colonialism. Implicit in those traditions is that world history research and writing began when Europeans discovered the world outside of Europe. Consequently, formerly unknown peoples of Africa and the Americas had to fit within Christian frames of history that remained until the twentieth century and, in some cases, the twenty-first century. Reading the World combines the strength of recent scholarship and research-based monographs, the coherency of single authorship, and the presentation and somewhat narrative style of textbooks. This book provides an intellectually stimulating, authoritative, and engaging history that is both concise and global in scope, and offers a readable introduction to a challenging topic. The text also aims to challenge the way readers think about the histories of people and places of the globe and how they and others might interpret or write their own "world" histories. This book does not attempt a "grand narrative" or provide a recipe textbook with prefabricated questions, test banks, audiovisual supplements, and indigestible sequences of "facts" and historical events packaged in such a way that you think less and forgo your creativity. Rather, Reading the World is but one of what should be a number of world history monographs representing an integral contribution from the historically marginalized in worldly historical knowledge and its production, engaging in the unfinished and fascinating conversation of a composite world history.

[Return to table of contents]


---
New Book
The Struggles of John Brown Russwurm:
The Life and Writings of a Pan-Africanist Pioneer, 1799-1851
By Winston James
New York University Press, Paperback
288 pp., 10 illus., ISBN-13: 978-0814742907, 2010.

Description from the Publisher: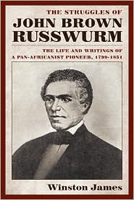 John Brown Russwurm (1799-1851) is almost completely missing from the annals of the Pan-African movement, despite the pioneering role he played as an educator, abolitionist, editor, government official, emigrationist and colonizationist. Russwurm's life is one of "firsts": first African American graduate of Maine's Bowdoin College; co-founder of Freedom's Journal, America's first newspaper to be owned, operated, and edited by African Americans; and, following his emigration to Africa, first black governor of the Maryland section of Liberia. Despite his accomplishments, Russwurm struggled internally with the perennial Pan-Africanist dilemma of whether to go to Africa or stay and fight in the United States, and his ordeal was the first of its kind to be experienced and resolved before the public eye.

With this slim, accessible biography of Russwurm, Winston James makes a major contribution to the history of black uplift and protest in the Early American Republic and the larger Pan-African world. James supplements the biography with a carefully edited and annotated selection of Russwurm's writings, which vividly demonstrate the trajectory of his political thinking and contribution to Pan-Africanist thought and highlight the challenges confronting the peoples of the African Diaspora. Though enormously rich and powerfully analytical, Russwurm's writings have never been previously anthologized.

The Struggles of John Brown Russwurm is a unique and unparalleled reflection on the Early American Republic, the African Diaspora and the wider history of the times. An unblinking observer of and commentator on the condition of African Americans as well as a courageous fighter against white supremacy and for black emancipation, Russwurm's life and writings provide a distinct and articulate voice on race that is as relevant to the present as it was to his own lifetime.

[Return to table of contents]


---
New Book
Tradition and the Black Atlantic: Critical Theory in the African Diaspora
By Henry Louis Jr. Gates
Basic Civitas Books, Hardcover
224 pp., ISBN-13: 978-0465014101, 2010.

Description from the Publisher: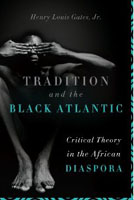 Henry Louis Gates, Jr.'s Tradition and the Black Atlantic is both a vibrant romp down the rabbit hole of cultural studies and an examination of the discipline's roots and role in contemporary thought. In this conversational tour through the halls of theory, Gates leaps from Richard Wright to Spike Lee, from Pat Buchanan to Frantz Fanon, and ultimately to the source of anticolonialist thought: the unlikely figure of Edmund Burke. Throughout Tradition and the Black Atlantic, Gates shows that the culture wars have presented us with a surfeit of either/ors -- tradition versus modernity; Eurocentrism versus Afrocentricism. Pointing us away from these facile dichotomies, Gates deftly combines rigorous scholarship with humor, looking back to the roots of cultural studies in order to map out its future course.

[Return to table of contents]


---
New Book
Working the Diaspora: The Impact of African Labor on the Anglo-American World, 1650-1850
By Frederick Knight
New York University Press, Hardcover
240 pp., ISBN-13: 978-0814748183, 2010.

Description from the Publisher:


From the sixteenth to early-nineteenth century, four times more Africans than Europeans crossed the Atlantic Ocean to the Americas. While this forced migration stripped slaves of their liberty, it failed to destroy many of their cultural practices, which came with Africans to the New World. In Working the Diaspora, Frederick Knight examines work cultures on both sides of the Atlantic, from West and West Central Africa to British North America and the Caribbean. Knight demonstrates that the knowledge that Africans carried across the Atlantic shaped Anglo-American agricultural development and made particularly important contributions to cotton, indigo, tobacco, and staple food cultivation. The book also compellingly argues that the work experience of slaves shaped their views of the natural world. Broad in scope, clearly written, and at the center of current scholarly debates, Working the Diaspora challenges readers to alter their conceptual frameworks about Africans by looking at them as workers who, through the course of the Atlantic slave trade and plantation labor, shaped the development of the Americas in significant ways.

[Return to table of contents]


---
African Histories and Diasporas:
A Conversation with Robert Farris Thompson
Forum of the African Diaspora Archaeology Network
Society for Historical Archaeology Annual Conference
Austin, Texas, Jan. 5-9, 2011

The annual Forum of the African Diaspora Archaeology Network at the January 2011 SHA Annual conference in Austin, Texas, is entitled "African Histories and Diasporas: A Conversation with Robert Farris Thompson." Bob Thompson is the John Trumbull Professor of the History of Art at Yale University. He has devoted his life to revealing the histories of African cultures and the material culture heritage of African diasporas throughout the Americas. Thompson's first book, Black Gods and Kings, provided a close study of the history of the Yoruba people of southwestern Nigeria. Several in-depth analyses of the beliefs, practices, and material culture expressions in African cultures and diasporas followed, presented in numerous works including: Face of the Gods: Art and Altars of Africa and African Americas; Flash of the Spirit: African and Afro-American Art and Philosophy; and Four Moments of the Sun: Kongo Art in Two Worlds (with Joseph Cornet). His works have been anthologized fifteen times and translated into French, German, Flemish, and Portuguese. Thompson will discuss his perspectives on African diasporas and the related research questions he would like to see archaeologists pursue in interdisciplinary collaborations. Leland Ferguson, Maria Franklin, Grey Gundaker, Jill Koverman, Akin Ogundiran, and Ken Brown will respond to Thompson's suggestions from their experiences as leading researchers in historical, archaeological, and material culture studies of African and African diaspora histories. Those comments will be followed by open discussions among all in attendance at this three-hour forum.

[Return to
table of contents]
---
Looking for Angola
New College of Florida, January 15-16, 2011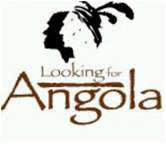 Five Years of Looking for Angola: Accomplishments and New Objectives for the Public Anthropology Study of an early 19th-century Maroon Community on the Manatee River, Florida. Since 2005, an interdisciplinary research team has been seeking material remains of an early nineteenth-century maroon community in southern Tampa Bay. Angola is part of the larger history of self-emancipated Africans resisting slavery across the Florida Gulf Coast and ultimately finding freedom in Red Bays in the Bahamas (see http://www.diaspora.uiuc.edu/news0608/news0608-4.pdf for background).
The academic symposium includes presentations by the research team, discussions of the archaeological surveys and excavations on the Manatee River as well as historical background materials on the descendant community on Andros Island, the Bahamas, a public lecture, and site visits. The symposium is free; please register by emailing the New College Public Archaeology Lab (ncpal@ncf.edu) by December 5, 2010. The newly opened New College Public Archaeology Lab is committed to facilitating education, outreach, and the study of archaeology within a broader anthropological and interdisciplinary context.

New College of Florida is located in Sarasota, Florida. See http://www.ncf.edu/map-and-directions for directions. Any questions, please contact Uzi Baram, Associate Professor of Anthropology at New College of Florida: Baram@ncf.edu or 941-487-4217.

[Return to table of contents]


---
American Counterpoint: New Approaches to Slavery and Abolition in Brazil
Gilder Lehrman Center's 12th Annual International Conference
Yale University, October 29-30, 2010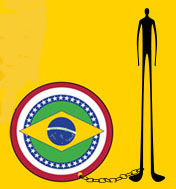 Since the 1988 centennial celebration of Abolition in Brazil the study of slavery and abolition has moved in new directions that have explored not only the role and voices of the slaves themselves, but also the important place of Brazil in the comparative history of slavery and of the African Diaspora. This conference will highlight the trends of current research and their implications for the history of slavery not only in Brazil, but in the Americas as a whole.

Participants Include: Angela Alonzo, Matthias Rohrig Assuncao, Mariana P. Candido, Roquinaldo Ferreira, Keila Grinberg, Mary C. Karasch, Herbert S. Klein, Silvia Hunold Lara, Douglas C. Libby, Paul E. Lovejoy, Beatriz G. Mamigonian, Jeffrey D. Needell, Richard Price, Joao Jose Reis, and Rebecca J. Scott. The conference is free and open to the public, but online pre-registration is required. For a complete conference schedule and to register, visit www.yale.edu/glc/brazil.

[Return to table of contents]


---
Pioneering the History of Black Britain:
A Conference in Honor of James Walvin
Yale University, November 12, 2010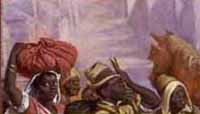 Co-sponsored by the Gilder Lehrman Center, the Initiative on Race Gender and Globalization at Yale, the European Studies Council, the British Studies Program, and the Edward J. and Dorothy Clarke Kempf Memorial Fund; location: 34 Hillhouse Ave., Luce Hall Auditorium. This one-day conference is held in honor of James Walvin, one of the great scholars of the Transatlantic slave trade, and a pioneer in the unearthing the history of Black Britain. Walvin's extensive career has included work at universities in Barbados, Australia, Britain, Africa, and here at Yale, where he has held various fellowships, including a recent one at the Yale Center for British Art. Additionally, Jim Walvin was the British government advisor for the abolition celebrations in 2007, and he has recently been instrumental in developing a collaborative seminar with the Gilder Lehrman Center for educators in the U.S. the U.K, and West Africa to explore the history of the Middle Passage. This conference will bring together scholars from across the U.S., Britain, and the Caribbean to celebrate Walvin's considerable work in the field. The conference is free and open to the public, but online pre-registration is required. For a complete conference schedule and to register, visit http://www.yale.edu/glc/walvin/ or call 203-432-3339.

[Return to table of contents]


---
The State of African American Studies: Methodology, Pedagogy, and Research
New York City, January 6-8, 2011

The Schomburg Center for Research in Black Culture and the Institute for Research on the African Diaspora in the Americas and the Caribbean at the City University of New York extend a call for papers for their regular conference on the state of scholarship in African American Studies. Entitled, The State of African American Studies: Methodology, Pedagogy, and Research, the conference will take place on January 6-8, 2011 at the Schomburg Center, located at 135th Street and Malcolm X Boulevard in Harlem, and the Graduate Center of the City University of New York, located at 365 Fifth Avenue. Complete panels and individual paper submissions related to the theme -- broadly conceived -- are invited from scholars and graduate students. In addition to papers in your academic areas of expertise, and on teaching and research methodologies, are particularly welcome submissions on labor, community engagement, gender, sexuality, visual culture, and relations in the disapora.

Proposals should be submitted electronically and must include your name, title of the paper, panel, or roundtable, and an abstract of 150 words. They should also include the institutional affiliation of each presenter, phone numbers, and email addresses. Submit proposals by November 1, 2010 to: Aisha al-Adawiya, State of African American Studies, Schomburg Center For Research in Black Culture, 515 Malcolm X Boulevard, New York NY 10037-1801, E-mail: aaladawiya@nypl.org, web http://www.nypl.org/locations/schomburg.

[Return to table of contents]


---
New Perspectives on African-American History and Culture
University of North Carolina, Chapel Hill, February 18-19, 2011
The Triangle African-American History Colloquium announces its fifth annual New Perspectives on African-American History and Culture Conference, with the theme of "Intersecting Identities in African American History and Culture." The Conference Committee invites proposals for single papers or complete session panels related to the themes of identity and intersectionality in African American history and culture, across a range of time periods, areas, and disciplines. Though race has been one of the principal categories of analysis in the study of black historical experiences, multiple identities -- including, but not limited to, gender, class, sexual, and regional identity -- have shaped African American lives. Exploring the intersections of identities broadens scholarly investigations and places our studies of African American history and culture in more nuanced and comparative contexts. This conference seeks to address questions such as: "How have African Americans used and experienced identity in their history and lives? How have various kinds of identity shaped the lives and history of African Americans?"

Topics of exploration on identity and intersectionality in African American history and culture might include: feminist and women's history; sexuality and sexual orientation; multiple racial or ethnic identities; religious identities; migration and shifting regional identity; political ideologies; and myriad others. Papers on any topic that relates to the conference theme are welcome.

The deadline for proposals is Monday, November 1, 2010. Respond via email to bdp@email.unc.edu with your name, institution, title, email address, proposed paper title, a 150-word abstract, and curriculum vitae. Please put "Conference Proposal" in your subject line. The conference paper itself should have a historical focus and be a maximum of ten pages in length, not including endnotes and/or bibliography. Presentations will be limited to twenty minutes. Contact Information: Bradley Proctor Ph.D. Candidate Department of History, University of North Carolina, Chapel Hill, email bdp@email.unc.edu.

[Return to table of contents]


---
Black History at Home and Abroad: Uncovering the Past
Seattle, Washington, Feb. 5, 2011
The Association for African American Historical Research and Preservation (AAAHRP) is now accepting proposals for topics concerning Black history, culture and genealogy for its one-day Black History Conference which will be held on Saturday, February 5, 2011 at the Northwest African American Museum (NAAM), Seattle, Washington.

With this, our 6th Black History Conference, AAAHRP continues to narrow the gap between historians and the public by encouraging cooperation among university-based scholars, librarians, historic preservationists, museum professionals, students, and the general public. The conference theme is "Black History at Home and Abroad: Uncovering the Past." We welcome the submission of proposals for individual papers, complete sessions, panels, workshops, and roundtables. The AAAHRP Conference Committee is particularly interested in proposals for innovative presentations about the African Diaspora Around the World. Other subjects of particular interest include, but are not limited to: America and a Post Racial Society; Black Pioneers of the Pacific Northwest; Black Radical Organizations; Black Women Unrecognized in History Books; Blacks and the Military; Civil Rights Organizations: Are They Still Relevant?; Early Human Rights and Civil Rights Activists; Forgotten Black Leaders of Past Centuries; Intellectuals and Literary Figures, Playwrights and Artists; Marcus Garvey and His Movement.

Presentation guidelines: Individual paper presentations should be approximately 20 minutes long and should be original works of scholarship that have not been presented or published elsewhere. Paper sessions should include 3-4 papers. Panels, workshops, and roundtables should be approximately 90 minutes long. Proposals of 250-300 words are being accepted until October 15, 2010. They should be sent electronically to history3@comcast.net with "2011 Conference Proposal" as the subject. For additional information contact Ed Diaz at history3@comcast.net. To learn more about the Association for African American Historical Research and Preservation visit www.aaahrp.org. For information about the the Northwest African American Museum visit www.naamnw.org.

[Return to table of contents]


---
Conspicuously Unseen: Invisibility and Denial in Diasporic Communities
North Carolina Central University, Durham, NC, March 19-20, 2011
North Carolina Central University invites proposals for the third annual African Diaspora Studies Symposium, to be held March 19-20, 2011. The theme for this year is "Conspicuously Unseen: Invisibility and Denial in Diasporic Communities." The symposium seeks to explore the ways that Diasporic communities see themselves and the ways that they are perceived by the dominant cultures that surround them. Special attention will be given to the Afro-Latin American, Afro-European, and Afro-Asian experience, though any topic within the Diaspora will be considered. In keeping with the breadth of the Liberal Arts, we seek proposals for papers, panels, performances (music or theater), film, and graphic art from any branch of Diaspora studies. The symposium has typically brought together scholars, activists, and artists, representing disciplines as varied as Public Health and performance art. We look forward to continuing this tradition, bringing together academics, community members, and creative artists to engage with each other on issues facing the African Diaspora and African Diaspora Studies. North Carolina Central University, located in the heart of Durham, was founded in 1910 and is the first state-supported liberal arts institution to serve the black community. The University prides itself on its relations with the Durham community, and the NCCU African Diaspora Studies Symposium encourages input and participation from both academics and the community.

Papers and submission: Individual abstracts should be 250 words or less and panel abstracts should be 750 words or less. Abstracts should be submitted by Wednesday, December 15, 2010. Please include, for all participants, a five-line biography with institutional/organizational affiliation and contact information. Please direct all submissions to Youssef J. Carter at youssefcarter@gmail.com and Joshua Nadel at jnadel@nccu.edu. This two-day symposium is free and open to the public. It will be held on the campus of North Carolina Central University in Durham, NC on March 19 and 20, 2011. For more information contact: Joshua Nadel, Ph.D., Assistant Professor, Department of History Associate Director, Global Studies Program, North Carolina Central University, 1801 Fayetteville St. Durham NC 27707, Phone: (919) 530-6367, Fax: (919) 530-5392, jnadel@nccu.edu.

[Return to table of contents]


---
International Conference on Enslavement,
Bondage and the Environment in the Indian Ocean World
Quebec, Canada, April 28, 2011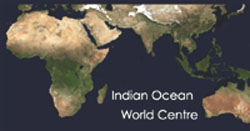 This is a call for papers for an interdisciplinary conference on enslavement, bondage and the environment in the Indian Ocean World (from Africa to the Middle East, South and Southeast Asia, and the Far East). A wide range of themes will be considered, including the following: the process of enslavement; natural disasters and enslavement; man-made disasters and enslavement; debt and enslavement; the slave trade; slavery; forced labour; migration and enslavement; the economy of servitude; the sex profile of servitude; collective enslavement; race and enslavement; religion and enslavement; and agency in servitude.

Deadline for submission of abstracts (one paragraph) is September 30, 2010. Responses will be distributed by October 1, 2010. Deadline for submission of accepted papers in English or French (max. 10,000 words in MS Word) is February 15, 2011. The conference will follow the Avignon model. Papers will be distributed in advance. Authors do not read their papers. Sessions will be organised according to theme and will take the form of a discussion led by a discussant. Kindly include with your abstract: full name; institution; professional title; full postal address; email; designation as either an academic or a student registrant. Contact: Lori Callaghan, Peterson Hall, McGill University, 3460 McTavish Street, Room 100, Montreal, Quebec, Canada H3A 1X9, Tel: 514.398.6204, http://www.indianoceanworldcentre.com.

[Return to table of contents]


---
Toward an Intellectual History of Black Women
New York City, April 28-30, 2011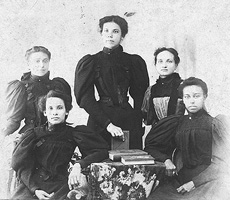 The Black Women's Intellectual and Cultural History Collective (BWICH) is seeking paper submissions for a broad-ranging conference on black women's contributions to black thought, political mobilization, creative work and gender theory. We are interested in work on any time period that explores black women as intellectuals across a broad geography including Africa, the Caribbean, North and South America, and Europe. BWICH aims to piece together a history of black women's thought and culture that maps the distinctive concerns and historical forces that have shaped black women's ideas and intellectual activities. To this end, we are interested in paper exploring subjects including, but not limited to, the genealogy of black feminism, the patterns of women's leadership and ideas about religious culture and politics, the scientific work of black women, the economic ideas of black women, the politics of black women's literature, and the history of black women's racial, sexual or social thought. We encourage submissions from scholars of all ranks, and any relevant discipline.

Accepted papers will be featured at a conference on the Intellectual History of Black Women in New York City on April 28-30. The conference is sponsored by Columbia University's Center for the Critical Analysis of Social Difference, which will also cover the participants' travel and lodging expenses. Submissions are due no later than October 15th, 2010, and should include a one-page abstract of the projected paper, as well as short C.V. Paper proposals and C.V.s should be submitted by email to: bwhichconference@gmail.com.

BWICH is an interdisciplinary, collaborative effort dedicated to recovering the history of black women as active intellectual subjects. We aim to encourage scholarship on black women's intellectual activities among a diverse and enduring community of senior and junior scholars, whose intellectual exchanges will cross generations and foster a scholarly tradition that outlives this particular project.

[Return to table of contents]


---
Fire!!! The Multimedia Journal of Black Studies
Call for Submissions
The Association for the Study of African American Life and History (ASALH) proudly announces the creation of Fire!!!: The Multimedia Journal of Black Studies. Designed to connect Black Studies scholarship with the Digital Revolution in the Age of Communication, Fire!!! serves as a contemporary conduit through which Black Studies knowledge can be distributed. The journal's unique contribution is the use of the digital world in providing a peer-reviewed venue for scholars who utilize multimedia evidence to advance their theories and interpretations.

Fire!!! is a multi-disciplinary journal that serves primarily the social sciences, arts, and humanities. The journal welcomes research that crosses the lines of traditional disciplines and focuses on contemporary issues that expand the intellectual realm of Black Studies. Our goal is to use media to increase the kinds of primary evidence that can be brought to bear to expand knowledge.

Fire!!! is interested in obtaining articles, review essays, and reviews for its February and August 2011 issues. All articles and review essays should be between 7,500 and 12,000 words. The maximum file size for each (including media) is 10 mb. Fire!!! publishes reviews of feature films and documentaries, audio recordings, theatrical productions, websites, museum exhibits, and books relevant to teaching courses on Black life, history, and culture. Scholars interested in submitting reviews should contact the editors before submitting. Fire!!! will be distributed to institutional libraries through JSTOR. If you are interested in contributing to this cutting-edge publication visit our website for submission guidelines. www.fire-jbs.org. Questions? Contact the editors at editors@fire-jbs.org.

[Return to table of contents]


---
Palimpsest: A Journal on Women,
Gender and the Black International
Call for Papers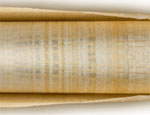 Palimpsest: A Journal on Women, Gender and the Black International is a peer-reviewed journal that publishes cutting edge interdisciplinary scholarship and creative work by and about women of the African Diaspora and their communities in the Atlantic and Indian Ocean Worlds. A partnership between Vanderbilt University's African American and Diaspora Studies Program and the State University of New York (SUNY) Press, the goal of Palimpsest is to engender further explorations of the Black International as a liberation narrative; and Black Internationalism as an insurgent consciousness formed over and against retrogressive practices embodied in slavery, colonialism, imperialism, and globalization, from the early modern period to the present.

Drawing on the traditions of African diasporic studies and feminist/womanist thought, the journal will feature analyses of Black women's histories, experiences, and cultural productions. More specifically, we solicit work that considers the intersections of race, class, gender, color, and sexuality in the histories, social and political movements, expressive cultures, spiritual formations, and philosophical thoughts of women as well as the ways in which women locate themselves, and have been located, on the map of human geography. Scholars from a broad range of disciplines are encouraged to contribute, and a primary consideration for inclusion will be an essay's capacity to resonate with and critically engage the interdisciplinary fields of African American and Diaspora studies and women's and gender studies.

Call for Papers: In keeping with Palimpsest's mission, the inaugural issue will focus on the theme: Liberations Across Boundaries. The Board nonetheless encourages submissions that broadly address this theme as well as others that are in line with the journal's general mission. While submissions for Palimpsest are accepted on a rolling basis, those wishing to contribute to the inaugural volume will need to submit essays by February 2011 for full consideration. Website and Submission Guidelines Information: www.vanderbilt.edu/aframst/palimpsest; inquiries: PalimpsestJournal@vanderbilt.edu.

[Return to table of contents]


---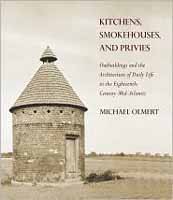 H-NET BOOK REVIEW
Published by H-South, http://www.h-net.org/~south/ (Feb. 2010).

Michael Olmert. Kitchens, Smokehouses, and Privies: Outbuildings and the Architecture of Daily Life in the Eighteenth-Century Mid-Atlantic. Ithaca: Cornell University Press, 2009. Illustrations. xvi + 286 pp. $27.95 (cloth), ISBN 978-0-8014-4791-4

Reviewed for H-South by Matthew H. Jennings, Macon State College

Small Buildings Remembered



In Kitchens, Smokehouses, and Privies, Michael Olmert takes readers into the backyards behind the great houses of the Chesapeake. In these spaces behind the homes of the wealthy, Olmert illuminates a world where the sometimes dirty work of food preparation, the clean work of dairying and laundering, and the necessary work of the necessary was carried out. The book's main argument is that we should take these buildings seriously, because they can teach us about the society that built them. Olmert lays out the reasons convincingly, and with great skill, and in the process provides a valuable service to general readers and scholars alike. Kitchens, Smokehouses, and Privies is beautiful, thoroughly researched, and written with grace and humor.

The book begins by asserting that "every building is a text" (p. 1). Historians of material culture have been laboring under this assumption for some time, but Olmert phrases it in a concise and, as far as I can tell, original manner.[1] If buildings are texts, then they are fair game for interpretation by a wide range of historians, archaeologists, anthropologists, and literary scholars. When considering artifacts of the past, in fact, a fluid, interdisciplinary approach works well. Olmert is ideally positioned for such an approach: he teaches English literature at the University of Maryland, writes for television (and wins Emmys), and has authored numerous magazine articles as well as The Official Guidebook to Colonial Williamsburg (1985). Many of the outbuildings treated in the book are in Williamsburg, where Olmert has accumulated a wealth of experience and knowledge.

After an introduction that defines terms and frames the general goal of the project, which is to find out what we can learn about eighteenth-century America from its surviving outbuildings, the book consists of eight chapters, each treating a specific sort of structure: kitchens, laundries, smokehouses, dairies, privies, offices, dovecotes, and icehouses. The work concludes with two appendices, each a meditation on a prevalent shape in early American architecture: octagons and hexagons.

The chapters work well together, but any one of them could stand alone and prove a useful, discussion-provoking addition to a history, English, archaeology, or art history syllabus. Each chapter probes the deep roots of the building, picking out references to the structure in English and American literature. Every chapter contains a wealth of detail about the surviving examples of its particular sort of building in the Chesapeake. Olmert also accounts for how the buildings were used. In this project, he is aided by those who practice "archaeology by experiment," trying to understand the past through using its "materials, tools, and techniques" (p. 9).

Each chapter fascinates and contains valuable insights. Readers may be surprised to learn that it was social distinction more than fire safety that moved Chesapeake kitchens apart from the main house. This way, the hard work of preparing meals was physically separated from the pleasure of consuming them. We also learn the right methods for cleaning the various fabrics worn in the eighteenth century, salting and smoking meat, and making such beverages as Everlasting Syllabub and Syllabub from the Cow (mixtures of wine and milk, and hard cider and milk directly from a cow's teat, respectively). The privy chapter narrates substantial differences, and even some similarities, between eighteenth-century notions of privacy and appropriate bathroom behavior and our own. Bathroom reading was known in early America, though being alone in the privy was apparently a rare luxury, as many privies contained multiple seats, and some even had lower benches for children. Though most of the outbuildings were private, offices occupied a space in between. Most had a public room for meeting prospective business partners or clients, and then a more cluttered chamber where the papers were pushed. The dovecote chapter outlines the myriad uses of doves: "Imagine an engine that provides an endless supply of goods and produce -- meat, eggs, down, fertilizer, and even gunpowder" (p. 173). Wealthy eighteenth-century Americans might use ice to chill bottles, but would probably not put pieces of the frozen Potomac into their beverages. Snow might do the trick, though. The two appendices, on octagons and hexagons, are reminiscent of John Demos's Circle and Lines (2004), and reinforce the notion that we would do well to consider the cultural patterns and beliefs buried so deep that people felt no need to explain them to posterity. The book would have benefited from a formal conclusion that drew the various chapters together.

Backyards were scenes of struggle and negotiation. Kitchens, Smokehouses, and Privies does not avoid this fact, and Olmert mentions slavery, servitude, and other forms of inequality at various points throughout, but these might have featured more prominently. The influence of John Michael Vlach's Back of the Big House (1993) is evident in the introduction, and Olmert notes that "the culture of outbuildings was made possible by vast class differences, economic hardships, servitude, and slavery" (p. 1). Readers get a lot about what went on in the buildings, but less about what they meant to the people who worked in them. Of course, many of these stories are unrecoverable and the result would be speculative. But recent work by Anthony Kaye, author of Joining Places (2007), has shown that much can be done to recover the differences in the ways slaves and owners perceived space.

A certain class of sticklers is likely to be disappointed that Olmert eschews traditional footnotes or endnotes in favor of a "Notes & Further Reading" section at the end of each chapter. All of the book's sources, both primary and secondary, however, are clear, and the short bibliographic essays allow Olmert to demonstrate his knowledge of the literature and to draw attention to the people who helped him in more informal ways, such as demonstrating eighteenth-century dairying techniques.

Most American history teachers have probably come across the images archived as part of the Historic American Buildings Survey.[2] Perhaps the starkly beautiful black-and-white photographs have accompanied your in-class presentations, allowing students to witness past architectural developments at the same time as they confirm your good taste in photography? Scores of photographs, many drawn from the survey, grace the pages of Kitchens, Smokehouses, and Privies and drive home Olmert's points in a visually striking manner. Older engravings, paintings, and floor plans round out the volume's illustrations.

Olmert's writing style is one of the great strengths of the book. It is at once learned and savvy when it comes to modern times (Tony Soprano and global warming appear in the introduction), and very, very funny. Olmert quotes Ivor Noël Hume lamenting our limited knowledge of Williamsburg "pisspottery," and declares grandly of the elite necessaries: "these are not spartan quarters for unspeakable acts, but prestige surroundings in which the movers and shakers of bygone societies still demonstrate the reach of their power and control. These are throne rooms" (pp. 129, 143). Olmert's work is a combination of serious scholarly inquiry and fun that is all too rare in the academic world.

Kitchens, Smokehouses, and Privies deserves wide readership, and deserves a spot on the shelf with James Deetz's In Small Things Forgotten, Leland Ferguson's Uncommon Ground (1992), and Vlach's aforementioned work.[3] Like these works, Olmert's borrows liberally from the best that historians, literary scholars, and archaeologists have to offer, and rests on thorough research. "Outbuildings talk to us," Olmert reminds us in the introduction (p. 9). That is true, but it helps to have a skilled interpreter like Olmert to tell us what they have to say.

Notes

[1]. Robert Blair St. George, James Deetz, Cary Carson, Dell Upton, Jules David Prown, and Betsy Blackmar have approached the history of material culture in a similar way.

[2]. http://memory.loc.gov/ammem/collections/habs_haer/.

[3]. Deetz's work first appeared in 1977, with a revised edition coming out in 1996. The review title is borrowed from chapter 6 of the revised edition: "Small Things Remembered."

Copyright (c) 2010 by H-Net, all rights reserved. H-Net permits the redistribution and reprinting of this work for nonprofit, educational purposes. This work is licensed under a Creative Commons Attribution-Noncommercial-No Derivative Works 3.0 United States License.

[Return to table of contents]


---

H-NET BOOK REVIEW
Published by H-Caribbean, http://www.h-net.org/~carib/ (July 2010).

Kay Dian Kriz. Slavery, Sugar, and the Culture of Refinement: Picturing the British West Indies, 1700-1840. Paul Mellon Centre for Studies in British Art. New Haven, Yale University Press, 2008. Illustrations. 288 pp., $75.00 (cloth), ISBN 978-0-300-14062-0.

Reviewed for H-Caribbean by Christer Petley

Visual Cultures and Representation of the British Caribbean



In Slavery, Sugar, and the Culture of Refinement, Kay Dian Kriz seeks to explore the relationship between British society and the Caribbean by looking at visual representations of the West Indies and slavery. Kriz begins by emphasizing the need for art historians to recognize the ways in which the production of art in Britain depended on the circulation of goods, ideas, people, and money around the world. She is also particularly keen to trace the role of visual culture in the creation of a "culture of refinement" during the period of her study. She argues that the idea of "refinement," which was linked to notions of "civility" and "purity," was assessed and judged via pictorial representations of the Caribbean and of people associated with the region. Those from the metropole tended to represent the colonial periphery of the empire and its nonwhite inhabitants as rude and unrefined, although Kriz also demonstrates that these binary oppositions were never firmly set. By addressing these themes, this book helps to provide new perspectives on empire and Englishness during the long eighteenth century.

The book is divided into five substantive chapters, each of which look at the work of individual artists or groups of artists. Kriz does not seek to provide a narrative or comprehensive overview of the development of visual representations of the Caribbean. Rather, her chapters act as case studies. Each casts light on a specific moment in the history of Britain's relationship with the Caribbean, while strands of analysis seek to link the chapters together, highlighting continuities, tensions, and changes.

The first substantive chapter focuses on the illustrations in Sir Hans Sloane's "Voyage to Jamaica", which was first published at the end of the seventeenth century, before Britain had emerged as the predominant European power in the Atlantic region. Kriz draws attention to the ways in which fears about the dangers and strangeness of the tropical outer-reaches of an expanding empire were expressed in images of flora, fauna, and human artifacts. She provides nuanced analyses of imagery that represented threatening animals, such as crabs and jellyfish, as well as artifacts, such as Spanish coins. These, she argues, echoed the violent struggles of conquest, imperial conflict, and enslavement that had come to be associated with the islands of the Caribbean.

This is a lavishly illustrated book, and some of the most striking of the color prints are to be found in the second chapter, which considers the work of the Italian artist Agostino Brunius, who worked on the island of Dominica during the 1760s. Kriz looks at the ways in which Brunius depicted free mixed-race women in his paintings of Dominica, arguing that he presented these typically Caribbean people as both seductive and desirable. Although Kriz does not do much to examine the types of sexual relations that white European sojourners like Brunius often enjoyed with such women, she fully explores how such paintings presented viewers with a celebration of West Indian life. Indeed, throughout Sugar, Slavery, and the Culture of Refinement, Kriz provides valuable, and overdue, analysis of pro-colonial and proslavery culture both before and after the rise of organized abolitionism. This helps to ensure that the book not only broadens our appreciation of the importance of visual culture to metropolitan understandings of the Caribbean but also provides new perspectives on the debates over the region that raged throughout the eighteenth and nineteenth centuries.

Kriz argues convincingly that visual representations of the West Indies and of black people often served both to defend slavery and to reinforce racial thinking. For example, in chapter 3, she considers the use of humor in prints depicting the Caribbean and enslaved people in the period immediately before the abolition of the slave trade, highlighting the lines of connection that linked the burgeoning field of racial science with the cartoons and low comedy that accompanied debates over abolition. Some of these themes are continued in the fourth chapter, which explores Isaac Belisario's Sketches of Character, a series of twelve lithographs depicting ordinary people in Jamaica at the point of full emancipation in the late 1830s. The implication of Kriz's careful analysis of art during the era of abolitionism seems to be that although the antislavery movement achieved its political aim of ending slavery, the debates over slaveholding and emancipation invoked racialized stereotypes, in both texts and images, which fueled ideas about black racial inferiority that persisted and developed in the wake of emancipation.

In chapter 5, Kriz considers landscape painting in the period between 1825 and 1840, examining the ways in which the artist James Bartholomew Kidd portrayed health and disease in his pictures of Jamaica. In some ways, the themes of this final chapter echo those of the first, focusing on depictions of the natural world. However, while Sloane depicted the natural hazards of Jamaica, such artists as Kidd sought to "detoxify" the Jamaican landscape, counteracting the image of the island as "the white man's grave" and presenting it as a place where white settlers could survive and thrive, in spite of the economic challenges presented by the ending of slavery. Kriz argues that Kidd achieved this, in part, by introducing "respectable" white women to his paintings of rural Jamaican scenes and by emphasizing the civility and modernity of the white colonists. In these ways, his work was an exercise in what Kriz calls "damage control": like other examples of West Indian visual culture, Kidd's paintings sought to rebuff metropolitan critics of white colonial life, presenting Jamaica as a viable place in which to settle, make a profit, and live in respectability and "refinement."

Sugar, Slavery, and the Culture of Refinement, therefore, opens new ways of understanding those on either side of the Atlantic Ocean who produced and consumed pictorial representations of the West Indies during the period between the late seventeenth century and the mid-nineteenth century. In her carefully observed studies of various images, Kriz casts important light on the desires, fears, and cultural values of various artists and their publics. Throughout the book, the case studies are all analytically rich, and Kriz provides readers with a uniquely well-informed and astute series of insights into the images under discussion. Throughout the book, she displays an impressive eye for detail and meaning. Nevertheless, at times, the search for meaning in the pictures might have been better matched with analysis that placed them in the broad context of political, social, and economic change within the British Atlantic. Such analysis is not entirely lacking, but might have featured more heavily, particularly in the conclusion, especially since the pieces studied in the book tell us so much about the rise and fall of British slaveholders, white West Indian culture, the triumph and discontents of abolitionism, and the passage from slavery to freedom. Such connections, however, will not be lost on the many scholars who will turn to this book, and Kriz's work will receive a warm welcome from the growing community of scholars with interests in British art, the Atlantic world, slavery, and the history of empire.

Copyright (c) 2010 by H-Net, all rights reserved. H-Net permits the redistribution and reprinting of this work for nonprofit, educational purposes. This work is licensed under a Creative Commons Attribution-Noncommercial-No Derivative Works 3.0 United States License.

[Return to table of contents]


---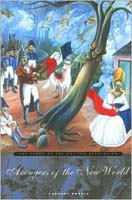 H-NET BOOK REVIEW
Published by H-LatAm, http://www.h-net.org/~latam/ (Sept. 2010).

Laurent Dubois. Avengers of the New World: The Story of the Haitian Revolution. Cambridge, Harvard University Press, 2005. 384 pp., $29.95 (cloth), ISBN 978-0-674-01304-9; $20.00 (paper), ISBN 978-0-674-01826-6.

Reviewed for H-LatAm by Erica Johnson

The Avenging Revolution



Laurent Dubois eloquently tells the story of the Haitian Revolution, from the Old Regime to Haitian independence in 1804. The Haitian Revolution is important to world history in many ways. It was the first independent Latin American nation and the second independent country in the Western Hemisphere, after the United States. More significantly, it serves as a strong indication of the radicalism of the eighteenth century. The Haitian Revolution turned the world as known at that time upside down, as former slaves came to govern a former European colony in the Caribbean. Although this significant event has been a long-neglected topic, Dubois does contribute to and moves beyond a limited existing historiography, including the works of such authors as C. L. R. James (The Black Jacobins: Toussaint Louverture and the San Domingo Revolution [1938]), Thomas Ott (The Haitian Revolution, 1789-1804 [1973]), and Carolyn Fick (The Making of Haiti: The Saint Domingue Revolution from Below [1990]). Avengers of the New World coincided with the bicentennial of the Haitian Revolution in 2004, and potentially reaches a broader audience through its readability, style, and sentiment.

Dubois stresses that the revolution did not spontaneously occur one fateful day; during the centuries leading up to the revolution, many factors contributed to the future of the colony. Various tensions existed among the population of Saint-Domingue, which fermented over time. Dubois explains this background in the first three cleverly title chapters, "Specters of Saint-Domingue," "Fermentation," and "Inheritance." The specters that haunted Saint-Domingue included the indigenous Tainos, privateers, Christopher Columbus and his expeditions, previous uprisings, white colonists taken by disease, and slaves defeated by the institution of slavery. Absentee owners demanded production from the overseers within the colonies, resulting in resentment and abuse of power and slaves. Although the colony operated under different conditions than the metropole, Paris dictated the laws for Saint-Domingue. White colonists began to crave autonomy. The dependency on slave drivers by the overseers created a hierarchy among the slaves, most of who were African-born. Development of cultural unity through Creole language and religion, coupled with the concentrations of Africans from particular geographic regions, allowed for organization. Free people of color, particularly those of mixed European and African ancestry, inherited great wealth, limited autonomy, and slavery -- many free people of color owned plantations and slaves. Yet they did not inherit French citizenship and equal rights to the white colonists.

Despite popular beliefs, the Haitian Revolution was not just a slave uprising. It was a "transcultural movement" (p. 5). There were three overlapping revolutions within what is collectively titled the Haitian Revolution: a challenge to imperial authority by white colonists, the fight for racial equality by free people of color, and an end to slavery through the mass slave revolt. After the eruption of the French Revolution in 1789, white colonists recognized an opportunity to revise the administration of the colony, some even calling for secession from France. Free people of color attempted to obtain new rights through the revolution. Dubois implicates these free people of color as similar to the Third Estate in France--perhaps even an equivalent. The most significant element of the revolution was the slave uprising in August 1791, to which Dubois devotes the bulk of the text. Whites fled the revolt; therefore, France sent commissioners to return peace to the colony, eventually resulting in universal emancipation in 1794. However, this did not end the revolution. The surviving black leaders on the island continued to battle for power. In 1800, Toussaint Louverture took control of the island, including Santo Domingo to the East, which the Spanish had ceded to France in 1795. In 1802, Napoleon Bonaparte sent General Charles Leclerc to remove Louverture from power through a three-stage plan. The French army successfully removed Louverture, but the ex-slaves, fearing the reinstitution of slavery, willingly fought to the death to maintain their freedom. In 1804, Jean-Jacques Dessalines declared Haitian independence.

Inspired by the words of early historian and philosopher Louis Sebastien Mercier, who predicted a slave uprising (1771), and revolutionary leader Dessalines (1804), Dubois symbolically titled his book "Avengers of the New World". In many ways, this book avenges Haiti's history by resituating the revolution within greater contexts, including Atlantic history. Dubois highlights the enlightened, not barbaric, culture in Saint-Domingue leading up to the revolution. He describes the multivolume history of the island undertaken by Médéric-Louis-Elie Moreau de St. Méry as a "classic Enlightenment project" (p. 10). He also notes the scientific exploration in Saint-Domingue by the Cercle de Philadelphes, a colonial learned society founded in 1785, and the ascension of the first balloon over the Americas in 1784, only one year after France had done so across the Atlantic. One of his primary sources is a colonial newspaper founded in 1791, the Moniteur Général de la Partie Française de Saint-Domingue. In addition to the Enlightenment activities in the colony, Dubois explains how the Haitian Revolution was not a response to the French Revolution, but a vital part of the larger "Age of Revolution." Dubois asserts, "The slaves of Saint-Domingue who had helped lay the foundation for the French Revolution would ultimately make it their own, and even surpass it, in their own struggle for liberty" (p. 21). Despite the necessary use of racial terminology within the book, such as "gens de couleur" and "petits blancs," Dubois cautions against the employment of race to generalize or simplify the complexities of the revolution, because "complicated ideological and political forces often divided groups that we might be tempted to see as unified by 'race'" (p. 6).

Although not based on archival research, Dubois's detail and analysis of printed primary and secondary sources successfully challenge some long-accepted myths within European and North American historiography regarding the Haitian Revolution. One such myth is of the religious ceremony at Bois-Caïman, where slaves planned the initial slave uprising of the Haitian Revolution. Only one written account of the event exists, but it is from the negative perspective of a white surgeon, Antoine Dalmas, who fled to the United States. Yet many historians have attempted to study the ceremony, from arguing for its veracity (James in his "Black Jacobins") to doubting its existence (David Patrick Geggus in Haitian Revolutionary Studies [2002]).[1] Through an analysis of Dalmas's account and a synthesis of the existing secondary literature, Dubois explains the importance of Bois-Caïman as a symbol in Haitian revolutionary history. He writes, "Thus Bois-Caïman remains a symbol of the achievement of the slave insurgents of Saint-Domingue, a symbol not of a specific event whose details we can pin down, but rather of the creative spiritual and political epic that both prompted and emerged from the 1791 insurrection" (p. 102). Like Dalmas's account, the other sources used by Dubois are available in published form. His primary sources range from an official report recorded by Jean-Philippe Garran-Coulon to the Philadelphia General Advertiser. Perhaps an archival source-based study could add to the informative efforts of Dubois.

Dubois includes a thoughtful epilogue, "Out of the Ashes," which explains the ramifications of the revolution for Haiti and the world around it." "After independence, Haiti scarcely experienced peace, because some of the promises of the revolution remained unfulfilled. For slaves, free blacks, and abolitionists throughout the Atlantic, the Haitian Revolution was inspirational. Some of these people left record of their inspired efforts, such as Frederick Douglass and Victor Schoelcher. Dubois writes, "Through such writings, through conversations, through rumors and nightmares and dreams, those who died for and lived through the Haitian Revolution became part of every society in the Atlantic world. They continue to speak to us, as founders in a long struggle for dignity and freedom that remains incomplete" (p. 306).

Note

[1]. See also, for example, Carolyn Fick, The Making of Haiti: The Saint Domingue Revolution from Below (Knoxville: University of Tennessee Press, 1990); Robin Law, "La Cérémoie du Bois-Caïman et le 'pacte de sang' dahoméen," in "L'"Insurrection des esclaves de Saint-Domingue" (22-23 août 1791): "actes de la table ronde internationale de Port-au-Prince, 8 au 10 décembre 1997," ed. Laennec Hurbon (Paris: Karthala, 2000), 131-147; and Léon-François Hoffman, "Un Mythe national: La cérémonie du Bois-Caïman," in "La République haïenne: Etat des lieux et perspectives," ed. Gérard Barthélemy and Christian Girault (Paris: Karthala, 1993), 434-448.

Copyright (c) 2010 by H-Net, all rights reserved. H-Net permits the redistribution and reprinting of this work for nonprofit, educational purposes. This work is licensed under a Creative Commons Attribution-Noncommercial-No Derivative Works 3.0 United States License.

[Return to table of contents]



©2010 African Diaspora Archaeology Network
Copyright and all rights reserved by
individual authors for each article.
Please send comments, suggestions, or questions
to Chris Fennell at cfennell@illinois.edu
Last updated: October 15, 2010
Text only menu
Search