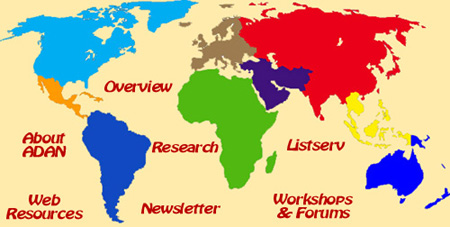 African-American Archaeology Newsletter
1994-2000
Index and Links to Articles
The index below lists some of the principal articles and notes in the issues of the African-American Archaeology Newsletter for issues published between 1994 and 2000. These newsletters were edited and published by Theresa Singleton through 1993, by Thomas Wheaton through 1996, and by John McCarthy through 2000. Online editions of these newsletters for the period of 1994-2000 have been provided as a public service by Tom Wheaton at New South Associates. These issues are reproduced on this ADAN web site (with format editing by Chris Fennell) so they will be accessible to our full-text search engine. The links below to articles in Issues 10-16 will take you to the start of the relevant Issue, and you can then scroll down to find the article. The links to articles in Issues 18-28 will take you directly to each article within those Issues.
You can also access the full text of each these issues or run searches using our full-text search engine.

Issue 28, Spring 2000
Amy L. Young, "Gender and Labor in Three Communities of Enslaved African Americans" [link]

Diana diZerega Wall, "Twenty Years After: Re-examining Archaeological Collections for Evidence of New York City's Colonial African Past" [link]


Issue 27, Late Winter 2000
Erika Martin Seibert, "African-American Archaeological Sites & the National Register of Historic Places: Creating a Public Memory" [link]

Lynn Jones, "Crystals and Conjuring at the Charles Carroll House, Annapolis, Maryland" [link]

J. W. Joseph, et al., "The Sam Goode Cemetery, Mecklenburg County, Virginia" [link]

Chris Espenshade, "On-Going Research Report: Potter-Specific Variability in Nineteenth-Century South Carolina Colonoware" [link]


Issue 26, Early Winter 1999
Anna Agbe-Davies, "Communication and Consultation: Bridging Boundaries within the Discipline" [link]

Whitney Battle, "Reclaiming a Silenced Past: Community Outreach and Oral History at Andrew Jackson's Hermitage" [link]

Paula Saunders, "Orange Vale Coffee Plantation, 1780-1850, Portland, Jamaica" [link]

James M. Davidson, "Freedman's Cemetery (1869-1907): Establishing a Chronology for Exhumed Burials from an African-American Burial Ground, Dallas, Texas" [link]

Jamie C. Brandon and Kathleen H. Cande, "The Old Washington Collections: The Potential for an Engendered Archaeology of the African Diaspora in Southwestern Arkansas" [link]

Kerri S. Barile, "Testing the Oral History at Middleburg Plantation, Berkeley County, South Carolina" [link]


Issue 25, Fall 1999
Chidi Denis Isizoh, "A Bibliography on African Traditional Religion: Part 1" [link]


Issue 24, Spring 1999
Carol McDavid, "The Levi Jordan Plantation Internet Project" [link]

Nancy Sorrells and Susanne Simmons, "Evidence for the Accumulation of Both Money and Material Goods" [link]

Terrence W. Epperson, "Beyond Biological Reductionism, Ethnicity, and Vulgar Anti-Essentialism: Critical Perspectives on Race and the Practice of African-American Archaeology" [link]

Laird Niven, "Black Loyalist Archaeology at Birchtown, Nova Scotia" [link]


Issue 23, Winter 1999
Chris Espenshade, "Some Thoughts on Spalling on South Carolina Colonoware" [link]

Hank McKelway, "Archeological Investigations at Monterey" [link]


Issue 22, Fall 1998
Jamie C. Brandon and Jerry E. Hilliard, "The Van Winkle Mill and the Anderson Slave Cemetery: African-American Related Sites in Northwest Arkansas" [link]

James M. Davidson, "The Oldest Cemetery in Dallas Rediscovered: The Lost Location of Dallas's Slave Burials" [link]

Elizabeth M. Scott, "Some Thoughts on African-American Foodways" [link]

Deborah L. Rotman, "Investigating Indiana's 19th-Century Agricultural Heritage: African-American and Quaker Farmers in Randolph County" [link]


Issue 21, Spring 1998
Larry McKee, "Some Thoughts on the Past, Present, and Future of the Archaeology of the African Diaspora" [link]

Heather Apollonio, "Cobern Street: Excavations at an Unmarked Burial Ground in Cape Town, South Africa" [link]

John P. McCarthy, "Plates in Graves: An Africanism?" [link]


Issue 20, Winter 1998
Jerome S. Handler, "Problematical Glass Artifacts from Newton Plantation Slave Cemetery, Barbados" [link]

Chris Espenshade, "Comment on the Inappropriateness of a Proposed Mean Ceramic Date (1780) for South Carolina Colonoware" [link]

Timothy E. Baumann, "Results of the 1997 Excavations at the Brown Lodge/Caldwell Pottery Site (23SA451), Arrow Rock, MO" [link]


Issue 19, Winter 1997
Barbara J. Heath, "Slavery and Consumerism: A Case Study from Central Virginia" [link]

Roger Coleman, "Slave Cabin Excavations at Rocky Shoals (3MN1708), Montgomery County, Arkansas" [link]

Douglas W. Sanford, "African-American Archaeology at Stratford Hall Plantation, Virginia" [link]

David T. Palmer, "Preliminary Results: Excavations at a Slave/Tenant Cabin at the Blythewood Plantation" [link]


Issue 18, Fall 1997
Brett Rogers, "Excavations at Little Africa - A Missouri Freedmen's Community" [link]

John Bedell, "An African American Site Investigation in Rural Delaware" [link]

Timothy E. Baumann, "The Brown Lodge/Cadwell Pottery Site, Arrow Rock, Missouri" [link]

Jeanne A. Ward, "Conference Report: Four Rivers of Africa" [link]

Amy L. Young, "1997 USM Field School Investigations" [link]

Kenneth L. Brown, "Some Thoughts on Archaeology and Public Responsibility" [link]


Issue 16, Spring/Summer 1996
Donald B. Ball, "Notes On West African Crossbow Technology" [link]

John P. McCarthy, "Conference Report: African Impact on the Material Culture of the Americas" [link]

Laurie A. Wilkie and Paul Farnsworth, "Clifton Plantation New Providence, Bahamas" [link]

Barbara Heath, "Poplar Forest Quarter Site Update" [link]


Issue 15, Fall 1995
Jerome S. Handler, "An African-Type Burial, Newton Plantation Barbados" [link]

John P. McCarthy, "The Evolution of the Study of African Culture in America" [link]

Chris Espenshade, "Excavations at the Eigelberger Plantation Daufuskie Island South Carolina" [link]

David Babson, "Wessyngton Plantation" [link]

Paul Farnsworth and Laurie Wilkie, "Crooked Island" [link]


Issue 14, Summer 1995
Eugenia Herbert, "10th Congress of the Pan-African Association" [link]

Abdul-Karim Mustapha, "(Dis)Owning The Emperor's Robe" [link]

Esther White, "The 1995 African-American Cross Cultural Workshop" [link]

Carol McDavid, "The 1996 African-American Cross Cultural Workshop" [link]


Issue 13, Spring 1995
Robert L. Blakely, "The Medical College of Georgia Project" [link]

Michael F. Barber, "The Burrell Pharmacy, A Turn-of-the-Century Black-Owned Drugstore" [link]

Laurie A. Wilkie, "Plantation Archaeology: Where Past and Present Can Collide" [link]

Henry Kamerling, "Research Note on the Atlantic Slave Trade Database Project" [link]


Issue 12, Winter 1994
Jerome S. Handler, "Update #4: New York's African Burial Ground" [link]

Patricia Samford, "Searching for West African Cultural Meanings in the Archaeological Record" [link]

Mack E. Mark, "New York Burial Ground Project - From the Field to the Laboratory" [link]

Barbara Heath, "Jefferson's Poplar Forest" [link]

Charles Orser, "Black History Project Update" [link]

Thomas Loftfield, "Afro-European Archaeology in Barbados" [link]

Paul Farnsworth, "The River Road African-American Museum and Gallery, Burnside, Louisiana" [link]

Paul Farnsworth, "Burnside Cemetery, Burnside, Louisiana" [link]


Issue 11, Summer 1994
Eric Adams, "Religion and Freedom: Artifacts Indictate that African Culture Persisted Even in Slavery" [link]

Niven Laird, "Black Loyalists in Nova Scotia" [link]

George Logan, "Currently in Annapolis" [link]

Helen Danzeiser Dockall, "An Overview of the Phillips Memorial Cemetery" [link]

Tom Davidson, "The First Africans in Virginia" [link]


Issue 10, Spring 1994
Carol McDavid, "Notes from the African-American Cross Cultural Workshop" [link]

Laurie Wilkie, "Archaeological Evidence of an African-American Aesthetic" [link]

Roderick Ebanks, "Notes from the Caribbean" [link]

John Sprinkle, "Manassas Industrial School" [link]

Renee Ingram, "Stanton Family Cemetery" [link]



©2005 African Diaspora Archaeology Network
Please send comments or questions to: cfennell@uiuc.edu
Last updated: April 12, 2005
Text only menu
Search